This is a sponsored post written by me on behalf of Chamberlain. All opinions are 100% mine.
I know, I know… It sounds dramatic to say that a garage door opener may improve my marriage, but it's true. You see, my beloved husband has a terrible habit of driving out of our garage, driving a block or two away and then saying, "Wait, did I shut the garage door?" I always say, "Yes, you did." And you know what he does? He turns around and drives back home to double-check. And it always seems to happen when we need to get somewhere quickly or are running late. It drives me a tiny bit insane every time it happens. Well folks, times they are a changin'! We just had a new wi-fi garage door opener installed. We chose the Chamberlain 1-1/4 HPS* Wi-Fi Whisper Drive Garage Door Opener. It has built-in Wifi! Yes, that means we can operate it with our smartphones. WOOO HOOO!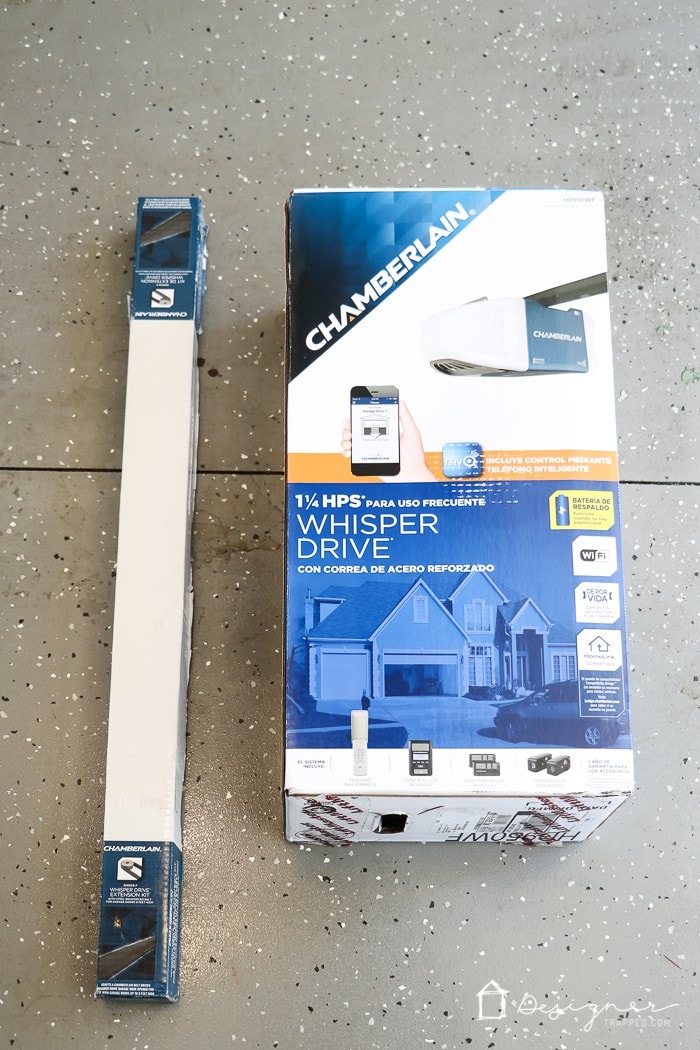 It gives us a whole new level of security and confidence about our home. We can now check our MyQ app from our smartphones to confirm that our garage door is closed and that our home is secure by just glancing at our MyQ app. You can see in the photo below that our garage door has been closed for 13 minutes :)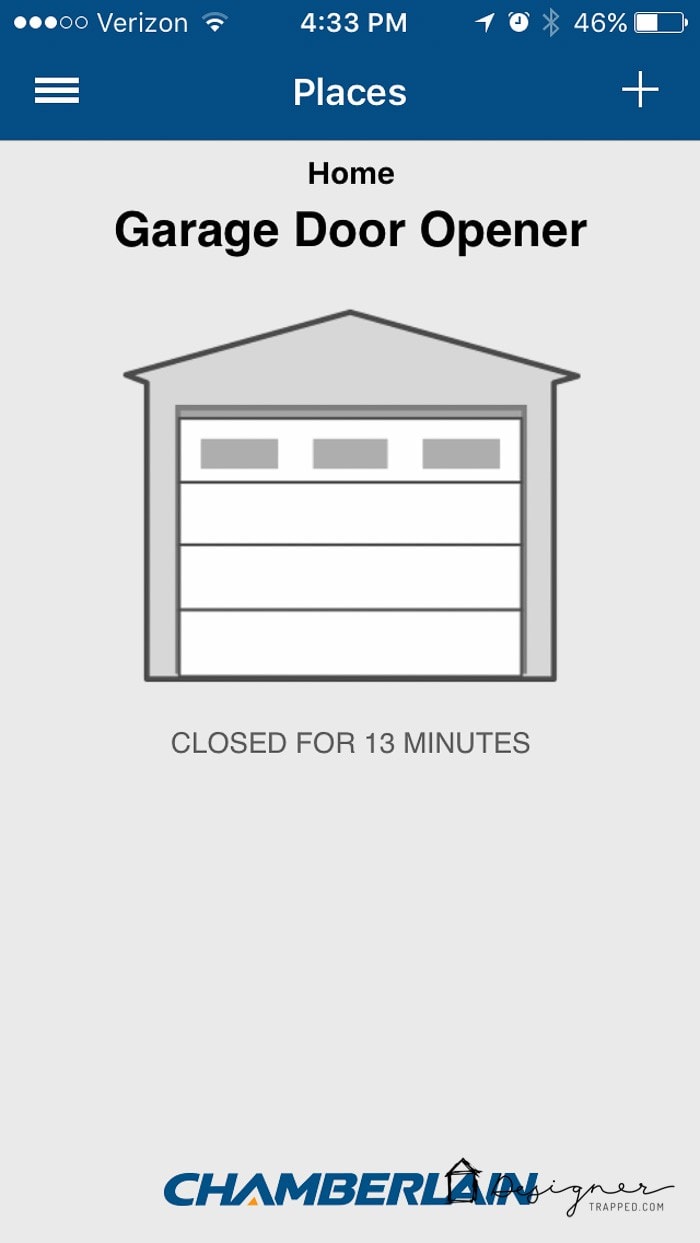 Not only can we know when the garage is closed (thereby avoiding the need to circle back to double-check all the time), but as our girls get older we will be able to know when they come and go from the garage. It also works with other smart devices such as Nest Cam, Nest Thermostat and links with Xfinity Home and Wink, so if we add more smart technology to our home, it's good to know they will integrate seamlessly. Little did we know how much quieter this garage door opener would be than our old one. It has a steel reinforced belt drive that is strong yet nearly silent. Since our master bedroom is just above our garage, that is a huge bonus because sometimes Joe has to leave for work before I get up in the mornings and the old garage door always used to wake me up. Not anymore :) As if that wasn't good enough, I am beyond thrilled that our new garage door opener is equipped with battery backup which is crucial because if the power goes out, we will still be able to open/close the garage door. We have lost power at least once per winter since we moved into our home nearly 4 years ago. We can manually open our garage door when the power is out, but is not the most convenient thing in the whole world, especially when I am by myself with our twin girls, so having battery backup is awesome. Now I have to admit, we did not install the garage door opener ourselves. GASP! I know. One reason is that were knee deep in our twin girls' DIY bathroom renovation and were just too busy. The other reason is that we figured that it would take a professional half the amount of time as it would take us and we wouldn't save that much by installing it ourselves. So, we left it to the experts and I'm glad because just look at all the pieces, parts and tools strewn about during the install.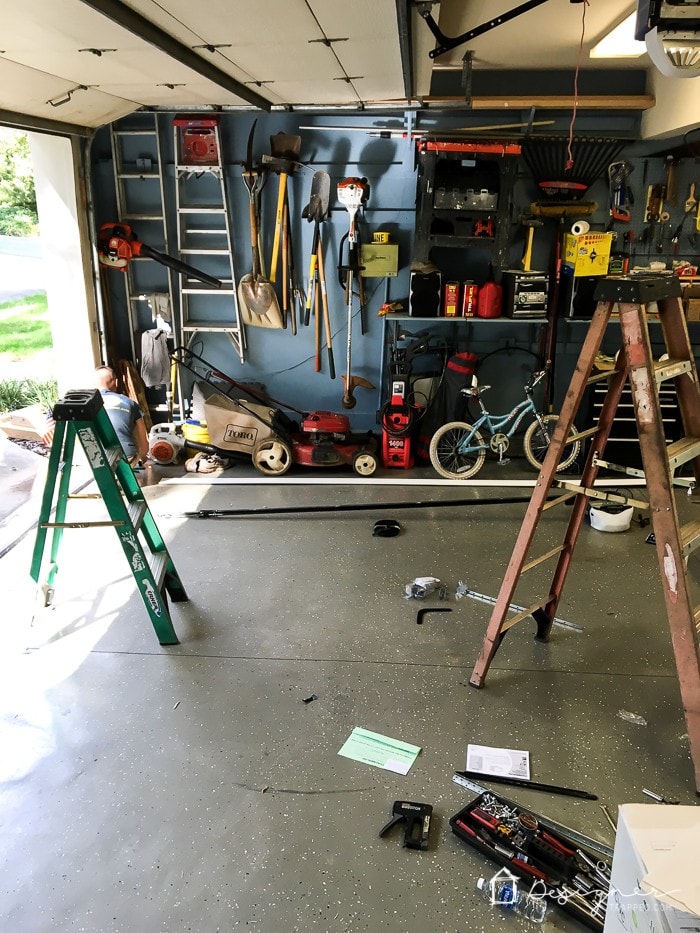 So, I sat at our kitchen table and got some work done while it was installed. This was my view through our door from the kitchen to the garage. It was nice to hire this job out.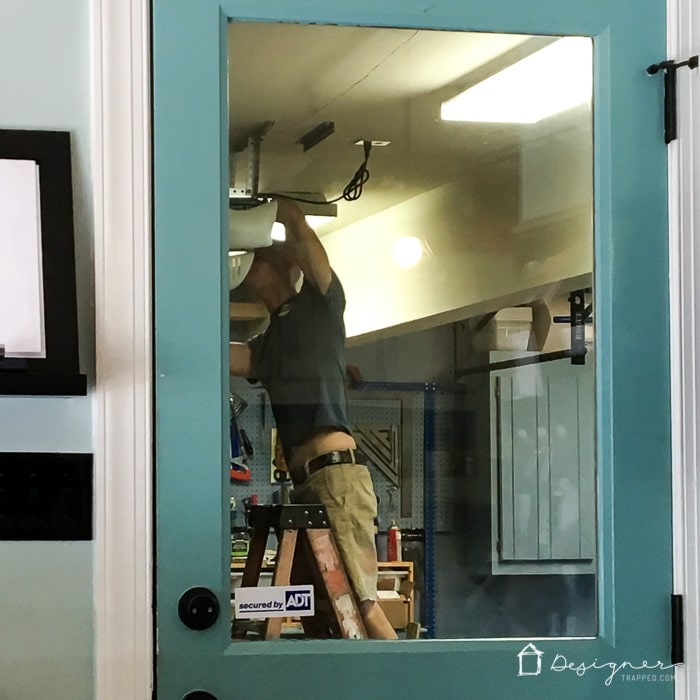 Oh and get this… We have an 8-foot garage door, but our old garage door opener was equipped to operate a 7-foot door. So, the door never opened all the way. You can see in the photo below that the door always stopped about 9 inches short of fully opening.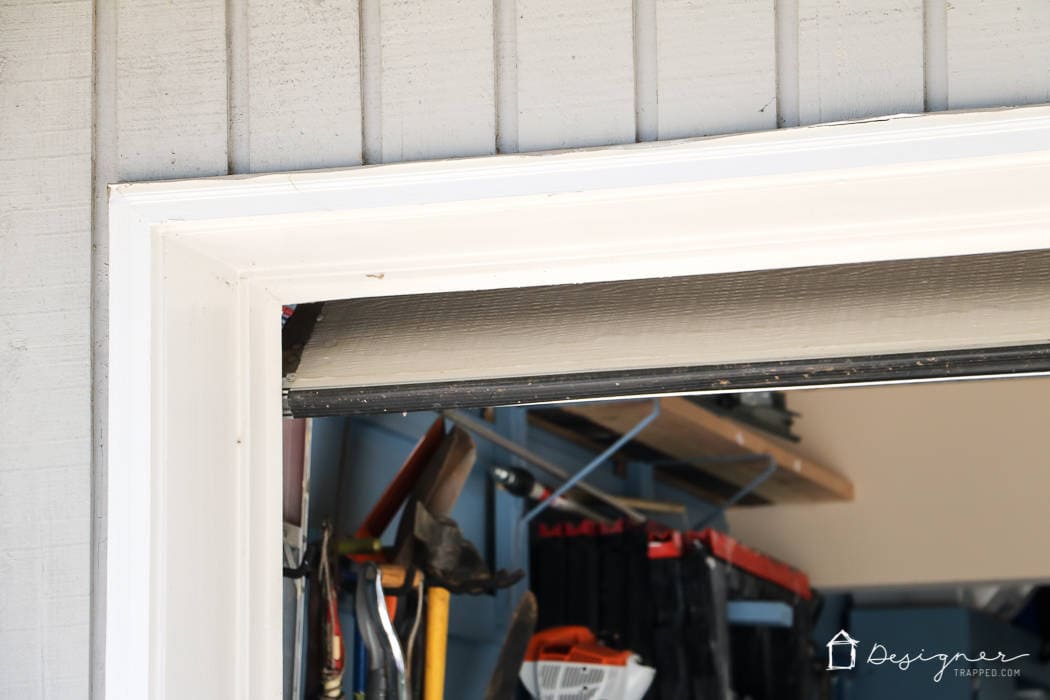 Now we have the appropriate equipment to operate our 8-foot door and it fully opens. Yet another plus. Oh, and check out our fancy new control pad. Just a tad more modern than our old one (we also had it moved to the right side of our door since it makes more sense).
| | |
| --- | --- |
| | |
We use the control panel every time we go in and out of our kitchen door, but have been using the app when we go on bike rides with our girls or when we walk our dog. We always take our smartphones with us anyway, and now we don't have to take a key or garage door opener with us, which is so, so nice.
Anyway, that's the story behind why a garage door opener may improve my marriage :) Doesn't seem like such a dramatic statement now, does it?
Click to Learn more about this awesome garage door opener! You can also connect with Chamberlain on Twitter and Facebook.