Last Updated on March 3, 2022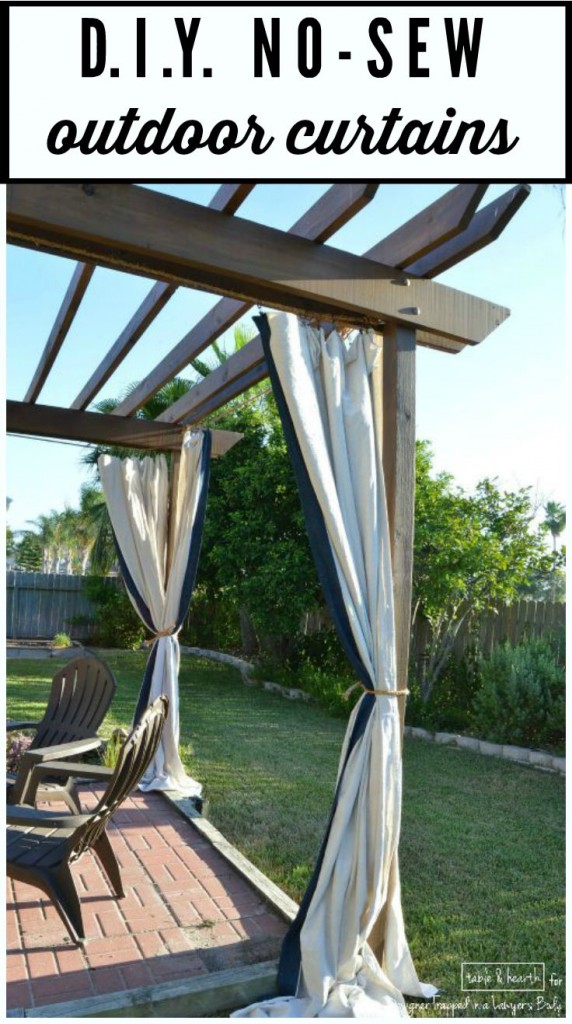 Hello again you guys!! Emily from Table & Hearth here! You may remember me from back in May when I confessed my love for plank walls and showed y'all the one we installed in our guest bedroom. I still can't stop staring at it and have grand plans to plank another wall very soon! But today, I'm sharing something I'm equally blown away with…some easy, no-sew, DIY outdoor curtains for our backyard pergola!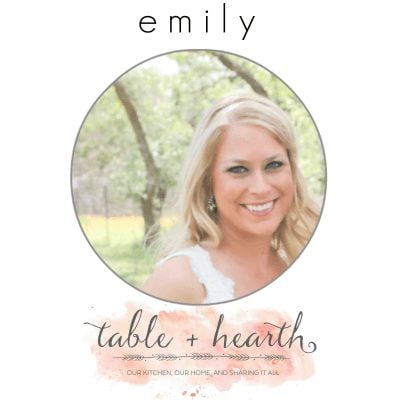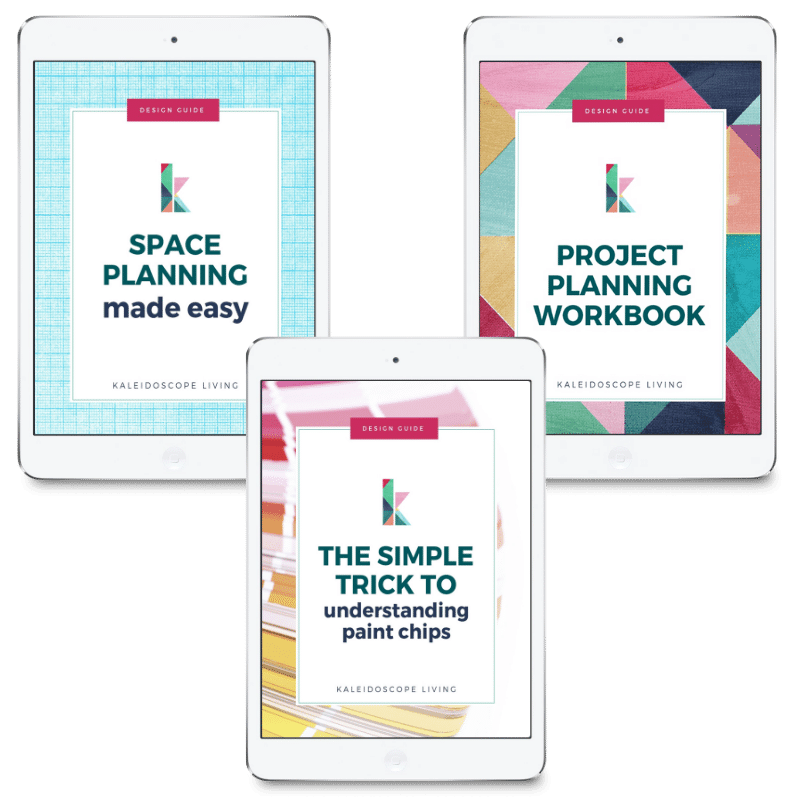 Get my FREE design guides when you subscribe!
We DIYed our pergola in May 2014 and it's still probably the most dramatic change we've undergone at our house.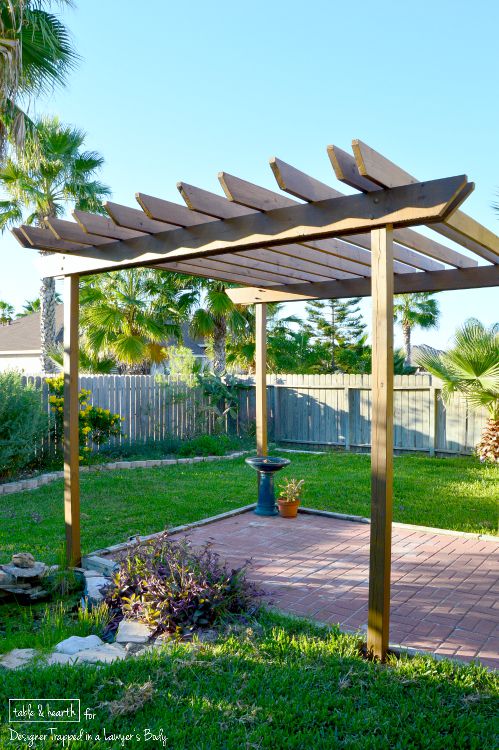 But our house faces due west…in south Texas…and it is BRUTAL right now. We love to sit out here after work in the evenings but have to bail from about 6:00 to 7:30 or so because it's as if we're on the surface of the sun. Something had to be done but there's no way I could (or would) put expensive outdoor curtains out in this environment. Enter some cheapy canvas drop cloths and rope! This post contains some affiliate links for your convenience. Click here to read my full disclosure policy.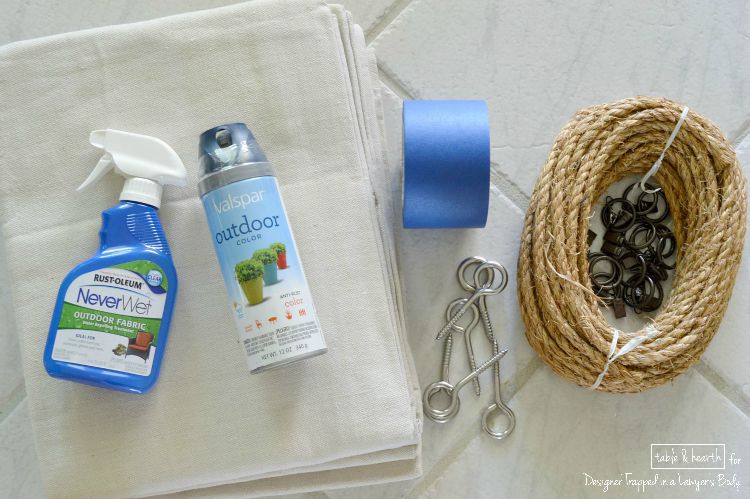 Supplies:
Our place is right along the coast and anything metal that is outdoors rusts in milliseconds, so I knew I couldn't use any kind of metal/iron curtain rods, and stainless cables would be much more of a fuss as well as costly, therefore, I went for some trusty 'ole simple rope instead. It won't rust, it's easy to hang, it's easy and cheap to replace when it does wear out. Plus, it gives a cool nautical feel that is right up our coastal alley.
Now, I have a little PSA to do. When you're buying your drop cloths, use all the same brand and style because there are variations from store to store and brand to brand. I learned this the hard way, and unfortunately after I had already spraypainted one. The canvases from one store were lighter and thicker than they were from the other, and the other store's had a seam down the center. Three returns later and I finally had four of the same drop cloths. Fun stuff.
Once you have your canvas nightmare taken care of, tape off the edge to whatever width you want your stripe to be (mine are 3″) and spray away. I used a little more than one can of spray paint for each side of each stripe.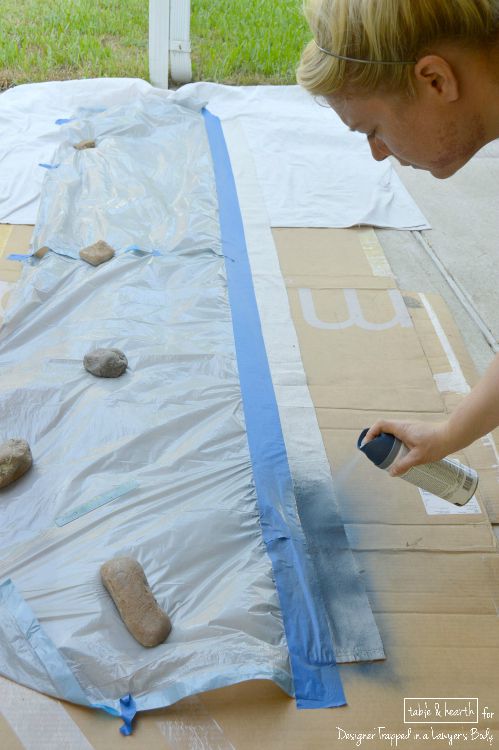 When your paint is dry, lay each curtain out and spray with the NeverWet according to the directions. My 6'x9′ canvases took about 1 1/2 11oz bottles per side, so it does take a lot of NeverWet, but it's totally worth it to make sure your pretty curtains don't mold before you can even enjoy them!
While your curtains are drying, you can get your rope hug and ready. I installed my bolts in the 4×4 posts. Mark your hole, predrill your hole, then screw the eye bolt in as tightly as you can. Tie one end of the rope to the bolt with a strong knot. Then slide your curtain hooks onto the rope. Next, tie what is called a "trucker's hitch" knot on the other end as tightly as you can so that the rope doesn't sag too much. I have no idea how to do this knot, this was all the husband, but it worked great and seemed pretty easy to do! Finally, clip your curtains up and you're ready to go!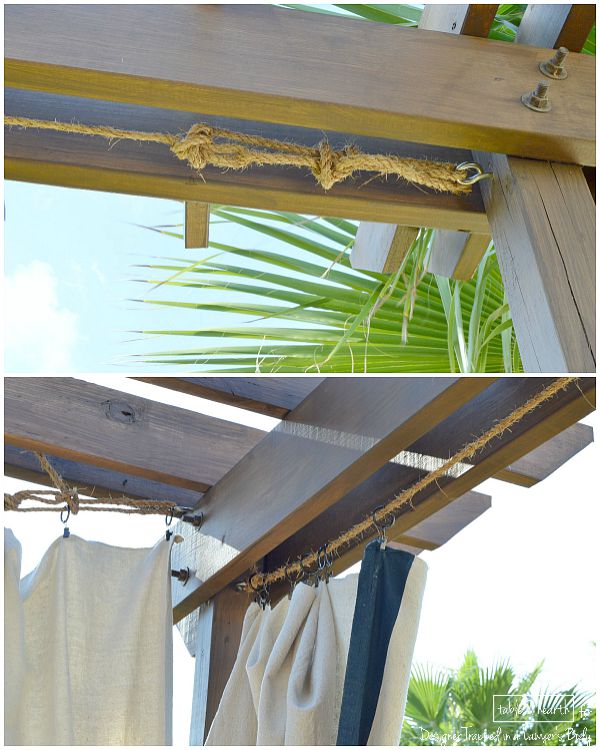 Our curtains will be open most of the time so I just used more of the rope as simple tie-backs. I love that a) it was simple, b) that it's a nice nautical touch alongside the navy blue and white, and c) that it matches the rope "rods" above it. You can see the pesky seam in the photo below. Luckily it's mostly covered up when the curtains are tied back.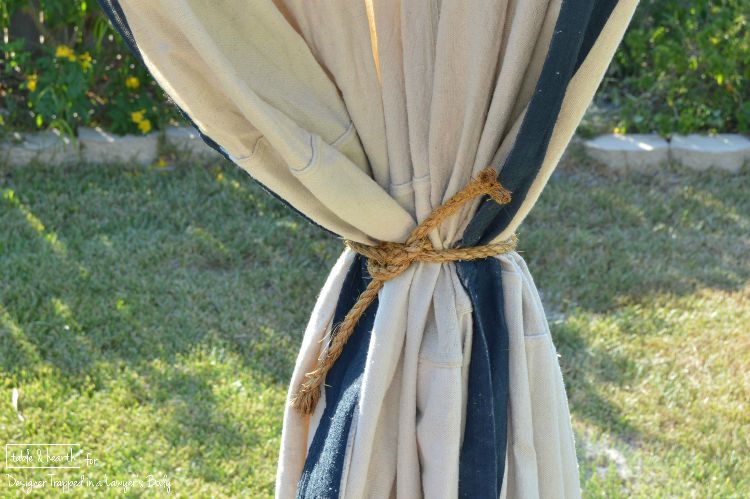 Since we only need the back side of our pergola "closed," I could have simply put two 6'x9′ canvases on the back side. But, I added one 6'x9′ canvas on the two sides of the pergola as well because I thought it would look better.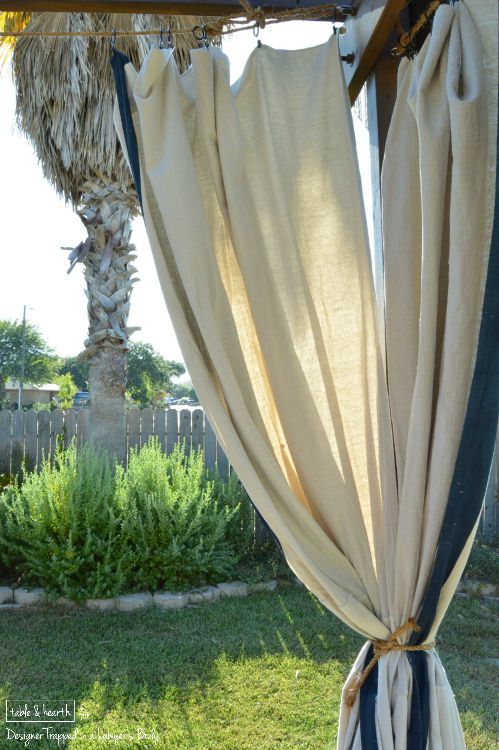 I LOVE a good pooled curtain but I fear that out here they will soon meet the demise of the husband's weed eater, or get in the pond, so I may eventually trim them then use no-sew seam tape to "hem" them so they don't fray.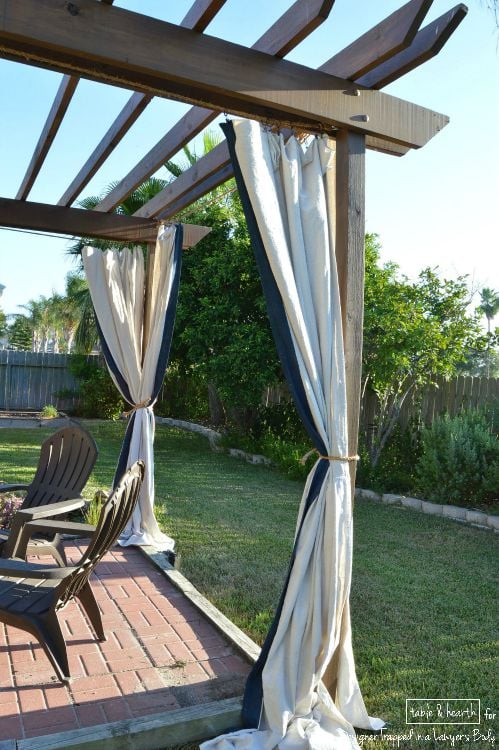 Here's what the back curtains look like when they are closed. They are wonderful at blocking out that insane west sun. Soooo much better! The ropes do sag some, especially with the two curtains pulled across on the back, but I actually like the casual feel to it. You could cinch up your hitch knot to reduce the sag if desired.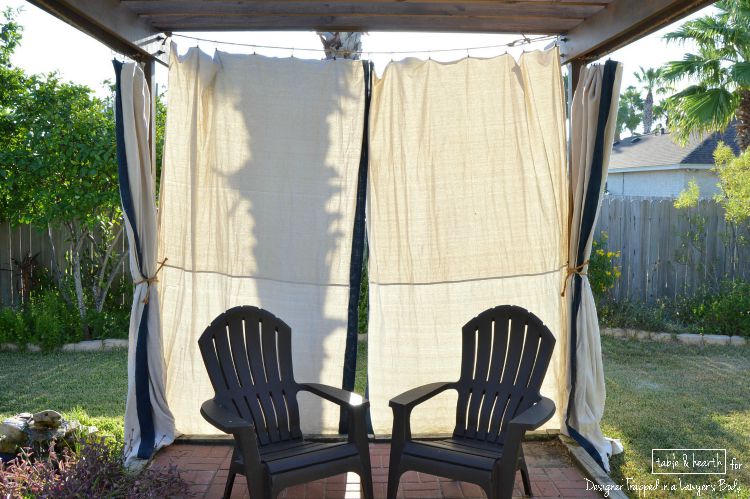 These no-sew outdoor curtains are such a great way to bring a lot more drama and elegance to an outdoor space. They provide much needed shade. Best of all, they are budget-friendly and easy to make! I'm planning to more extensively update our patio space this fall and can't wait to tie it all together!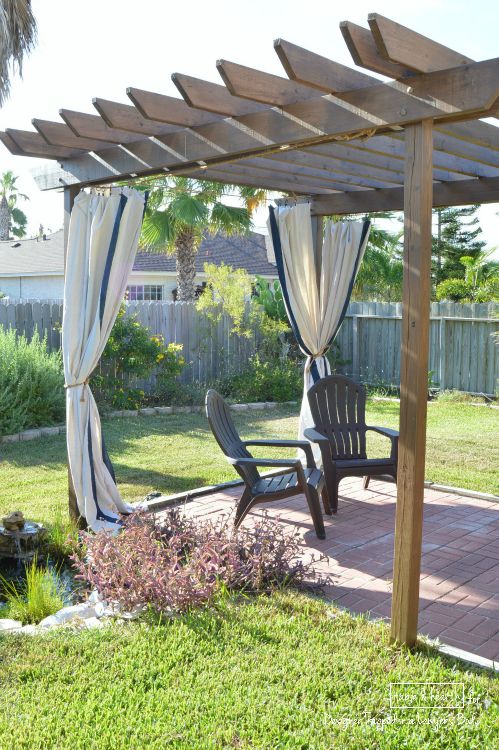 I'm so happy to hang out with you guys today! I'll be back again in a few months but in the meantime, I'd love if you'd keep up with me on Facebook, Pinterest, Twitter, and Instagram, as well as check out these projects too!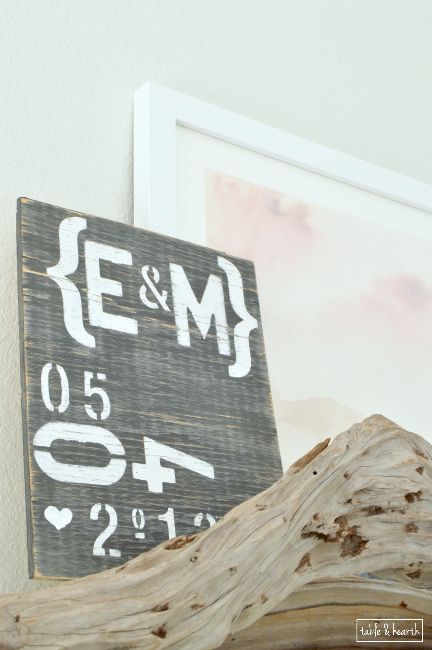 Rustic Typography Art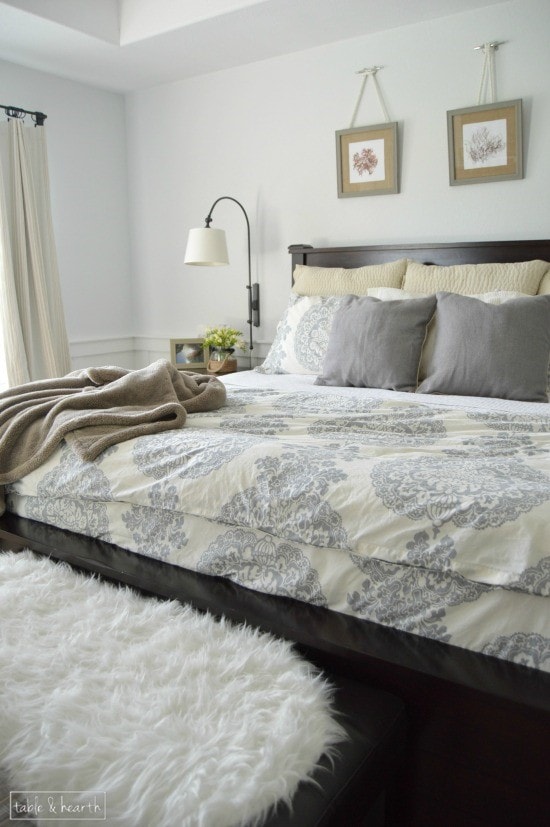 Bright and Relaxed Master Bedroom Makeover
[mv_create 1 11 200 2016 key="1″ type="list" title="Most Popular Projects" thumbnail="<a href=" https designertrapped com wp content uploads diy home decor projects blog jpg a]