Is an Open Concept Kitchen Right for You? Pros and Cons to Think About
Last Updated on March 3, 2022
Open concept kitchen design is hot right now, but is it right for your family? Listen to this conversation with the pros and cons BEFORE you commit to an open kitchen design!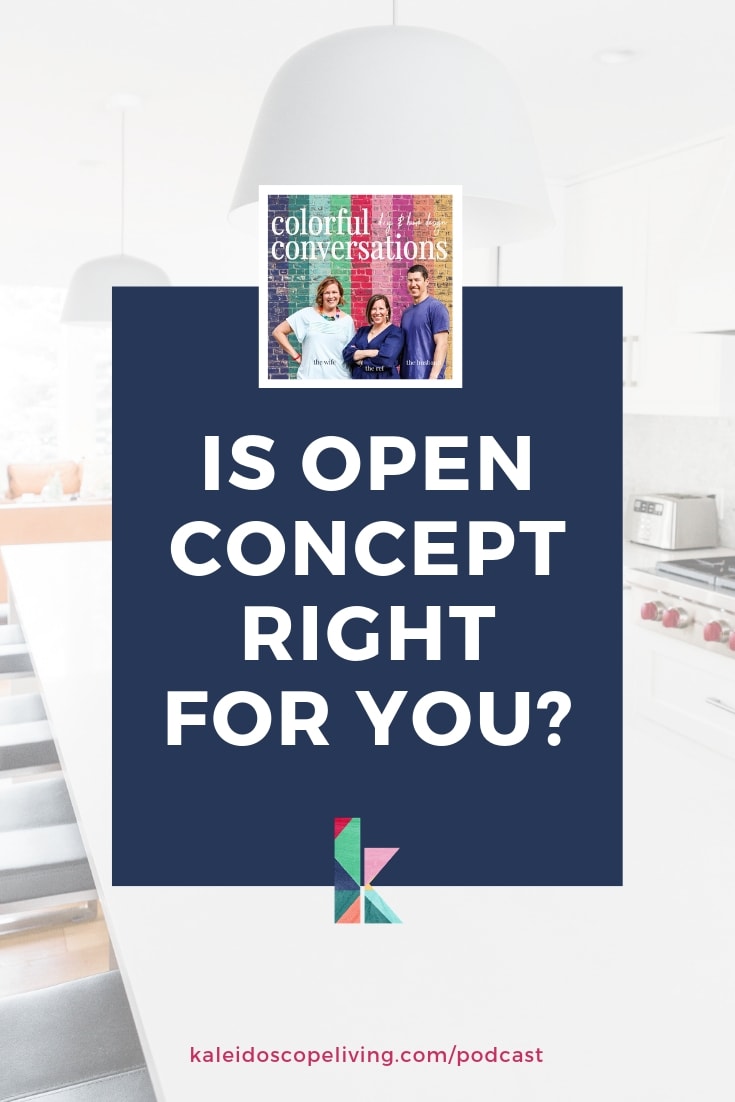 Want to listen on your favorite app? Click whichever option you prefer below:
iTunes | Stitcher | Spotify | Google Play
In this episode of Colorful Conversations, Thea, Tasha, and Joe discuss open concept kitchens and how to decide if this design concept is right for you, what pros and cons to think about, and how to go about making it happen!
If you are a new listener to Colorful Conversations, we would love to hear from you. You can find us 24/7 on Instagram @tasha.kaleidoscope and on Facebook at Kaleidoscope Living. You can also check out our YouTube channel. As a thank you for listening, we have an awesome FREE guide called "5 Easy Steps to Design A Room You Love." Text "DESIGNTIPS" to 44222 and you will get the guide in your inbox!
0:33 – Today, we're going to talk about open concept kitchens and how to decide if it works for your home and your life. But first, updates from the homefront. Tasha discusses her life-changing discovery of high waisted jeans and how great they make her look (very flattering) and feel (they're super comfortable)! For Joe, he highlights their nightly reading of Harry Potter with their girls. Thea recommends buying the illustrated version of Harry Potter to make it more exciting for the kids.

3:24 – On to the "Newlywed" style questions (even though Tasha and Joe are heading into their 17

th

anniversary). Thea asks Tasha what she thinks is Joe's favorite room in the house. Tasha guesses that it's the family room because it houses the "famous" recliner, they finally have everything situated how they want it, and he just loves it… and Joe agrees! Joe guesses that Tasha's favorite room is the dining room because the renovation is finished, with new paint, bookshelves, and lighting, so everything looks great. Joe is spot on with his guess!

5:27 – This is not an ordinary podcast. Make sure you're following on Instagram

@tasha.kaleidoscope

because that's where we announce our upcoming topics and where you can submit your questions for us to answer. If we pick your question to be on the podcast, we'll send you a free gift! We got a lot of great questions for this episode's topic, so be sure to keep that up! Also, if you want to see the video footage and behind-the-scenes from any of our episodes, be sure to catch up with us on our YouTube channel.

6:15 – Okay, let's get into everything about open concept kitchens. Joe starts with a definition of an open kitchen design: this idea mainly applies to kitchens with a lack of walls that divide the kitchen from the family room and/or dining room. It's more commonly known today as "open concept" or an "open floor plan." The main feature (or lack thereof) is the absence of walls between the kitchen and other living spaces. Open concept living spaces are

all the rage

right now on TV and social media.

8:01 – Today, we want to talk about the practical considerations of having and living in an open concept space, and deciding if having an open concept kitchen actually works for you. Joe brings up that he found over 77,000 online advice discussions on the topic "open plan help." In Tasha's research for the episode, she found an article (linked in the show notes) titled "Is 2018 the Beginning of the End of the Open Concept Floor Plan," and Tasha fully believe that walls will be making a comeback. The article notes that brokers, designers, and architects have noticed that an increasing number of buyers are looking for closed floor plans or hybrid floor plans, which provide at least some separation between rooms.

9:41 – First, let's take a quick break to hear a word from our sponsor…

Do any of these words apply to how you feel about your house: uninspired, embarrassed, tired, boring, overwhelmed? If you're looking for design advice to change those words, you need to check out

Designer In A Binder! To purchase Designer in a Binder, visit www.designerinabinder.com

. And as a big thank you for listening, you can enter the code PODCAST to receive 25% off either package.

10:49 – We're back and we're going to discuss the pros and cons of open kitchen design. Tasha starts on the positive with a pro, explaining that open concept can be a great way to make a small space or small home feel much larger. Small spaces can feel closed in by walls, so removing them can visually open up the space and make it feel bigger. Joe jumps in with another pro, saying that opening the space brings the rooms together which in turn brings your family together, making you feel more connected to the people in the house.

12:42 – Another pro from Tasha is that an open concept can help create a great space for easier socializing and entertaining. Having an open kitchen design means guests can enjoy themselves in the dining room or family room, while the host can prep food or dinner in the kitchen while still participating in the conversation. Joe's pro point is the beautiful, open sightlines and how visually appealing an open concept space can look (with the proper staging and designing).

14:03 – Tasha's number one con for the open concept is the noise factor. Joe actually pointed this out to Tasha – he commented that it's not super great listening to their kids' cartoons on the TV while they're preparing dinner or having a more adult conversation, and on the other hand, kitchen noises can be very loud and distracting if someone is trying to watch TV in the living room. Noise in an open space is a big consideration that many people don't think about.

16:30 – One of Joe's cons about an open concept is the lack of privacy. If something is going on in the kitchen, like a conversation you want to be private or preparations that you'd rather do uninterrupted, having an open space can make that challenging. Tasha agrees, saying that her and Joe's time cooking in the kitchen together is really their only one-on-one time to check in and chat with each other. This kind of separation and privacy may become even more important with older kids and teenagers in the house.

18:37 – Tasha brings up another con. While open concept spaces look great on TV and in magazines, these spaces are super clean, staged well, and designed by professionals. In real life, people aren't always tidy and clean and organized. If there are things not put away in the space, it can make an open concept space look really disorganized and dirty. An open concept kitchen design will make it so you can constantly see into your different living spaces, and real life is hard to keep clean 100% of the time.

20:54 – Joe says if you're thinking about renovating an existing house to make it an open concept floor plan, this means removing load-bearing walls and using the proper load-bearing beams, which are very expensive.

21:22 – There can also be safety concerns with open concept spaces. Joe says that firefighters have found that fires spread faster in open concept homes due to the lack of walls. One fire safety survey found that 30 years ago, people had an average of 17 minutes to safely escape a house fire, because rooms were more compartmentalized and the fire could be contained easier. Today, people only have about 3 minutes to escape a house fire, largely due to how fast a fire can take over in an open concept house.

22:32 – Tasha tackles a question submitted online from a follower. Dionne asks, "does the open concept kitchen enhance or deter from the family dinner conversation, given the available distractions like TV?" Tasha finds this to be a really interesting question that she hadn't thought of this before. But it makes sense that distraction is possible from other rooms. Tasha explains that in their house, they and their kids have dinner together every night, and the children are expected to sit and participate until the meal is over. Dinner together is routine and "required family fun time." For most people, Tasha thinks that there is potential that an open concept can take away from family time. However, you can implement a "no screens" rule at dinner, so no TV and no phones at dinner. It truly depends on your family, how you live together, and your house rules.

27:55 – Joe talks about the path that they decided to take when it came to an open concept kitchen within their own house. Tasha says they initially were aiming for a much more open space, but after looking at some of the pros and cons, they decided to incorporate some walls and separation into their home's floor plan. They decided to do a cased opening between the kitchen and dining room, allows for a 9 foot wide opening between the rooms.

32:39 – Between the kitchen and the family room, Joe and Tasha have decided to open up the standard doorways to 6 feet wide. This way, they have the option of adding french doors if noise between the rooms becomes an issue. Joe says their dream door may be one of the sliding barn doors, but no decisions have been made yet.

34:32 –

Next time on Colorful Conversations, we'll discuss love and renovations. Make sure to subscribe on iTunes or wherever you get your podcasts, and connect with us on social media. You can find us on Instagram, Facebook, and YouTube. As a big thank you for listening to this podcast, we have an awesome free guide called "5 Easy Steps to Design a Room You Love

" which is full of great tips for what you want to accomplish in a space. To get this guide,

text DESIGNTIPS (all one word) to 44222 and you will get the guide delivered to your inbox.

36:01 – You can also email us at

[email protected]

! We'd love to hear from you and we'll pull listener questions from our email too. Remember, if we use your question, we'll send you some free swag!
Join the Conversation
Our favorite part of recording a podcast is participating in the great conversations that happen on social media and in our comments section. You can find us 24/7 on Instagram @tasha.kaleidoscope and on Facebook at Kaleidoscope Living. You can also check out our YouTube channel.
Get social with us…
As mentioned in this episode…
This post contains some affiliate links for your convenience. Click here to read my full disclosure policy.
Before you head out and get started, be sure to check out my FREE design guides that will help you help you design spaces you absolutely love! Subscribe now and you will receive a password so that you can access everything in one convenient digital library.
[mv_create key="5″ type="list" title="More Podcast Episodes" thumbnail="https://designertrapped.com/wp-content/uploads/2019/04/marrying-decorating-styles-featured-1.jpg" layout="circles"]