Whew!  The reveal of our outdoor dining area has finally arrived!  If you follow my blog regularly, you know that we have been working on sprucing up our back deck, which is where we eat our meals when the weather is nice.  In North Carolina the weather is perfect for outdoor dining for about 8 months out of the year, so we no longer wanted it looking like this.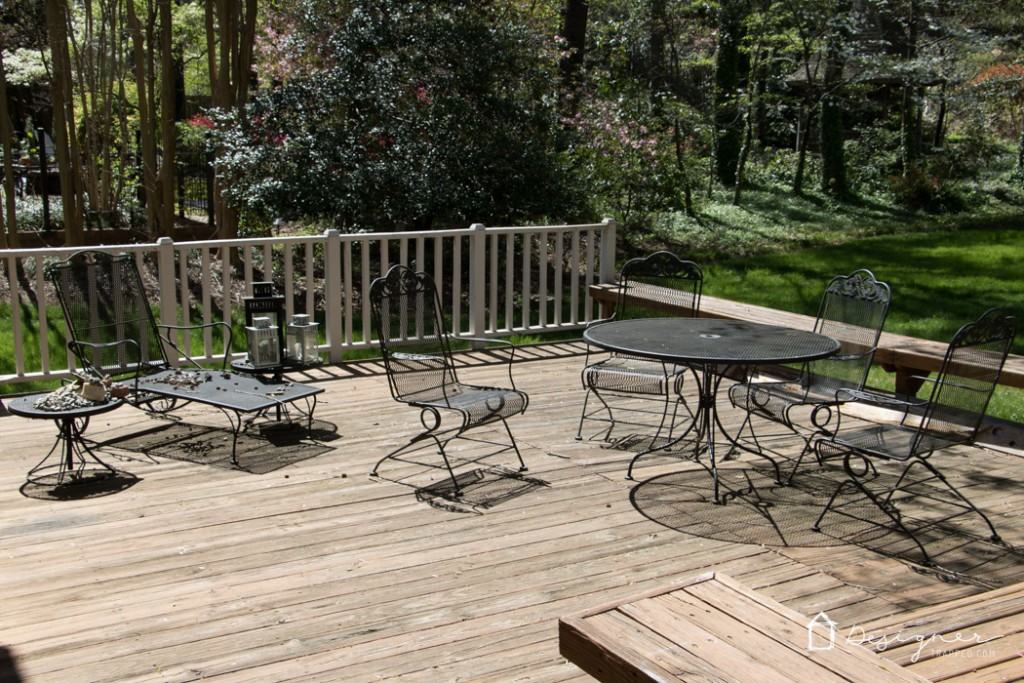 After searching for inspiration, I landed on the HGTV Spring House page.  Have you seen it?!  It's amazing and totally got me excited about transforming our own outdoor dining area.  You can check out photos of the HGTV outdoor space here.  I was surprised and happy to see that most of the items in the HGTV Spring House were available at At Home because I love it AND it's affordable.
We allocated a budget of $500 toward improving the space.  That amount of money had to stretch a long way and At Home did not let me down!  I found everything I needed and came in about $40 under budget :)  You can learn about the exact selections I made in this post.  Now, that's enough talking, right?!  Let's take at our outdoor dining area now that it has been given new life.
Outdoor Dining Area Reveal
The outdoor rug we chose from At Home makes the biggest impact in the space and really helps ground the entire area.  Plus it's GORGEOUS.  Would you have ever guessed it's an outdoor rug?!
We also added seat cushions and some accent pillows.  The chairs are not only prettier now, they are far more comfortable to sit in :)  #win
One of my favorite touches is a wreath that we hung from the chimney.  I have never loved the stone on our chimney and always thought of it as an eye sore, but now that the wreath is hanging on it, I kind of like it.
Our chaise lounge also got a facelift with the addition of a cushion and throw pillow.  What a difference?!
We've already enjoyed the space.  Here's a cute shot of my sweet Attley enjoying lunch shortly after we got the outdoor dining area all set up.
And here's another shot of my cute owl just because it makes me happy (nope, that didn't come from At Home–sorry, I've had that little guy for years).
Alright, now some side-by-side comparisons so you can see just have far we have come with a budget of only $500.
What do you think?  Pretty big impact on small budget, huh?!

[go_portfolio id="outdoor_projects"]
This is a sponsored conversation written by me on behalf of At Home. The opinions and text are all mine.