Hey y'all!  I am VERY pleased to report that I have made some progress on our sad outdoor space that I shared with you a couple of weeks ago.  I'm not ready to show it to you just yet, but I have done my shopping, so the reveal post will be coming soon enough, promise!  In case you missed the photos of our outdoor deck space as it has looked for the past several years, here you go (hanging head in shame).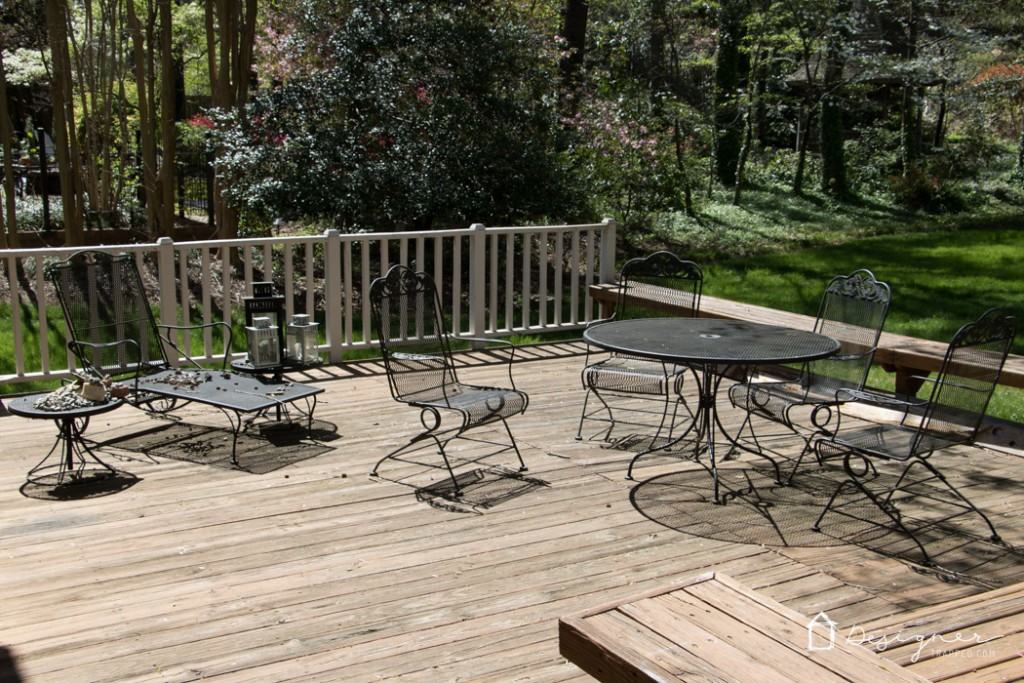 After drooling over the HGTV Spring House, I decided it's time for us to take some action to improve our outdoor gathering space.  Have y'all SEEN the HGTV screened in porch decorated for Spring?  It totally makes me swoon.  I'm a color girl and texture lover and let me tell you… they nailed both in this outdoor space.  Here's a tiny taste of it, but you should definitely check out all the photos of the space.  You can see the rest of the photos here.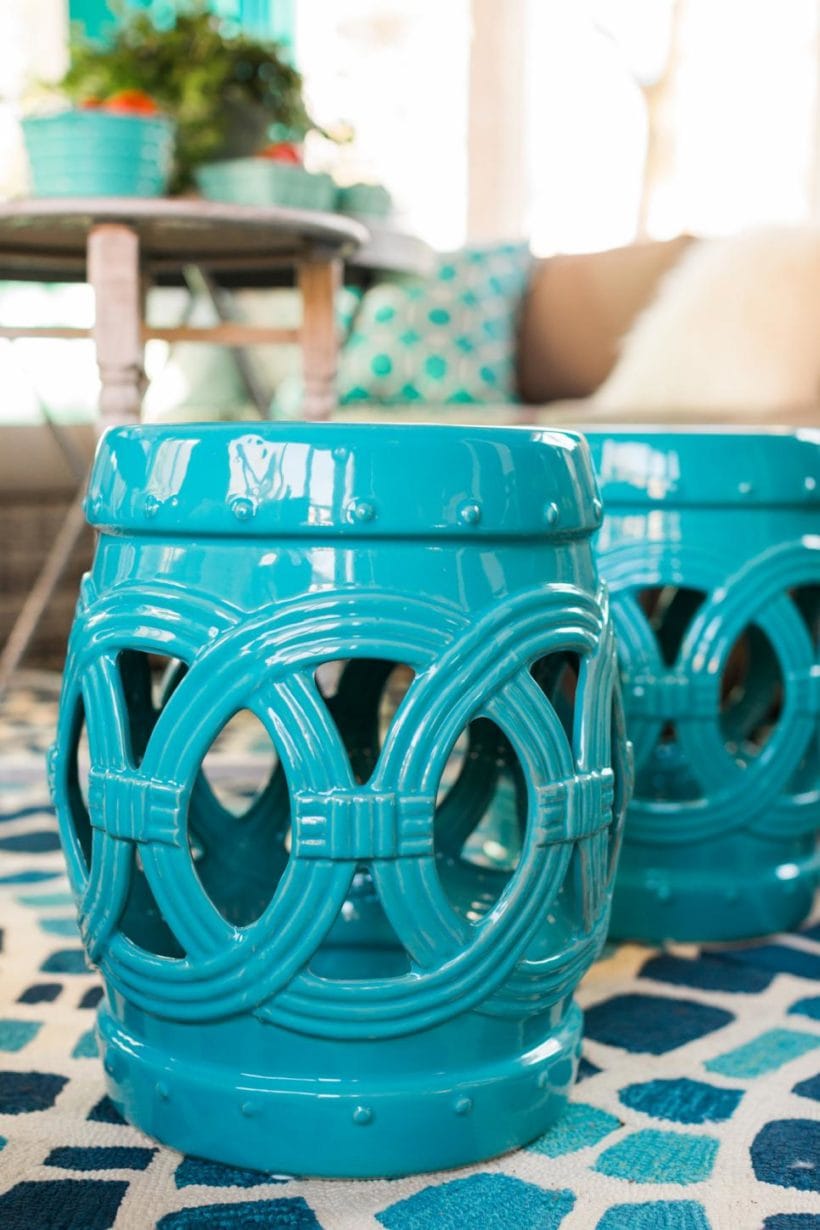 We decided to dedicate a budget of $500 toward improving the space.  That amount of money has to stretch a long way for what I have in mind, so I did all of my shopping at At Home.  I always find great deals there, especially when I am shopping for seasonal items.  Plus, it has a giant selection.  GIANT.  Think I'm kidding?  Check out what greeted me as soon as I entered the doors!  And this is just SCRATCHING THE SURFACE of the outdoor items that At Home has.  It's seriously amazing.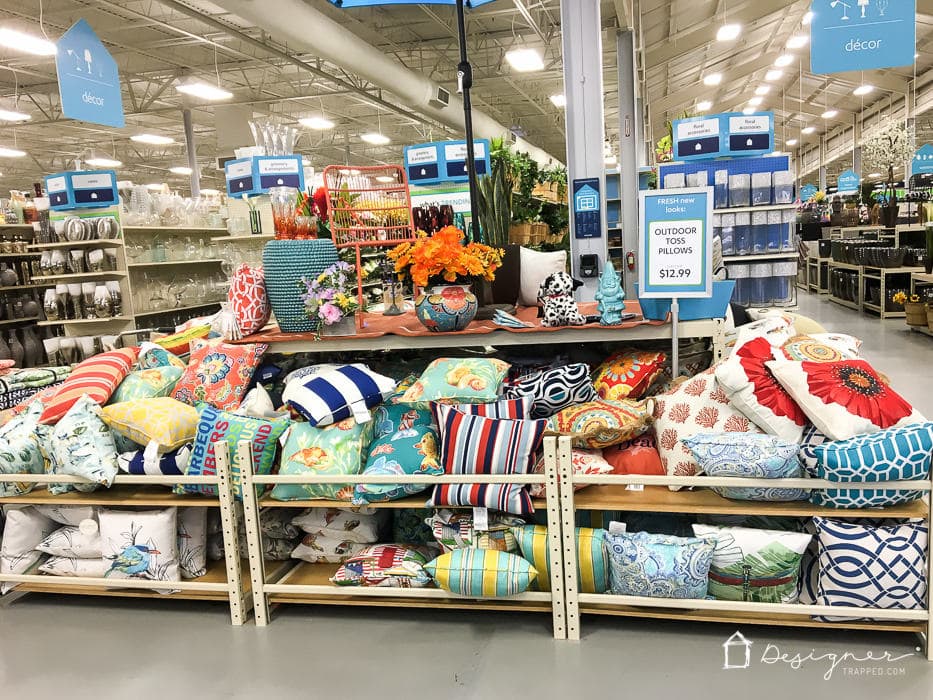 One of my sweet girls made the trip with me.  Just like her momma, Attley loves to pick out home decor, so we had fun.  It didn't hurt that she made the cart super comfy for herself :)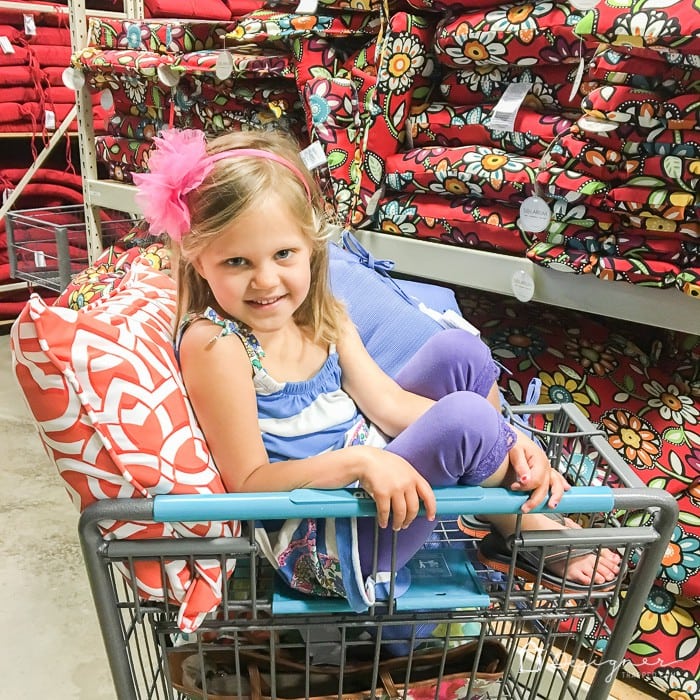 I knew I wanted to add a lot of color and pattern to our deck space and I definitely wanted a rug.  So, we started in the rug section, which is where I fell in love with this beauty.  I wrangled it up to the front desk and we continued on our mission.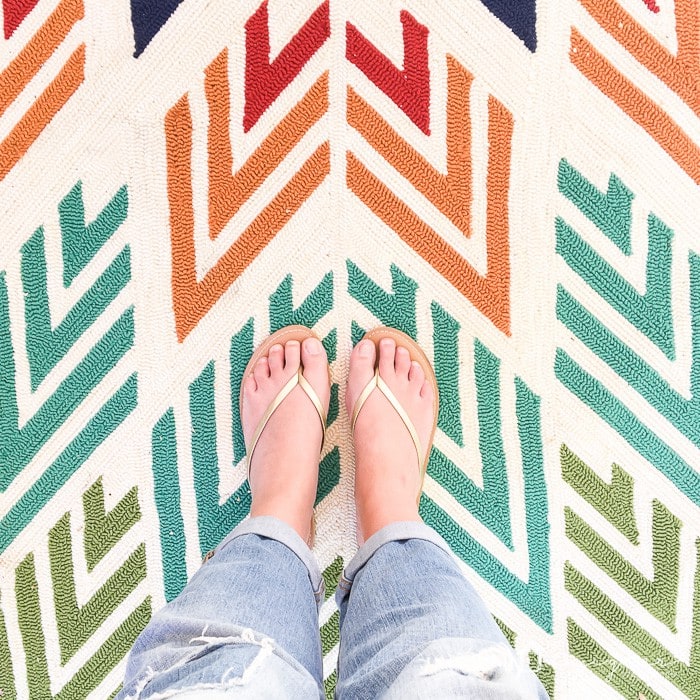 Next, we headed to the HUGE section of outdoor cushions and pillows where we scooped up cushions for the chaise lounge and our four dining chairs.  At Home makes it easy because things are generally organized by color, so you can narrow down your choices and stay focused (relatively speaking, of course).  We also found some GORGEOUS throw pillows, but I am not going to show any of that to you yet :)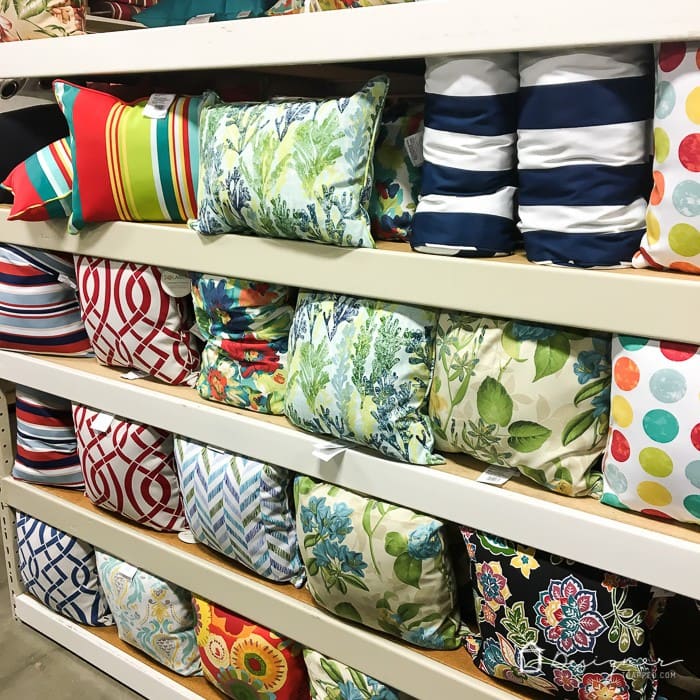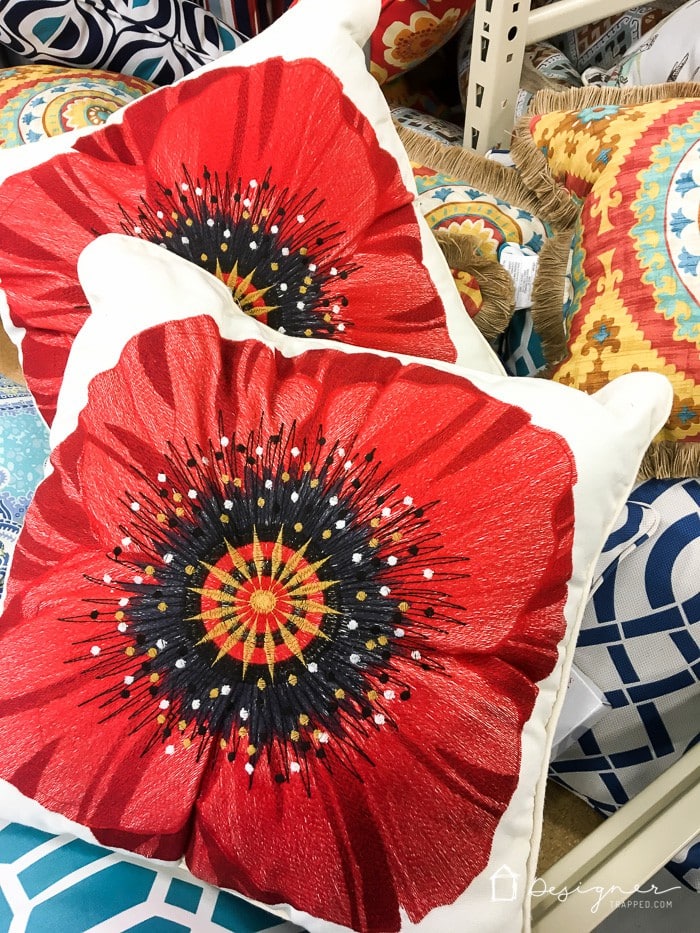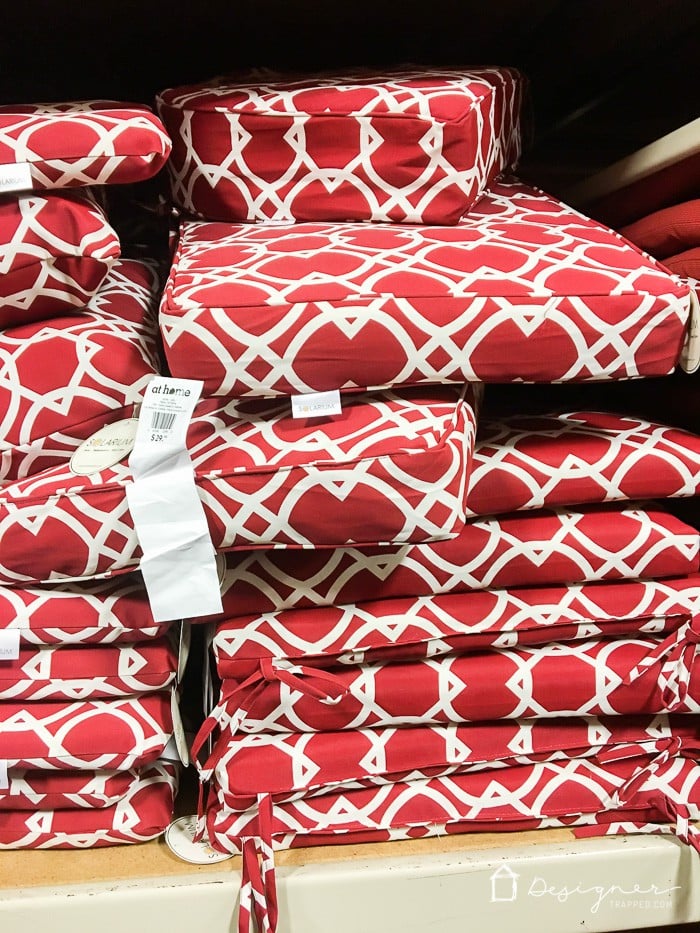 I was SERIOUSLY tempted by the section of outdoor tables and stools, but was able to restrain myself and stick to my "must-haves."  But just check out this goodness.  All that color and those fantastic geometric shapes.  I was swooning.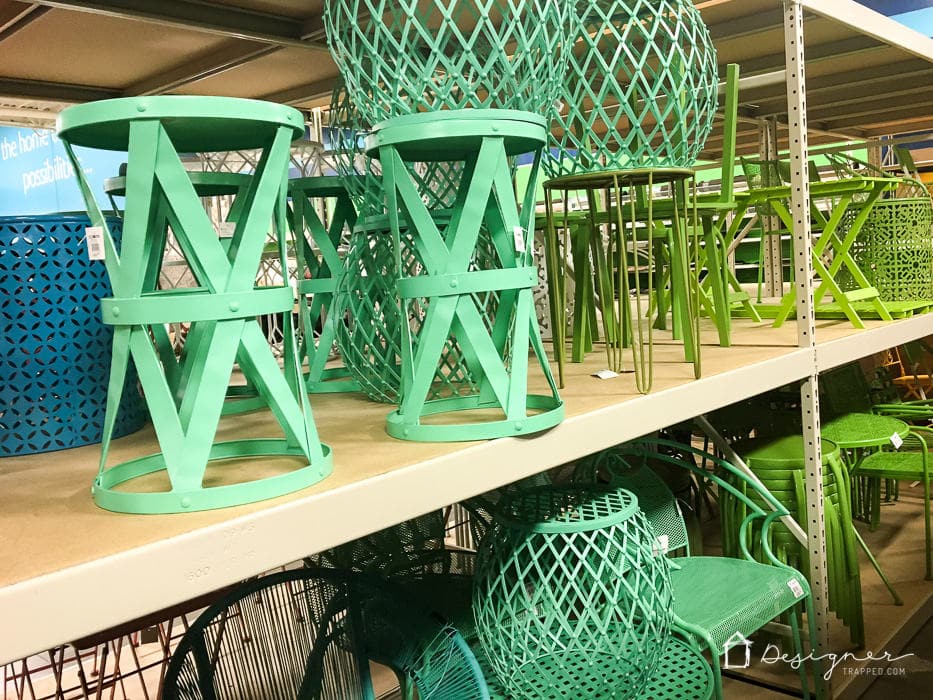 The hardest part of our shopping trip was loading it all into the back of my husband's truck.  I can't BELIEVE the amount of gorgeous stuff we purchased and I came in $10 under budget, spending right at $490.  Stay tuned.  I'll show you all of my choices soon enough.  But for now, let me know what you think of my rug choice :)
This is a sponsored conversation written by me on behalf of At Home. The opinions and text are all mine.