Enjoy the classic flavor of prosciutto pear salad with a fresh new twist. This crowd-pleasing recipe is the perfect balance of savory and sweet!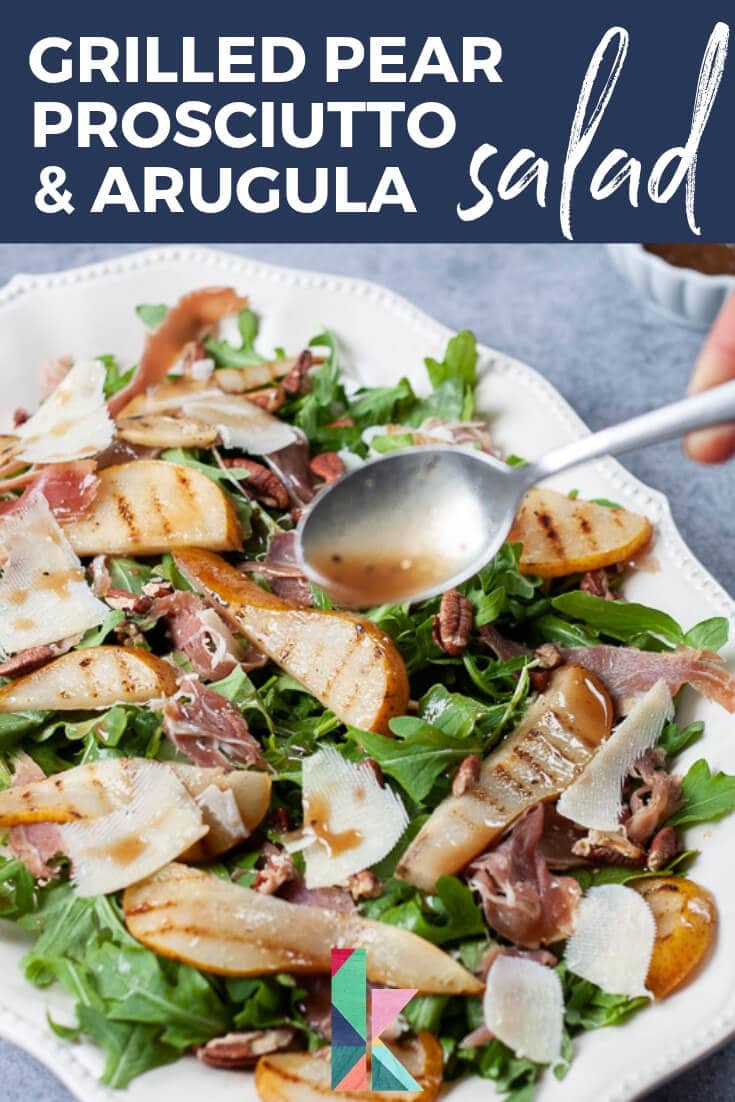 Prosciutto Pear Salad
Hello! It's Trish again from Spoonful of Butter.Lately, the recipes that I've been sharing here at Kaleidoscope Living are mostly desserts, like these Decadent White Chocolate Macadamia Cookies, Ganache Hearts , Mango Walnut Squares , and Creamy Fresh Fruit Panna Cotta . But today I'm bringing you a savory recipe – Prosciutto Pear Salad. It combines classic flavors on a bed of arugula.
These are my kind of ingredients for a good salad: sweet, salty, and peppery all at the same time. Add in some nutty flavor from the pecans, plus the strong savory taste from the Parmigiano-Reggiano…it's literally a party in your mouth! I especially love all the textures of all these ingredients together.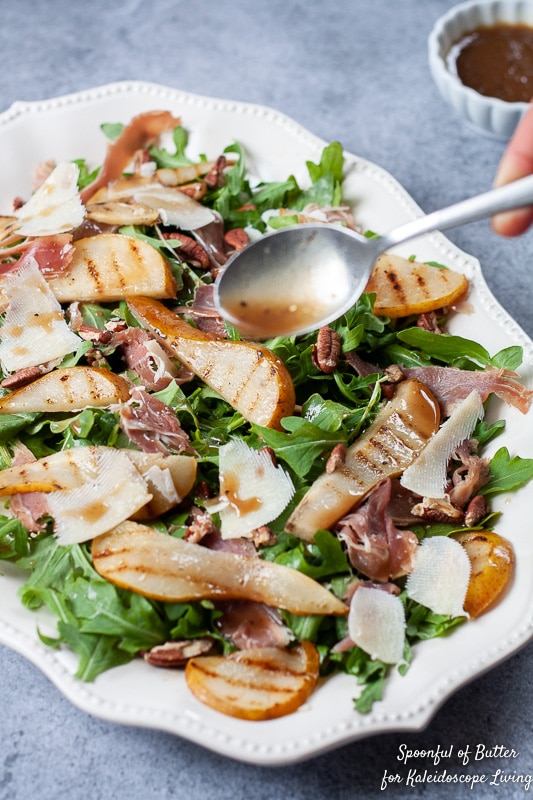 I first tried this salad at an Italian restaurant that my husband and I always go to. They dressed the greens with a simple olive oil mixture and then topped it with slices of prosciutto, big chunks of unpeeled pears, and shaved parmesan cheese.
That simple salad is already delicious but I thought of amping up the flavor by grilling the pears. Grilling pears make them a tad sweeter and softer. But when I'm looking for that extra crunch or feeling too lazy to turn on the stove, I just thinly slice and serve the pears as they are. Both ways are equally good, so it just really depends on what mood you are in.
I also made an olive oil-balsamic dressing with honey, mustard, and fresh lemon juice. Making the dressing couldn't be easier – just add all the ingredients in a mason jar and shake them up. So simple yet so good!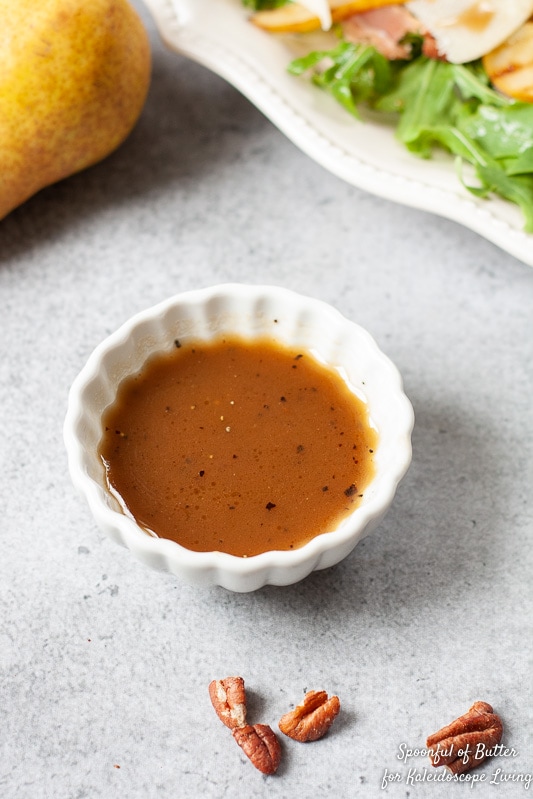 I add some toasted (unsalted) chopped pecans for added texture and nutty flavor. As with any other nuts, remember to roast them before using. To do that, heat oven to 350 F. Place the nuts in a single layer in an ungreased baking sheet. Bake until they become aromatic, about 5 minutes.
For the cheese, I used a vegetable peeler to shave some Parmigiano-Reggiano. You can also use Parmesan (not the pre-grated ones), Gorgonzola or Feta. I definitely encourage you to experiment on your own. You might be pleasantly surprised!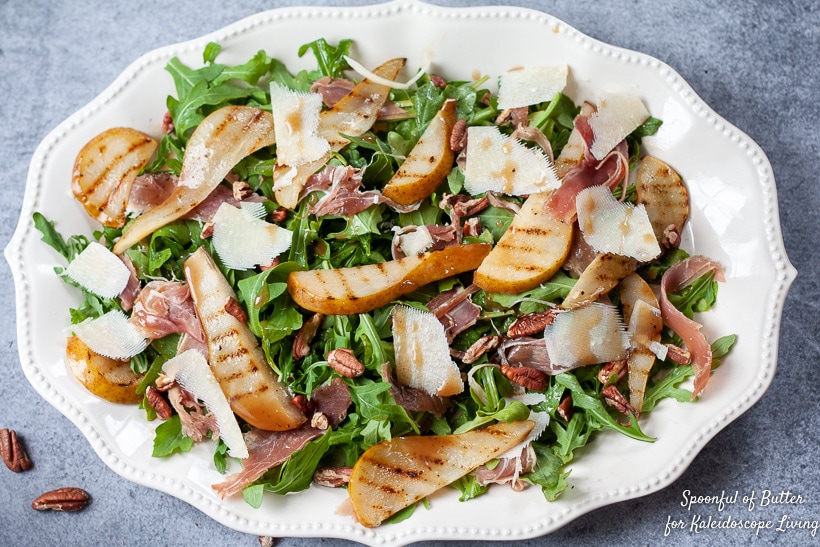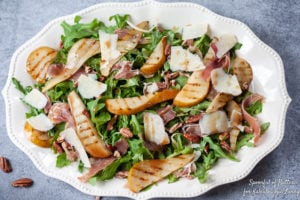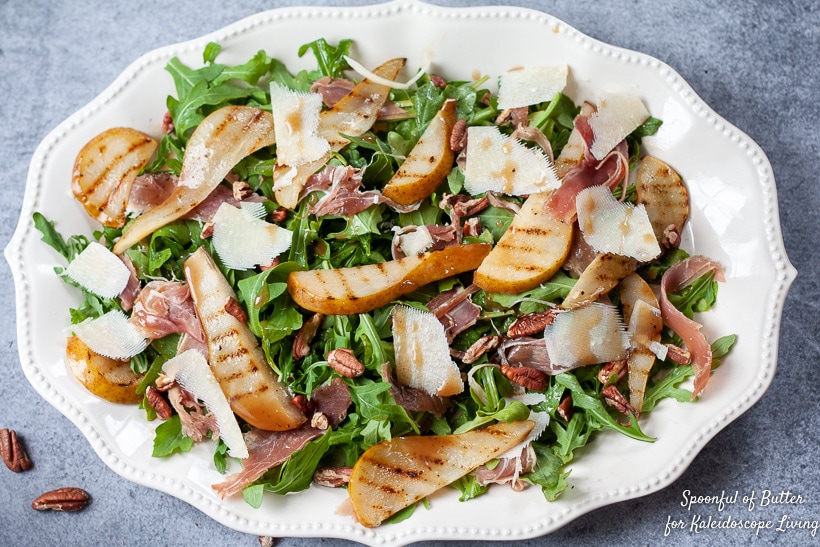 Print
Prosciutto Pear Salad
Yield 2 salads
Enjoy the classic flavor of prosciutto pear salad with a fresh new twist. This crowd-pleasing recipe is the perfect balance of savory and sweet!
Ingredients
For the Salad:
3 cups baby arugula (add less or more to your liking)
6 slices prosciutto
1 firm pear, sliced to about 1/4 inch thin (I used Bosc pears.)
1/4 cup chopped toasted pecans
shaves of Parmigiano-Reggiano cheese
For the Dressing:
3 tablespoons extra virgin olive oil
2 tablespoons honey
1 teaspoon balsamic vinegar
2 tablespoons fresh lemon juice
1 tablespoon dijon mustard
1/4 teaspoon fine salt
1/4 teaspoon freshly cracked pepper
Instructions
1. GRILL THE PEARS. Heat a grill pan over medium-high heat. Spray with nonstick spray. Lightly brush both sides of the pear slices with olive oil. Grill until they have visible grill marks, 1 to 2 minutes per side. Remove from pan and let cool.
2. MAKE THE DRESSING. In a small jar with a lid, add all the dressing ingredients. Cover and shake until mixed well. Taste, and adjust the salt and pepper to your liking.
3. ASSEMBLE THE SALAD. Place arugula in a serving plate. Tear the prosciutto into pieces and scatter across the top. Add in the grilled pears, toasted pecans, and shaves of cheese. Drizzle the dressing over the salad just before serving.
Want some more salad recipes? Head over to my salad archives or simply click on any of the images or links below.
[mv_create key="6″ type="list" title="More Recipes" thumbnail="https://designertrapped.com/wp-content/uploads/2019/05/Grilled-Pear-Prosciutto-Arugula-Salad-Featured.jpg" layout="circles"]