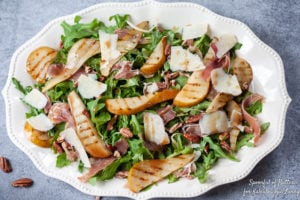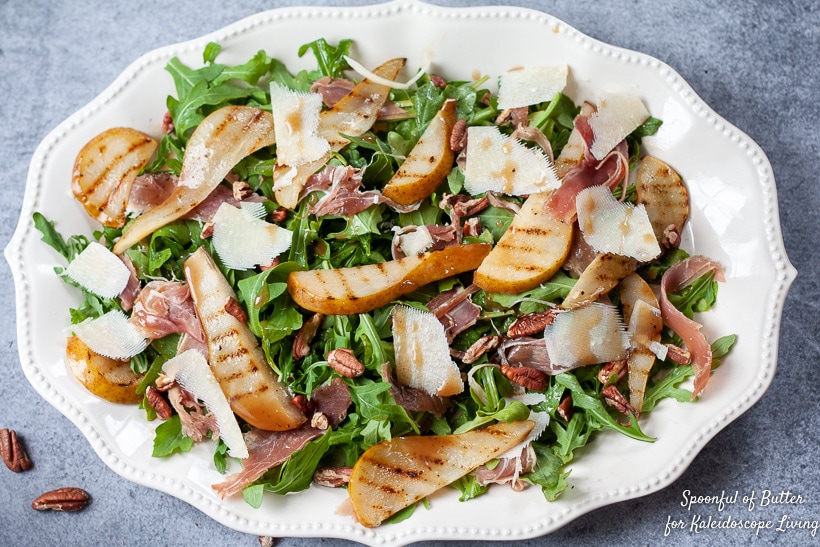 Prosciutto Pear Salad
Yield 2 salads
Enjoy the classic flavor of prosciutto pear salad with a fresh new twist. This crowd-pleasing recipe is the perfect balance of savory and sweet!
Ingredients
For the Salad:
3 cups baby arugula (add less or more to your liking)
6 slices prosciutto
1 firm pear, sliced to about 1/4 inch thin (I used Bosc pears.)
1/4 cup chopped toasted pecans
shaves of Parmigiano-Reggiano cheese
For the Dressing:
3 tablespoons extra virgin olive oil
2 tablespoons honey
1 teaspoon balsamic vinegar
2 tablespoons fresh lemon juice
1 tablespoon dijon mustard
1/4 teaspoon fine salt
1/4 teaspoon freshly cracked pepper
Instructions
1. GRILL THE PEARS. Heat a grill pan over medium-high heat. Spray with nonstick spray. Lightly brush both sides of the pear slices with olive oil. Grill until they have visible grill marks, 1 to 2 minutes per side. Remove from pan and let cool.
2. MAKE THE DRESSING. In a small jar with a lid, add all the dressing ingredients. Cover and shake until mixed well. Taste, and adjust the salt and pepper to your liking.
3. ASSEMBLE THE SALAD. Place arugula in a serving plate. Tear the prosciutto into pieces and scatter across the top. Add in the grilled pears, toasted pecans, and shaves of cheese. Drizzle the dressing over the salad just before serving.
Recipe by Kaleidoscope Living at https://designertrapped.com/prosciutto-pear-salad/