Check out this week's sale alerts from my favorite places to shop AND my latest colorful finds!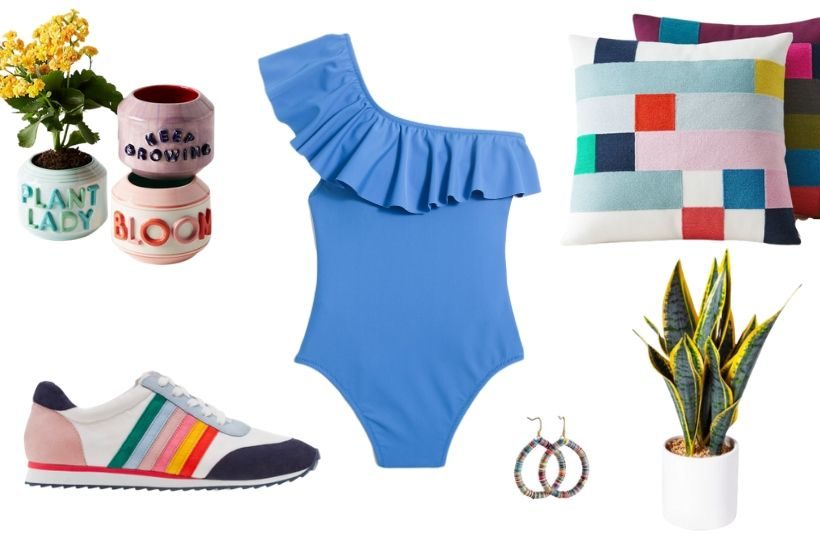 This post contains some affiliate links for your convenience. Click here to read my full disclosure policy.
Click on any of the links or photos below for full product details!
Colorful Planters | Colorblock Throw Pillows| Blue Ruffle Bathing Suit | Colorful Earrings | Rainbow Sneakers | Snake Plant

If you've been a reader for a long time, you may remember that I used to write "Colorful Catches" posts for a hot minute. Well, I've decided to bring them back! These posts are short and sweet and are just meant to share with you colorful and fun things that have recently caught my eye. But this time I'm adding information about any awesome sales I've learned about also.
A few notes about this week's Colorful Catches.
I just ordered those Colorblock Throw Pillows for our family room and I am SO FRIGGIN excited about them. They arrived yesterday and are even prettier in person.
I've had these Colorful Earrings for over a year now and wear them more than any other earrings. They are lightweight, comfy and so pretty! Plus, since they include allllll the colors, they pretty much go with everything.
These Rainbow Sneakers were a total splurge for me, and I don't regret it one bit. They are EPIC. They are comfy but definitely don't have the support of running or walking sneakers.
SALE ALERTS
Nordstrom– The Nordstrom Anniversary Sale is still going strong until August 4th!
Target– Save $10 when you spend $30, or save $40 when you spend $100 on select home items with code COLLEGE. Valid through 8/3.
Old Navy– 20% off any amount, 30% off $75 or more, 40% off $100 or more. Valid through 8/3. Use code SHOP.
West Elm– Extra 30% off clearance items using code YESPLEASE.
Pottery Barn- 25% off all bedding with code SUNSHINE.
Anthropologie- Extra 25% off sale items.
J. Crew Factory– Extra 20% off purchases of $100 or more.
That's it, y'all! Have a happy weekend!