I love quick recipes that produce a hearty and healthy meal for my family. This easy slow cooker sausage, spinach and white bean soup is delicious comfort food that everyone will love!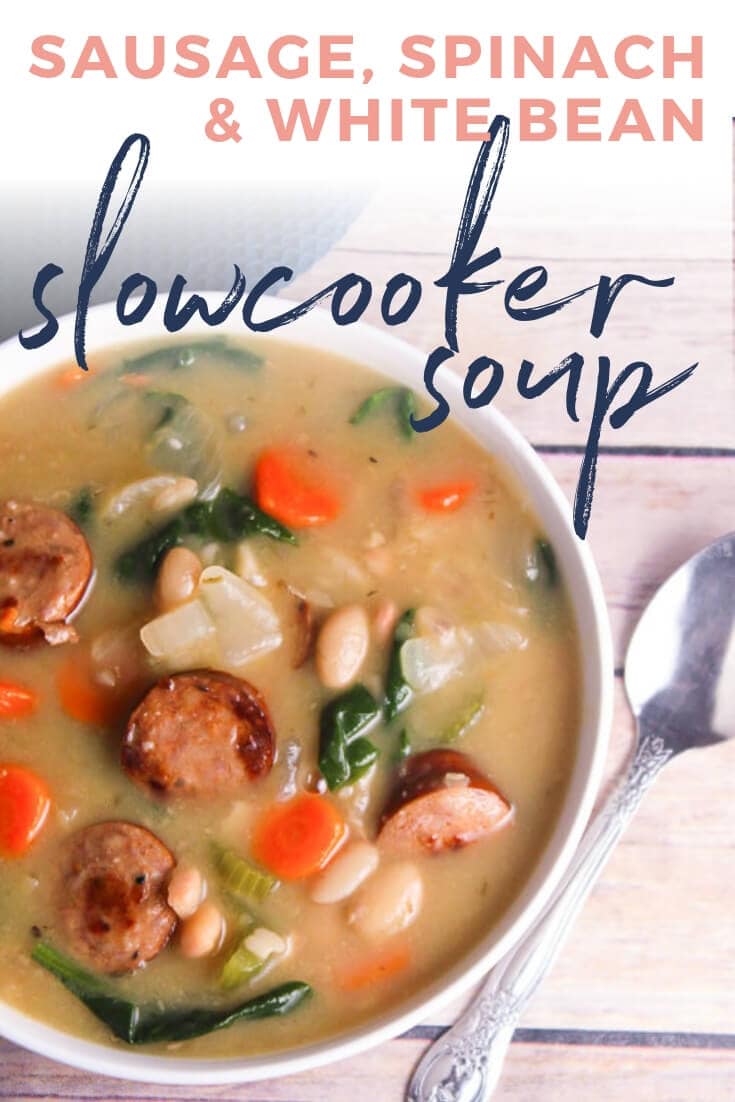 With life hovering at light speed, I am trying to simplify our evenings. The girls are in more after-school activities and have more homework, Joe is fully recovering from his last surgery, and I am working and traveling more. Lots of nights, when we walk in the door the last thing I want to think about is dinner. I seriously LOVE to cook, but sometimes I just plain don't have the time or the energy.
I have been adding recipes to my mental cookbook of meals that I can do with as little effort and time as possible, but are still healthy and filling. This slow cooker sausage, spinach and white bean soup is one of my new favorites! It is warm and hearty and super tasty, but simple enough that my girls eat it right up (along with all the veggies in it!). I also really love that I can put it together long before the afternoon rush, and it is ready and waiting for us when we come home after a busy few hours starving and exhausted!
If you are like me and want to skip all the pretty pictures of the soup and go straight to the printable recipe, click the button  Skip to the Recipe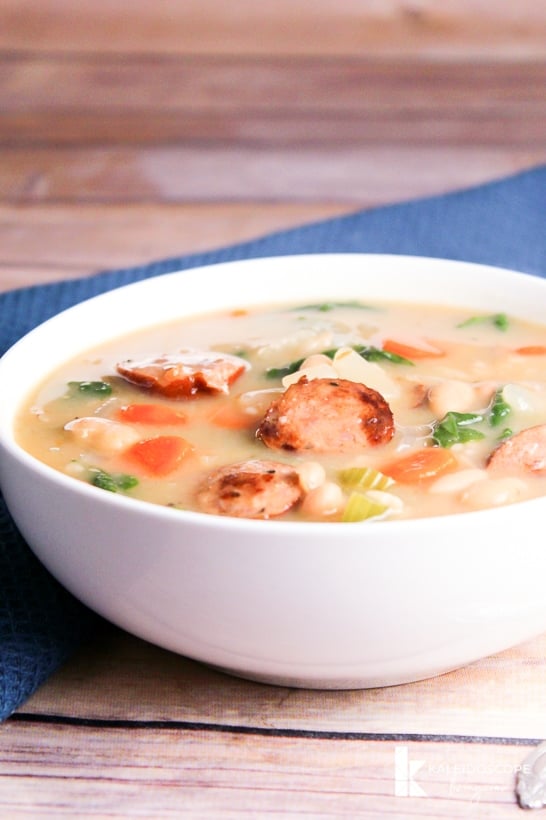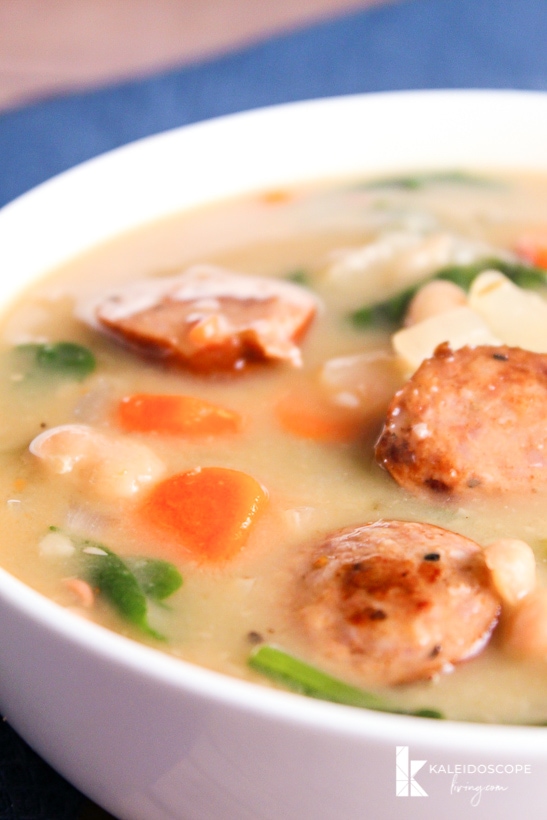 I promise it really is as good as it looks! Your family will love it and you will love how easy it is.
Before you head out, be sure to check out my other easy and delicious recipe posts!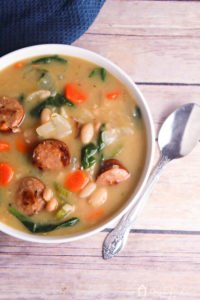 Print
Slow Cooker Sausage, Spinach & White Bean Soup
Yield 8 bowls
This easy slow cooker sausage, spinach and white bean soup is delicious comfort food! Filled with veggies and bursting with flavor, your entire family will love it.
Ingredients
1 tbsp. vegetable oil
1 (12 oz.) package smoked sausage, sliced
3 garlic cloves, minced
1 medium yellow onion, diced finely
2 stalks celery, diced finely
2 (15 oz.) cans white beans
3 medium carrots, diced
1/2 tsp. dried oregano
2 large bay leaves
4 cups chicken or vegetable broth
2 cups water
1 tsp. sea salt
1/2 tsp. black pepper
2 1/2 cups fresh spinach
Instructions
In a large skillet over medium-high heat, heat vegetable oil and add sliced sausage to pan, stirring and cooking for about 3 minutes.
In the pot of a slow cooker, combine cooked sausage, minced garlic, onion, celery, beans, carrots, dried oregano, and bay leaves. Pour in chicken broth and water and stir to combine.
Add salt and pepper and cover. Let cook on HIGH for 3-4 hours.
Before serving, stir in spinach and let cook until wilted. 
Courses Entree