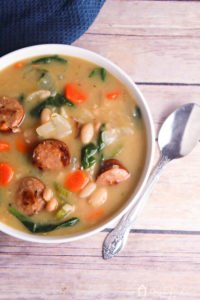 Slow Cooker Sausage, Spinach & White Bean Soup
Yield 8 bowls
This easy slow cooker sausage, spinach and white bean soup is delicious comfort food! Filled with veggies and bursting with flavor, your entire family will love it.
Ingredients
1 tbsp. vegetable oil
1 (12 oz.) package smoked sausage, sliced
3 garlic cloves, minced
1 medium yellow onion, diced finely
2 stalks celery, diced finely
2 (15 oz.) cans white beans
3 medium carrots, diced
1/2 tsp. dried oregano
2 large bay leaves
4 cups chicken or vegetable broth
2 cups water
1 tsp. sea salt
1/2 tsp. black pepper
2 1/2 cups fresh spinach
Instructions
In a large skillet over medium-high heat, heat vegetable oil and add sliced sausage to pan, stirring and cooking for about 3 minutes.
In the pot of a slow cooker, combine cooked sausage, minced garlic, onion, celery, beans, carrots, dried oregano, and bay leaves. Pour in chicken broth and water and stir to combine.
Add salt and pepper and cover. Let cook on HIGH for 3-4 hours.
Before serving, stir in spinach and let cook until wilted. 
Courses Entree
Recipe by Kaleidoscope Living at https://designertrapped.com/slow-cooker-sausage-spinach-white-bean-soup/