Small Porch Ideas + Reveal
Last Updated on August 10, 2021
This post is brought to you by CJ Affiliate's VIP Content Service. Thank you Pier 1 for sponsoring this post. While this was a sponsored opportunity from Pier 1, all content and opinions expressed here are my own.
Not everyone has a sprawling, wrap around porch, am I right?! I know we sure don't. Both our front and back porch areas are small. But small porches can be fabulous! Today I'm sharing with you some small porch ideas and revealing how we totally transformed our back porch area into an inviting and comfortable lounge area.
Our back "porch" (if you can call it that) is a really narrow deck, and the fact that it is small isn't the only issue we had with it. The area was also plagued with ugly utility boxes right by the back door. Talk about an eye sore.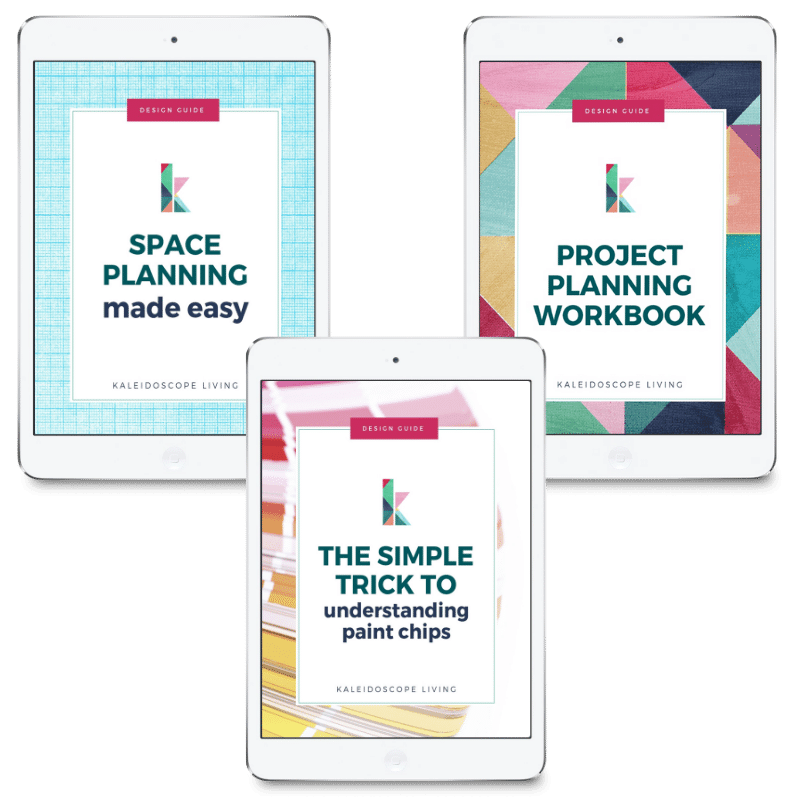 Get my FREE design guides when you subscribe!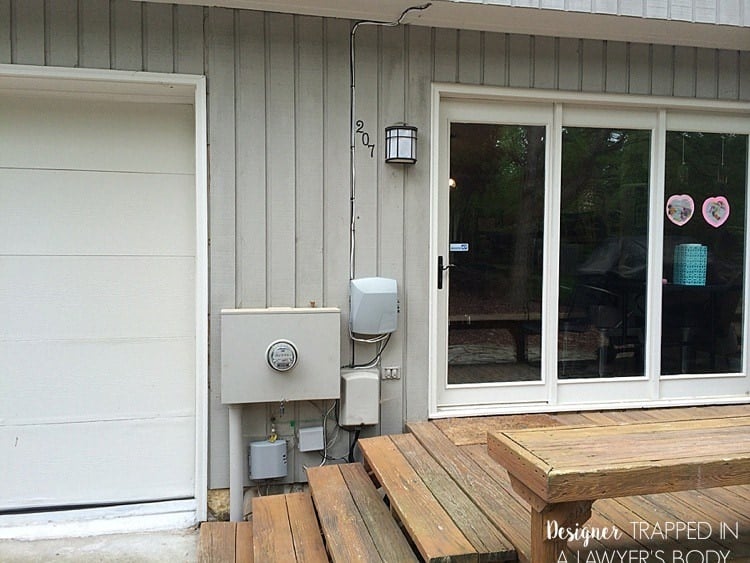 Small Porch Ideas
Before you head out shopping for your own small porch, here are my top small porch ideas to bear in mind:
1) Add plants– Greenery is a common element of all beautiful small porch designs. A simple planter or hanging box is all you need to take your porch decor up a notch.
2) Go vertical– Use vertical space to your advantage. Hang outdoor lights, a wreath and hanging plants for color and interest. If you have wall space, you could even consider hanging some artwork.
3) Add seating– Most small porches can accommodate some kind of seating, even if it is a tiny garden stool. But even the smallest seat makes a space feel more welcoming.
4) Add color and texture– Create tons of visual interest with different colors and textures to create the feeling of a cozy, indoor room.
With those small porch decor ideas in mind, are you ready for a tour of our new and improved space? You'll notice that I took all of my own advice :)
We started by addressing those ugly utility boxes with a DIY wood screen solution that looks awesome–you can find that tutorial here. That alone was a HUGE improvement, but I knew I wanted to add lots of color and texture, so naturally I headed to Pier 1, one of my "go to" stores.  I picked up two Casbah chairs in Mocha and dressed them up with turquoise cushions and tile embroidered pillows.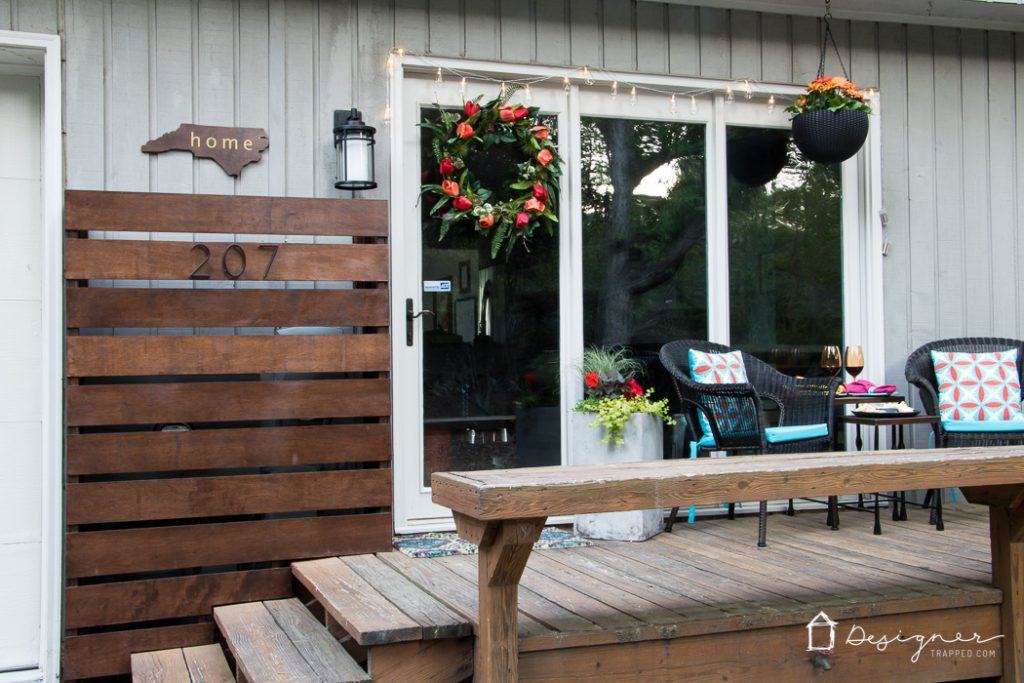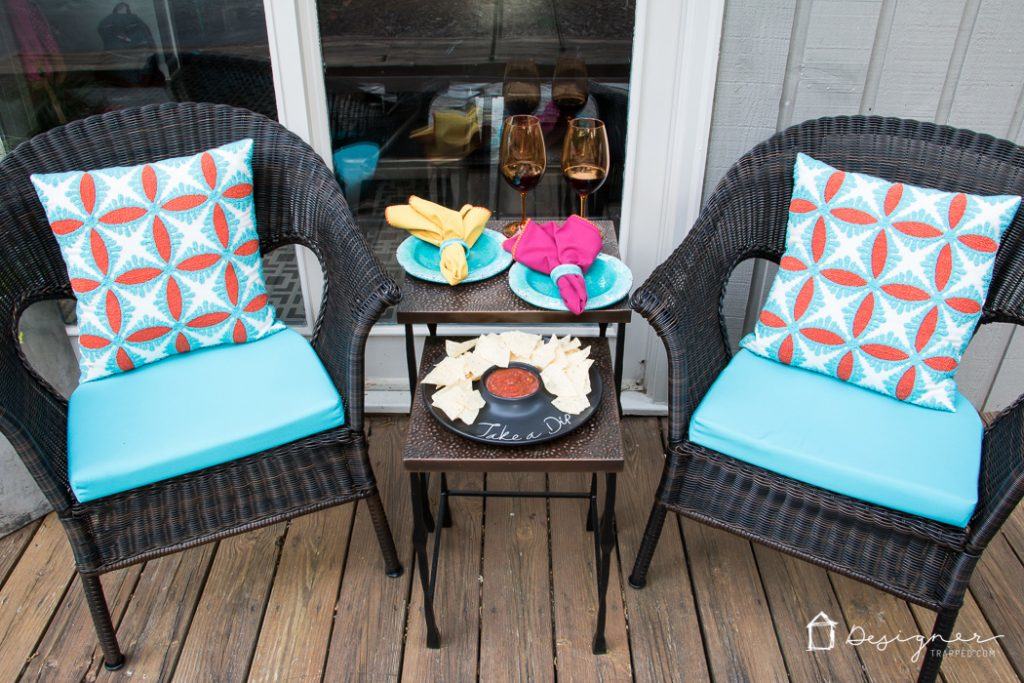 We also added these awesome nesting tables. They don't take up much space, but provide plenty of surface for plates, drinks and snacks :)  Now that our twin girls are a little bit older (they are 5), we can sit on the porch while the girls play in the back yard.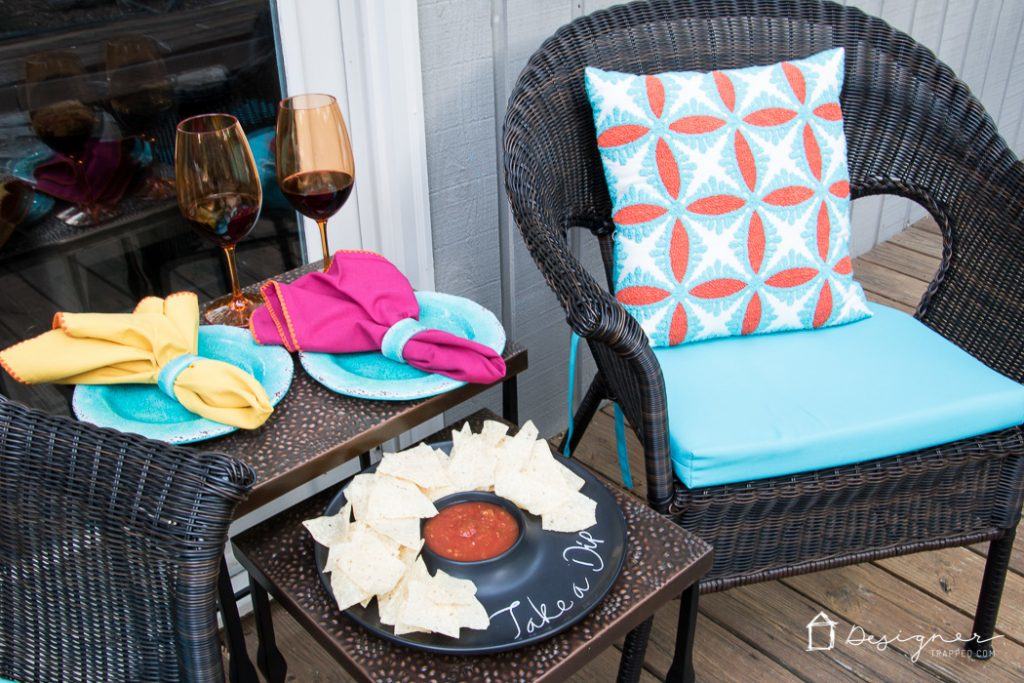 Speaking of plates and stuff, the outdoor dinnerware at Pier 1 is AH-MAZING. Those plates are melamine y'all! What?! They seriously look like authentic pottery. And the acrylic stemware absolutely looks like glass. Now, the chip and dip plate is breakable, but it was too cute to pass up :)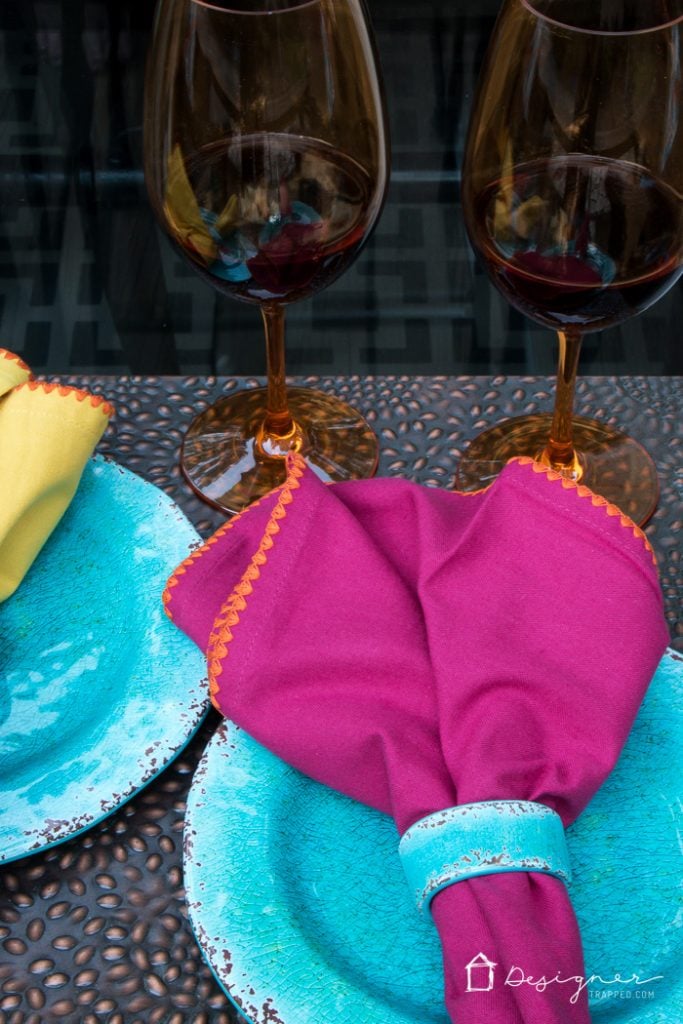 To take advantage of the vertical space, we hung a pretty wreath, a hanging plant and some LED industrial string lights. They look so pretty at night and they are battery operated, so you don't even have to plug them in!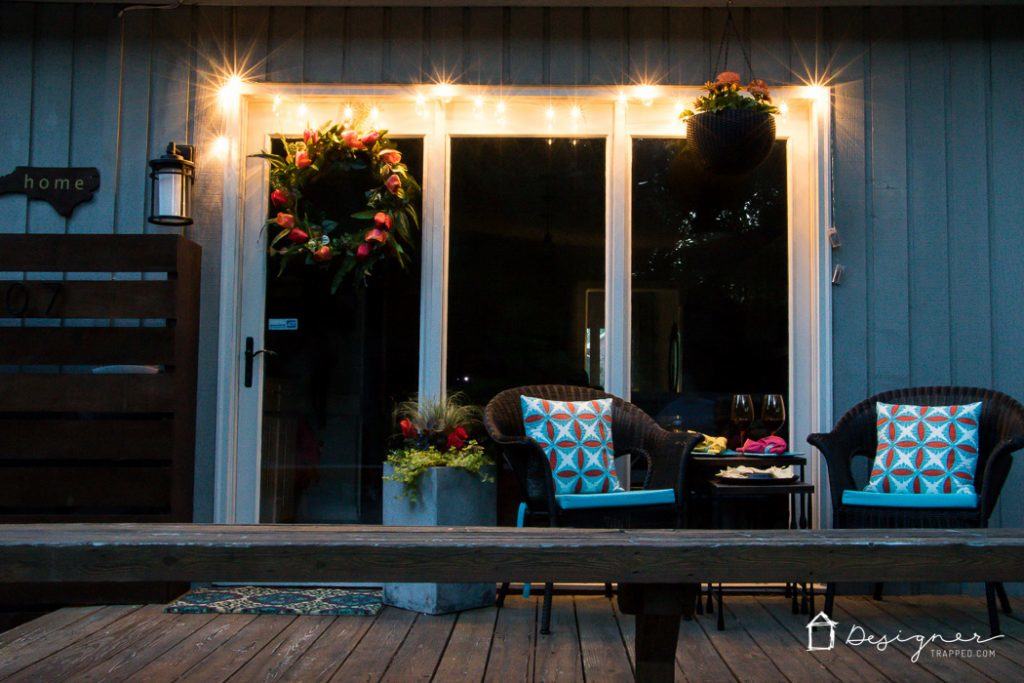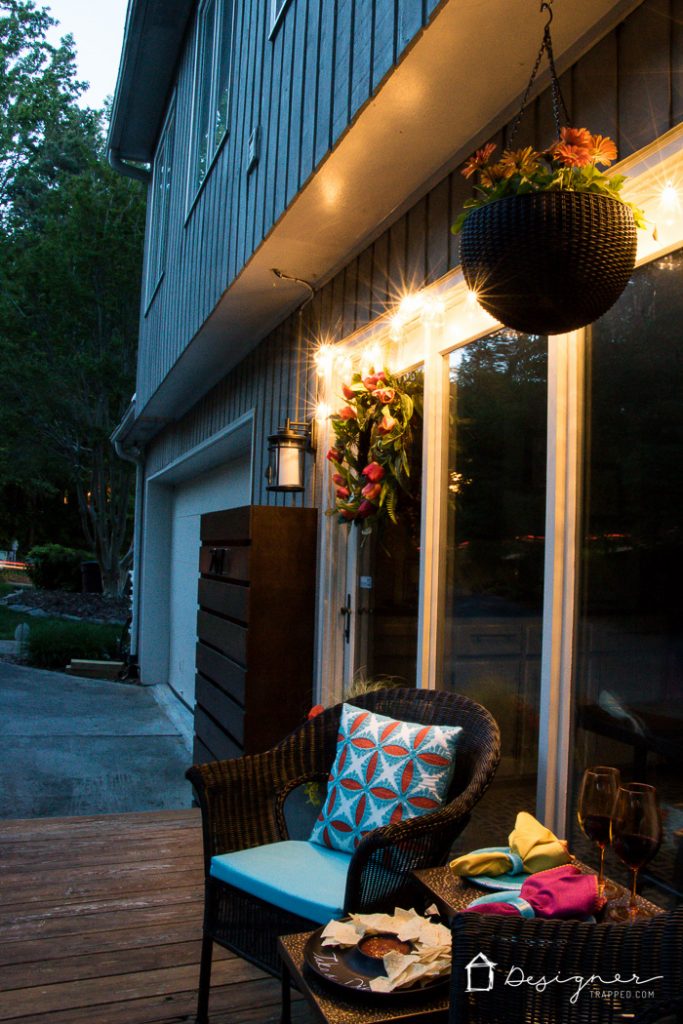 And of course, we added some greenery to our concrete planter. Creeping Jenny is my absolute favorite :)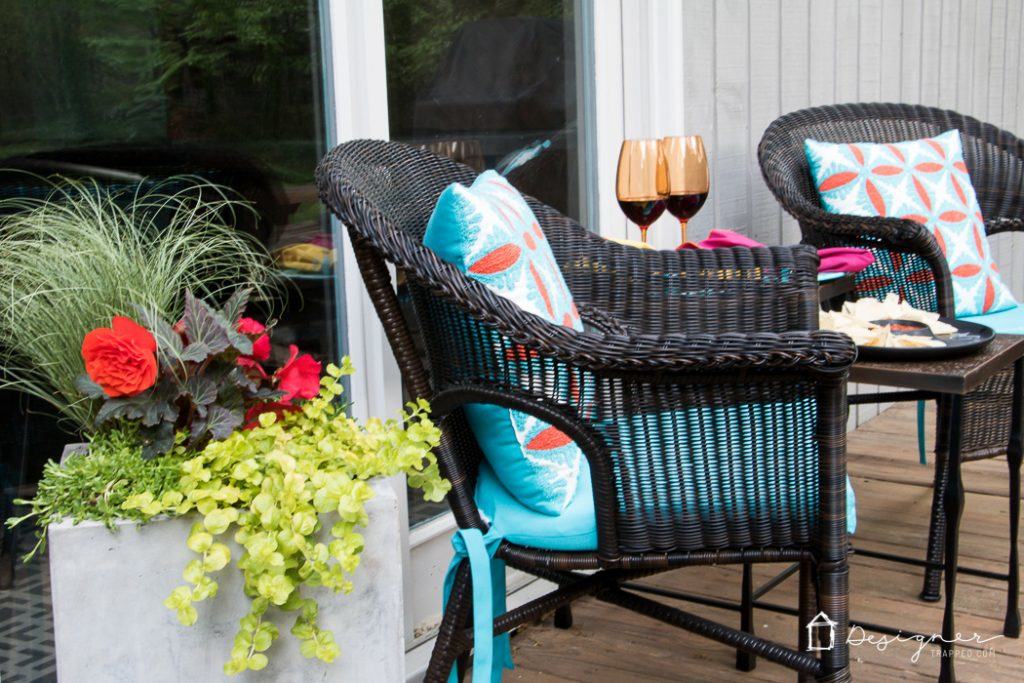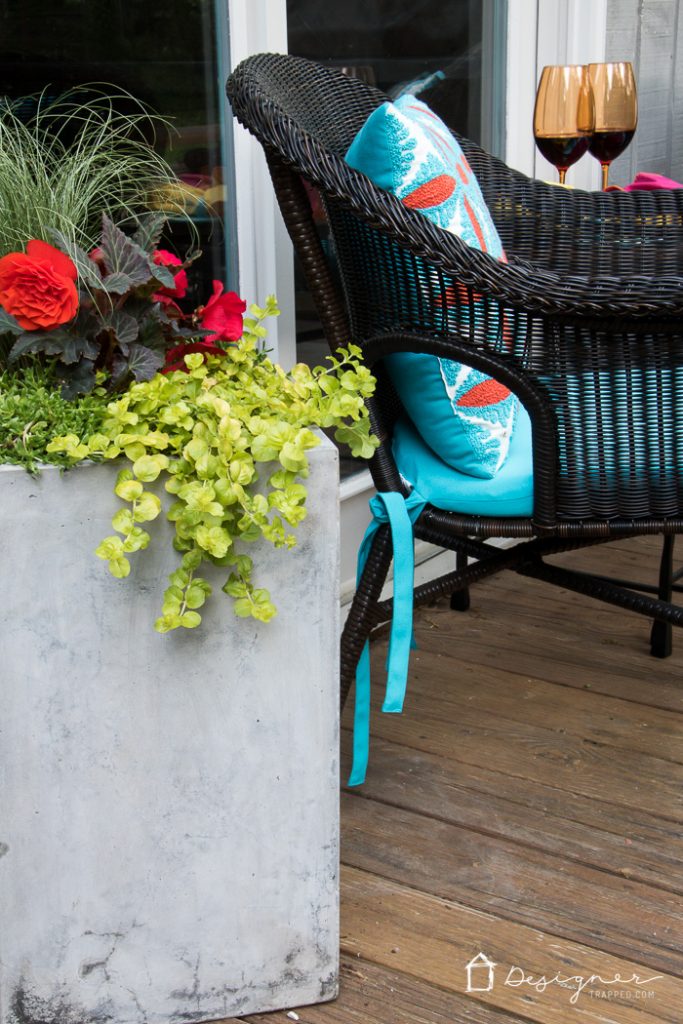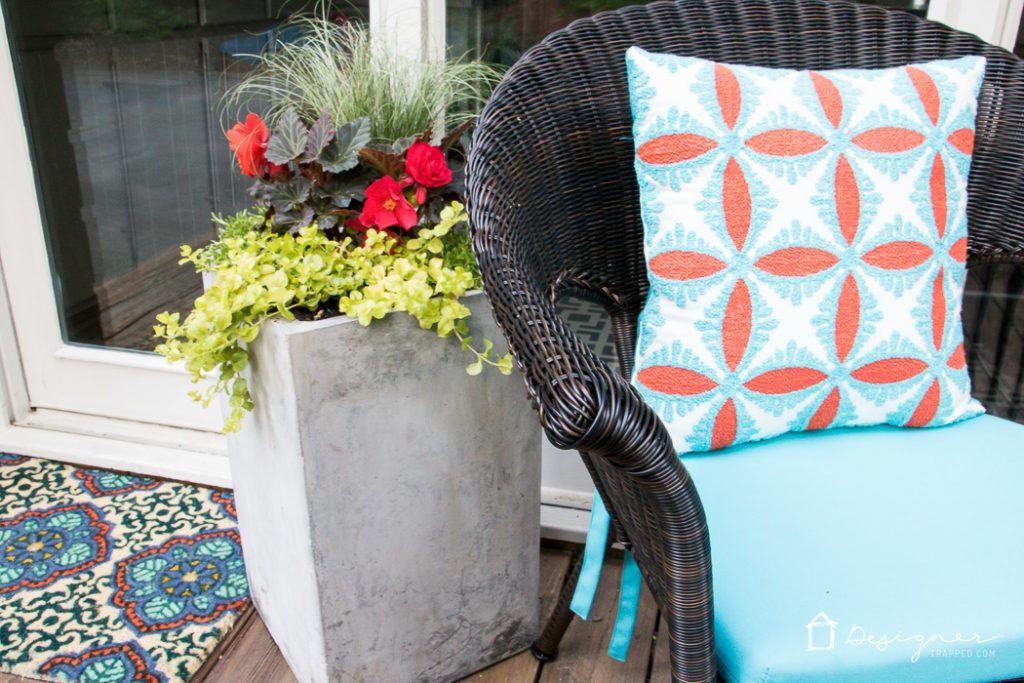 And let's take a closer look at that gorgeous doormat. Talk about color, texture and pattern all in one!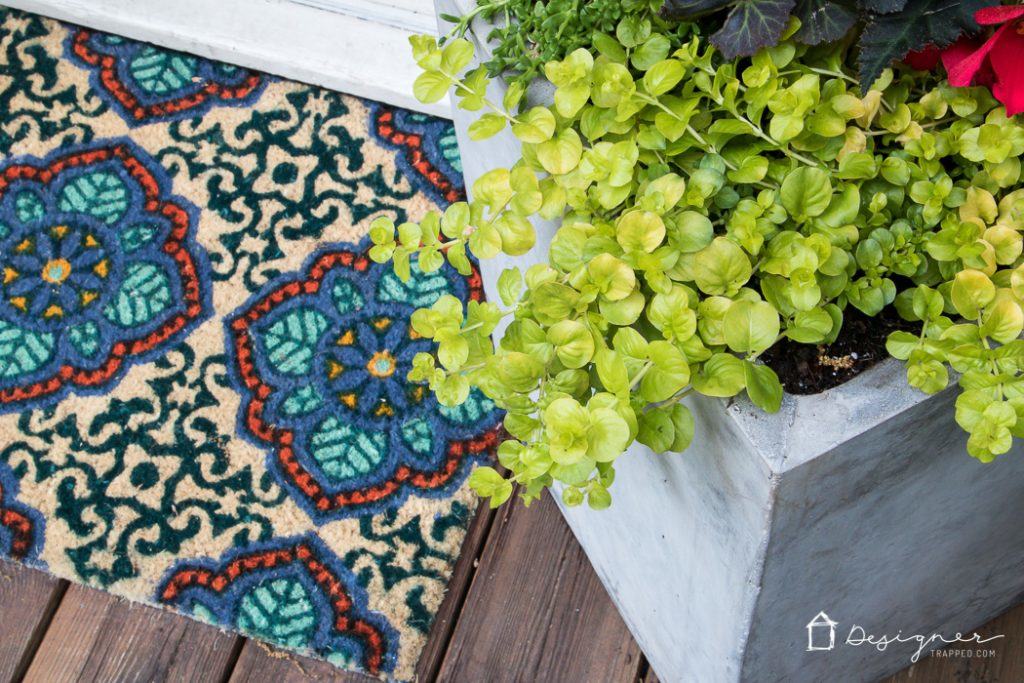 Here's a few more shots of how the whole space came together.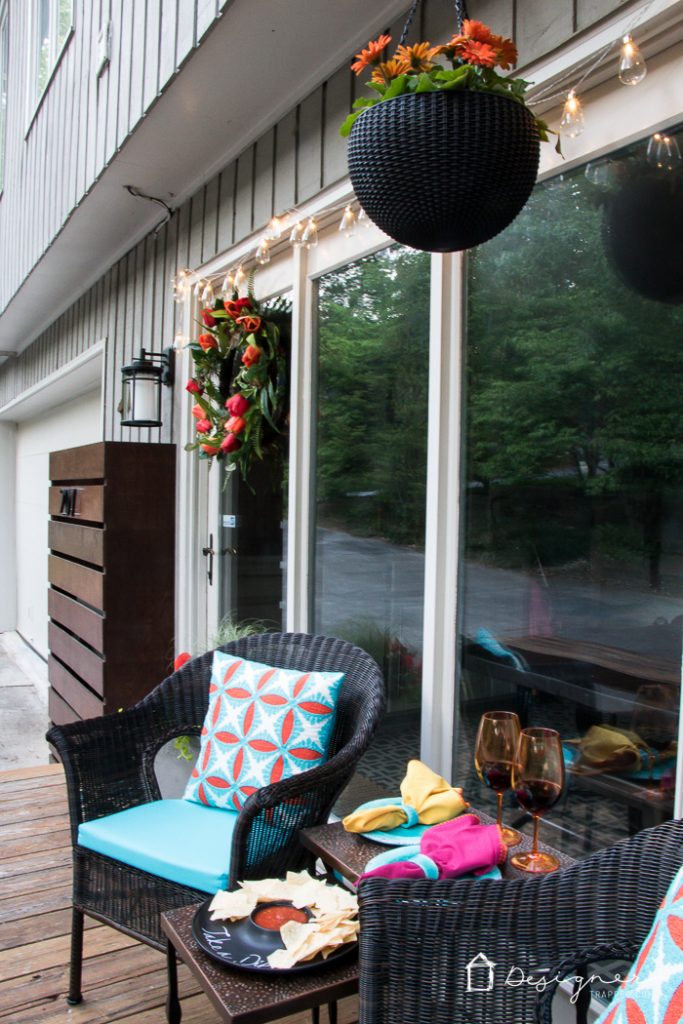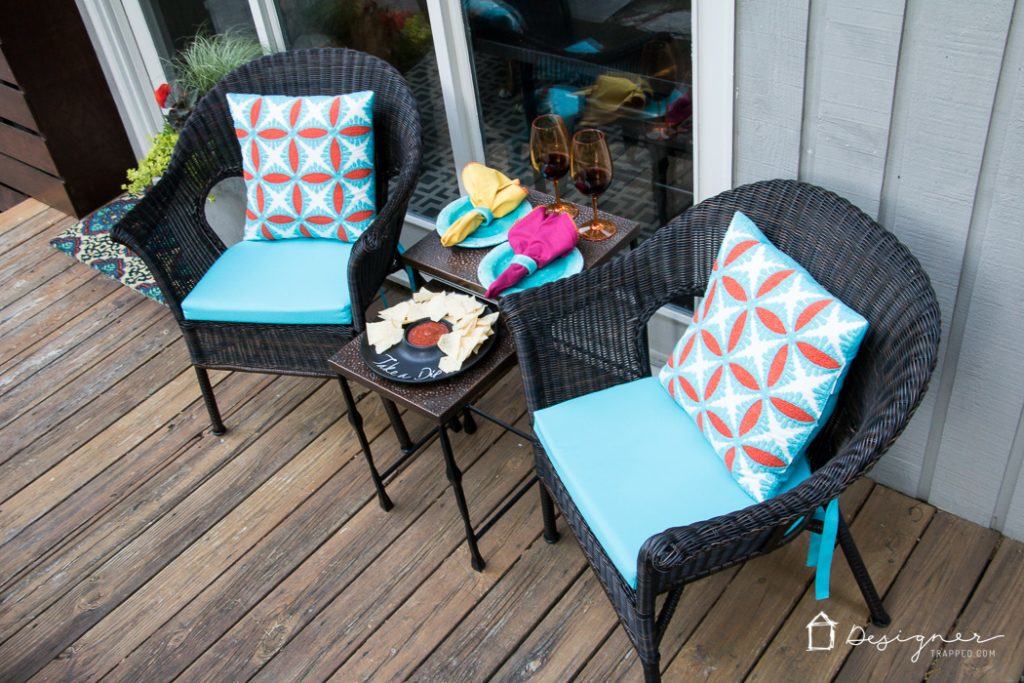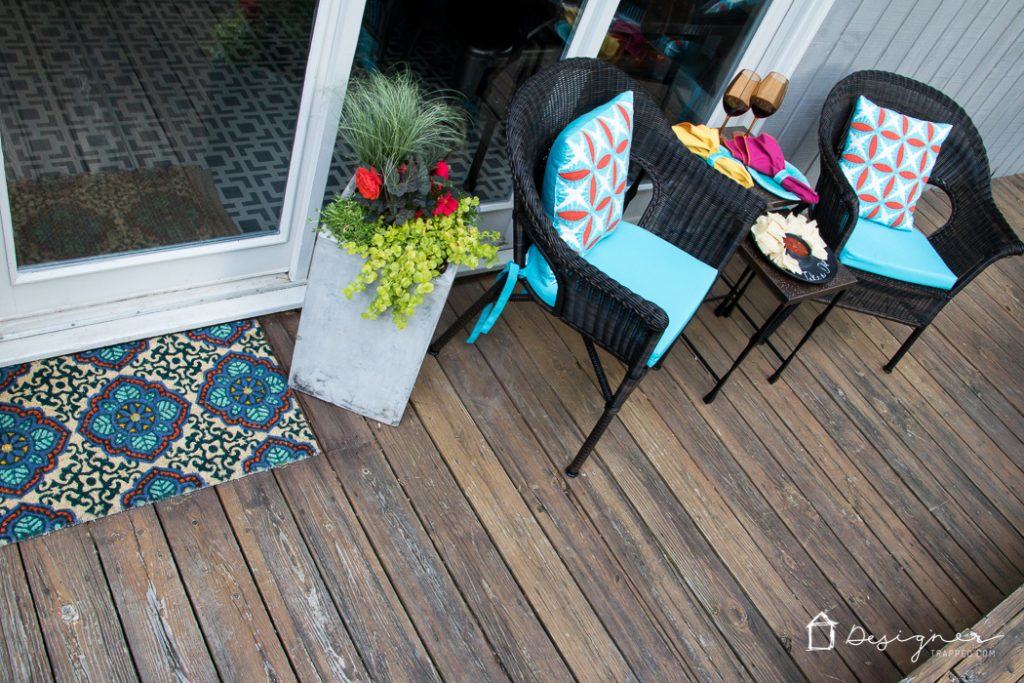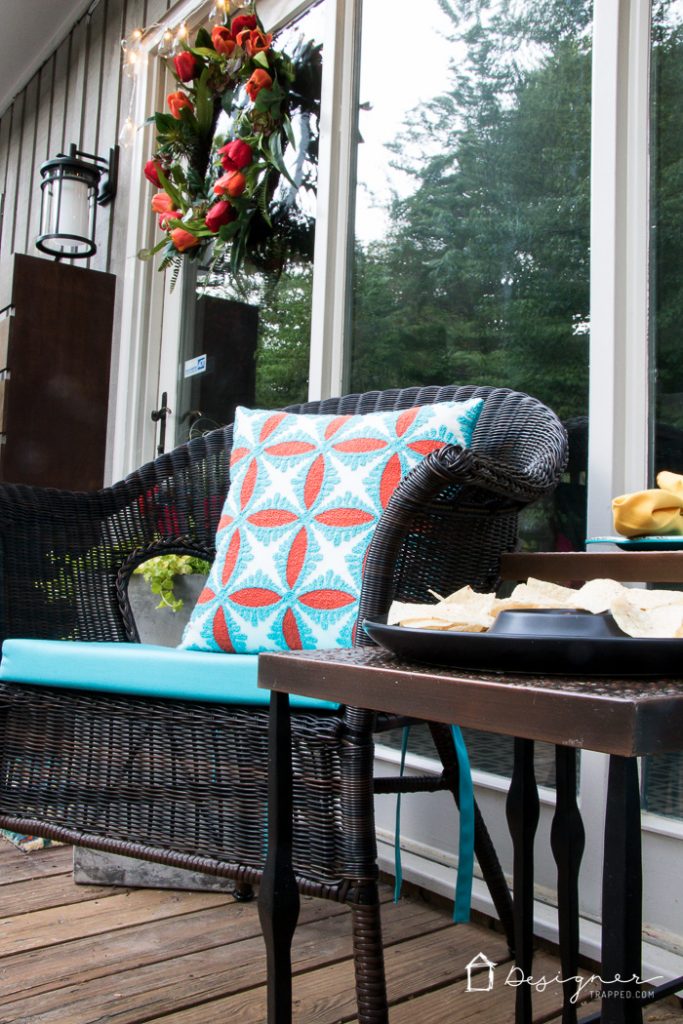 What do you think?! I wish I could invite you all over to see it in person! Want to bring the same look to your own small porch? Check out the source list below :)
Source List
And if you love this post, please be sure to pin it for later!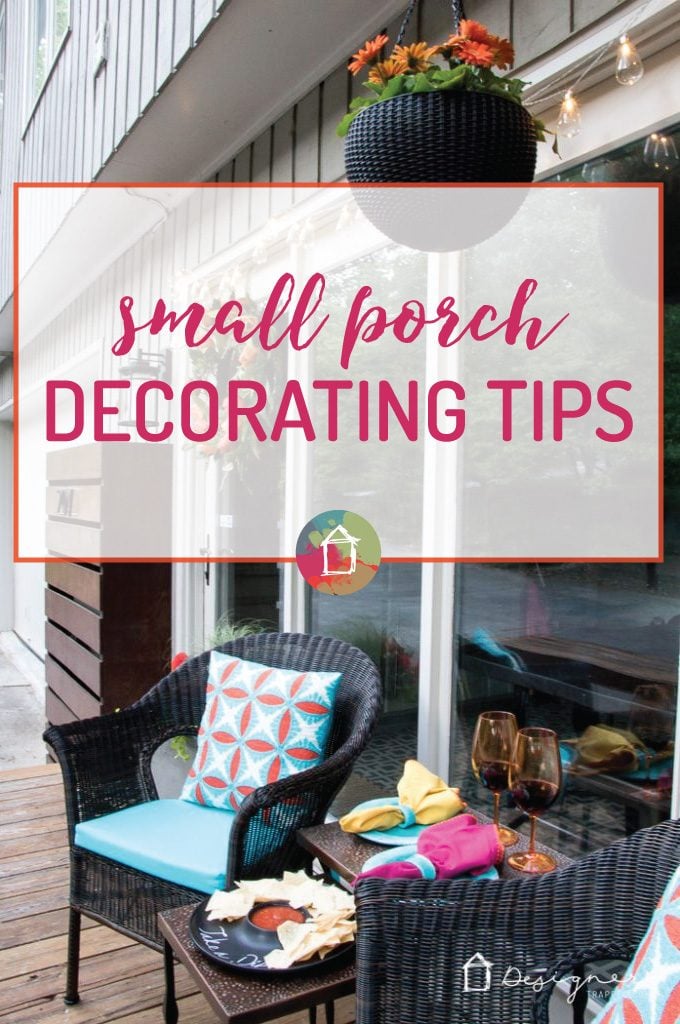 Now that your outdoor space is beautiful, start thinking about creating rooms you love inside! Click below for my decor guide and get started.


[go_portfolio id="outdoor_projects"]