Amazing sofa deals are out there! These affordable sofas are super stylish at great prices.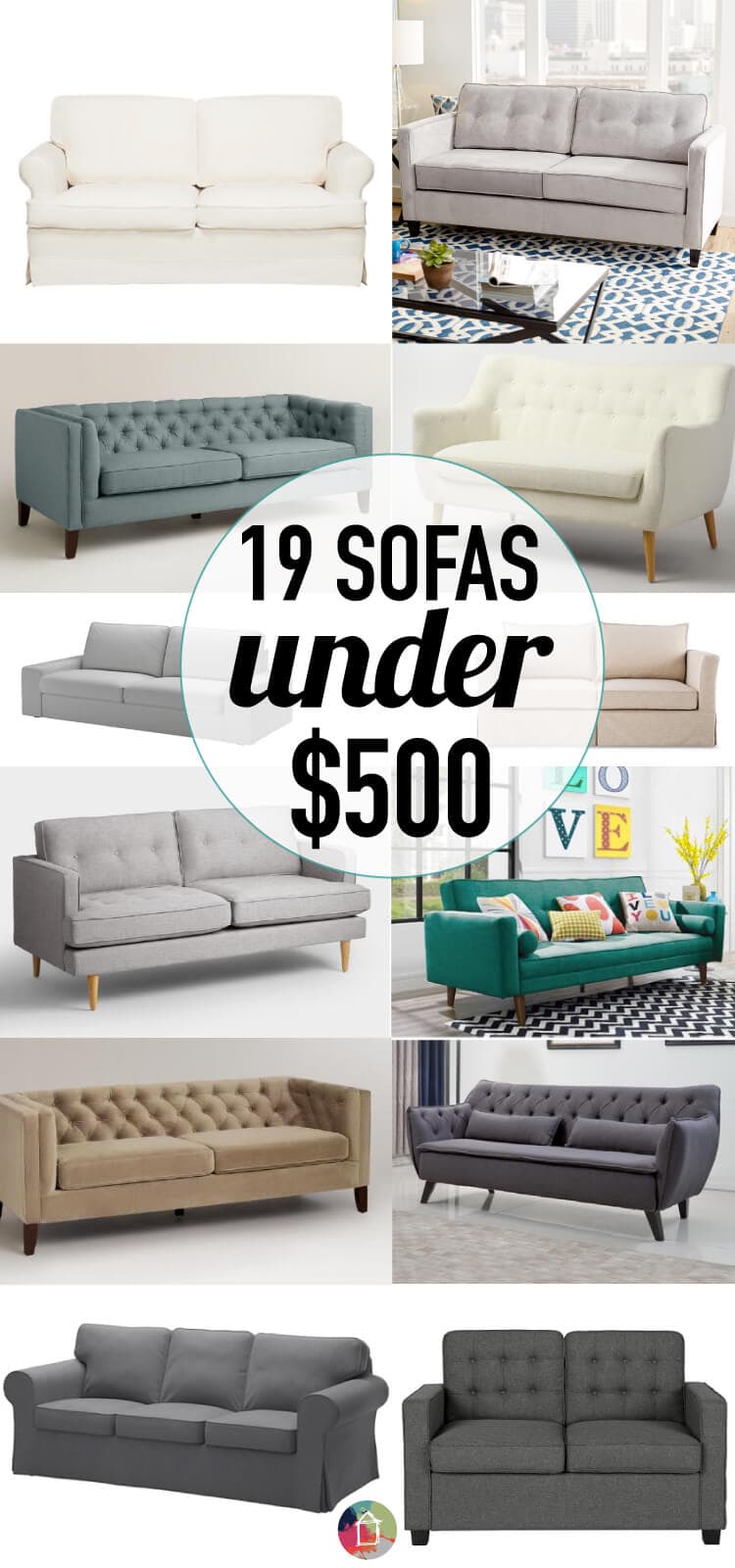 So, you want a beautiful home filled with furniture that you love, right?  But you've run into a road block.  With the expenses of family and just day-to-day life, furniture can be EXPENSIVE and not something you want to have to shell out a ton of money on.  I mean, a nice family vacation sounds way better than an expensive couch, right?  Well, the good news is you can actually have beautiful furniture without spending a fortune.  I've rounded up the best sofa deals out there.
All of these loveseats and couches cost under $500 (at the time I'm writing this post–prices may fluctuate over time) and are high on style.  So, you can have a new sofa you love without blowing your whole budget.  YAY!  Read on to see just how many sofa deals I found for you (spoiler alert–there are 19 beauties on this list).  It shouldn't surprise you to learn that I own two of the sofas on the list!  This post contains some affiliate links for your shopping convenience.  Click here to read my full disclosure policy.
The Best Sofa Deals and Affordable Couches Out There
IKEA Ektorp Sofa –The Ektorp is at the top of my list in AMAZING sofa deals. The low price allows you to buy more than one slipcover (they have lots of neutral and not-so-neutral colors) and not blow your budget. It is very comfortable and holds up really well, even after several years of heavy duty family use. I speak from experience.  We've had it in white for over 6 years and it still looks GREAT.  The slipcovers are washable (or dry cleanable) so they can withstand use from busy families.  You can see a photo of ours (which is actually the smaller loveseat version) in our twin girls' playroom here.
Spencer Sofa–If you are looking for a budget friendly sofa with a casual vibe, this is a winner! It comes in several colors, the covers are removable, and assembly is tool-free. That puts it extra high on my list of sofa deals.  And if you don't live close to an Ikea, this is a great option for you because it's so similar to the Ektorp.  It also comes in white!
Andover Mills Sleeper Loveseat— Versatile grey fabric and a small design make this an excellent choice for small spaces like an office or apartment. Bonus–it pulls out into a full sized bed in a matter of seconds! Finding sofa deals that are smaller and a sleeper sofa can be tricky, but this one is perfect and budget friendly!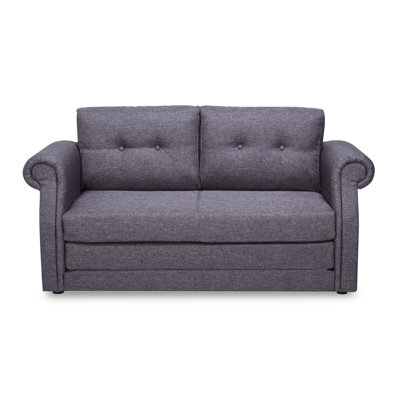 Sea Green Kendall Sofa — This is far and away my FAVORITE on this list. I love everything about this affordable couch! The style, the tufts, the color, ALL OF IT. I can totally see it with beautiful pillows and a super sleek coffee table. And the price makes that totally doable!
IKEA Kivik Sofa–This comfy couch is another great deal from IKEA and one that we sit on daily in our family room :) We purchased it about 2 years ago and still love it.  It is extremely budget friendly, and it is a sleek modern design. Most of the slipcovers are washable and even those that aren't are dry cleanable, so again, it's possible to keep it looking great even with kids and pets. You can see a photo of how our Kivik sofa looks in our living room in this post (we also have the Kivik chaise lounges and love them, too)!
Freeland Apartment Sofa–Another great choice for a small space, this sofa is budget friendly and stylish.  It has more traditional lines and a nice neutral color, both of which allow it to be dressed up or more casual, depending on your space.
Paramus Mid Century Sofa–If you are looking for sofa deals with a sleeker, mod design this may be the one for you! I love mid-century modern and this neutral color will work with a variety of decor palettes.
Mercury Row Mackenzie Sleeper Sofa–This ain't your grandma's sleeper sofa! The chic design has a slick look and it is way cooler than the old overstuffed sleeper sofas we are all used to. The back reclines and it converts into a bed, similar to a futon. Major style and function bang for the buck!
Novogratz Vintage Linen Futon–Another great futon-type option (yep, it folds flat into a bed!), this midcentury design and fun color really sets it apart (it also comes in a neutral gray if that is more your speed). At under $400 this is an incredible affordable couch option.
Square Arm Sofa—This lux looking sofa is budget-friendly, but you can't tell! The simple design is a great building block for your decor and will look great with a variety of decor styles.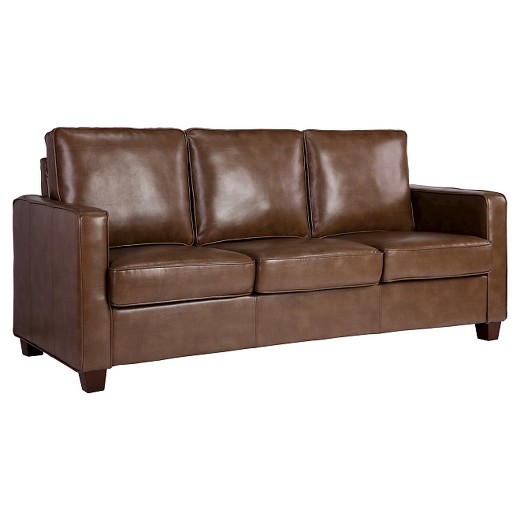 Serta Upholstery Cypress Sofa–This sofa is beautiful in its simplicity and versatility. I LOVE the light color and the balance between comfy cushions and sleek lines.
Madison Home Mid-Century Modern Sofa— Sofa deals with this much style can be hard to come by! I love the unique shape and the long skinny throw pillows, not to mention the reverse stitching and cool legs.
Classic Scroll Arm Tufted Sofa–This beauty is elegant and budget friendly. A classic chesterfield, complete with tufted buttons and scroll arms in a beautiful linen.  If you love a traditional sofa, this is a great option.
Rhinebeck Loveseat— Dramatic swoop arms and a contemporary flair make this loveseat an affordable winner. It comes in a few colors and is perfect for a smaller space where you want modern style.
Tamera Love Seat–This loveseat is so chic! I love the curvy lines and taller legs and can imagine it with a colorful throw and pillows.
Kendall Sofa in Mushroom–This is the perfect neutral color! It is so versatile and can work with almost any style and design scheme.  Plus, if you get sick of your room decor down the road and change your rug, throw pillows and art, this sofa should still work in your space!  The shape and tufting and arms all make me literally SWOON.
Woven Apel Sofa–I love the sleek design and simplicity of this couch. Reversible cushions and bare wood legs set this couch apart when it comes to sofa deals.  I love that the tufting extends to the seat cushions as well.  This is another favorite of mine among all the sofa deals I hunted down!
Kaira Love Seat— This love seat has an amazing boho vibe–the nontraditional lines and bare wood legs make it the perfect affordable sofa for a funky small space.
Taya Basil Grey SoFast Sofa— This is THE sofa if you like a contemporary piece that is super easy to put together. It all snaps together with no extra tools needed! And the tufted back and bolsters add just the right touch of cool.
Are you shocked?  I truly was SHOCKED by how many affordable couches and loveseats there are out there!  Which is your favorite?
Before you head out, be sure to grab my free guide on how to design a room you love! After all, what's the point in a new sofa if you don't love the rest of the room, too?!

[go_portfolio id="affordable_decor"]