Spring has finally arrived, so it's time to transition your wardrobe by adding a few key pieces. Read on to learn all about your Spring wardrobe must-haves. Every item included is under $100!
Hi friends! It's Tasha here. As you know, I have brought a fashion contributor on board to share fashion tips and trends with you in the form of monthly posts. Her name is Wendy and she is a personal stylist with Millie and Main. I participated in the Millie and Main Early Winter Session at the end of 2018 and it helped me so, so much! And no, I'm not an affiliate or being paid to say that–I'm just a fan of what they are doing! Wendy is sweet, funny and has a killer sense of style. So let's give her a big welcome :) Take it away, Wendy
---
Hi, this is Wendy, Founder of Millie & Main wardrobe styling and I am here to unlock the season's top must-haves for your Spring wardrobe. At Millie & Main, we always want clients to start by figuring out what they already have in their closet before they start shopping.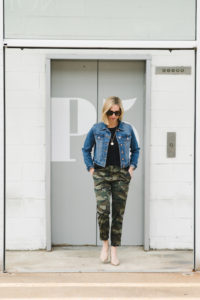 Just look at the different must-have categories for Spring below and then shop your own closet to see what you already have that fit into this season's trends. If you don't have them or have older versions, just buy what you need to fill in the gaps for your Spring Wardrobe. Here is the best part…all of our recommended items below are under $100!!!
Spring Wardrobe Must-Haves
Snakeskin Accents
:
Snakeskin print is a must-have this season. From tops to shoes to dresses and skirts, this print is taking over the stores. Consider pairing snakeskin with denim and neutrals as a complete look. For example, you can take a snakeskin printed t-shirt and wear it with jeans and a pair of tan shoes for a terrific look. Do NOT pair a snakeskin top with snakeskin shoes. The key is to use just 1 piece with snakeskin in any outfit. Here are my favorites:

Colored Slingbacks:
You must purchase colored slingbacks this Spring! They will add a pop to any Spring look and can even be combined with more color for those of you who like to go BOLD. I am loving Yellow and Red slingbacks right now because they can pair well with almost any color. Slingbacks can work for Spring, Summer and Fall so, they are certainly worth the buy! Here are my favorites–all under $100:

Jean Jacket:
Yes, the jean jacket has made a comeback!  This season's version is shrunken and a bit faded. Add a denim jacket over a black dress or pair with camouflage pants and a striped t-shirt to add warmth and style. Here are my favorites:

Marigold Yellow:
This bright yellow shade adds warmth and vibrancy to your Spring Wardrobe. Try a Marigold yellow sweater tank or even a bright marigold handbag. Don't worry about matching this yellow…you can wear it with most other colors. Here are my favorite Marigold Yellow items under $100 for the season:

We would love to help you save time and money this season! Join our next Millie & Main session and you will receive:
Virtual styling support–we help you shop your own closet

Links to the pieces you need for the Season

Complete Looks that you can wear from day to night