There are so, so many misconceptions about blogging, that too many people take the plunge without realizing what they are getting into. If you are thinking about starting a blog, there are several things you need to consider. It's not always fun and games, but it can be a very rewarding hobby or full-time career. Read on to learn what I wish I had known before starting a blog. This post contains some affiliate links for your convenience. Click here to read my full disclosure policy.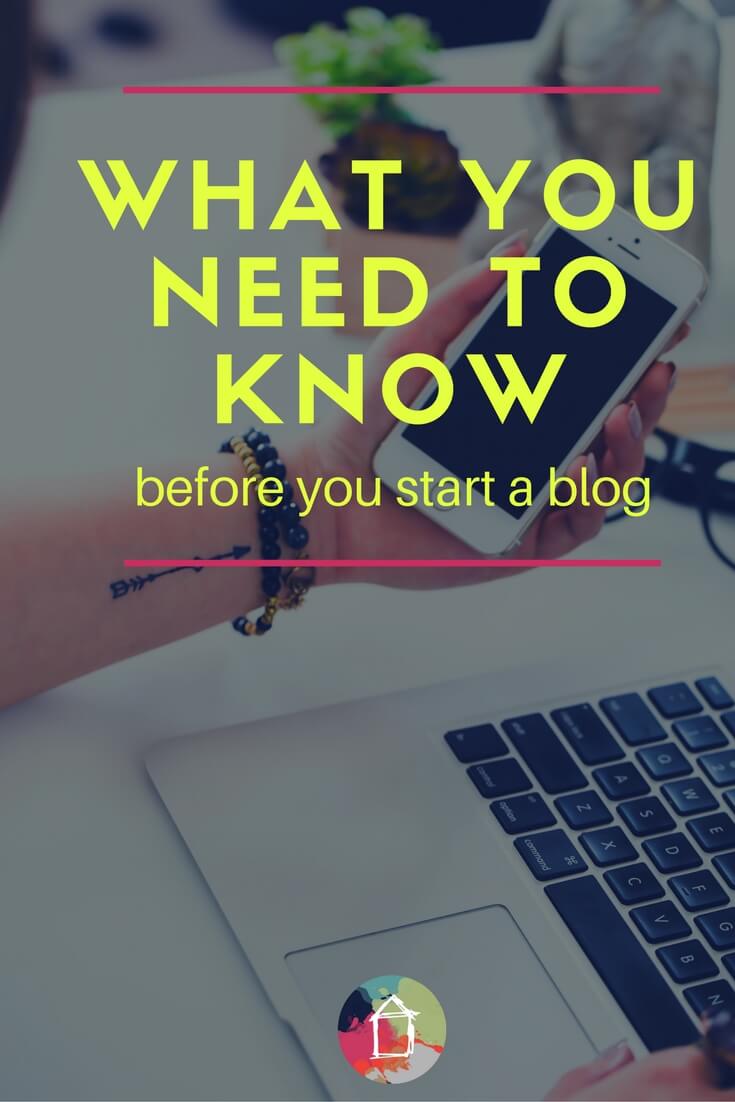 What you Need to Know Before Starting a Blog
Blogging takes a lot of time.
Now, this is not to say you shouldn't start a blog while you have a full-time job or a family to manage. I started my blog when my twins were almost 3-years-old and I still worked full-time as a trial attorney. It IS possible. But, if you want to blog consistently, the little "free time" you had before will shrink. I didn't mind, because I enjoyed blogging so much, but blogging is a lot more time-consuming than I ever imagined it would be.
You simply have to decide how much time you are willing to dedicate to you blog each day or week. The goal is to set SOME time aside to work on growing your traffic and social media following. Blogging is like most things. The more time you are able to dedicate to it, the more growth you will see.
Blogging takes a lot of work.
If you want your blog to grow, you are going to have to put in a lot of work promoting it. Simply creating content and publishing it is not enough. You have to work hard to promote that content on social media and by networking with other bloggers. I spend way more time promoting my blog content than creating it. Blogging is not like Field of Dreams. If you build it, they will NOT come unless you effectively promote your content.
However, you will notice that as you work hard on your blog, your efforts will start to pay off. You may start landing sponsored campaigns or earn money through affiliate marketing. You may also be invited on a press trip or to review very nice (read: expensive) products!
You will need to invest in your blog.
I cannot stress this point enough. If you want to earn money from your blog, you MUST investment in your blog from day 1. You don't have to sink a ton of money into your blog in the beginning, but eventually, you will want to reinvest some of the income you are earning. For a while, I reinvested every cent I earned from my blog back into it and think that is a big reason I have seen great success.
You are probably wondering…"What investments should I make?"
I have one word for you. EDUCATION. I spent 4 years in college and 3 years in law school to become a lawyer, and guess what? I did all that without any guarantee of a job or other success. Every other profession/occupation pretty much requires an up-front investment in education and blogging should not be viewed any differently if you want to be successful.
I had been blogging less than a year when I invested hundreds of dollars (which was almost as much as I was earning from my blog at the time) to take Elite Blog Academy. It was a brand new course at the time and I was hesitant to invest in it, but I trusted the founder of it (Ruth Soukup) and took the plunge. SO glad I did. In the 16 months following the course, my page views increased 257% and my monthly blogging income rocketed up to over $9,000 each month. I attribute 100% of that success to what I learned in Elite Blog Academy and a lot of hard work. And now I earn an average of $17,000 per month from my blog, and it continues to increase month after month. (Elite Blog Academy is tough to get into because enrollment opens only once a year. It opens again in February 2017–you can click here to get on the waiting list). The importance of investing in a high-quality course cannot be emphasized enough.
AFTER you invest in a high-quality course, you will want to invest some money improving the design of your blog. You can hire someone to create a professional logo for you for under $50 to $100 (sometimes way less). And I do highly recommend investing in a self-hosted blog with a great framework and a pre-designed professional theme for your blog. You can read more about that in this post.
Finally, there are tons of miscellaneous blogging tools that will reduce the time or work you have to put into your blog. For example, having an automated Pinterest scheduling tool like Tailwind or Boardbooster is one of the smartest things you can do. I use both–I schedule my own content with Boardbooster and schedule other blogger's content through Tailwind. Automating your Pinterest activity allows you to drive traffic from Pinterest without manually pinning for an hour or two every single day.
You don't just get "free stuff".
I can't tell you how many people go into starting a blog with this mindset. You rarely get "free" stuff. In fact, most of the products you get or income you make through your blog will not be "FREE" at all. Even if you don't pay for a product you receive for review, you still have to work for it. You need to test it out, take photos, and write your review. You then need to promote it once it's live. So, you are almost always working for that "free" stuff.
Also keep in mind that most bloggers spend six months to one year on their blogs before they start to earn any income or other get any perks from it.
You will need to make friends.
Some people choose to start blogging in order to stay behind the computer. While it's true you can have some level of anonymity when blogging, it is essential that you network and connect with others.
Many bloggers find some of their best opportunities through word of mouth. Maybe someone wasn't a good fit for a campaign, so they referred their best blogging buddy. These connections are invaluable when it comes to growing your blog and income!
You need to stand out from the crowd.
The blogging world is oversaturated with blogs right now. The number of blogs has increased exponentially over the past few years. So you MUST stand out from the crowd in order to grow a successful blog. How you choose to stand out is up to you. You may stand out because you take such beautiful pictures that captivate your readers and keep them coming back for more. Or perhaps you will be known for your video tutorials. Maybe you bring a humor to your writing that no one else does. Just find something that makes your blog unique and do it better than anyone else!
Other Considerations when Starting a Blog
If after reading all of this you are still excited about starting a blog, there are a few more decisions you will need to make.
Domain Name – Choose a domain name that will reflect the niche you are in. If you want to discuss more than one topic, try to encompass it all into your name. For example, if you want to discuss parenting, travel, and recipes, you may want to choose a "mommy" related domain name, since all of these topics would be helpful to moms. Someone wanting to blog about weight loss, diet, and nutrition may want to go for a healthy living related domain name to bring all those topics together.
Web Hosting – When starting a blog, you can certainly choose a free option Blogger or WordPress.com. However, if you want to be seen as a professional and own the space where you are publishing content, I firmly believe you need to have a blog with paid hosting. Hosting is surprisingly affordable. I strongly recommend Bluehost for most beginner bloggers. It's not perfect (there were some times that my blog was down when I was with Bluehost, but it was never for long), but I still think it's the best value and quality out there for bloggers who are just getting started. I used it for more than a year with this blog and I still use it for the hosting of my other site, Affiliate Marketing for Bloggers, and am really happy with it.
Phew! That's a lot to think about isn't it?! I hope this was helpful :)
If you want to receive more blogging tips from me, be sure to subscribe to my blogging newsletter by clicking the button below! And you can check out all of my other blogging related posts here.

[go_portfolio id="blogging_tips"]