Subscription Services We Love & Those We Got Rid Of
Last Updated on March 3, 2022
Looking for an honest review of some of the most popular subscription services out there? We've tried a lot of them and are sharing which ones we absolutely love, which ones we didn't and the reasons why!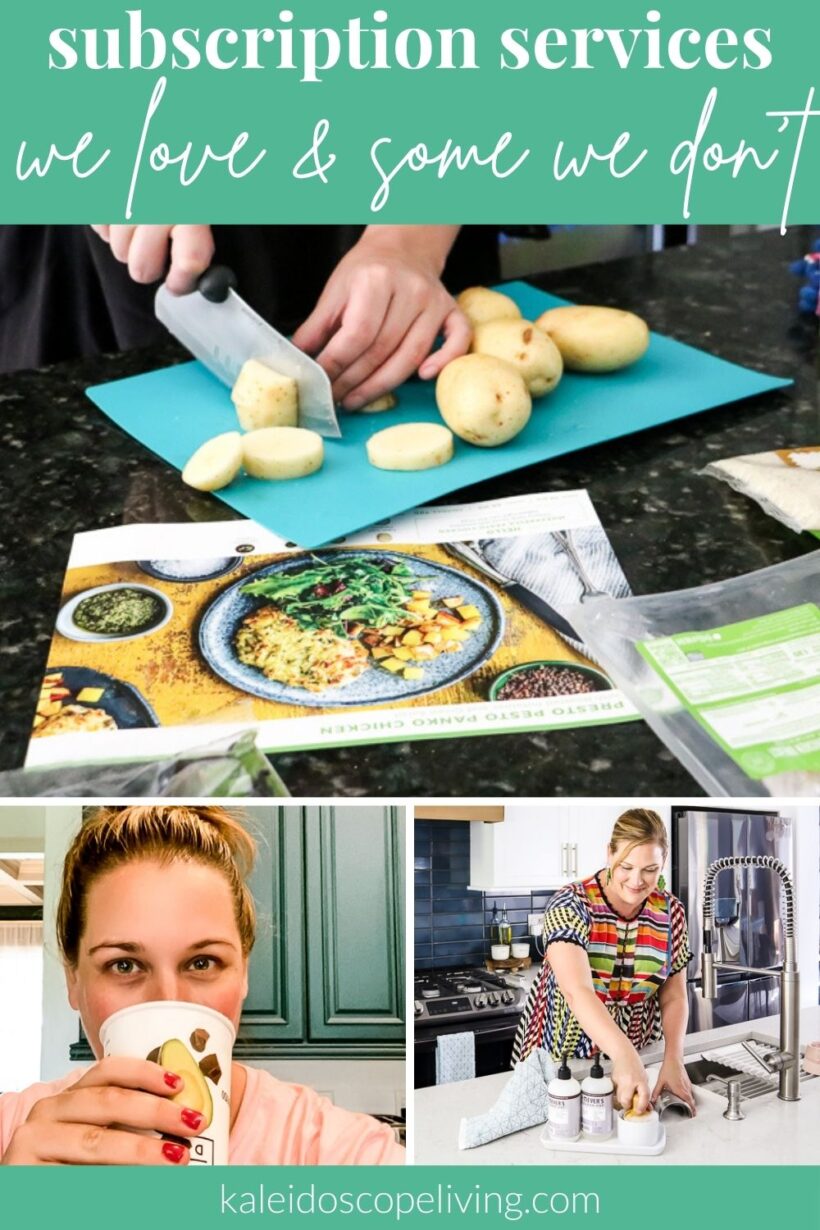 One of the things I try to do in the first few months of every year is to look back on our expenses from the previous year to see what, if anything, we can cut out. In other words, we look at everything and ask, "Is this really worth it?" This is especially true when it comes to subscription services that we have. Some have been total life-savers (especially this past pandemic year) and some just aren't making the cut.
I figured I'd share our experiences with subscription services over the past few years with you in case it helps you make some decisions about what to get for yourself and what to skip! And I definitely encourage you to review anything you are currently subscribed to see if there's anything you can cut out. Every year we find at least one thing we are paying for that we really don't need or want anymore.

Everything I'm including on this list are things we subscribed to for AT LEAST many months (and lots of them for years), so we have had more than fleeting experiences with them!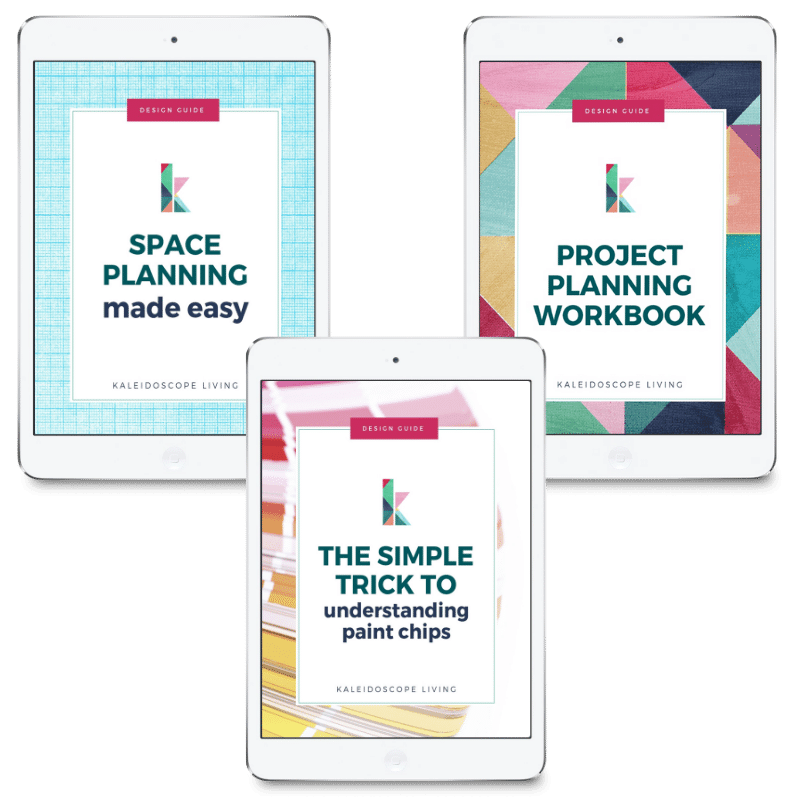 Get my FREE design guides when you subscribe!
This post contains some affiliate links for your convenience. Click here to read my full disclosure policy.
Subscription Services We are Keeping
Grove Collaborative– We joined Grove Collaborative in April, 2019 (right around the time we finished our big kitchen renovation in our old house) and I was SUPER skeptical because so many influencers promote it. But I have loved it. We order all of our soaps, lotions, dog shampoo and water additive (to avoid doggie bad breath, lol), hand sanitizer and the infamous bubble up soap brushes from Grove as needed. I was worried we would be stuck getting everything every month but I get a text reminder several days before my order goes out and I pop in my online cart and remove anything we don't need. It's been GREAT.​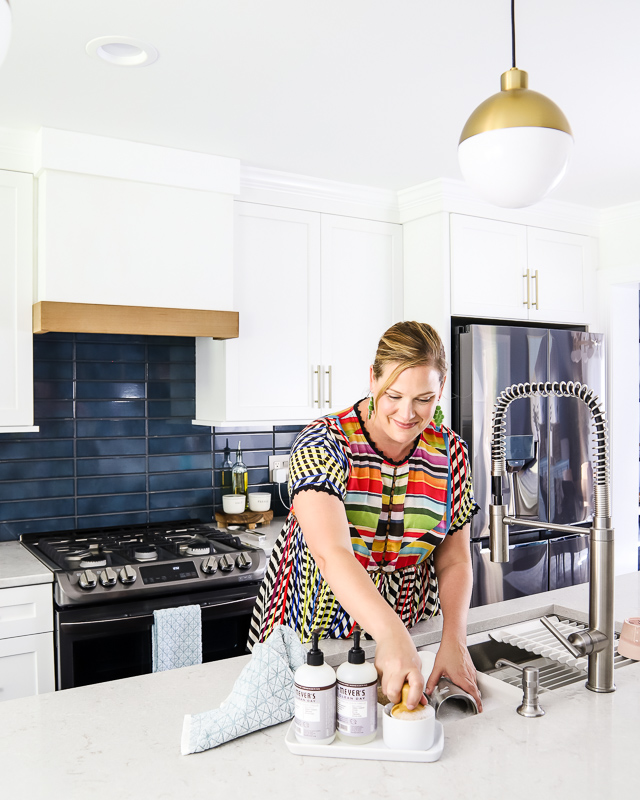 Daily Harvest– ​I joined Daily Harvest in April 2020. It's basically the only way I have found that I can effortlessly fit fruits and veggies in during the day and the smoothies are super delicious (Strawberry + Peach and Mint + Cocao are my favorites). To be frank, I do not care for their soups, but some people love them. After pausing my subscription for the past 4 months (yes, you can pause your subscription indefinitely), I realized I missed them got back on the train of having these for lunch every day. They are healthy and easy. And I can always pause my subscription again if I want or need to. You can click HERE to save $25 off your first delivery.
| | |
| --- | --- |
| | |
Audible– Y'all, I have been an Audible member since July 2009. I listen to audiobooks during all my DIY projects, when I'm in the car alone, when I'm cooking, when I'm cleaning, etc. I am totally addicted! Yes, you can check audio books out for free from libraries, but the waitlists are so long and I'm not that patient. With Audible, I never have to wait to listen to what I want. It's the best money I spend every single month.
Amazon Prime– I don't know how we would have made it through 2020 without Amazon Prime since we have been avoiding shopping in person unless it's absolutely necessary. Frankly, I don't know how we would make it through most years without it! We've been members for at least 10 years now and it's hands-down my favorite subscription service. And I'm shocked by how many people still don't have it. We have the $119/year annual plan, but you can now subscribe on a monthly basis and you can try 30 days FREE by clicking here! Aside from the free 2-day shipping on most things, as an avid reader I love how many free books I get with Prime reading. And we watch Amazon Prime TV as often, if not more, than Netflix!
Grocery pickup– We finally paid the yearly subscription to be able to order our groceries online and just drive through and pick them up. We used to pay on an order-by-order basis and it added up quickly. Not only is it cheaper to pay on a yearly basis, but I also love that shopping online saves me money by avoiding all those random impulse buys when I grocery shop in person. When I shop online, I stick strictly to our list.
Subscription Services We Stopped
Now here are some subscriptions we tried for a while, but ultimately discontinued. I've detailed why we discontinued them (because it wasn't always because we didn't like them).
eMeals– Let me start by saying this is BRILLIANT and would work wonderfully for the right family. eMeals offers a variety of meal plan options (kid-friendly, quick and healthy family meals, Keto, Paleo, etc.) to choose from. You choose your plan and get weekly menus. The service then not only gives you recipes but can send your grocery list to your favorite store for pickup or delivery (or give you a list you can print out for yourself so you know exactly what to buy). Genius, right?! I think it's perfect for people who are okay having limited selection over their weekly menus. We just aren't those people, so we are going to be canceling this subscription when it ends in January.
Hello Fresh– We had Hello Fresh meal delivery kits delivered at a time when we were super overwhelmed and busy. And it WAS helpful to not have to think about what to make for dinner and shop for ingredients during that time in our lives. The recipes were delicious. But, the meals weren't super quick to make and clean-up often took a while because so much was dirtied in the process of cooking. So in the end, it didn't wind up being a huge time saver for us. But if you are in a cooking rut, it would be a great thing to do for a few weeks (and you CAN easily skip weeks whenever you want). We did find some awesome new recipes that we still make on a regular basis through Hello Fresh!
Side note–who has been around long enough to remember our old kitchen in our old house before our big kitchen renovation?!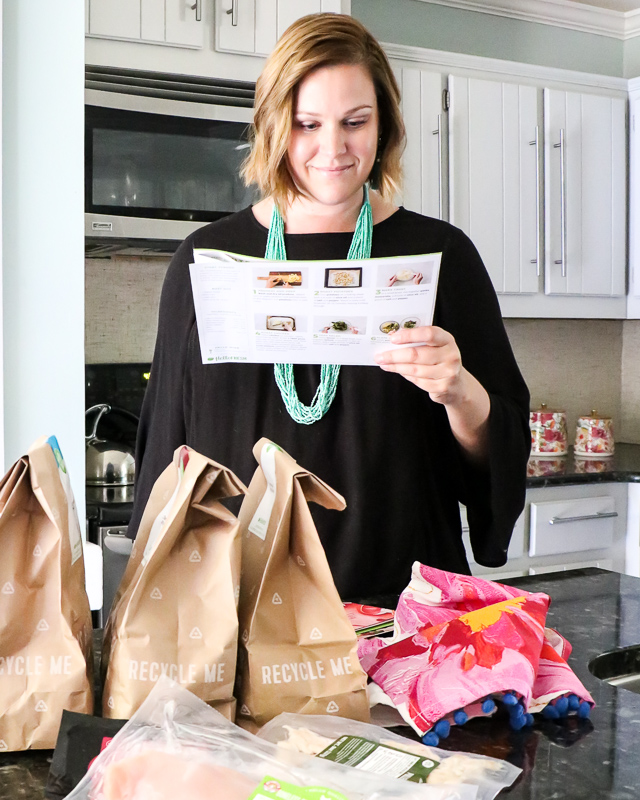 HBO & Showtime– I'll admit that we subscribed to these solely to watch Game of Thrones and Homeland. Not the most economical choice in the first place. And certainly not worth continuing. (On that same note, really look at what streaming services you are signed up for and evaluate which ones your family REALLY watches. Chances are you can dump some of them!)
That's it! We save a lot of money every year by taking a close look at our subscription services. I am ALL about convenience and I love having things I need that I don't have to think about. BUT, they are expensive! So it is REALLY important to evaluate what is truly worth it and what we really use, and what we can discontinue paying for.
Want more awesome information to help you create a home and life you love? Become a VIP for free! All of our best information is all in one easy-to-access place. Click below to sign up so you can get your password.

[mv_create key="1″ layout="circles" thumbnail="https://designertrapped.com/wp-content/uploads/2016/11/diy-home-decor-projects-diy-blog-200-1.jpg" title="Most Popular Projects" type="list"]