Check out my top picks for Summer. I'm sharing what I've actually purchased for my home and my wardrobe to give you some Summer style inspiration!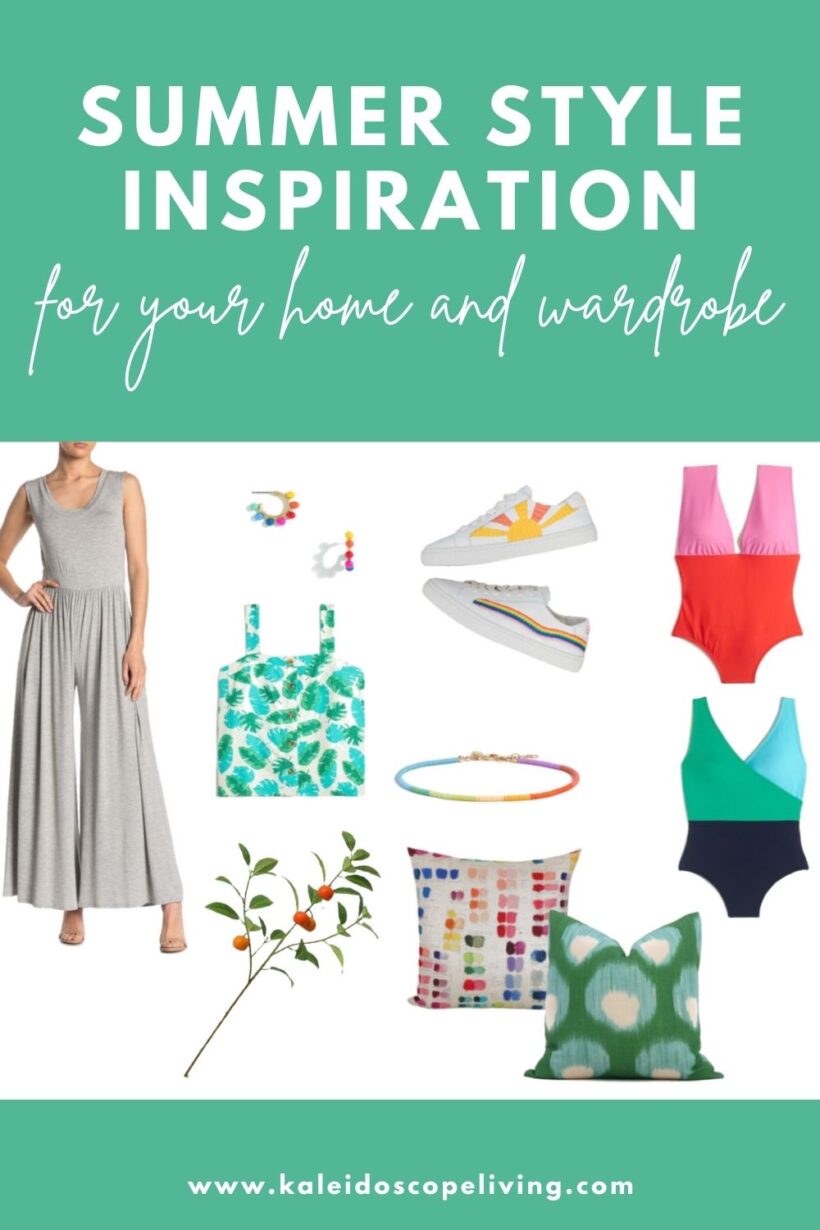 Even though I'm a DIY and home decor blogger, I find that what I get asked a lot about on Instagram is where I got my earrings or something else I'm wearing. Yes, of course I get asked about things that people see in my home, but I'm often surprised how often people ask about something I'm wearing. So I decided it may be fun to periodically share with you things that I have purchased myself and actually own! That way I can tell you how I feel about them and whether I recommend them.
With that said, let's dive right into what I have purchased for my home and wardrobe this Summer!
Now, here are my thoughts about each of the things I have purchased:
The earrings are nice and small, perfect for everyday wear. They are hands down my favorite earrings right now. I wear them a lot. Ditto for the anklet–it's the perfect accessory for Summer and is so lightweight I don't even feel it.
Now let's talk about the bathing suits. They are both CUTE. If you are in between sizes, I'd definitely order the smaller size! I need to exchange mine for a size smaller. I think I may return the pink and red one. It's just a bit too low cut for me. It does give full coverage and I don't feel like anything would fall out, but as a larger chested woman I just don't feel super comfortable in it. If you small to medium chested, I would definitely recommend it. And I'd recommend the colorblock suit to absolutely EVERYONE. It's comfy, stylish and full-coverage.
The linen palm leaf blouse is adorable. It's true-to-size. As a tall woman (I'm 5'9″) I wish it was a bit longer, but that's just me. I know shorter is in right now. And it's cute enough that I can get over that, lol. That said, if you are taller than me, you probably want to skip this one as I think it would just be too short.
Now for the sleeveless jumpsuit. SO CUTE and comfortable! Again, as someone who is 5'9″ it's ALMOST too short in the crotch area. So if you are taller than me, I would skip it. And if you are short/petite, I think the legs would be too long for you. But for anyone in the average to tallish range, highly recommend!
I'm still waiting on the pillow covers to arrive, but the prices are SO GOOD. Just know they take several weeks to arrive. Ditto for the shoes–they've been backordered for quite some time.
The orange stems are PERFECT to plop in a vase for summer. Love, love, love them. I bought 2!
I think that's it for my summer style inspiration recommendations. Hope this was helpful to some of you!


If you are wondering how I come up with room designs, the answer is Designer in a Binder®. It is the simple system I have used for years and years to design spaces in my own home. A couple of years ago, I finally put it all down on paper so that others can use it as well! In it I walk you through all the important stuff like choosing items that are the correct scale, space planning, mixing patterns, choosing colors and more! I give easy-to-understand guidance on all of this in Designer in a Binder®! You can order your binder now. We have over 7,900 happy customers so far! Click HERE to learn more.