Fun and Stylish Temporary Wallpaper Options
Last Updated on March 2, 2022
Temporary wallpaper opens a whole new world of design possibilities and there are some incredible options out there!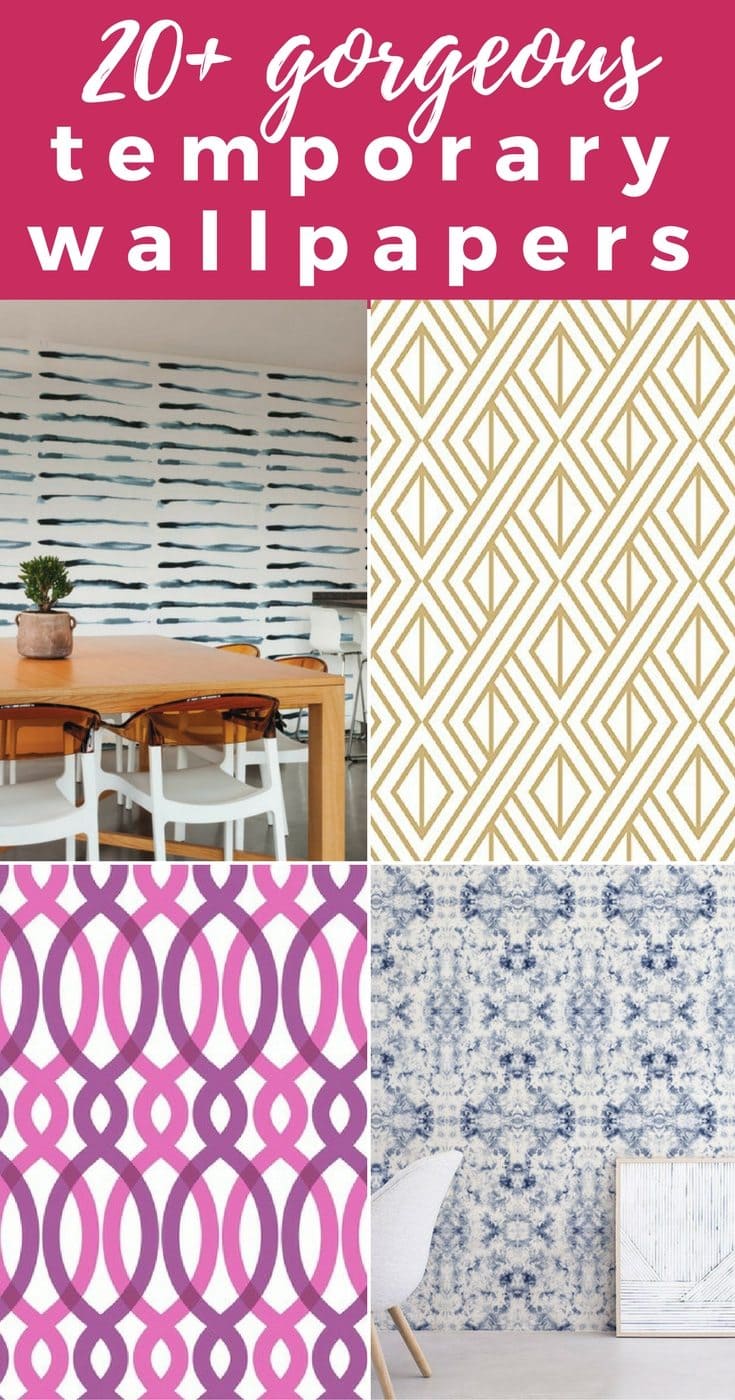 As I have explained to y'all, I have wallpaper phobia. I am super scared, because it is so permanent. SO VERY PERMANENT. I mean, what if you put it up and hate it? Or love it for the first week then decided the pattern gives you a headache? Or you pick something asymmetrical only to discover that makes you twitch and sweat and you have to have symmetry ASAP? Guess what y'all? There is a whole world of not scary at all temporary wallpaper options out there!
When I discovered this, I quickly went from incredibly frightened to incredibly interested. I mean, the textures, the colors, the patterns–I love it all so hard. I think I want to use it in my powder room, and I just did a post on Unexpected Wallpaper Ideas.  And now I can't stop thinking about wallpaper, so I am starting to shop around for some great removable wallpaper that is still fun and stylish. And I could not keep all of these gorgeous temporary wallpaper selections to myself! I know y'all are going to love these beauties as much as I do. No more glue and regret. Now all you do is peel and stick! Don't love it, or you are tired of it? Pull it down! No more hours of peeling with weird solutions and razor blades. Check these out and get inspired to use some in your own home!
Below are images and affiliate links for your shopping convenience (which means if you make a purchase after clicking a link I will earn a small commission which helps keep my blog up and running but it won't cost you a penny more)! Click here to read my full disclosure policy.

Was I right, or what? Aren't all of these temporary wallpaper choices AMAZING? I am SO inspired. Now all I have to do is figure out what to do with them! If I can't talk to Joe into putting some in the powder room, I am going to have to find some other creative uses for some of these. I really love the blue Shibbori style, the rainbow triangles, and the modern gold lines. Which of these temporary wallpaper options do you love the most?
Before you head out, be sure to grab my FREE guide on how to pick paint colors for your home. These simple tips help you pick the perfect colors the first time, every time!
[go_portfolio id="most_popular"]