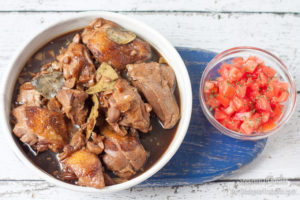 Chicken Adobo
Yield 2-3 servings
Chicken adobo is a tasty Filipino dish that you will add to your rotation of favorites the first time you try it! A simple and quick recipe to put together, it is perfect served with fresh tomatoes and rice. #chickenadobo #easychickenadobo #stovetopchickenadobo #filipinochickenadobo #filipino #chickenrecipe #easychicken
Ingredients
1 lb (450 grams) bone-in chicken pieces
1/2 cup soy sauce
5 cloves garlic, peeled and minced
1 small onion, peeled and chopped
2 teaspoons black peppercorns
3 pieces dried bay leaves
2-3 tablespoons neutral tasting cooking oil (e.g. canola)
1/2 cup white vinegar
1 cup water
1-2 tablespoons granulated 1 sugar
2 tablespoons oyster sauce (optional)
salt and pepper to taste
Instructions
1. In a bowl, combine chicken, soy sauce, garlic, onions, peppercorns, and bay leaves. Massage onto meat and place in the fridge to marinate for about 30 minutes. Drain the chicken, reserving the marinade.
2. In a pot over medium heat, heat oil. Add in the drained chicken pieces including the garlic, onions, peppercorns and bay leaves). Sear the chicken until lightly browned. Add vinegar and let it boil, uncovered and without stirring, for about 4 to 5 minutes. This is very important to cook off the acid.*
3. Add the reserved marinade, water, sugar, and oyster sauce. Bring to a boil then simmer for another 30 minutes, or until chicken is cooked through. Taste the sauce and add salt, pepper, or sugar to taste.
4. Best served with white rice and chopped fresh tomatoes on the side!
*Don't stir the vinegar. After adding the vinegar, don't stir until all the acid is cooked off. Just let it simmer for a few minutes.
Courses entree
Recipe by Kaleidoscope Living at https://designertrapped.com/the-absolute-best-chicken-adobo/