Instead of sifting through a mountain of emails to find the best 2018 Black Friday deals, I've rounded them up for you right here. They are full of sales for home decor and fashion lovers!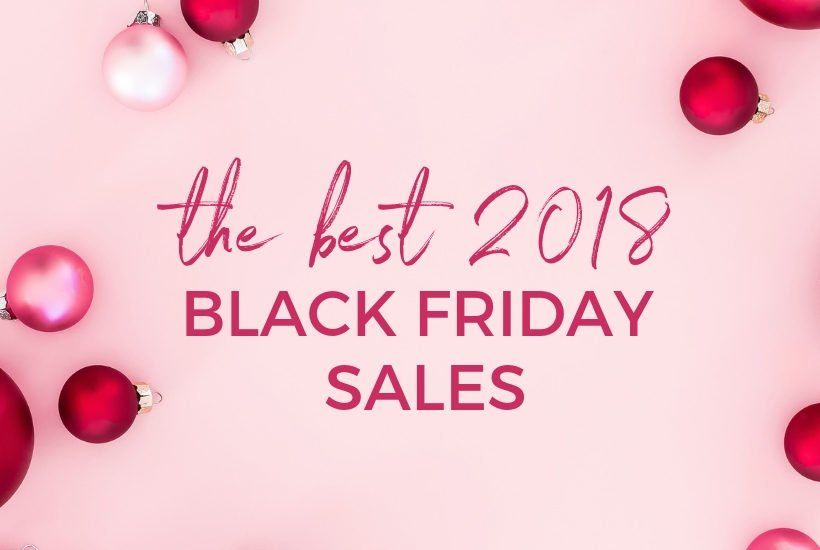 I hope you all had a happy and fun Thanksgiving! Our day was relaxing, fun and full of awesome friends and even better food. I don't brave the Black Friday crowds, but I DO scour the web for the best Black Friday deals and I'm rounding them up for you in this post. I'll try to do the same thing for Cyber Monday if I have time :) Happy shopping! This post contains some affiliate links for your convenience. Click here to read my full disclosure policy.
Fashion Black Friday Sales for 2018
Old Navy– Old Navy is running a 50% off your entire purchase sale! Click here to shop the Old Navy sale.
J. Crew Factory– If you have any clothes lovers to shop for (or need some new clothes for yourself), you can save 40 to 50% off everything right now. J. Crew Factory has become one of my favorite places to shop because the prices are reasonable and the quality is fantastic. And with 40 to 50% off, the prices are AMAZING! Click here to shop the J. Crew Factory sale now. You can see some of the items I recently purchased from J. Crew Factory below. Click on any of the images for full product details.

Home Decor Black Friday Sales for 2018
Amazon– It might shock you just how many home decor items we've purchased from Amazon. Amazon is running TONS of sales in the home category and more. Click here to shop Amazon Black Friday deals for home items now. You can also click here to see the Amazon home decor items that we have in our own home.
West Elm– My favorite home store is running another buy more/save more sale with 15-30% off sitewide with code SAVEMORE. We purchased our sectional sofa and leather recliner during one of these sales earlier this year and saved sooooo much money! Shop the sale here.
Minted– If you follow my Instagram stories, you know that I just ordered another batch of art from Minted. It's absolutely my go-to source for artwork for our how. Right now, Minted is offering 20% off holiday cards and 15% off everything else with code BF2018. You can shop the Minted sale here. And you can check out the pieces that we have from Minted in our home below. Click on any of the images for full product details.

Target– Right now at Target there are so many deals, it's hard to summarize them. But you can save up to 40% off home items and an extra 15% off rugs using the code TURKEY. That includes one of my favorite rugs that we have in our foyer AND dining room. Click here to shop the Target home sale now.
World Market– You can save 40% off all furniture right now. But that's not all! You can get tons of things like ornaments and THROW PILLOWS for buy one get one free! And you can also save 40% off lots of other categories, like throws. And if you spend $200 or more, you also get free shipping. World Market is one of my favorite places to look for affordable furniture. World Market also has the BEST stocking stuffers! Click here to shop the World Market sale now.
Pottery Barn– You can save 25% off your entire purchase with the code BLACKFRIDAY. Shop the entire sale here.
And don't forget that I'm offering my own Black Friday deal on the basic package of Designer in a Binder. You can grab it now for 50% off using the code "BLACKFRIDAY18" at checkout. Click here to shop the sale now. (HINT: If you really want the PLUS package, you might want to hold off until next week when Cyber Monday deals are announced).