Tips & Ideas for Our Giant Monthly Wall Calendar
Have you seen our colorful monthly wall calendar but wondered how you would use it? Or maybe you just purchased it and want some ideas to get you started? You have come to the right place! I'm sharing all my favorite tips for hanging our wall calendar, ideas for how to make it reusable and so much more!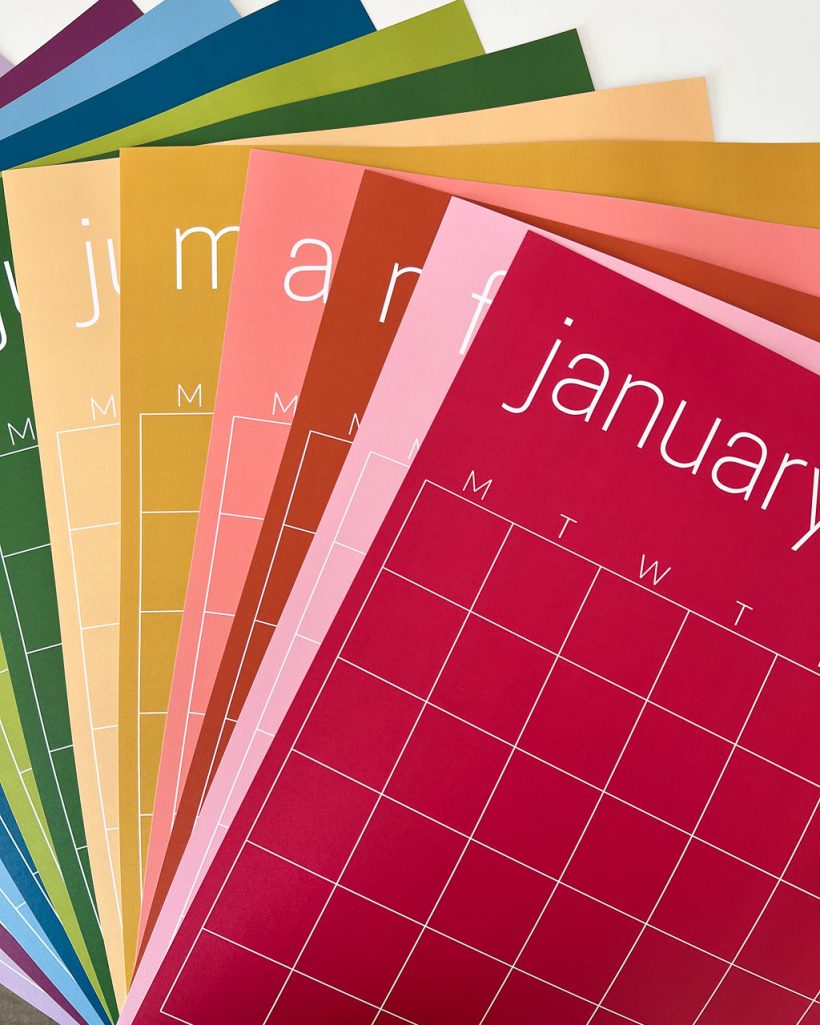 If you haven't already purchased yours, you can grab it below!
Tips for Hanging Our Wall Calendar
How to Arrange It
The possibilities are endless depending on how much wall space you have and what your preferences are. Hang all 12 at a time, 4 at a time (perfect for businesses who are focused on quarterly goals), 3 at a time, or even 1 at a time. No matter what arrangement you chose, your Kaleidoscope Living Giant Wall Calendar will double as art.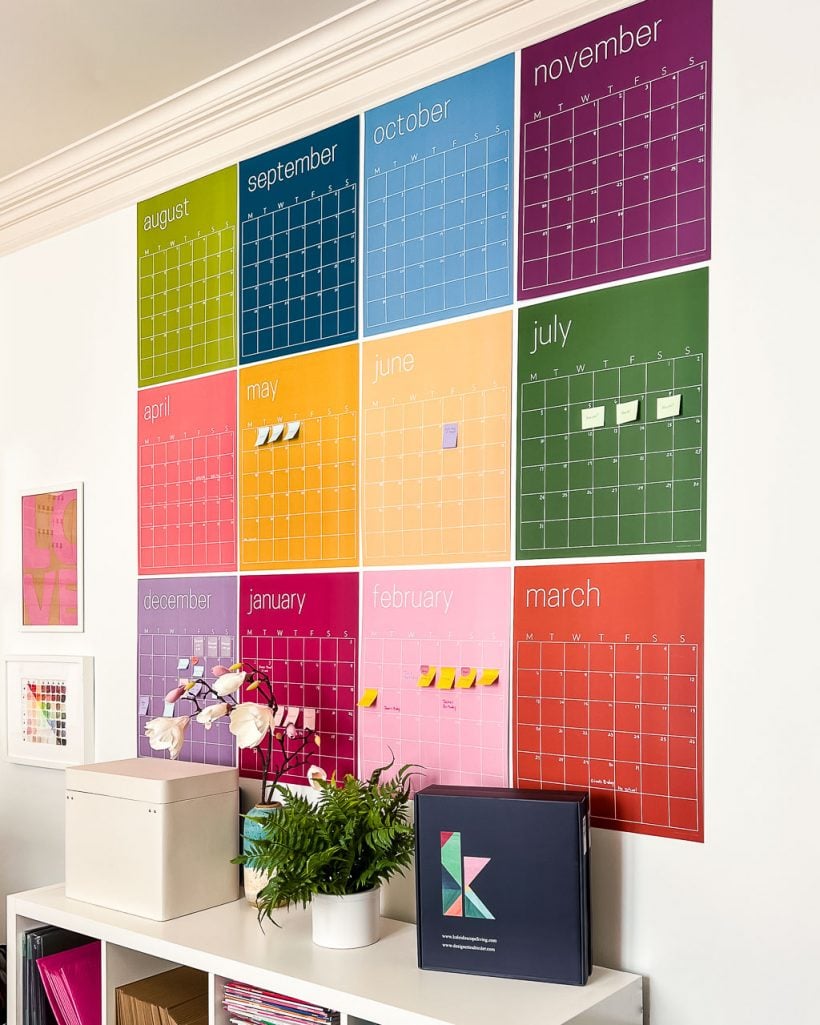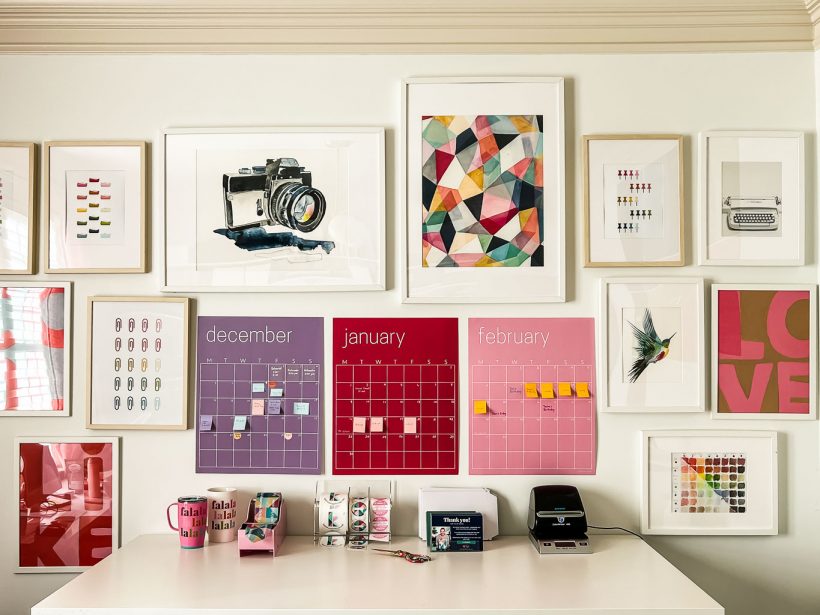 This post contains affiliate links for your convenience. Click here for my full disclosure policy.
How to Hang Each Month
Add Frames
If you are only going to hang 1 to 4 months at a time, I love the idea of hanging them in 16 x 20 inch frames so that you can use erasable chalk markers to make your calendar reusable year after year!
You can find some of my favorite 16 x 20 inch frame options listed below.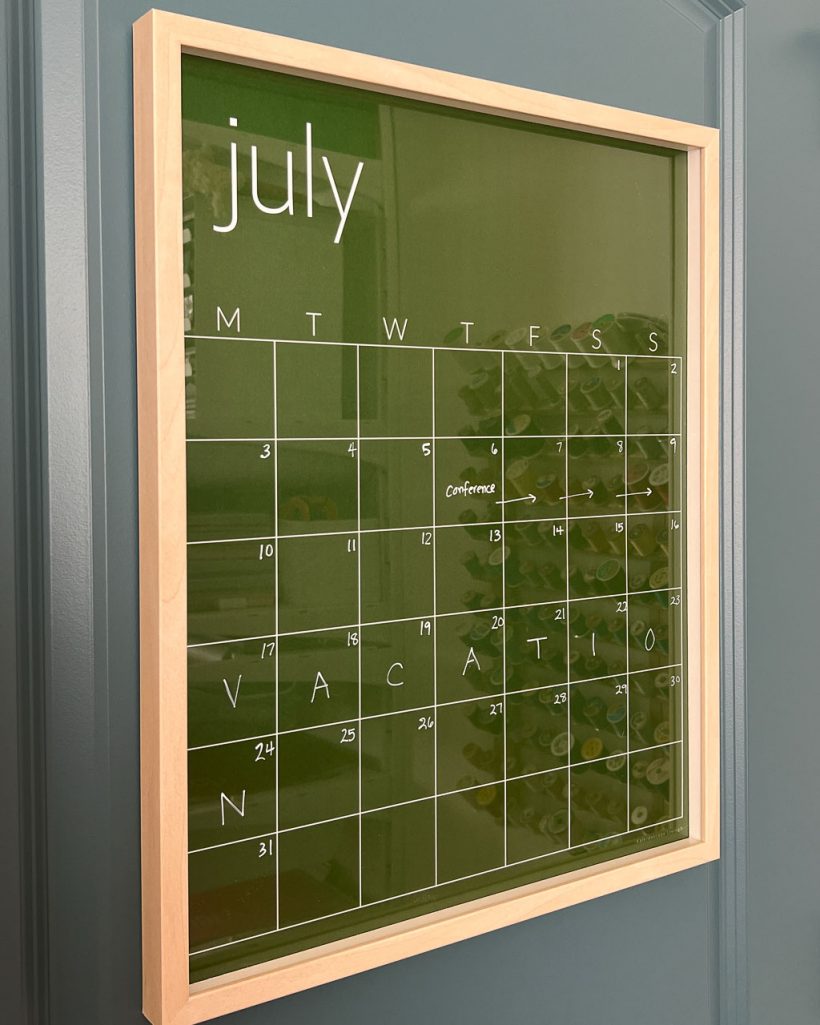 Hang Them Directly On Your Wall Without Frames
If you prefer to hang your calendar directly on your wall, you can do that too! I chose a thick, beautiful paper to have our calendar printed on so that it would look stunning even when hung directly on a wall!
My favorite way to hang each month directly on a wall is to use this sticky putty. Trust me! I did a lot of experimenting after launching this calendar and this is by far the best option. It's incredibly inexpensive and it peels off your wall and off the calendar without any damage. You just tear a little bit off, ball it up and put it in each corner. So easy!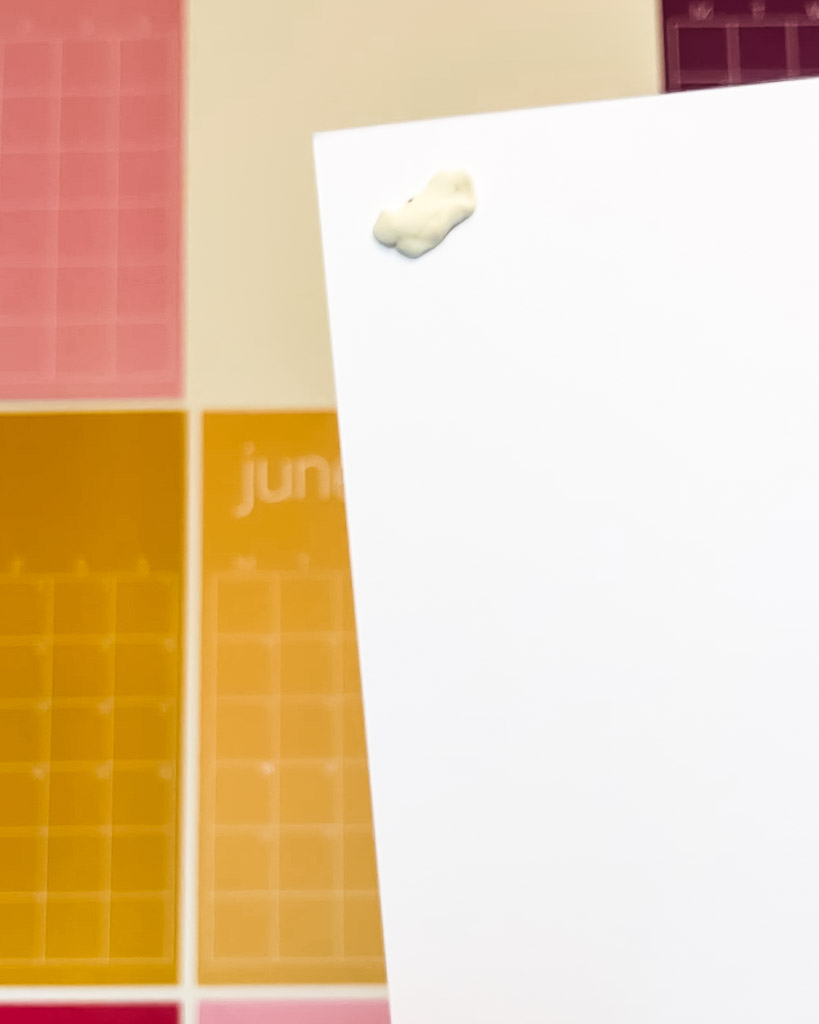 I do not recommend poster dots. They sound like a great idea and are very strong, but I wasn't able to get them off the calendars without damaging the paper OR off my walls without taking some of the paint with them :(
What to Use to Write On Our Wall Calendar
I have gotten this question more often than anything else! There are tons of options. I'll try to go through all of them below.
White chalk markers or paint pens
I personally think white ink shows up the best and most beautifully on every single color, so I recommend using white chalk markers or white paint pens if you plan to write directly on your calendar.
This is my favorite white chalk marker and the one I use most often. It's perfect for writing directly on the paper AND for writing on glass or plexiglass if you frame your calendars and want to re-use them year after year (the chalk marker wipes right off with a damp cloth or sponge).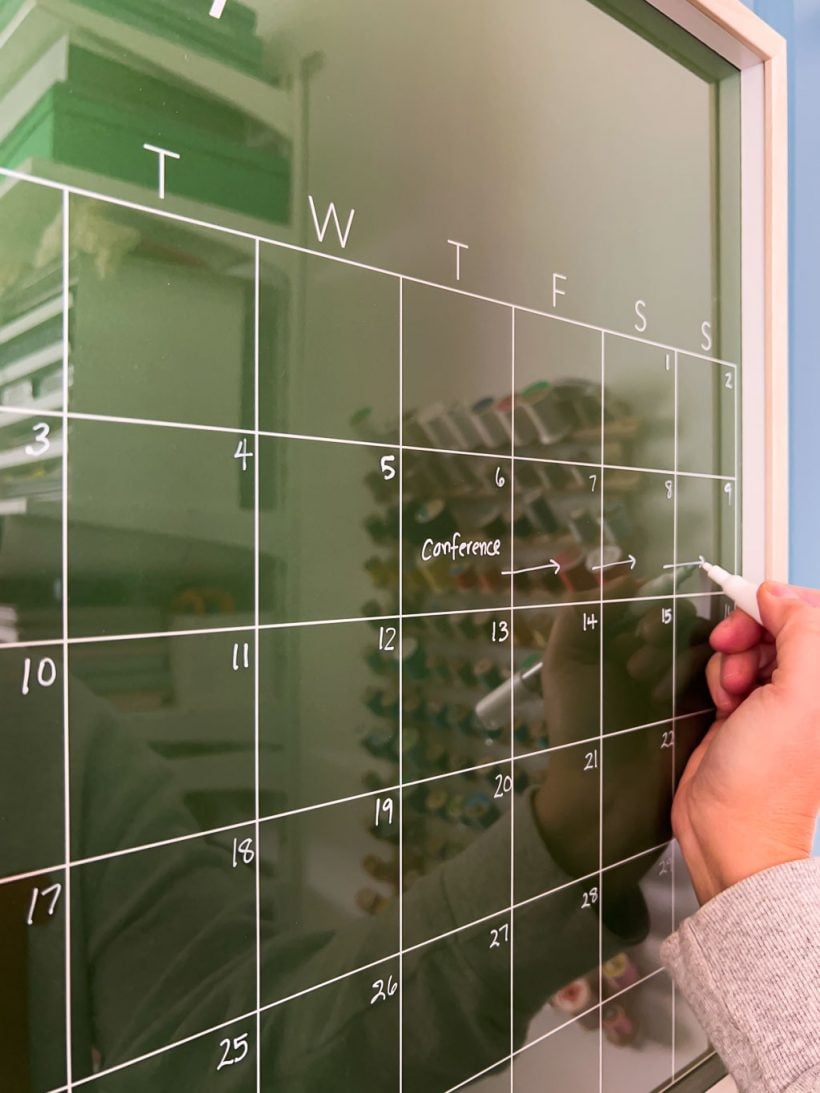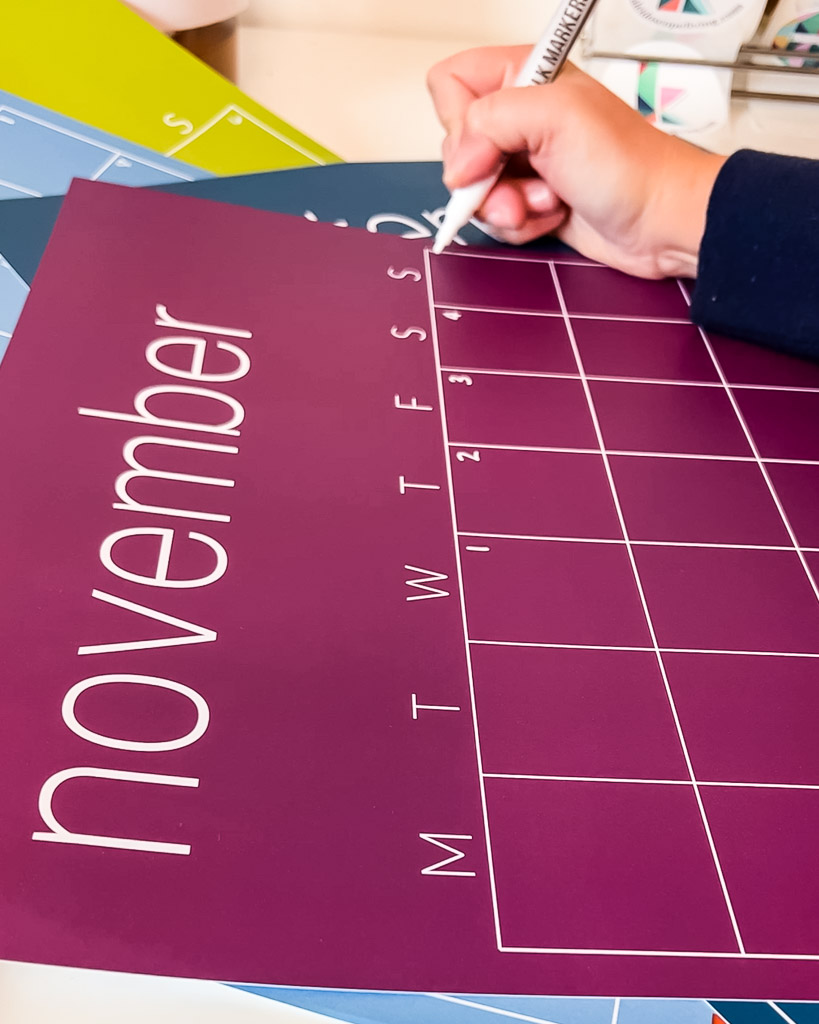 Other options
If you prefer using regular pens to write on your calendar, go for it! Just know that they won't show up as well as the white ink. So I recommend adding the dates to your calendar with a white marker/pen. But you can certainly write in your appointments, birthdays, etc. with something less visible.
Adding Appointments/Deadlines/Birthdays to Your Calendar
Sticky notes
I have found that I like dating my calendar with the white chalk marker and then using post-it notes to add appointments, etc. to my calendar with. This is largely because I can use different color post-it notes to signify different things and can write on them with any pen I have handy at the moment. I also love that I can move them around if things get rescheduled or changed!
Note that each square of the calendar is about 2 x 2 inches, so I like using these 1 1/2″ x 2″ sticky notes. They fit perfectly without covering the dates I have written in :) Sometimes I cut them in half to create smaller notes. I have learned the hard way that not all sticky notes are created equally. The name brand Post-it notes are worth the extra money–they stick well! Some less expensive options I have purchased fall off easily.
I have also discovered these transparent sticky notes, which I love! The chalk markers write beautifully on them as well and they allow the colors of the wall calendar to shine through.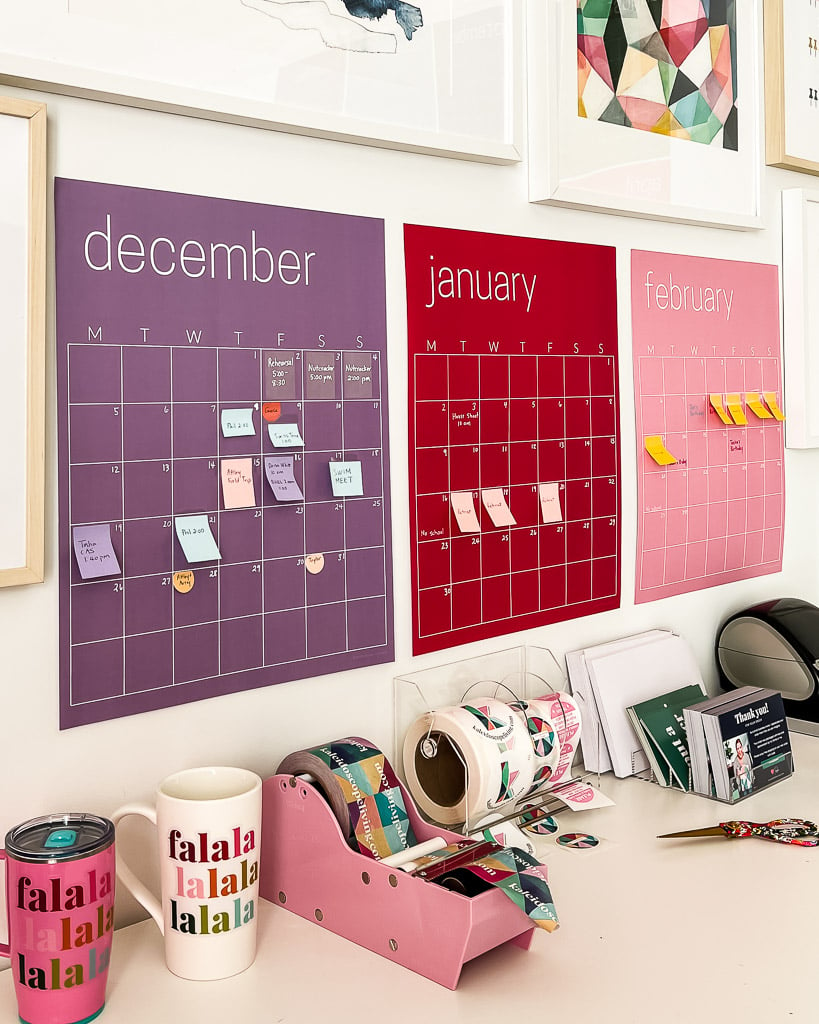 Ways to Make Our Monthly Wall Calendar Reusable
Most people will write directly on their calendars and simply purchase a new one each year. But you can absolutely make our monthly wall calendar reusable with these ideas!
Use frames with glass or plexiglass
As mentioned previously, one of the easiest ways to make your calendar reusable is to use 16 x 20 frames with glass or plexiglass. You can then write directly on the glass/plexiglass with chalk markers or dry erase markers (again, I think white chalk markers show up best).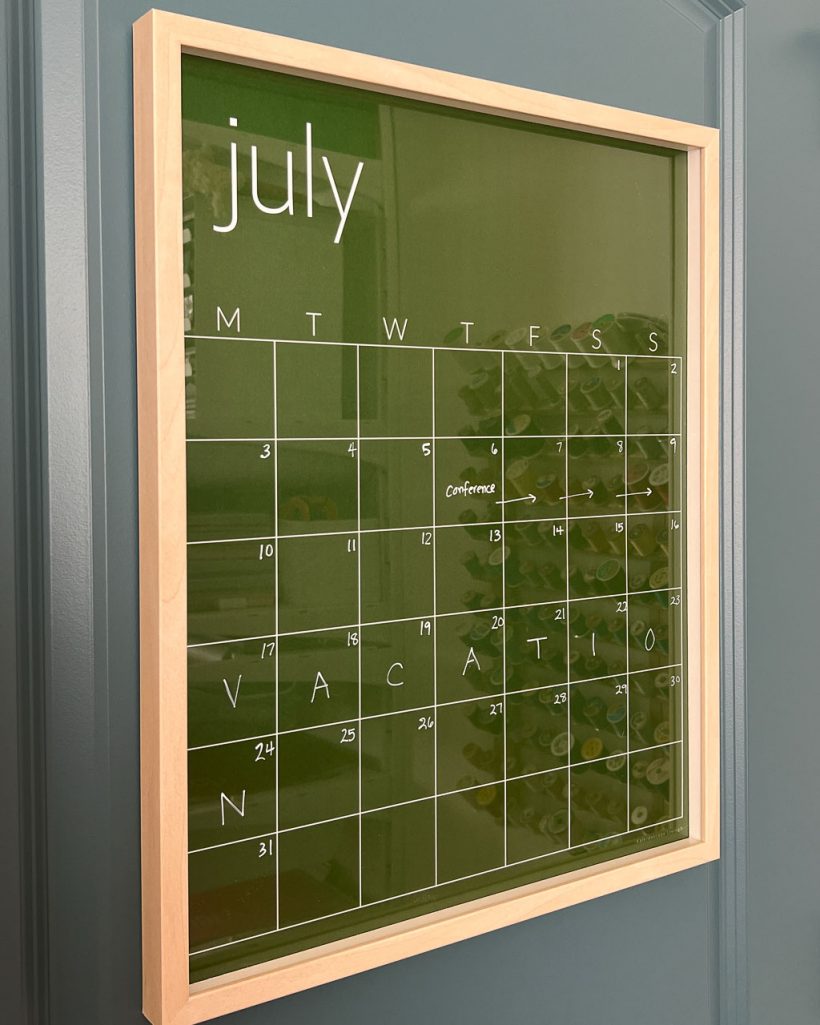 Cover them with contact paper or get them laminated
I have tested covering our calendars with clear contact paper and writing on them with chalk markers. It worked like a charm! The chalk markers cleaned right off of the contact paper with a damp magic eraser sponge. Just note that the contact paper does dull the colors of the calendar a bit (see below).
I have heard from several customers that had their calendars laminated at office supply stores that it works well also!
Use Washi Tape
Another option is to use solid color washi tape across the top of each weekly row to write your dates on. Washi tape easily peels off paper without damaging it! Use sticky notes for all your appointments, etc. At the end of the year, remove all the washi tape and sticky notes and start anew!
That's a lot of information, but I hope you can see just how versatile our monthly wall calendar is with all of these options! If you have any questions, please drop them below or email us at [email protected]
And please share photos of your wall calendar in action! Share on social media and tag @tasha.kaleidoscope and/or @kaleidoscope_living. We can't wait to see!
Other posts you may enjoy:
Wondering how I approach transforming rooms and spaces in our home? Check out Designer in a Binder®.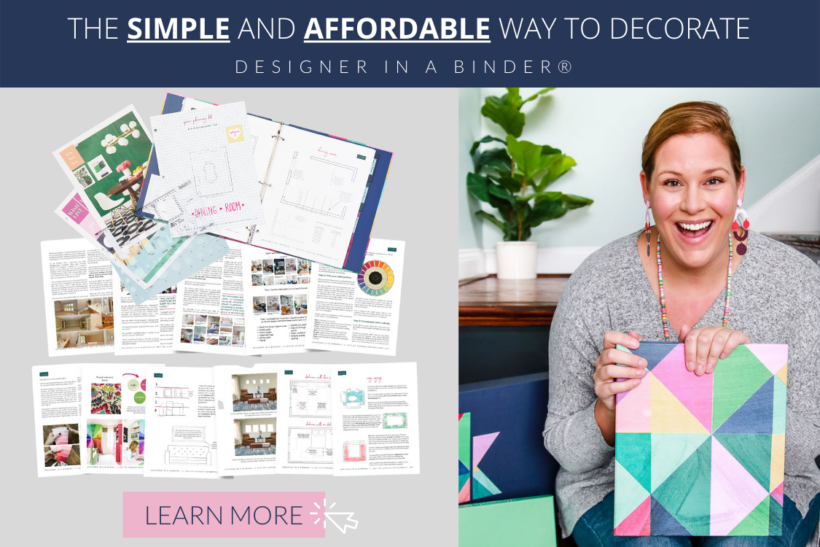 And if you want exclusive content and behind-the-scenes sneak peeks, be sure to subscribe before you head out!