Creating a home and life you love is harder than it looks. But the resources in the 2018 Ultimate Homemaking Bundle can make it a whole lot easier.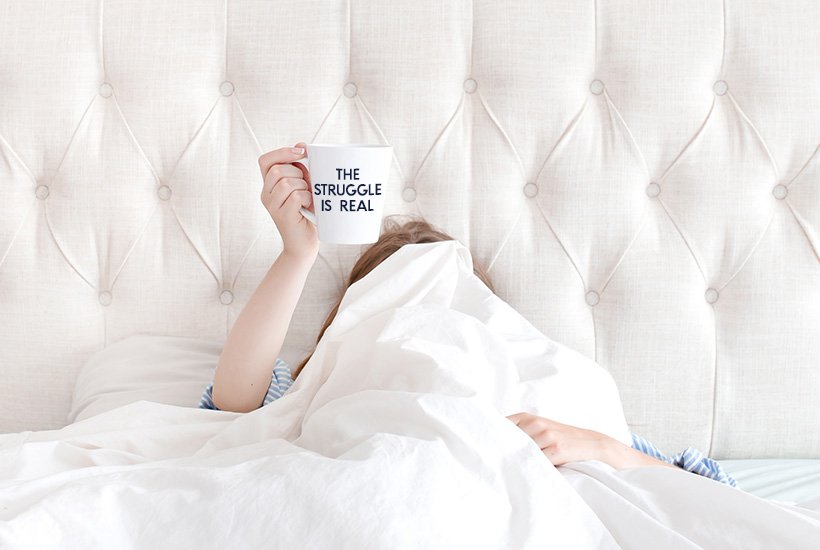 I am a proud affiliate of Ultimate Bundles. This means if you make a purchase after clicking a link in this post I will earn a small commission but it won't cost you a penny more! Click here to read my full disclosure policy.
Y'all may look at my Instagram feed or blog photos of our home and think, "Wow, she really has her act together." And I admit that we are pretty clean and tidy, but oh my gosh, that sooooooo does not mean I have my act together. What you don't see is how much I struggle behind the scenes, just like every other working mom. The struggle is real.
I struggle with using any time for myself. Since I work from home, there are way too many days when I never get out of my PJs (nope, not even to drop my kids off at school or pick them up). I struggle to find time to work out. And don't even get me started on how rarely I take the time to fix my hair. Now, if you just go based on my Instagram photos, you might think I look put together every day. NOPE. Not even close. If you watch my Instagram stories, then you already know that I look like a hot mess express most of the time.
I struggle with managing all of the stuff there is to do to keep our household running (and our children alive, lol!), which is super embarrassing because Joe does a zillion times more than so many other husbands and dads out there. But making sure we have healthy meals on hand, keeping up with the laundry and staying on top of our decluttering and organization is an every day struggle that takes a lot of time and energy.
And then there's the struggle with finding time to make our home beautiful and functional for our family. DIY projects and renovations sap a lot of time and energy, for sure.
The fact is that creating a home and life you love is harder than it looks.
It's not any one thing — the arguments over what shoes are appropriate for the weather before kids head off to school in the morning, the daily struggle to think of something quick, easy and nutritious for dinner, the challenge of staying organized in the face of all the paper that comes into our house on a daily basis, the difficulty of finding time to work out or just change out of my PJs before going downstairs to my home office to work for the day…
No, it's not any of those things in particular.
It's ALL of it.
It's the cumulative effect of juggling the different roles and responsibilities and circumstances we face each day and trying desperately to give each of them our best.
We want to lead beautiful, joyful, meaningful lives. We want our homes to feel organized, functional and inviting. We want to raise our families lovingly and intentionally. We want to invest in ourselves and continually grow as people.
All of these things are good. But that doesn't make them easy.
The reality is, we can all use a little help along the way, from women who have strengths in areas where we struggle, or who are a little further down the road than we are.
What if you could learn organizing and decluttering methods to keep your household running smoothly most of the time?
What if you could find strategies for balancing all the roles you need to fill – without going crazy and without compromising what's most important to you?
What if you had meal planning help, and could serve your family quick & healthy meals?
What if you found ideas to improve your relationships – your faith, your marriage, and your parenting?
And what if you could find the support you need to create an intentional home and life – one that falls in line with your values and dreams?
Well, you can. ?
UPDATE: The 2018 Ultimate Homemaking Bundle deal has ended.
I'm so excited to tell you about The Ultimate Homemaking Bundle, a digital library of resources and tools to help you in all these areas and more!
It includes products like eBooks, online courses, printables and planners, audio files, membership sites and more, crammed into one unbelievable collection, for a ridiculously low price.
(Don't feel overwhelmed if you look at the entire list–there is no way on earth each of these eBooks / eCourses will be something you want to dive into. And know that you are free to gift any of the resources you won't use yourself to other friends and family members, which makes this bundle even more valuable).
Ultimate Bundles creates a lot of different bundles, but this particular one has been running for 6 years (with brand new products each year!), it's their most popular bundle EVER and over 100,000 women have picked one up since 2013.
I love working with this family-run company because they care so much about the value and quality of each bundle and their customer service is amazing.
This year's edition is the biggest and most valuable yet! It includes 62 ebooks, 30 videos, audios, & eCourses, 34 printables & workbooks, 2 videos, and 3 membership sites.
There's only one catch: It's available for just six days only. That's how they convince all these amazing bloggers and product creators to include their products for so little!
For way less than the cost of an "oops" Target shopping trip, you'll get a complete library to help you:
Achieve better balance and manage your schedule more efficiently
Declutter your home (and actually keep it that way!)
Create 100 frugal recipes with a pantry of just 26 ingredients
Conquer screen-time battles, and help kids learn coping strategies for stress, anxiety & anger
Print out gorgeous planners so you can stay organized in style
Rekindle the romance with a plan for everyday passion in your marriage
Refresh your wardrobe with 64 days of mix-and-match outfit ideas for every season of the year
and so much more!
Plus, it comes with tons of bonus offers from companies you'll love (this is one of my favorite parts).
Besides being packed with so much great stuff, one of the things I like best about the bundle is the price .
By offering it for a short time only, they're able to give you access to over 129 digital products worth $3,680 — for just $29.97! (Nope, I'm not kidding. Can you believe it?)
Over 100,000 people have purchased this bundle over the years. I purchase it for myself every single year and it's always been worth it (even though I never have time to use all the resources–no one could possibly have time for that, but you can gift what you don't use or want to others)! Just check out how much this bundle has helped other women.
Now, I admit that these "bundles" are a really unique concept and not everyone even really understands what a "bundle" is. So, I thought I'd answer the questions I've seen most often just in case you were wondering some of the same things.
WHAT IS THE ULTIMATE HOMEMAKING BUNDLE?
The Ultimate Homemaking Bundle is a digital library of carefully selected eBooks, online courses, audio download, online conferences, and printable packs designed to help you nurture the beauty and productivity in your home and family relationships. It offers 129 products for only $29.97.
THIS SOUNDS LIKE A SCAM. HOW DO I KNOW IT'S FOR REAL?
I know it seems too good to be true. Pay $29.97 for $3680+ in resources? Doesn't that mean someone's losing big time? Or the prices are inflated?
I totally get your concerns. I've been an affiliate for Ultimate Bundles for years and I can tell you that I offer these bundles to my readers because they're a great value. Even though product creators may be including their product in a bundle that costs less than their product, product creators get exposure to new potential readers, which can pay off in big ways later. And when you buy a bundle through your favorite blogger, you'll support them, too! Plus, the bundle is offered for such a short time that they can go back quickly to selling their product at full price.
In short, it's a great deal for everyone. Ultimate Bundles is a reputable company, so if you try the bundle and don't like it within 30 days, you can get a full refund.
WHO IS IT FOR?
Anyone looking for inspiration, motivation, and instruction in running their home. The books and materials included in the bundle cover a wide variety of topics, including:
Budgeting & Finances (11 products worth $221.92)

Faith (17 products worth $281.82)

Family (11 products worth $210.93)

Home Management (14 products worth $260.54)

Homeschooling (9 products worth $115.71)

In the Kitchen (21 products worth $321.70)

Intentional Living (11 products worth $237.92)

Self Care (15 products worth $502.91)

Time Management (9 products worth $254.00)

Work at Home (10 products worth $1,302.99)
DID I ALREADY BUY THIS?
No! The Ultimate Homemaking Bundle is different every year, so even if you purchased the UHB in previous years, this bundle is new and different. It includes an all-new selection of e-books, e-courses, printables, and bonuses, and I can honestly say this year's bundle is the biggest, most value-filled bundle they've ever done. I buy it for myself every single year.
HOW MUCH DOES IT COST?
The Ultimate Homemaking Bundle is available for just $29.97.
IS THIS ONE BIG COURSE? OR A BUNCH OF DIFFERENT PRODUCTS?
This bundle is a collection of 62 eBooks, 30 eCourses, videos & audios, 34 printables & workbooks, and 3 membership sites. Inside this bundle, you will find tons of resources with hundreds of recipes, chore printables, budget planners, and more. It's basically all your favorite bloggers' products together in one collection – all for $29.97.
HOW SOON DO I HAVE TO ORDER?
Soon! This special bundle is only available through Monday, April 16th at 11:59 pm EST, and then it's gone for good. There won't be another bundle like it until sometime next year and even then, it won't be the exact same resources that are included this year.

WHAT IF I DON'T USE ALL THE RESOURCES?
You probably won't, and that's okay! There is no way on earth each of these eBooks / eCourses is relevant to where you are right now. Some of them will have a lot of appeal, and some won't. But in most cases, it only takes 3 or 4 eBooks or eCourses that you're going to use for you to start saving money. Not to mention, there are 30 resources alone that are worth as much or more than the cost of the bundle itself. So, even though you won't use every resource in the bundle, it would still be really hard to not save a ton of money anyway. You are also free to gift any of the resources you won't use yourself to other friends and family members, which makes this bundle even more valuable. I know I probably will only ever find time to use around 10 of the resources, but if I paid for those individually, I'd pay almost $400, so it makes WAY more sense for me to buy the bundle even if I don't use everything that's in it!
WHAT IF I BUY IT AND DON'T LIKE IT?
Although Ultimate Bundles has an extremely low return rate at less than 1/4 of the industry standard, there are some people who it doesn't work for. That's why they offer a 100% happiness guarantee refund policy. If you don't love The Ultimate Homemaking Bundle, just email [email protected] to ask for a full refund.
If you are interested, all you have to do is:
Visit The Ultimate Homemaking Bundle website, take a quick look at all the goodness that comes in this package, then click the "Get my copy now!" button to go through their simple and secure 3-step checkout process.
You'll receive an email with a login to their online access portal, where you'll begin downloading your eBooks, signing up for your eCourses, and redeeming your free bonus offers.
Use their Getting Started Guide to pick the topic you want to tackle first and start your stress-less homemaking journey!
Remember, this bundle is available for just six days! After Monday night, April 16th, the sale ends and you'd have to buy all of these products individually.
I'd hate for you to miss out, so click HERE to learn more or buy the bundle before the sale ends.


[go_portfolio id="cleaning_and_organization"]