Wall Decoration Ideas to Take Your Walls from Bland to Brilliant
Last Updated on February 24, 2022
So are y'all  ready to take your walls from bland to brilliant?
Here's the deal–walls comprise a ton of surface area in every room (obviously) so they provide a fabulous opportunity to make a BIG impact. Now, I know, the thought of doing something drastic to your walls can be a little freaky. But take a deep breath.
Wall decorations have come a LONG way. Gone are the days when you'd have to scrape and stress out about paste and paneling. Full wall murals and heavy duty wallpaper (the kind that requires a small army to remove) are long gone.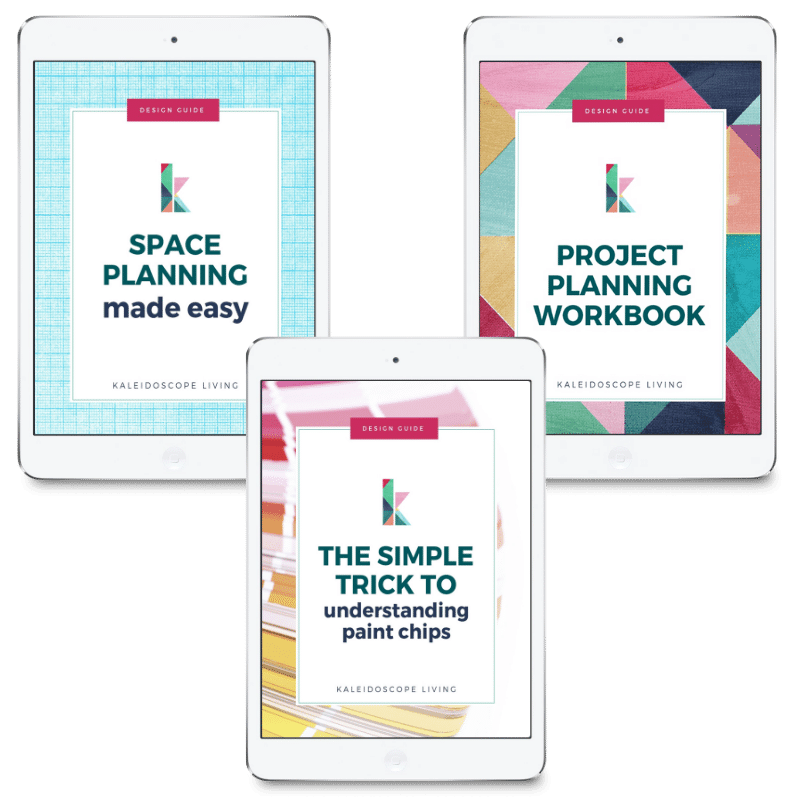 Get my FREE design guides when you subscribe!
Even the most commitment-phobic among us can usually get behind a coat of paint, some added texture or trim. Try grouping together interesting items as wall-hangings or putting up a tapestry. There are plenty of ways to perk up your walls–no bravery required!
Most wall decoration projects are easy, inexpensive and can be undone when you're ready for a change (without blood, sweat or tears). DIY wall makeovers are a project even a novice home improver can take on, and let me tell ya'll–it has a HUGE impact on your home. The right wall decoration tips and colors can make your rooms appear larger (or smaller), your ceilings appear higher and can really help your home stand out. It's totally worth it! You can do it, seriously, you guys!
Ready to get started? The following wall decoration inspo will help you take your walls from bland to brilliant.
Wall Decoration Ideas
Change It Up
Sometimes you just need to shake things up to liven up a wall. If you're getting tired of a wall or feel a room needs a facelift, start by removing the pictures you've had on the wall for years. Replace them with completely different pieces of art to give the room a whole new look and style.
DIY wall galleries vary with personal taste. Photography-lovers can hang an assortment of their favorite photos. If you love watercolor paintings, prints or architectural drawings, cluster them together. Remove the old pictures and hang your personal assortment of some type of collectible on the wall. The key is to find a common theme, use a consistent mat, frame or color to keep the look cohesive. Wall decor doesn't need to be limited to frames and mats, either–use unconventional wall hangings with a common material.
These DIY frames made from reclaimed wood and hung from pipe are a stunning way to display inexpensive maps or other large prints–you can find the full tutorial on how to make the frames here. The industrial pipes and reclaimed wood is picked up again in the curtain rod, baskets and furniture throughout the room. It's just one example of how quirky and inexpensive items can make great DIY wall decorations.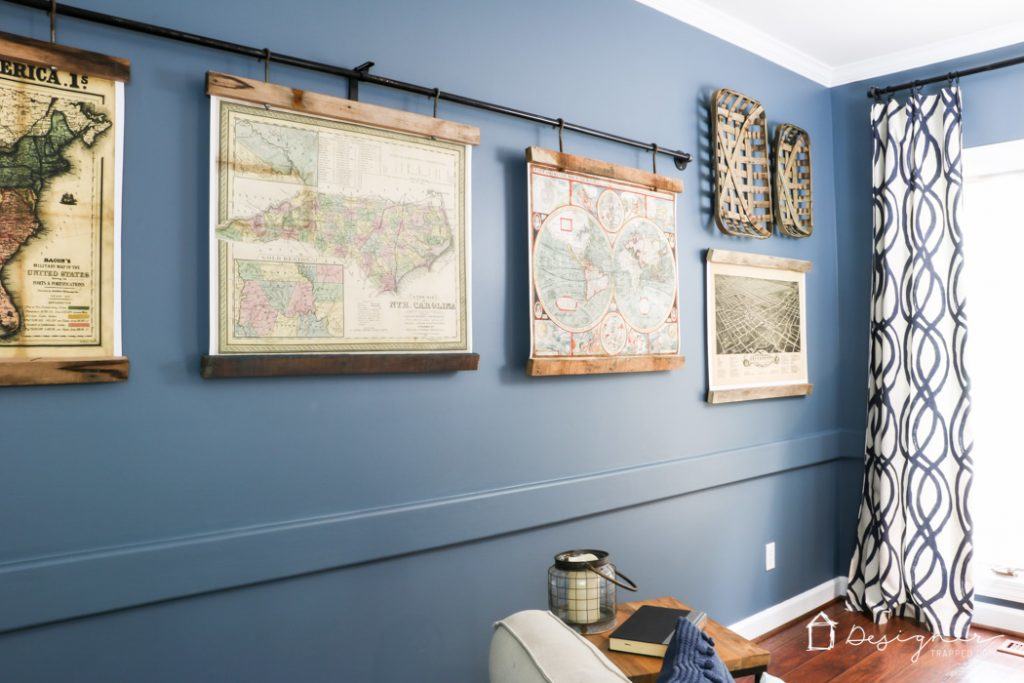 Don't limit yourself if you want to include photography as well as art, or other decorative items. Create a gallery with interesting groupings. Gallery walls that include family photos as well as other eclectic art are an awesome option, as seen below.
One of the best wall decoration tips is to find commonalities between the pieces to keep the look consistent. Here the frames in black white and gold all feature a similar mat or frame width to balance the art with negative space. The width is echoed in the spacing between the frames as well. The gold on the frames connects back to the gold frame around the mirror, giving the gallery of wall art a thematic feel.
Similarly, below, the art is grouped closely together and colors are repeated within the art and frames. The red from the fun sputnik light fixture is echoed in both the frames and the artwork in the gallery. The art is distributed by random sizes and dimensions throughout the wall, but with care not to group too many similarly-sized items clustered together. This gives the wall a bohemian, eclectic feel but yet keeps the look connected rather than chaotic.
Add Wallpaper
When most of us think of wallpaper we probably envision our mothers or grandmothers standing precariously on stepladders with paste dripping down their arms. Wallpaper designs were often quaint with tiny floral motifs or very ugly dated (think 1970's flocked florals or 80's teddy bears and geese–yikes). Wallpaper designs used to fall quickly out of style, and trying to deal with putting it up and taking it down was a big mess and quite a commitment.
If your thoughts are stuck in the past when it comes to wallpaper, take a few minutes to explore the new, magnificent wallpaper designs available. These brilliant wallpaper designs can transform dull walls into vibrant walls. You can enhance the wallpaper you select by adding wall sconce lighting or directing recessed lighting toward the wall to illuminate the wall and make it a major highlight in the room. Discountrue.com coupons for AliExpress can help you find a modern wallpaper without breaking the bank.
Check out the very contemporary wallpaper below. The graphic lines are mirrored in the light fixture, and bold bright green sculptural piece at the bottom of the stairs. Using wallpaper on just an accent wall, especially when it's a bold design can keep the wall decoration from feeling overwhelming.
Add Texture
Walls, by their nature are pretty flat, blank and well…boring. Even the standard texturizing contractors spray on walls doesn't do much to add pizazz.
Bland walls can be given a jolt of excitement when you add rich texture to the wall.
Tapestries, blankets, quilts and even shower curtains stretched over a canvas can become wall art. Hanging rugs, especially cowhide or faux fur rugs, has become a popular decorating trend. You can find inspiration for using rugs as wall art at Builddirect.com.
Using textiles as wall coverings is a great solution for apartment-dwellers and renters because it's wall decor with a huge impact that won't cost you your security deposit. This beautiful weaving below makes the whole room appear rich, bohemian and worldly. The beautiful textures on the pillows, blanket and fur throw, pair well with the South American rug design. The room feels like an exotic locale which is something that's not true for most apartment bedrooms.
Make a Statement
Your walls can make a brilliant statement when you apply wall words that display a famous quote or encouraging saying. Use letters and words either as wall hangings and decorations or as part of the walls themselves to get your statement out there! Painting a wall with chalkboard paint and encouraging family and guests to draw or write on the wall is another creative way to bring new life to a wall. This can be a fun solution for kids rooms and offices as well.
Paint can be used to add creative flair to walls in a myriad of different ways. In addition to chalkboard paint, try a bold accent wall, or colorblocking. Use contrasting colors on your wall or ceiling to make your walls  pop.
If you love patterns and the look of wallpaper without the commitment, consider this idea: stencil an accent  wall to create a bold statement wall. Don't be afraid! This is an easy and inexpensive DIY project that can transform the look of your whole room. You can find the full tutorial for this beautiful stenciled wall here.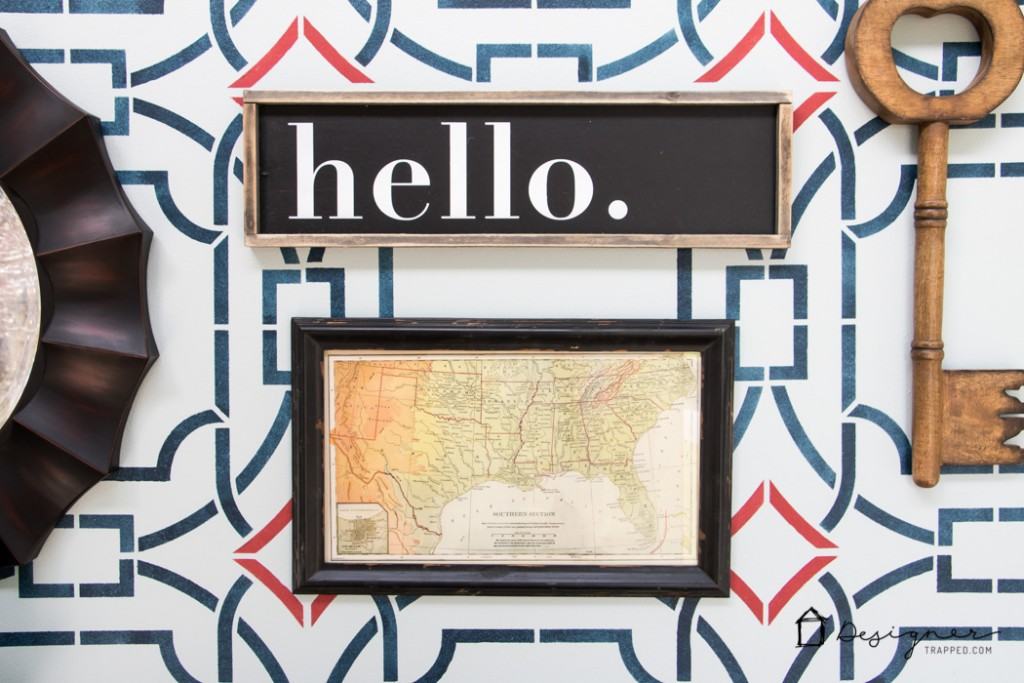 Make Your Walls Shine
If you still want to take your wall decor up a notch, you can use apply metallic vinyl cutouts or even glitter to make a big statement. Vinyl cutouts are quite popular and the designs can go beyond cutesy silhouettes and kid's prints. Grown up metallics and repetition can add an accent to a wall when it needs some richness.
Wallpaper is elevated from flat to fabulous when metallics, graphic patterns and textures are used. Wallpaper and metallic accents have come so far in the last twenty years. They are now easy to put up and take down, and available in many gorgeous designs for wall decoration.
You can find the full tutorial for this stunning DIY metallic wallpaper by Classy Clutter here. This wallpaper on a single accent wall in this bathroom manages to look both modern and timeless. The gold adds an opulence to a simple, small powder room that makes it seem luxurious.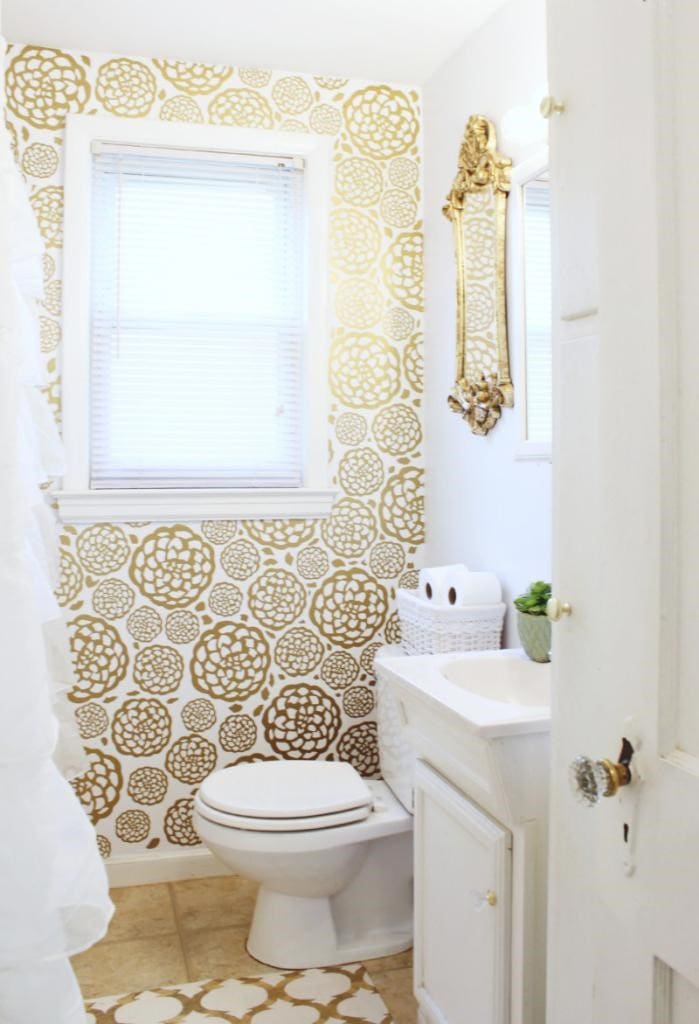 Although we often forget about the important elements of design for wall decoration, the walls in your room play a big role in its overall impact. If your walls just fade into the background, you are missing an opportunity to enhance your decor easily.
Don't be afraid, you guys! It's easy, fun and not scary at all! These wall decoration ideas can help you take your walls from bland to brilliant!

[go_portfolio id="most_popular"]