What is happening after we move in with renovations? We want the rooms we will use and live in the most to be the first finished so we can feel somewhat settled. After that, we will move on to other parts of the house!
Today we discuss what will happen AFTER we move in! I have a plan for how I want it to go, but as we know, things can change (I already have revelations on this as we talk in the podcast) so who knows how well we will stick to the plan?! But we do want to have our living spaces ready for the holidays, so that is first on the agenda. We go into detail about what really needs to happen and all the plans I have! I am so excited for a blank slate (thankfully no longer a brown slate, LOL) to do whatever we want and I cannot wait to turn it into our dream home.
Want to listen on your favorite app? Click whichever option you prefer below:
iTunes | Stitcher | Spotify | Google Play
All the Details From This Episode
What are the Agruso's doing after we move in, you may wonder? Well, I change what is happening pretty much all the time so whatever I say here today will probably change. So consider everything I say to be tentative plans. It is gonna be a true "ride the wave" scenario.
We are planning on focusing downstairs since the Holidays are headed our way.
The kitchen is, of course, brown. The cabinets are two-tone–some were cream (like Thea's before we painted them). They are antiqued, which is not my favorite. The wood island and vent-hood (also known as the hood-vent) are stained dark espresso. The island has lots of dings and scuffs and needs to be freshened up. SO, bottom line–we are painting all of it. Probably all one color. And it is a COLOR! I am looking at some dark saturated colors which feels exciting and different.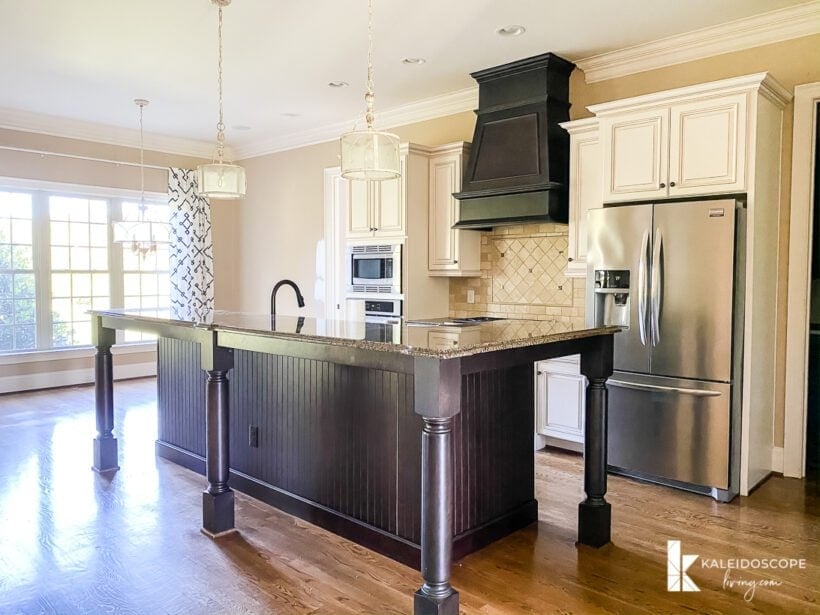 I am excited we can use the exact same method we did in Thea's house. Don't even have to take the doors off! Thea even offered to come paint around the hinges since she is basically an expert after doing all of her own cabinets.
The backsplash isn't exactly offensive, but also not my style AT ALL. And it is beige (see picture above). So I have a plan for that too, of course. I am looking for a solution to cover it instead of painting it (which we did in this house) and my plan is a surprise :)!
New lights are already on order and going in ASAP.
Eventually, we will be tearing it all out, but we are gonna give it a little makeover and live with it for a few years before we make any drastic changes.
The double level island is not my favorite. Spoiler, Thea thinks it would help her kids' junk creep into her workspace. And it covers the mess in the sink. Neither of these is a problem for me–she admits both are a huge problem at her house!
New favorite phrase: AND THIS WILL BE THAT. Use it, and you are welcome.
We don't love the fireplace and hearth. The detail is not my favorite and of course, the color is blah. We are in talks about what we can do to change it drastically. It will stay in the style of the house, but my gut is that it will be a penny tile!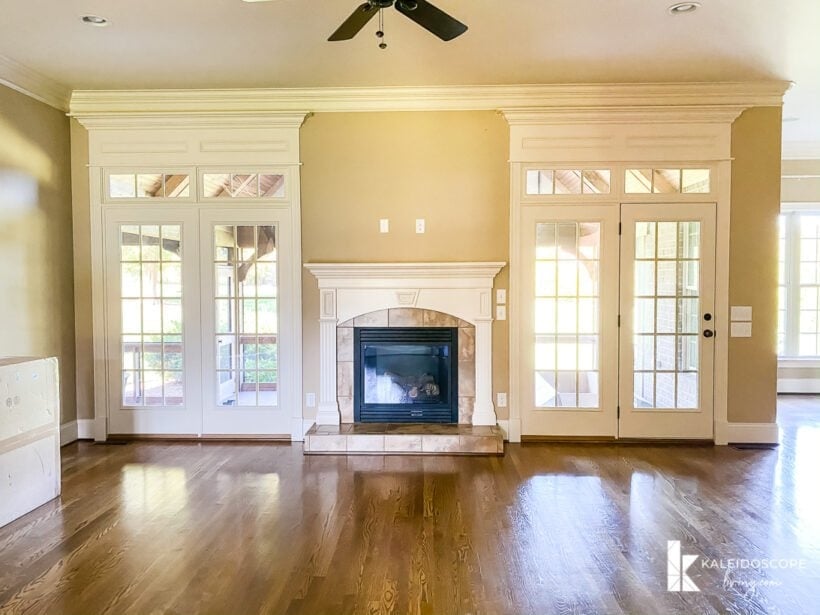 We will add a new mantel but there will be no flair.
It is Chotchkie's, Thea wins this round (I finally had to look it up)!
Other than hanging pictures and styling, we don't have any other big projects in the great room. So once we get those done, we will be ready to decorate for the holidays, which feels like it will help us really settle in!
We will put a tree up with Riggins. Poor Thea can't put a big tree up because her insane dog will steal and eat her ornaments. Instead she has a tiny tabletop tree that is "majestic."
Our Christmas tree strategy (its a thing) is to only put shatterproof ornaments from the waist down. Thea's tree is normally filled with ornaments that kids made, stuff that is handed down, etc. She is so sentimental any loss would break her heart.
I also have to get my office set up pretty quickly because I have this year's Beautiful Home Beautiful Life Summit coming up and have to have a place to do the interviews. (The link leads to last year's summit, but watch for info coming soon on this years' summit!)
Now that we are talking, I do want the girls' rooms done. It would be so much easier before their stuffy-stuff explodes and will help them feel more settled in.
Avery has started to leave clothes on her floor and it is stressing me out. Thea is used to this type of shenanigans, but it is shocking to me. It is boggling my mind, even though I was REALLY messy as a kid. I went from being a slob to being obsessively organized when my stepdad joined our family and I have never looked back!
Our lowest priorities–dining room, bonus room, guest room, bathrooms.
The outdoor space doesn't need much. We have to get some firewood delivered. Apparently, it is a whole thing around here–Thea informs me there are lots of firewood options out there.
We also are going to add string lights. Thea saw amazing colored lights that can be customized. Now that we said it out loud, we will probably get served ads for it. If you know what lights she is talking about, please send us a message! We can't find them.
What do you think…are your devices listening to you? We disagree on whether this is a thing. PLEASE WEIGH IN. We will have a poll on Instagram.
If you are doing anything fun or interesting or even really boring, please share with us what you are doing. We love seeing them! Tag us on IG and share it! Tag us on IG at @tasha.kaleidoscope and tag us in pics or screenshot your episode and tell us what you are doing while you listen. We love seeing those and try to share them as often as possible! Make sure you are following me on Instagram so you can follow along with my stories and see all the behind the scenes action. I talk about ALL the things (not just home decor and DIY!) and it is very fun so come hang out with us!
Get Social With Us
If you are wondering how I will come up with room designs for each room in our house, the answer is Designer in a Binder®. Designer in a Binder® is the design system I have used for years and years! A couple of years ago, I finally put it all down on paper so that others can use it as well! In it I walk you through all the important stuff like choosing items that are the correct scale, space planning, mixing patterns, choosing colors and more! I give easy-to-understand guidance on all of this in Designer in a Binder®! You can order your binder now. We have over 5,900 happy customers so far! Click HERE to learn more.