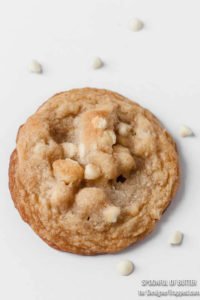 White Chocolate and Macadamia Nut Cookies
Yield 2 dozen
Buttery cookie dough loaded with sweet white chocolate chips and slightly salty macadamia nuts make these deliciously yummy cookies a family favorite!
Ingredients
1/2 cup unsalted butter, at room temperature
1/4 cup white granulated sugar
3/4 cup brown sugar
1 large egg
1/2 teaspoon vanilla extract
1/2 tablespoon light corn syrup
1 1/2 cups all-purpose flour
1/2 teaspoon baking soda
1/2 teaspoon salt
1/2 cup white chocolate chips
1/2 cup macadamia nuts, chopped
Instructions
Using an electric mixer, beat the butter and the sugars on low speed until combined. Add the egg, vanilla extract, and light corn syrup.
In a separate bowl, whisk together the flour, baking soda, and salt. Gradually add this flour mixture to the butter mixture. Mix until just combined.
Using a spatula, fold in the white chocolate and macadamia nuts. Cover and refrigerate the dough for at least 2 hours or overnight.
Preheat oven to 350 F (180 C). Line a cookie sheet or baking sheet with parchment paper. Using a small cookie scoop (2 teaspoons), spoon the dough onto the lined baking sheet. Make sure to leave a little room between each ball of cookie dough as they will spread a little while they bake. Bake for 9-12 minutes or until the edges are golden and the center of the cookies are set.
Transfer the cookies to a wire rack to cool. Store in an airtight container for up to 5 days.
Courses Dessert
Recipe by Kaleidoscope Living at https://designertrapped.com/white-chocolate-macadamia-nut-cookies/