How to Paint Wood Furniture
Last Updated on June 18, 2020
One of the most frequent questions I get asked is how to paint wood furniture. It's one of those questions that always surprises me a little bit, because I assume everyone knows how to do it and does it all the time, but I guess I am wrong! Painting furniture is something I do all the time (I have a whole post about the best paint for every kind of furniture). The main reason is that I adore the look of painted wood furniture. But the truth is that I also do it because it allows me to buy inexpensive (but high-quality) wood pieces at thrift stores and transform them into my style in a matter of hours with a simple paint job. This project is the perfect example.
We purchased this AH-MAZING dresser with curved drawer fronts at a thrift store 10 years ago. The wood was damaged and ugly, but it was solid wood and its structural integrity was fully intact. We paid around $100 for it and it's still one of my favorite pieces in our entire house. We use it in our master bedroom for my husband to store his foldable clothes.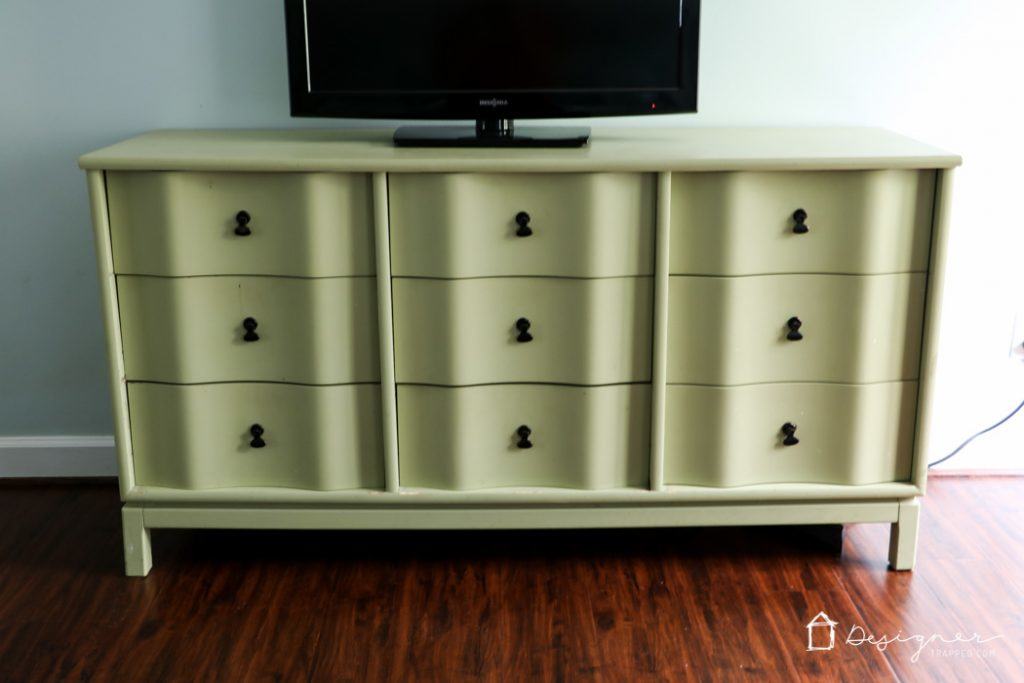 Sadly, 10 years ago I thought it was okay to paint furniture with latex paint. Sigh. You can see how poorly the latex paint has held up for us over the years (truth be told, it started chipping almost immediately after we painted it). Fortunately, I have learned how to paint wood furniture correctly since then.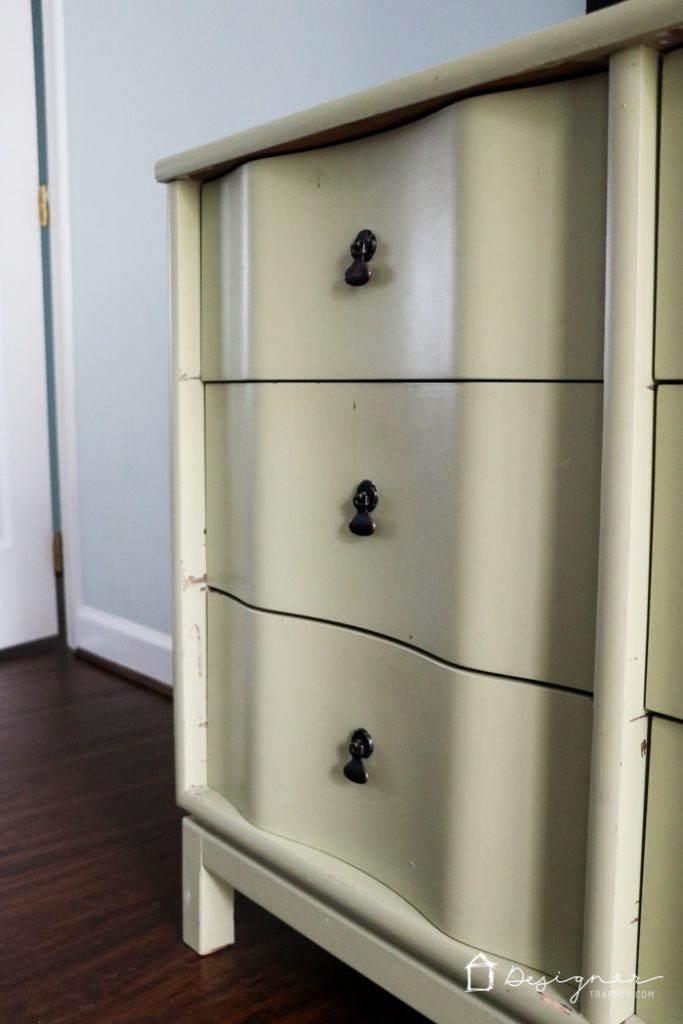 Well, I finally mustered up the energy to repaint it. Feeling inspired by the upcoming Rio 2016 Olympic Games (I LOVE The Olympics–swimming and diving are my favorite) and since we have a navy blue color palette in our master bedroom now, I painted it a gorgeous, velvety navy blue and updated the hardware and could not be happier with the results. Read on to learn how to paint wood furniture so that it will look great for years to come! This post contains some affiliate links for your convenience. Click here to read my full disclosure policy.
How to Paint Wood Furniture
Materials needed:
Chalk-based paint (I used Amy Howard At Home's One Step Paint in Lady Singing the Blues)

Choosing a high-quality chalk-based paint is CRUCIAL. You cannot simply used latex paint like you use on your walls. It will chip and peel. Trust me, I've learned from experience :)

Wax (I used Amy Howard At Home's Light Antique Wax)
Cleaning supplies (I grabbed all the P&G cleaning supplies I needed at Lowe's):

Bounty paper towels
Mr. Clean Magic Erasers
Simple Green cleaner, mixed with water per the instructions on the bottle

Paint brush and foam roller
New hardware, if desired (I chose these beautiful brushed gold drawer pulls)
Steps:
1) Remove your hardware.
2) Prepping your wood furniture for paint is a CRUCIAL part of how to paint wood furniture. Start by thoroughly cleaning your piece. I always start by wiping mine down with Bounty Paper Towels and Simple Green. After you have cleaned it with Simple Green, spray your piece down with water and dry it with paper towels to ensure there is no Simple Green residue remaining on the piece, as it could interfere with paint adhesion. I am ashamed to show you just how dirty our piece was, but here goes.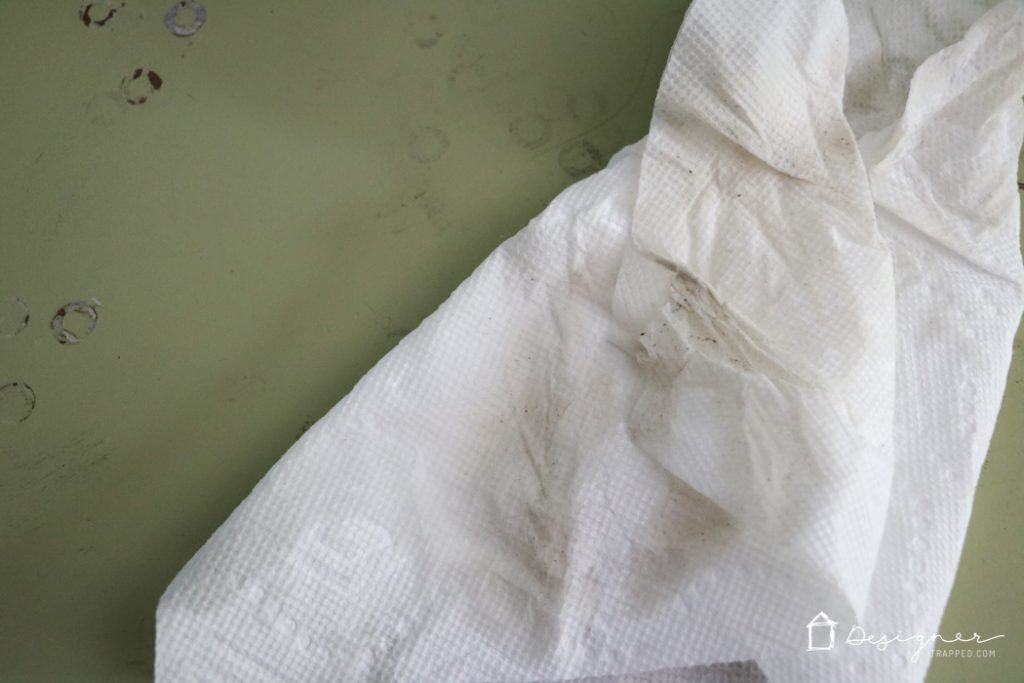 After I wipe it down, I go back over the particularly grimy bits with a Magic Eraser. If you haven't used Magic Erasers yet, you are missing out. They really are magic and can remove marks and scuffs that no amount of cleaning solution ever could.
3) Once your piece is clean, you are ready to paint. That's right! No need to sand off the existing paint or prime it if you are using a high-quality chalk-based paint like Amy Howard's One Step Paint! I used a smooth foam roller to apply most of the paint and used a brush only to get into the nooks and crannies. My dresser took 3 coats, but chalk-based paint dries SUPER quickly, so it only took me about an hour to paint the entire piece (I did not paint the inside of the drawers).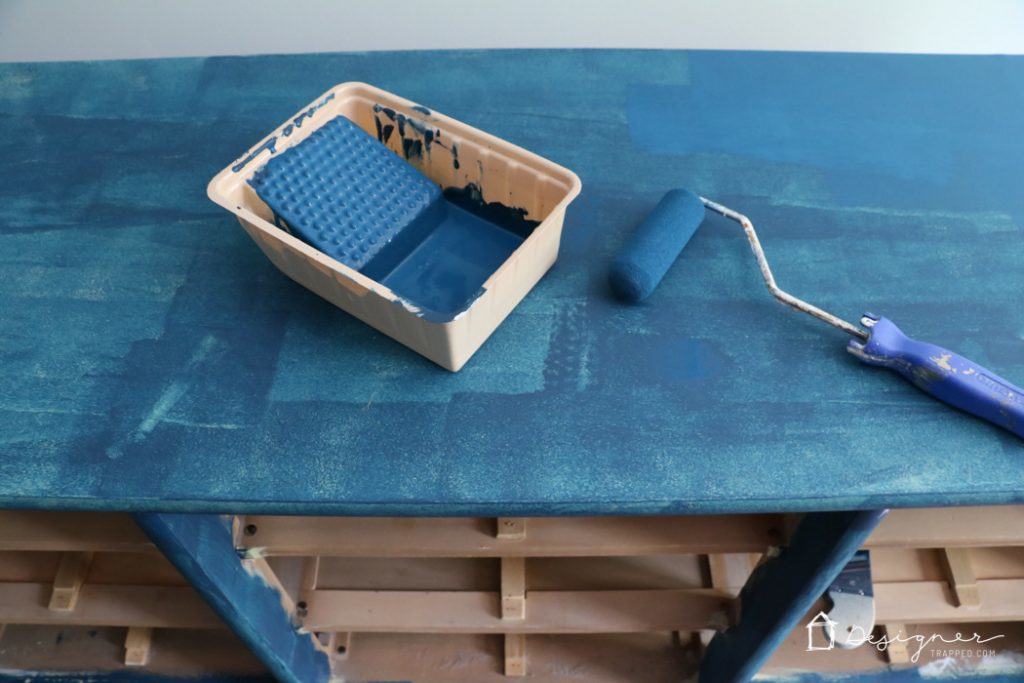 4) Apply your furniture wax. Below is a video on how to apply the particular was I use. Note that for this piece, I applied only the light antique wax. Waxing adds a bit of lustre to the surface and gives it some additional protection, but it's not required.

5) Reattach your hardware or attach new hardware. I chose these beautiful gold drawer pulls. Again, I must have had The Olympics on the brain and was channeling the look of a gold metal :)
That's it! Now you know how to paint wood furniture. Easy, huh? Just check out how beautiful it looks now! I totally feel like this is a gold medal worthy project ) #PGBringHomeTheGold PS- The tutorial for that cute personalized photo project hanging above the dresser can be found by clicking here!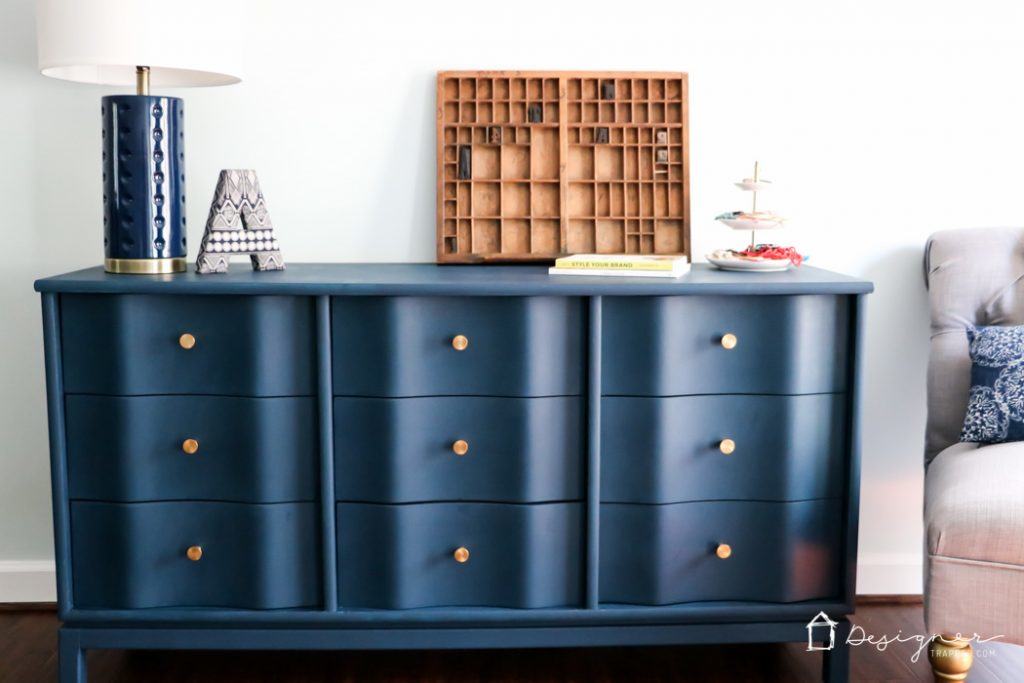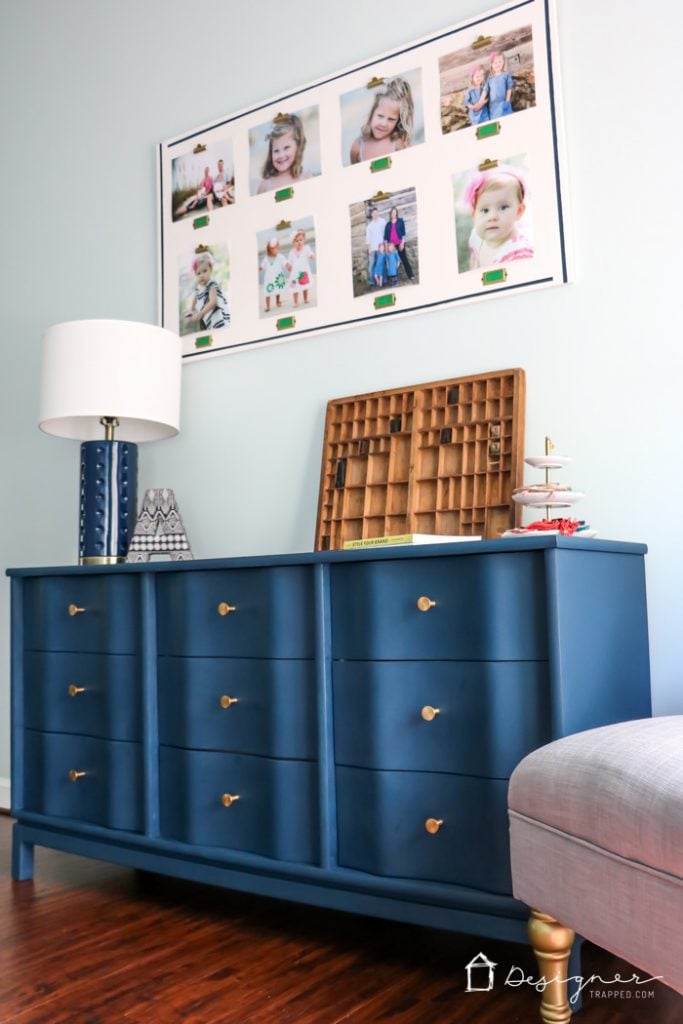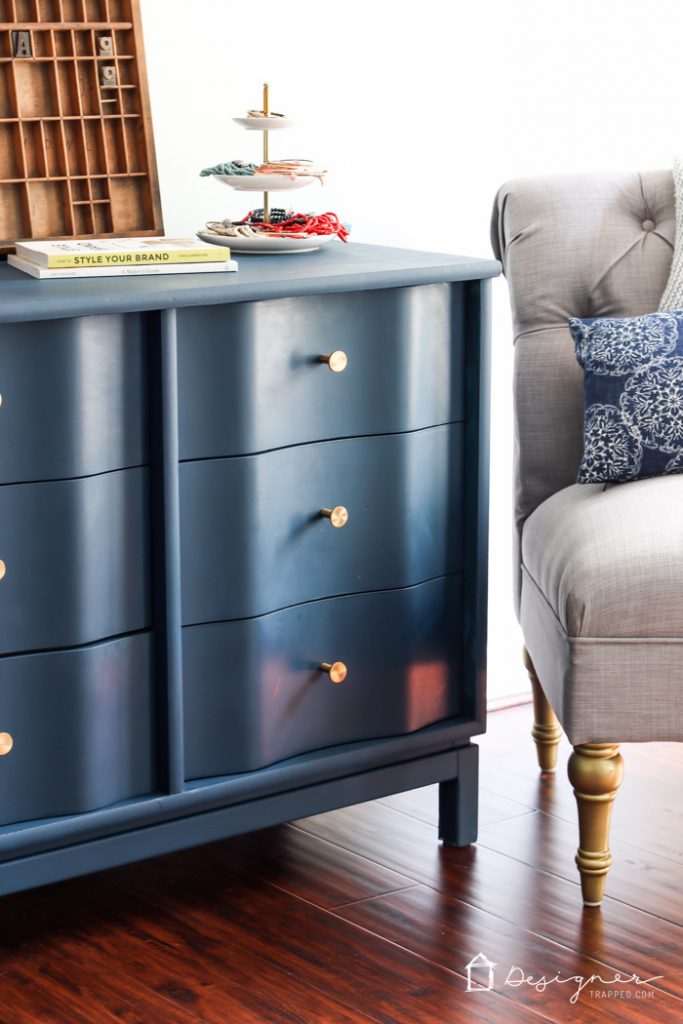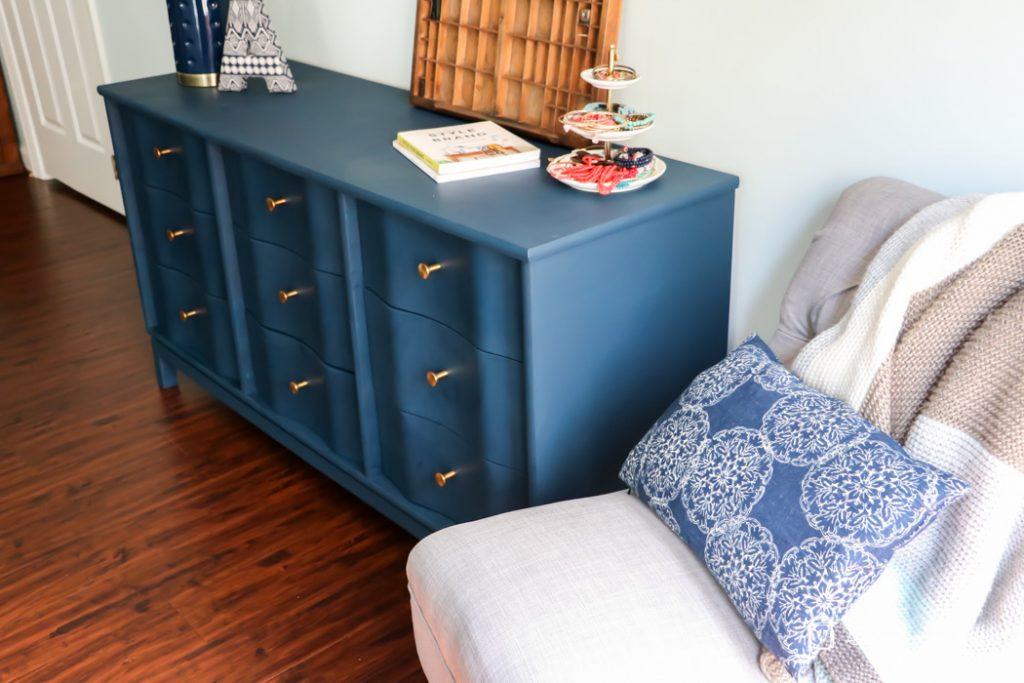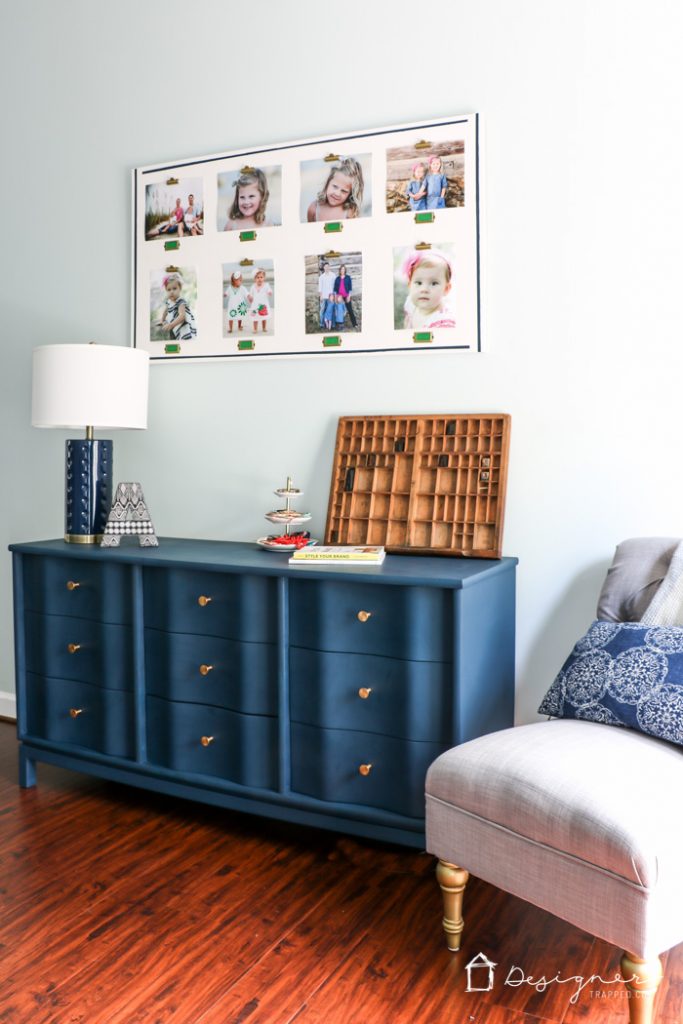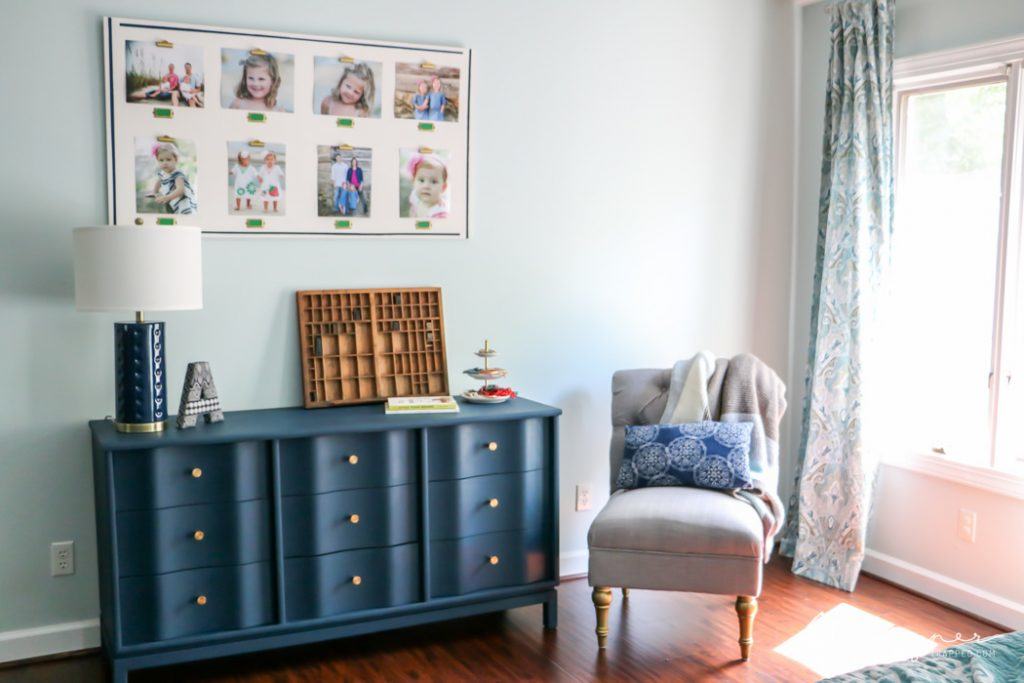 What do you think?
[mv_create 1 11 200 2016 key="1″ type="list" title="Most Popular Projects" thumbnail="<a href=" https designertrapped com wp content uploads diy home decor projects blog jpg a]

This is a sponsored conversation written by me on behalf of Procter & Gamble/Lowe's. The opinions and text are all mine.