If you want to know what paint colors we have used in our house or where we have found our furniture, art, rugs, etc., you have come to the right place! You can find details on nearly everything in our home, broken down room-by-room, on this page.
We have linked to similar items if the exact item we bought it is no longer available OR is something that we purchased at a thrift store or found on the side of the road :) We have also linked to the DIY home decor projects that we have completed in each space.
Welcome to my house tour full of DIY projects! We are totally transforming our house by tackling TONS of DIY home improvement projects, DIY home decor projects, DIY craft projects and DIY furniture projects. Why do we spend all the time creating a home we love? You see, I believe that in the midst of crazy busy lives full of work, kids, homework, housework and well, LIFE, that our homes should be our happy place–the one place we would rather be than anywhere else. So, I believe that our homes should be designed and decorated in a way that makes us feel welcome and happy.
I get asked all the time how I come up with my room designs. I was asked so often that I finally created Designer in a Binder which walks you through the exact design system I use every time. It's an affordable alternative to an interior designer. It's helped over 9,000 people so far to create rooms they absolutely love. Click HERE to learn more.
Enough chatter :) Go browse to your heart's content.
This page contains affiliate links for your convenience. Click here to read my full disclosure policy.
---
The Kitchen
We recently completely gutted and renovated our old kitchen after making the most with what we had for the past 6 years while we saved up for the BIG reno. Here are some DIY posts that will show you how we made our old, outdated kitchen work for us until we could fully renovate: How to Paint Kitchen Cabinets Without Sanding or Priming | DIY Pipe Table | DIY Painted and Stenciled Floors
Now, here's all the info on the new kitchen!
PAINT COLORS: Wall Color: Falling Snow by Behr | Trim Color: Midnight in the Tropics by Behr | Island Color: Silken Peacock by Sherwin Williams
DIY HOME DECOR PROJECTS: DIY Herringbone Wall | DIY Range Hood Finish With Wood and White Concrete | Kitchen Remodel Before and After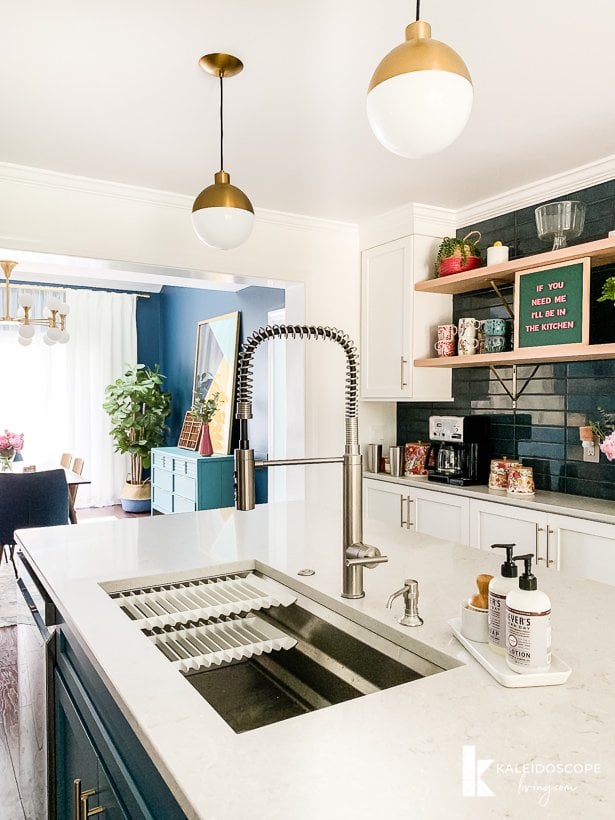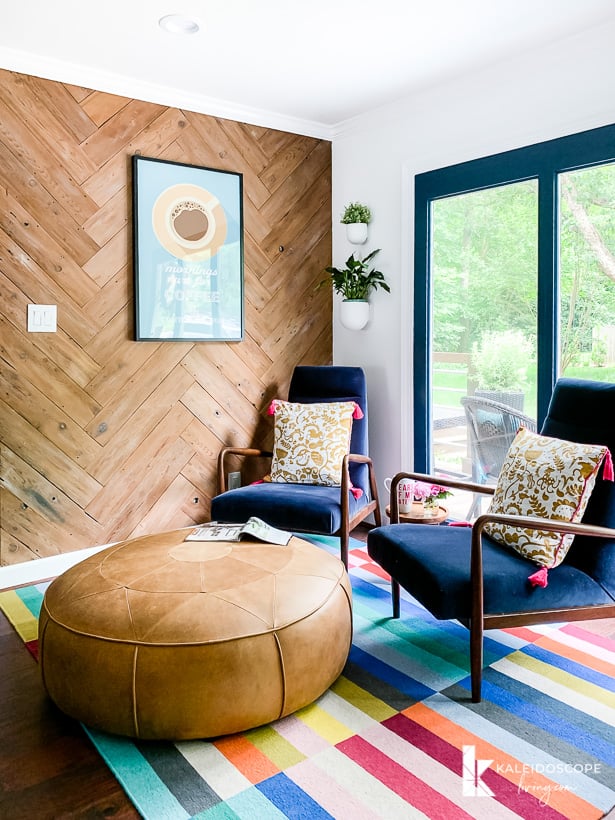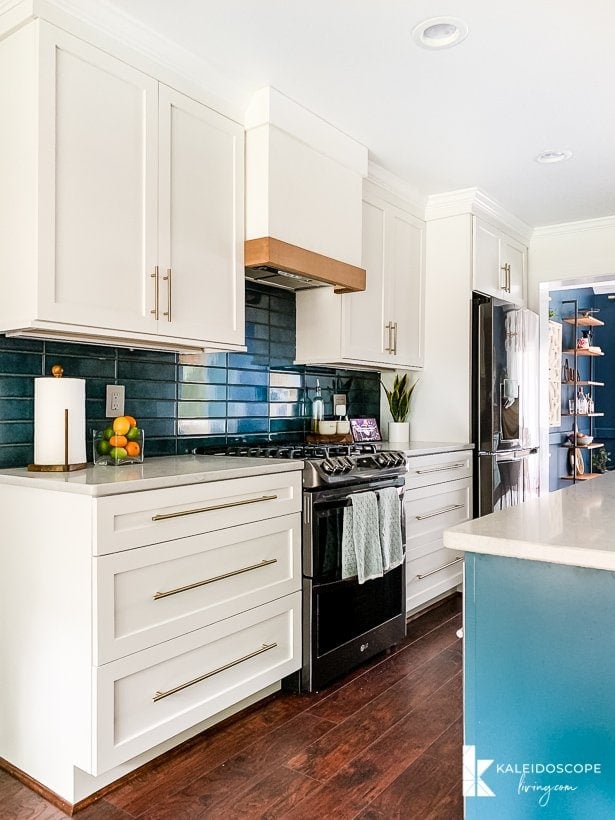 Backsplash Tile | Countertop | Leather ottoman | Blue Velvet Lounge Chairs | Flooring | pendant lights | sink & accessories | faucet | soap dispenser | cabinet hardware | gas range | refrigerator | dishwasher | bar stools | rug

---
The Foyer
PAINT COLORS: Main wall paint color: Babbling Brook by Olympic | Plank wall paint color: Blueprint by Behr | Front door paint color: Velvet Curtains by Valspar
DIY HOME DECOR PROJECTS: Modern Plank Wall | Monogram Gallery Wall | Front Door Update | DIY Door Kick Plate | DIY Screen Door Built from 2 x 4s | DIY Vent Cover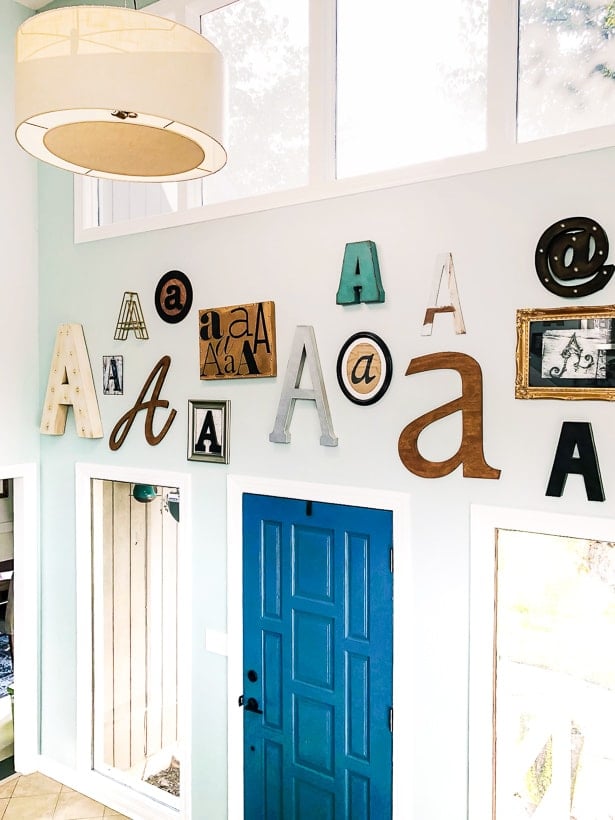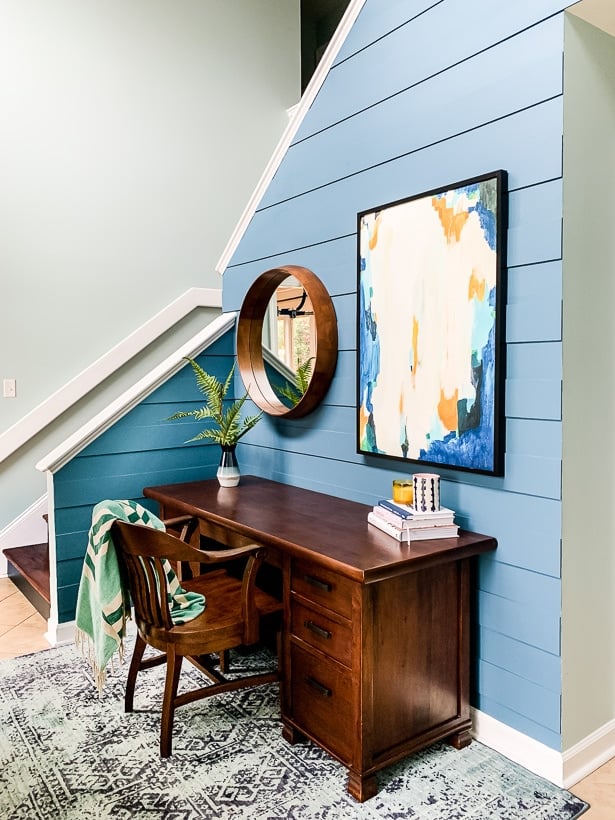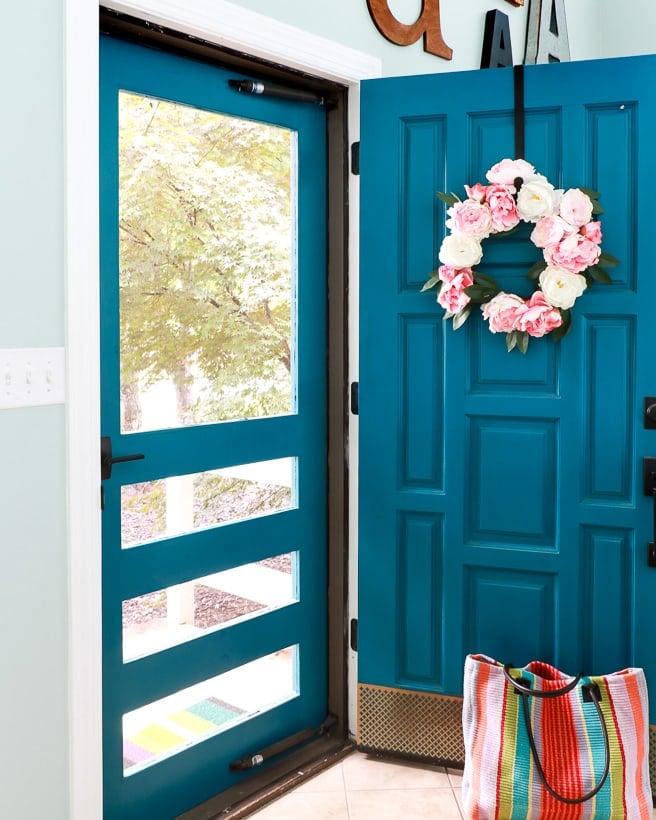 ---
The Family Room
PAINT COLOR: Falling Snow by Behr
DIY HOME DECOR PROJECTS: DIY Bentwood Pendant Light | Easy DIY Picture Rail a.k.a. Art Ledge | DIY Concrete Fireplace | DIY Sliding Fireplace Screen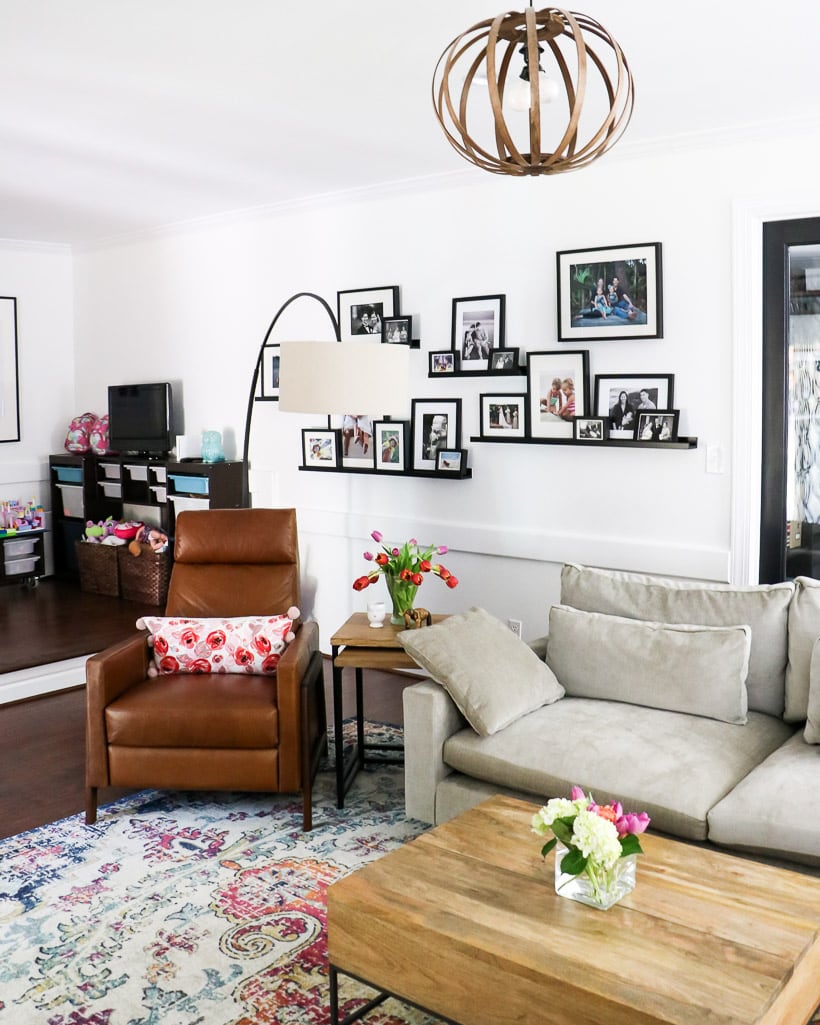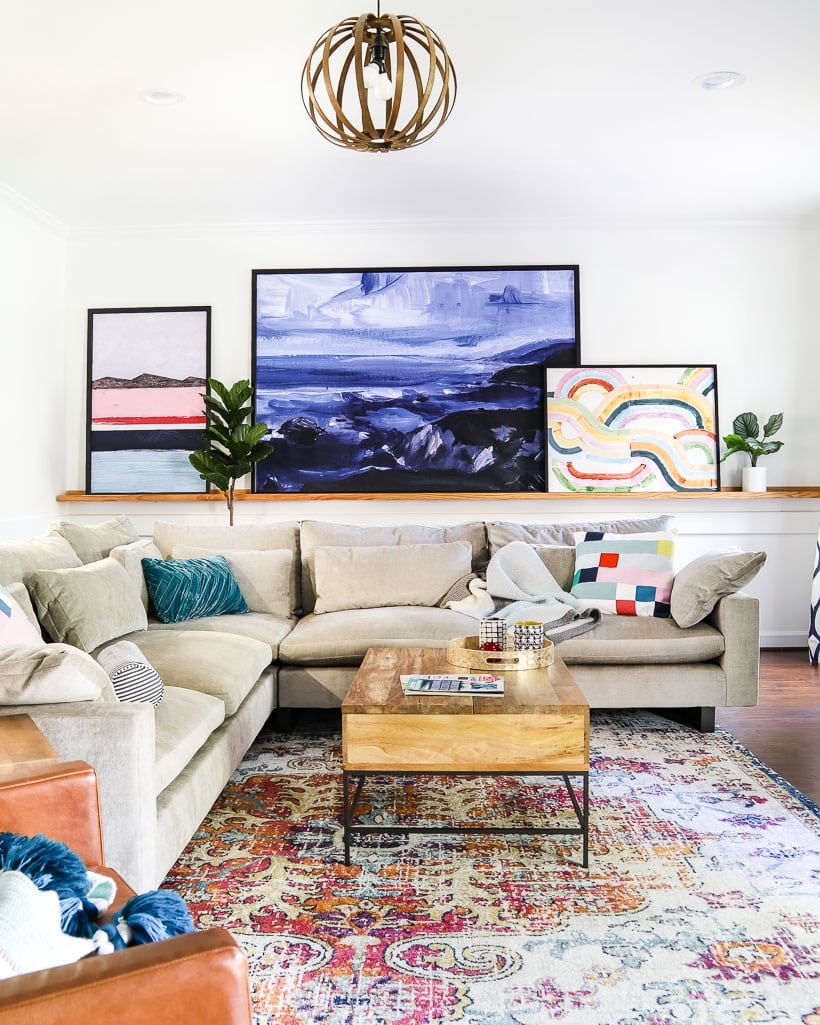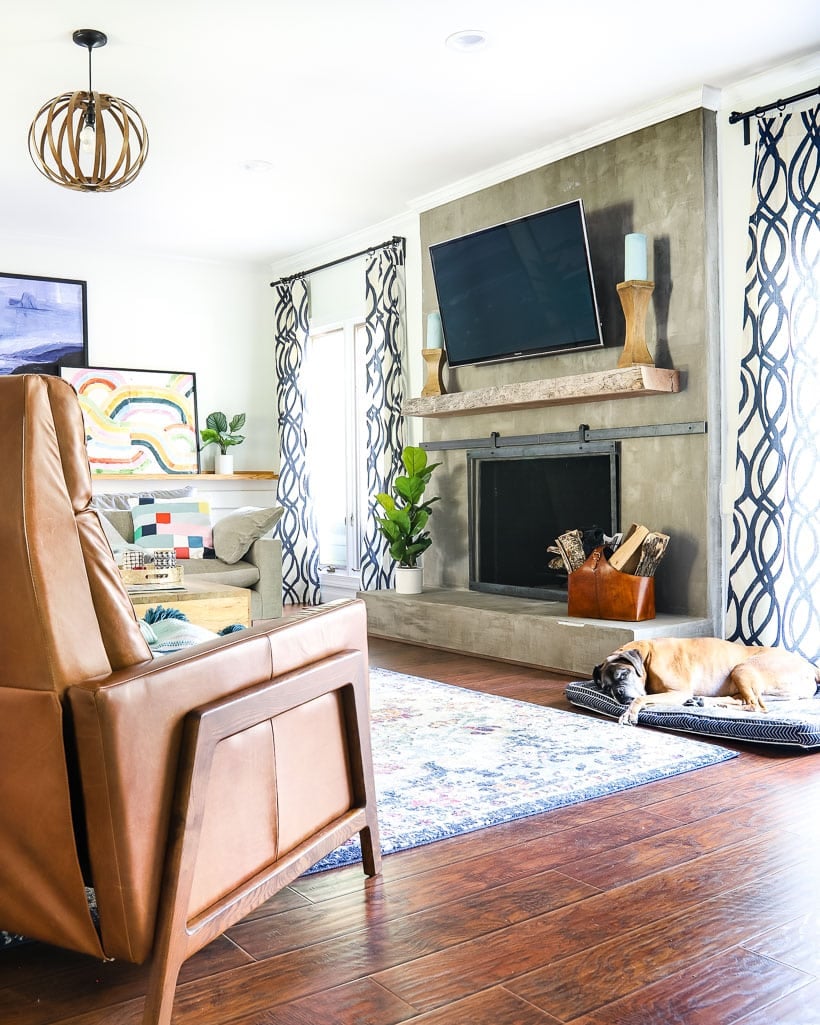 ---
The Dining Room
PAINT COLOR: Midnight in the Tropics by Behr
DIY HOME DECOR PROJECTS: How to Paint a Dresser (the correct way) | Our Dining Room is DONE!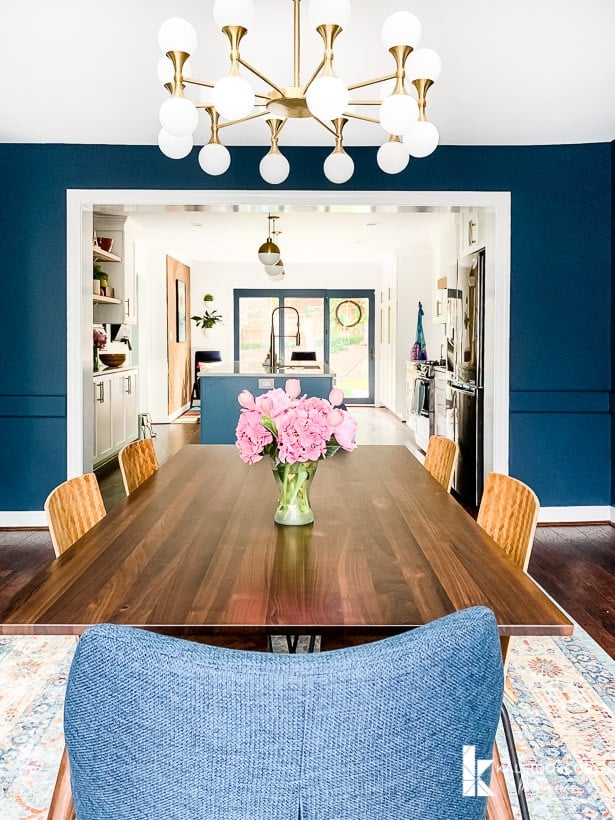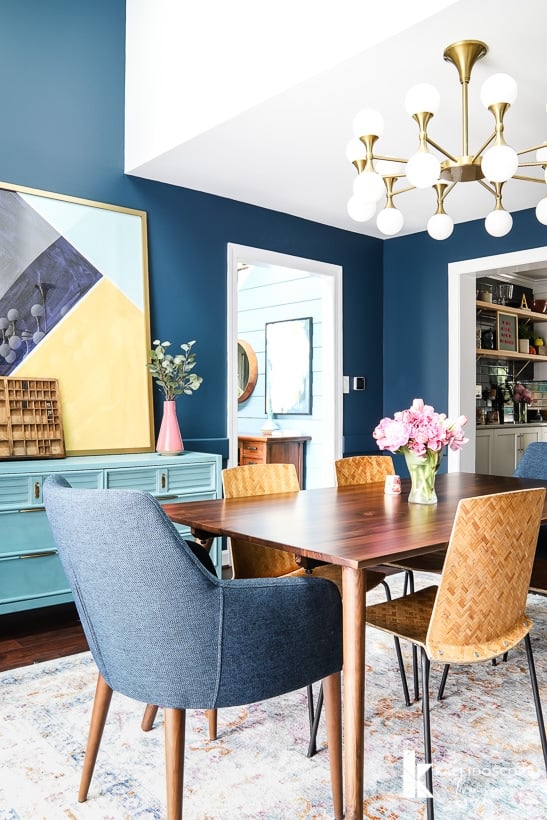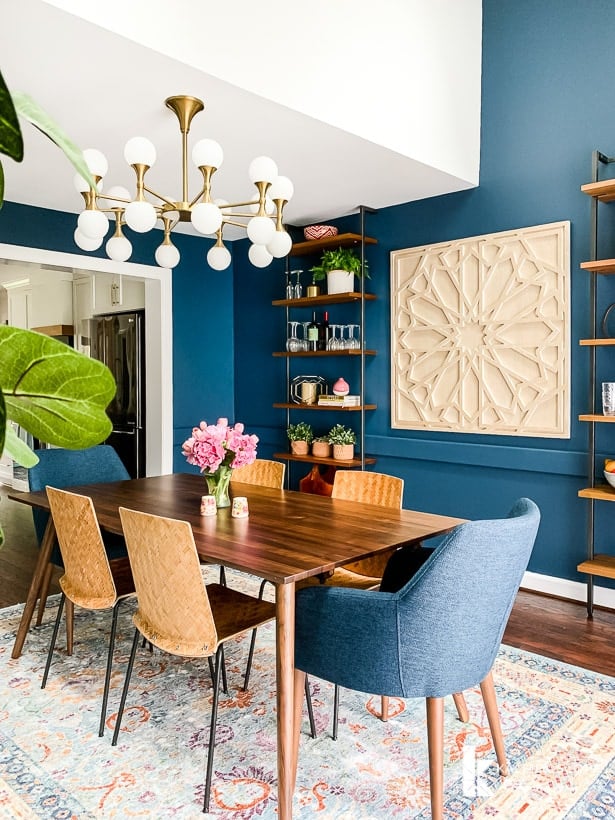 ---
The Stairs
PAINT COLORS: Main wall paint color: Babbling Brook by Olympic | Plank wall paint color: Blueprint by Behr
DIY HOME DECOR PROJECTS: How to Install Wood Stairs| How to Number Stairs the Easy Way | DIY Wooden Letter from Upcycled Wood | Huge DIY Art Frames For Less than $20 Each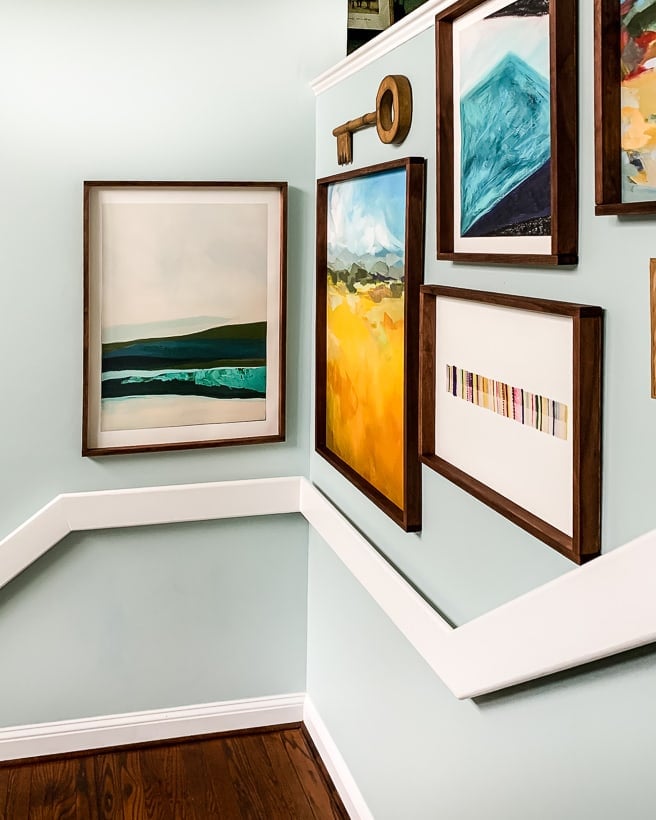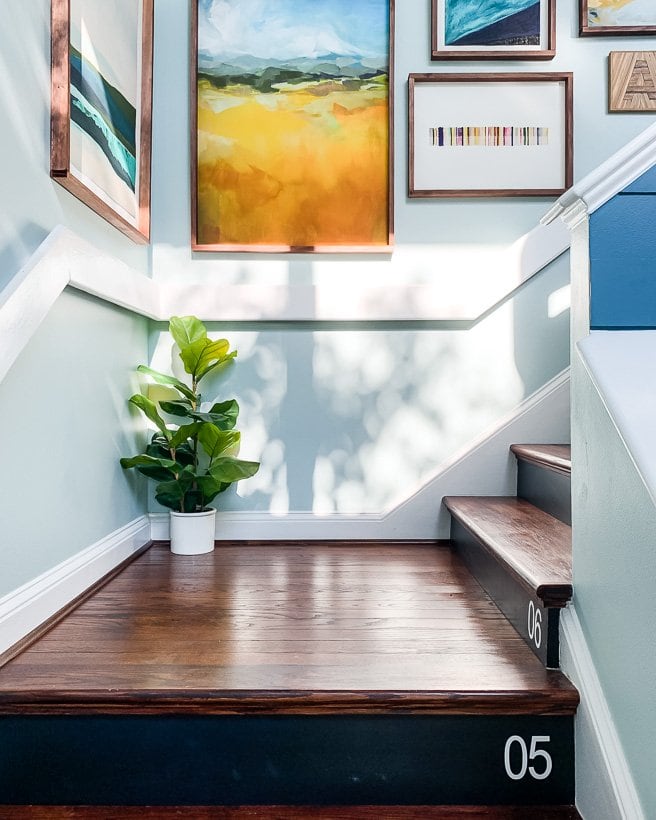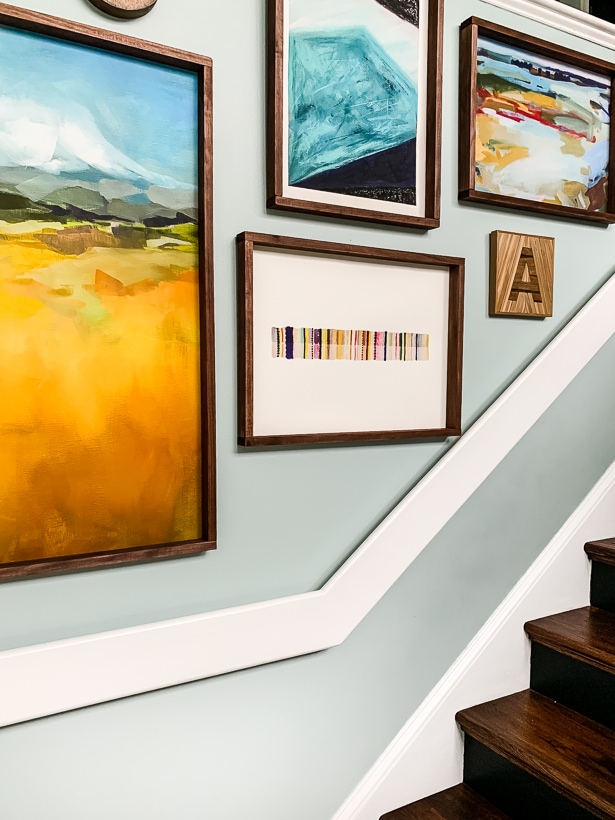 ---
The "Playroom" Room (which is part of the family room)
PAINT COLORS: Wall paint color: Falling Snow by Behr | Desk color: Timeless Blue by Behr Chalk Decorative Paint
DIY HOME DECOR PROJECTS: DIY Desk Makeover | DIY Lego Table | How to Update Cabinets with Gel Stain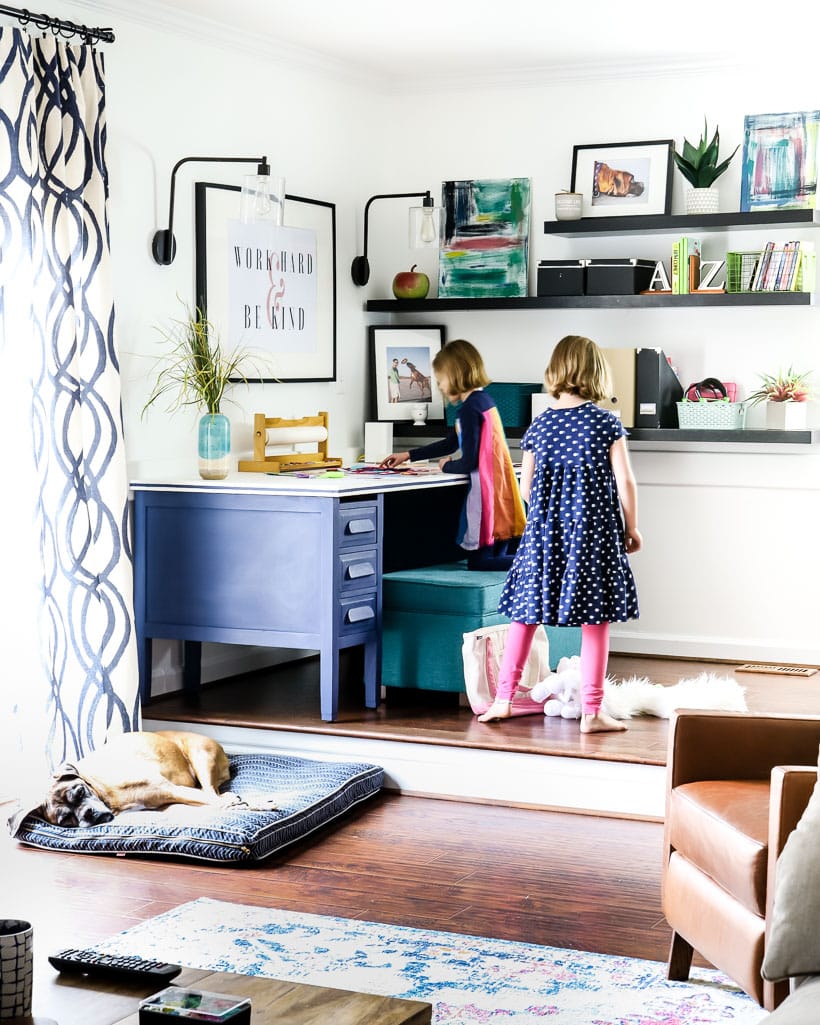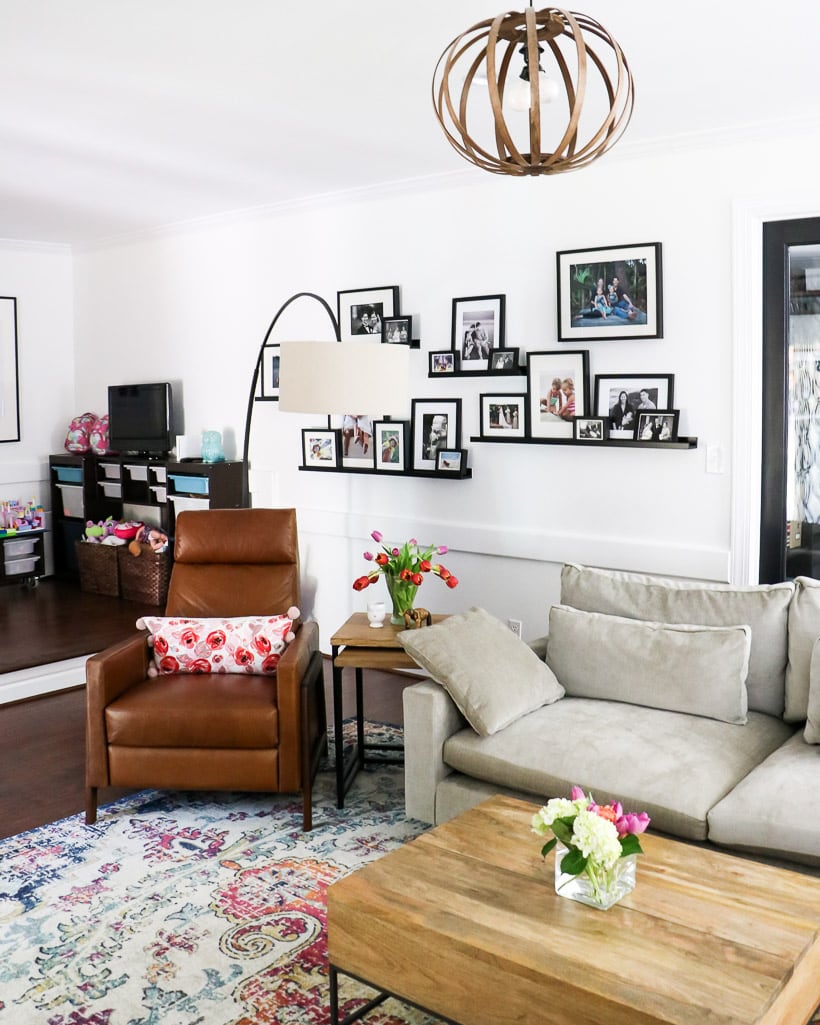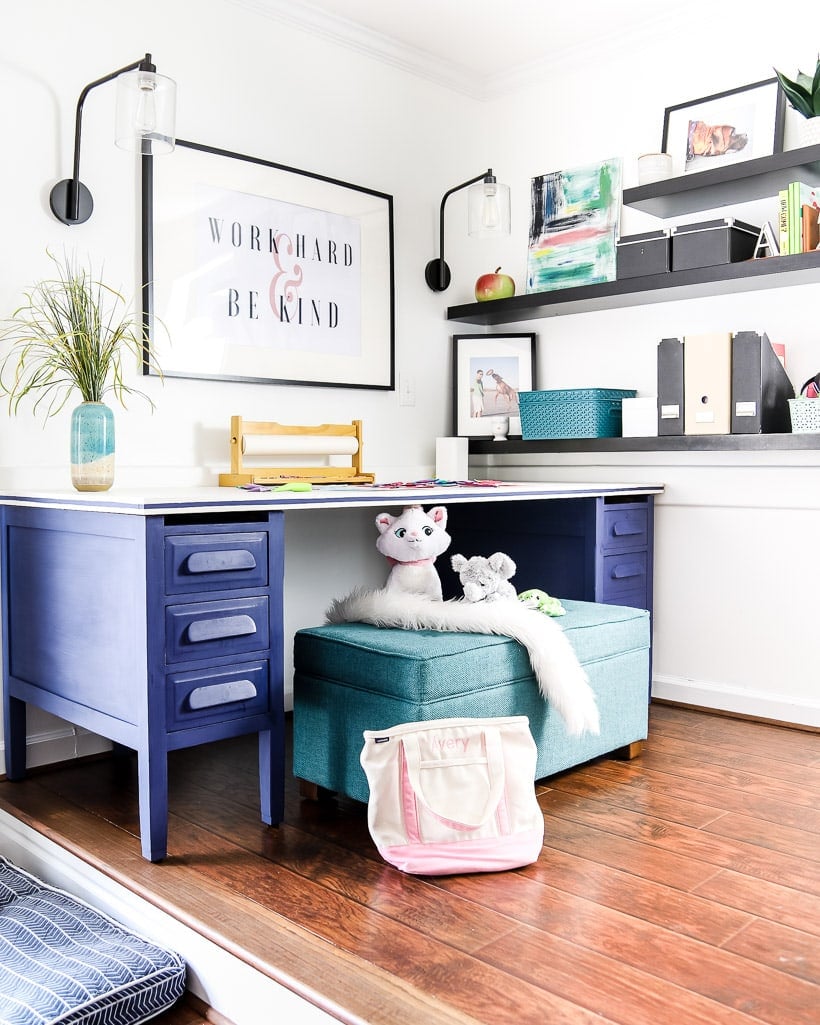 ---
The Master Bedroom
PAINT COLORS: Wall paint color: Morning Fog by Olympic | Dresser, chest of drawers and bedside table color: Lady Singing the Blues by Amy Howard at Home One-Step Paint
DIY HOME DECOR PROJECTS: DIY Fireplace Build | DIY Bedside Table Makeover | DIY Art Frames | Typography Art Prints (click to get them FREE) | How to Paint Wood Furniture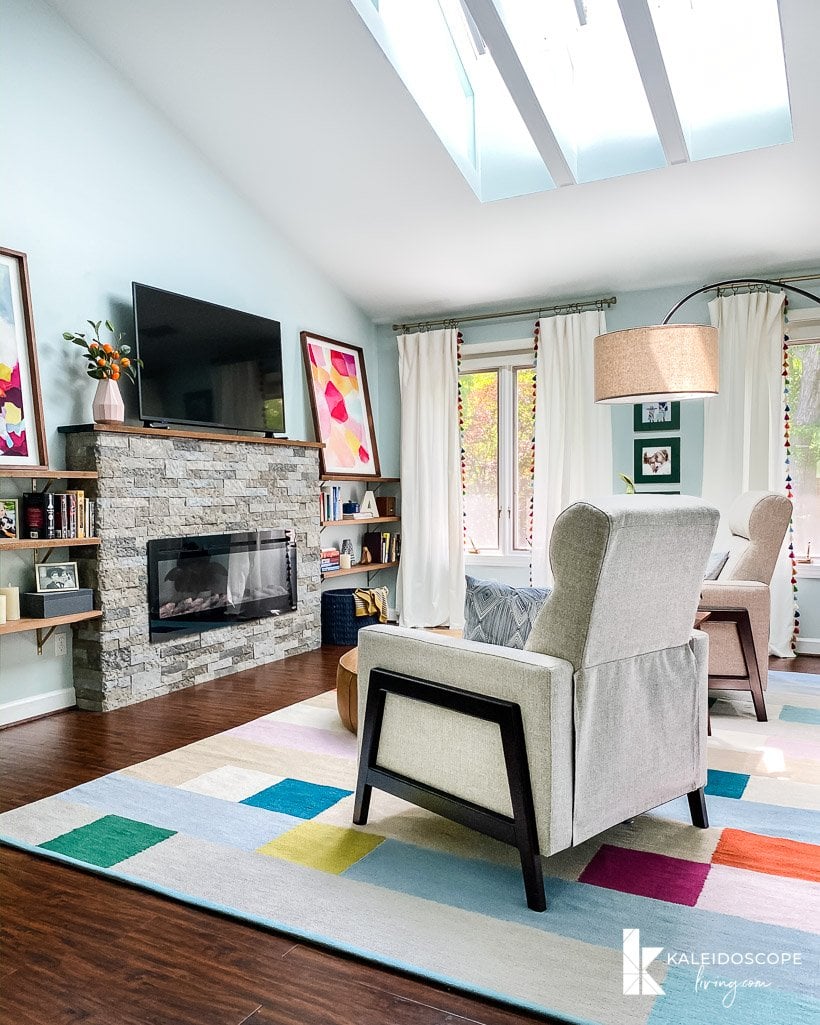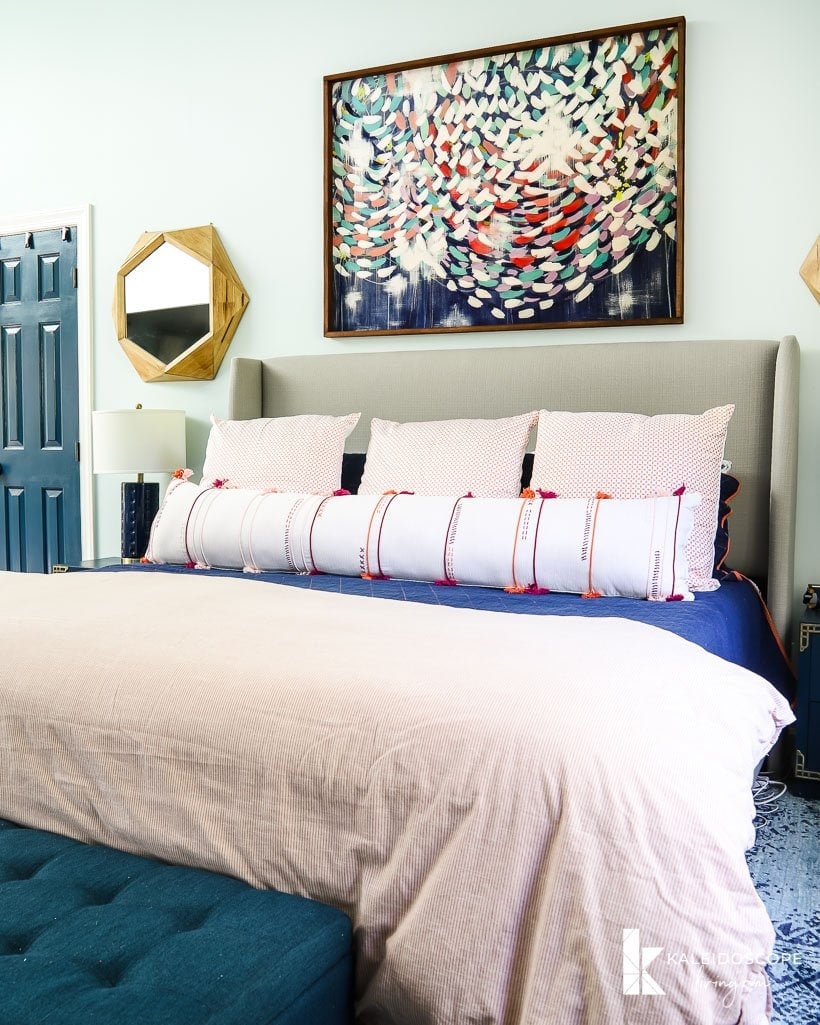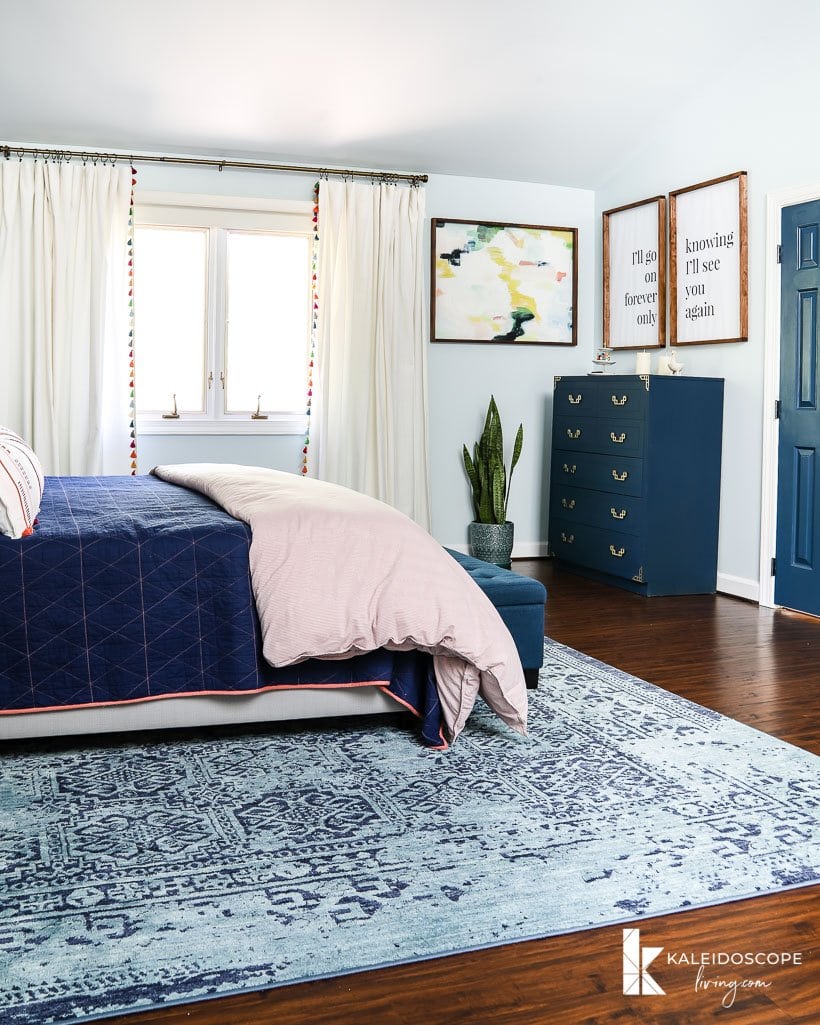 Seating Area Sources

Sleeping Area Sources

---
Attley's Room
PAINT COLORS: Wall paint color: Falling Snow by Behr | Paint color of the dresser: Orchid by Amy Howard at Home One-Step Paint | Paint color of bed: Coral Crush by General Finishes
WALL MURAL: Fox in the Garden by Bari J for Murals Your Way
DIY HOME DECOR PROJECTS: DIY Painted Dresser | DIY Felt Ball Letter | DIY Floating Shelves/Desk | DIY Curtain Tie Backs | Printable Greatest Showman Art (click to get it for FREE)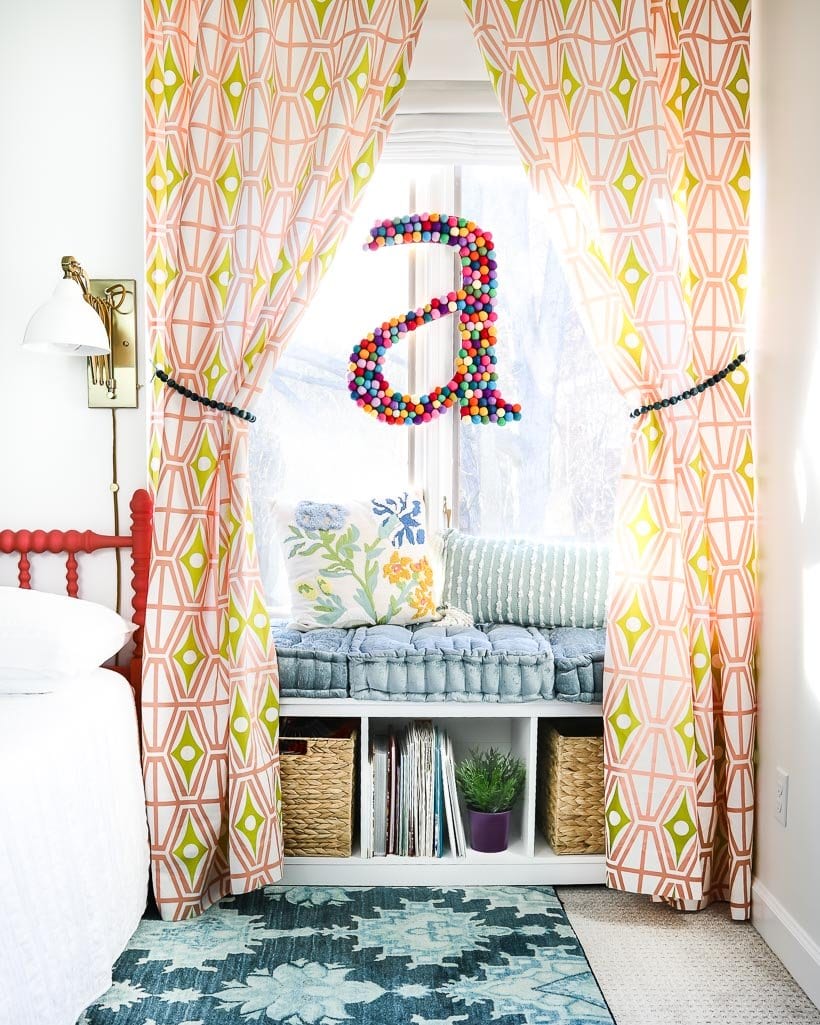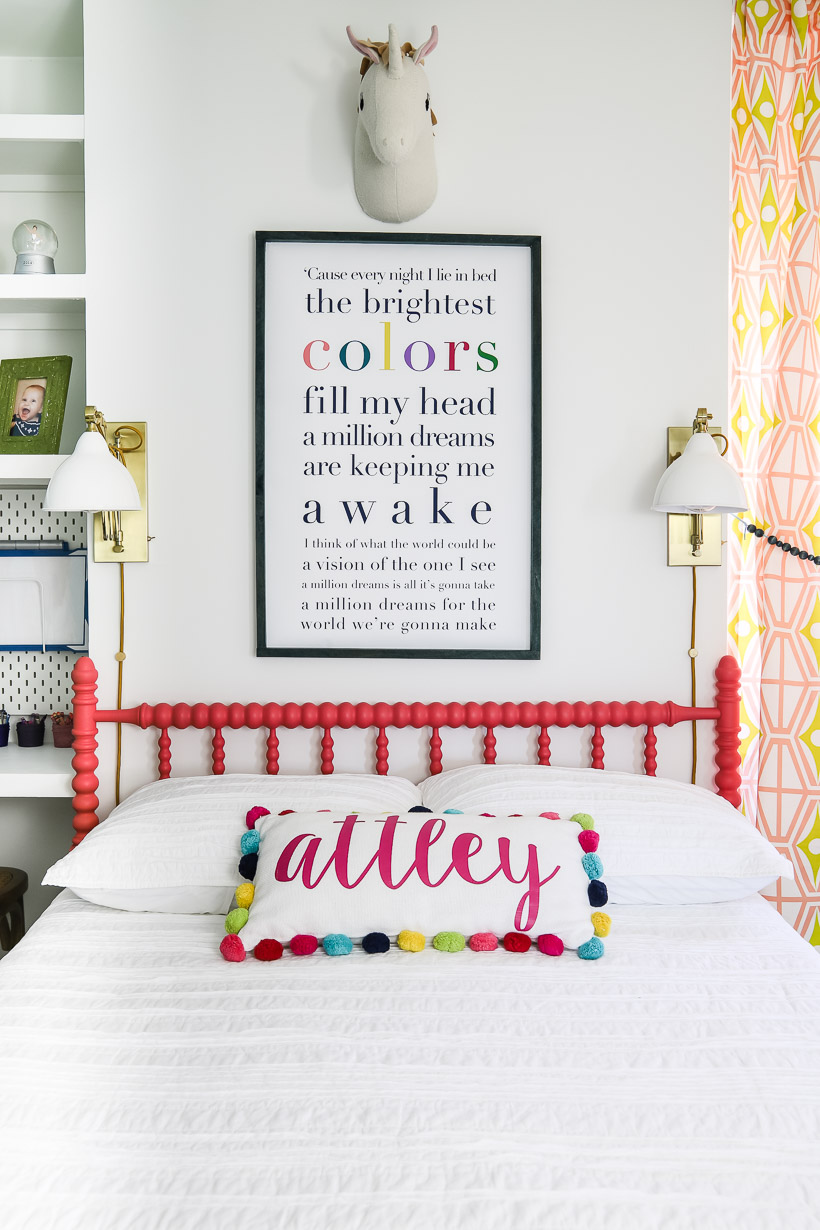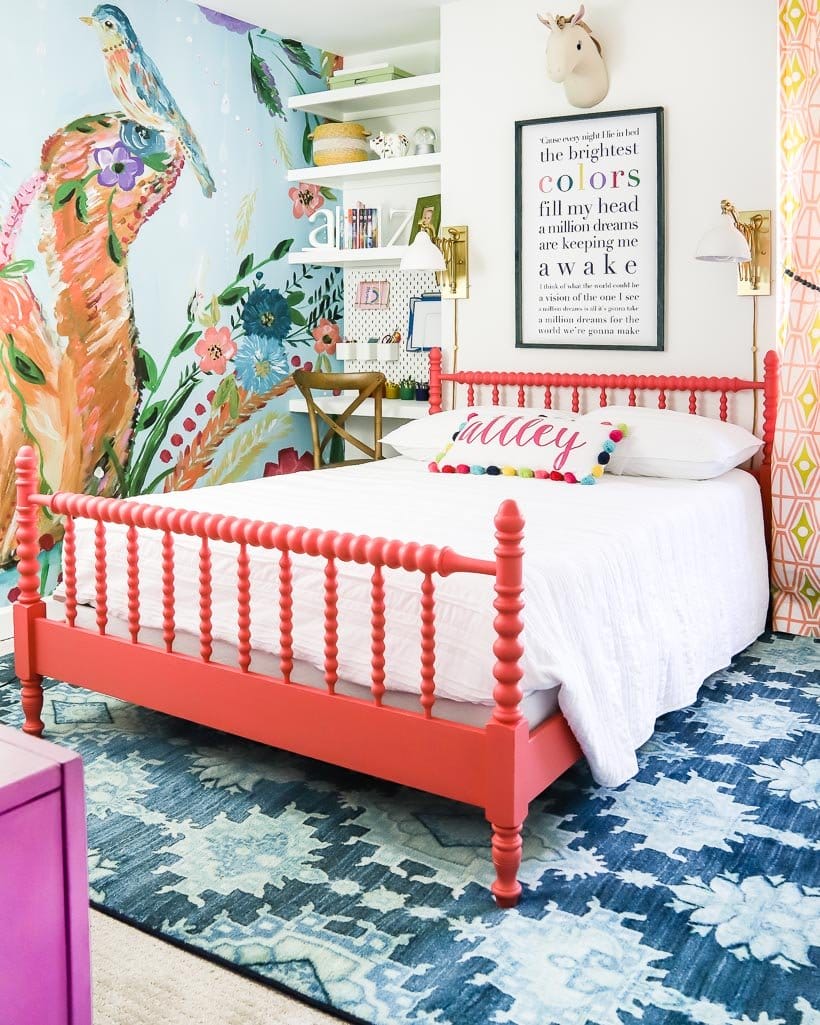 ---
Avery's Room
PAINT COLORS: Wall paint color: Falling Snow by Behr| Paint color of the bookcases/dressers: Twilight Geranium by Fusion Mineral Paint
WALL MURAL: Nocturnal by Bari J for Murals Your Way
DIY HOME DECOR PROJECTS: DIY Bunk Beds | DIY Floating Desk | DIY Framed Animal Prints | DIY Felt Ball Letter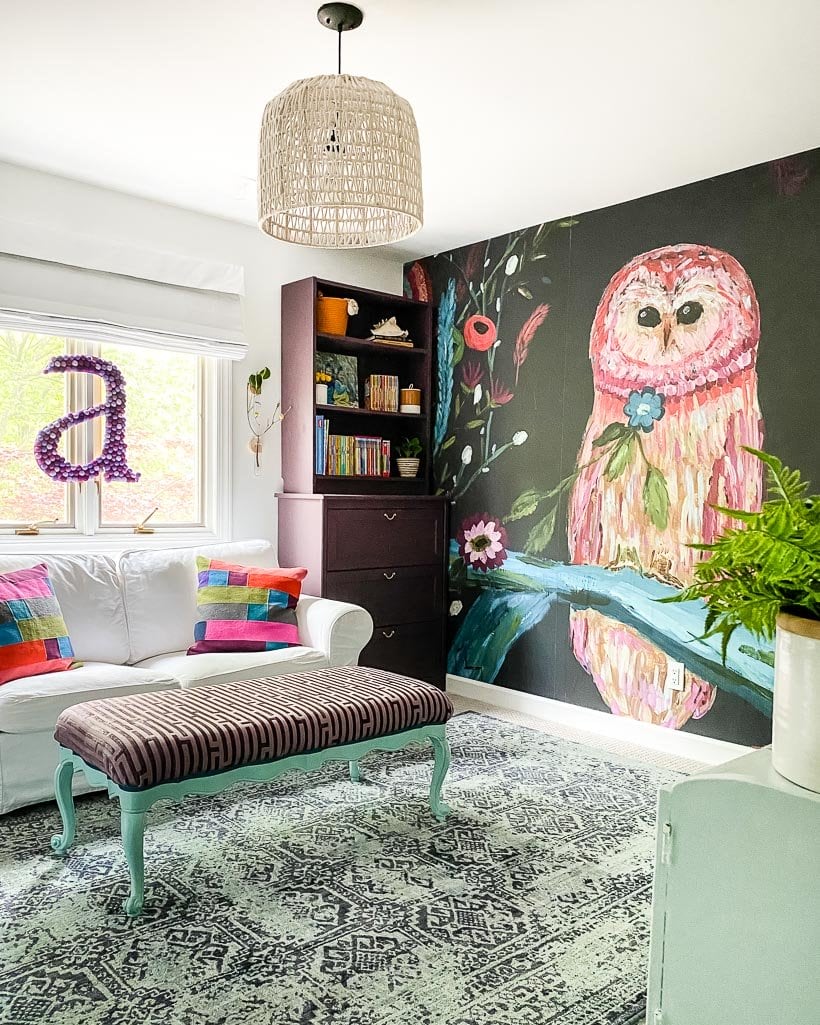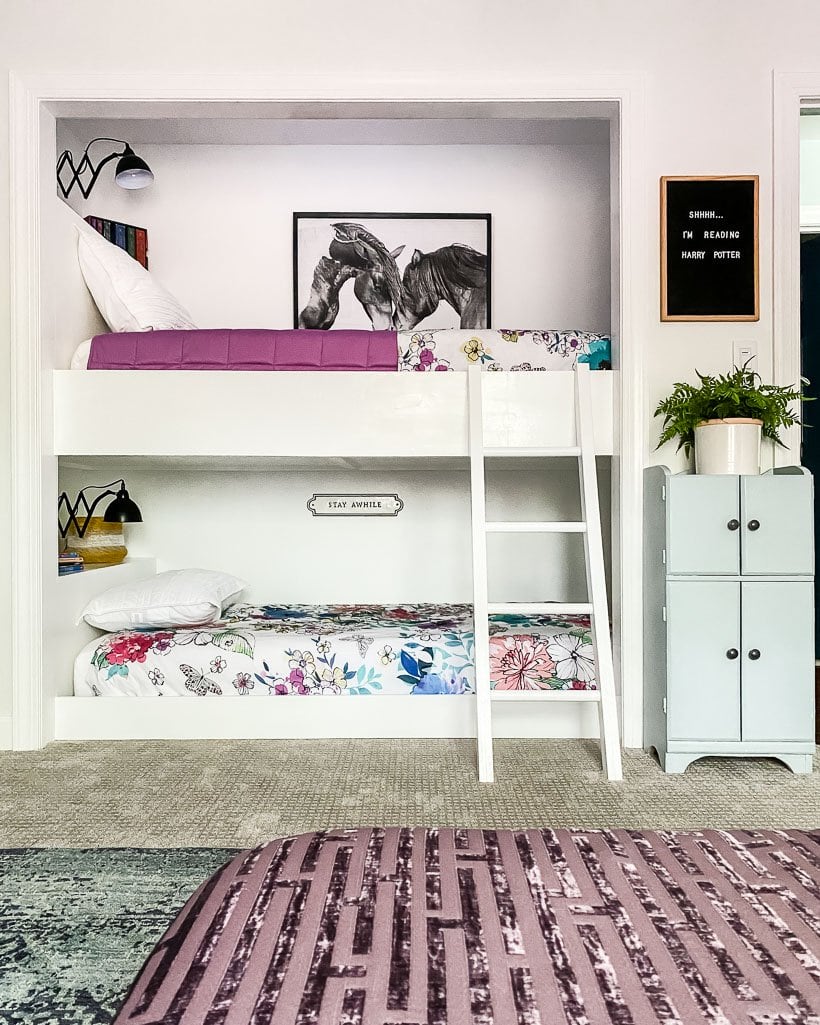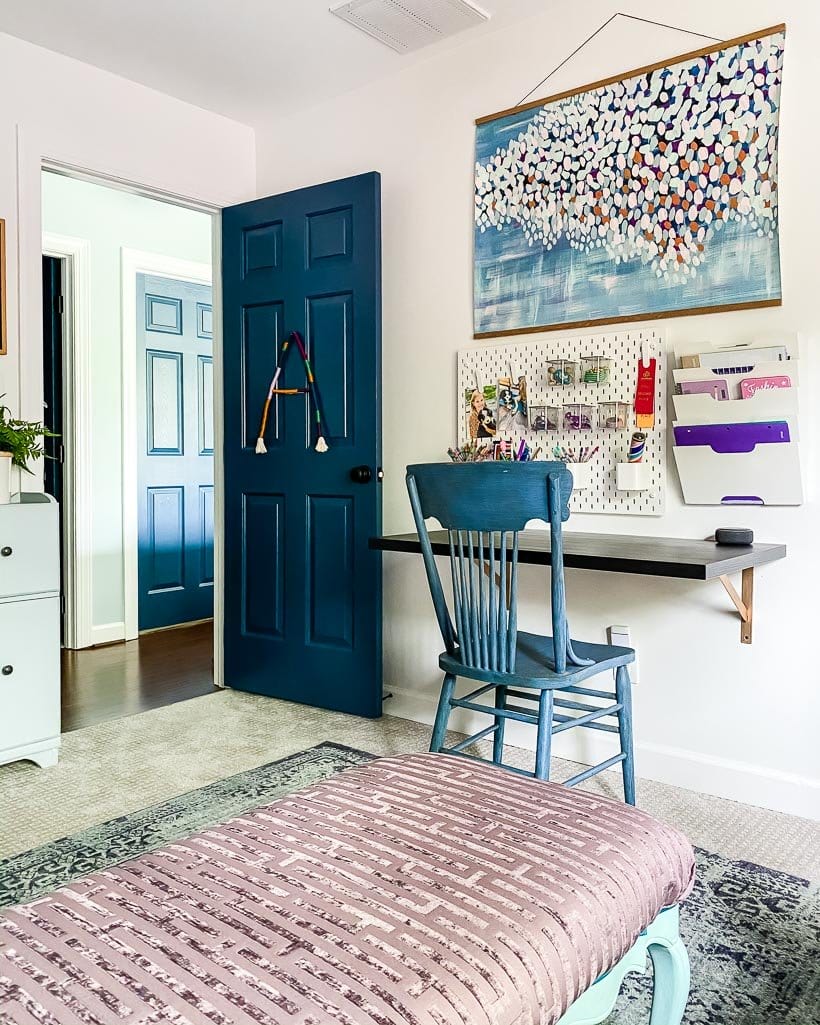 ---
The Guest Room
WALL PAINT COLOR: Falling Snow by Behr DOOR PAINT COLOR: Midnight in the Tropics by Behr
DIY HOME DECOR PROJECTS: DIY Canvas Art | Painted Navy Blue Doors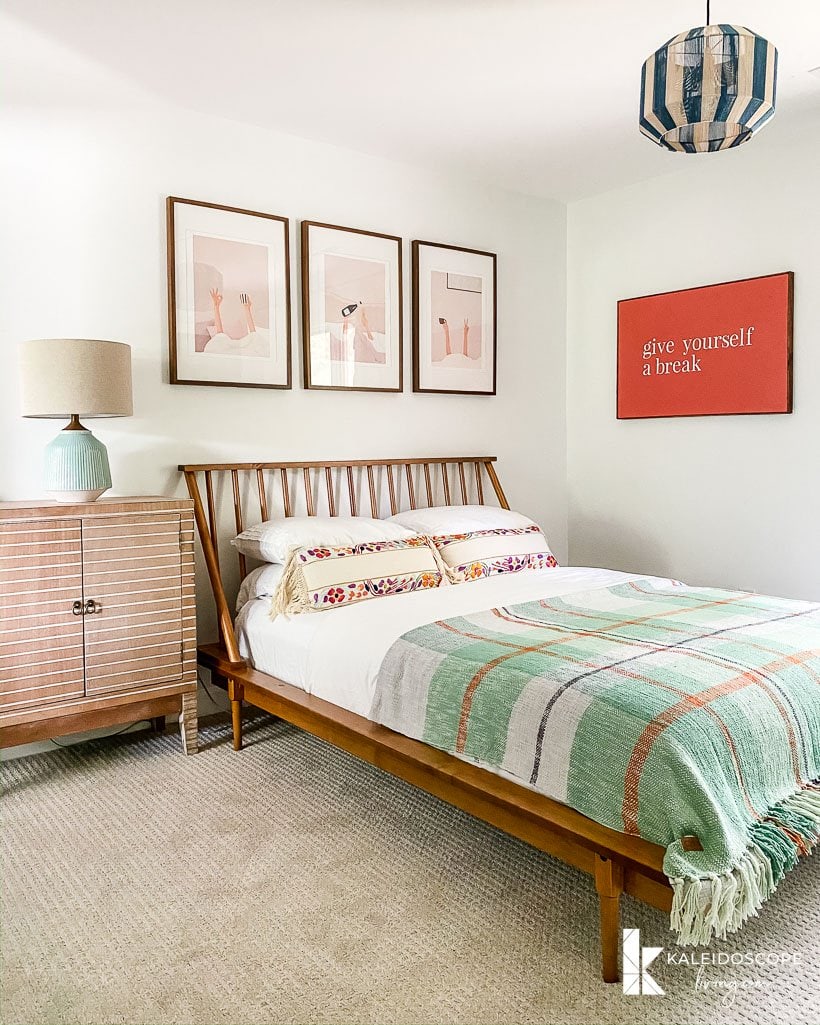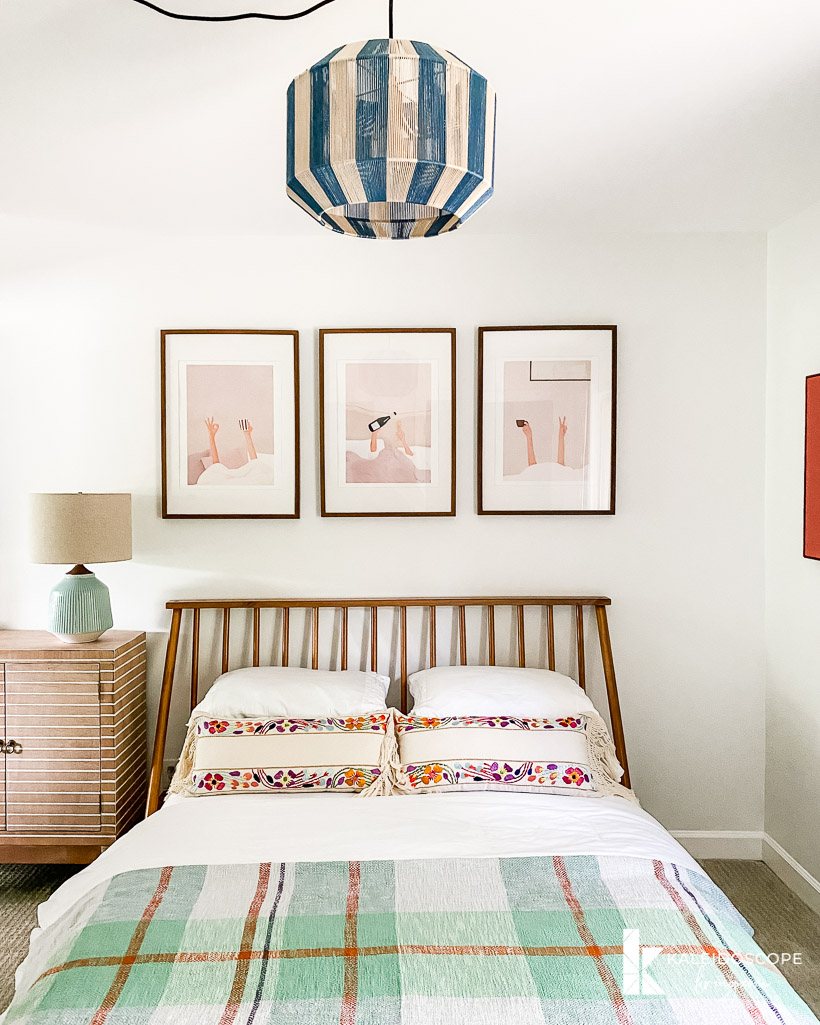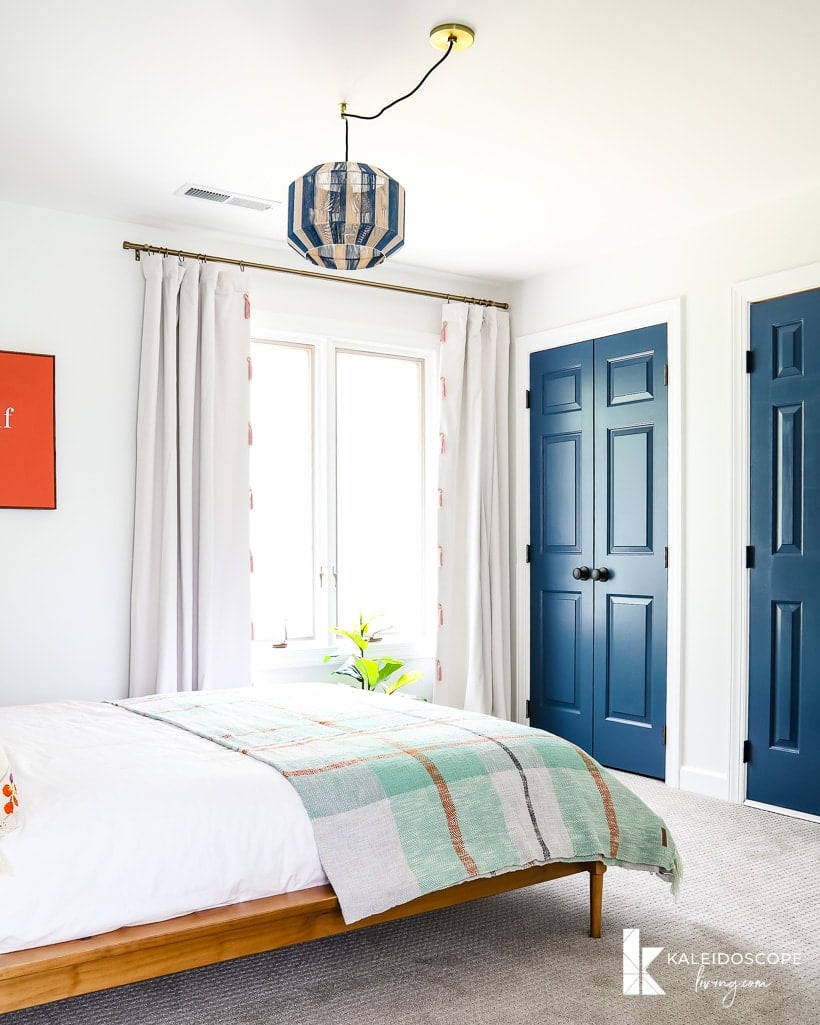 ---
The Girls' Bathroom
PAINT COLOR: Falling Snow by Behr
DIY HOME DECOR PROJECTS: DIY Bathroom Remodel Reveal | IKEA Cabinet Doors and Drawers Hack | DIY Wooden Step Stool With White Concrete Top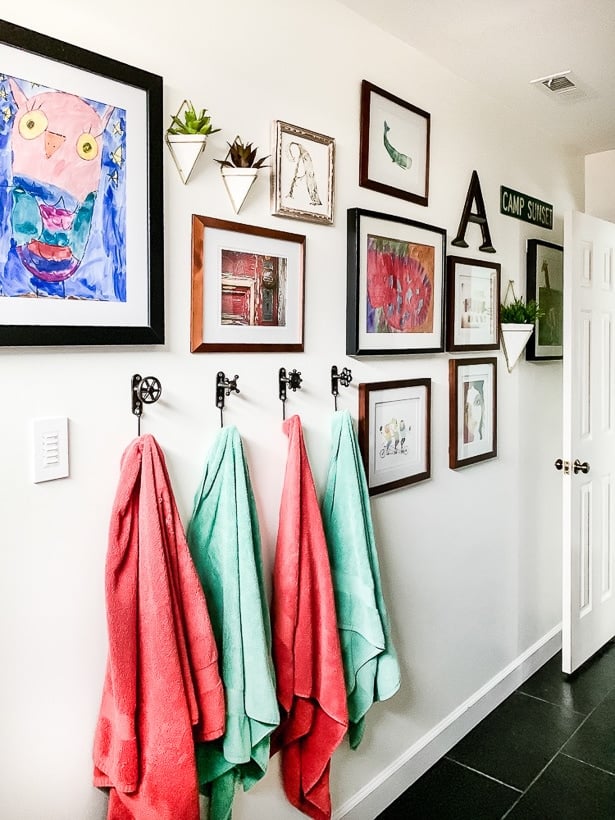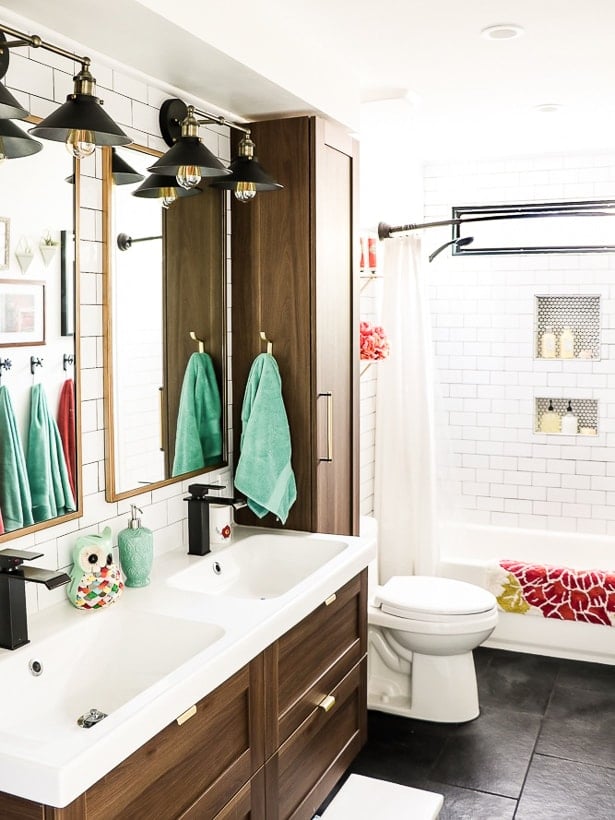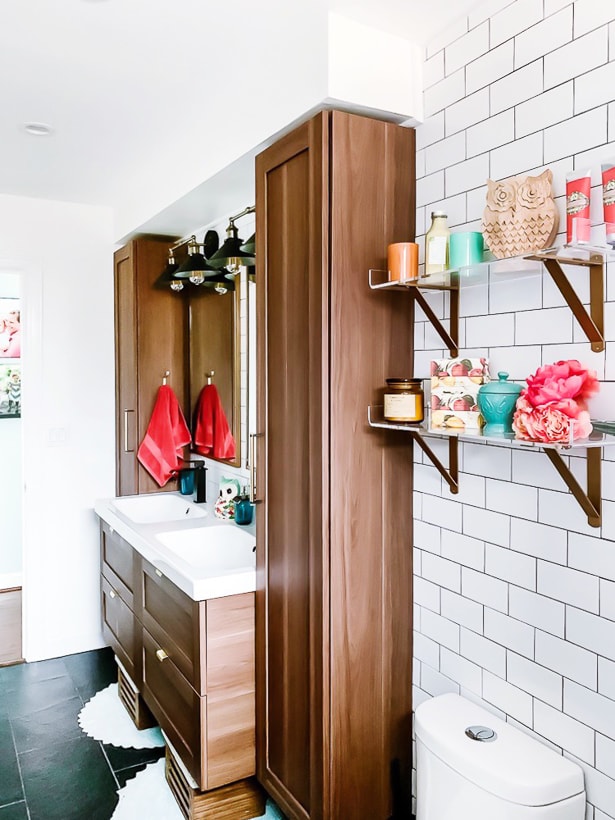 ---
The Backyard/Deck
DIY PROJECTS: DIY Deck Bar | Deck Makeover Reveal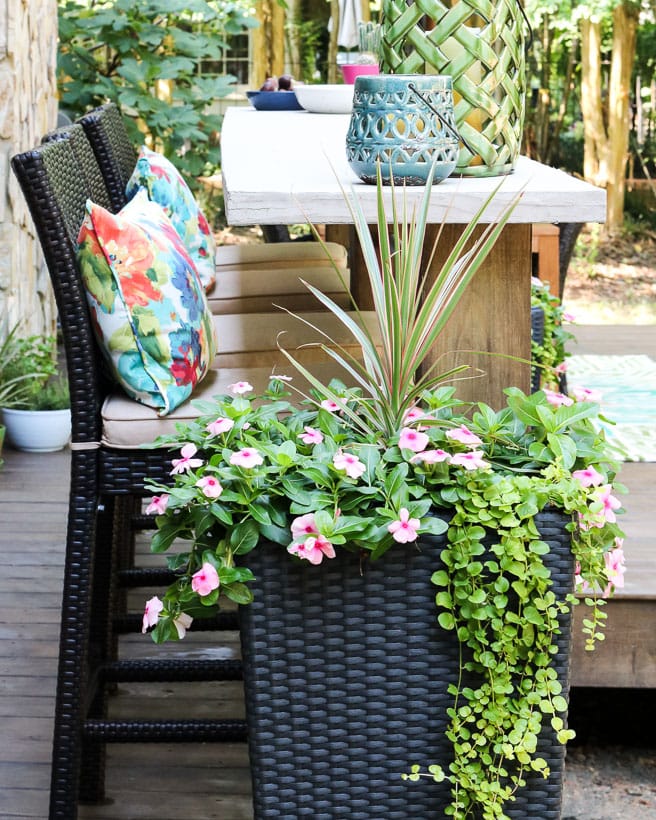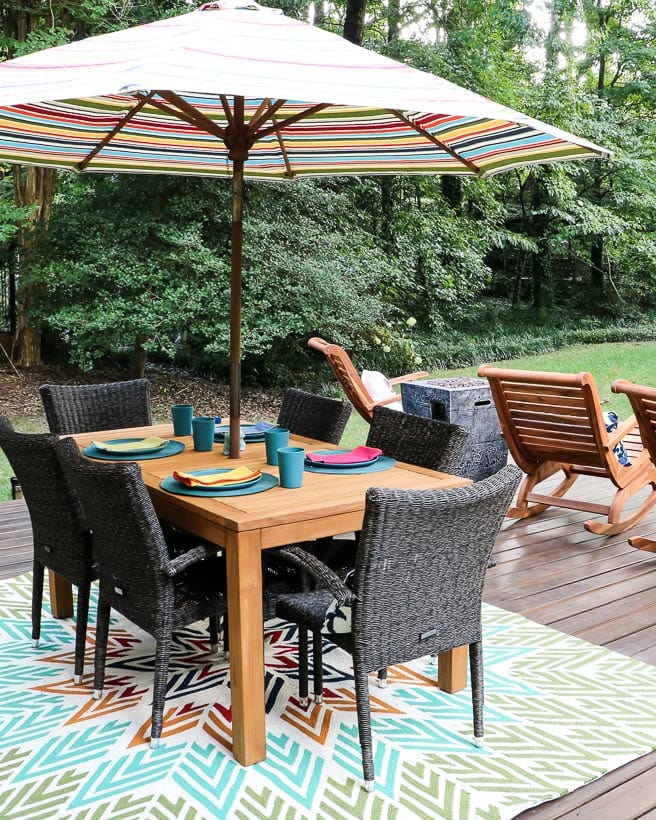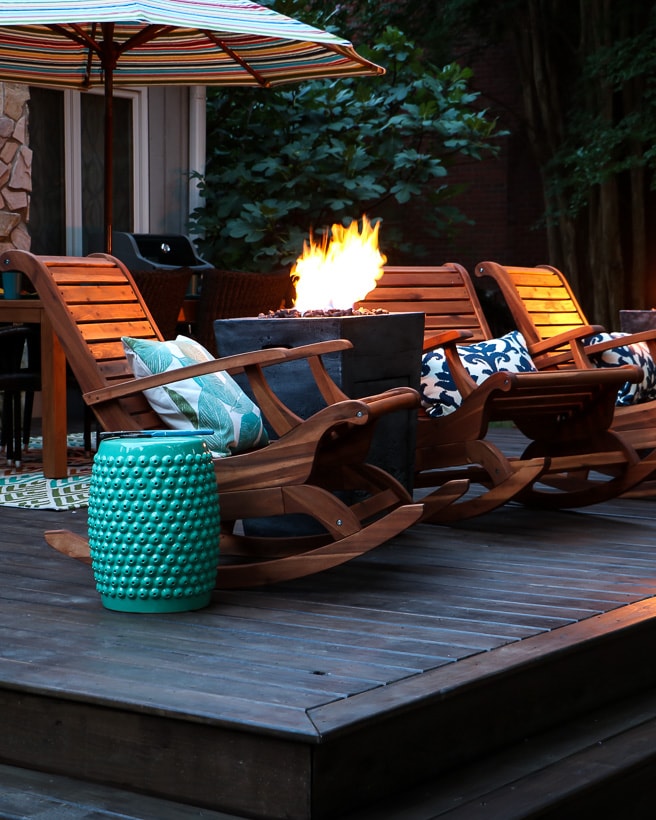 ---
The Office/Craft Room
PAINT COLOR: Falling Snow by Behr
DIY PROJECTS: Home Office Makeover & Craft Room Reveal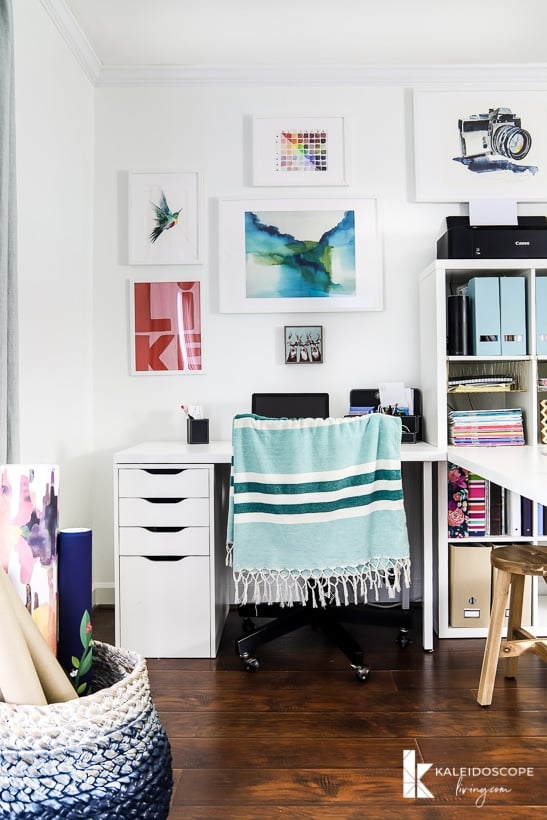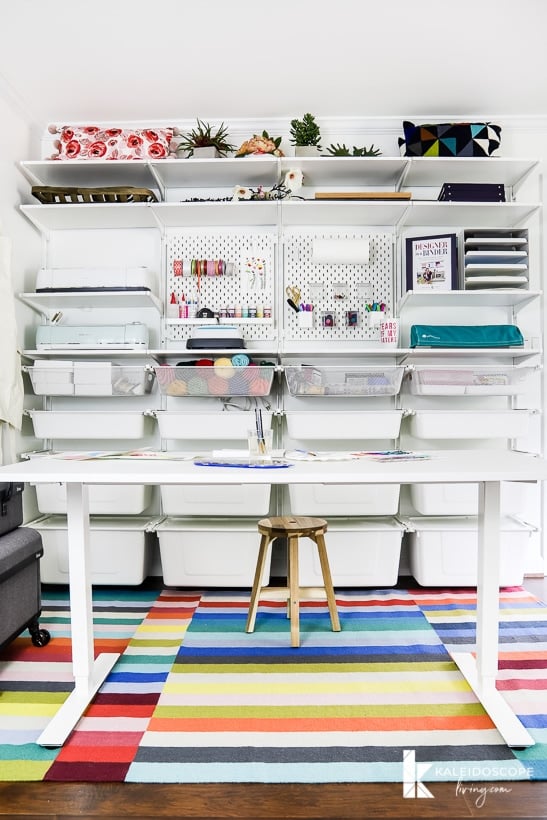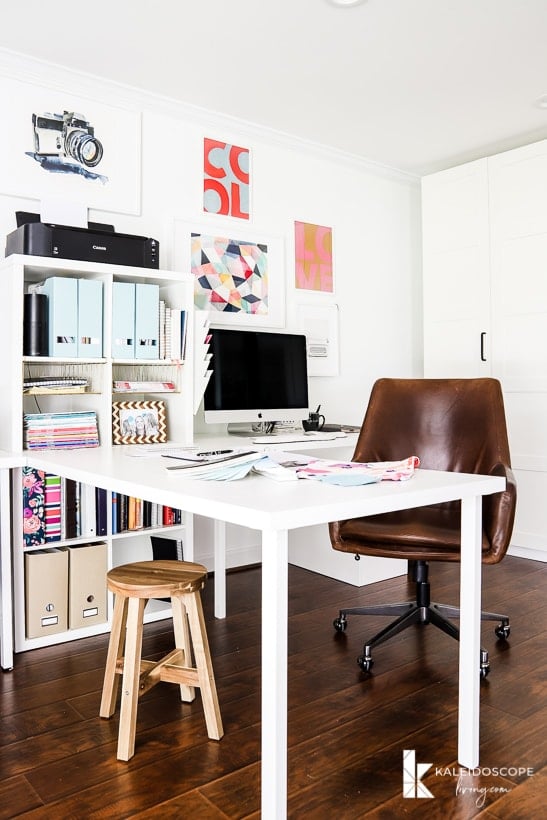 ---
The Powder Room
PAINT COLOR: Falling Snow by Behr
DIY HOME DECOR PROJECTS: 7-Day Powder Room Renovation Video | Our Colorful DIY Bathroom Remodel | Modern Cement Tile Details | Finishes and Vanity Details | Progress Highlights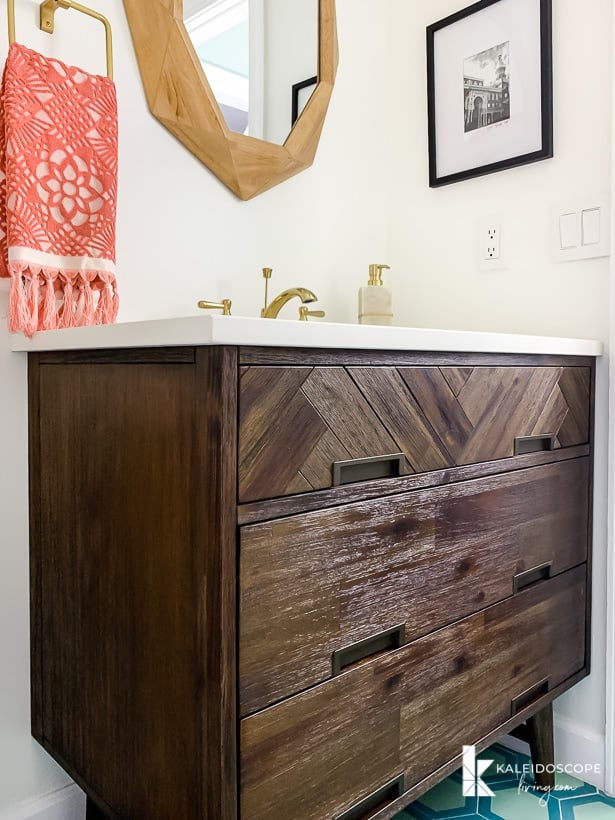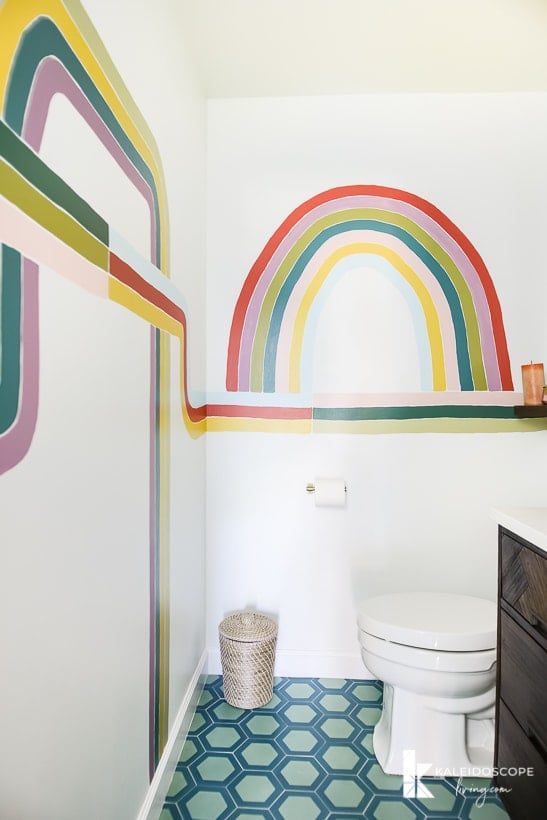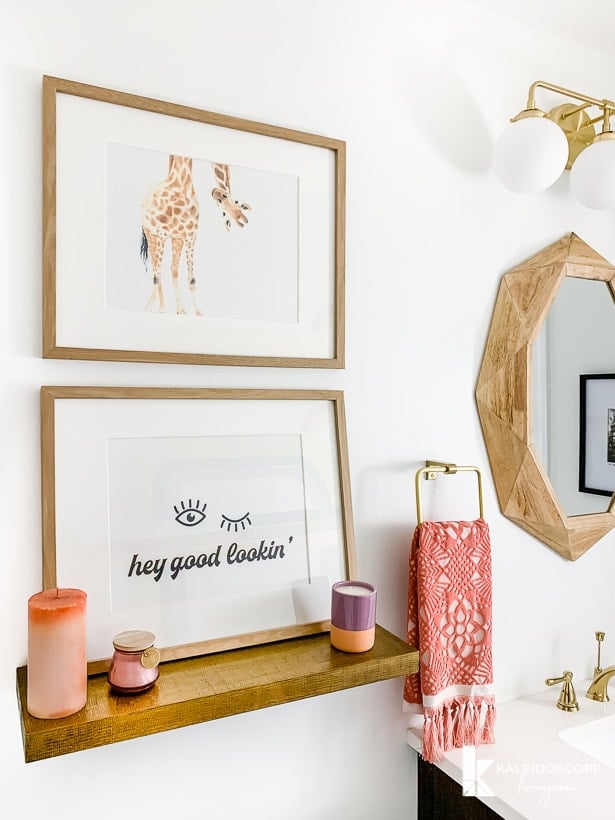 ---
The Upstairs Hallway
PAINT COLOR: Main wall paint color: Babbling Brook by Olympic
DIY HOME DECOR PROJECTS: Colorful Upstairs Hallway Makeover Reveal | Hallway Updates