Last Updated on April 15, 2022
Want to give your outdated fireplace a makeover? This budget-friendly DIY concrete fireplace update is simple and beautiful. You won't believe the before and after!
Hello there! I am finally ready to share with you the much anticipated DIY concrete fireplace tutorial. We knew when we bought this house that we would absolutely want to change the look of the fireplace. The 1986 old stone veneer was not our style and it had been improperly sealed, so it was a mess. We really wanted a clean, simple, contemporary look for the fireplace. So I started scouring the internet for fireplace makeover ideas.
I was obsessed with the concrete fireplaces I saw! If you've seen my DIY concrete overlay project I'm sure you aren't surprised that I love all things concrete. But this fireplace job felt BIG and I was willing to hire the job out. Unfortunately, professionals told us it either could not be done or it would cost us $2,000 to $3,000 and that they "thought" it would work. Ummmm, no thanks. Long story short, I researched a ton and found a phenomenal concrete product called Ardex Feather Finish that I thought would enable us to get exactly the look we wanted for a very small price tag.
This fireplace has received lots of attention since being pictured in my post on our family room renovation. Some people hate it, but most people love it! If you are in the latter group, read on to for the detailed tutorial.
Before I get into the nitty-gritty, let me add a HUGE disclaimer. This worked FOR US. We had our chimney inspected and spoke with a contractor and were confident that the stone on our fireplace was merely a facade that could be removed. In other words, we knew our chimney would not fall down if we removed the stone. If you are not absolutely sure about what you are dealing with, seek professional advice! Our tutorial also depends on the presence of brick below your stone facade. With that said, let's get on with it…
This post contains some affiliate links for your convenience. Click here to read my full disclosure policy.
Materials and Tools Needed for DIY Concrete Fireplace
Demolition hammer (we rented ours from Home Depot for the day)
Cement board
Electric drill
Masonry drillbit and screws
Ardex Feather Finish or Henry's Feather Finish (we used about 2 full bags)
A 5 gallon bucket for mixing the concrete
A drill attachment mixer (or you can mix by hand)
Steps to Create a DIY Concrete Fireplace
Step 1: Remove your fireplace insert and/or mantel.
If you have an ugly fireplace insert like we did, remove it first. If you have a mantel, remove that also.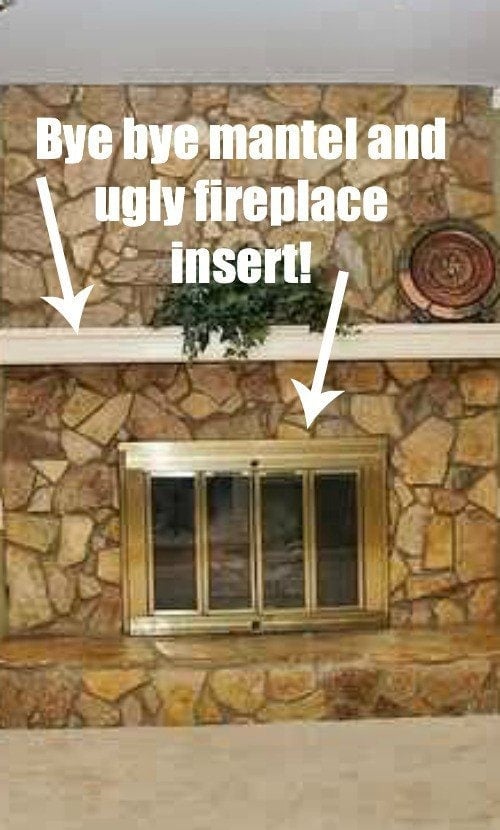 Step 2: Demolish your existing facade (if necessary).
If you are lucky enough to have a brick fireplace, you can skip this step! But if you do have a stone facade to demo, I would highly recommend renting a demolition hammer. Joe started with just a chisel and hammer and that got old fast. Do yourself a favor and use a demolition hammer from the start. You should be left with brick underneath your facade. It looked better to us already after getting the stone off! By the way, let me give a huge shout-out to my awesome step-dad, Roger, for helping us out with the demolition! You can see him helping out Joe below.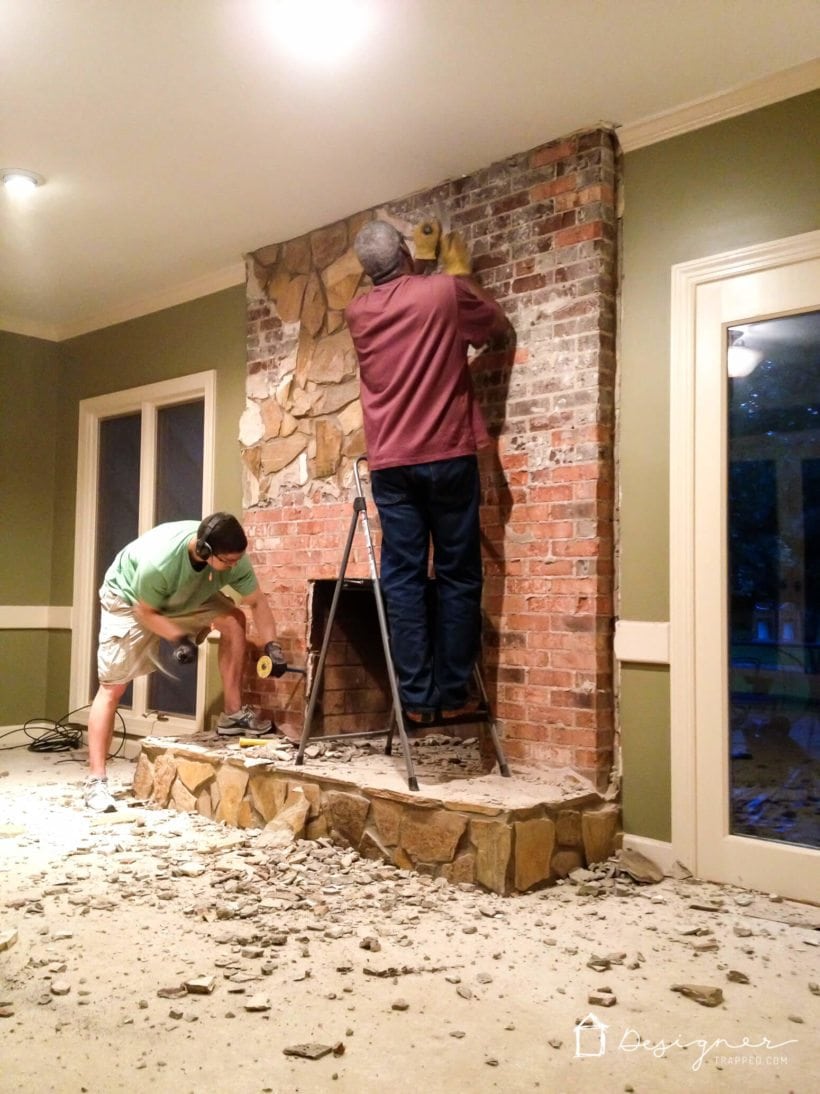 Note that we created a channel in the mortar joints of the brick to run our electrical so that we could have a hidden outlet behind our TV. This is optional and I avoid giving electrical advice for lots of reasons. But I can say that if you want something like this done, consult with an electrician :)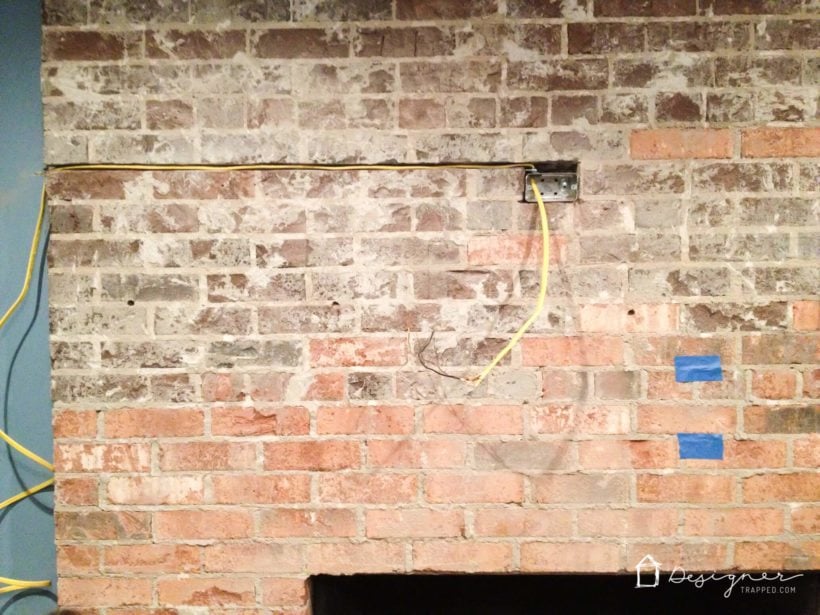 Step 3: Attach cement board to your brick & tape the seams.
Use an ELECTRIC drill with an appropriate masonry bit and masonry screws to attach your cement board to the brick. It must be an electric drill. A battery operated drill just does not have enough power to do this job. Once all your boards are attached, tape the seams with mesh tape.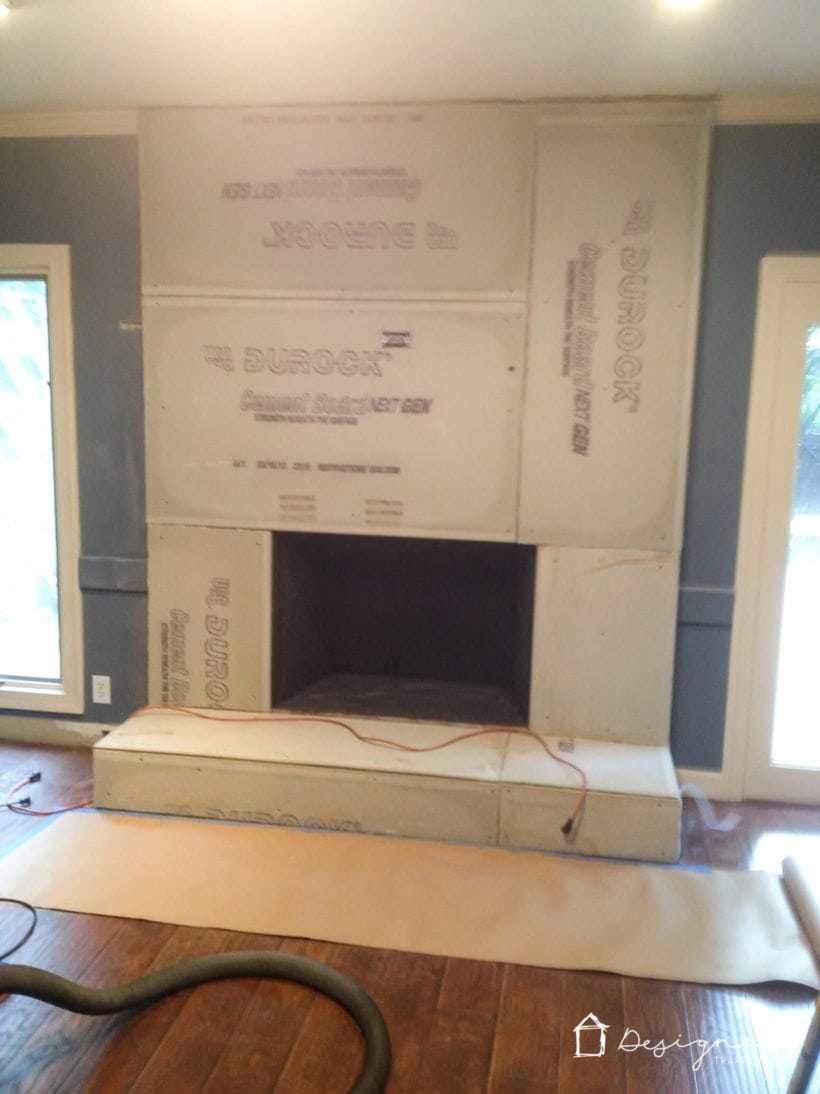 Step 4: Apply the concrete finish.
Now you are ready for the fun part! Mix up the concrete in your large bucket by adding water to the Ardex Feather Finish dry mix. Add water and continue to stir until you get to a thin pancake batter consistency. The right consistency is KEY! Next, allow the mixture to sit for 5 minutes, then mix it up again. This process helps the product remain workable for a longer period of time. This is what it will look like.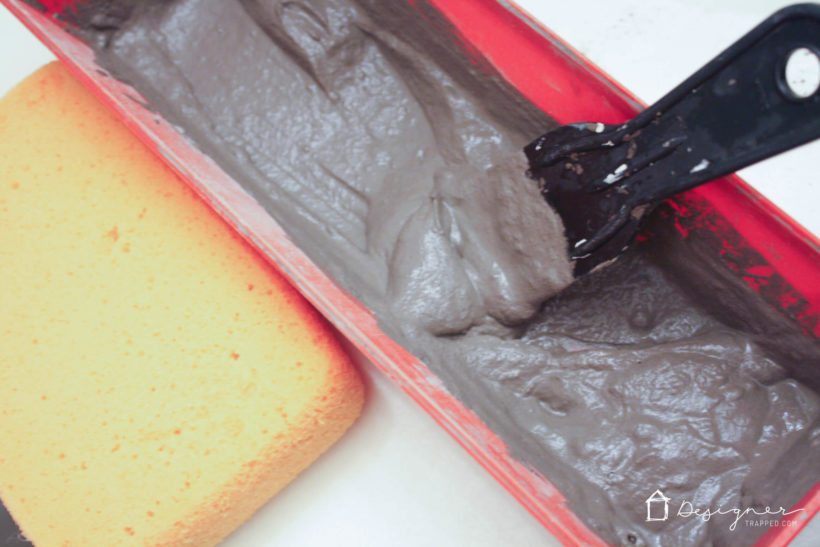 Trowel the mixture into your drywall tray and start applying the mixture to the concrete board using your drywall knife. I recommend going over the taped seams first. Then work on covering the rest of the surfaces. Use long, even strokes to apply a THIN layer of the concrete mixture. We used our fingers to put it on the edges. Sorry I don't have any steps of this step–we completed the project pre-blog, so I did not bother taking photos of this step. If you want to check out a tutorial about using this product on a different surface that has some photos of this step, check out my DIY concrete vanity post. I will say it was easier to apply than I expected and we had ZERO experience with this sort of thing. If you have ever worked with plaster or drywall mud, you will be on step ahead of us!
This is how our DIY concrete fireplace looked after the first coat. It was still drying in this photo. You can see that the cement board seams were still visible. Don't worry, as you apply additional coats, everything will be covered!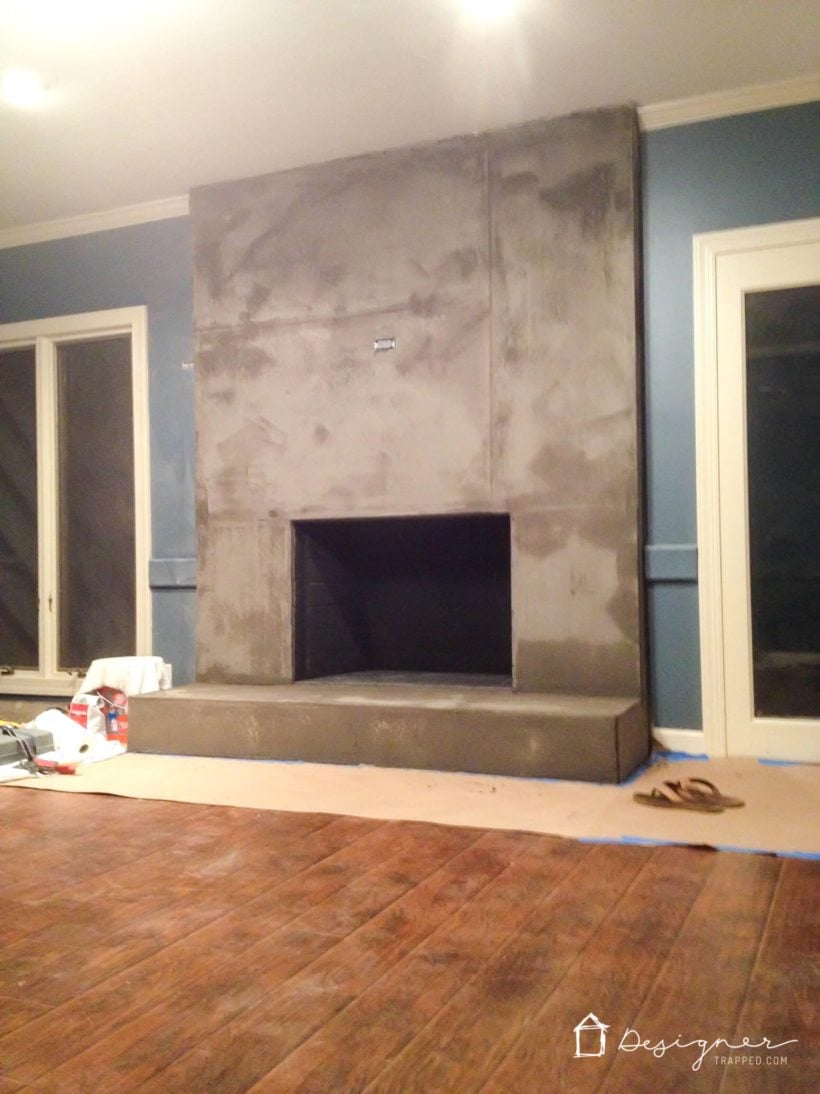 See how the seams disappear after a couple more coats?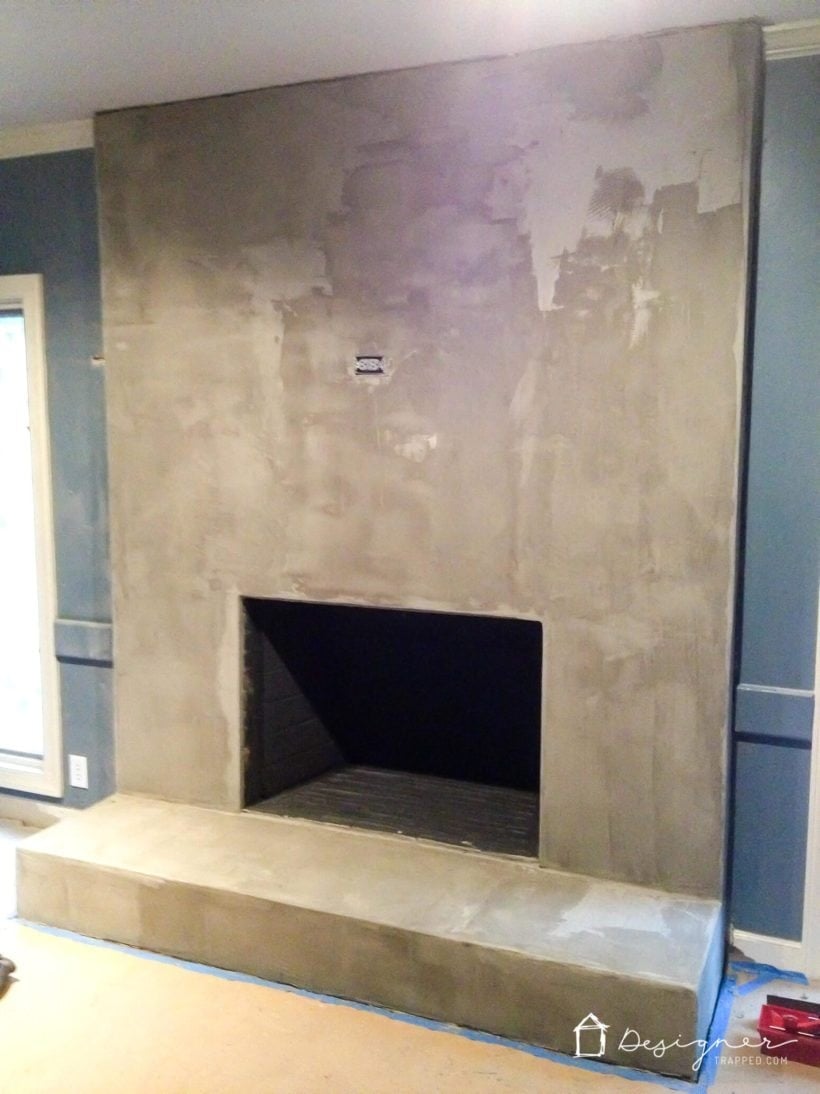 We did sand some between each coat, but honestly, I wish we hadn't. It made a huge mess and in the end, I don't think it was necessary because LOVE the interesting look of hand-troweled concrete, so I did not want to sand out all of the trowel marks. If you have any high spots, you may want to sand those down, but otherwise, I would allow each coat to dry, then apply another coat until you are happy with the finish. We applied either 4 or 5 coats. I lost count. After the final coat, we loved the look of it so much and it was so smooth to the touch without sanding, that again, we did not sand. We also elected not to apply a sealer, since I don't think there is any significant danger of spilling red wine on our fireplace. But if you want to add a bit of sheen to the finish, you can use the same sealer I used on our DIY concrete vanity overlay.
That's it! For less than $100, we totally transformed our fireplace and created a DIY concrete fireplace. And to think some of the pros we consulted couldn't even figure this one out. HA! We love, love, love the clean, simple lines of our fireplace now. And we are both lovers of all things concrete (countertops, floors, etc.) so we were thrilled to be able to use one of our favorite finishes on our fireplace.
You can read all about how we made that awesome DIY metal sliding barn door fireplace screen here.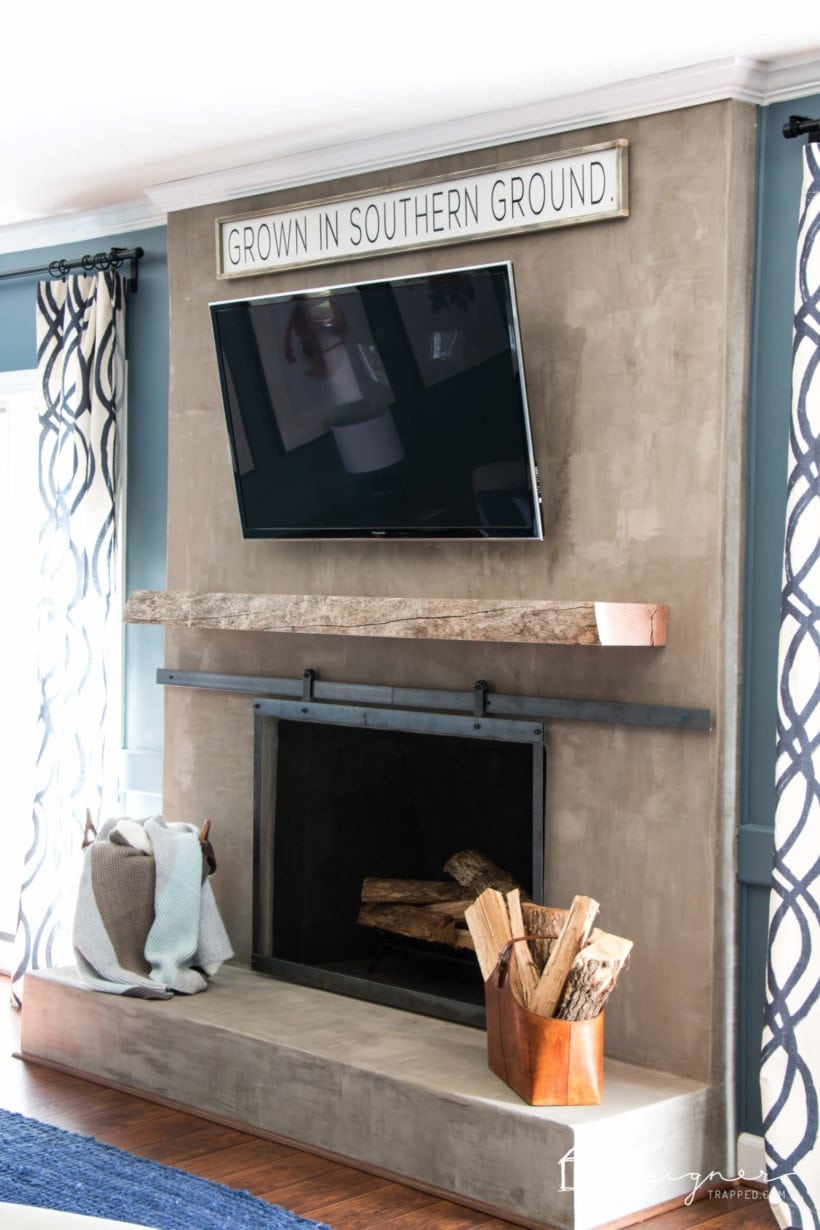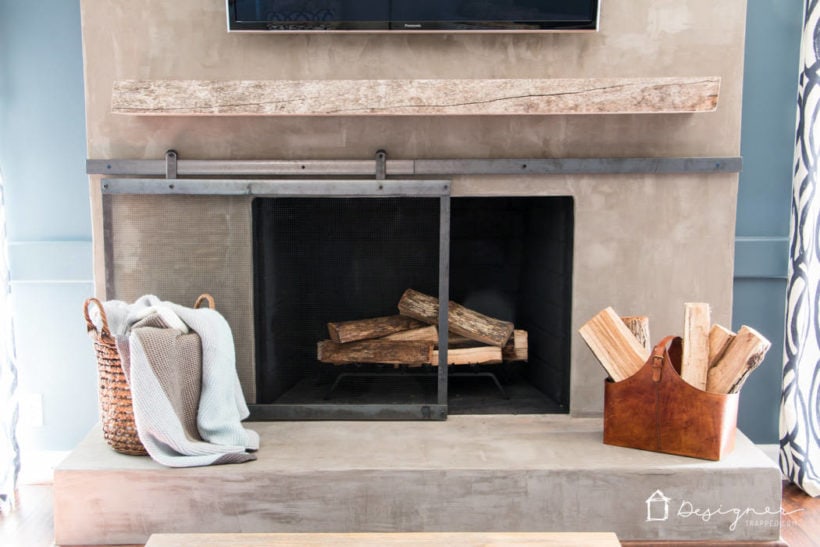 One of my favorite views to compare is the view from our twin girls' playroom into our family room BEFORE: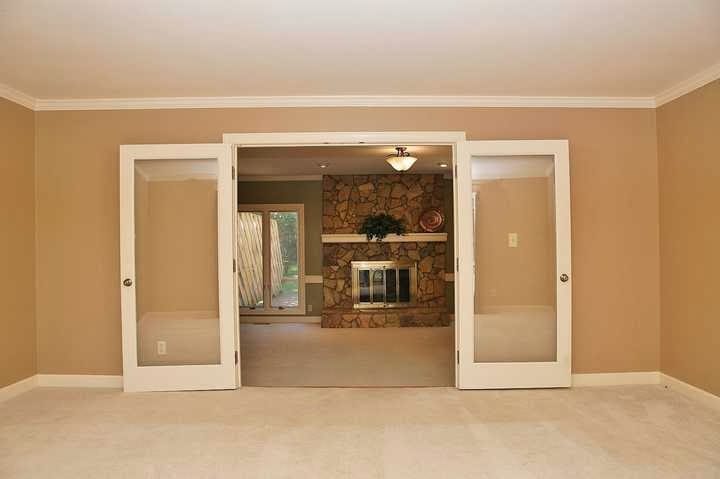 And AFTER. We've come a long way, baby!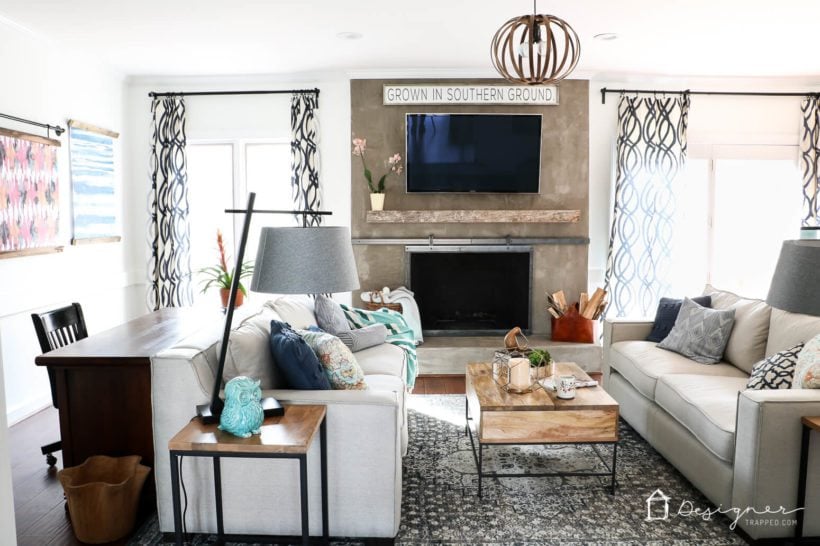 What do you think of our DIY concrete fireplace? Even if it's not your personal style, can you believe that we managed this dramatic transformation for less than $100?!
Other low cost high impact ideas you may enjoy:
Wondering how I approach transforming rooms and spaces in our home? Check out Designer in a Binder®.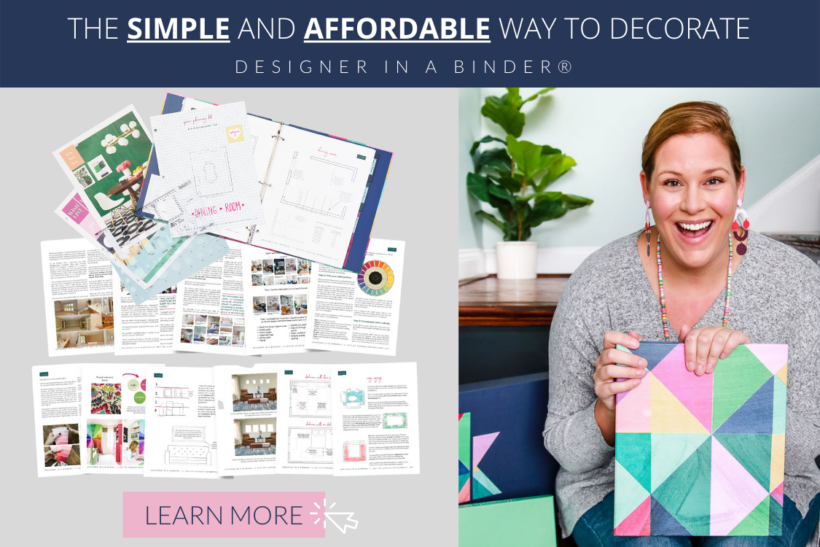 And if you want exclusive content and behind-the-scenes sneak peeks, be sure to subscribe before you head out!