The Easy Way to Update Bathroom Tile Without Replacing It!
Do you hate your bathroom tile floor but replacing it isn't an option? When you are looking at a bathroom makeover, the budget can get very high very fast, especially if you start replacing tile. But you don't have to! You can update your bathroom tile quickly and easily–no demo or power tools required. The secret is tile stickers. They are quick and simple to install and they are durable as long as you follow the tips in this post!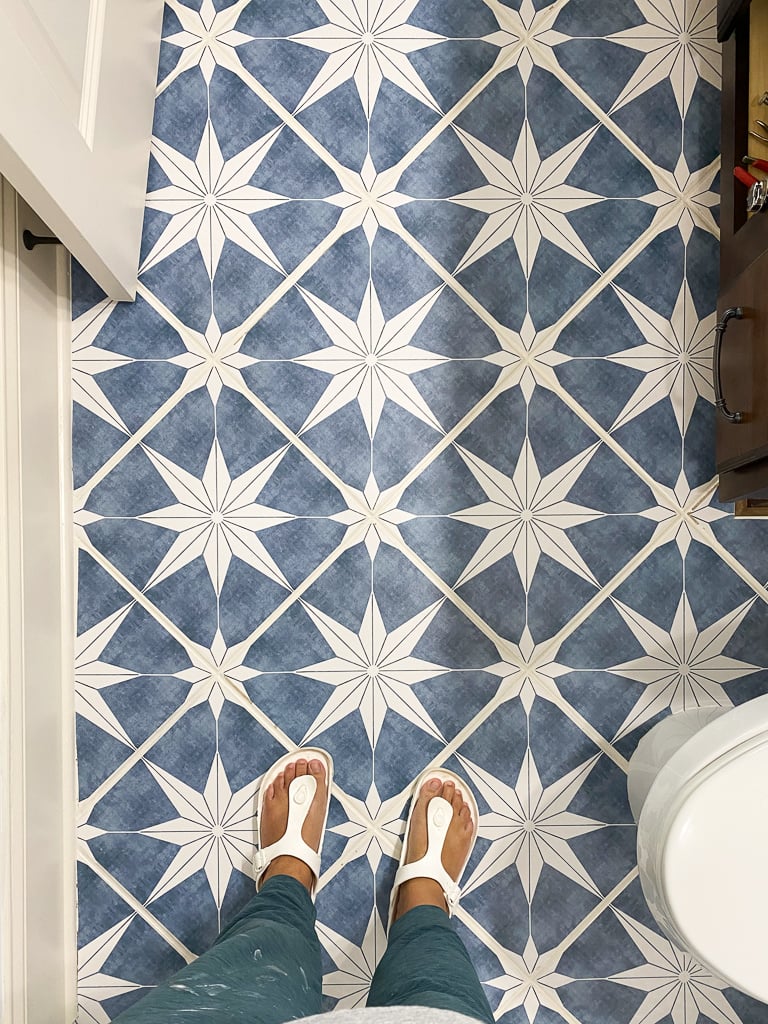 That gorgeous floor you see above? Those are floor tile stickers! You see, I wanted to update the outdated brown tile floor in my daughter's bathroom, but I didn't want to have to remove the toilet, chisel out the old tile floor and replace it all. We simply didn't have the time or money to replace the bathroom tile floor. While you can tile over existing tile, I personally don't think it's a great option for floors since it doubles the thickness and makes for an awkward transition between floor surfaces. So, I decided to find the best way to update the bathroom floor tile without replacing it. Giving the floor tiles a new look with tile stickers was the answer.
I've learned a lot about the proper way to use floor tile stickers so that they will properly stick to your floor for a long time. There are a few tricks you need to know, so keep reading!
This is what my daughter's bathroom looked like before we finished her Avery's budget-friendly bathroom makeover.
This post contains affiliate links for your convenience. Click here for my full disclosure policy.
When I put together the design for Avery's bathroom (I always use Designer in a Binder® to plan my room designs) I found the perfect light fixtures, shower curtain, towels, rug and knobs. I just needed the exact right shade of blue for her tile floor. I found amazing floor tile stickers and knew they were THE ONES. Avery and I both love the color and the star pattern.
Once the tile stickers arrived, it only took me about an hour to install them on her floor. And the tile stickers cost WAY less than the cost of new ceramic tile. Now she has a brand new look and a gorgeous floor. Not only was it simple, but it totally transformed her bathroom.
Updating those tile floors without replacing them was such a success, that a few months later we used these tile stickers for Attley's budget-friendly bathroom makeover. We followed the same process and they turned out just as beautiful and were just as easy!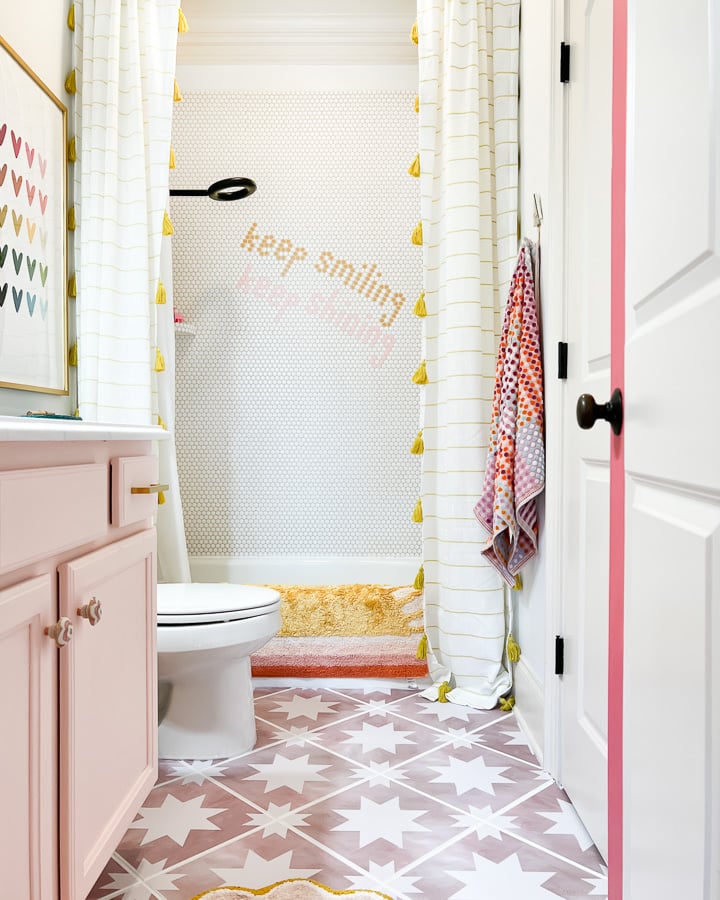 You can see some of my favorite tile stickers below!
Click on any image for full product details.

How to Install Floor Tile Sticker: A Tutorial
Time needed: 1 hour and 30 minutes
The process of installing floor tile stickers is simple! Just follow these steps.
Choose and order your tile stickers

There are so many gorgeous patterns and colors to choose from! Be sure to order them about 1/8″ SMALLER THAN YOUR TILES on each side (more on this in the FAQ section below). Most tile sticker companies will custom cut the stickers for you. So even if you only see listings for set sizes (like 12″ x 12″) that won't work for you, just message them and ask them if they can custom cut your size. The answer will almost certainly be yes and they will explain how you should place your order.

Clean

You need to clean your tile floor very well to prep it. I recommend using something like TSP (trisodium phosphate).

Paint your grout lines (optional)

When you are covering an old tile floor like we were, you may want to paint the grout lines with porch and floor paint first. Our grout lines were dark brown and would not have looked good with the tile stickers we chose. Just grab a brush and some paint and quickly cover the grout and the outer edges of each tile. This will give you fresh-looking grout as well as make those borders on the tile you need to leave blend right in with the grout.



Install your peel-and-stick tile stickers

After you have cleaned your floor and painted the grout lines (if you chose to), you are ready to install your peel and stick tile stickers! Tile stickers are very easy to install. I'm not just saying that. This is a very beginner-friendly DIY project. Just watch the video below for an overview of how to install tile stickers.
Want to know all about using tile stickers to update your tile without replacing it? Below I answer all of your burning questions about tile floor stickers. And let me tell you, there were A LOT. Y'all were intrigued and followed this DIY makeover closely. I got more comments and questions on Instagram about these stickers than I thought were possible!
First up, the BIG question…
How are the tile stickers holding up?
We installed the tile stickers in each of our daughter's bathrooms over 16 months ago and they are holding up PERFECTLY, despite so many skeptics leaving some many comments about this project on Facebook, lol. I created a video to show you exactly how they are holding up so you can see for yourself :) It will play after a brief ad.
]
FAQs About

Updating Your Bathroom Floor with Tile Stickers
How do you choose the correct size tile stickers?

This is super important. About 10 months ago, I ordered tile stickers for the very first time for our laundry room. I had them custom cut to the exact size of our ceramic tiles. This was actually a huge mistake that I didn't realize until I ordered from Snazzy Decal on Etsy for Avery's bathroom.

Snazzy Decal offered very specific instructions about how to measure for your tile stickers and explained you should order them about 1/8″ SMALLER THAN YOUR TILES on each side. That way it leaves a small border all the way around your tile and the sticker is adhering to a perfectly flat surface all the way around (not a slope or bevel which some tiles have slightly.)

The tile sticker should not go all the way to or over the grout line at all. You can see below how the tile stickers in Attley's bathroom don't go all the way to the edge. This is what you want!

Keep in mind that pretty much all tile sticker companies will custom cut the stickers for you. So even if you only see listings for set sizes (like 12 x 12) that won't work for you, just message them and ask them if they can custom cut your size. The answer will almost certainly be yes and they will explain how you should place your order.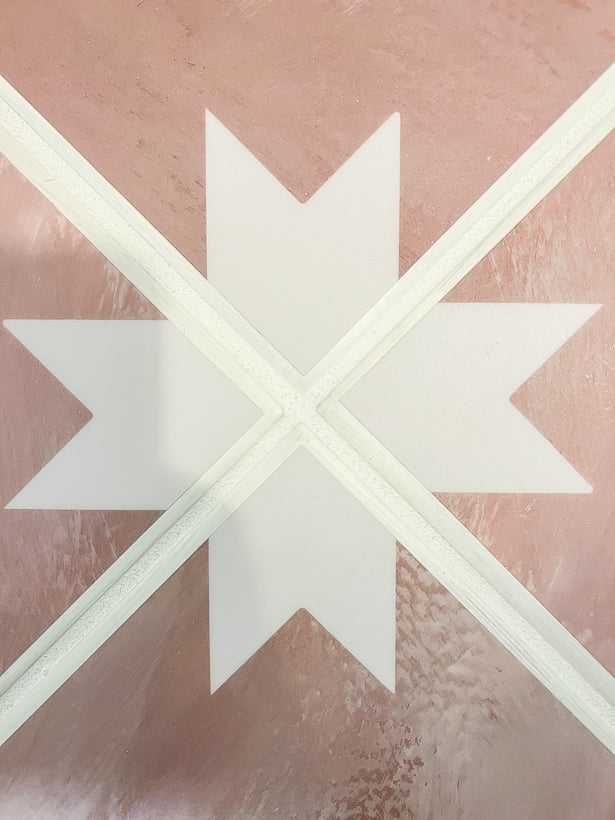 How do floor tile stickers hold up? How long will tile stickers last?

Tile stickers should last a very, very long time and hold up well if they are sized correctly. The floor tile stickers in our daughters' bathrooms have been installed and subjected to daily use for well over a year now and they are holding up perfectly. They are not peeling, ripping, etc. We are THRILLED.

Because we bought what I now realize was the wrong size for the laundry room, we had issues with the edges peeling up and ultimately had to install a floating tile floor over the old tile.

But I don't foresee the bathroom floors having any issues since they are sized appropriately.
What are tile stickers made of?

Tile stickers are made from vinyl. I think it is like the vinyl used for car wraps. It is VERY sticky and durable and it is waterproof!
What kind of prep work is required?

Not much! You do need to clean the floor really well and paint the grout lines first (if you chose to). But that's it!
Is using tile stickers a better option than painting the floor?

I painted and stenciled the floor in our old kitchen. And I figured out how to paint a vinyl floor in our old laundry room. We really loved both of those painted floors. They looked great and held up beautifully. I used floor and porch paint for both floors.

You can achieve the same patterns you see on tile stickers using floor paint and a stencil, but I can tell you it will take you FOREVER and the lines you can get with a stencil are not as clean and crisp. Not to mention painting tile around the toilet, vanity, and tub would be very challenging with a stencil. I would only recommend a painted and stenciled floor more for open spaces!

Installing tile stickers is quicker, easier and just as durable as paint.
Can you feel the tile stickers on the floor?

SO many of you asked this! Your brain does not register the tile stickers, it just feels like a regular tile floor. They are not perfectly smooth, which is good because I think that would be crazy slippery. They feel about like the vinyl cover on a binder. Just the tiniest bit of texture.
What kind of floor can I use tile stickers on?

I would say you can use them on any flat floor. You can definitely use them on smooth ceramic tile (that's what we used them on) and porcelain tile. I know some people asked about textured tile (think slate, travertine, etc) and I am sad to say I think that is a bad idea. The surface of the tile needs to be fairly smooth and the edges need to be straight.

You can use tile stickers on linoleum, vinyl or hardwood floors. If you do that, you can skip the grout lines all together by butting the tile stickers directly up to each other. If you prefer grout lines, you could paint the floor underneath and space them out to create any color grout lines you want.
Can you use tile stickers in showers?
We did not use tile stickers in Avery's shower because I was concerned about mold along the tiny edge of the sticker and the ability to use certain cleaners. I know some people have used them as the decorative tile line at the top of the shower. You could certainly use them on bathroom wall tiles or a backsplash, though! But I would not recommend using tile stickers in a shower or bathtub.
How do you clean tile stickers? Can you get water on tile stickers?

I had several of you very concerned about the amount of water that will hit the tiles and if that is cause for concern. Vinyl tile stickers are waterproof! You can mop them with no issues at all. I just wouldn't use a super caustic tile cleaner. If water spills on them, just wipe it up like you would with a regular tile floor!

Some people asked what I will do if the painted grout lines get dirty. I would much rather brush paint and touch it up than scrub it!
What happens if you don't order the correct size tile stickers?

Well, since we ordered the wrong size tile stickers for our laundry room floor, I can tell you exactly what will go wrong. The corners of your tile stickers will start to peel up if they are too close to the grout line and/or if they overlap the grout.

Want to see what happened to our laundry room tile stickers? Just watch the short video below. This video also shows you how to install a floating tile floor, which is another option for replacing your tile floor without having to demo the old one :)
Overall, we couldn't be happier with this option for updating our outdated tile. It was a quick and easy fix and I love all the colors and patterns you can choose from!
So what do you think? Are you going to use tile stickers to update bathroom tile without replacing it? It really is the simplest way to cover old or ugly tile with a totally brand new look.
Here are some other posts you may enjoy:
Wondering how I approach transforming rooms and spaces in our home? Check out Designer in a Binder®.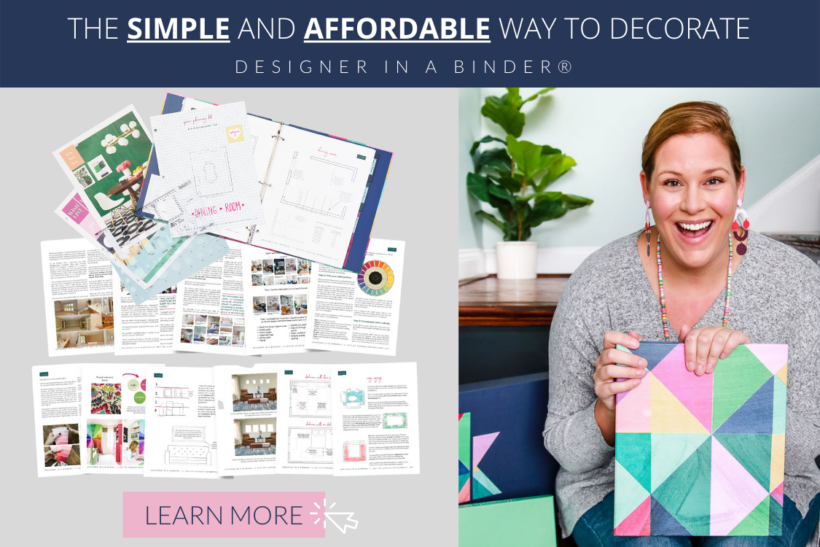 And if you want exclusive content and behind-the-scenes sneak peeks, be sure to subscribe before you head out!