How to Paint Vinyl Floors for Long-Lasting Results
Do you have old, outdated vinyl floors but no budget to replace them? FEAR NOT! You can totally transform them on a tiny budget. Read on to learn how to paint vinyl floors. And don't worry–painting vinyl floors is a super durable option if you use the right supplies. Mine still looked perfect after SEVEN years!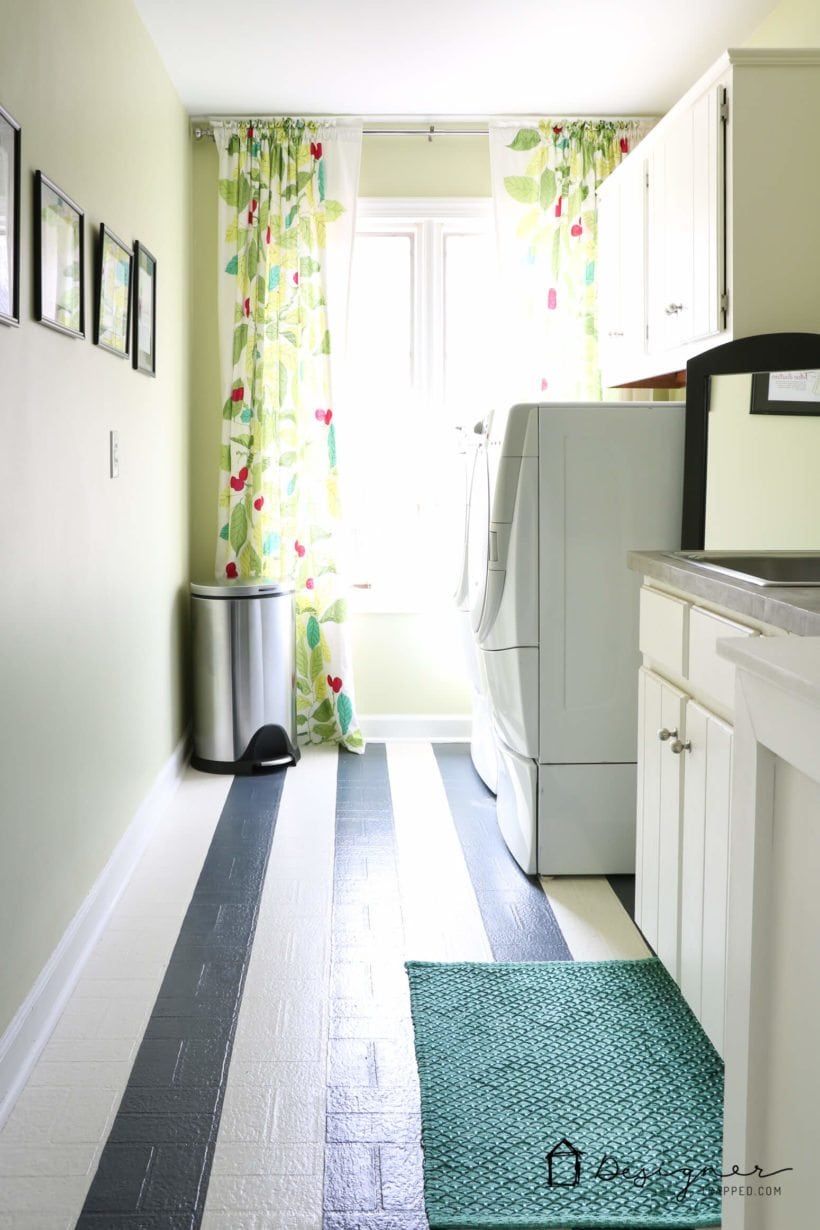 Many of you have already checked out my $71.00 laundry room DIY renovation. One of my favorite parts of my laundry room renovation is the painted linoleum vinyl floor. After I originally published this, it was pointed out to me on Pinterest (rather rudely) that linoleum floors are different than vinyl. I googled it and in fact, that is true. But, Google also informed me that even flooring stores use the terms interchangeably. In any event, technically, my floors are VINYL. My painted VINYL floors are gorgeous and have held up beautifully for 7 years now! No chipping or peeling. I'm amazed!
This post was originally published in November 2013 and was fully updated in Februray 2022.
Now, let's review what the floor looked like BEFORE I painted it. Ummm…yuck.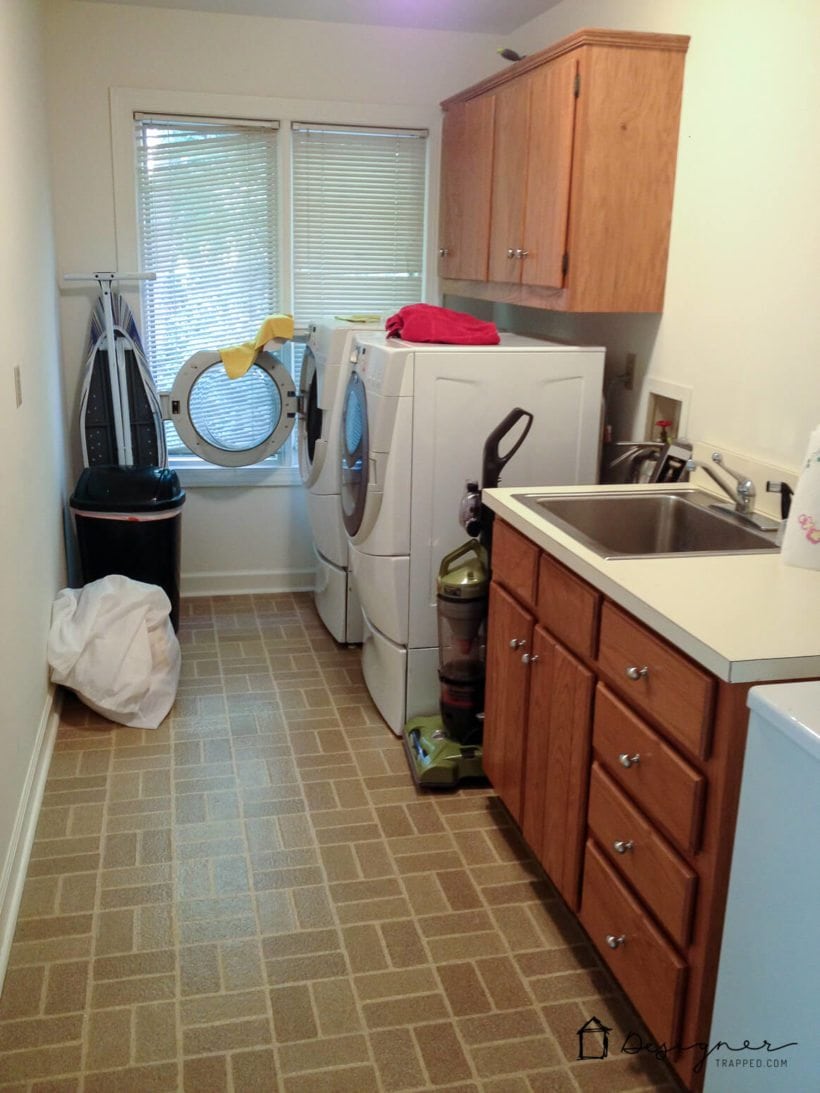 It was such an outdated brick pattern and was vinyl. Not my cup of tea. But, I did not want to spend much money on the floor. I had seen painted vinyl floors that had turned out beautifully, so I gave it a shot.
This post contains some affiliate links for your convenience. Click here to read my full disclosure policy.
How to Paint Vinyl Floors: A Step-by-Step Tutorial
Materials needed
Porch and Floor Latex Satin Enamel Paint. I used dark gray and creamy white colors. You can have the paint custom mixed to any color at Lowe's.
Paint rollers
Angled paint brushes
Paint tray
Painter's tape. The width of tape you select will depend on how wide you would like your stripes to be.
Floor cleaning solution. I recommend TSP, but if you don't have any on hand a more mild cleaner should work.
Steps to Painting Vinyl Floors
Time needed: 2 days
Select the pattern and colors to use.

I opted for a striped pattern for painting my vinyl floors. Instead of going with deep black and stark white, I wanted a softer look, so I used an antique white and charcoal grey. I purchased 1 quart of each color in Valspar at Lowe's. Be SURE to purchase porch and floor paint. It is durable and is intended for foot traffic. Do not purchase regular paint!

Clear and clean the floor area.

I was lucky that our laundry room was large enough to scoot the washer and dryer in and out of position to paint the floor underneath it. But, if you are not so lucky, you will have to move those bad boys somewhere else for a few days. After you clear the floor, you need to clean the floor.  Vacuum and sweep to make sure it is clear of dust and dirt. Some people recommend using TSP (a heavy-duty cleaner), but I did not have any on hand, so I used my normal floor cleaner (I use Mrs. Meyer's All Purpose Cleaner).

Prime the floor.

I used regular old KILZ General Purpose Interior Primer to prime the entire floor. I poured the primer directly on the floor and used a small paint roller to spread it. I only used one coat of primer and that worked just fine. I did it around 9pm one night and let it dry overnight.


Paint your vinyl floor with your base coat of paint.

After letting the primer dry overnight, I painted the entire floor with my base color, antique white, twice. That's right, two coats. Fortunately, this paint dries pretty quickly, but I did use a large box fan to speed the process along. I was able to get these two coats done in one day. Then, I let the base color dry overnight. I am not going to lie, this was kind of a messy project. Be prepared to scrub your feet!



Paint your stripes.

The following night, I taped off my stripes using regular blue painter's tape. I used the existing brick pattern to determine the width of my stripes, which eliminated the need to measure first. Note that my floor had some definite texture to it, so I knew bleeding would happen, but I just rolled with it. I knew it would be an easy fix later. However, if you absolutely want to avoid bleeding, follow this step: After taping your floors, add one more thin coat of your base color over the entire floor–paint OVER the tape.This will seal the crisp lines and prevent any bleeding. Trust me, it works on textured surfaces.

Next, I painted the stripes with my secondary color, charcoal dark grey. I also painted two coats of this color. I let the first coat dry overnight (mostly because it was late) and completed the second coat the next night.


Remove the painter's tape and do any necessary touch-ups.

Once your stripes are dry, remove the tape. If you have some bleeding, do not panic. Just grab an angled paint brush and use it to "cut in" along the stripes to make them nice and crisp. It sounds tedious, but this step took me less than 15 minutes to do my touch ups!
That's it! Now you know how to paint vinyl (or linoleum) floors. It sounds like a lot of steps (and it is), but each step takes no more than 10 to 20 minutes. I found painting my floor moved FAR more quickly than painting walls. I think all of the steps combined took me less than 2 hours (excluding drying time).  In other words, it was easy to knock out in the evenings after work without being too exhausted the next day.
The end result is GORGEOUS! Painting our vinyl floors is the MOST WORTHWHILE 2 HOURS OF MY DIY LIFE! I absolutely love, love, love this floor.
Frequently asked questions
Do painted vinyl floors hold up floor over time?
I painted this floor in October 2013. This floor was painted for over SEVEN years and it still looked absolutely perfect before we covered it up with peel-and-stick marble tile as part of our laundry room refresh when we put our house on the market. We had not "babied" it at all. We were as rough on it as you might expect–laundry baskets were scooted across it, etc. There was no damage or scratching whatsoever from daily use. We did have to remove and replace the water heater a couple of years ago and the floor did get scraped in one area when the plumber dragged the old water heater out, but that was understandable and an easy to touch up.
How do you clean the painted floor?
We never used anything special–mostly Swiffer wet pads. You can also mop like normal with warm water and soap!
Do I need to sand before I paint?
I did not sand! No sandpaper or liquid deglosser needed. The paint adheres to the primer and doesn't need the extra grit. Just a quick wipe down with a sponge or clean cloth to prep the floor!
Doesn't the painted floor need a top coat to make it more durable?
No, no, no, no, no. I cannot overstate this. Porch and floor paint contains everything the paint needs for durability built into it. And if you put a top coat on it, it is very likely to yellow, which is probably not the look you want. We had no issues with durability. We also painted and stenciled our wood kitchen floors with this same paint. It endured FAR more foot traffic and abuse than this laundry room floor and held up just as well without a top coat. Trust the product!
If you want to tackle this project yourself, why not make it easier by being able to print the instructions?! Just fill out the form below to grab your free printable instructions :)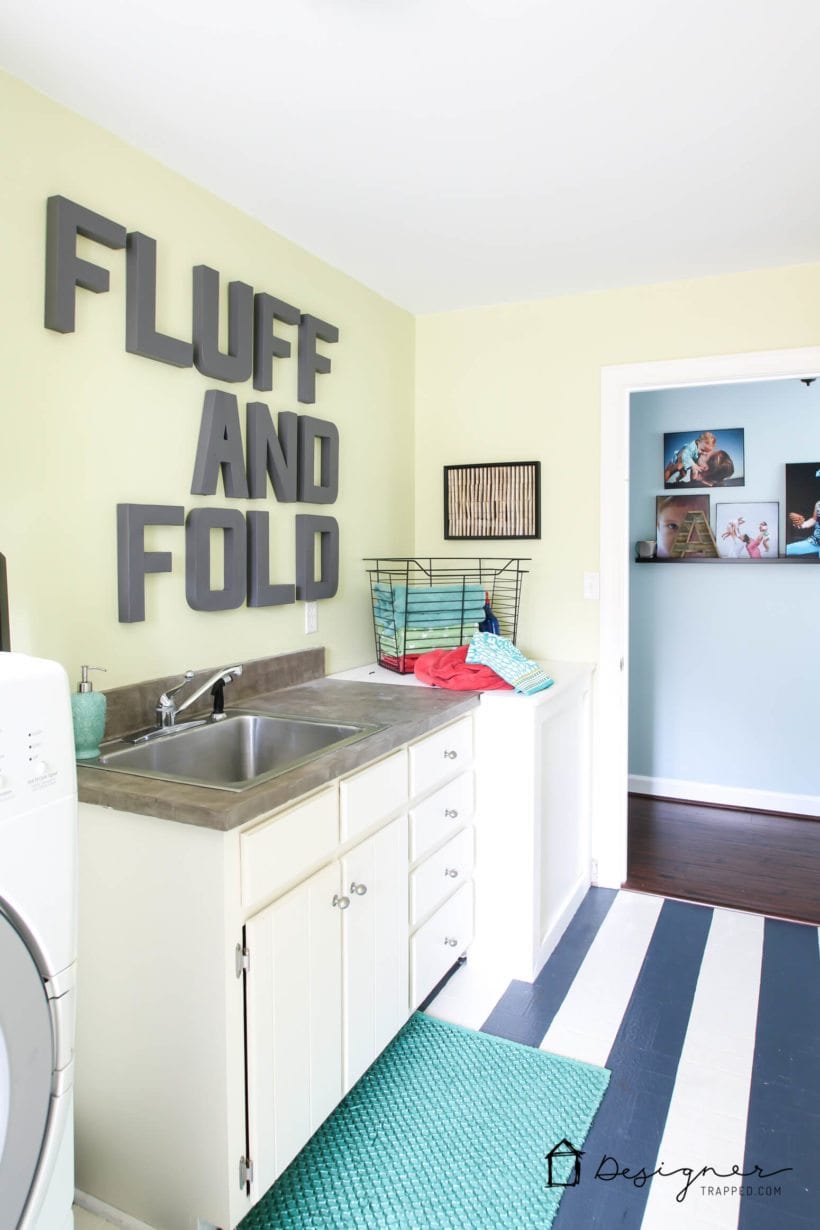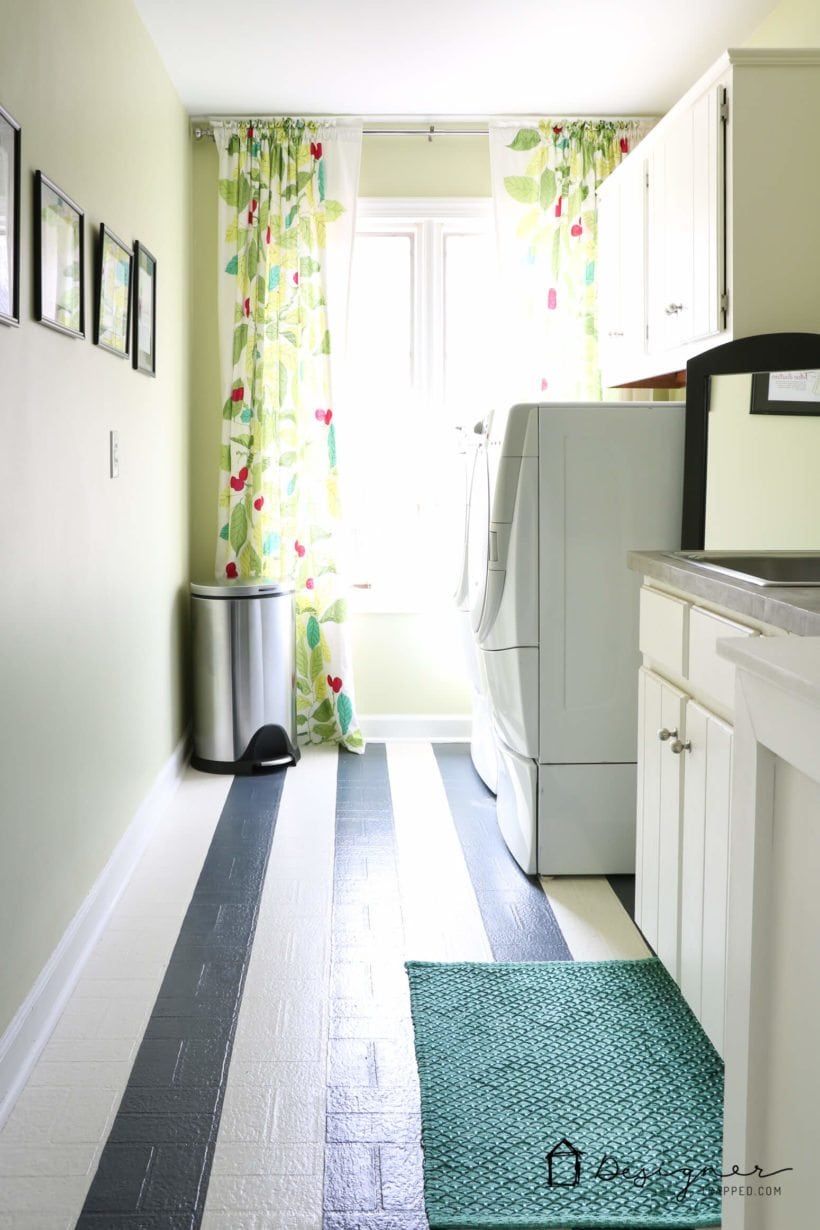 What do you think? Are you tempted to paint vinyl floors now?! This would also work in a bathroom or mudroom and you can easily incorporate a tile look with a stencil if you want that look. You could certainly update an outdated floor with tile stickers also, but that would be much more expensive. Don't be afraid of this DIY project now that you see how easy it really is to transform your outdated vinyl or linoleum flooring!
Other posts you may enjoy:
Wondering how I approach transforming rooms and spaces in our home? Check out Designer in a Binder®.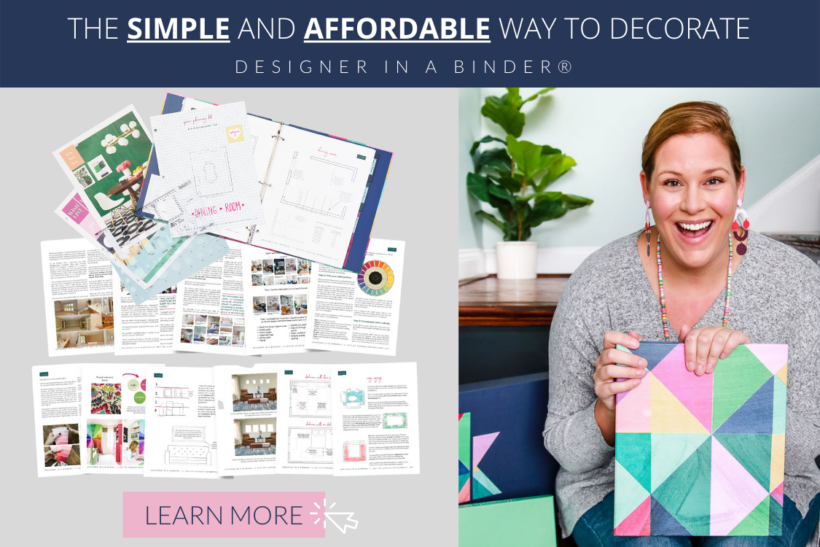 And if you want exclusive content and behind-the-scenes sneak peeks, be sure to subscribe before you head out!