Colorful Laundry Room Makeover Reveal
Last Updated on March 3, 2022
Our laundry room makeover totally refreshed the space on a small budget! Learn all about how we transformed it and even replaced the floor without spending a fortune!
Hey friends! If you read this big announcement or follow me on Instagram, you know we've been BUSY! We recently completed our affordable master bathroom makeover. The minute we finished it, we tackled this laundry room makeover. Needless to say, we are pretty tired of painting at the moment. But I'm so, so, so glad we did this easy and budget-friendly makeover because it completely updated and transformed our laundry room. There's a complete source list at the end of this post :)
The Laundry Room Before
This is what the laundry room looked like when we moved in.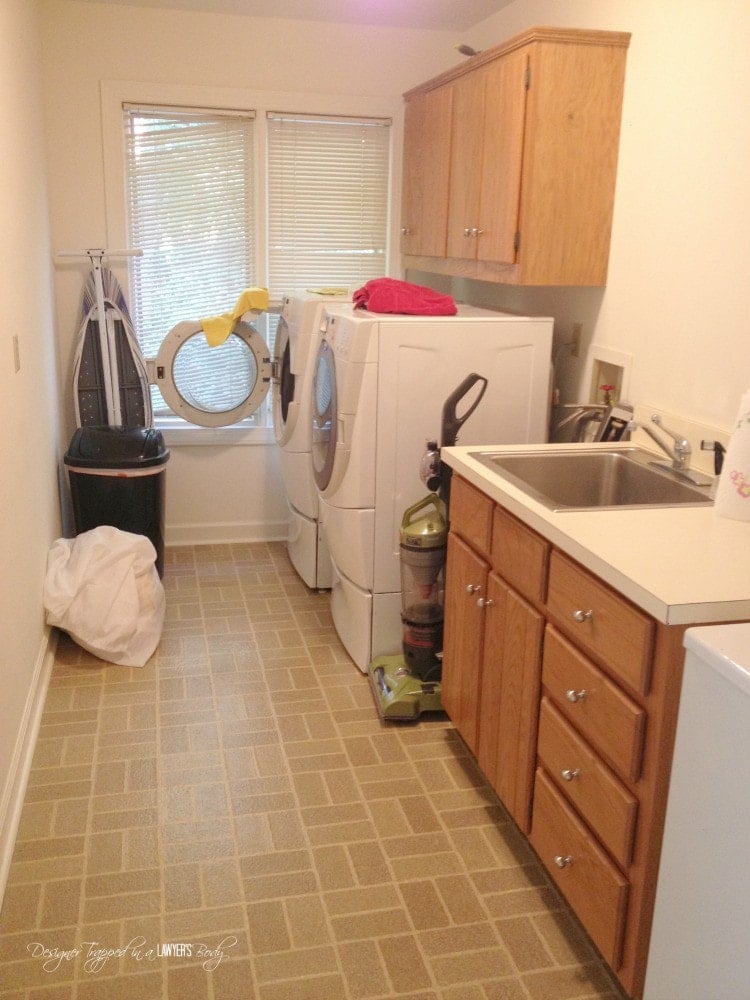 The 2013 Makeover
We first gave our laundry room an update back in October 2013. It was literally the FIRST room we did anything to in this house and it is the first project I ever shared on this blog! And this is how it looked after we gave it a makeover for only $71 out of pocket. I painted the walls, cabinets and even painted the vinyl floors. And I gave the old laminate countertops an update using this concrete overlay technique. This is the transformation I actually got invited to share on The Rachael Ray show back in 2017 (you can watch my segment here)!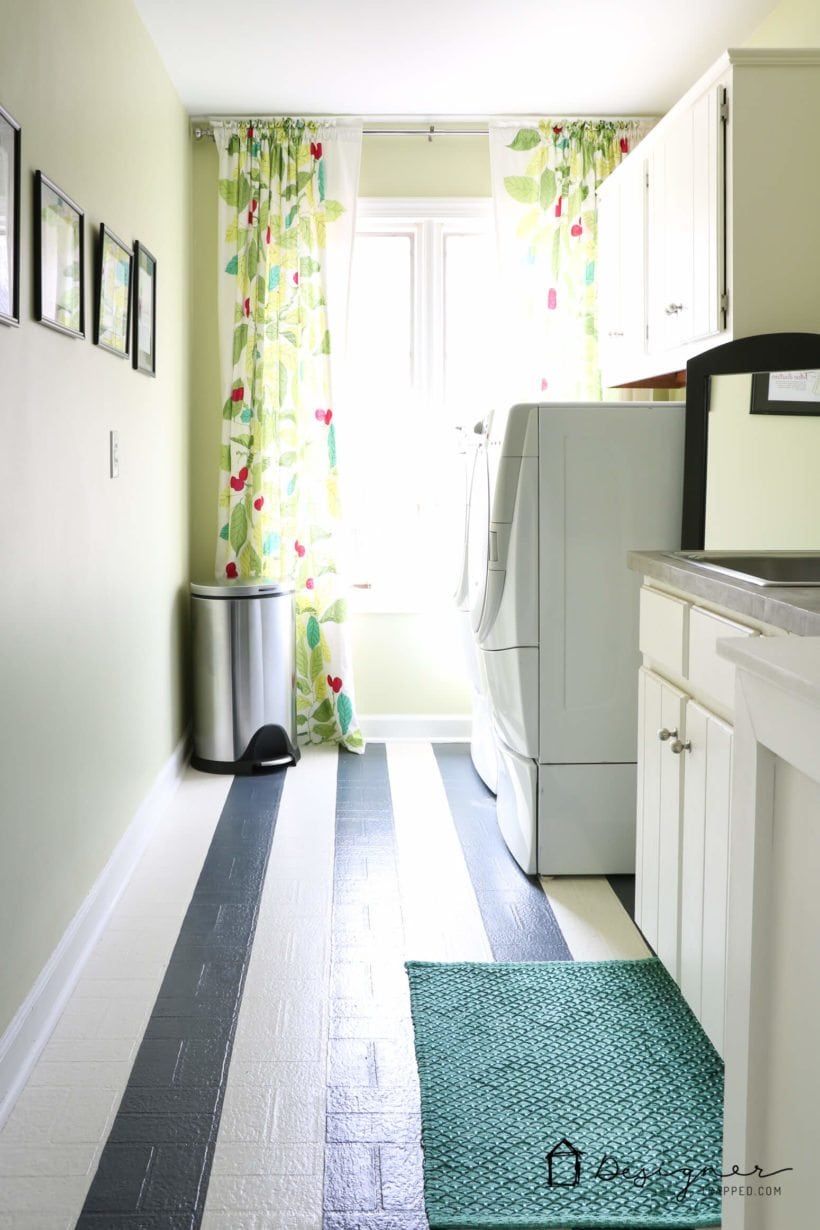 This post contains some affiliate links for your convenience. Click here to read my full disclosure policy.
The NEW Laundry Room Makeover
Our laundry room was super cute, but it has been almost 7 years since we've painted the surfaces in this room and they just needed to be freshened up before we put our house on the market. So I painted the walls and trim with fresh white colors, painted the cabinets the most stunning teal color (here's the exact paint I used), updated the hardware, lighting AND we installed this new luxury vinyl floor. It totally paid off! Just look how clean and fresh our laundry room looks now!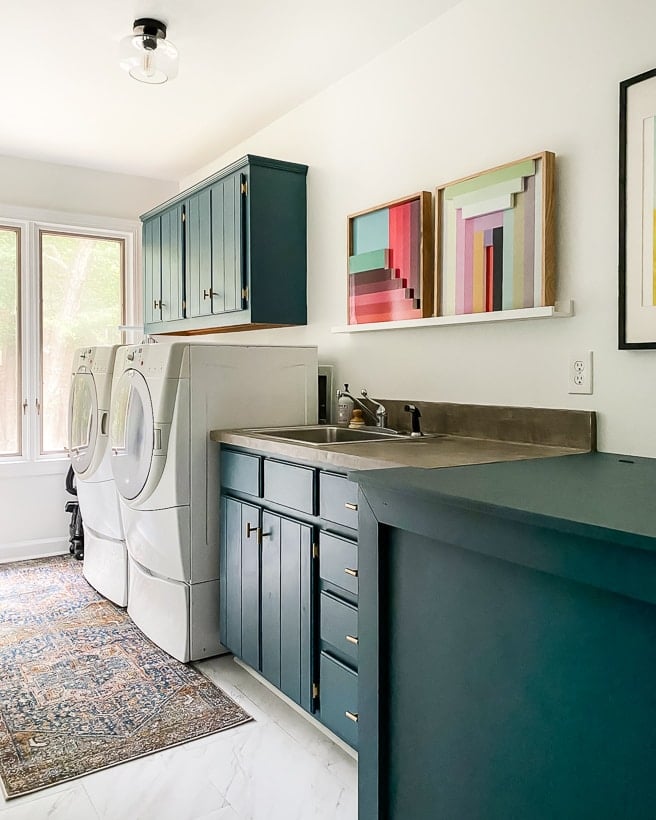 I love the contrast of the dark cabinets with the light-colored floor and walls.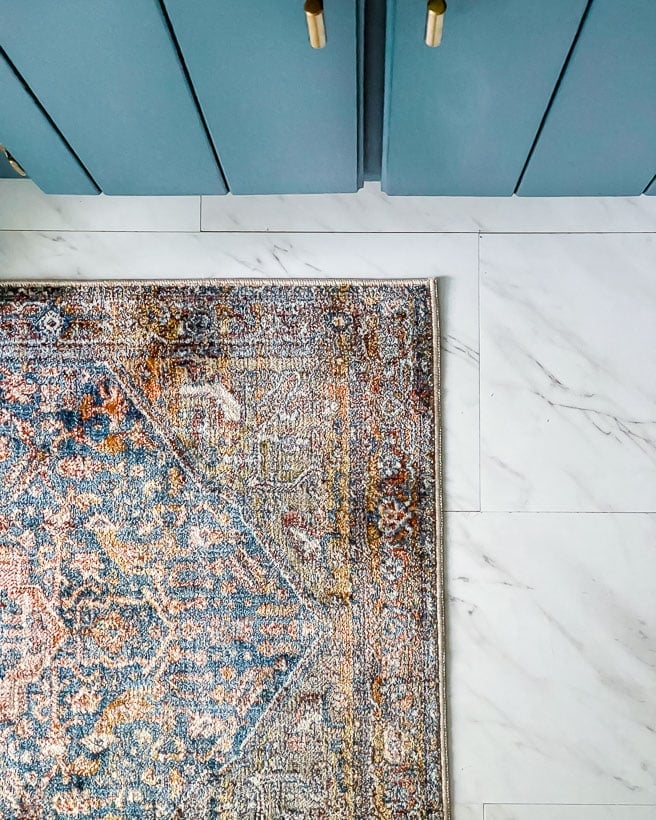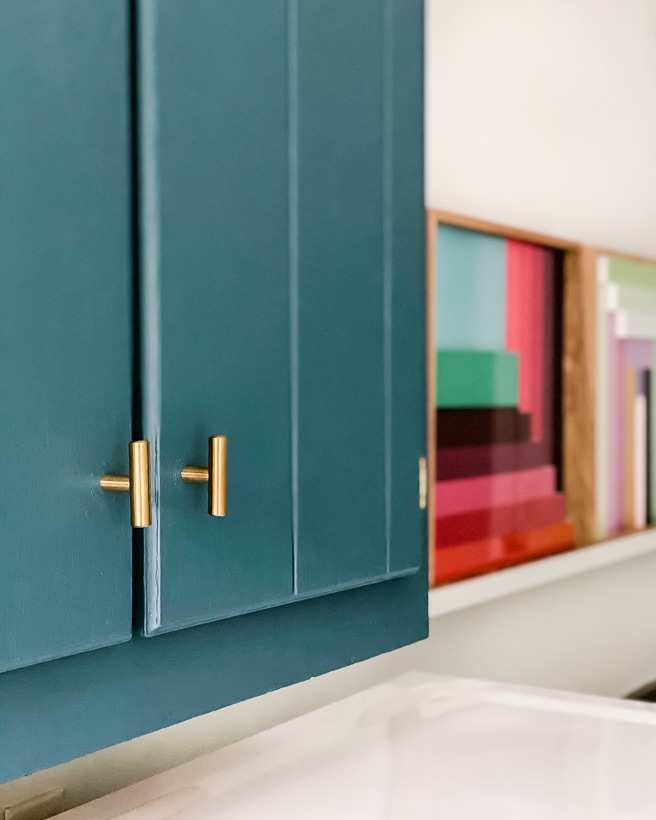 I used this quick and easy method to paint the cabinets. I'm pretty much in love with this deep teal color! I love it so much that we may use this color when we paint the kitchen cabinets in our new house! Of course, I added some colorful artwork, including these beauties that I can't wait to display a bit more prominently when we move into our new house. And we FINALLY took out the old "boob" light and replaced it with this super affordable but chic light fixture.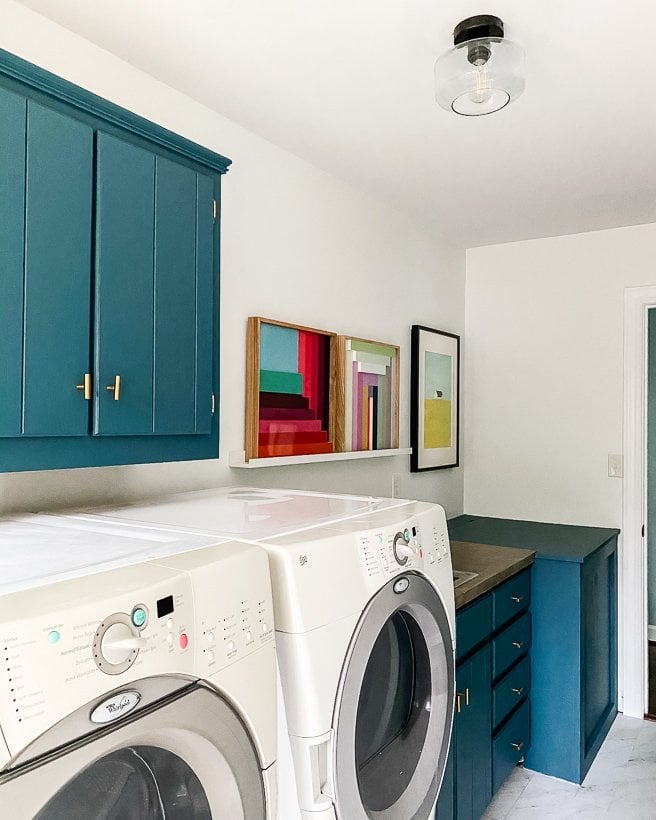 We didn't change the countertops at all–they still have the concrete overlay that I completed back in 2013.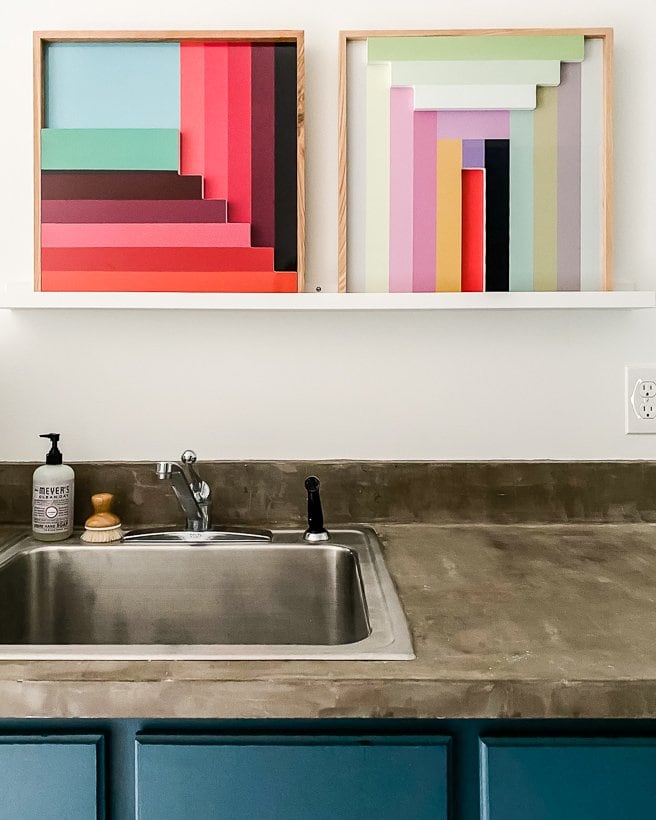 So that's it!!!! What do you think? Pretty good bang for our buck. The new floor and light cost us less than $200 and all the paint we used we already had on hand. You can find the info for all the sources below.
Laundry Room Source List
Wall paint- Falling Snow by Behr

Wondering how I approach transforming rooms and spaces in our home? Check out Designer in a Binder®.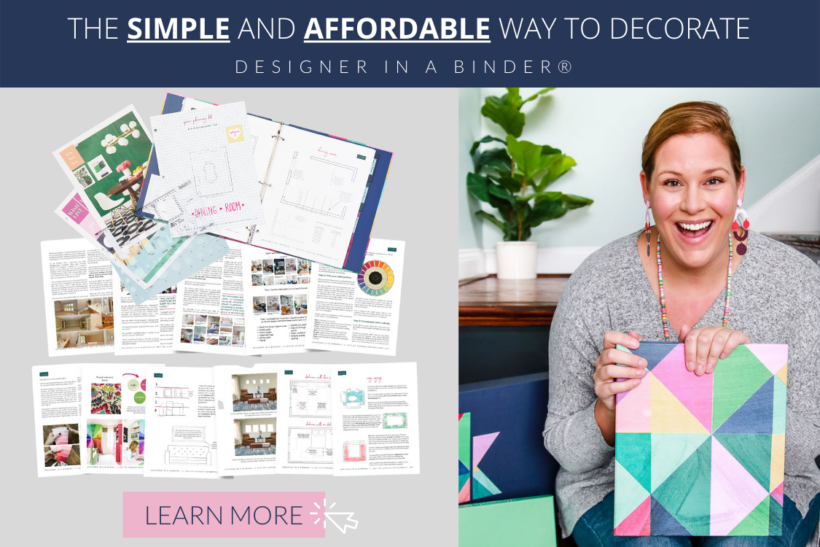 And if you want exclusive content and behind-the-scenes sneak peeks, be sure to subscribe before you head out!