Last Updated on March 3, 2022
Can you believe my DIY laundry room makeover cost only $71.00?! With some creative solutions and repurposing, it was easy and you can do it, too!

Alright folks, it's time for the laundry room reveal. It feels a bit unnatural to be so excited about a laundry room. I mean, it's a laundry room. It's where fun goes to die. But I am seriously, head-over-heels in love with this room and I totally transformed it in a few days with only $71.00 out of pocket!
First, let me remind you of how this room looked before I got started. Yuck. And you can tell we took no pride in the room whatsoever. I mean, the blinds were crooked. It would have taken 5 seconds to straighten them, but we never bothered. We just got in and out of the room as quickly as possible.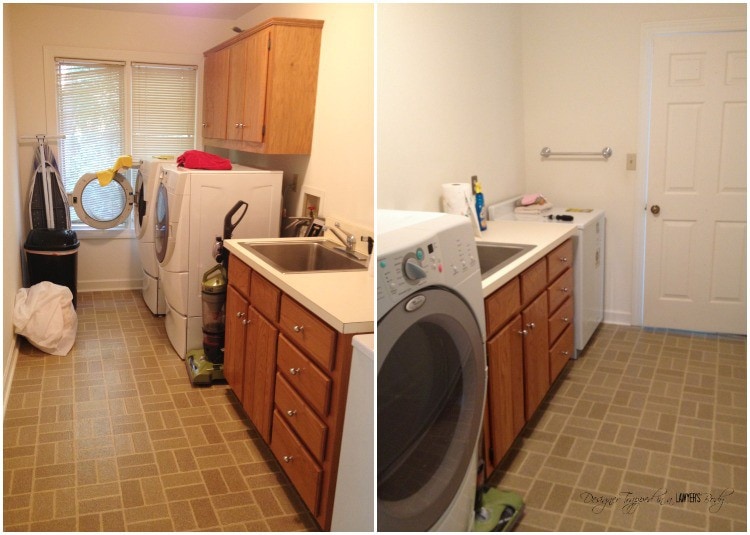 BUT NOW?!?! It's colorful, bright and happy!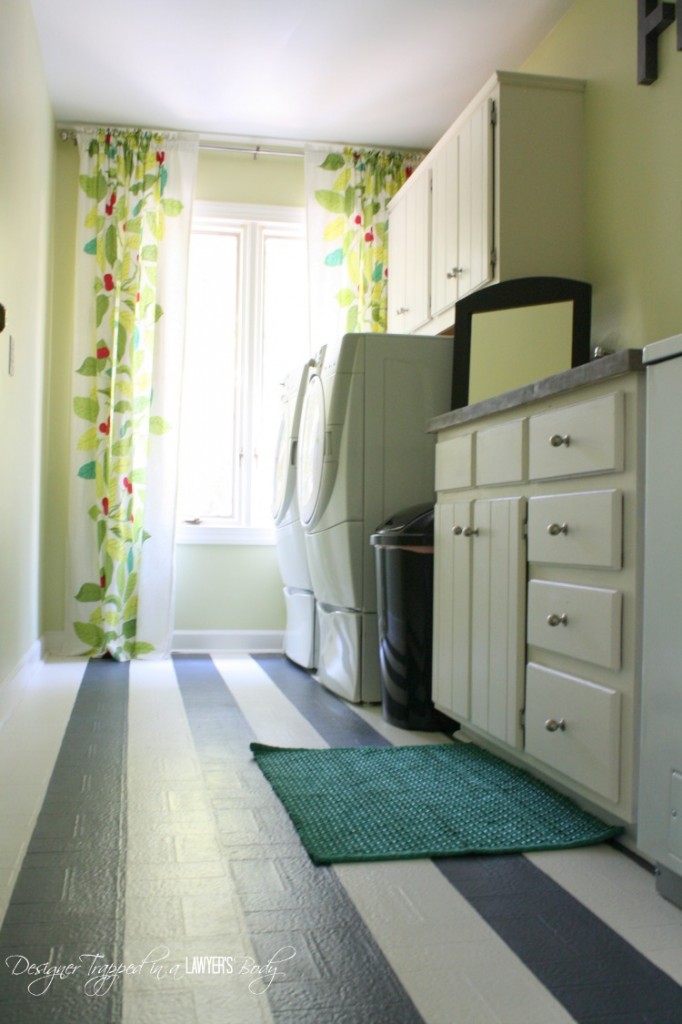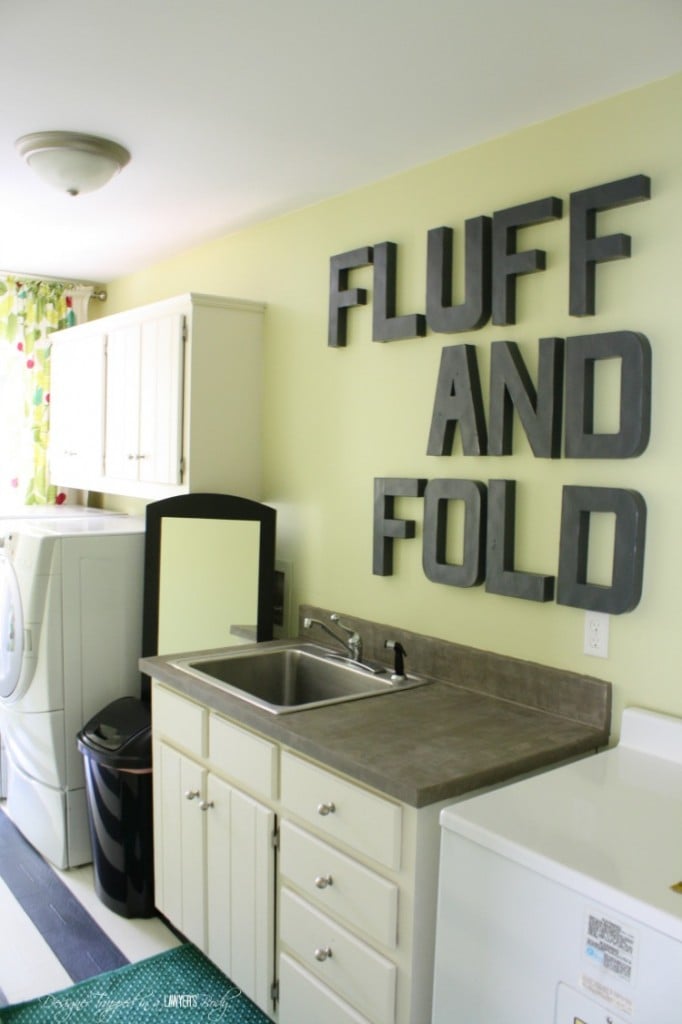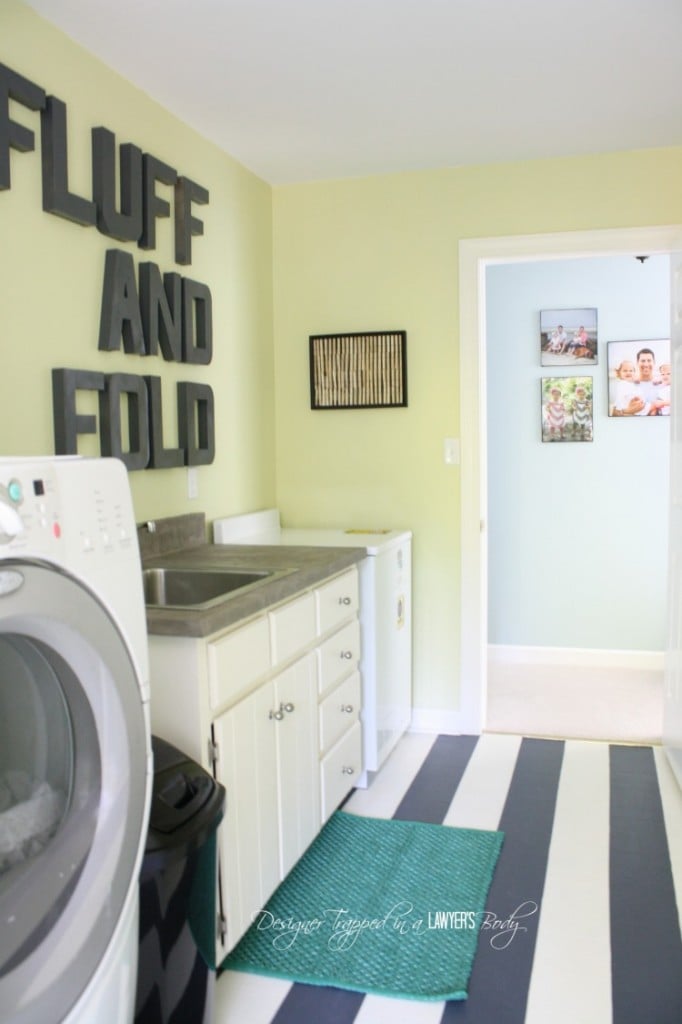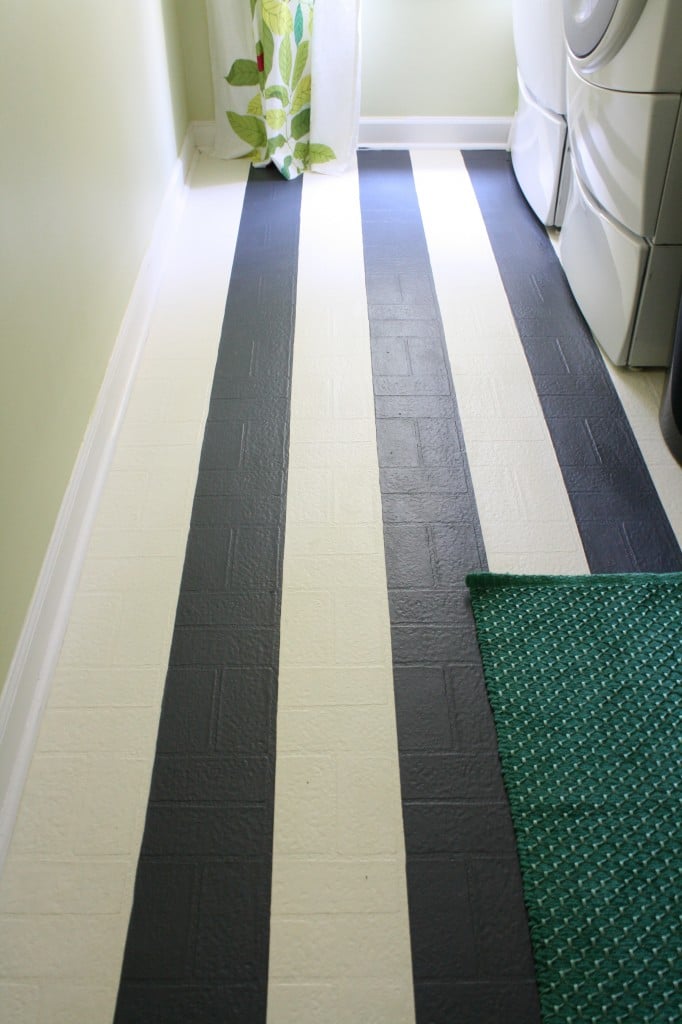 This DIY laundry room renovation is the perfect example of going shopping in your own house. We all have things that are left over from other projects or are no longer being used, right? Take a look through your own house and find leftover paint and accessories that work together.
The jumping off point for this laundry room makeover was the curtains that I already owned but were no longer being used. From there, I "shopped" for paint and other items that would work with them. This post contains some affiliate links. Please click here to read my full disclosure policy.
So, what all did I do in the laundry room?
Painted the cabinets– I used an antique white paint that was leftover from some other project. I also had some primer on hand already. Cost- $0
Painted the walls– I used the leftover paint from the girls' room. Cost- $0
Painted the floors– We bought two quarts of porch paint (grey and off-white), which was plenty. Cost- $30. A detailed, step-by-step tutorial on how to paint your vinyl floors can be found here. I think the painted floor provides the most dramatic change in this room and it was EASY and CHEAP! This is a popular project–it has been pinned more than 40,000 so far!
DIY Concrete Countertop– I covered the ugly laminate countertop with Ardex Feather Finish, which I also had left over from another project. This product is amazing and it is a totally doable DIY job! You can see our tutorial for how to apply it in this post. If you can't find Ardex Feather Finish where you are locally, you can buy it HERE it on Amazon. It allowed me to create a cheap and easy DIY concrete countertop–YAY!!!! Cost- $0
Added decorative details– I hung the FLUFF AND FOLD paper mache letters (total cost of letters + spray paint = $35) and added the small rug from Pier One to the floor in front of the sink. I purchased it with a gift card (out of pocket cost $0, "actual" cost $19). I also used an old, shabby shadow box and $6 worth of clothes pins to make the decorative art that is hanging by the door.
Hung curtains– I already had the curtains that were previously used in another room. Can you believe those beauties were being stored in a chest?! I love them.- Cost- $0
Creatively placed a mirror to hide all the ugly plumbing connections (see below)- I already owned the mirror, which was given to me as a gift, and it was being stored in another room. I was glad to finally be able to use it. Cost- $0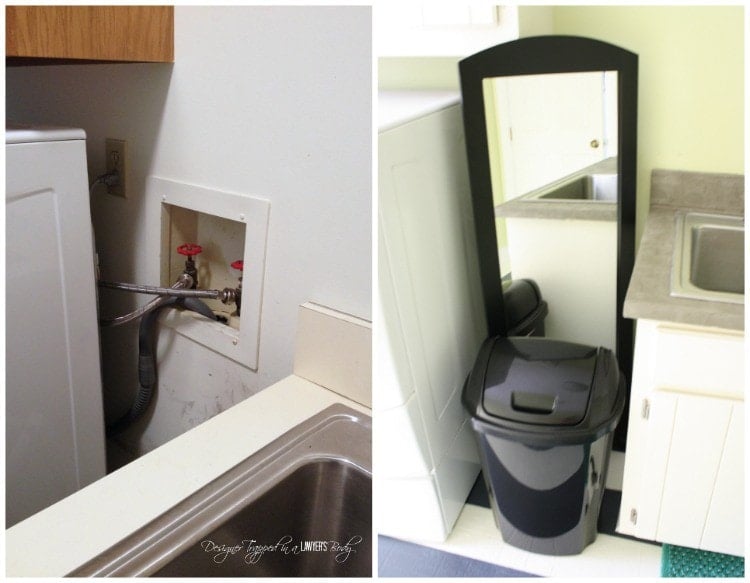 GRAND TOTAL OUT OF POCKET COST: $71.00
The makeover took me a total of 12 hours, and I did all the work by myself, with the exception of putting new hinges on the doors and rehanging them (which my husband did one day while I was at work). So, we are talking maybe a total of 13 man hours. NOT BAD! I do still have some finishing touches to attend to. For example, the huge BLANK wall opposite the washer/dryer and sink has nothing hanging on it, which must be fixed.
What do you think? What is your favorite part? The painted vinyl floors, the DIY concrete counter top, or something else?

[mv_create key="3″ thumbnail="false" title="Room Reveals" type="list"]​