How to Make a Small Room Look Bigger: 9 Simple Tricks
Wondering how to make small rooms in your home feel more spacious? These 9 tips will help you make any room look bigger!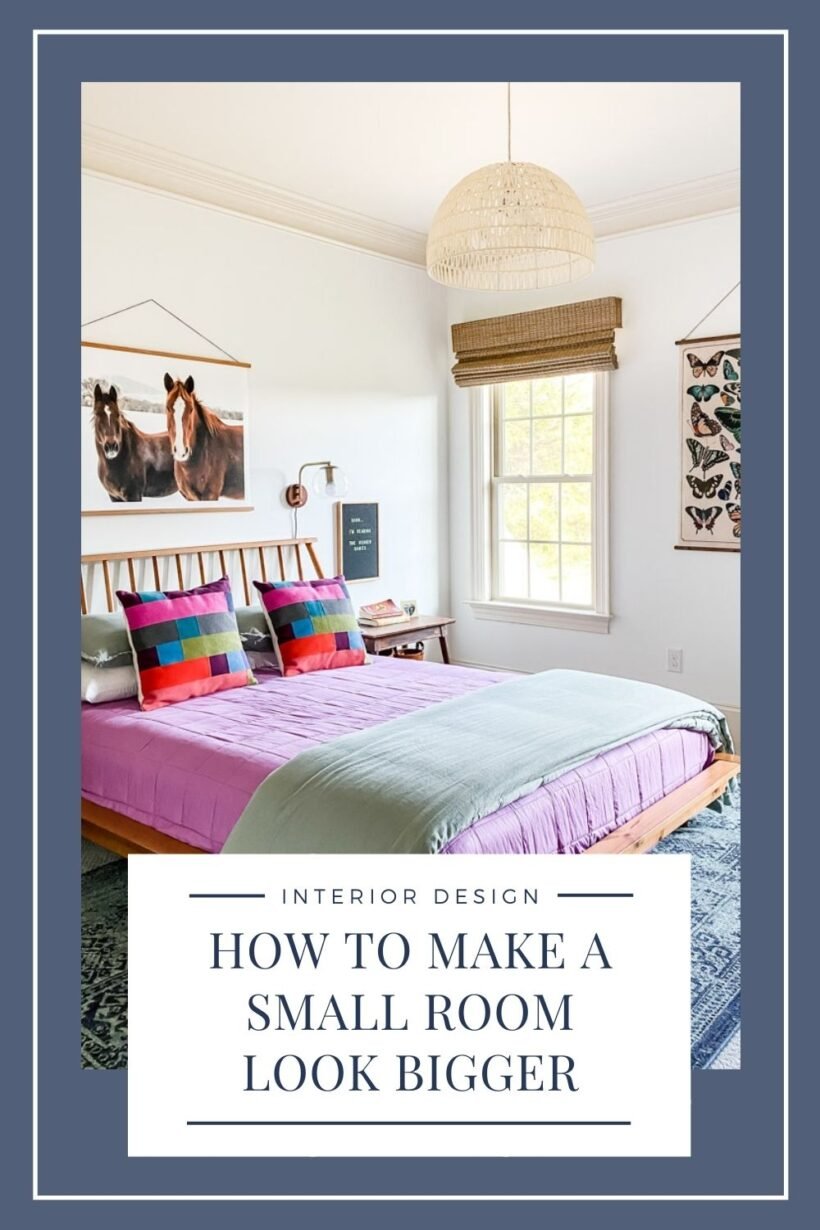 You may not realize that we've lived in some pretty tiny homes over the course of our 20-year marriage. Our first home was almost exactly 1,000 square feet and it's still one of my favorite homes we have ever lived in. And even though our current home is much, much larger, we still have some small spaces in this home. So over the years, I've learned plenty of tricks for how to make a small room look bigger! There are many things you can do to make a small bedroom look bigger or a small family room look more open and expansive. So let's dive into the tips!
9 Tips to Make a Small Room Look Bigger
Tip 1: Hang your curtains as high as you can
Y'all, this is SO IMPORTANT for making any room look larger. And frankly, I just think it looks better even in rooms that are plenty big. Instead of hanging your curtains at the top of your window frame, you want to hang your curtains as high as you can–preferably all the way up to the ceiling. This is something we have done in all of our rooms for years. It's especially helpful in small bedrooms since by definition a bedroom has 4 walls and is closed-off from other rooms. So if you've ever wondered how to make a small bedroom look bigger, this curtain trick will help so much! You can see that in our primary bedroom we hung our curtains as close to the crown molding as possible.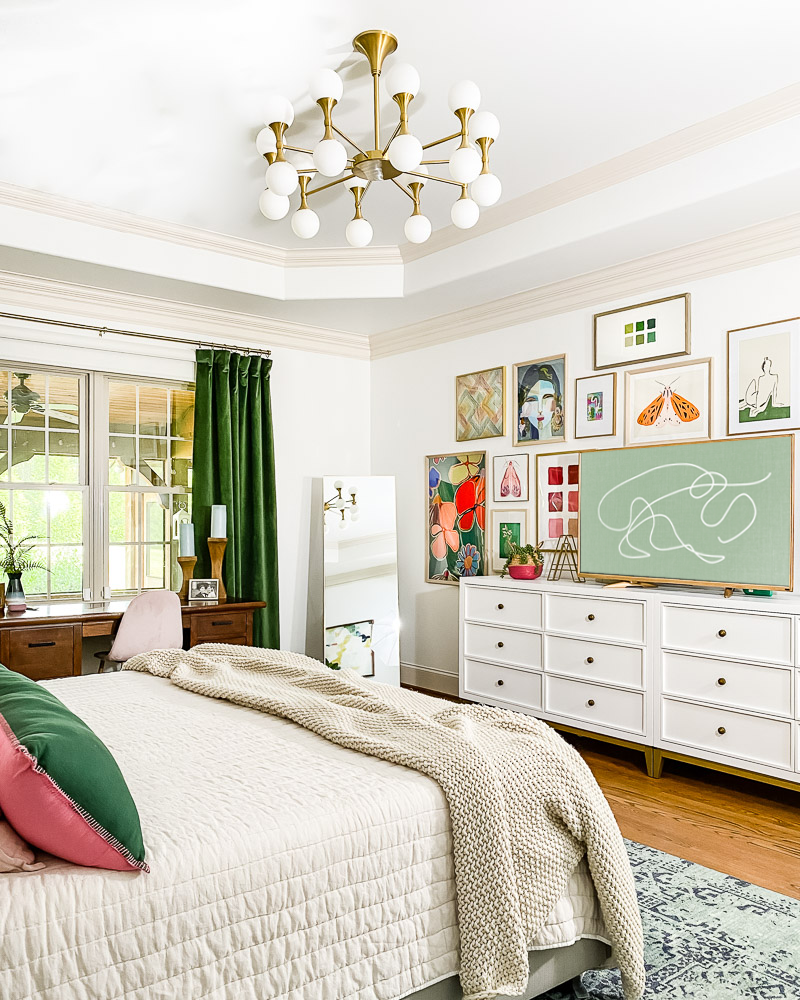 And in Attley's room, we were reusing these DIY tassel curtains from our last home, so we were working with a set curtain length. I hung them as high as I possibly could while still having them touch the floor. You DO want the bottom of your curtains to touch the floor (we don't want high-water curtains).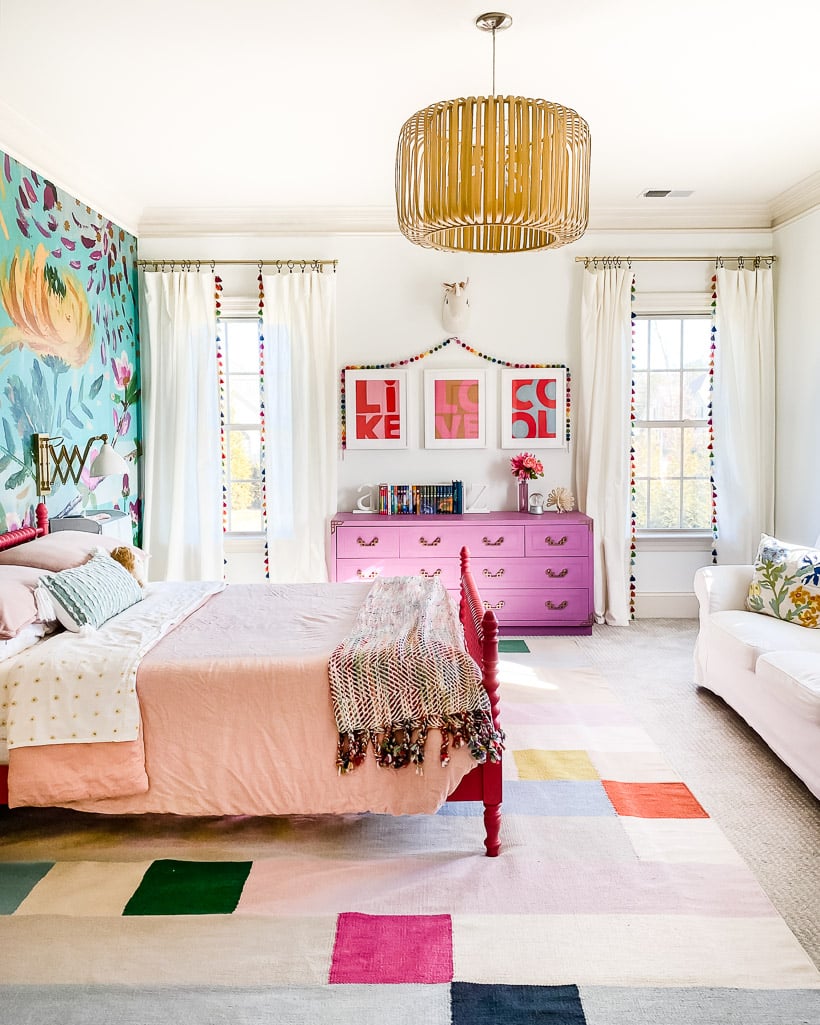 Another example below shows how Elsie used this same method in her primary bathroom as shown on A Beautiful Mess. This simple hack will help elongate the room height and make it feel much taller than it is. Be sure to buy the correct length of the curtains because you want them to hang all the way to the floor.
We've also used this curtain-hanging trick in our old dining room AND our current dining room. Even though neither of our dining rooms is particularly small, they aren't huge either. And you can see how the curtains hung all the way to the ceiling make both rooms look bigger. Seriously, this trick works every time!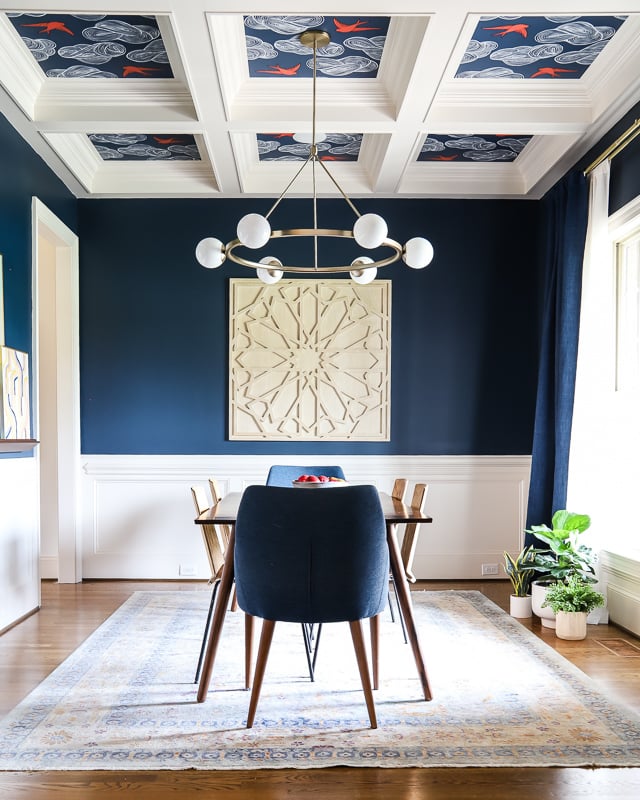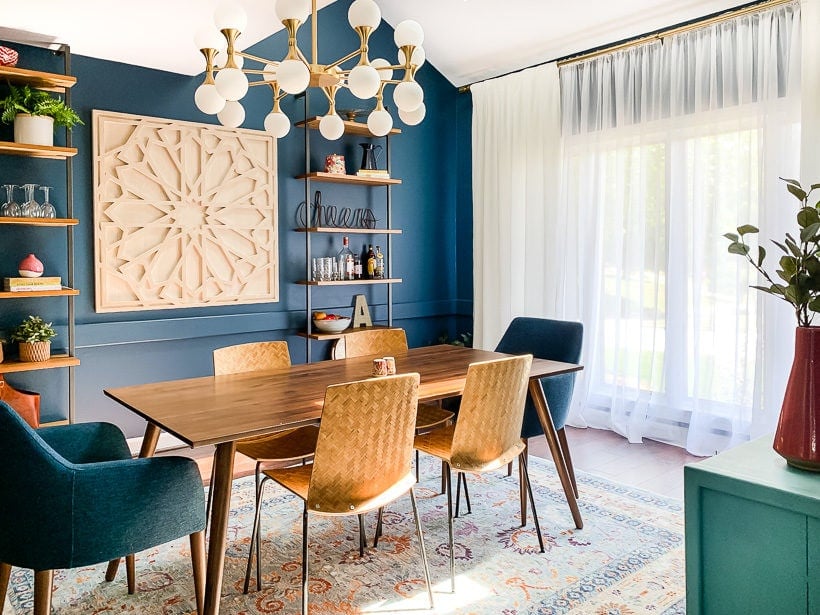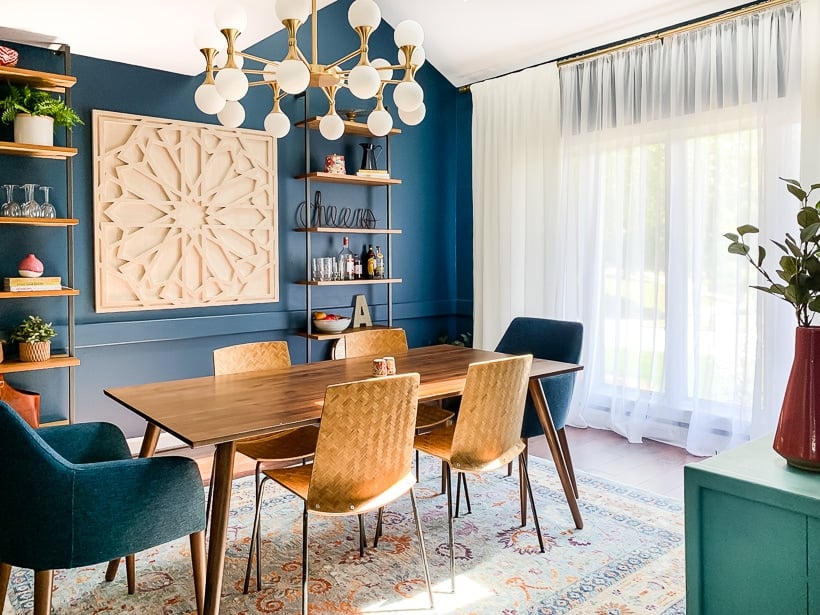 Tip 2: Choose Furniture With Visible Legs
Another way to make a small bedroom look bigger is to choose furniture pieces with legs. This helps create an airy, open feel in a small bedroom (or really any room). Not every piece needs to have legs, but try to have at least one piece with some height, whether it's your nightstands, dresser, or bed. We chose this simple platform bed for our small guest room. And the DIY painted dresser also has legs! These "leggy" choices make the small bedroom feel a bit less crowded and heavy, which in turn creates the illusion of more space.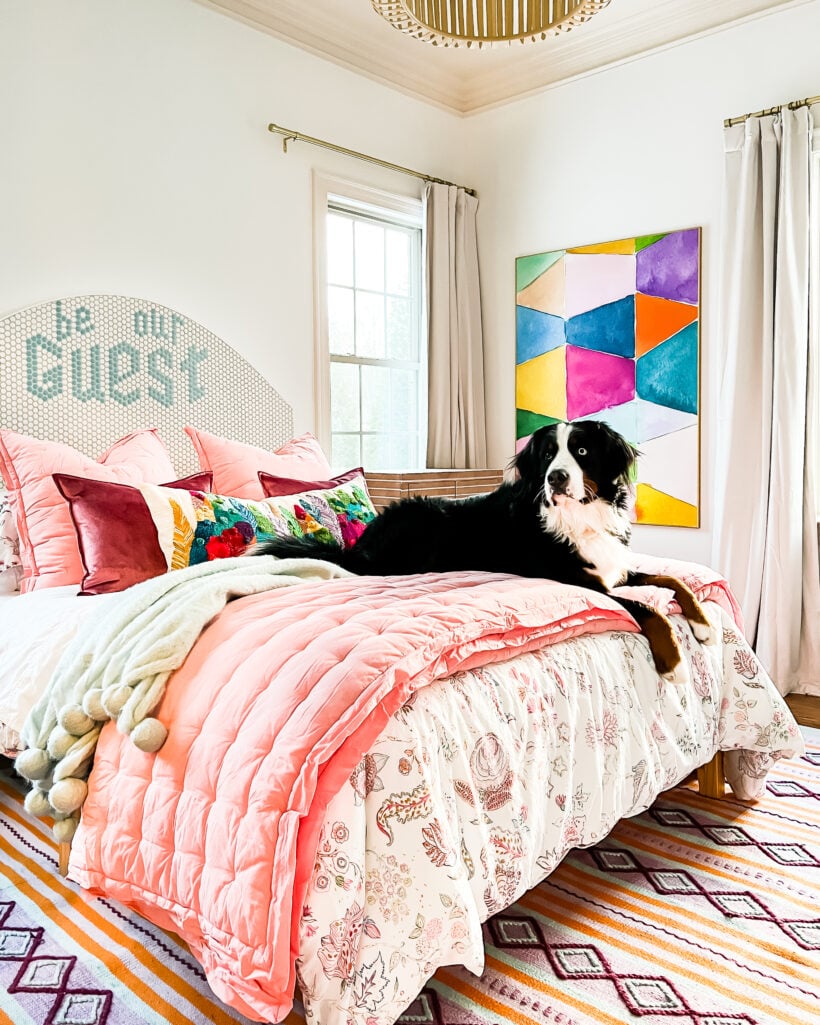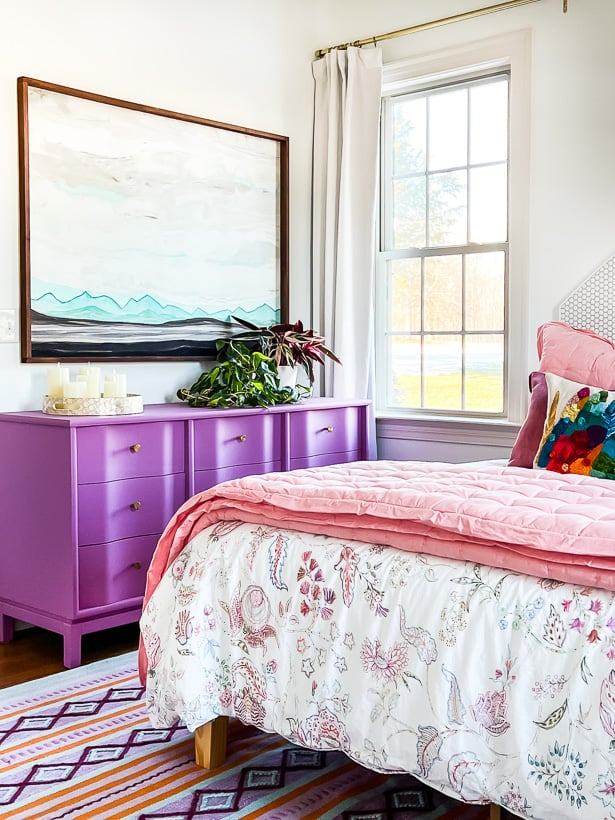 Tip 3: Lighten up your color scheme
A lot goes into choosing paint colors for your home. You will seriously be amazed at the dramatic transformation you can make by simply lightening up the color palette of a room. Dark colors can be wonderful to use, but because they absorb light (instead of reflecting it) they tend to make rooms look smaller.
Our foyer had medium beige walls when we moved in. By painting the walls white and choosing some colorful artwork, the space looks SO MUCH lighter and brighter.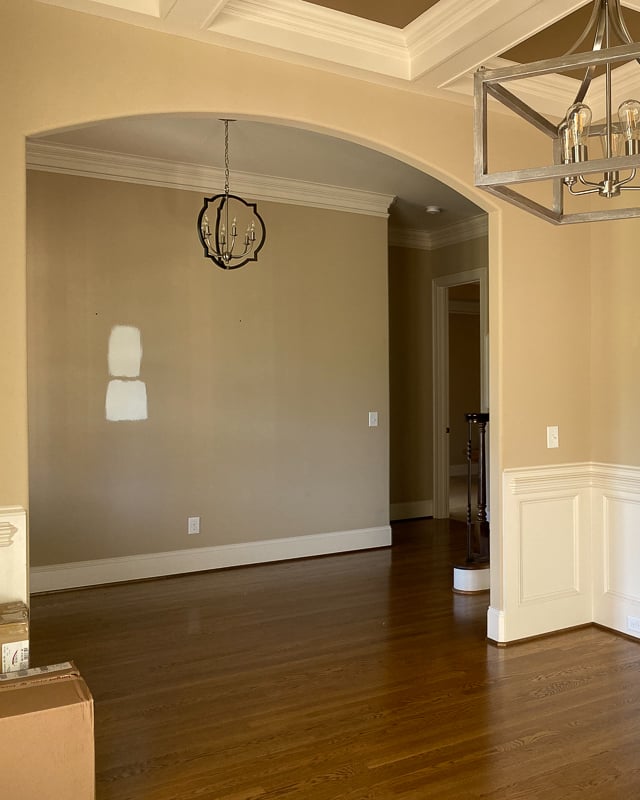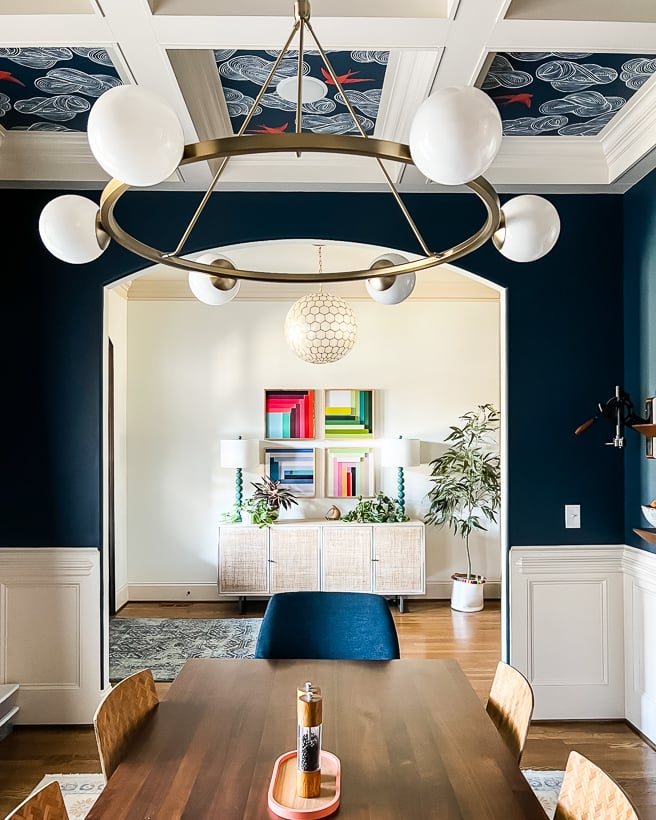 In the powder room makeover in our old house, the light color on the walls made the small powder room feel much bigger and brighter, especially since there was no window or natural light in the powder room.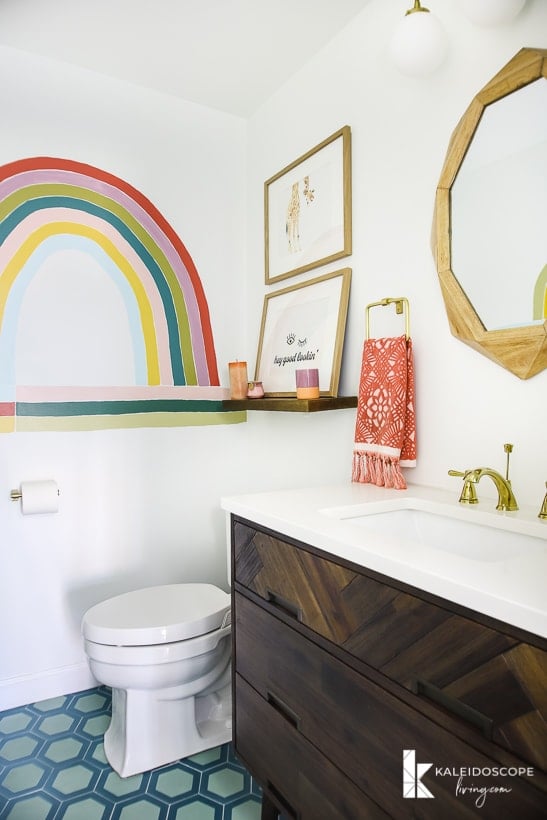 Tip 4: Add an accent wall
Adding an accent wall is a great way to make a room feel larger. One of the many things Chelsea from Making Manzanita did during her farmhouse bathroom renovation was to add a simple faux shiplap wall behind the toilet. By giving the eye somewhere interesting to focus immediately, you are distracted about the rather small size of the room. You can see that she also lightened up the color scheme and replaced the toilet with one a little taller, which helped make the room feel a bit taller (just like that hanging the curtains higher trick!).

Tip 5: Emphasize and increase natural light
We added skylights to our old primary bedroom and the natural light was amazing! But skylights aren't an option for a lot of people (and they certainly aren't the most budget-friendly option). Fear not! There are plenty of other ways to emphasize and increase the natural light your room already receives. One of the easiest changes you can make is ditching any dated blinds or window shutters and letting the natural light in! Emphasizing and increasing the amount of natural light makes a huge difference in making a small room feel bigger.
Just look at what a big difference removing those blinds made in our old laundry room (we also painted the walls white and added a lighter color floor, which made a big impact as well).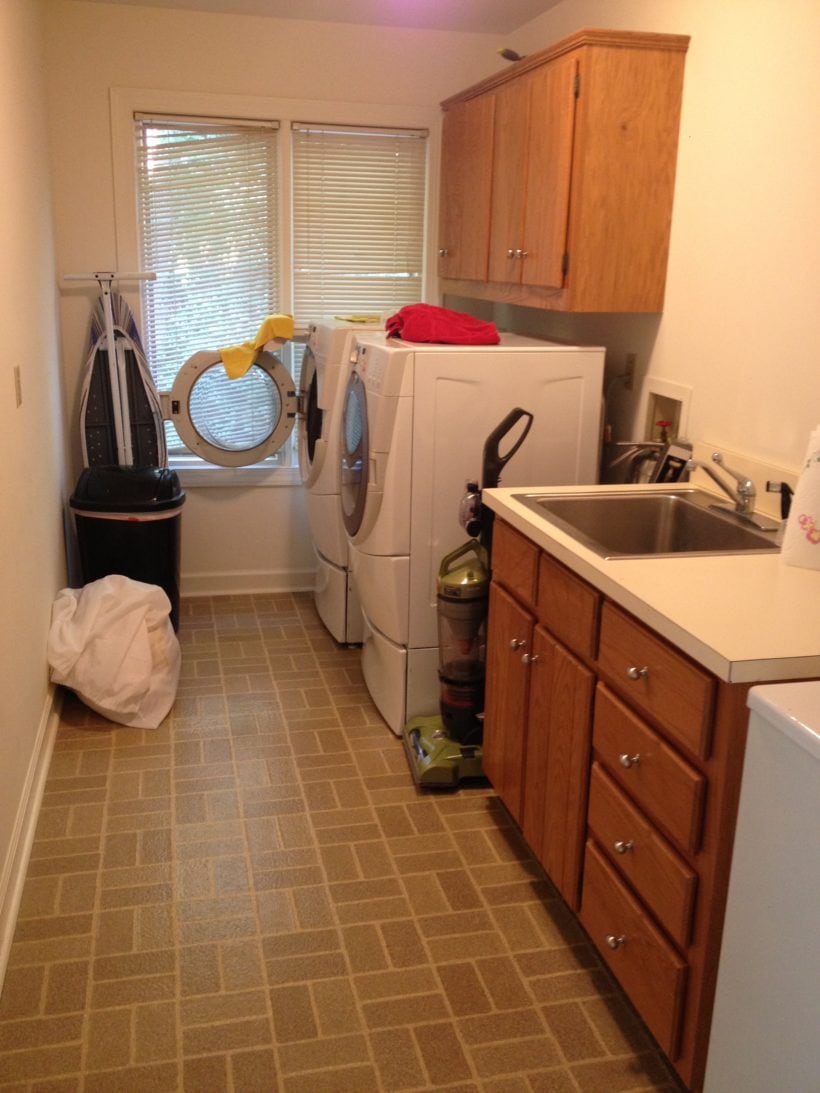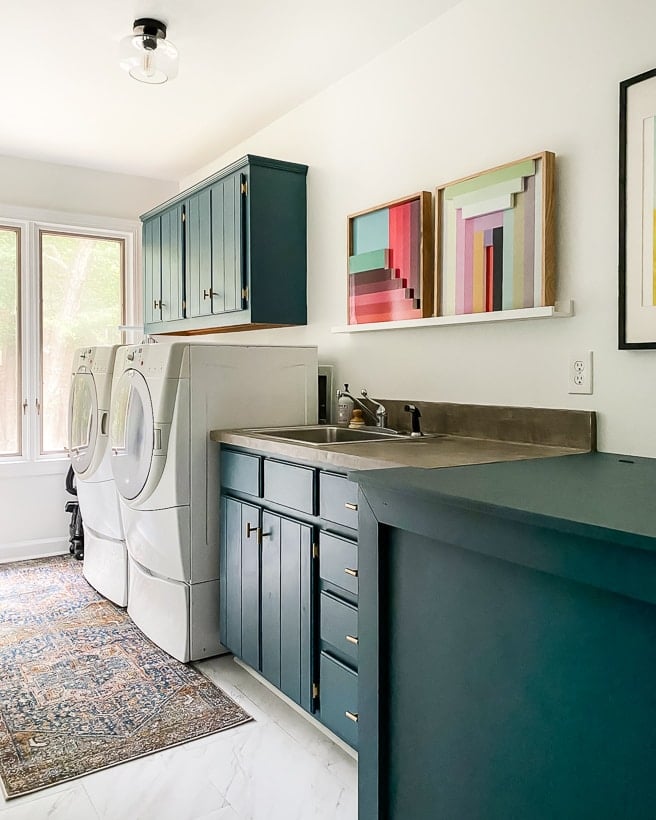 Tip 6: Incorporate large-scale art or a wall mural
Statement art is another great way to make a room feel larger. Statement art is just how it sounds…large art that really makes a statement in the room. It gives the eye somewhere to focus, and hopefully, the art is interesting and appealing. Many people assume that small rooms should be filled with small artwork, but that actually makes a space feel smaller! You can see how I use a couple of large art pieces in Avery's small bedroom to make it look larger.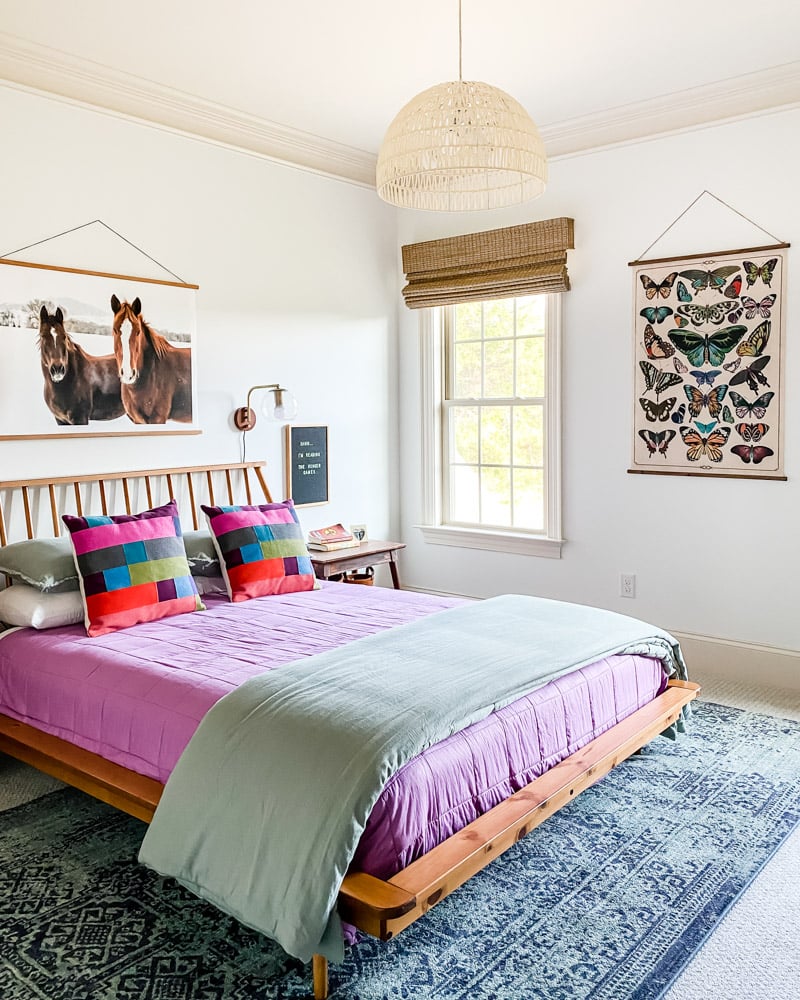 Another trick for making a small room look bigger is to add a wall mural! We added a wall mural to Attley's small bedroom in our old house and it made it look so much bigger! I think it's because it draws your attention to it and flows from the floor all the way to the ceiling.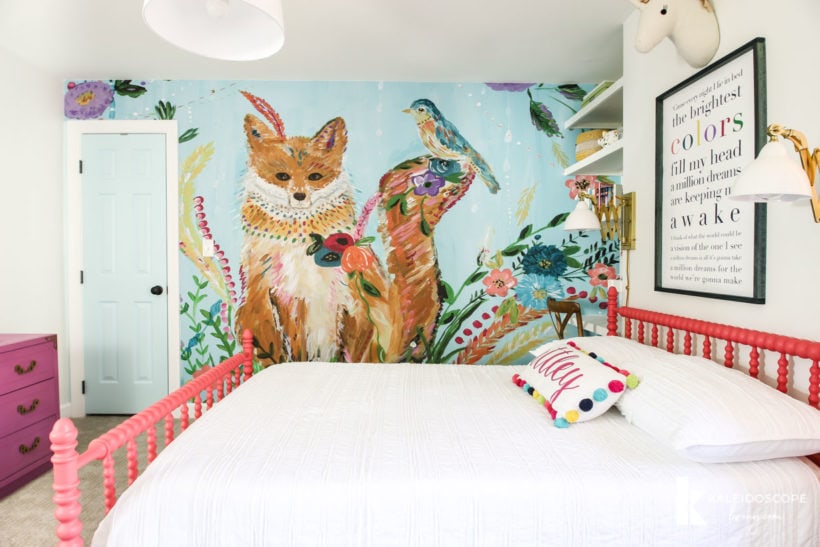 Tip 7: Incorporate a mirror
Another tried and true trick to make a room feel larger is to add a mirror in the room. Mirrors help bounce light around a room, which helps by boosting the amount of natural light in the space. Plus, there's something about the reflection in the mirror and seeing "more" room that really makes an impact and make a room feel larger. Erin from DIY Passion has done a great job at incorporating this hack in by hanging a mirror in her bedroom that reflects her beautiful accent wall.
Tip 8: Add smart storage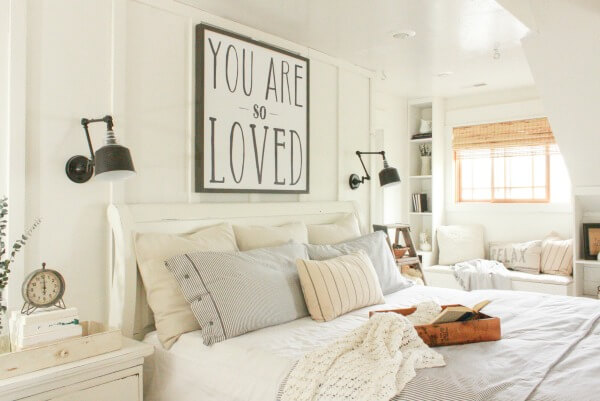 There's no surprise that if there is less clutter in a room, it will definitely feel larger. One of the best ways to make a room feel larger is to include smart options that provide lots of storage without taking up a ton of floor space. Sara from Twelve on Main has done a great job in her farmhouse master bedroom with adding in these built-ins and window seat to create functional and beautiful storage on a wall that wouldn't have been very useful otherwise.
And we added a window seat with storage in Attley's old room and which added so much storage for books and other little girl stuff. We have some other great ideas for smart storage solutions that are so important especially for smaller homes including back door storage, a full wall of craft room storage, and a bench with hidden storage for games.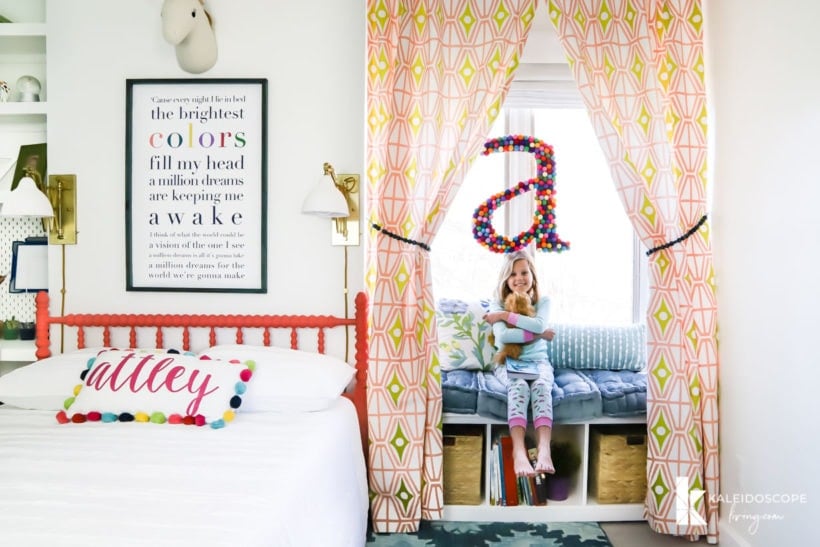 Tip 9: Use vertical space to free up floor space
When you're dealing with a small room, instead of cramming it full of pieces of furniture, think about using as much vertical as possible. You might not have much floor space, but by using the walls right up to the ceiling, you use the space you have more efficiently while drawing the eye upwards, making the room seem larger.
One of the best things you can do is build-in furniture like we did with these built-in bunk beds in Avery's old room. Though she had a small bedroom, it included TWO closets. So we took over one of the closets to create these built-in bunk beds for her. They freed up a ton of floor space AND added some storage for books and stuff animals, which was a total bonus.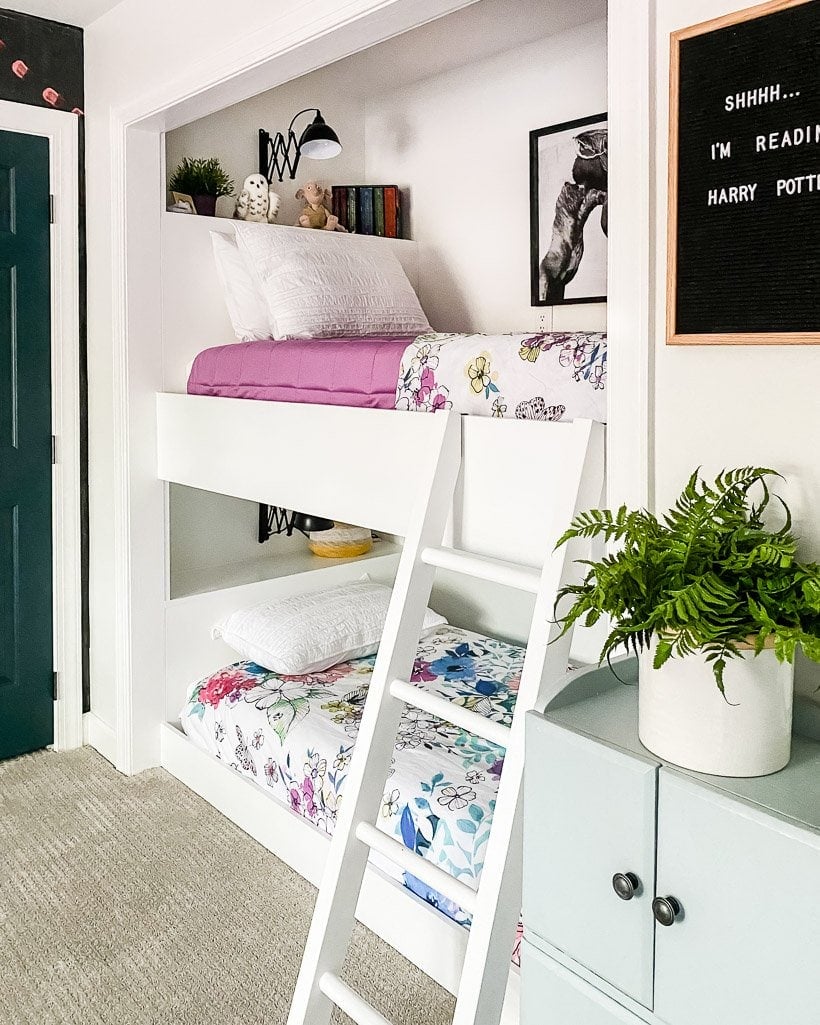 And it Attley's old room, we transformed a weird and useless niche created by the fireplace chimney into a functional space by building in a desk and floating shelves.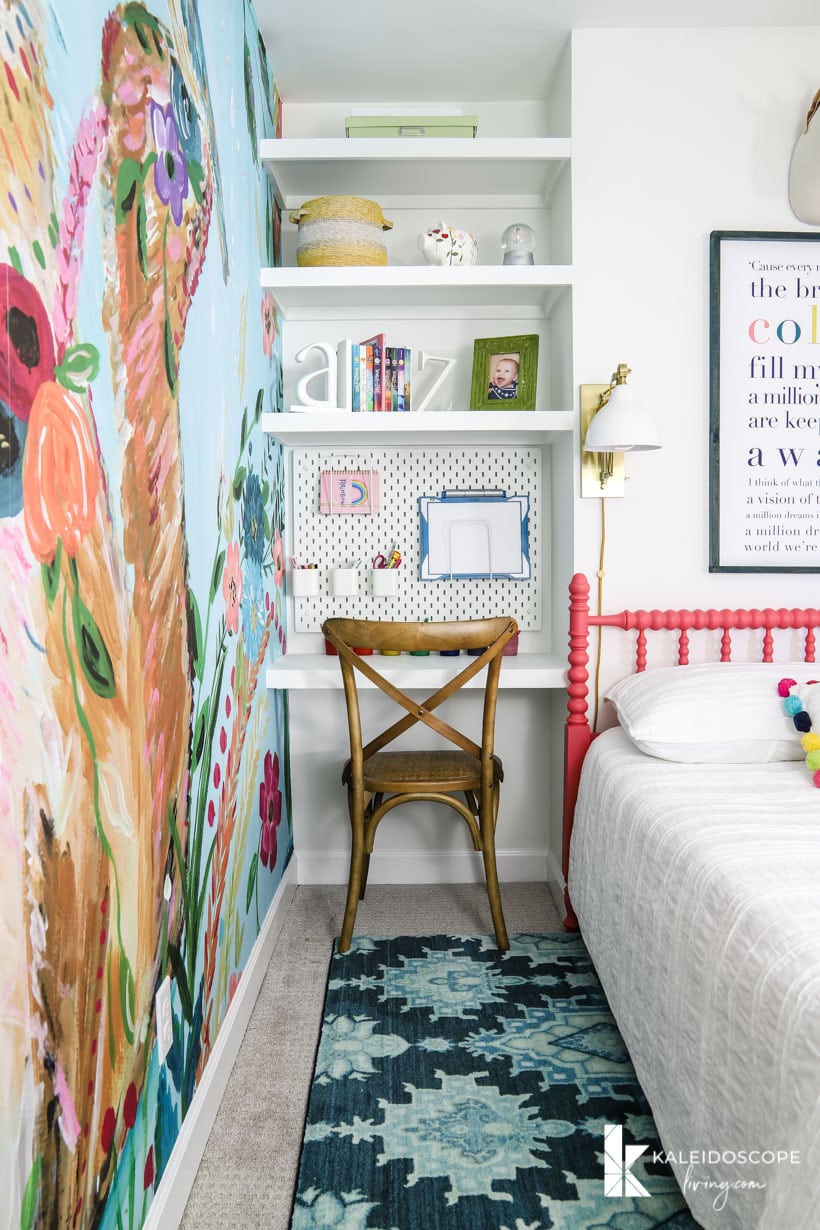 If you're dealing with a small home, I'm sure you are constantly thinking about how to make a small room look bigger. Even if you don't have a small home, you can still benefit by trying some of these 7 ways to make a room feel bigger. They will work instant magic and you will be shocked at how much bigger your space feels! Want more great interior design tips from Kaleidoscope Living?
You will also enjoy these posts:
Designing small spaces doesn't have to be hard or frustrating. I teach all about choosing items that are the correct scale, space planning (both of which are CRUCIAL for small spaces), mixing patterns, choosing colors and more in Designer in a Binder®!
Wondering how I approach transforming rooms and spaces in our home? Check out Designer in a Binder®.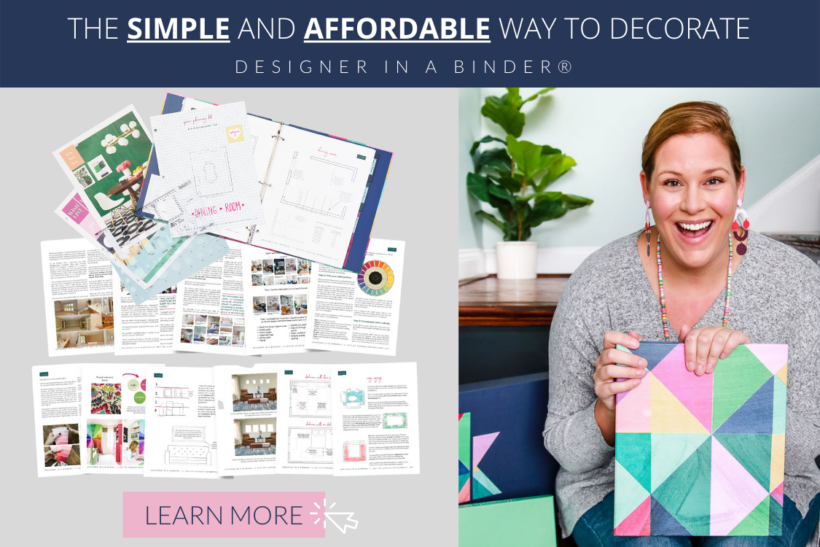 And if you want exclusive content and behind-the-scenes sneak peeks, be sure to subscribe before you head out!