How to Choose Art that Flows: Tour Our Colorful Artwork
Last Updated on April 10, 2022
Follow these three simple tips to fill your home with art that flows and take a tour of the colorful artwork in our home to see the principles in action.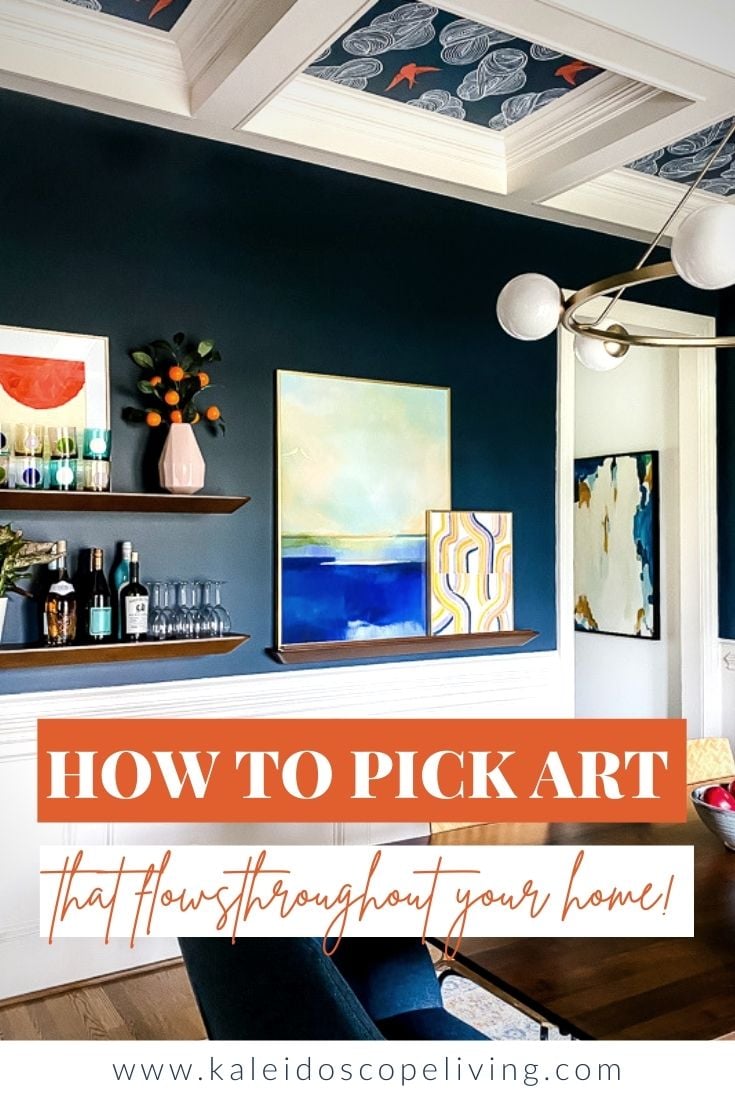 One of the details people find really difficult when pulling a room together is choosing the right art and wall decor. It can feel even more overwhelming to make all the art in your home feel like it flows and works together. But I have a few secrets to share to make it easier for you! And then I walk you through the colorful artwork in our home so you can see how I put these rules into practice.
Tip #1
Create a color story for your home. What does that mean? Choose a color palette that can flow through your whole house. I have all the details on how to do that in my post How to Pick Paint Colors for Your Home: 3 Simple Tips to Follow. Once you have established your palette, that will translate into your art. In my own house, I have mostly white walls, but my accent colors remain consistent. Navy is my go-to dark neutral, so that plays a big part in a lot of my art!
Tip #2
Think about the intensity of your colorful artwork. All of it should feel similar. You can see what I mean in the photo of our bedroom gallery wall below. It would feel unbalanced to hang mostly pastel artwork in your house and then in one room hang bright bold abstracts. You will see when you look at the pictures below, that I tend toward bright vibrant hues in most of our art. Saturated colors that read bright and bold. All of my art really pops off the white walls. This doesn't mean I don't ever choose neutrals, but when I do they still feel bold with pattern and or texture!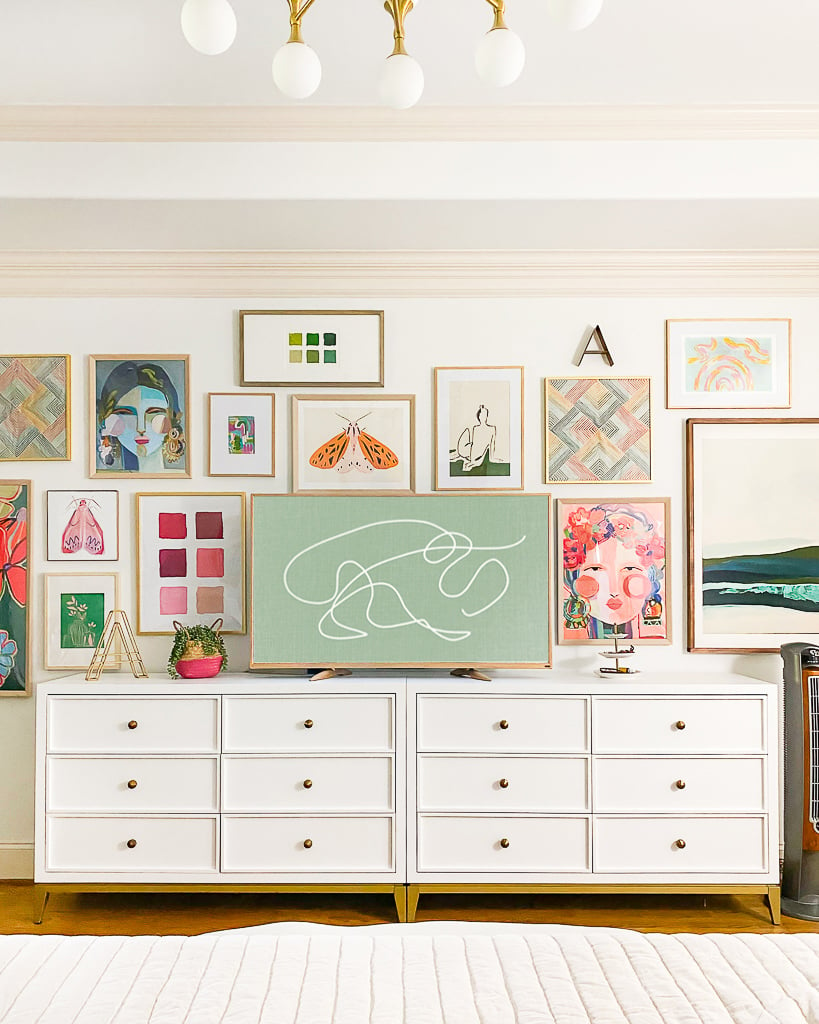 Tip #3
My third and final tip is to choose art that plays nicely and talks to each other. What the heck does that mean? Well, if all of your art is fighting for the spotlight, then none of it can shine. I like to group pieces that have different energy so that they look beautiful together without competing. In our dining room, I layer a calmer abstract landscape with a vibrant graphic abstract. They work beautifully together (same color story and intensity) but they don't compete for your eye. Similar to mixing patterns, you have to mix the scale and look of your art.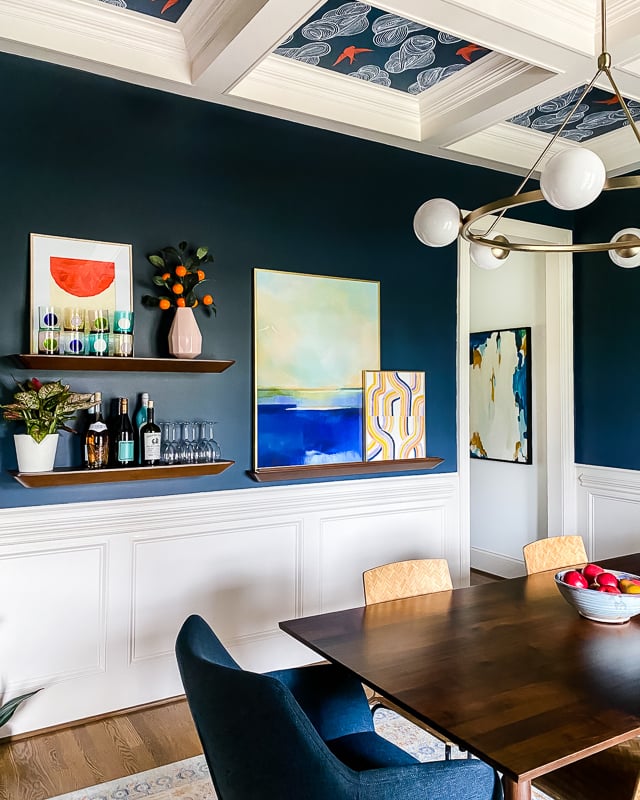 Take the tour below of our colorful wall art and pay attention to how I use these three tips to create a cohesive look and feel flow throughout our house. Each room has its own identity, but the intensity and palette flows easily from room to room.
This post contains some affiliate links for your convenience. Click here to read my full disclosure policy.
Tour Our Colorful Wall Art
Let's start with the amazing three-dimensional art in our foyer. I get asked about these all the time! I LOVE them! They are the first art you see when you come in and they set the tone for the colorful wall art in the rest of the house.
We have huge prints in our family room that we display on the DIY art ledge that we made (and that I'm still obsessed with). These are Seascape I from Juniper Print Shop and Sunriver and Continental by Minted. I love the gigantic sizes of these! Notice how despite all being huge, they don't compete! If you want to learn about choosing large art, read this post!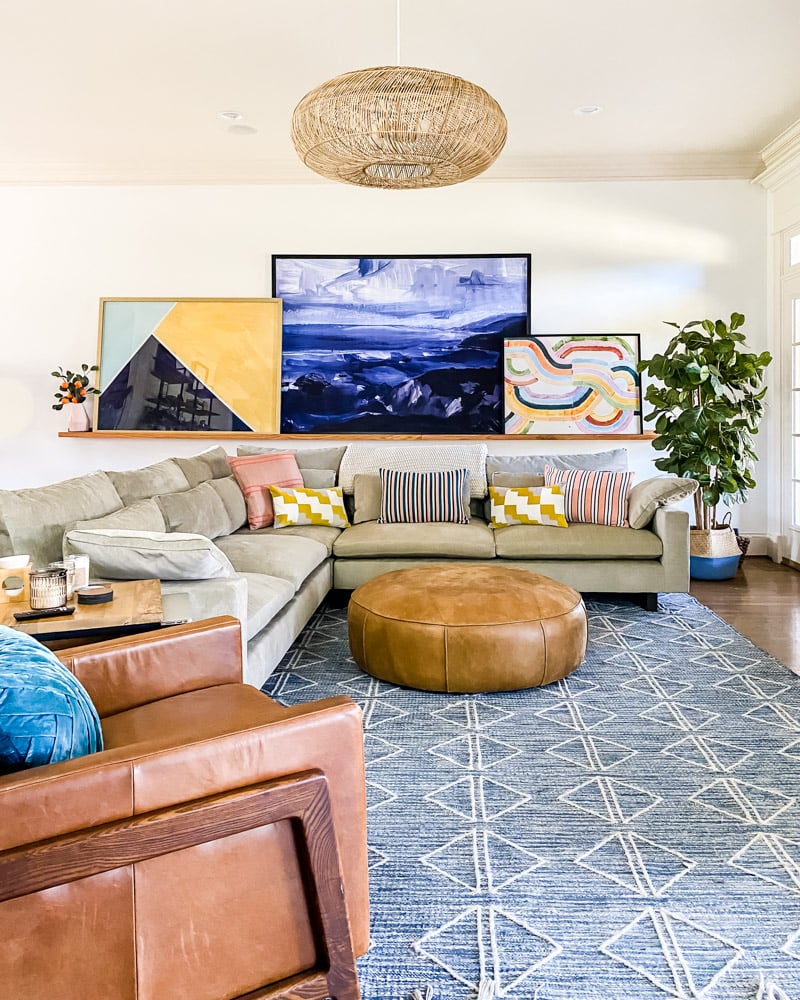 Like a lot of the art prints you see in our home, a lot of the art in our primary bedroom is from Minted and some of it is framed in our DIY art frames. We recently finished giving our primary bedroom a makeover and I am SO happy with how it all came together. You may recognize some of the art in our bedroom from the stairwell gallery in our old house. And the print above our bed + several prints in our galley wall are from my very own collection of colorful art prints! The gallery wall is one of my favorite "moments" in our entire house (you can see all my favorite gallery wall ideas and tips here).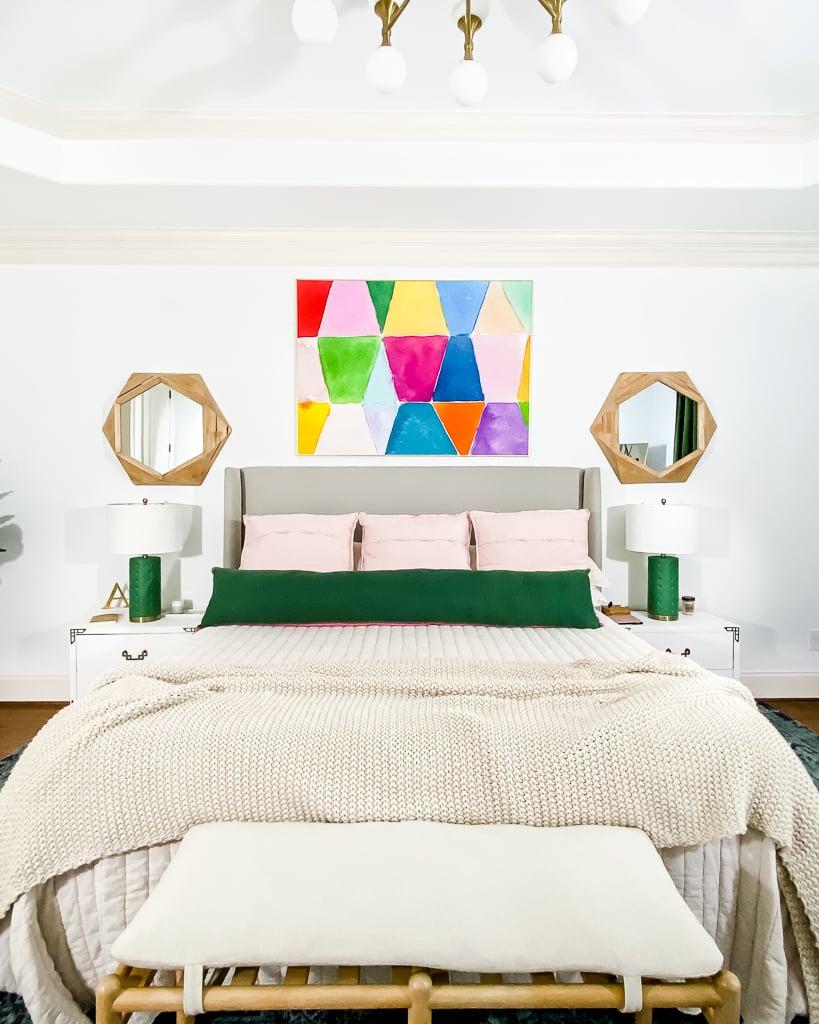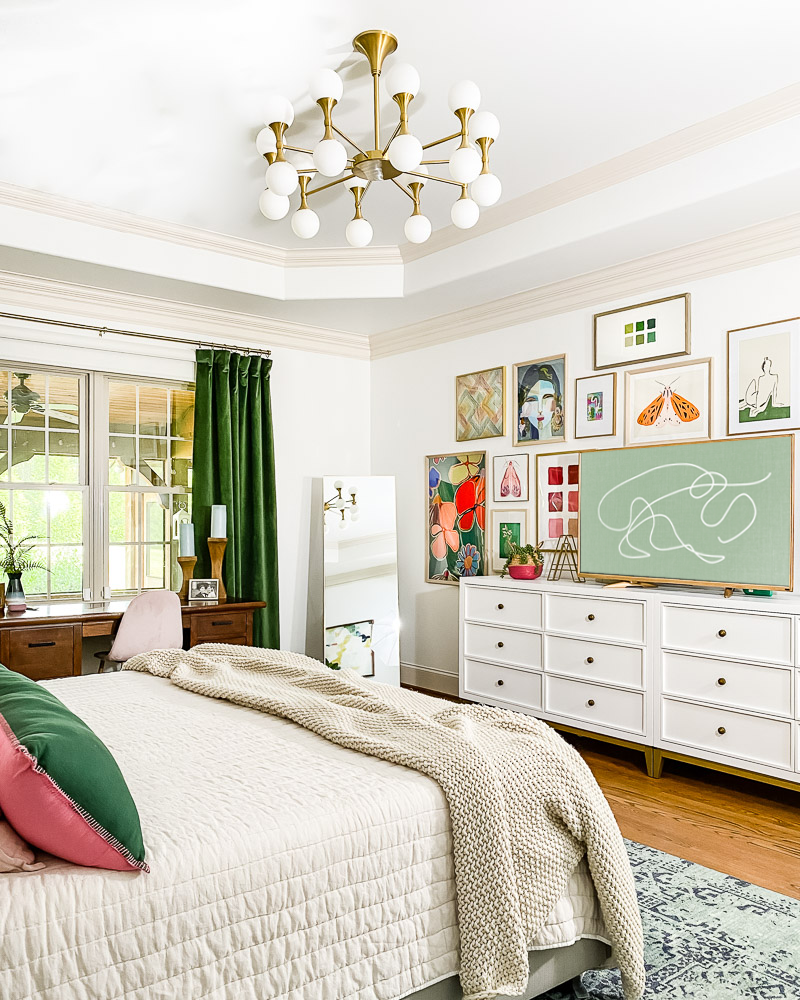 When we gave the dining room a makeover, I used some purchased art and created an original piece of my own. I painted the orange half circle to go behind the glasses. The ledge on the right holds Blue Waterfall (in the back) and Dawnlight (in the front). Notice how the layered pieces compliment each other perfectly! That big piece you can see through the doorway is also from Minted :). Seeing that colorful artwork from the dining room is the perfect example of seeing how the art flows perfectly from room to room.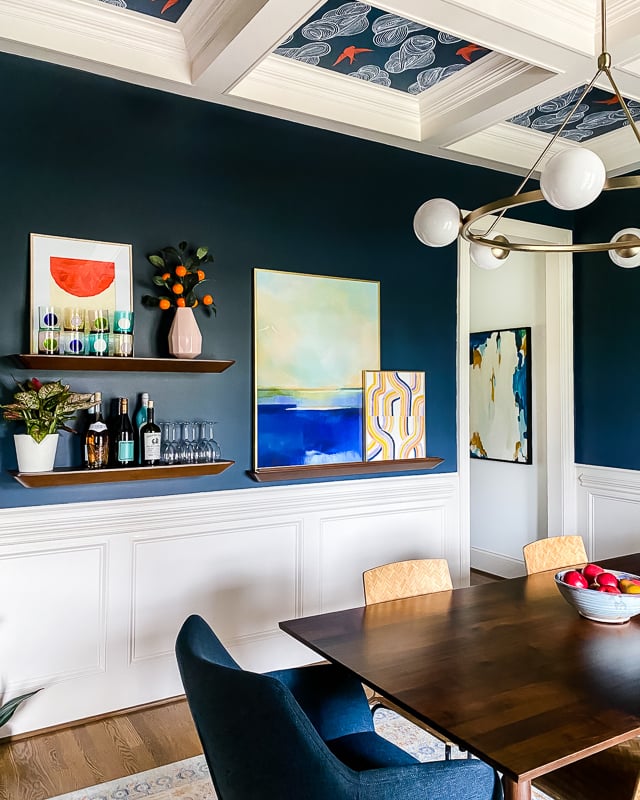 Our mudroom may be small, but it is packed with color! The wall above our bag and coat hooks has a combo art ledge, gallery wall. Some of the art is my girls' artwork that I framed, and some are prints I found in these cool books of art: Art for the Contemporary Home and Art for the Eclectic Home.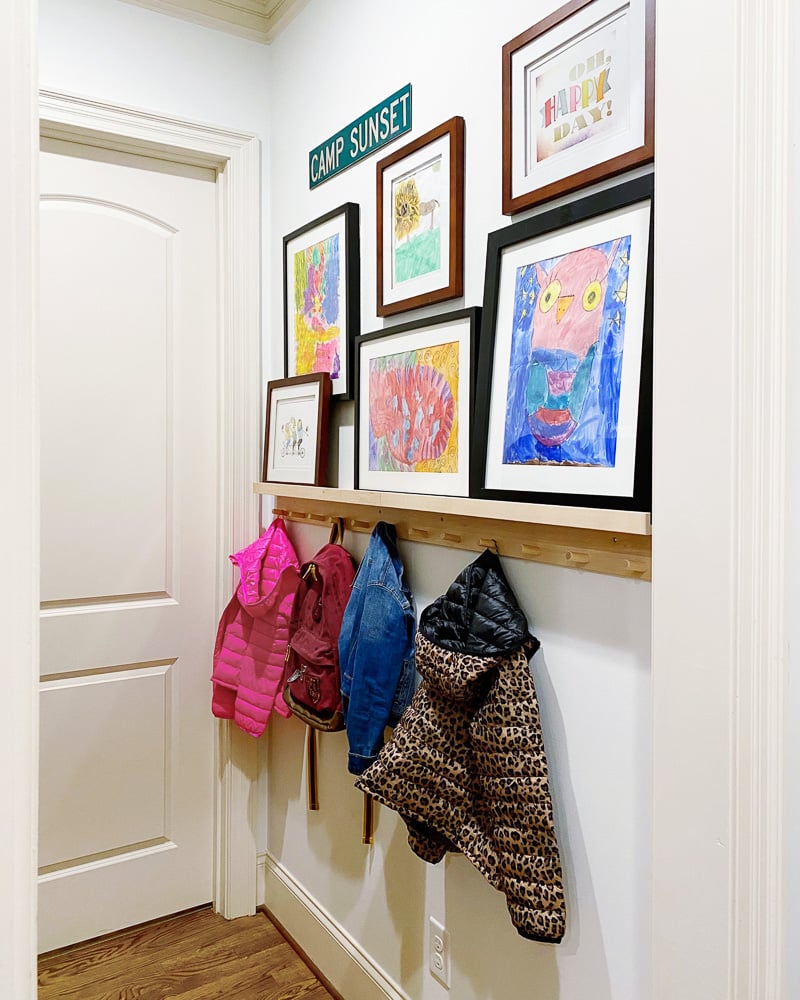 Recently I created my own collection of colorful art prints. I am obsessed with how they turned out! I have them in my coffee nook (donuts and coffee for life) and in our laundry room. I love this size–a perfect example of why going bigger is better!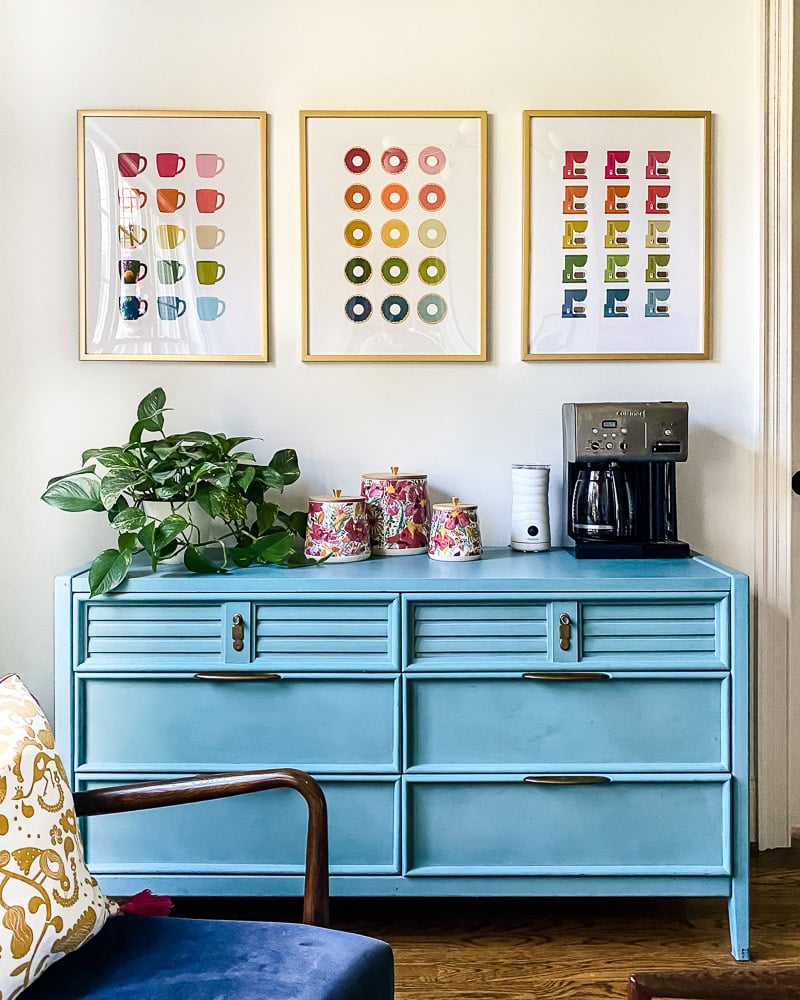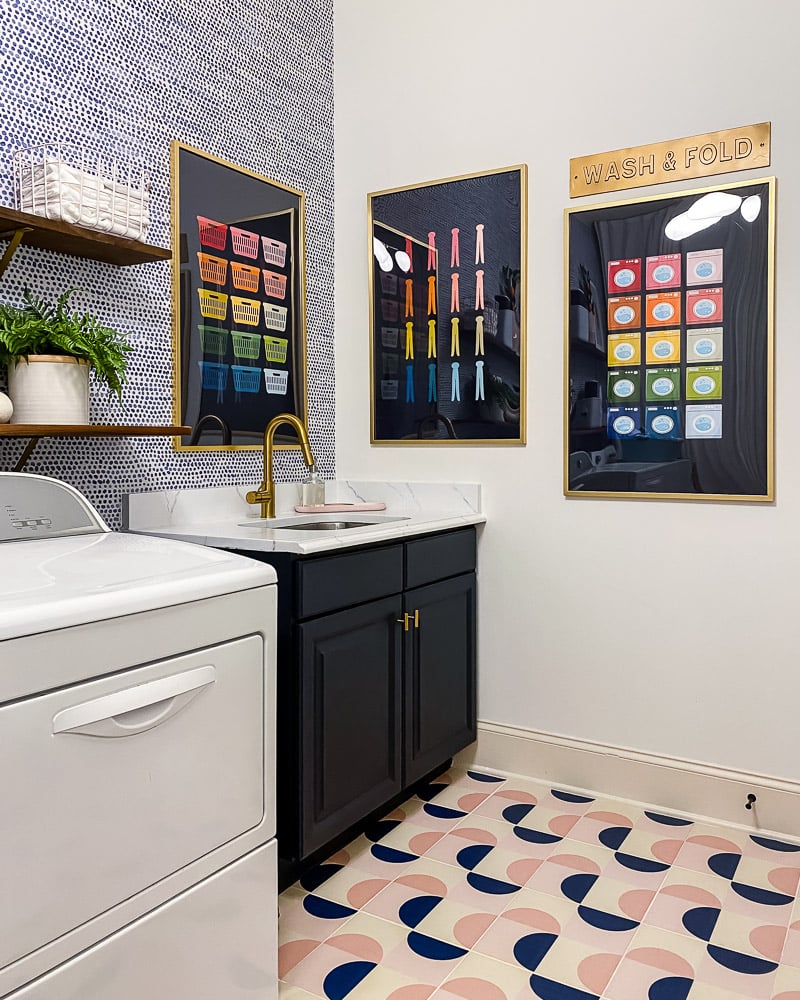 Speaking of the laundry room, I also have these fun prints from Society 6 on the shelves. Using horizontal surfaces to display smaller art is one of my favorite style tricks (you can read all of my tips for incorporating smaller art in your home in this post). These are called Laundry Day and Dreaming of a Vacation .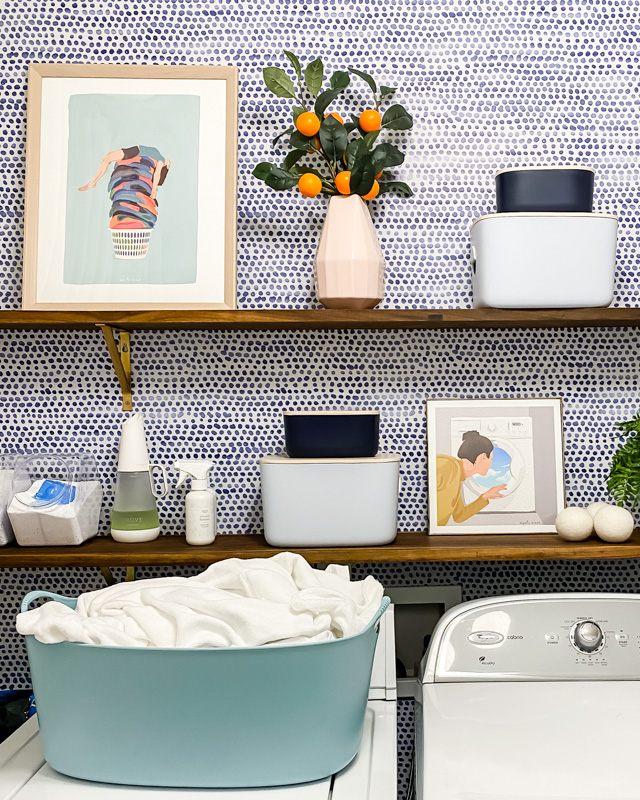 I also get asked about the kaleidoscope print in the gallery in my office quite a bit. I love it so much! This whole gallery makes me so happy. The "Color," "Like" and "Love" prints came in this inexpensive 3 pack! The colorful prints of office supplies and the small green watercolor abstract are more of the art I designed that you can find in my shop! You can see how these all look amazing hanging together and feel cohesive in the look and feel.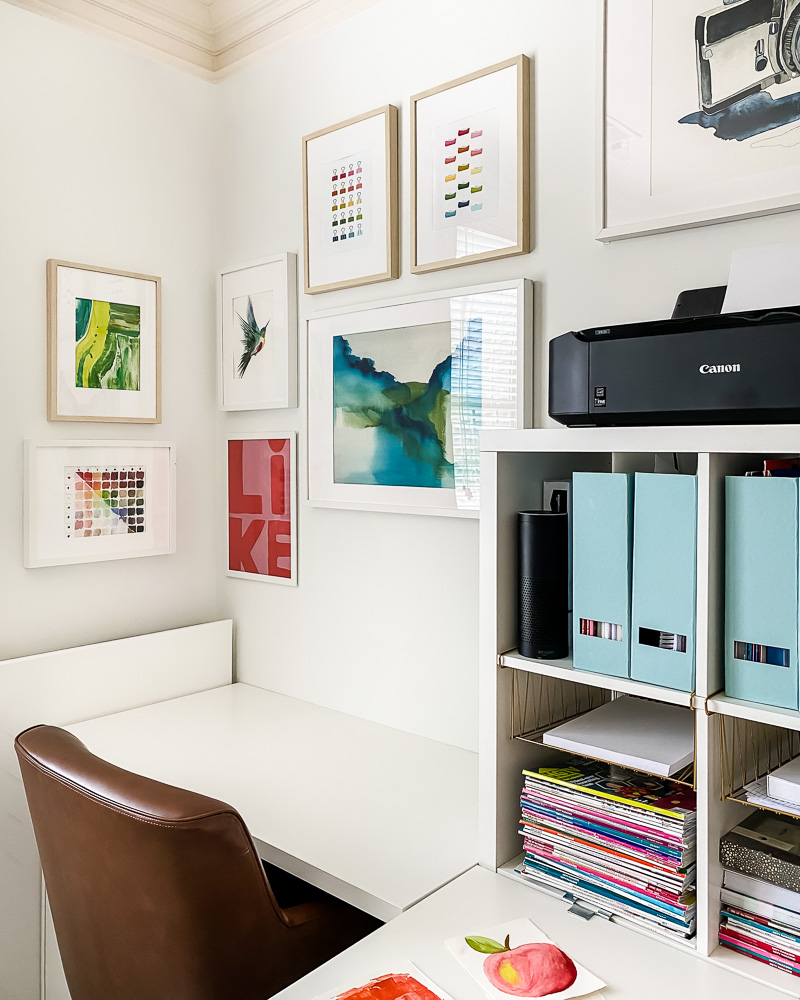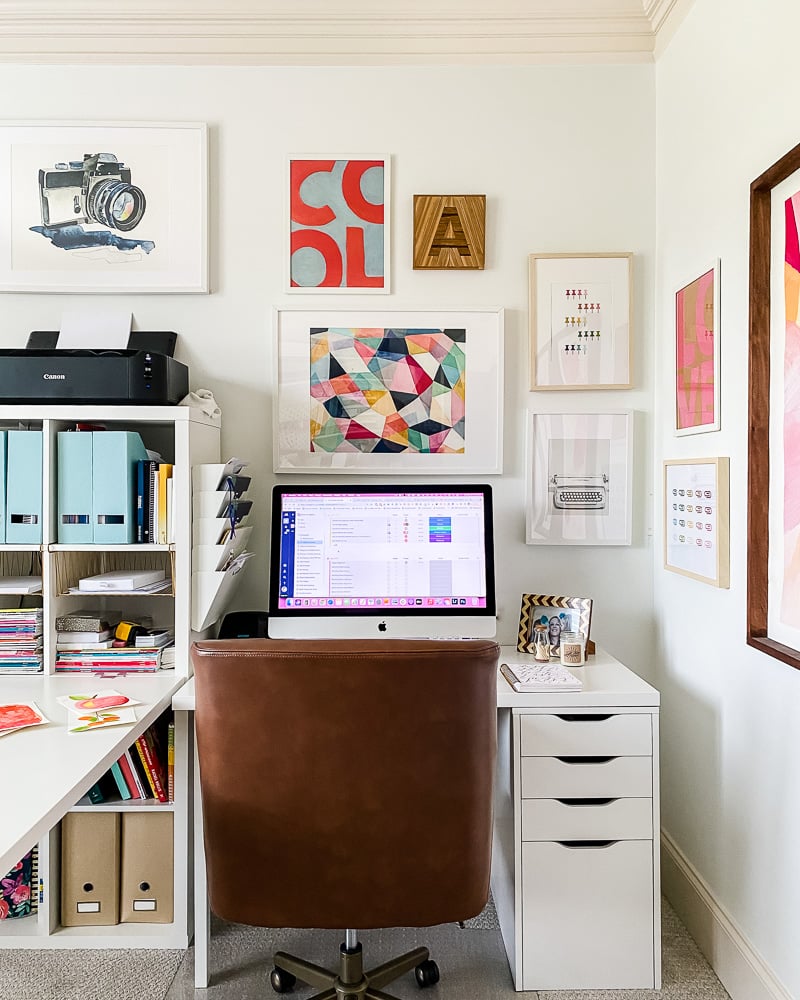 These two large abstracts are now in my office–you can find them HERE and HERE. They make a big impact, which is perfect for this wall, and the colors make me seriously happy. These stand out and the perfect complement to the smaller pieces in the office gallery wall.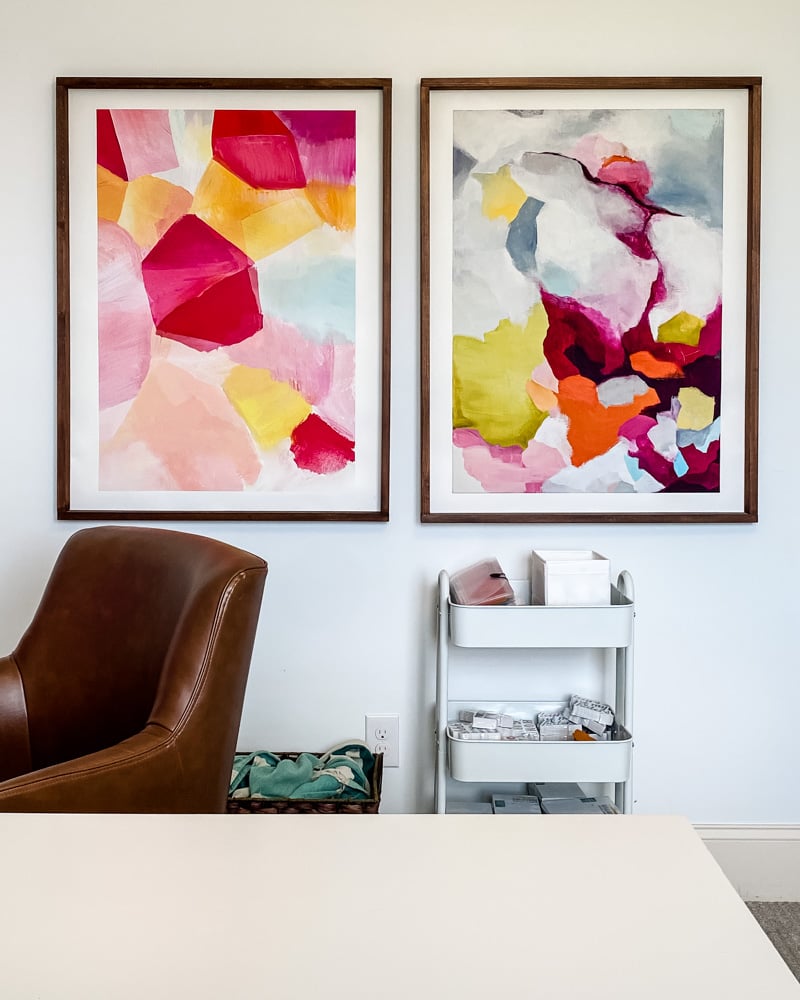 I have had so much fun moving our art around as I design and make plans in our new house. Remember the cool graphic art inspired by Banyan Bridges that I painted for our foyer in the old house? I now have it in the bonus room. The other wall has the art painted by me and our kiddos and then enlarged with @doodlespot_theapp. (You can buy the honeycomb and stripes now in my shop!) The color palette is similar but the scale between the two sets is different, much like mixing a big pattern with a small one.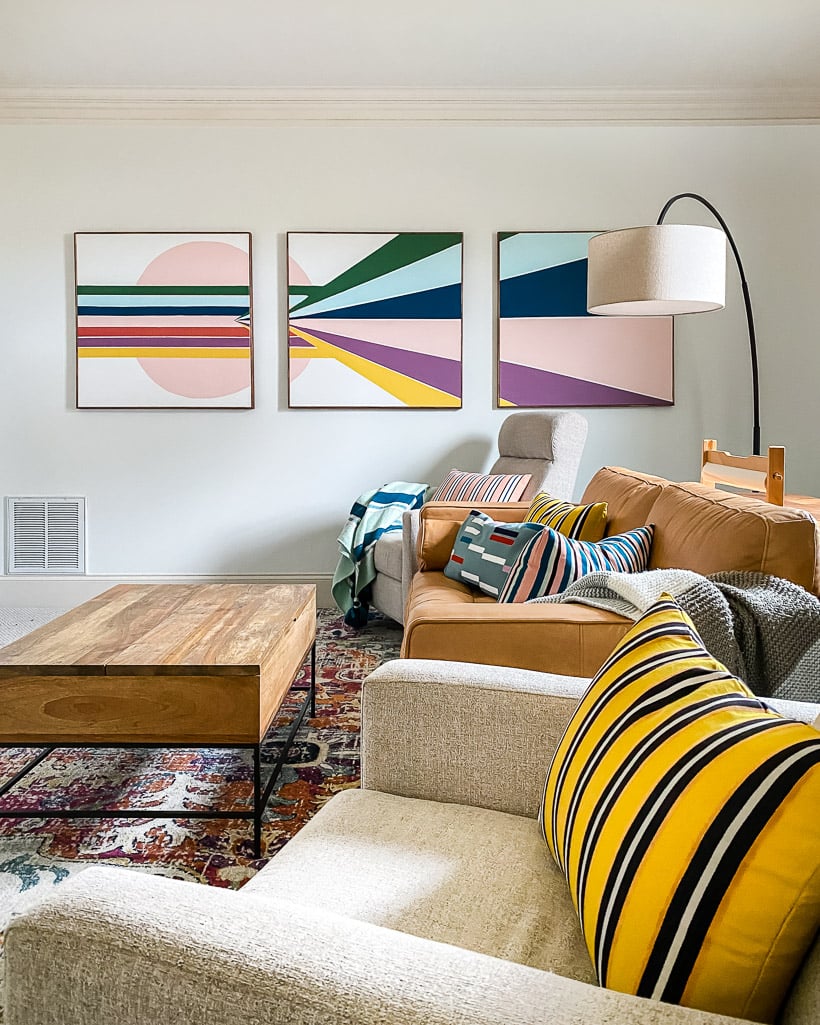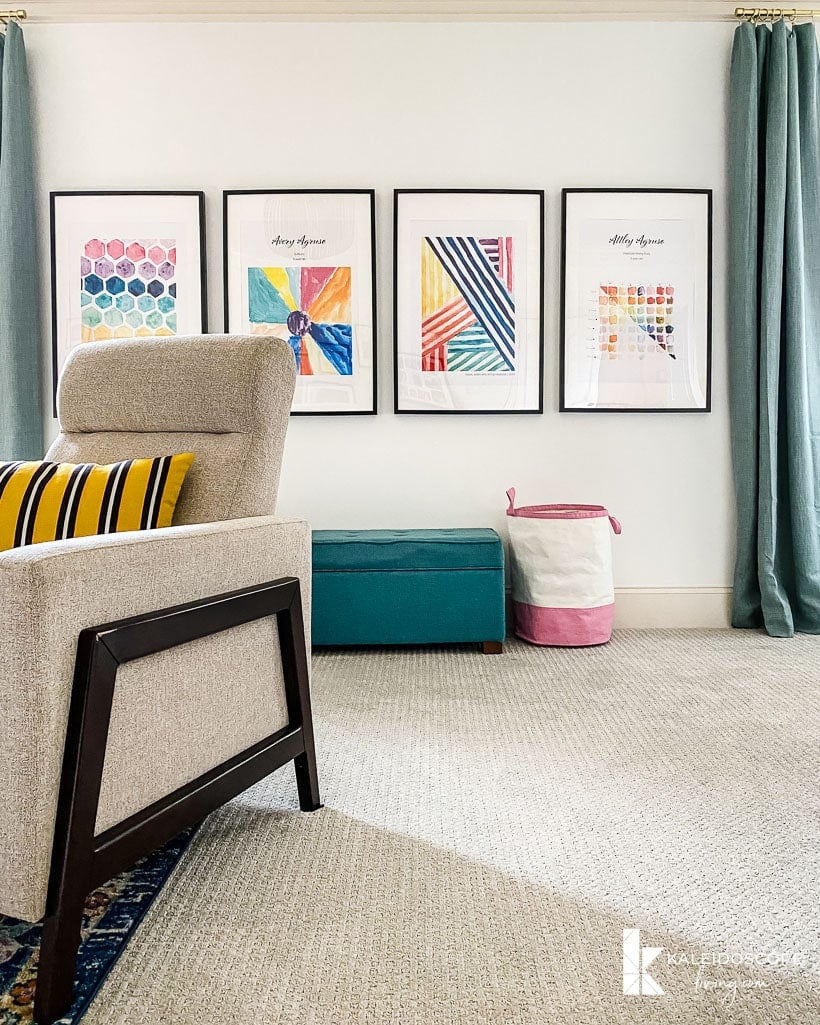 In Attley's room I created a gallery wall filled with colorful artwork I knew would speak to her rainbow-loving heart while sticking with the color story in the rest of the house. The Pink Owl and the colorful print Spiral are both from Artfully Walls, a new source that I am really loving. The cat came from Etsy. The lady is an original by Tricia Gillespie! The three abstract bold watercolors were some I painted, and my sweet and talented Attley painted the flowers herself!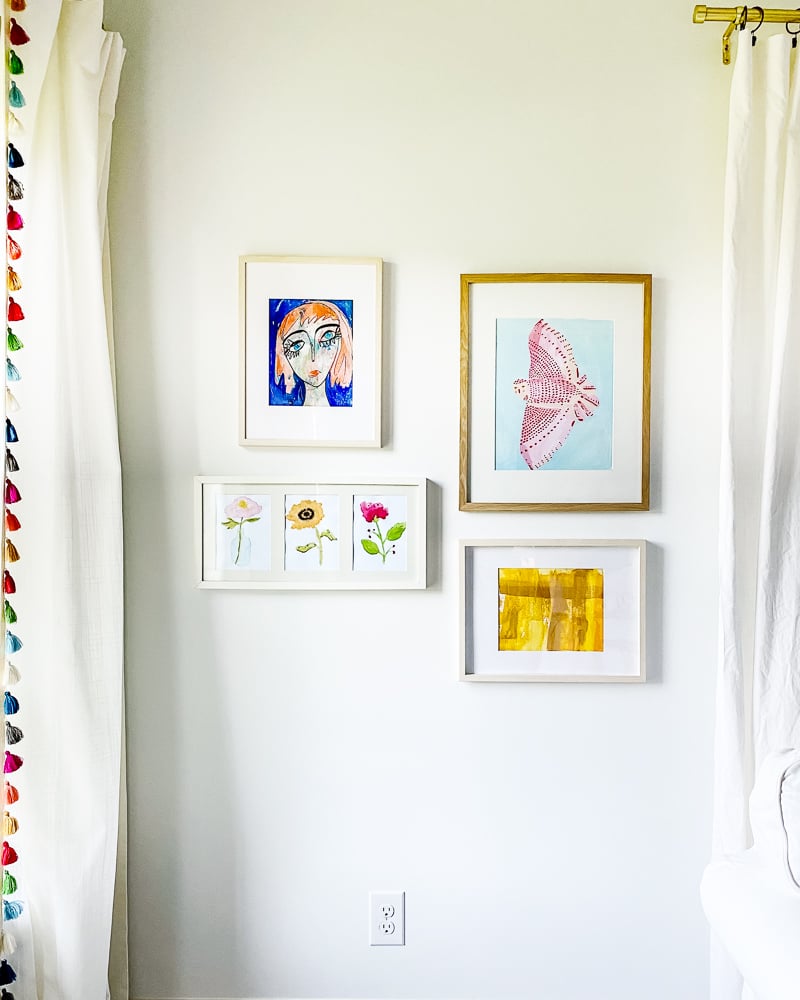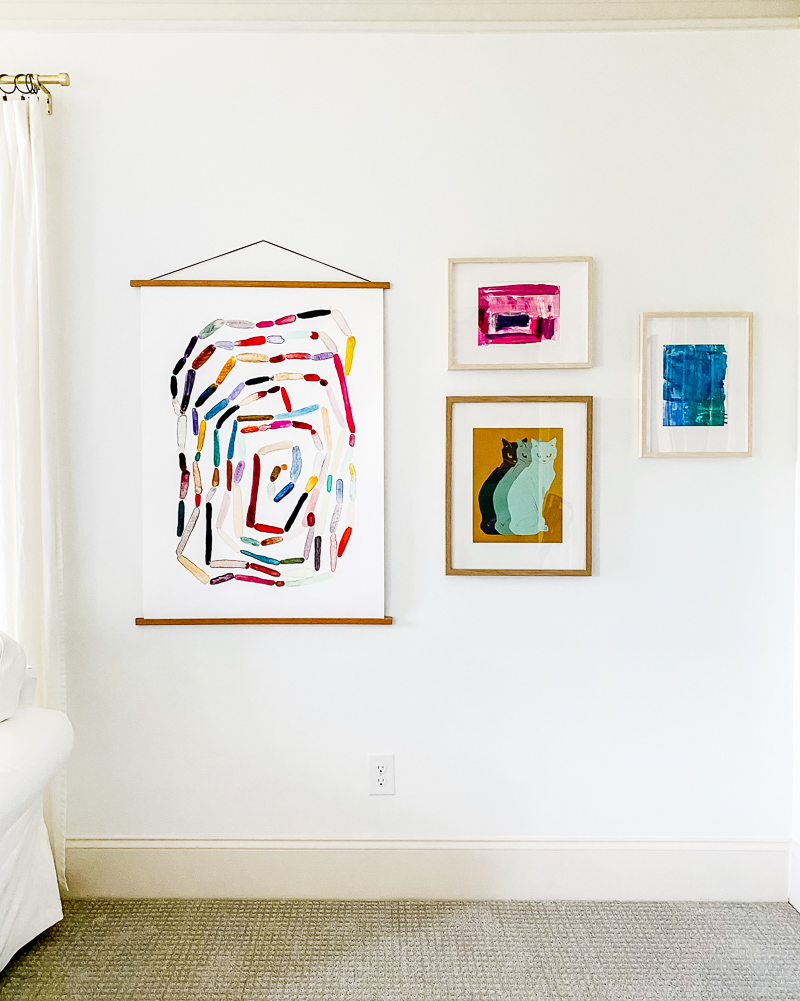 Remember these three prints from my office? Attley loved them so much I put them in her room also! There is no reason you cannot use the same piece in two places if that is what you want to do! That makes keeping the color palette and vibrancy consistent even easier :).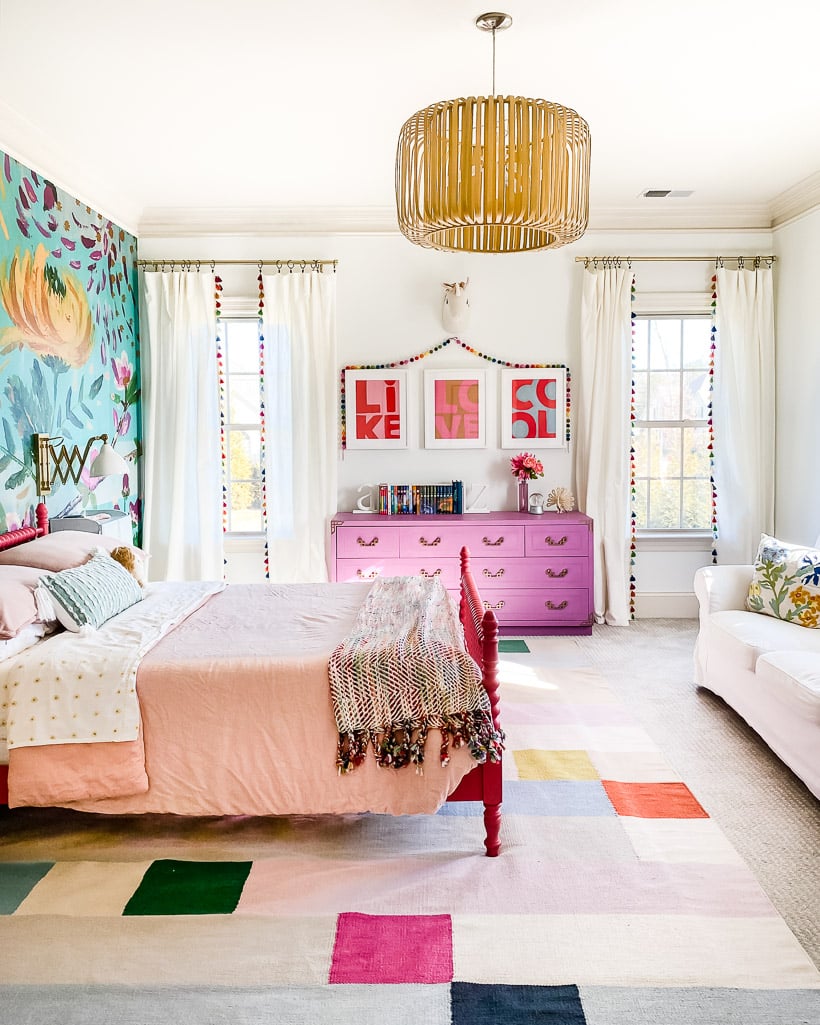 Last but not least is Avery's room. It is still a work in progress, but she already has some really beautiful colorful artwork up. She enjoys a moodier color palette and she loves animals. Together we chose the horses and the butterfly wall hanging. They work beautifully in the overall flow while still being perfect for her aesthetic.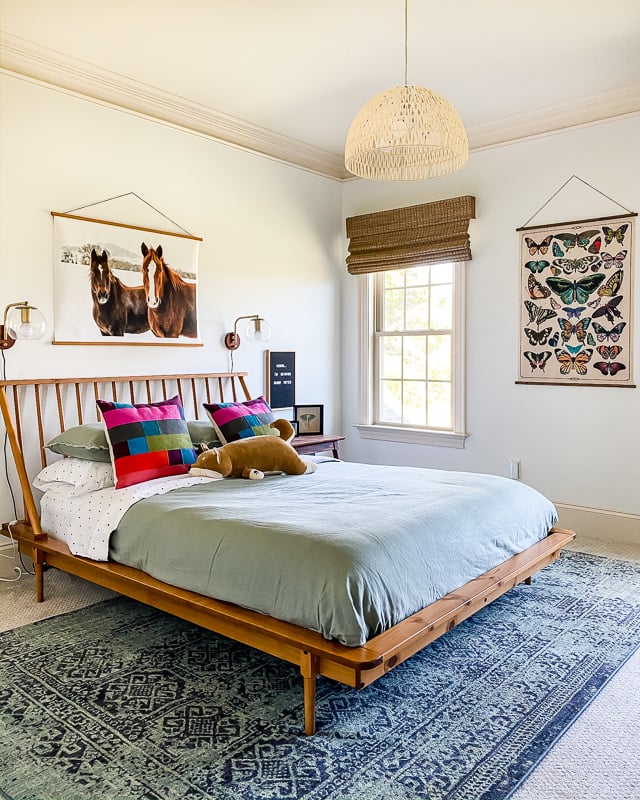 I receive questions on Instagram all the time asking me where I get the colorful wall art you see in our house. And it has increased lately! I think spending so much time in our homes in the past 18 months has people more excited than ever to make them beautiful. Whatever the reason, I fully support getting art up on those walls! I hope that seeing how I create a cohesive flow of colorful artwork through my home has you feeling inspired to fill your home with beautiful pieces that you love.
You can shop all of the artwork in my house below! Just click on any picture for the details.

Want more tips on choosing art and how to decorate with it? Check out these posts: Why You Need Big Wall Art (and where to find it! and Why You Also Need Small Art (and how to decorate with it).
Want to learn even more about how to create a home you love? I created the Designer in a Binder® after years and years of perfecting my system. In it I walk you through all the important stuff like choosing items that are the correct scale, space planning, mixing patterns, choosing colors and more! I give easy-to-understand guidance on all of this in Designer in a Binder®! You can order your binder now. We have over 9,000 happy customers so far! Click HERE to learn more.
You may also enjoy these posts:
Wondering how I approach transforming rooms and spaces in our home? Check out Designer in a Binder®.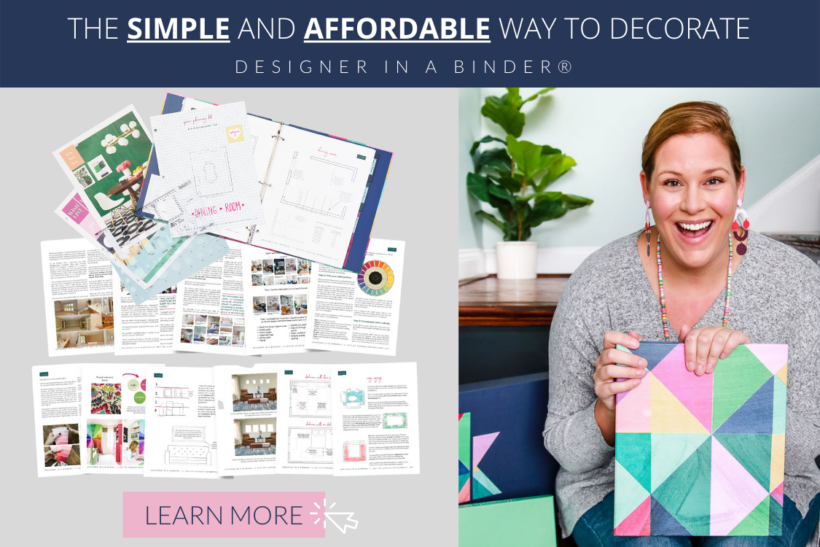 And if you want exclusive content and behind-the-scenes sneak peeks, be sure to subscribe before you head out!


[mv_create key="2″ type="list" title="Design Posts" thumbnail="https://designertrapped.com/wp-content/uploads/2018/05/how-to-pick-paint-colors-1.jpg" layout="circles"]