Why You Need Big Wall Art (and where to find it!)
Last Updated on March 2, 2022
One of the biggest decor mistakes is choosing wall decor that is too small. Learn the secrets to picking big wall art and why the correct size will make a huge difference in the look of your room!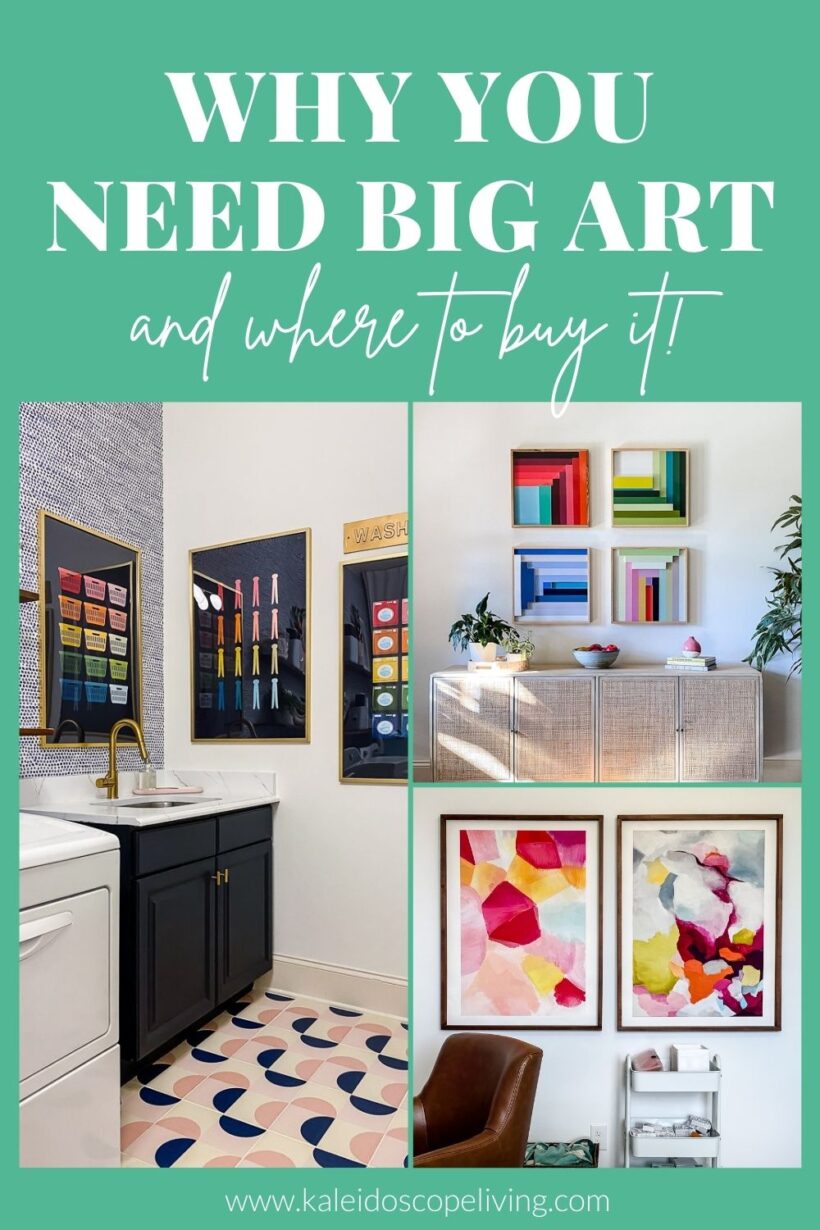 Y'all know one of my favorite parts of decor is art! Our home is filled with bright art that makes me SO happy every time I look at it. One of the things y'all also love about my house is my art! I have a strict rule about buying art. A design secret that will take your walls to the next level…buy big wall art. I think one of the most common decor mistakes people make is buying wall decor that is way too small. Stop being afraid of big art! These three tips will help guide you in the process of choosing your art. And FYI, you can find links to all the art in my home at the end of this post :)
This post contains affiliate links for your convenience. Click here for my full disclosure policy.
Pro Tips for Choosing Art
To make a BIG impact in your room you need BIG art.
One of the most difficult issues people experience when choosing art is not being able to judge the size correctly. A 24 x 36 inch print sounds HUGE, but on a wall, it doesn't look that big. Trust me! I've learned this over many, many years!
So my biggest art tip is GO BIG, even in a small room. My office is not a huge space, but my art is still substantial! The colorful pieces from Minted are 30 x 40 inches! They fill out the space without taking it over, which is the goal.
Have a huge room? Then it's even MORE NECESSARY to choose large art. The photo ledge in our family room is really big. In order to make a big impact and not get lost in the room, I went BIG with the art I layered there! The large print is 55 x 70 inches and the color-blocked one is 40 x 55 inches, and the watercolor on the right is 30 x 40 inches. But in our family room, they don't look that big, right?! Can you imagine if those pieces were smaller? The scale would be alllllll wrong for the room.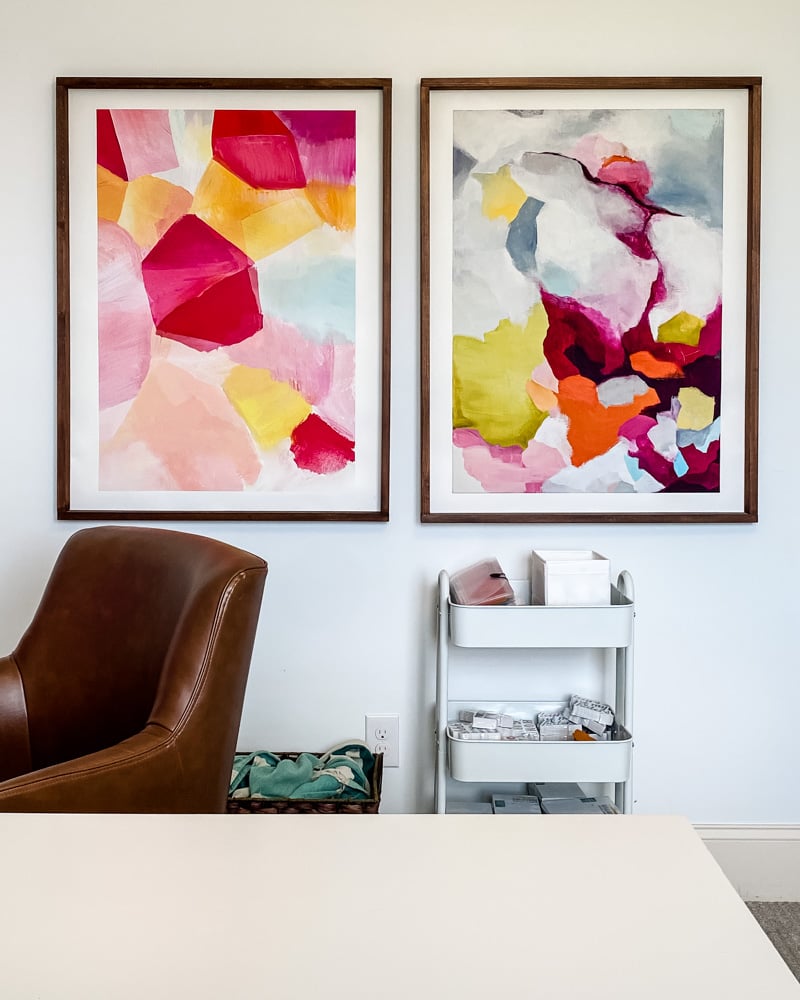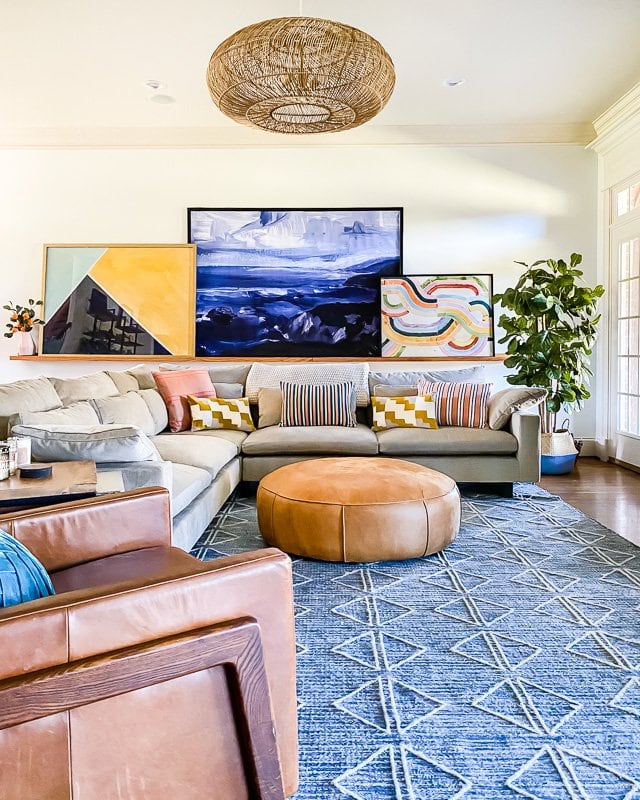 When in doubt choose bigger art than you think you need.
When you are looking at a wall, the art you choose should be substantial. So many people are petrified of big art so they go too small. I always say, when in doubt, GO BIGGER! The art in my bedroom starts at 30 x 40 inches (that's the size of the yellow and blue landscape you see in the right of the photo below). It fills the space but doesn't overpower or crowd it, which is what I think people are worried about! The large art over my bed is 54 x 40 inches and a perfect focal point and fills out that space beautifully.
Smaller art is best for horizontal surfaces.
You can see below where I decorated with smaller art on my bookshelves. Mixing small art and layering them on surfaces is a really important decor element, and I am going into more details on how to create this designer look for shelves and other horizontal surfaces in a future post. I want to give you all the pro tips for maximizing small art in your home. For now, just concentrate on using it as a decor piece on shelves, credenzas, etc. Really any flat surface that calls for a pop of color is a great place to start!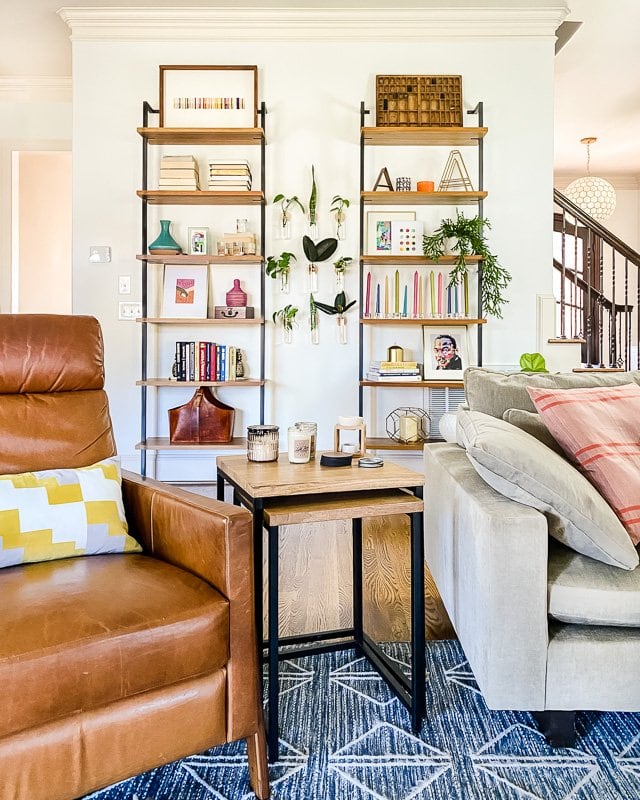 Gallery walls should ALWAYS have big art mixed in.
If you are creating a gallery wall, it is fine to fill in with small pieces, but big wall art should be the anchors. For anchor pieces, think 24 x 36 inches or 30 x 40 inches at a minimum. You want to see some size and weight mixed in to make it feel solid. There are obviously exceptions to this, like a grid of the same size pieces, but even the gallery wall in our old house had 19 x 19 inch square frames, which are pretty large! And the colorful grouping in our entryway has art that is 20 x 20 inches!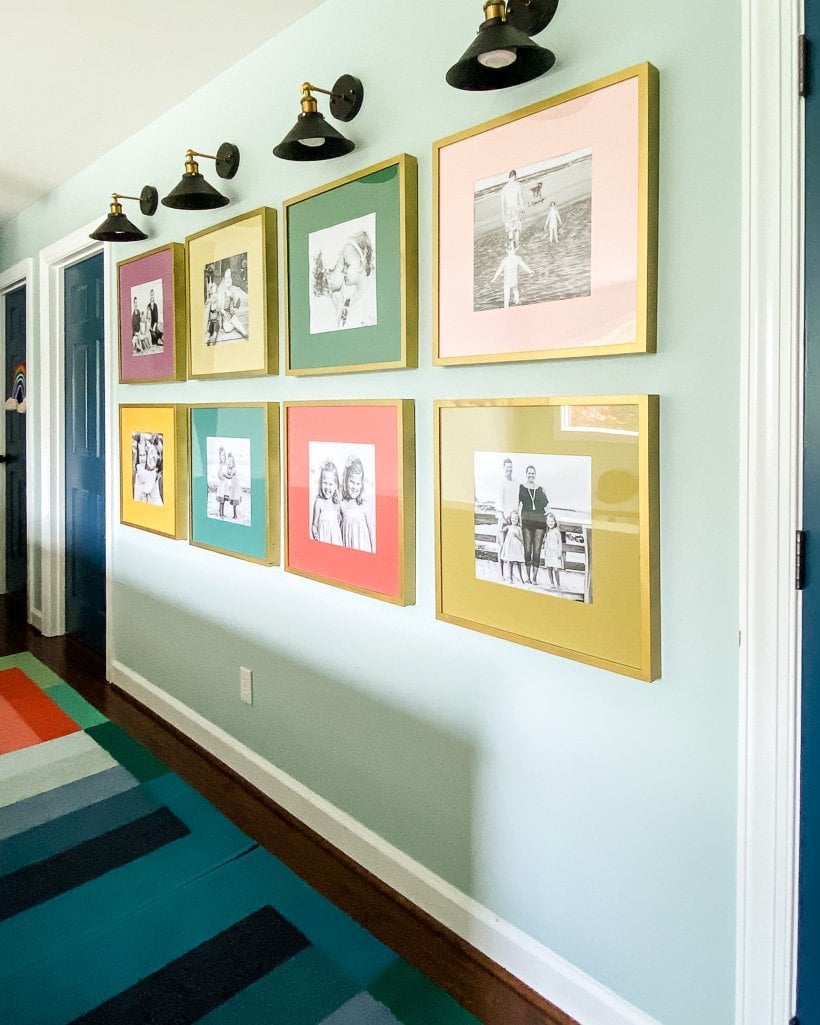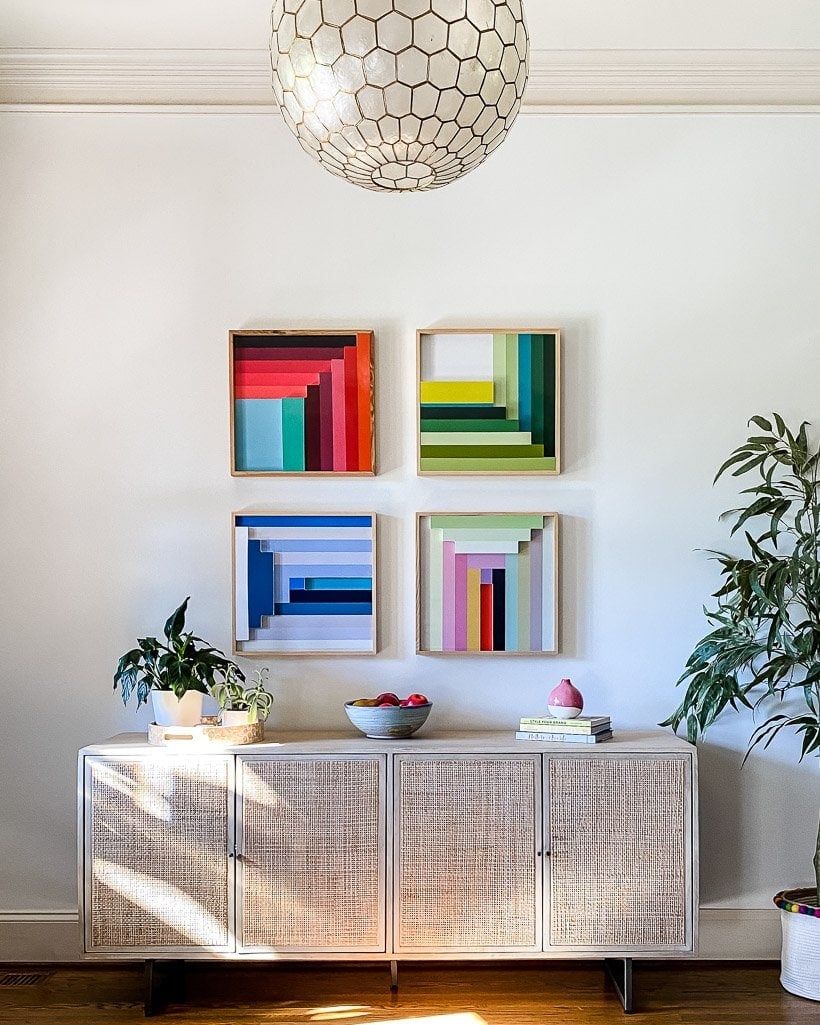 Believe it or not, the SMALLEST prints in my home office gallery wall (the push pins and paperclips are) are framed out to 16 x 20 inches–but see how small that looks on the wall?! And the larger pieces of art painted by my girls that hang in the gallery wall in our mudroom are 18 x 24 inches (plus a bit larger with the frames added into the mix).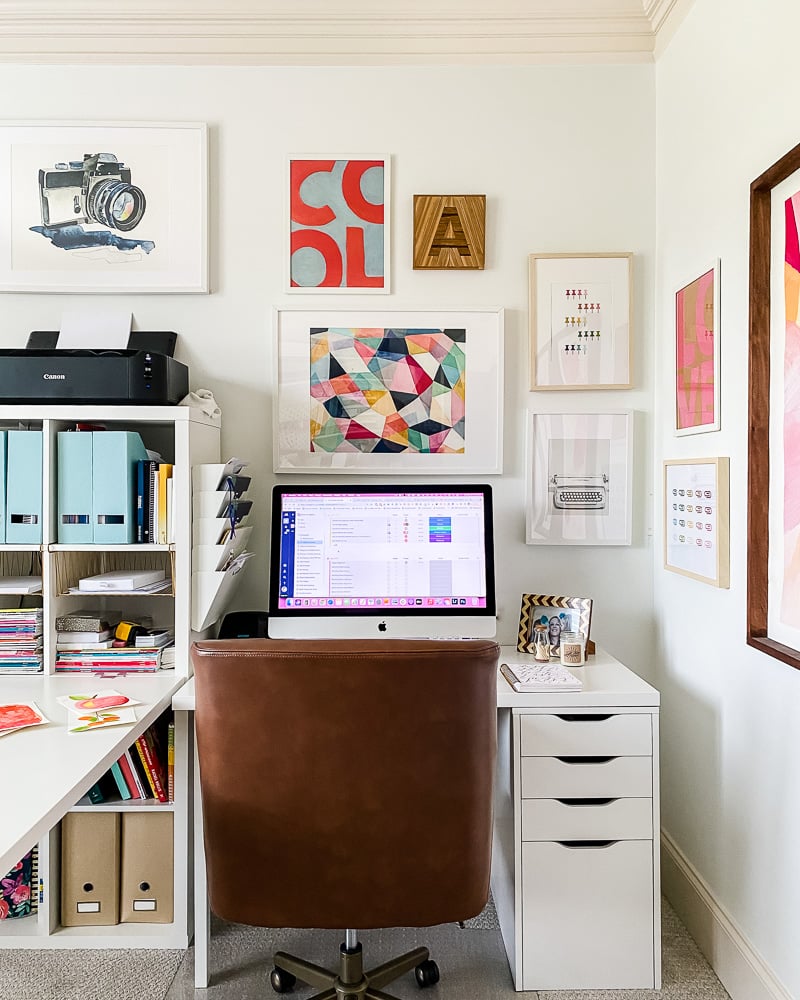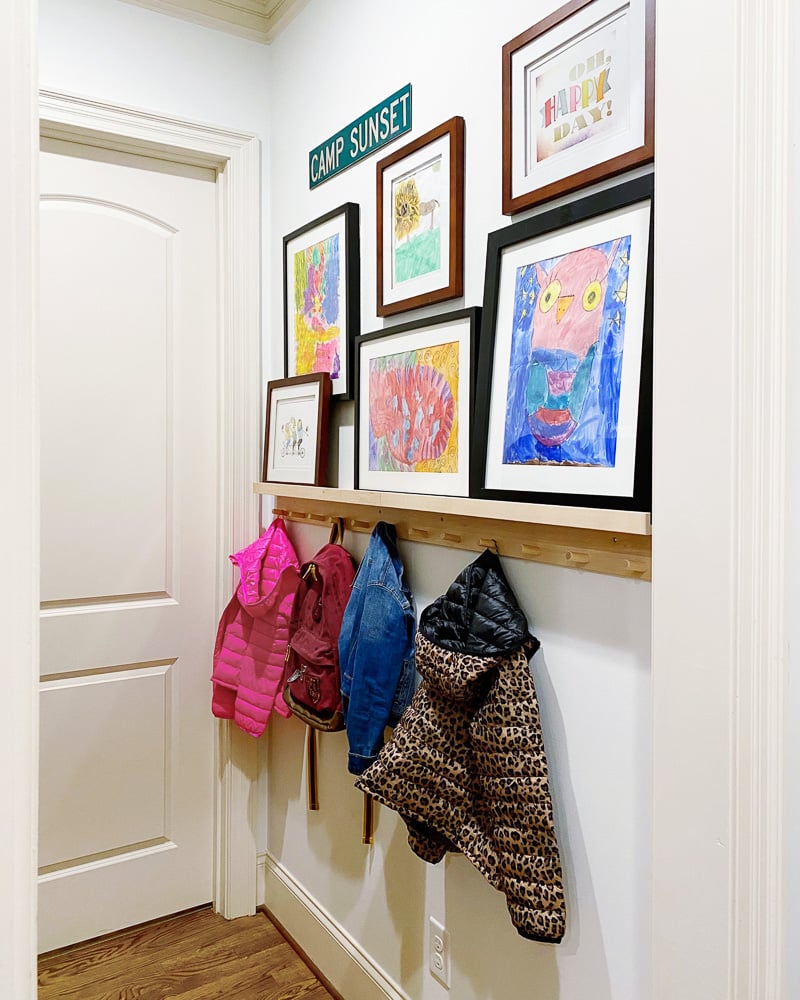 Where Do I Shop for Big Art?
I have some definite go-to's when I shop for art. The price points range from super inexpensive to the "splurge" category, so I've broken my suggestions up for you below.
Where to shop for super inexpensive large art
For the least expensive option, look for digital downloads. Etsy has tons of options! You just purchase the download and have it printed. My post DIY Large Wall Art post walks you through how I have done this very inexpensively in the past (and it has a great tutorial for a DIY simple frame!). Between buying the digital print and having it printed yourself, you can still often spend less than $30 for a BIG print.
Where to shop for affordable large art
For a more mid-range price point, I have several places I recommend!
Recently, I released my own collection of super colorful and fun art that come in prints up to 24 x 36 inches. There are lots of options and the prints are super affordable, especially for how high-quality the matte prints are (they are museum quality, Giclee printing). I have three 24 x 36 inch prints hanging in our laundry room. You can see what I mean about 24 x 36 inches sounding HUGE, but they really aren't once you get them up on a wall!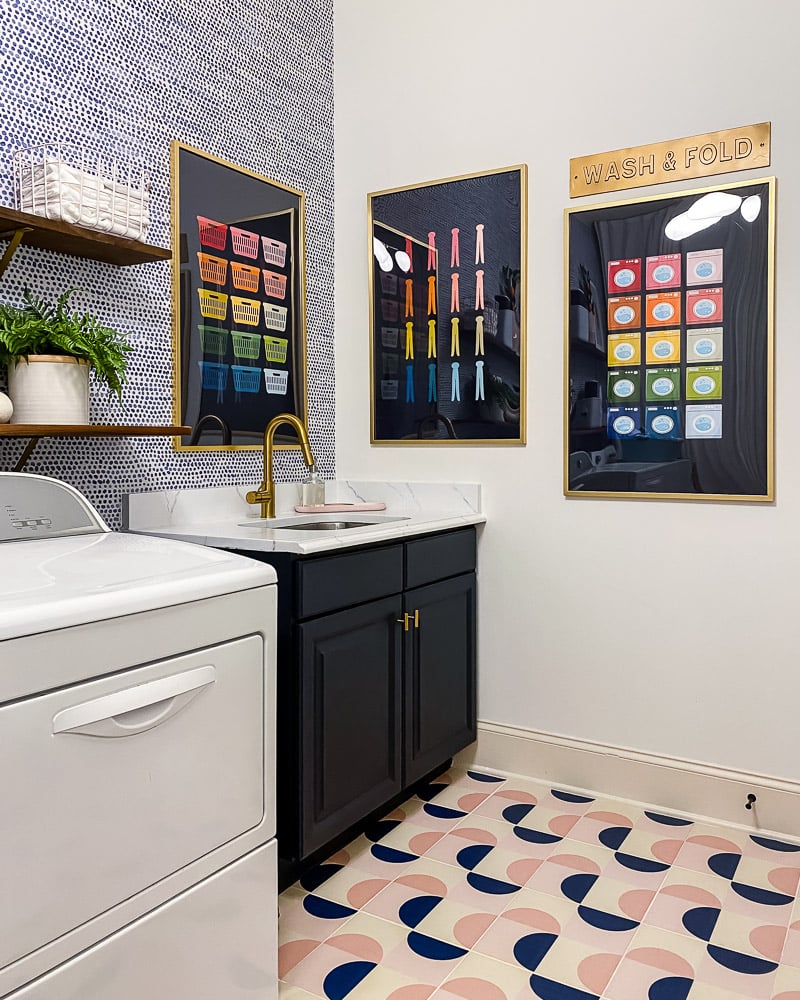 You can shop my entire art collection here: Kaleidoscope Living Art Prints. The prices are a bit lower than even Society 6 and Fy!. You can find some of our most popular prints below.
Society 6 has artist-designed art and there are SO many fun choices. There really is something for everyone. You can purchase frame or unframed prints and there are a variety of sizes.
Similar to Society 6, I have recently discovered Fy! . Their choices seem endless. You can also buy their prints framed or unframed in a variety of sizes and frame finishes.
Another great choice for a beautifully curated spot to shop for HUGE PRINTS that is a great price for the quality is Juniper Print Shop. The Seascape print in our family room is from Juniper Print Shop. They have gorgeous pieces and you can get really big sizes (up to 55 x 70 inches) and they offer downloadable versions. They also have great tips for what size to order for where you are putting it.
Where to shop for large art that costs a bit more (but is worth the splurge)
If you have room in the budget to drop a little more money, my favorites are Minted and Artfully Walls.
Minted has gorgeous art, the printing is super well done, and there are tons of framing options. It is more pricey, but the pieces I have gotten from there have been worth it! It is all art created by independent artists and they do an awesome job at giving their artists exposure and it is very easy to follow the artists if you find ones you like! There is also an option for commissions if that is something you are looking for.
Artfully Walls is a newer find, but wow is their collection of artists well done. I have found tons of art I love, and they have pieces all the way up to 40 x 52 inches. I have several pieces I bought there that you can see in Attley's room and in Avery's room.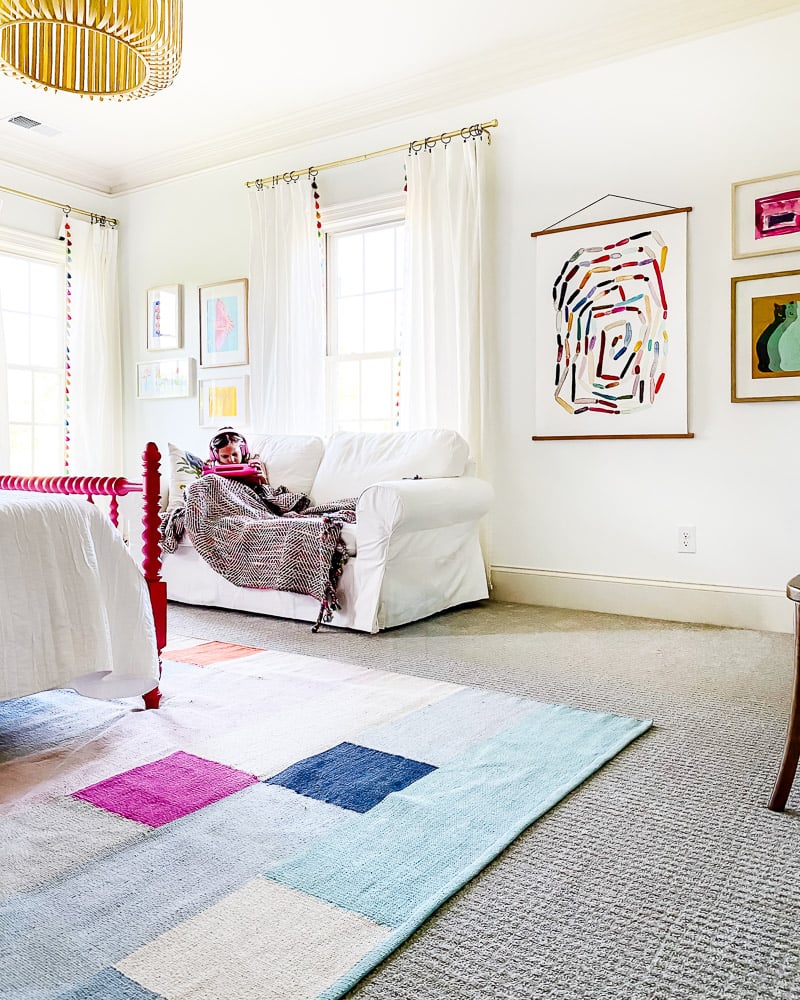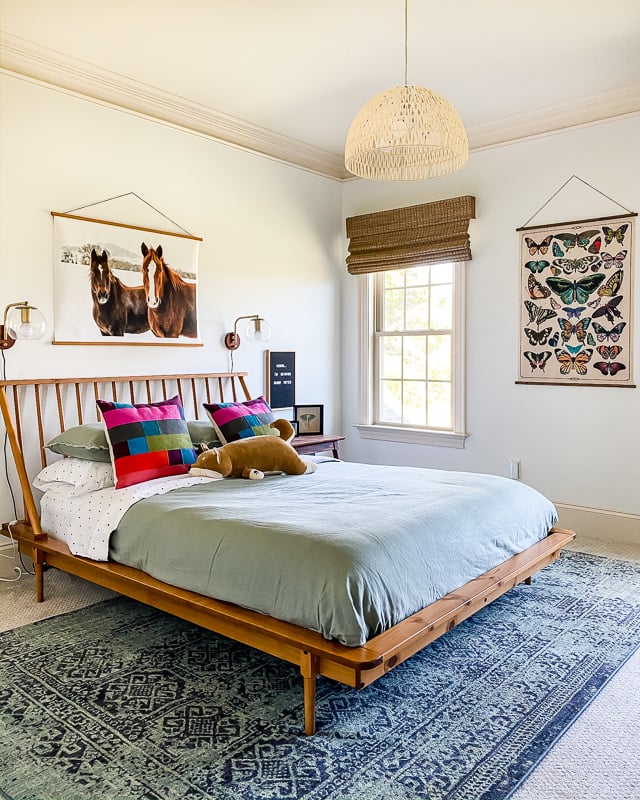 Shop the art in my home
Want to shop my the art throughout our home? Just click on any image below for full product details. And don't forget–when choosing the size, bigger is better :)!!!

Looking for more great info on choosing art? Check out a tour of the art in our last home, DIY Large Art on a Budget, and Cool Wall Art That is Affordable.
Not sure where to find good frames for large art? I have a really simple DIY to build your own for less than $20 (you can see them in the picture above of my stairwell). I have also been LOVING this simple frame from Target that seriously looks good with everything.
Wondering how I approach transforming rooms and spaces in our home? Check out Designer in a Binder®.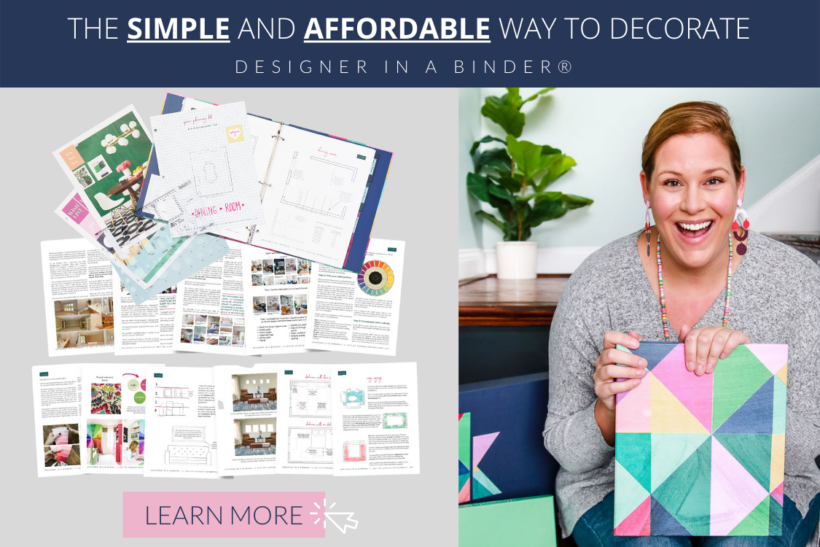 And if you want exclusive content and behind-the-scenes sneak peeks, be sure to subscribe before you head out!


[mv_create key="1″ type="list" title="Most Popular Projects" thumbnail="https://designertrapped.com/wp-content/uploads/2016/11/diy-home-decor-projects-diy-blog-200-1.jpg" layout="circles"]