A Tour of the Colorful Art Throughout Our Home
Last Updated on March 2, 2022
Take a tour through the colorful art in our home. We show you all of our favorite pieces and share how you can fill your home with art you love!

You would not believe the number of DMs I receive on Instagram asking me where I get the wall art you see in our house. And it has increased in the last few months! Maybe because people have been in their homes so much lately they are feeling inspired to tackle their blank walls??? Whatever the reason, I fully support getting art up on those walls! I am giving you a full tour of the colorful art in our home to help get you feeling inspired to fill your home with beautiful pieces that you love.
This post contains some affiliate links for your convenience. Click here to read my full disclosure policy.
Tour Our Colorful Wall Art
The majority of the art prints you see in our home have come from Minted and are framed in our DIY art frames. One of our very favorite prints from Minted is in Avery's room!!!! We recently finished giving her room a makeover and made her some pretty awesome DIY built-in bunk beds and put up an incredible wall mural (yet another way to display art).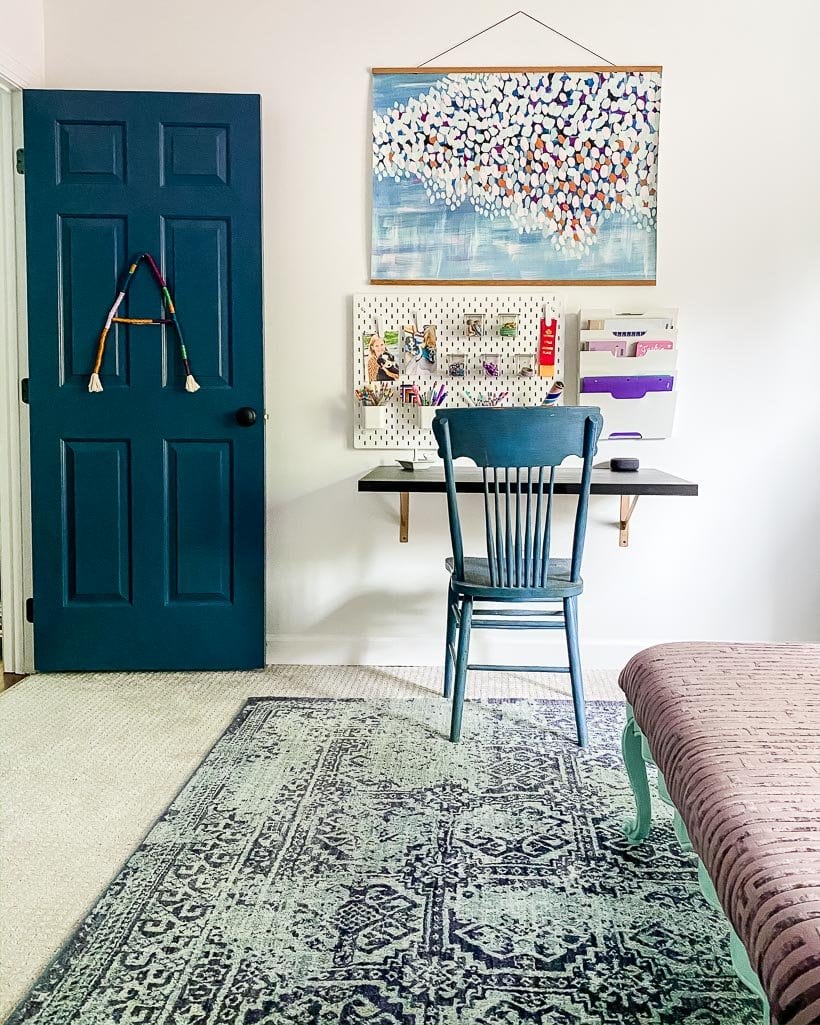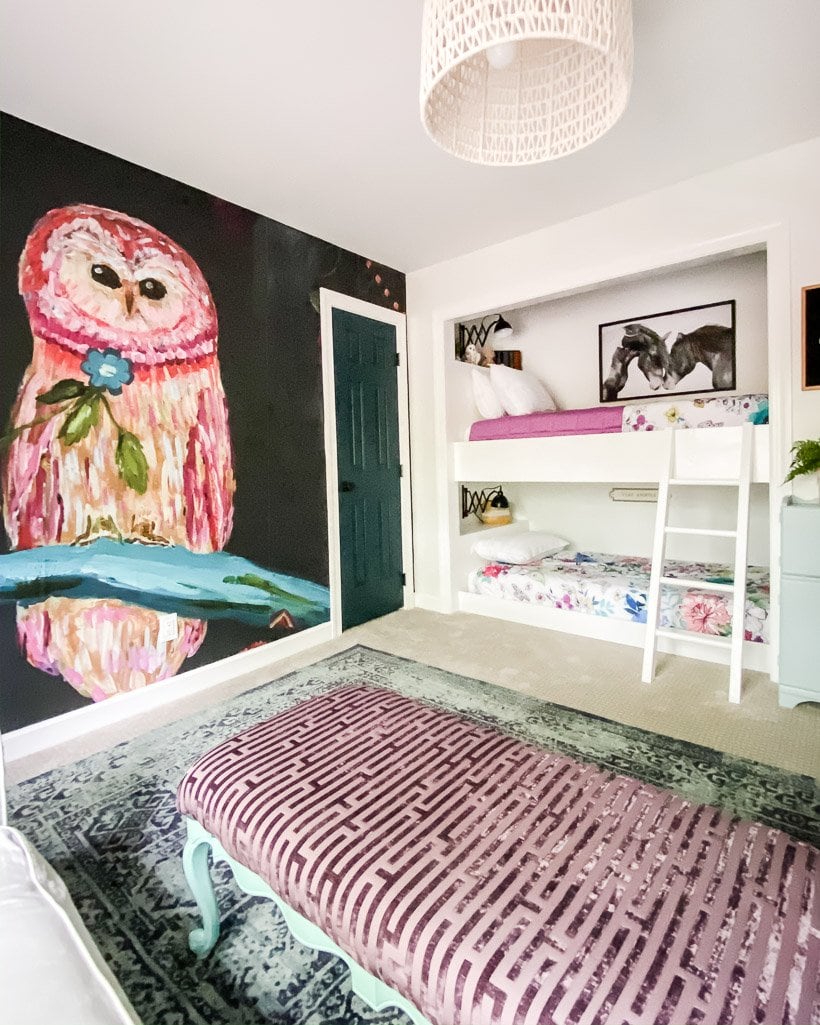 The large colorful art pieces in our bedroom are also from Minted. I get asked about the print hanging above our bed allllll the time, and it is a personal favorite of mine! Also, I love the two large abstracts on either side of our bedroom fireplace. They make how they make a big impact which is perfect for that space!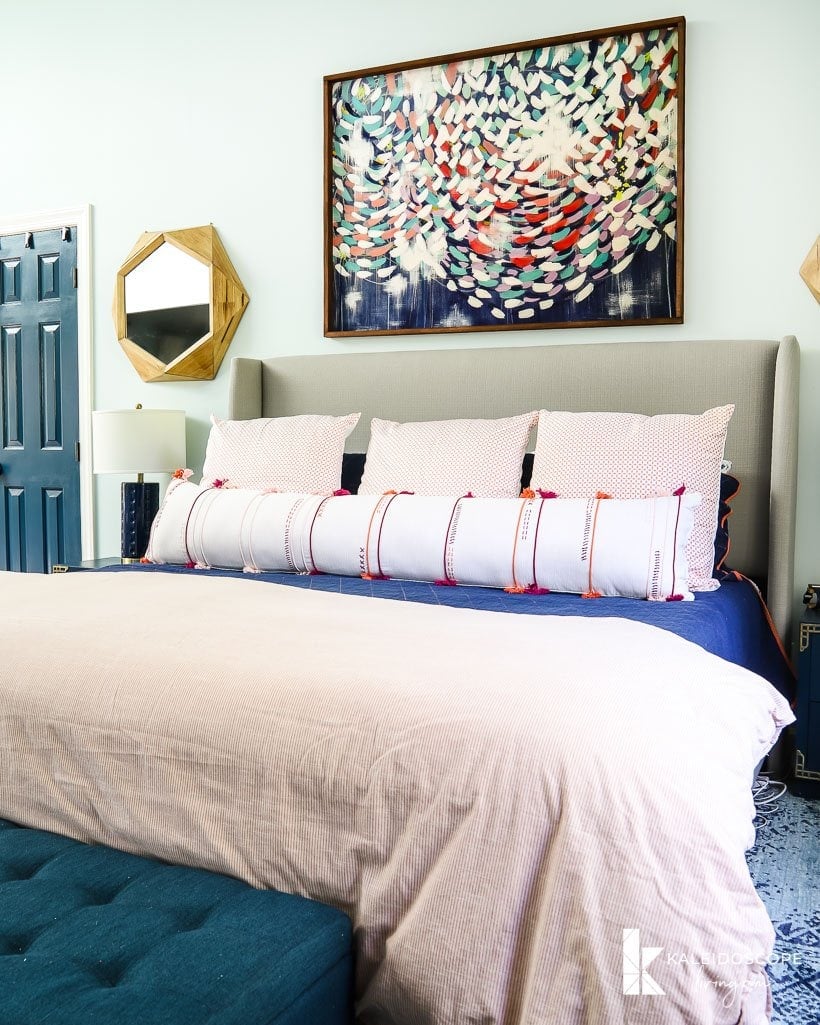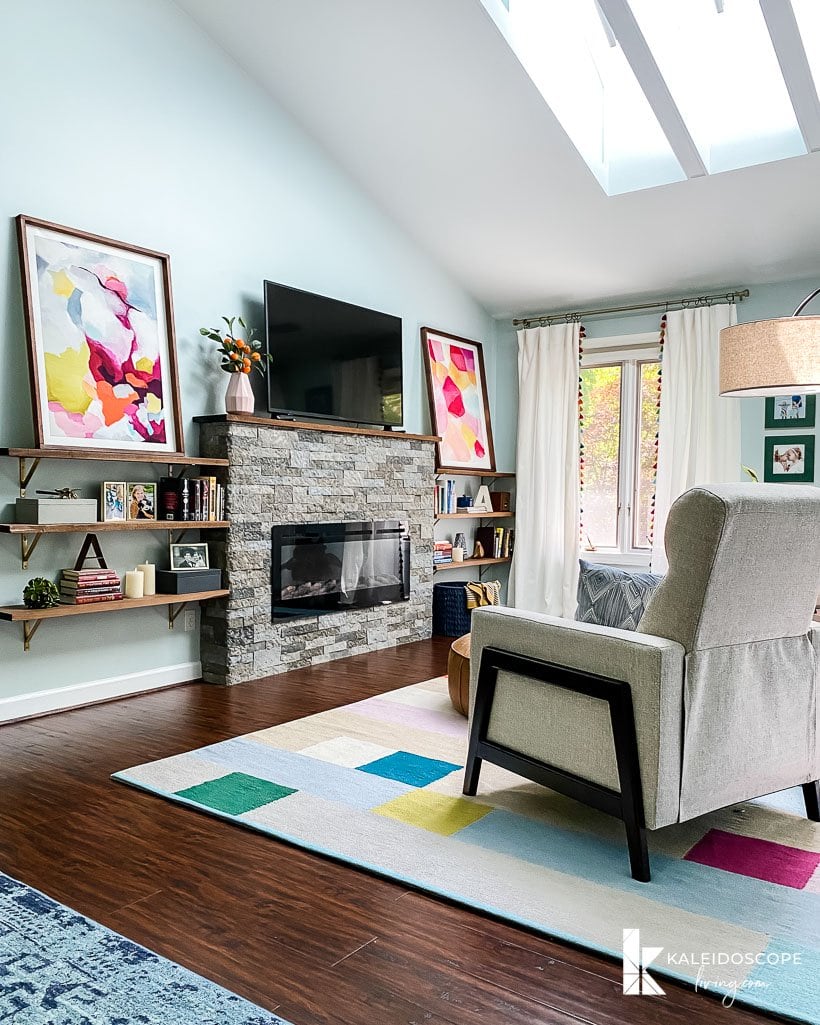 I also get asked about the kaleidoscope print in my home office quite a bit. I love it so much! This whole gallery makes me so happy. The "Color" and "Love" prints came in this inexpensive 3 pack!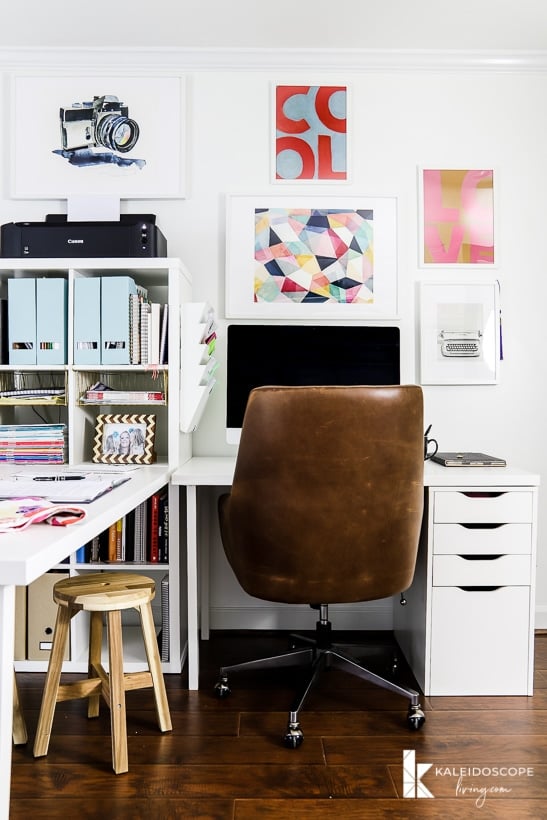 Those same inexpensive prints are hanging in Attley's room. That's how much I love them!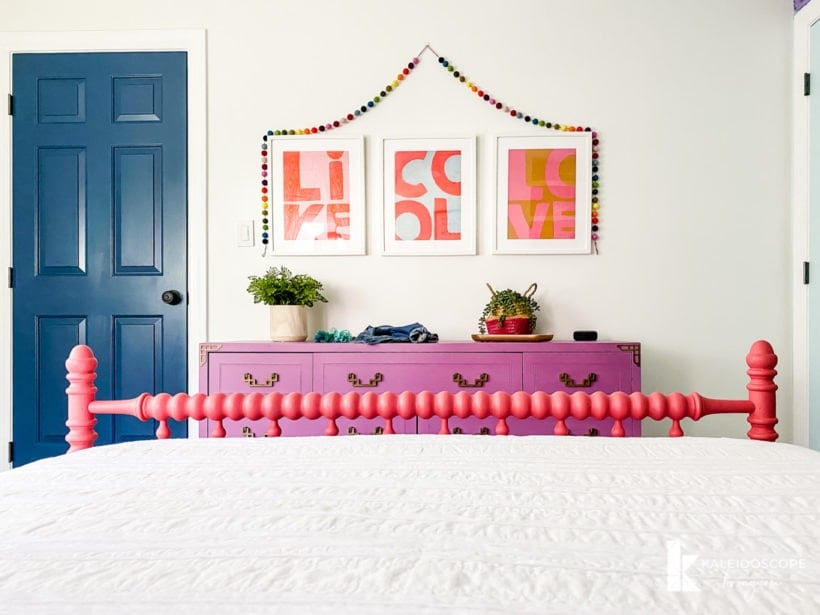 Speaking of Attley's room, you can get the FREE printable Greatest Showman inspired poster that I designed for her (you can see it hanging above her bed) when you subscribe. And you get access to lots of other free stuff when you subscribe too–click here if you are interested!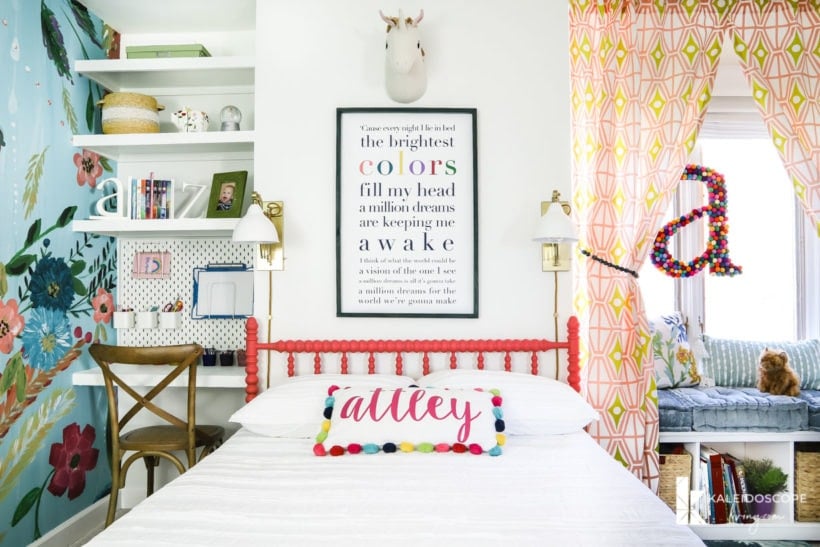 And people are always interested in the prints hanging in our stairway. These are all in our DIY frames. I love how they look and how cost-effective they are (they cost less than $20 each to make)!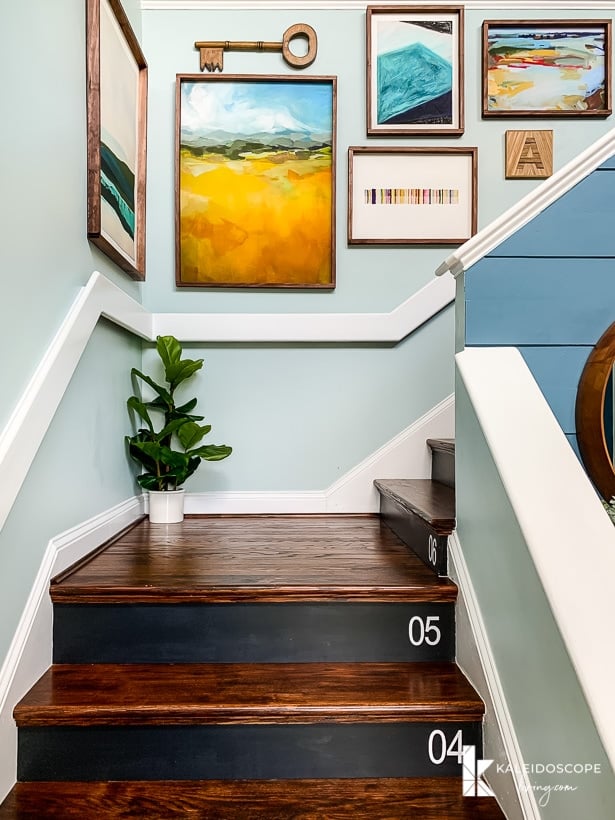 We also have a couple of prints in our family room from Juniper Print Shop that we display on the DIY art ledge that we made (and that I'm still obsessed with). I love the gigantic sizes you can order from them. These are Seascape and Salt Flats from Juniper Print Shop (and Sunriver by Minted).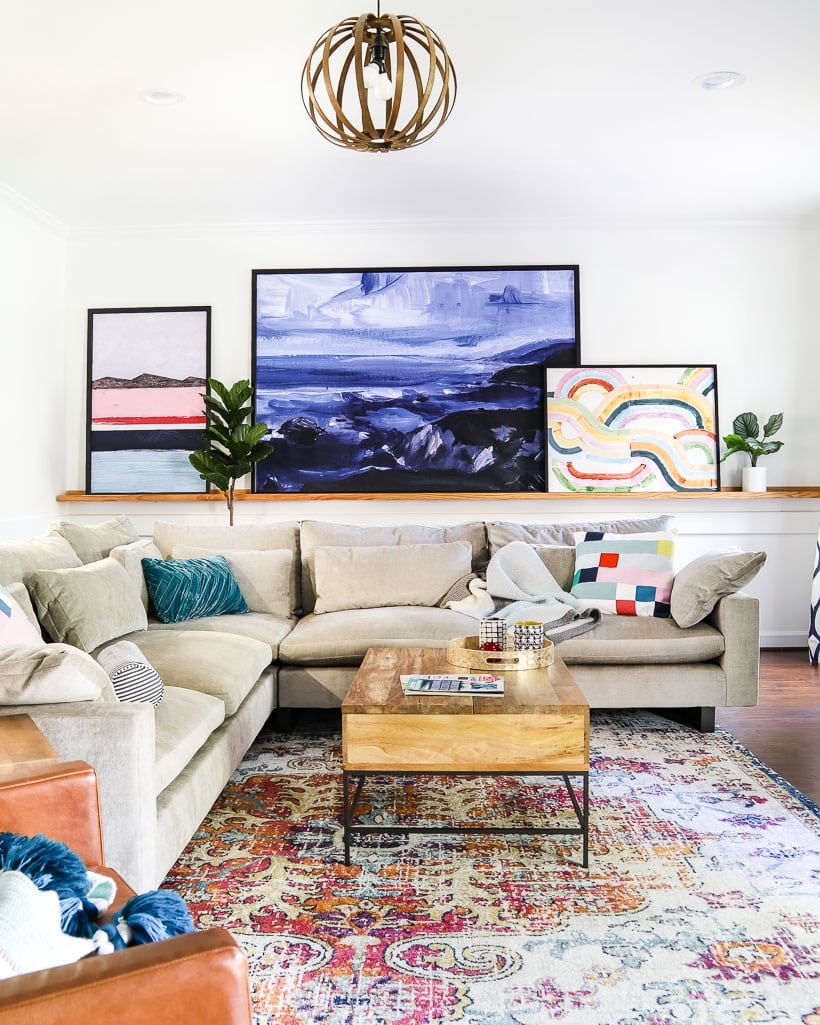 I recently ordered this print from Society 6. I love it in the girls' play area in our living room! It is perfect with their desk we rehabbed and the quote makes me so happy :) I wish I had discovered Society 6 sooner. The prices are great AND I'm impressed with the quality of the paper they are printed on.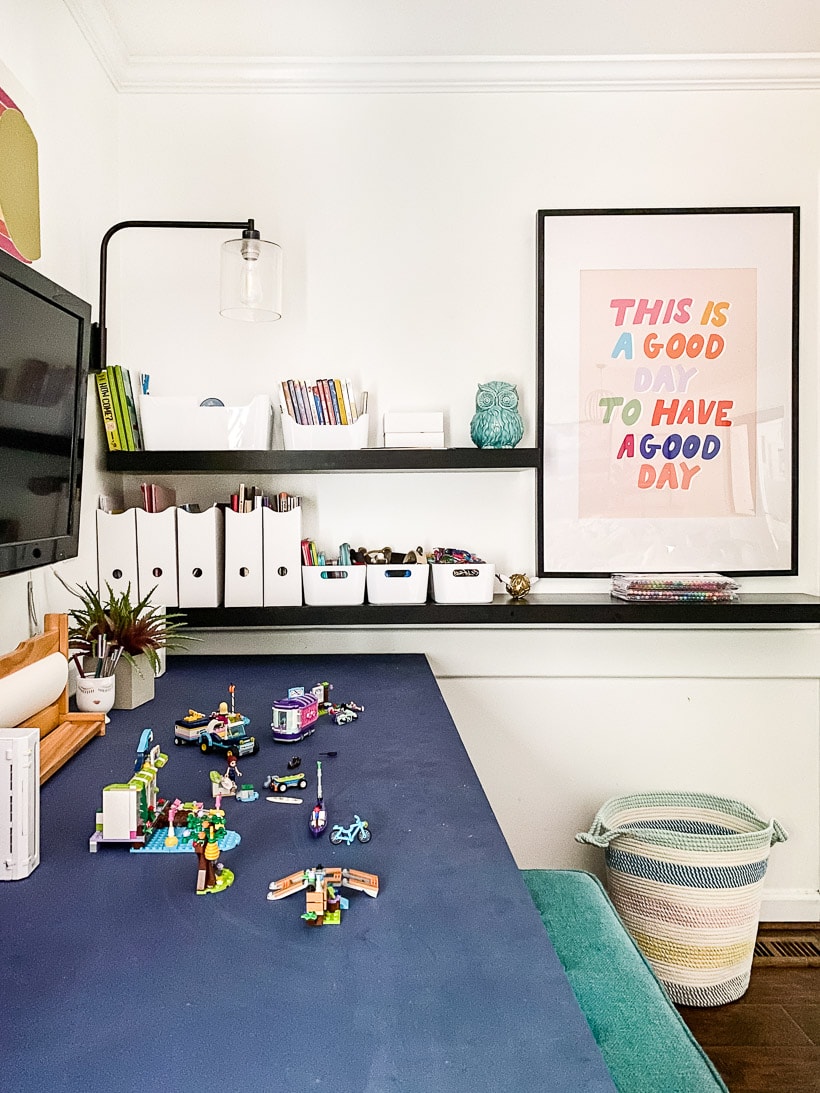 The other art in our home that I have to mention are these prints that hang in our downstairs hallway. They were painted by me and our kiddos and then enlarged with @doodlespot_theapp. And NO, I am not an artist at all. My girls and I painted these during an online watercolor for kids' class! But many people have messaged me asking where they can purchase the honeycomb print. Just goes to show how beautiful your own art can be!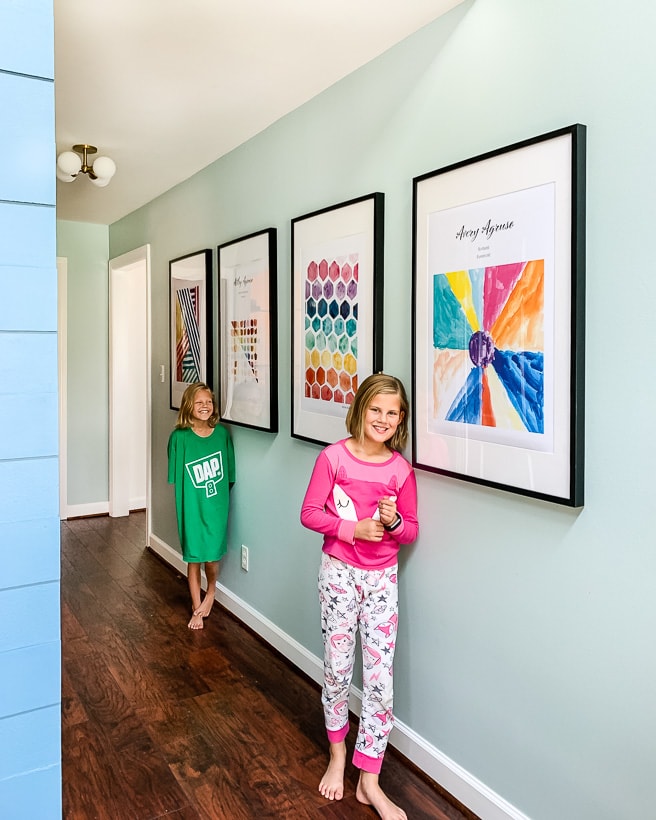 See other pieces of art that you like in our home that I haven't mentioned here? If you want links to all of the specific art prints we have in our home, your best bet is to find them on our tour my home page. You can find all of our art (and decor and furniture and DIY projects) there!
Now, as you are shopping, you'll probably notice that larger prints are fairly expensive, no matter where you buy them. So, to make our art budget stretch as far as possible, we nearly ALWAYS make our own DIY art frames because it saves us a TON of money. Custom framing is insanely expensive–we'd rather spend our money on the art prints themselves! This tutorial shows you how to make the art frames you see in nearly every room of our home for less than $20 each!
If you want even more DIY frame ideas check out: The 15 BEST Tutorials for DIY Frames, Easy DIY Picture Frame You Can Make WITHOUT Power Tools, and "DIY" Gold Frames for Less Than $10 Each. Don't want to DIY? These Stylish & Affordable Frames for Photos and Art are great choices.
I find myself mostly drawn to colorful and abstract art and I don't follow any "rules" when I pick out pieces. For years I avoided picking out artwork for our walls because I felt like I didn't know enough about art to choose anything. A couple of years ago, I realized I was being ridiculous. I mean, I don't know squat about wine, but I know if I like it when I taste it! So now I just go with my gut and choose art that I fall in love with when I see it.
Moral of the story…when you pick art that you love, you can't go wrong. It really is that simple!
And don't forget that we have an entire library full of FREE printable art for our VIP subscribers! All you have to do is choose the art you like and have it printed (I get mine printed by Printful on its Enhanced Matte Paper Poster paper–it is fantastic quality). Subscribe below to access it and get all of our art and much more!

[mv_create title="Most Popular Projects" key="1″ thumbnail="https://designertrapped.com/wp-content/uploads/2016/11/diy-home-decor-projects-diy-blog-200-1.jpg" type="list" layout="circles"]