Avery's Built-in Bunk Beds and Room Reveal!
Last Updated on March 3, 2022
Avery's room is finally done! Check out her built-in bunk beds, huge wall mural and so much more.
I love, love, love designing girl's bedrooms–I have a whole post with 28+ bedroom ideas for girls. And I loved every second of working with Avery to create her the room of her dreams. But it took a while, lol.
We started Avery's room makeover BEFORE CHRISTMAS! It was a long process because we had new carpet installed in her bedroom and in Attley's room, and we had little control over the installation schedule. Plus we had vacation, etc. mixed in there. But still! For DIYers who usually work quickly, this room makeover seemed to take forever. The good news is that it was worth all the hard work. As with most of my other reveal posts, I'm including links to sources throughout this post and there's a FULL SOURCE LIST at the bottom of this post :)
You may remember from when we revealed Attley's room a while back that we swapped around some of their furniture. This dresser used to be in Avery's room and these IKEA Billy Bookcase hacks used to be in Attley's room. So this is what Avery's room looked like for the past few years. It was ADORABLE and we loved it so much.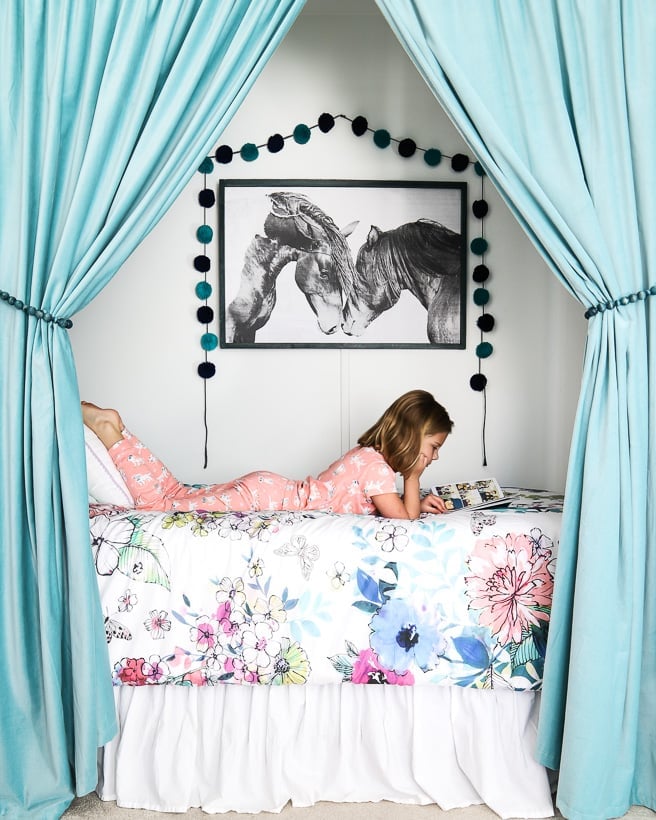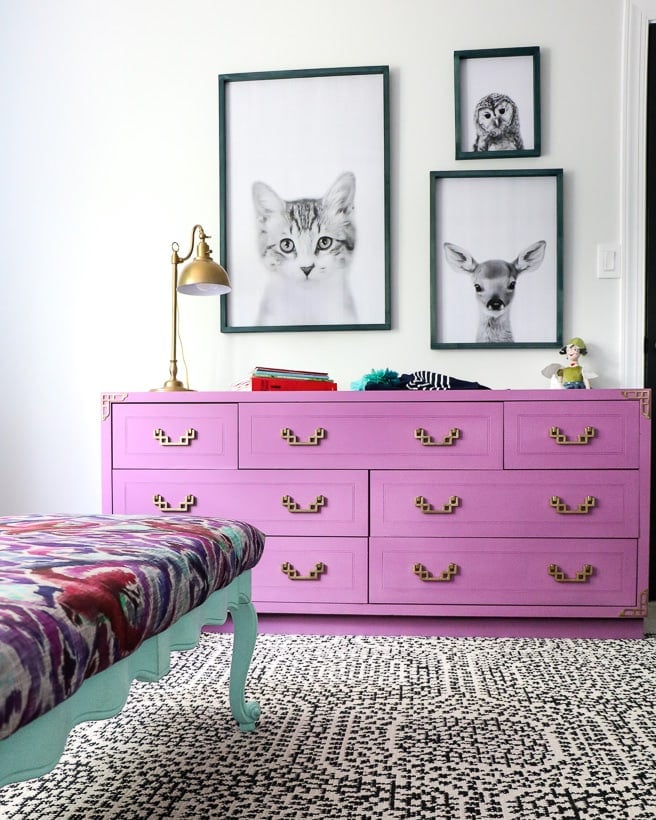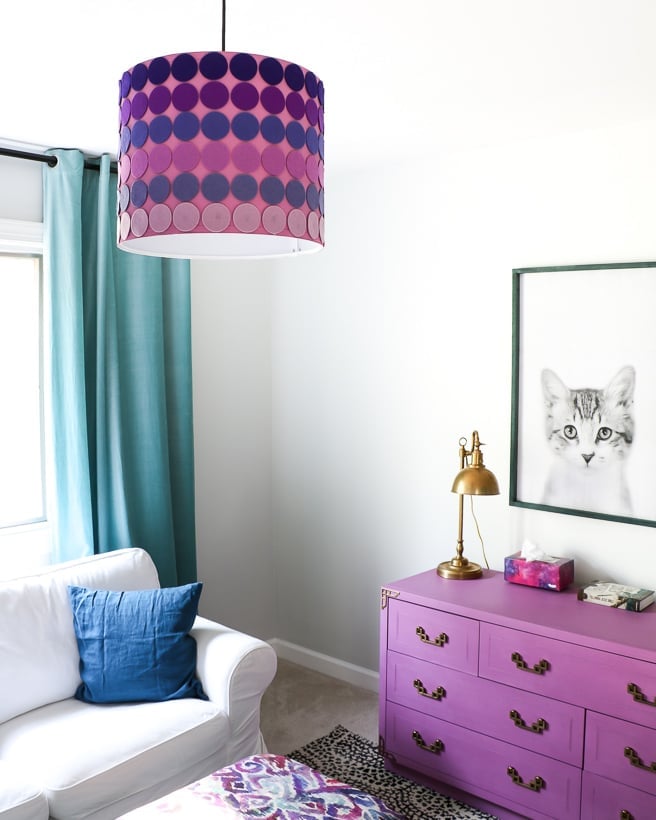 But when Avery asked that we make some changes to her room instead of getting Christmas presents, I felt like I couldn't refuse. It was such a mature request. And as she has gotten older, she has a strong preference for darker colors. Overall, she just has a more sophisticated style now. Plus, she was BEGGING for bunk beds for sleepovers with her sister and other friends.
Since we had already transformed her secondary closet into a bed nook that we had placed her twin bed in, we figured we may as well turn the bed nook into built-in bunk beds. We made the bunk beds almost entirely out of scrap wood that we had in our garage. And we made the ladder from the old stuff we ripped out of her walk-in-closet. That means the bunk bed project was 95% FREE!!!!
Okay, enough chatter. Ready to see Avery's built-in bunk beds?!
The Built-in Bunk Beds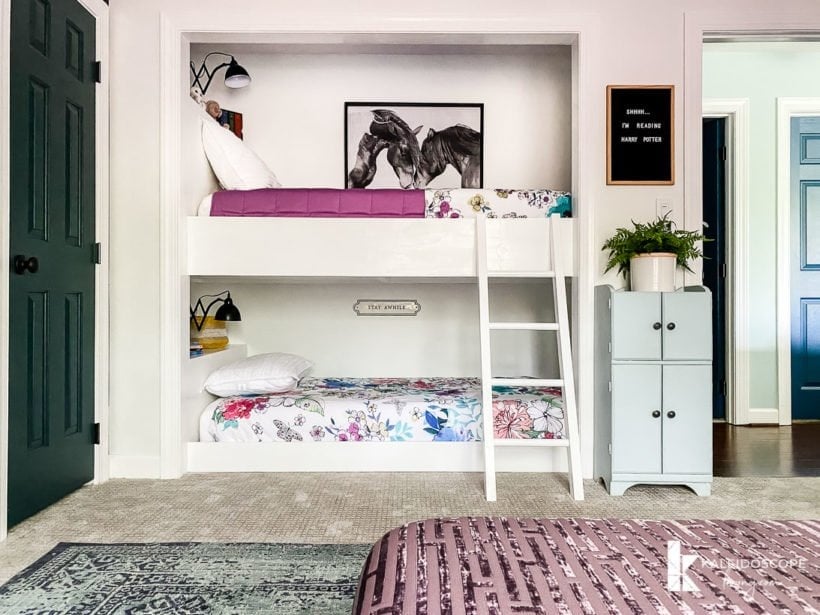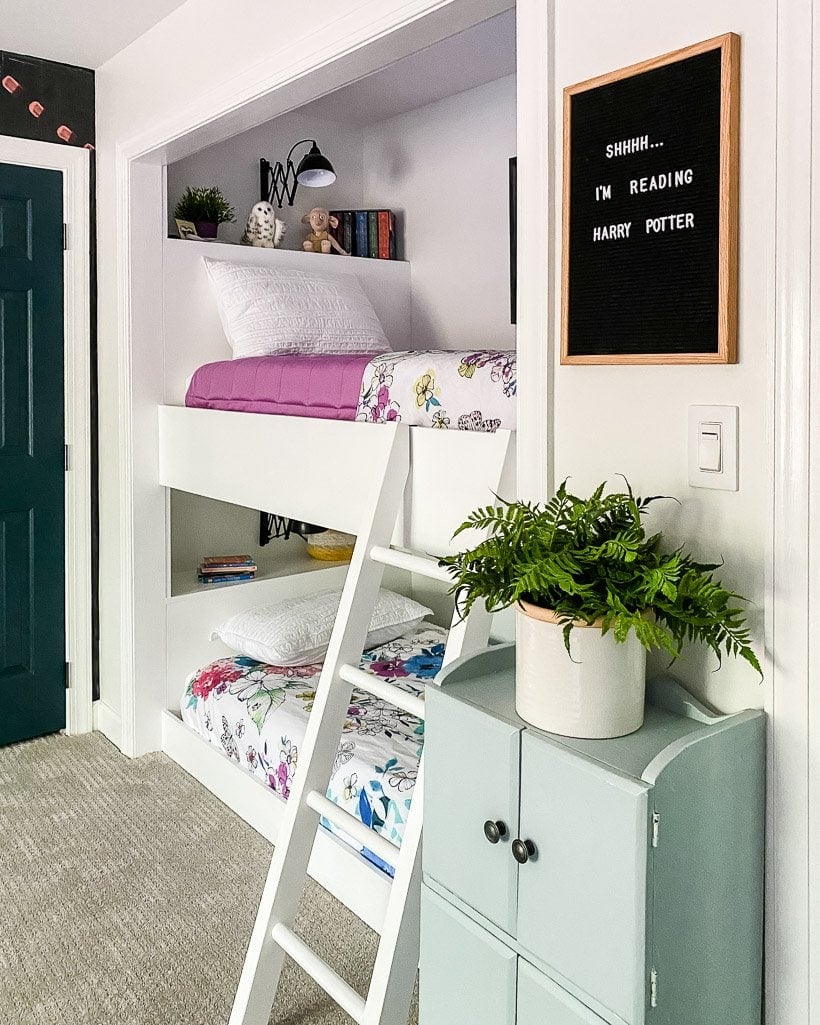 This post contains affiliate links for your convenience. Click here for my full disclosure policy.
Her bunk beds are so cozy! We added these cute accordion lamps and the magic light trick to give her some good reading light at night. And of course, we added some decor that is meaningful– a DIY photo canvas of the girls with Joe and this "you are strong" metal sign.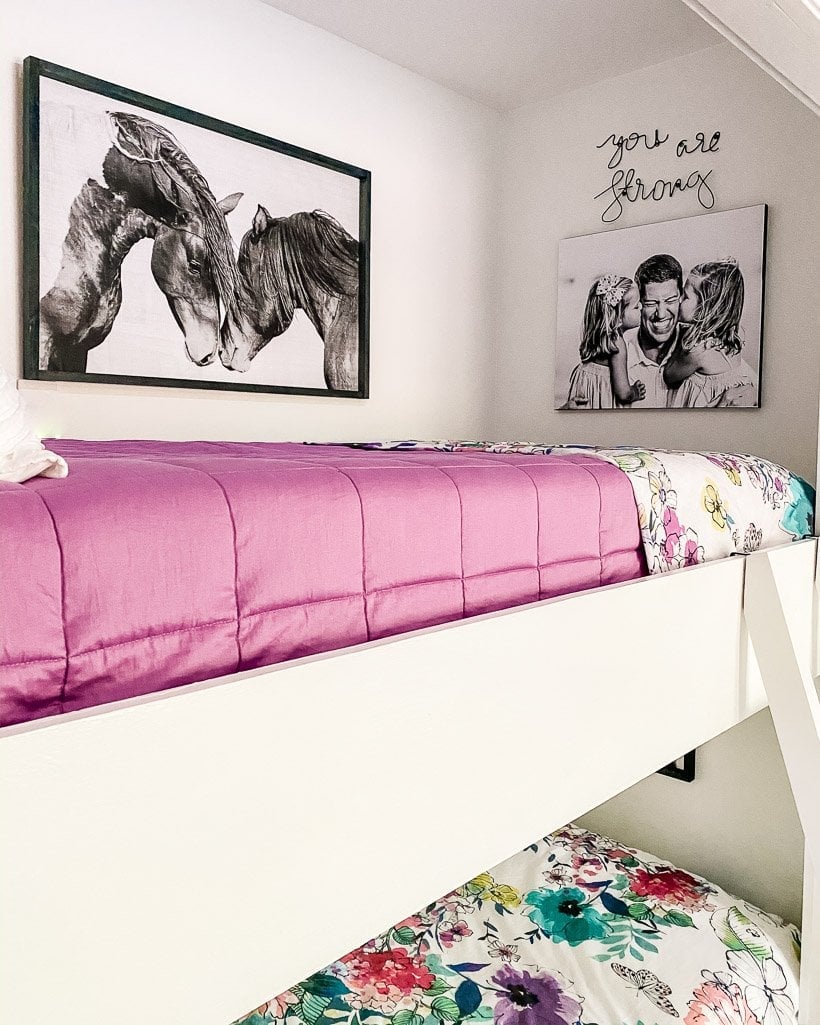 On the lower bunk, we kept it simple by just hanging this "stay awhile" sign. Hopefully, once quarantine ends she'll be able to have someone other than her sister sleep in this bottom bunk :)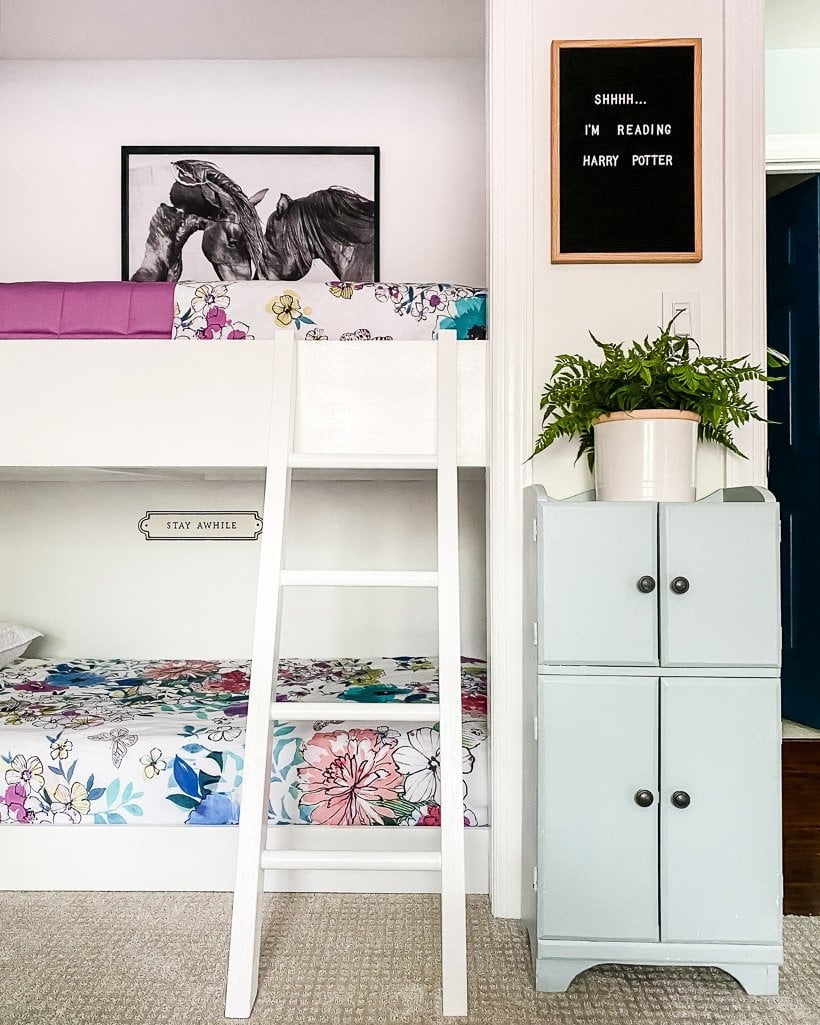 The Wall Mural
Other than the bunk beds, the other big showstopper in the room is this gorgeous wall mural (just like the mural in Attley's room, it's by Bari J for Murals Your Way). Not only does Avery love, love, love owls, she also loves that the background color is so dark it's almost black.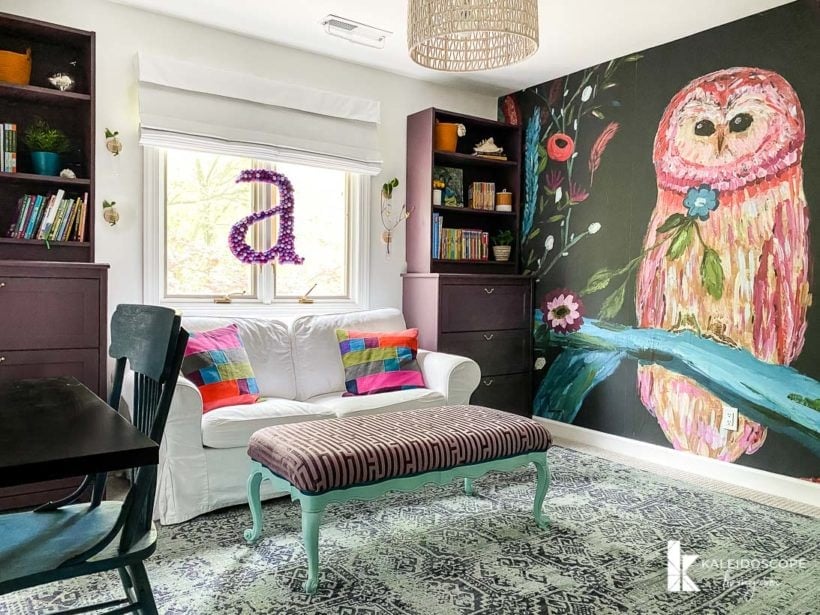 The Rest of the Details
We repainted these inexpensive IKEA pieces (yes, you can paint IKEA laminate furniture) that we have had for almost 10 years now with this dark purple color that she picked out herself. It's a beautiful color and the fact that she picked it makes me realize how quickly she is growing up and maturing (I'm not crying, you're crying). And I reupholstered her bench with this pretty purple fabric. Her felt ball letter hanging in the window is a perfect centerpiece for this wall.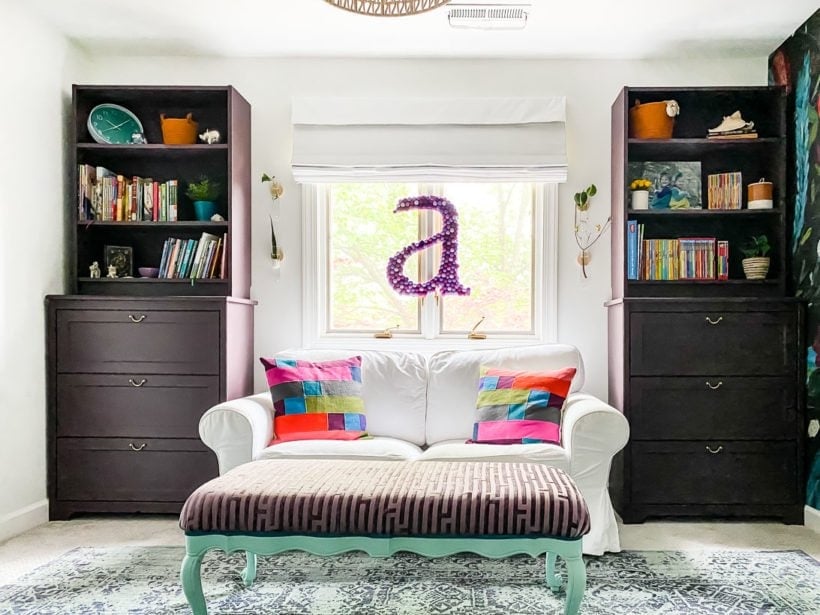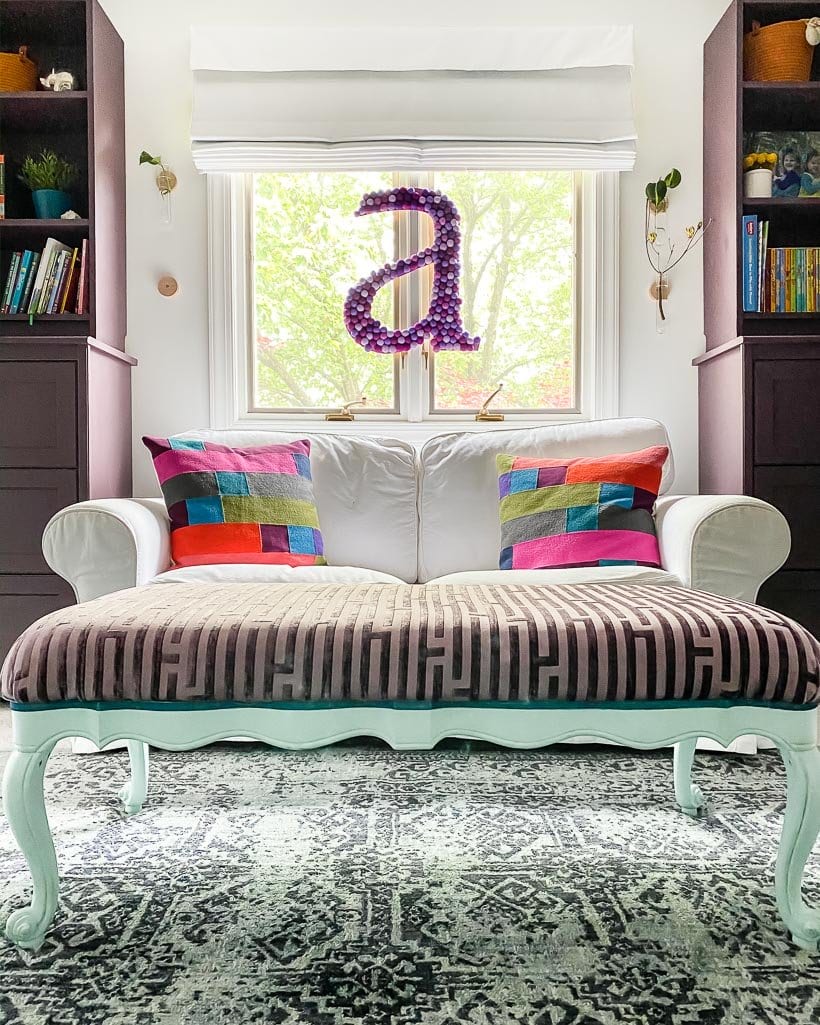 The only other thing we did in her room was to make her DIY floating desk area a bit more functional by hanging an inexpensive pegboard system and paper storage from IKEA. We re-used this same art piece and just added this inexpensive hanger frame to it.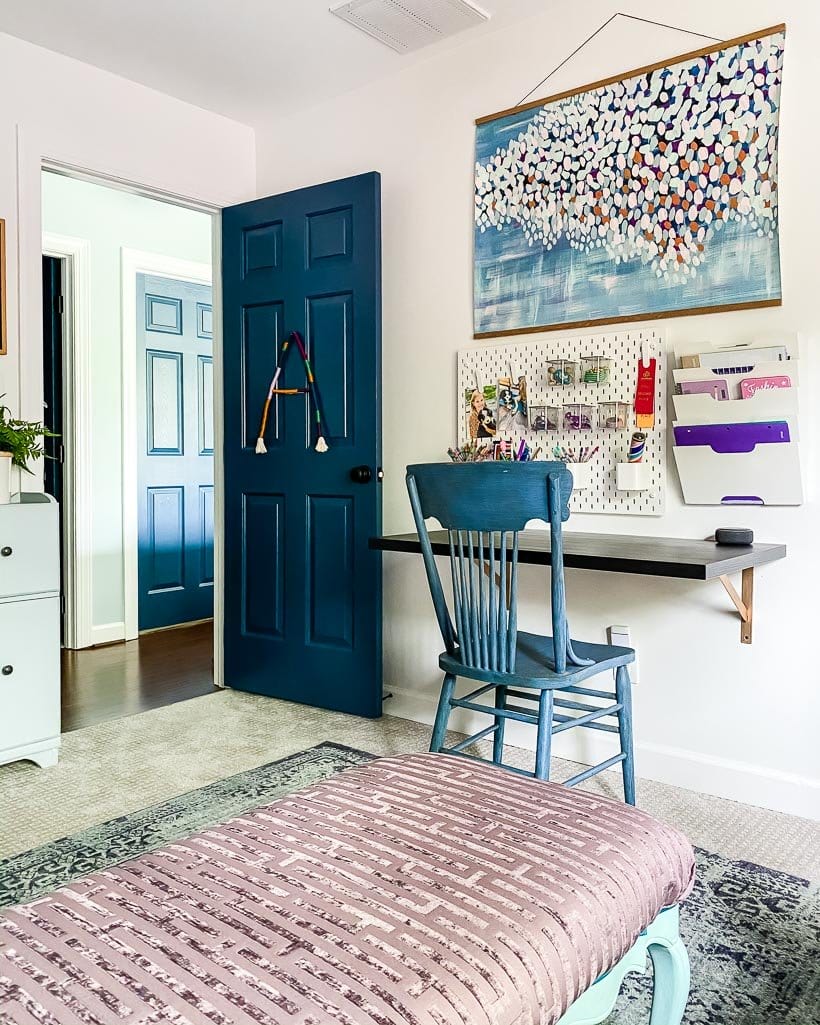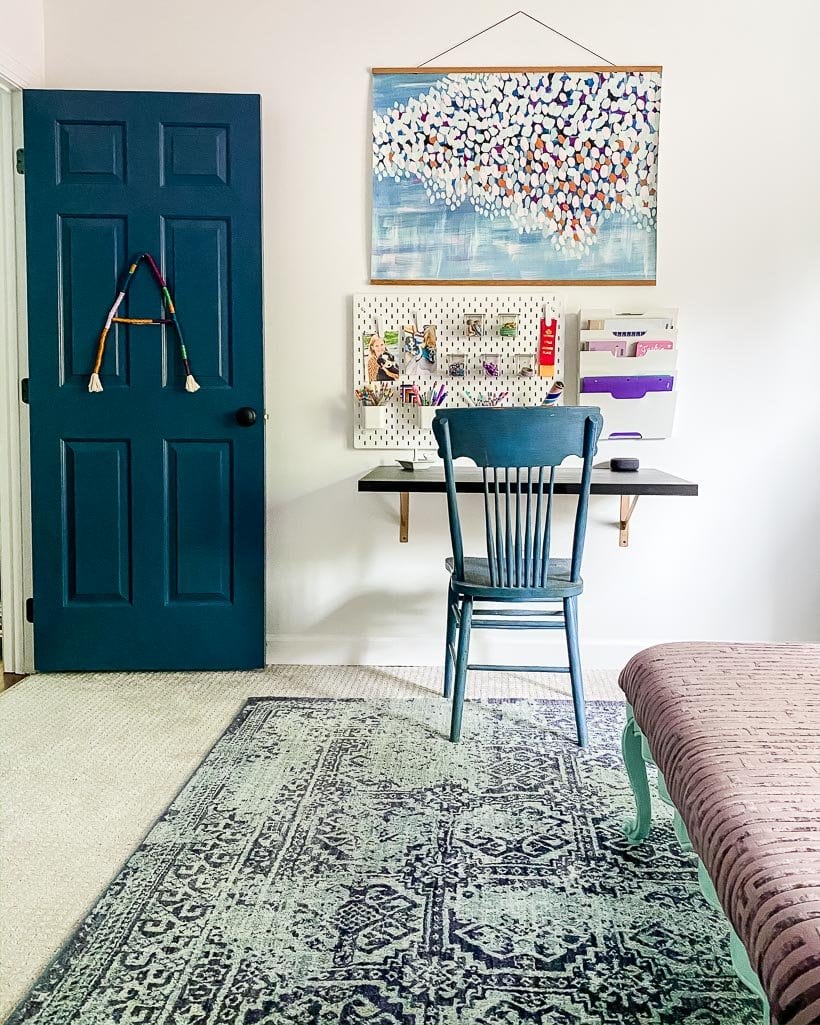 Oh! I almost forgot. I'm super proud of Avery's new light fixture and she has told me repeatedly it's one of her favorite things in her room. It was just a macrame basket that I added a pendant light kit to and hung it up! It's perfect and was inexpensive!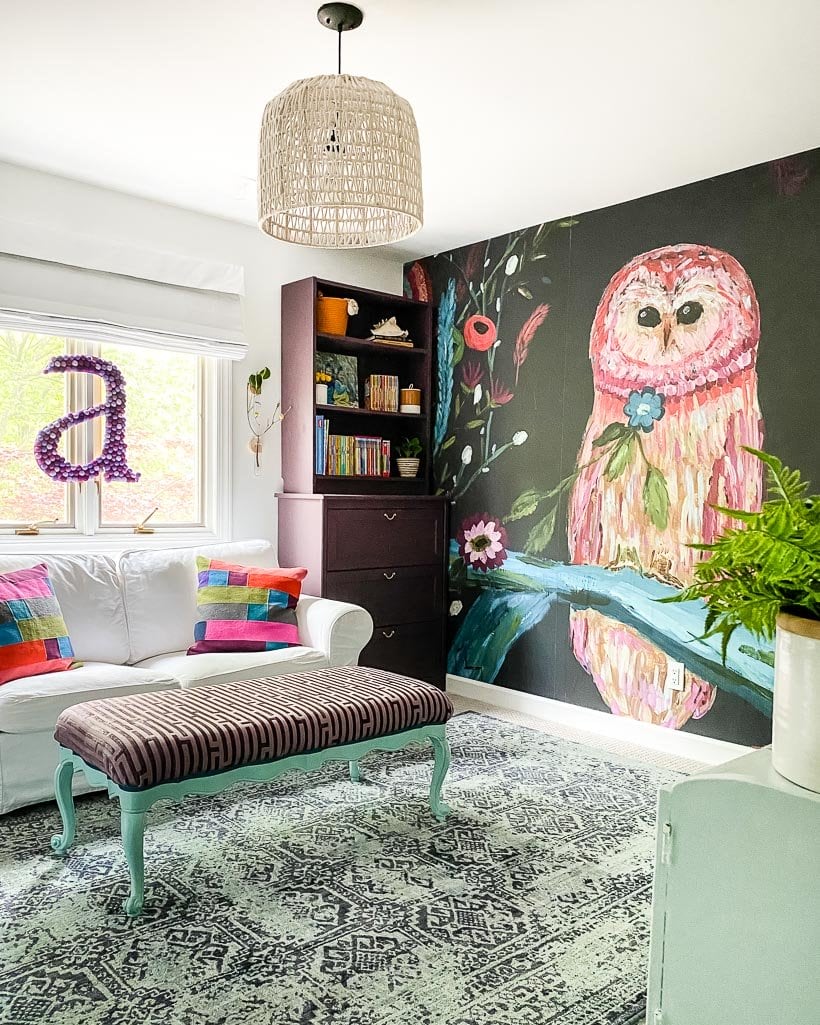 What do you think?! I can tell you that Avery absolutely LOVES her room, so that's all that matters. But I'm very happy that I love it as well since I pay the mortgage ;)
Source List

:
The rest of the items in the room (or similar items for those things we DIYed or purchased second-hand) are below. Just scroll through the images and click on any of them for full product details.

Wondering how I approach transforming rooms and spaces in our home? Check out Designer in a Binder®.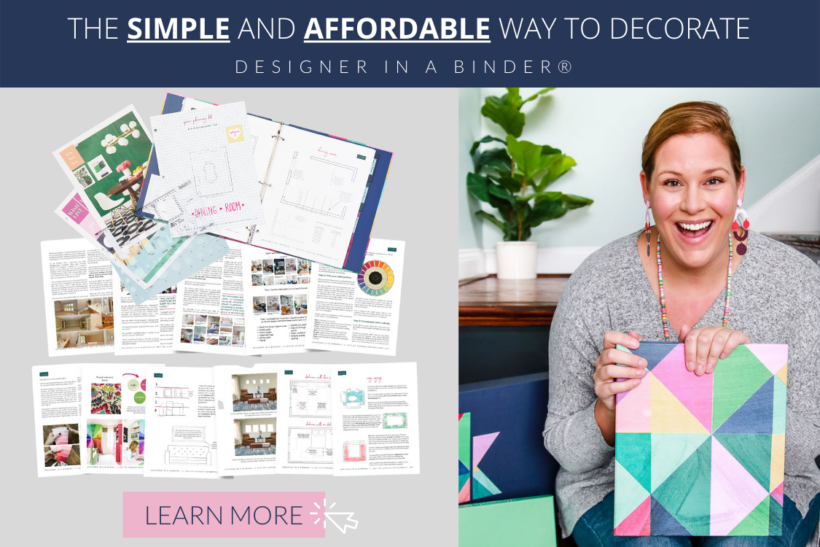 And if you want exclusive content and behind-the-scenes sneak peeks, be sure to subscribe before you head out!