17 Creative DIY Bunk Bed Ideas
Bunk beds are the perfect solution for families with more kids than rooms or for those who want to save space. They're also great for overnight guests and sleepovers. But buying a bunk bed that is exactly what you are looking for can be expensive and tricky–it may be hard to find the right size, color or style. Fortunately, with a little creativity and effort, you can build custom DIY bunk beds exactly the way you want them. These creative bunk bed ideas are sure to inspire you!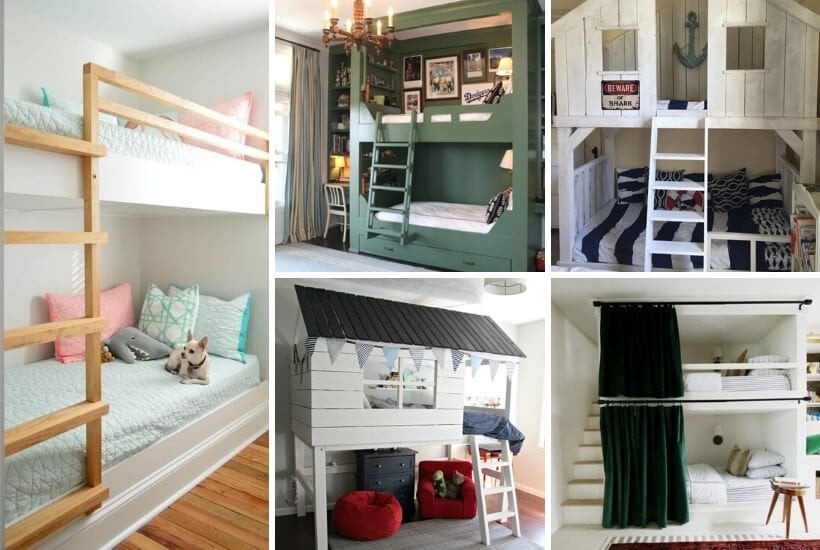 My daughter Avery had been begging for bunk beds in her room, so I started looking for DIY bunk bed ideas because I've never been a fan of store-bought bunk beds (though I did find a few attractive options that you can find at the bottom of this post).
Fortunately, as soon as I started researching DIY bunk beds and saw the amazing options other people had created I realized that built-in bunk beds can be totally amazing! I was super inspired by all these creative designs and they helped me come up with our design for Avery's room.
Now check out how Avery's bunk beds turned out and see the other amazing DIY bunk beds I found when I was searching for inspiration!
Bunk Beds in a Closet
We wound up creating these built-in bunk beds inside a closet (it was a secondary closet in Avery's room–no clue why her room had 2 closets). We even made the ladder ourselves. We all LOVE how they turned out!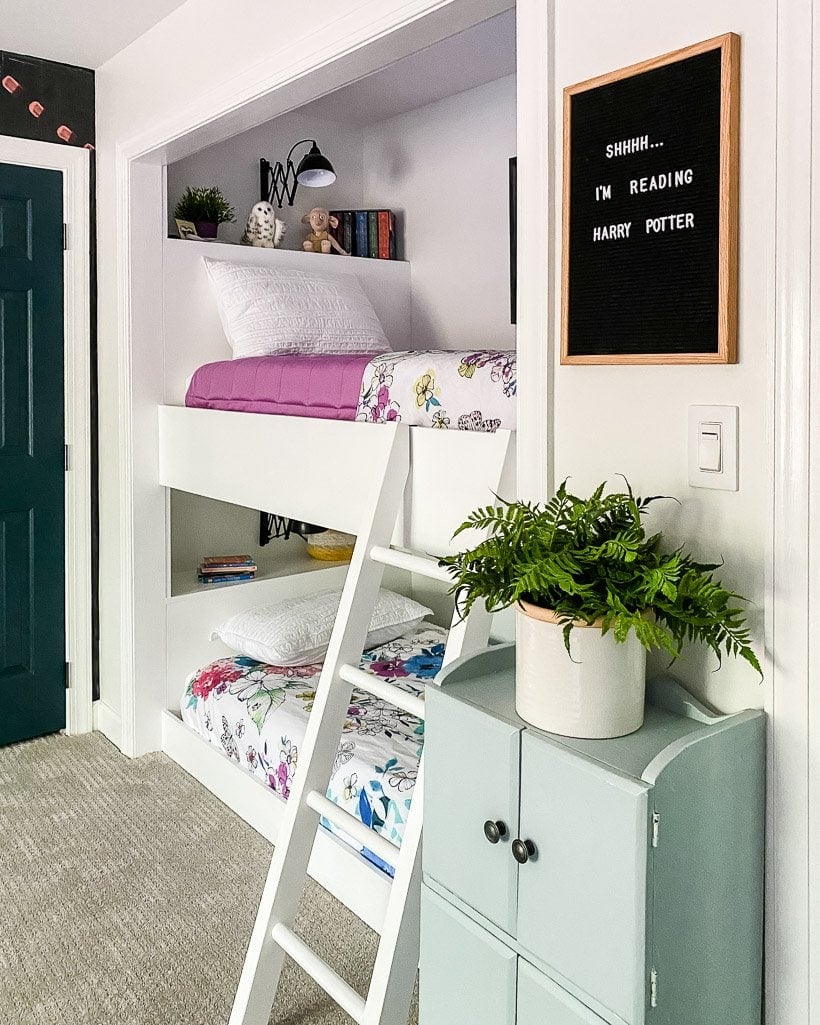 Take your DIY bunk beds three high with this clever idea from Jen Woodhouse.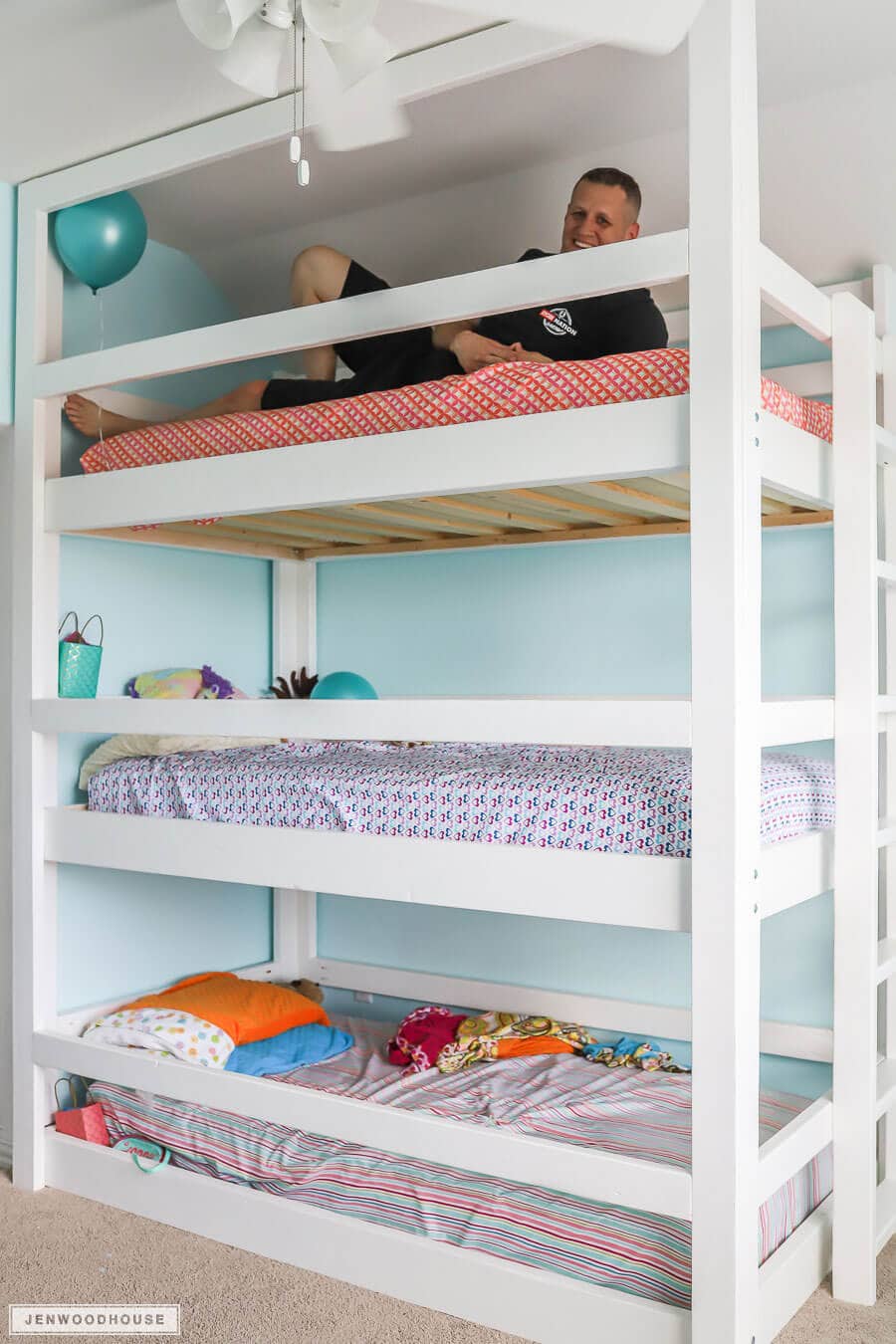 DIY Bunk Beds With a Slide
I mean, how cool is this? It's such a smart way of designing around the windows. I love the clean lines and modern design. And it has a slide!!!!! What kid wouldn't want this in their room?!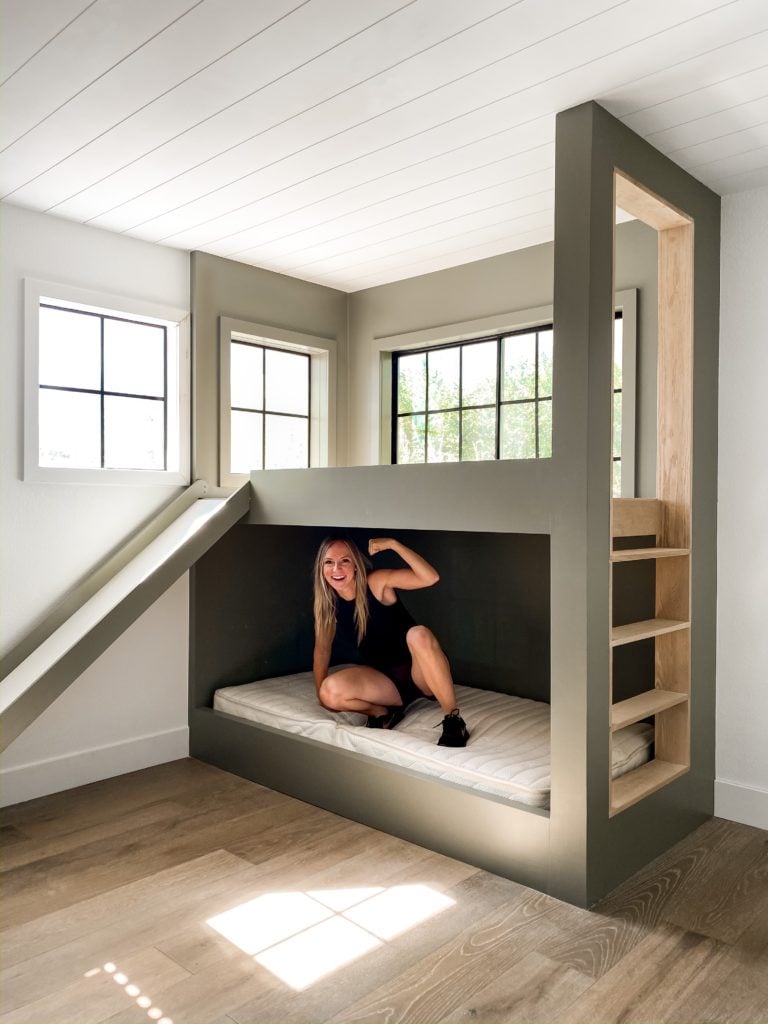 DIY Clubhouse Bunk
What kid out there wouldn't love their own bunk bed clubhouse?! This particular set up is really more of a loft bed, but if you added another mattress underneath, you could still sleep 2!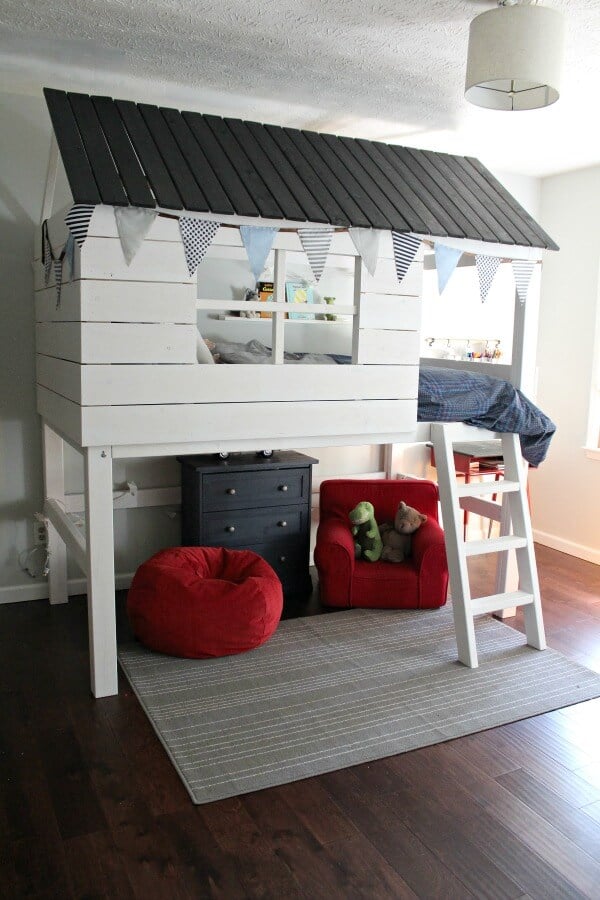 Simple Plywood Bunk Beds
The simplicity of these plywood beds with pops of color is awesome! And the drawers on the bottom are an added bonus since they can store extra bedding, toys, etc.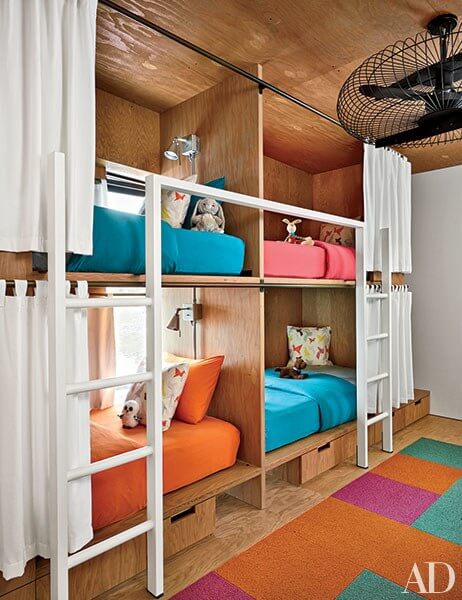 A-Frame House Bunk Beds
This is such a simple design, but it's definitely not just a plain bunk bed! The a-frame house style of this DIY makes it so stylish and modern! And I love that it's open and airy so it won't make a small bedroom feel even smaller.
DIY Bunk Beds with Pipe Ladder & Curtains
These cool built-ins are finished off with an awesome industrial pipe ladder and drawers perfect for extra blankets and spare sheets.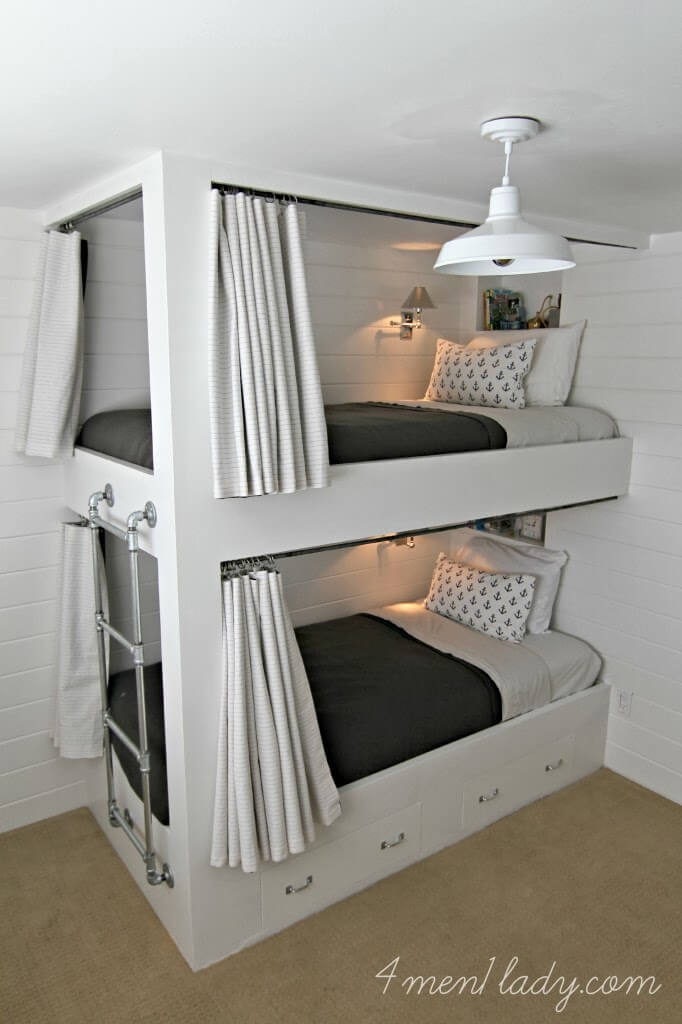 Minimalist DIY Bunk Beds With Shiplap
These bunks tucked into a shiplap nook may be simple but they are gorgeous! The dark wood accents keep it interesting.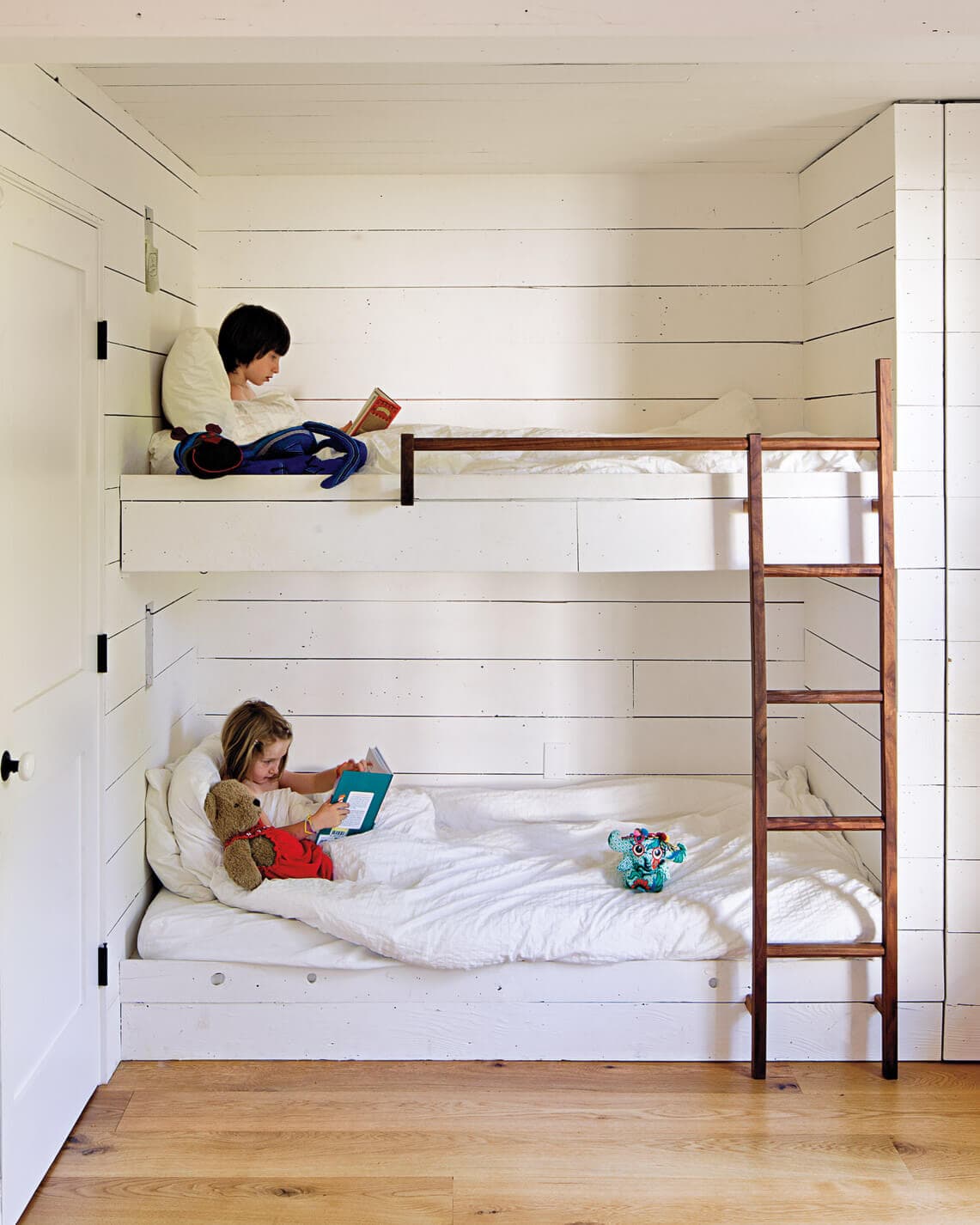 This couple needed to fit sleeping space for 2 in a very small room, so built-in bunk beds were a perfect solution. The use of consistent trim work around the built-ins makes them feel like they are on the original feature of the home and keeps the look consistent. So pretty!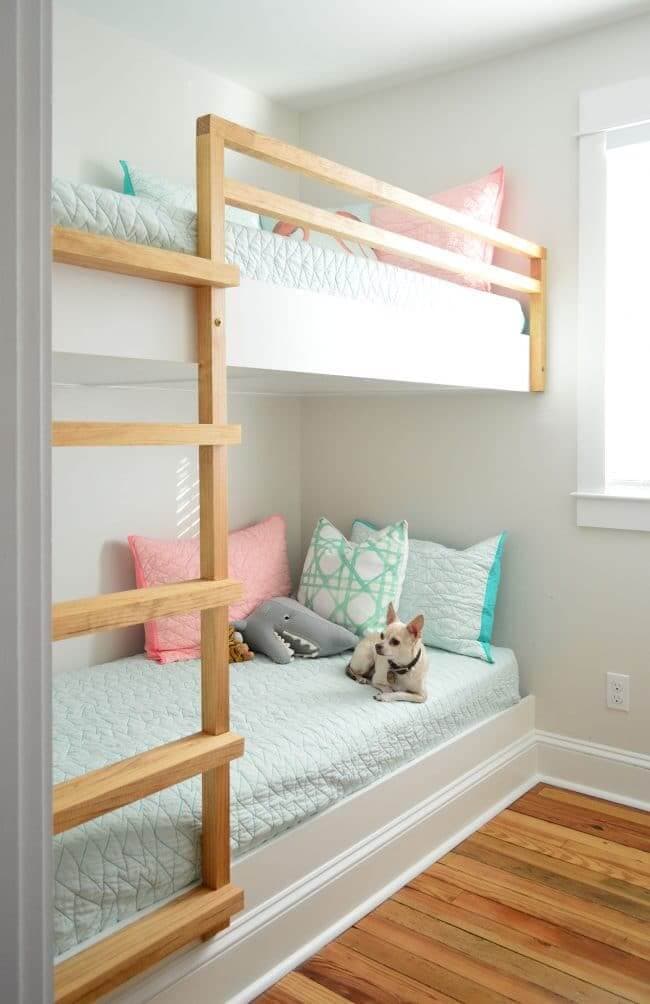 DIY Bunk Beds with Stairs & Curtains
I love everything about these built-in bunk beds, from the stairs up to the bunks to the lux velvet privacy curtains! And the sconces built in to each bunk is such a smart lighting solution–perfect for reading in bed. Such a great set up for two kids who share a room.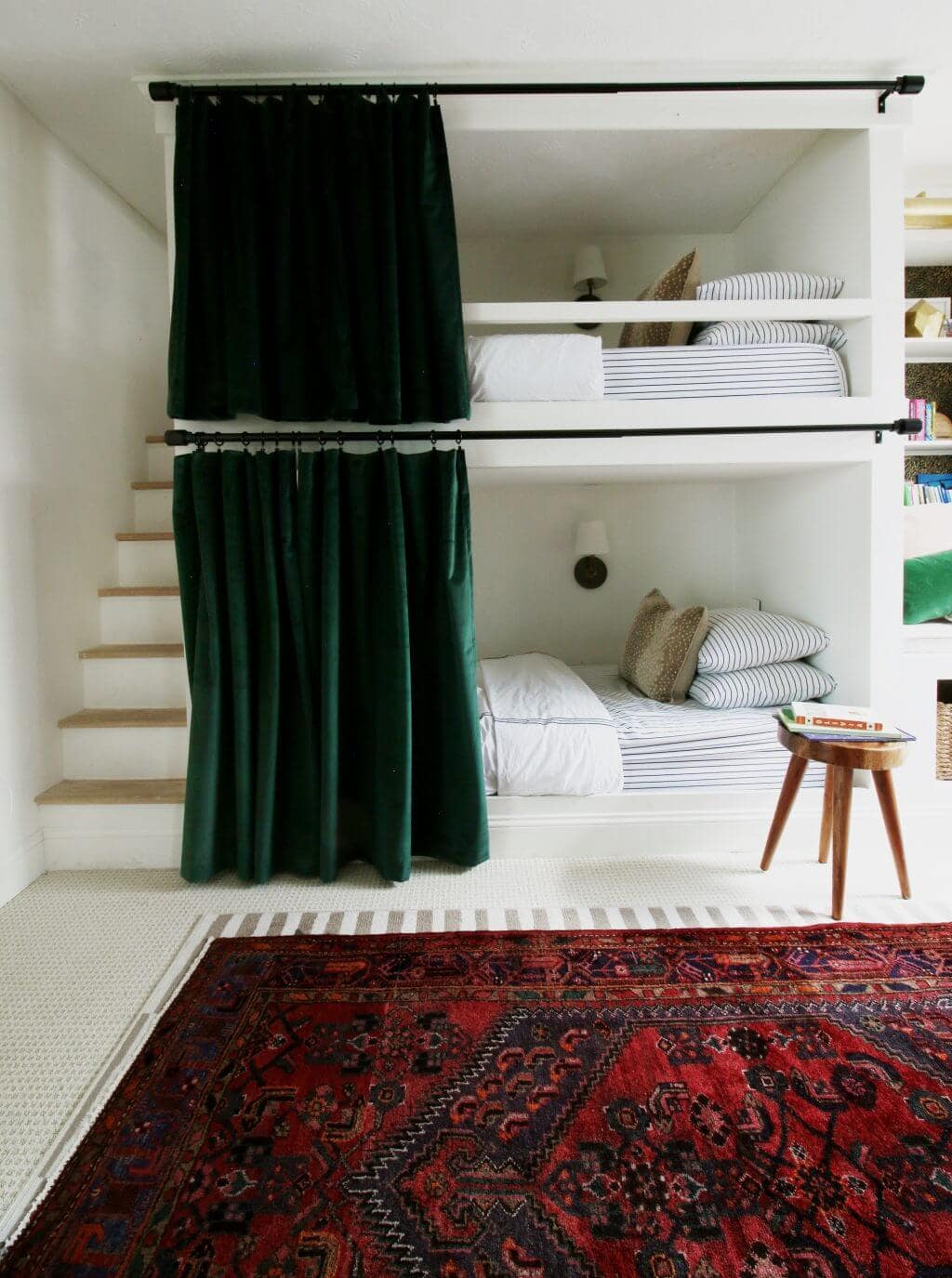 DIY Industrial Bunks
This tutorial provides free plans for this awesome bunk with a cool industrial vibe.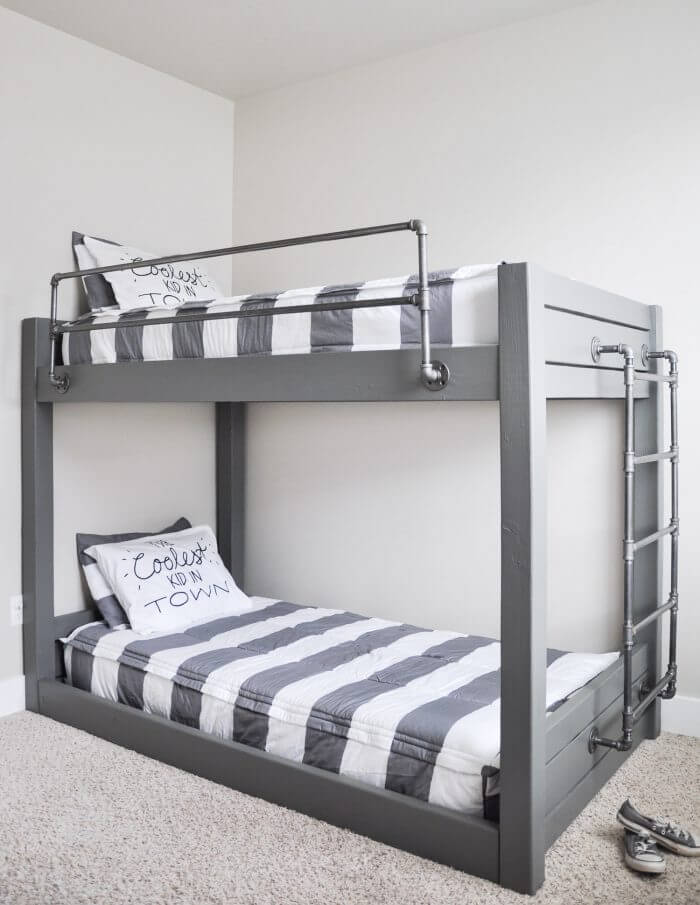 The designer of this adorable space created the perfect beachy room with bunks finished perfectly with trim and cleats on the drawers and natural wood ladder rungs.
Surf Shack Bunk Beds
This bunk bed that looks like a surf shack is so fun! It's large with a double bed on the bottom, so it would be best-suited for a larger room. The tutorial includes free building plans!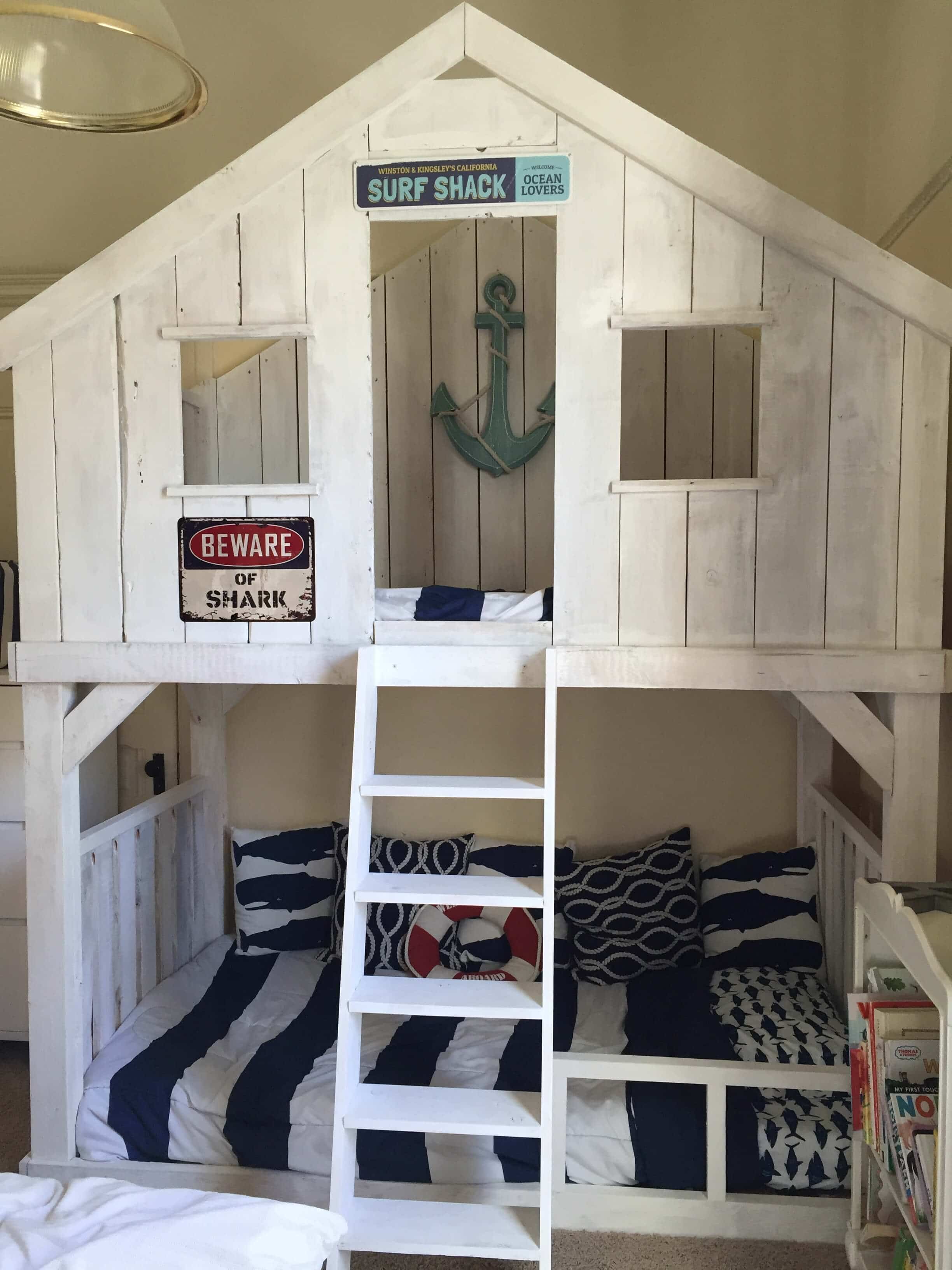 Floating Bunk Beds
Don't want a big bulky bunk bed? Try floating bunks! Simple and clever, these are perfect for smaller rooms and older kids who aren't going to accidentally roll out of bed.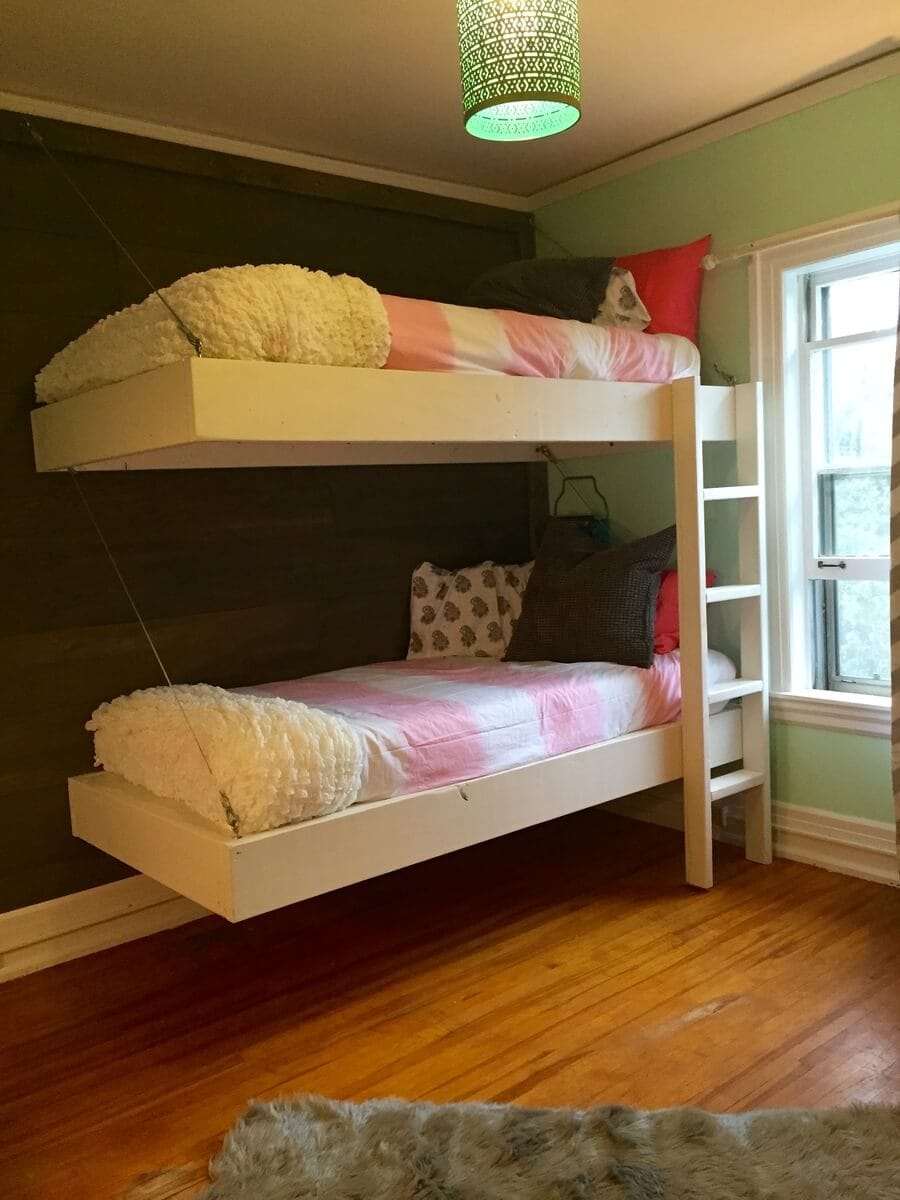 Curved Custom Built-In Bunk Beds
These custom beds are perfection. I love the curved lines and the white and wood combination! They are so modern and fresh!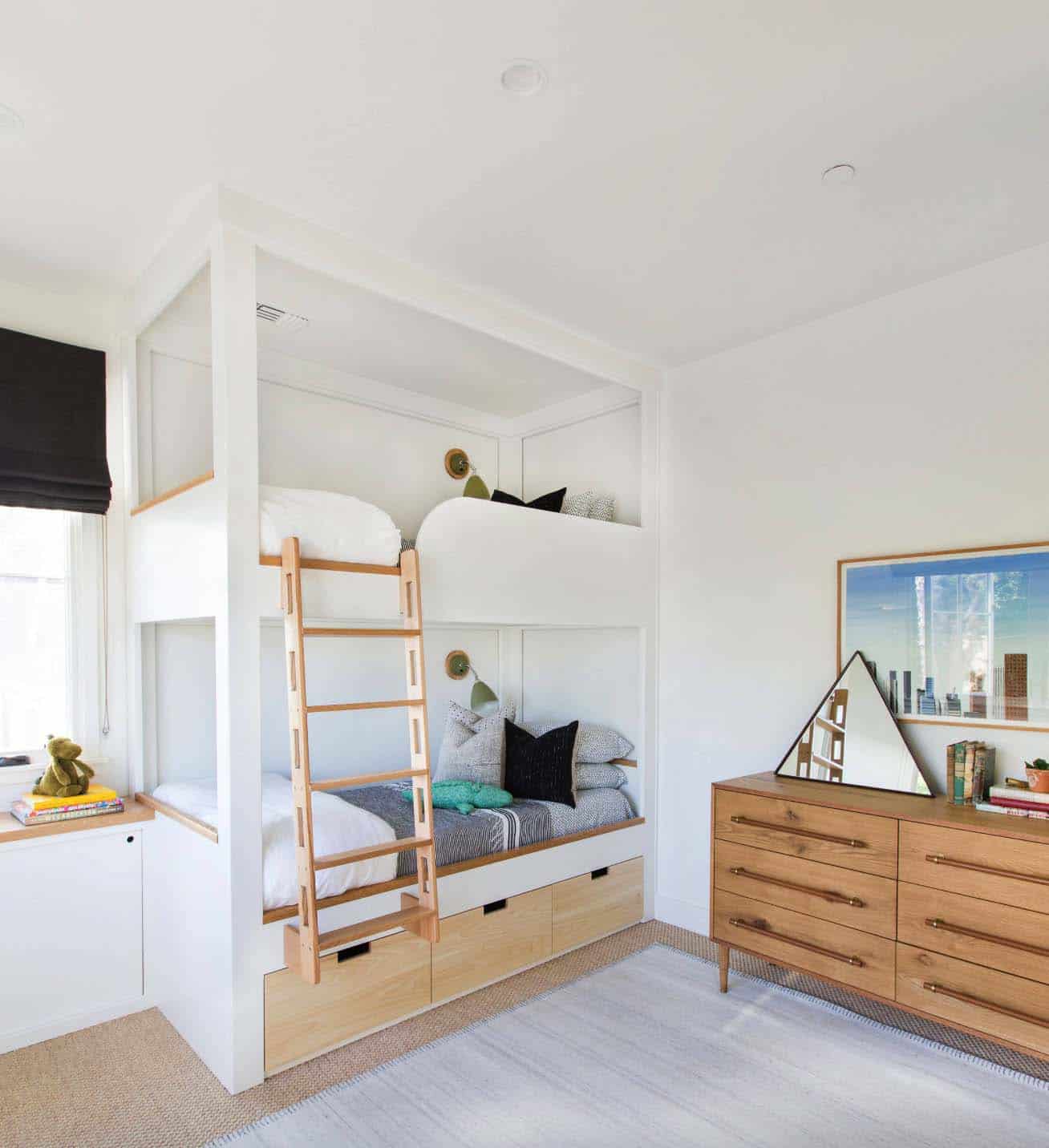 Bunk Beds With Display Shelves and a Gallery Wall
The designer who created this stunning spaced designed built-in bunk beds and a bookcase/desk, which help maximize the space and keep the room organized. I love the idea of hanging a gallery wall and creating shelves for prized possessions in each bunk!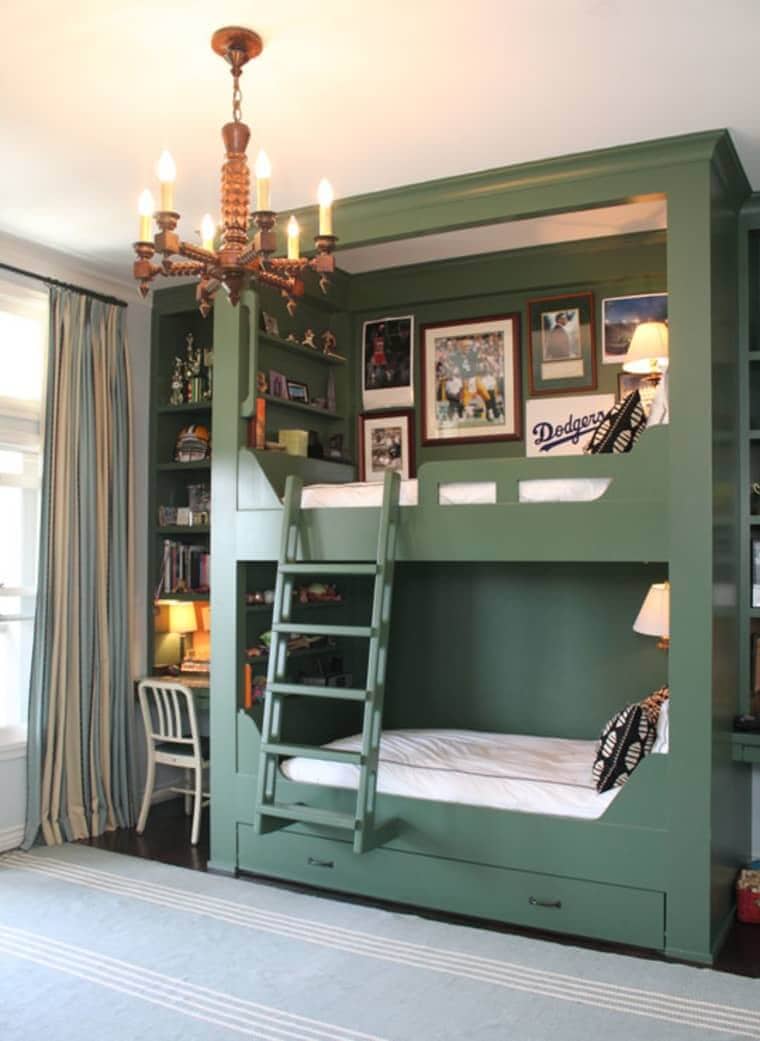 Classic Bunk Room Built-Ins
Bunk rooms are a great way to put a lot of sleeping spaces in one place. People are using multiple bunks in their vacation homes or for rooms that lots of kids share and it is genius! This design with shiplap across the back and natural wood on the ladder and railing is absolutely beautiful. And I love that it has storage in the built-in drawers.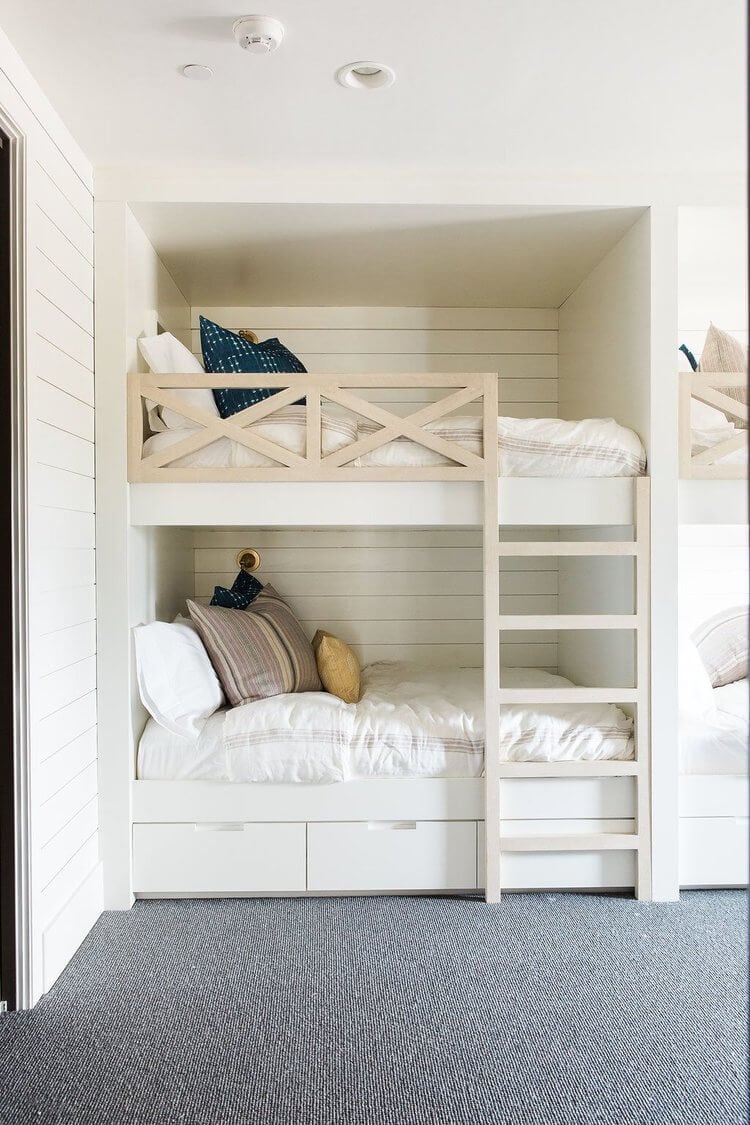 Aren't those DIY bunk bed ideas awesome?! DIY bunk beds offer unique ways of adding sleeping space to your home and transforming an ordinary room into an extraordinary one. I hope these ideas ignite your inspiration and encourage you to create the DIY bunk bed of your dreams.
This post contains some affiliate links for your convenience. Click here to read my full disclosure policy.
Don't want to DIY bunk beds? Here are some you can buy!
Now, If you can't wait either and don't even want to take the time to DIY, I also have some great bunk beds that you can purchase below. This took some searching, y'all! It's not easy to find pre-made bunk beds that are easy on the eyes, but I found some great ones!
Just scroll through the images and click on any of them for full product details.

Other posts you may enjoy:
Wondering how I approach transforming rooms and spaces in our home? Check out Designer in a Binder®.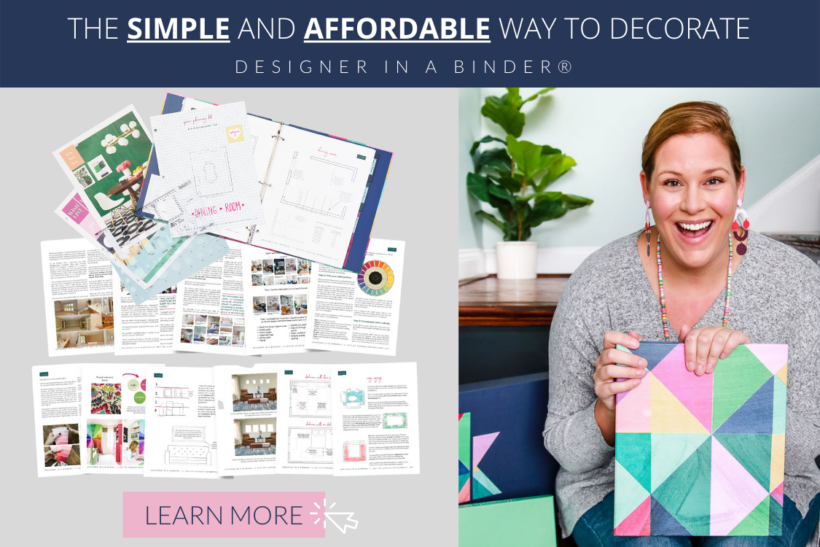 And if you want exclusive content and behind-the-scenes sneak peeks, be sure to subscribe before you head out!