28 Dreamy Bedroom Ideas for Girls of All Ages
Looking for ideas for your daughter's bedroom? Giving your daughter a well-designed room can be challenging because often their vision for the perfect room and yours do not line up! As the mom of two girls, I have some practice creating bedrooms that we all love. I promise, you can create a stylish space while incorporating your girl's own unique style. Whether you're looking for practical tips, wall decor ideas, or color scheme inspiration, these dreamy girls' bedroom ideas have you covered. From chic teenage bedrooms to sweet inspiration for littles, these ideas will spark your creativity and help you create the cozy bedroom of your girl's dreams, no matter how old she is!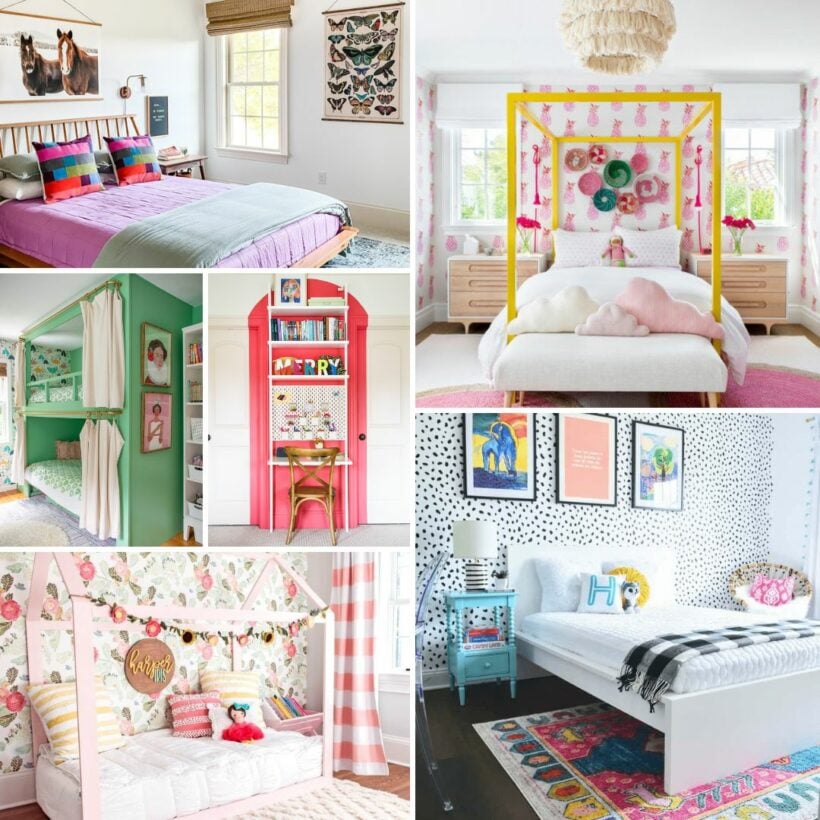 Ideas for Young Girl Bedrooms
Little girls' rooms don't have to be babyish or "themed." Give your young girl a room with an elevated look that is designer worthy with these smart and beautiful ideas. She will love her room and you won't cringe every time you walk past it!
Find Smart Storage
Choosing storage that is easy to access and also stylish is one of the most important parts of designing for kids. A smart place to store toys, books, and all the other stuff is a must for your girls' bedroom! I am always shocked at how much junk my twins accumulate. For Attley's old room we chose a basic white bench seat from The Home Depot and dressed it up with fun cushions and pillows and added baskets for hidden storage. It was a super cute reading nook with plenty of places to stash her stuff!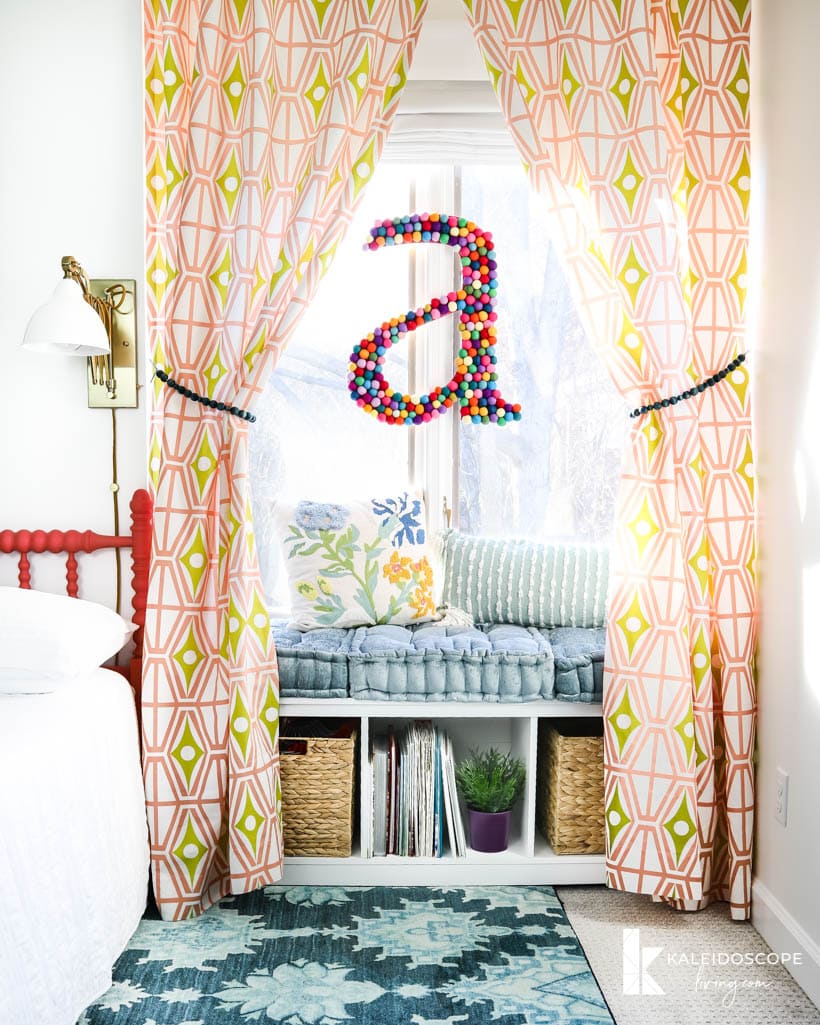 Add a Wall Mural
Give your little girl an instant dream room with a mural! Creating a stunning accent wall with a huge wall mural is a beautiful (and easy) way to fill a large blank space, add tons of color and fun to the room, and let your kid's personality shine!!! In our old home, we let each of our girls choose their own peel-and-stick murals and Attley's room got this fun woodland fox and bird picture with lots of color and texture. It looked amazing and made it so easy to decorate the rest of her room!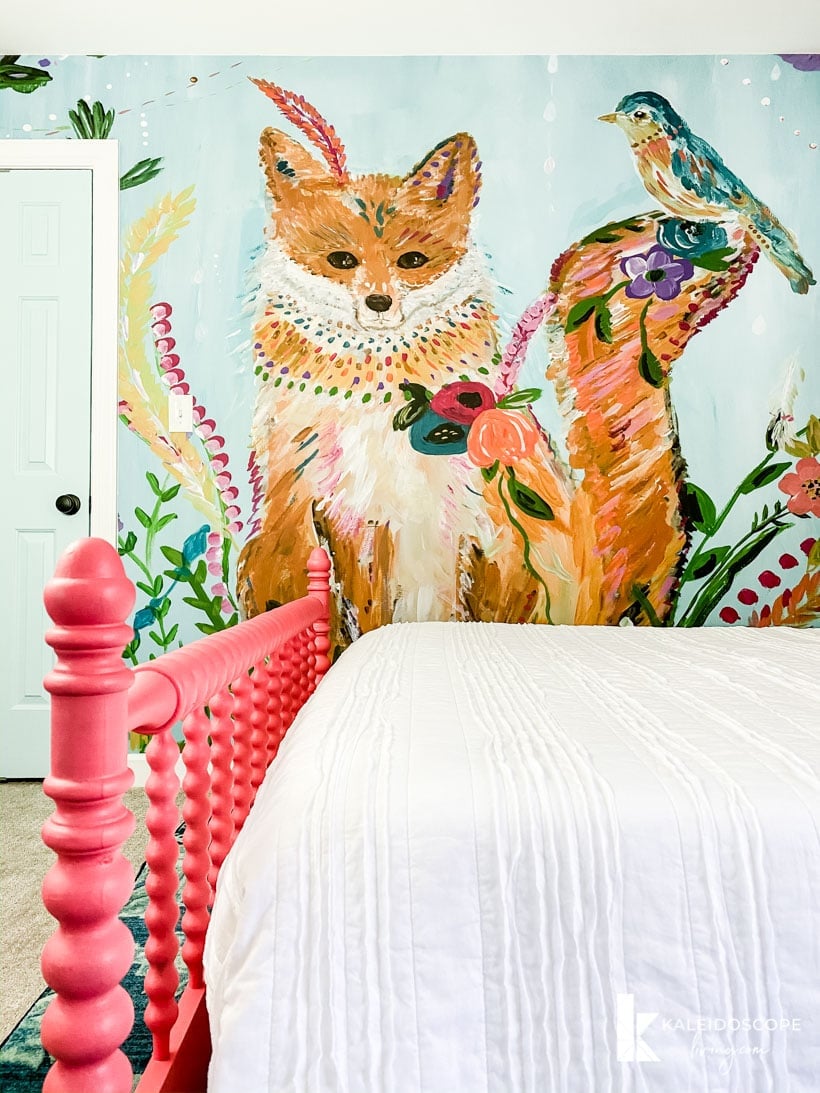 Add a Wall Quote
When our girls shared a room, I made this vinyl wall quote with my cutting machine and we filled a whole wall with it. They loved it, and it was such a sweet touch that really made their shared space feel special. The best part is you can pick any quote that works for your girl's room and it can be any color or font that matches her design aesthetic.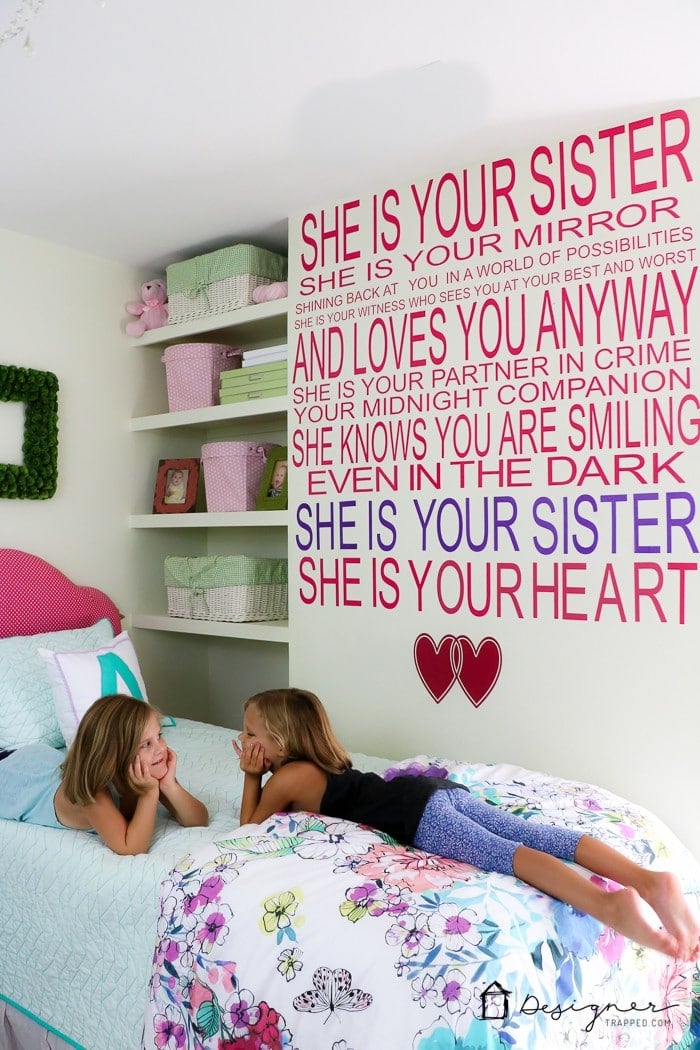 Make it Cozy with Curtains
In our old home, Avery had an extra reach-in closet in her room that was wide and spacious, but she also had a walk-in closet and she absolutely did not need 2 closets. So we created a cozy bed nook for Avery in an extra closet in her room and adding the curtains made it feel extra special! She loved that it was like her own little secret hideaway and the curtains were the perfect added touch. And it also freed up lots of floor space in her room, which was nice.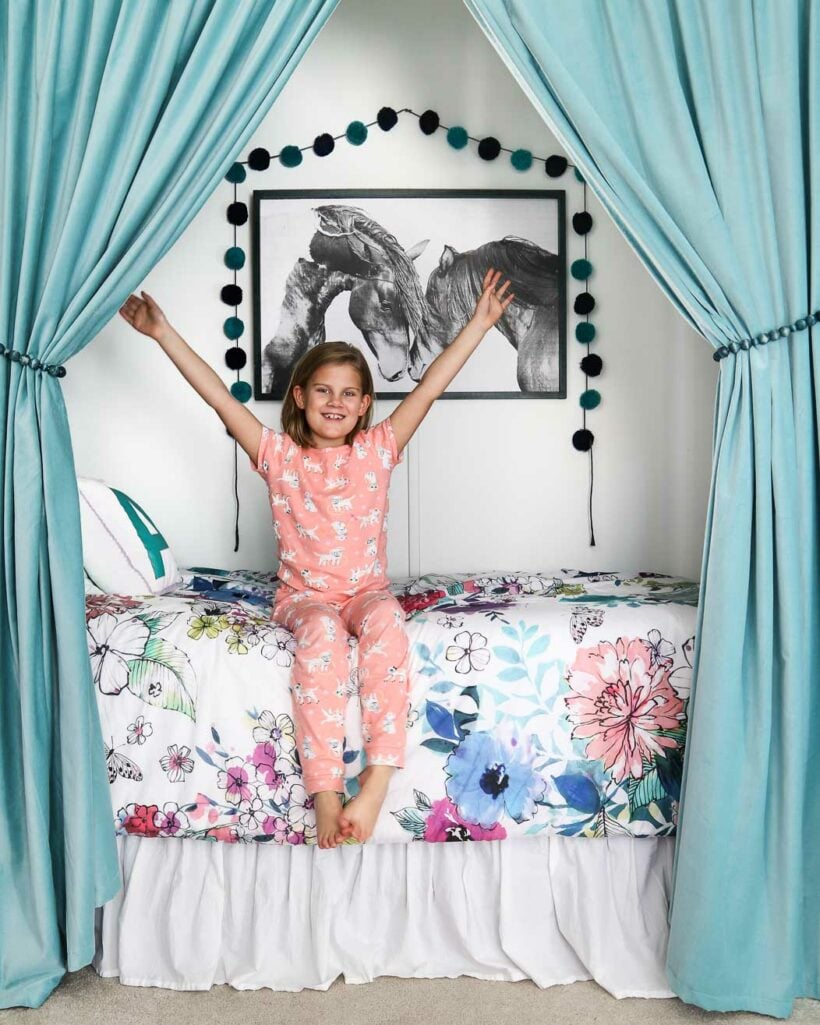 Add Built-in Bunk Beds to a Closet
A few years after we created that cozy bed nook for Avery, we switched things up and used her extra closet to create these DIY built-in bunk beds so that she could easily have sleepovers. There was enough even space to add shelves. She loved her built-in bunk beds and still misses them!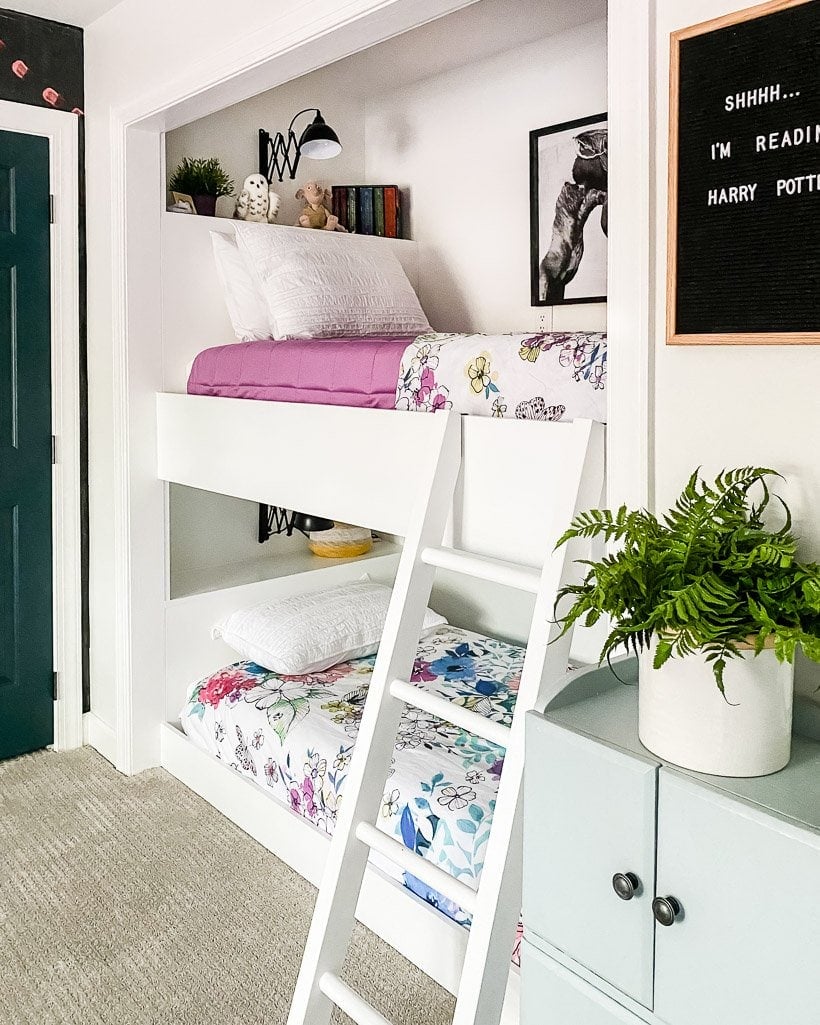 Keep it Minimal
Just because it is a kids' room does not mean it has to be filled with toys and bright colors. Keep it minimal with white walls and white bedding with soft pops of color, boho textiles, and natural textures. This is a shared room but the lack of kid clutter and minimal design keep it bright and airy.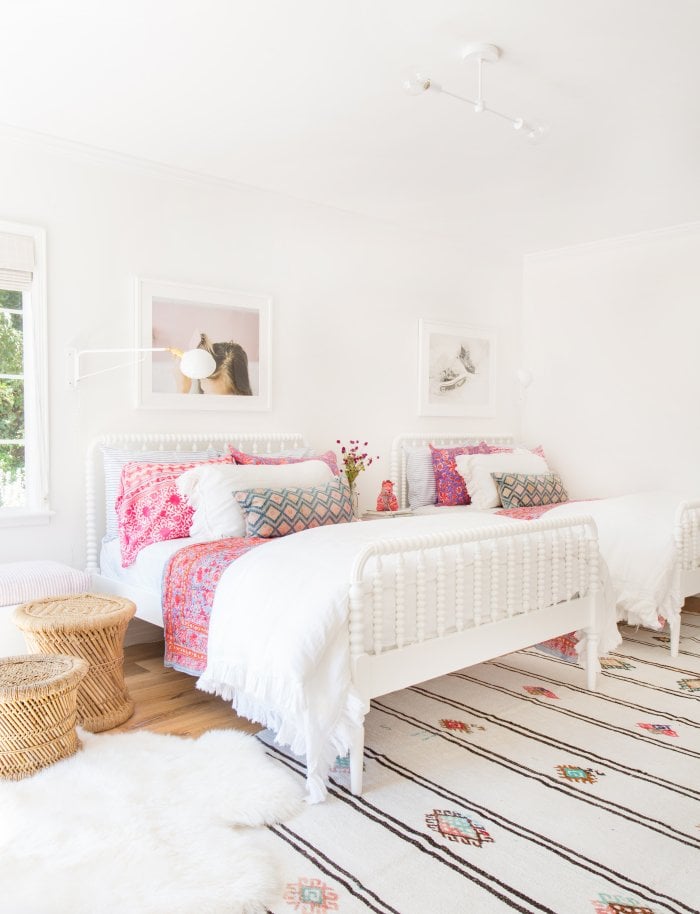 Go Bold With Wallpaper
Go big on your wallpaper! Floral does not have to be prissy or fussy. I love this bold bright graphic print. Paired with the gingham and colorful decor it is a dream room for a little girl who likes things fun and funky. And if they do want a girly floral, you can easily find that too!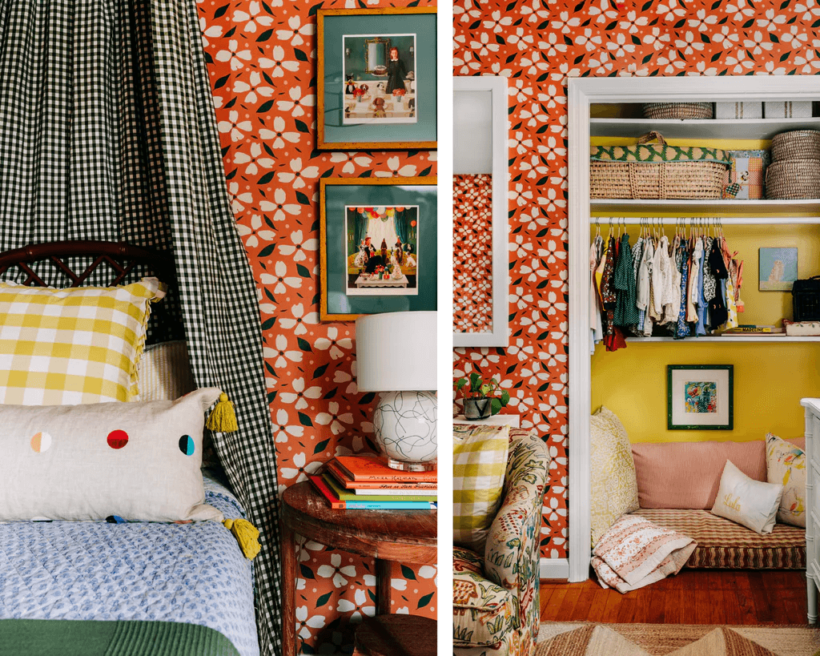 Use Different Shades of Pinks
If you have a little girl who loves pink go all in! Pink is a super versatile color and you can mix shades of it from soft pastel blush to hot pink to coral and it looks fabulous together. Embrace the pink!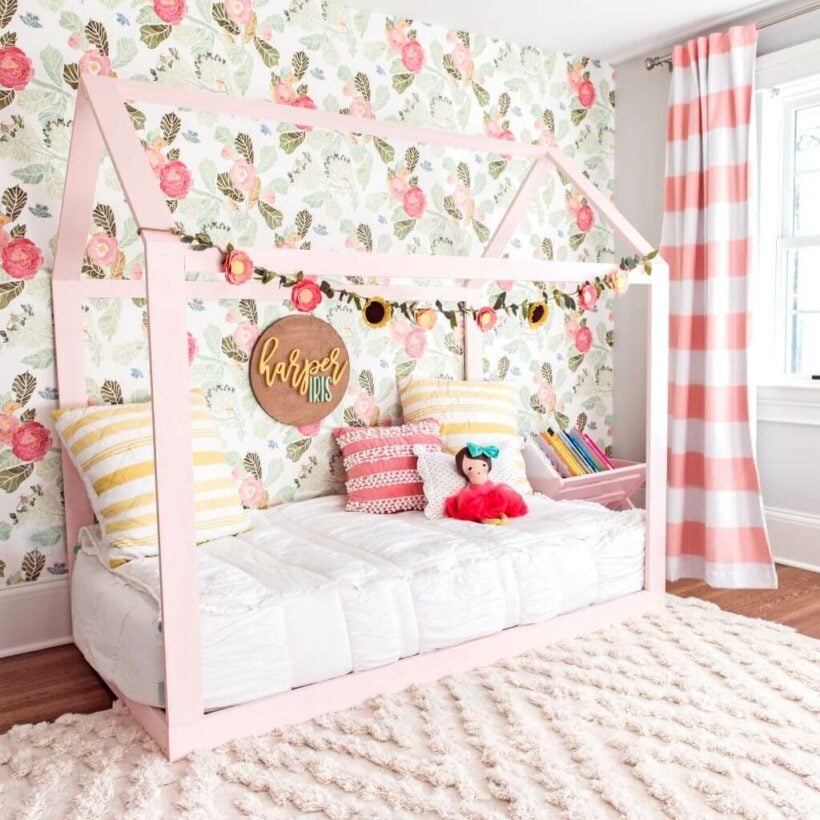 Create a Reading Nook
Creating a space to encourage reading that is also cute is one of my favorite design + parenting hacks. If you make it cute and comfy, they will want to snuggle up in it for hours! This little girl's bedroom has a fun canopy, cozy cushions, and a bin to make books easily accessible. This also encourages quiet time which gets double stars!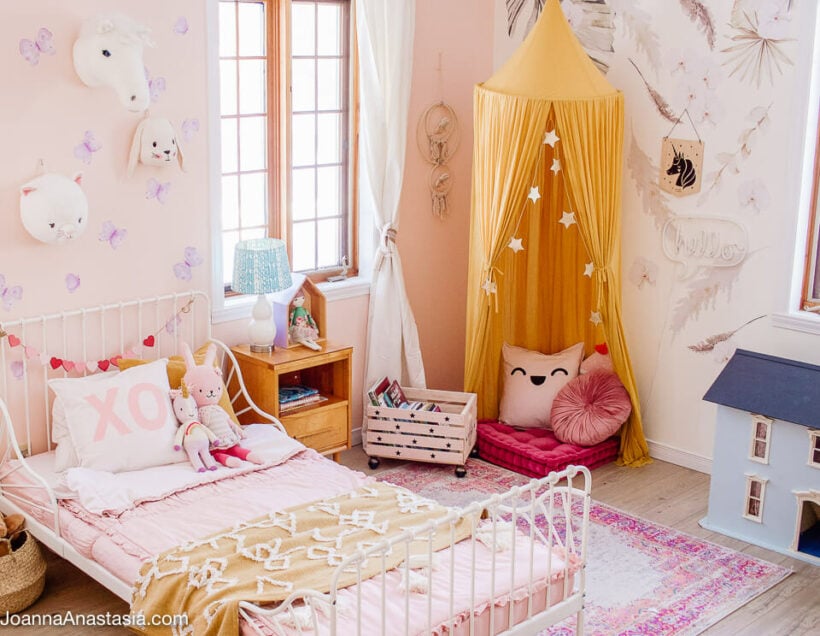 Use An Unexpected Color Palette
Little girl bedrooms do not have to have juvenile color schemes. This unexpected color palette mixes pale blue with bright pops of orange, turquoise and chartreuse. The effect is a bedroom that is fun enough for a kid, but still incredibly beautiful and well-designed. I know plenty of adults that would love this room!
Add Custom Built-In Beds
Building custom beds like this amazing built-in bunk bed adds so much character to the room and saves on floor space! If you have kids with a shared room but not a lot of space for two beds then consider this option. There are not a ton of cute premade bunk beds, but there are tons of amazing DIY bunk bed options.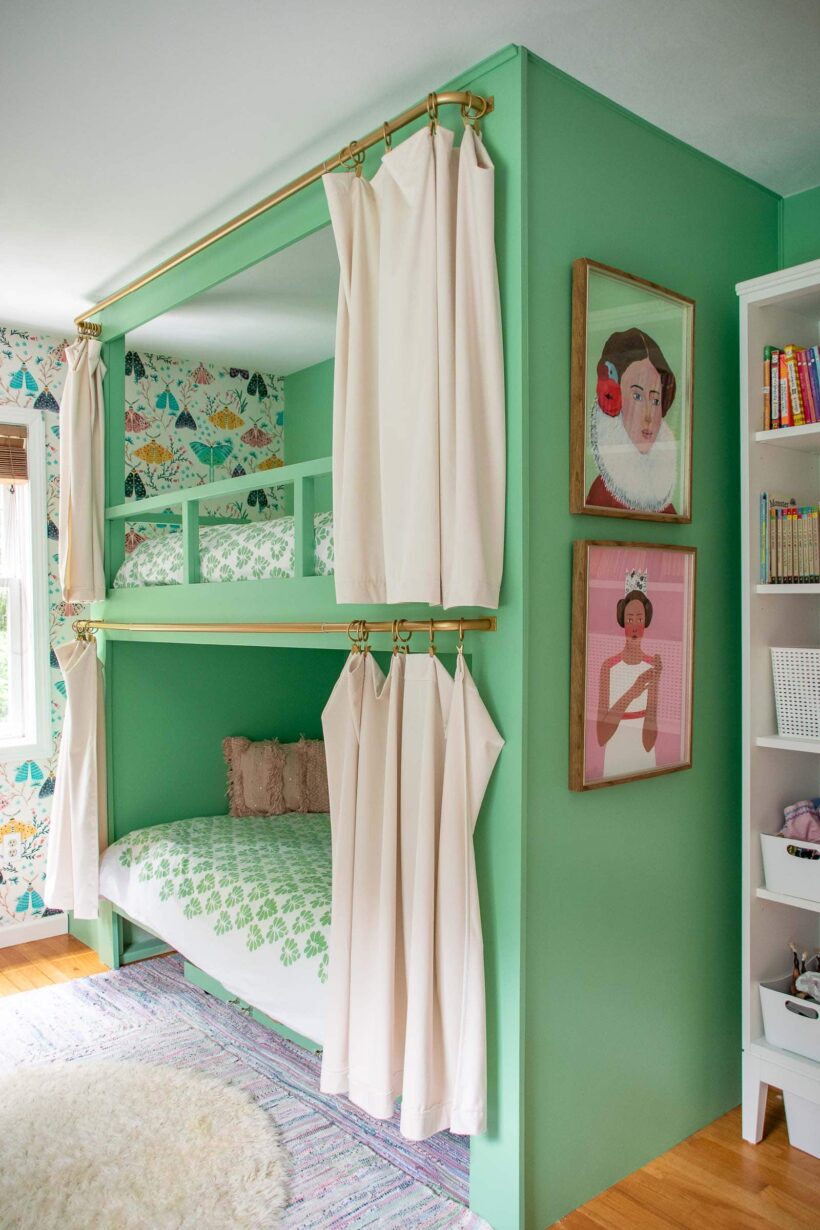 Dress Up the Ceiling
There is something extra special about adding wallpaper to the ceiling (in fact, it's one of my favorite gorgeous ceiling ideas that make a big impact). We wallpapered our dining room ceiling and it took the whole room up a notch and added that WOW factor I was looking for. Dressing up your little girl's ceiling does the same thing! Adding wallpaper or even a hand painted ceiling adds a total WOW moment to even a minimalist room design.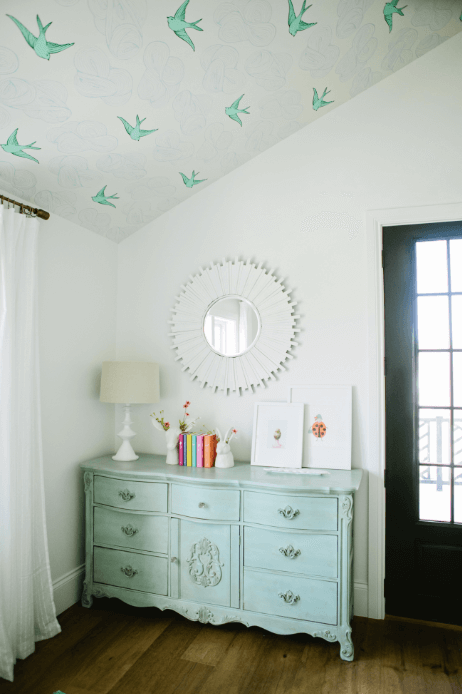 Teenage Girl Bedroom Ideas
As your little one grows, her needs for her room and her tastes will change! These teenage girl bedroom ideas are perfect for incorporating into your girl's room as they grow into a tween and beyond. Just because they are getting older doesn't mean they don't want a dreamy room too! If you want them to be at home, give them a sanctuary to come home to.
Use Smart Shelving
Give your teenager somewhere to put her books, plants, and favorite mementos! We added these wall-mounted bookshelves to complete Avery's current room when we designed her space in our new house and they are the perfect choice. Giving your kids shelves will create a spot for items instead of finding stuff willy-nilly all over their room. This eliminated stacks of books and treasures on every surface in her room!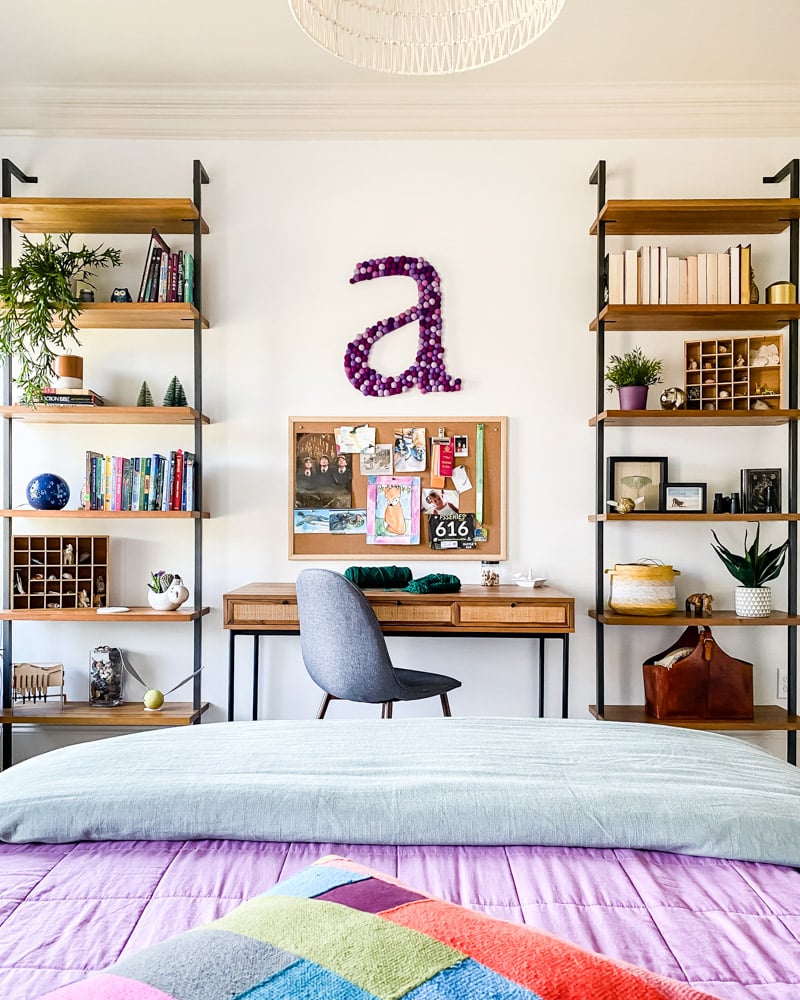 Paint a Simple Mural
Add a bright pop of color and fun by hand-painting a simple mural on your teen's wall. It can be one simple shape, like the arch we painted in Attley's room to make her desk pop, or you can get really creative and go bigger, like the design we painted for our bonus room mural. It looks so much harder than it is! You can involve your daughter (or not, LOL) and all it takes is an idea, some paint and supplies, and a little time.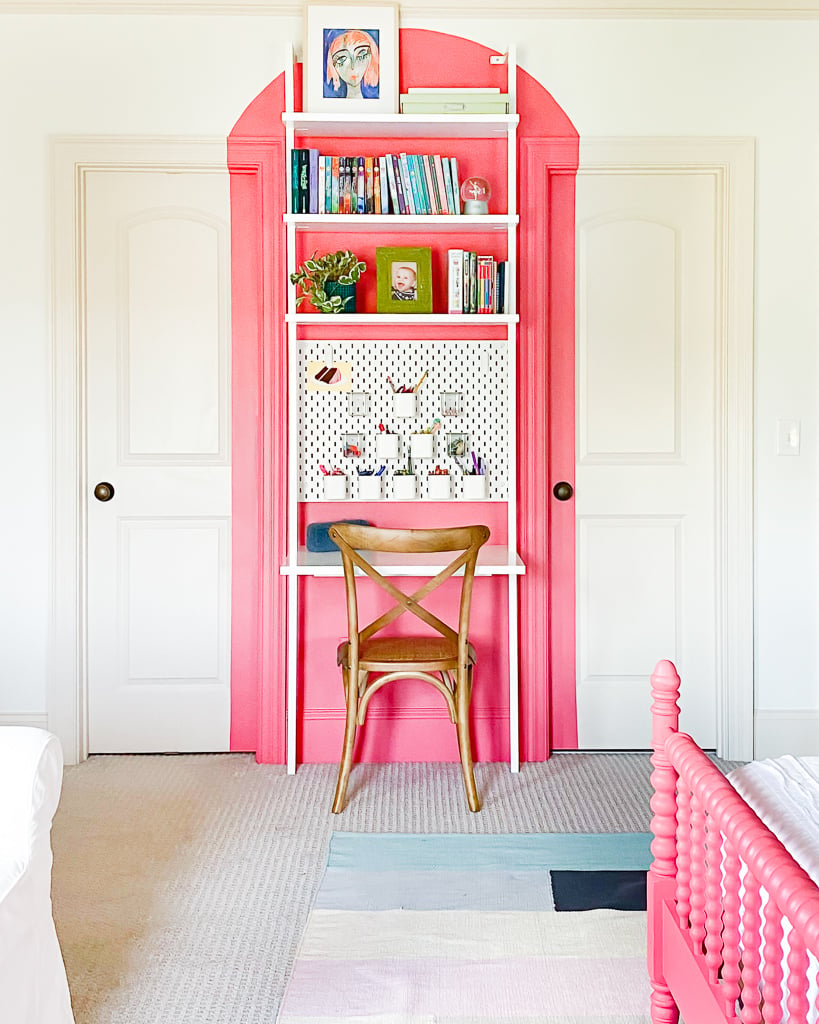 Create a Study Space
Studying comes with being a teenager. Make sure their room has a desk area where they can get to work. It does not have to be anything complicated! We made the easiest desk ever out of an IKEA table and brackets but you can adjust your desktop for the size you need. This is a great option if you need to make your teen a dedicated study area but there is not a lot of space in their room for it.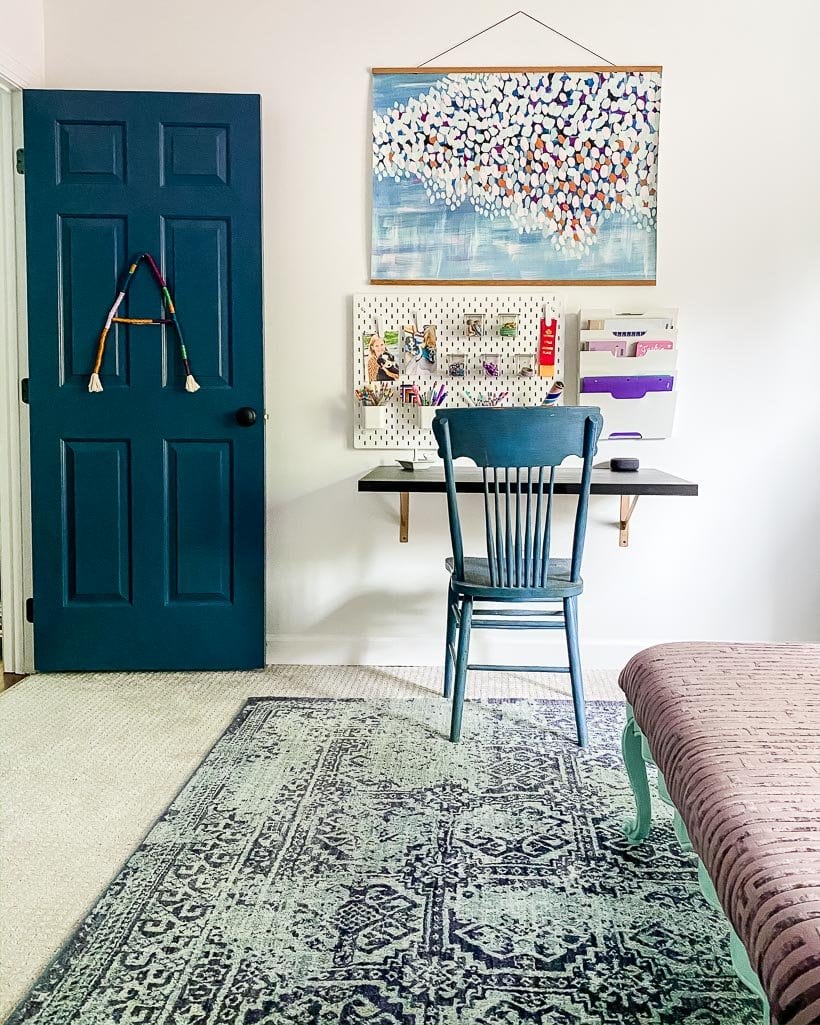 Add Additional Seating
Fact: teens spend LOTS of time in their bedrooms. Add additional seating for when their friends come over so everyone is not crammed on the bed or having to lay on the floor! We used a small IKEA loveseat in Avery's old room and added a coffee table-turned-ottoman as a footrest that can also be used for seating if there is a crowd. If you want friends to come hang out, make a comfy space for it!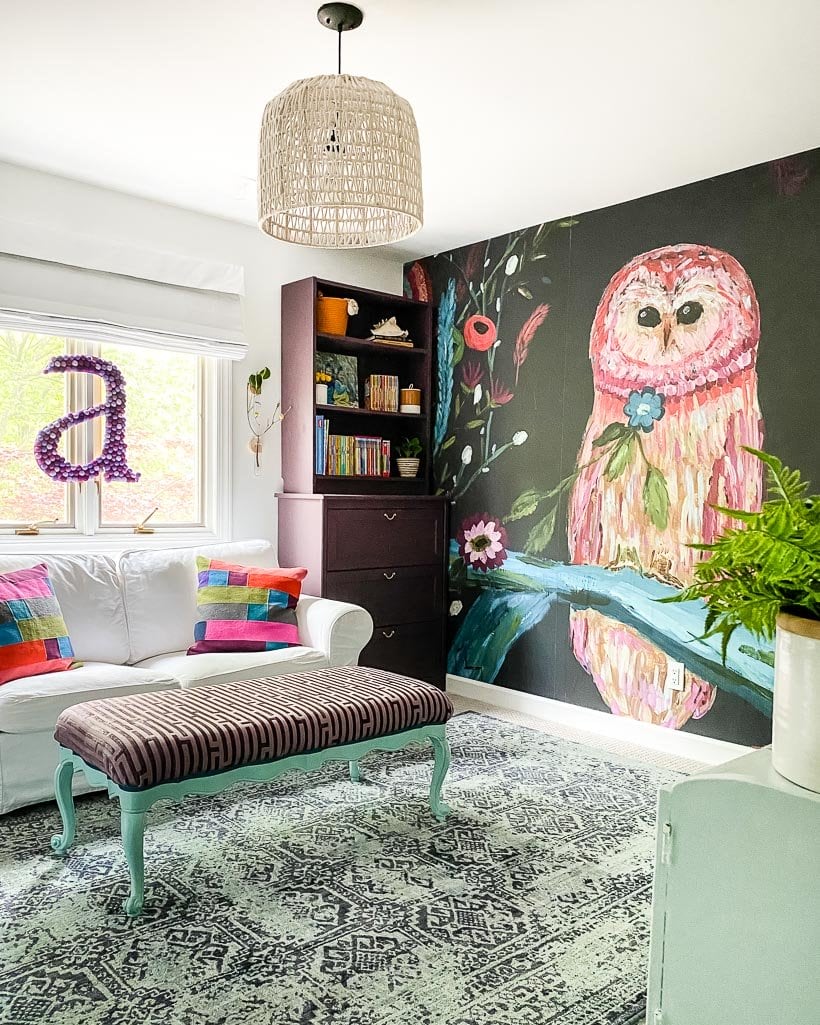 Consider Their Design Aesthetic
If you want your daughter to think her bedroom is dreamy, letting her choose the color scheme and design aesthetic will go a long way! When I got ready to design my girls' rooms in our new house, I knew that they would have VERY different opinions. Attley loves rainbow colors and feminine things, and Avery is much more tailored and likes jewel tones like purple and teal. With her input, we created a bedroom we both loved, and Avery's current room is perfectly her!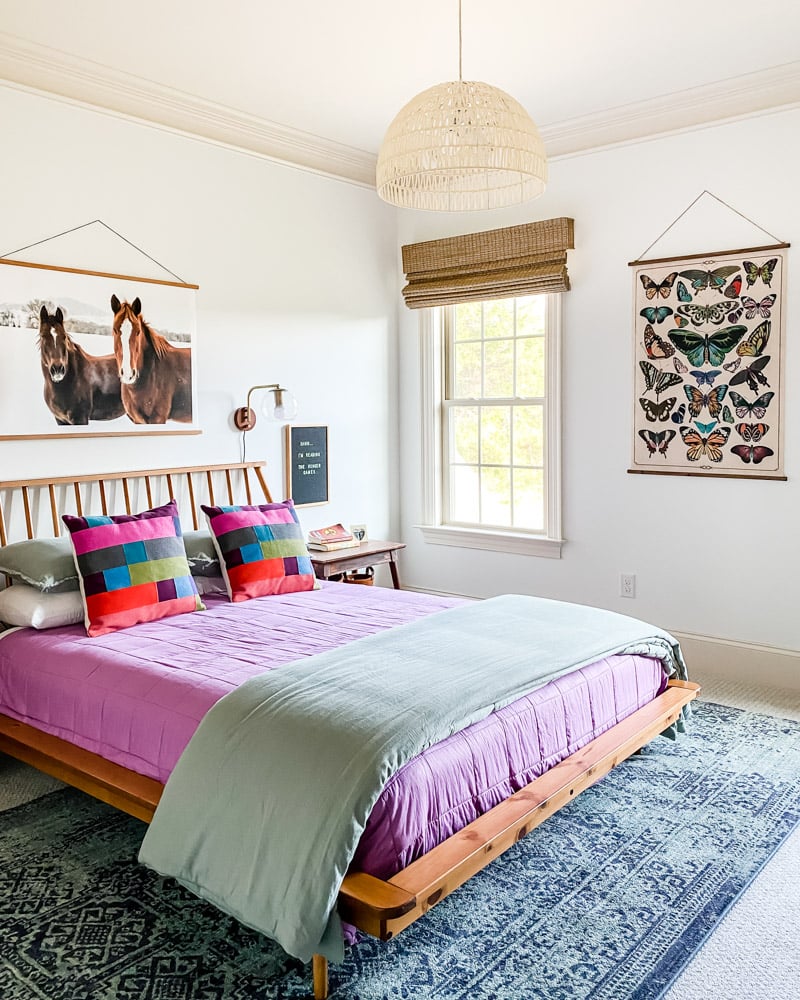 Area Rugs are a Must
Area rugs are a must in a bedroom. They create a sense of coziness and anchor the room. Even if you have carpet, you should still be layering your area rugs on carpet. It also warms the room up and feels great on their feet, especially if the floors are hardwood or tile.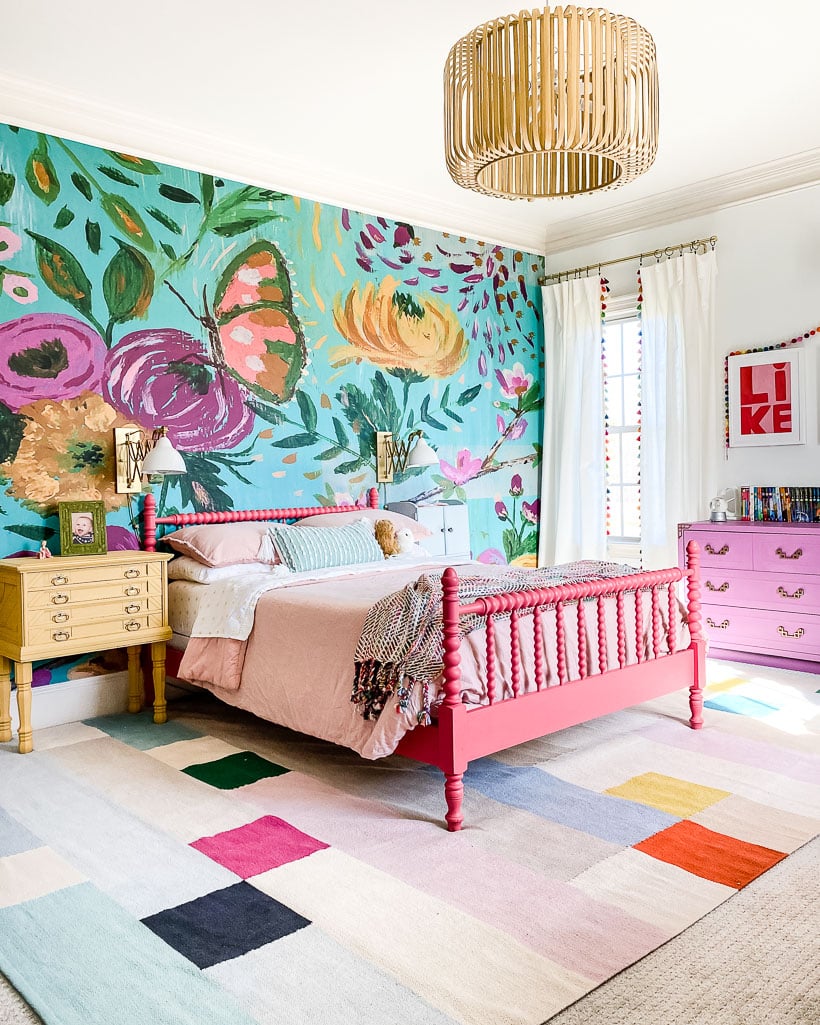 Find Cool Lighting
Always opt for cool lighting when you are thinking about teen girls' bedroom ideas. There is something about interesting lighting that brings the space alive and makes it feel more trendy. If this room had a regular plain fixture it would still be a great room, but it would not be the same! Adding extra mood lighting like the houses up on the bookshelf is a great idea for teens who don't need night lights anymore but may like soft light occasionally.
Mix and Match Styles
An eclectic and layered design is the mark of a beautiful room. When you design your teen's room, choose elements that pull from various styles but still work well together. The wallpaper, bed and textiles in this room have a boho feel, the side tables are modern and the curtains lean more traditional. Because they are not all one style, it feels collected and inspired.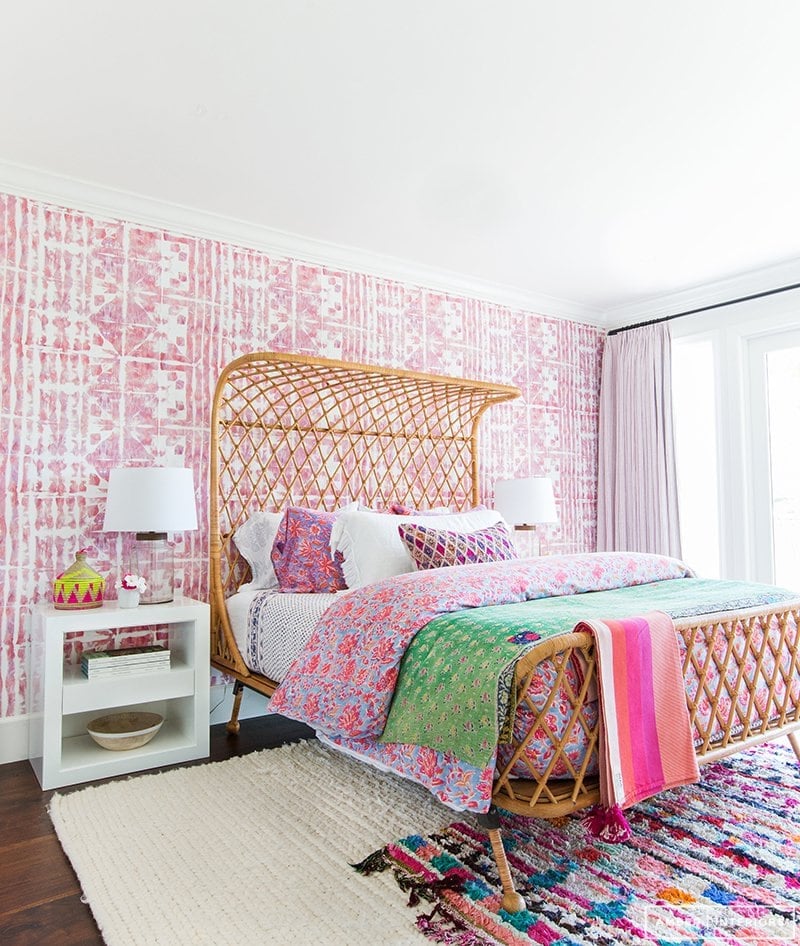 Give Her a Canopy Bed
Nothing will ever be more dreamy than a canopy bed. I think at some point every girl has imagined herself in one! Added curtains create a romantic canopy bed feel and will work wonders to block out the light when your teen wants to sleep late!!!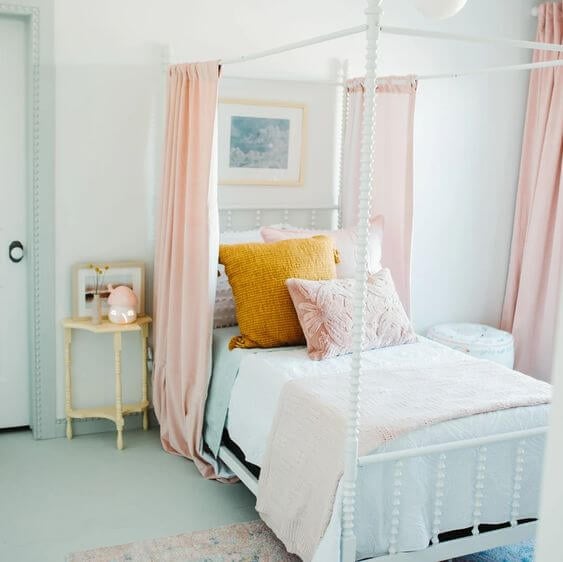 Be Smart with Small Spaces
Not all room sizes are equal, but that doesn't mean even small rooms cannot be amazing. Make the most of the space by not filling the room with junk she doesn't need. This small but gorgeous teen room has the bare necessities and is a cozy haven any teen would love. As long as she has a bed, a small table beside it and a place for clothes, she is good!
Mix Bold Prints and Bright Colors
Need bedroom ideas for girls with big bold personalities? Give her a room to match it! The graphic black and white polka dots are the perfect backdrop for the bright-colored art, pillows and rug. Don't forget to pair all those bright hues with some solids, like the white bed and bedding, so the bright colors really pop and it doesn't get too chaotic.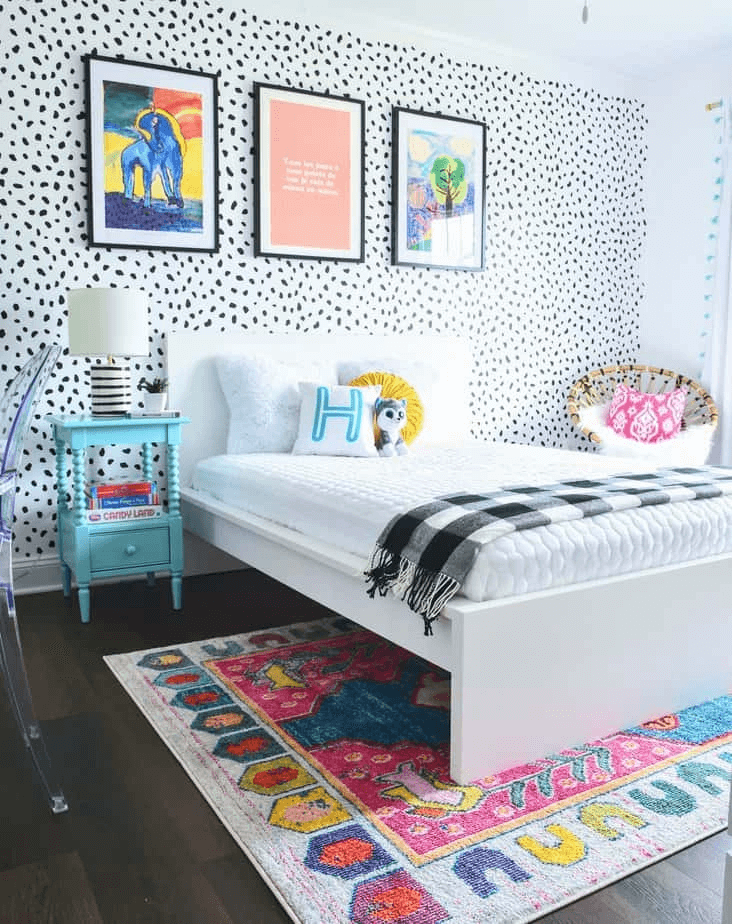 Use Vintage and Antique Pieces
When you are designing always make sure to use the pieces that you love. The best pieces are the ones that are special, and that is more important than any trend. Don't toss out or get rid of antiques or vintage pieces (unless you hate them), use them in your rooms! The antique iron bed is the perfect complement to the florals and more modern bedside tables in this girl's bedroom. Vintage pieces have a way of making a room feel more interesting.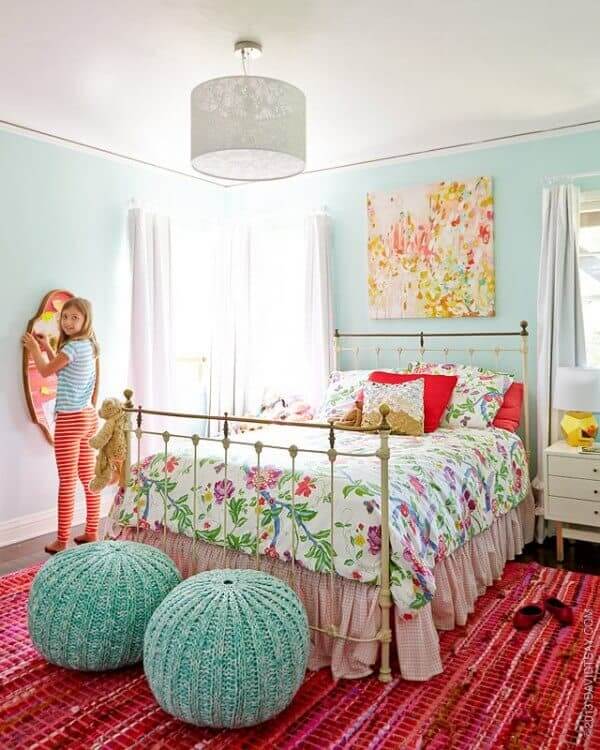 Add An Element of Whimsy and Fun
Girls of all ages want to have fun! Add fun decor touches like these paper lanterns and picture ledges she can use to prop art and photos on. I love the touch of whimsy the lanterns bring–you could also add a disco ball, paper flowers, or paper stars. These are neutral, but this would be a great way to bring in fun colors!
Add Plants
This bedroom idea for girls brings nature from outside into your teen's room. Add plants to bring a little life in, and plants are very trendy right now! You don't have to have a whole wall of plants like Mandi did for her daughter, but adding a few brings a natural element into the room. Make sure to choose varieties that don't need a lot of care, since teenagers are not known for their ability to remember chores and half the time their blinds are not open!!!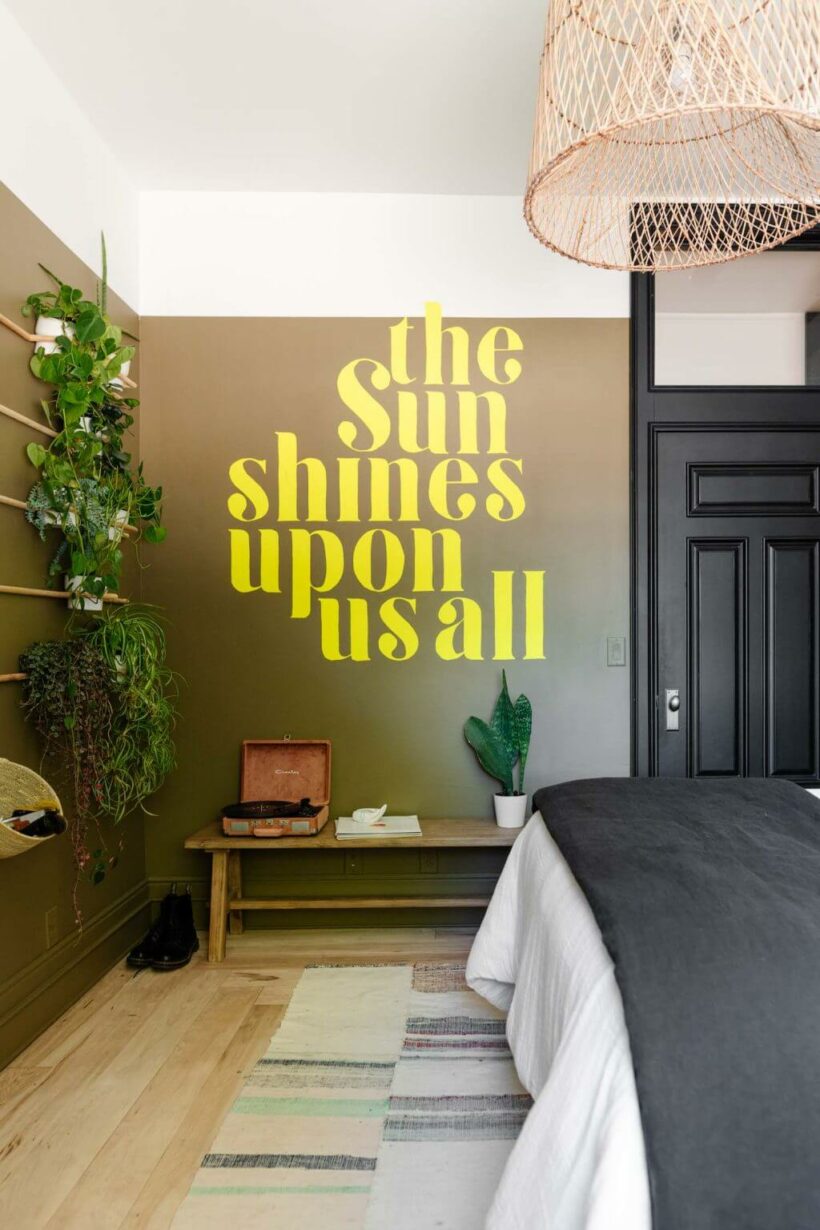 Include Brightly Colored Furniture
Play up your daughter's favorite colors with your furniture choices! This amazing yellow bed is the star of this gorgeous room and looks perfect against the pineapple wallpaper. Don't be afraid to have fun with it, and let your teen do a few DIY painted furniture pieces herself to add to the room!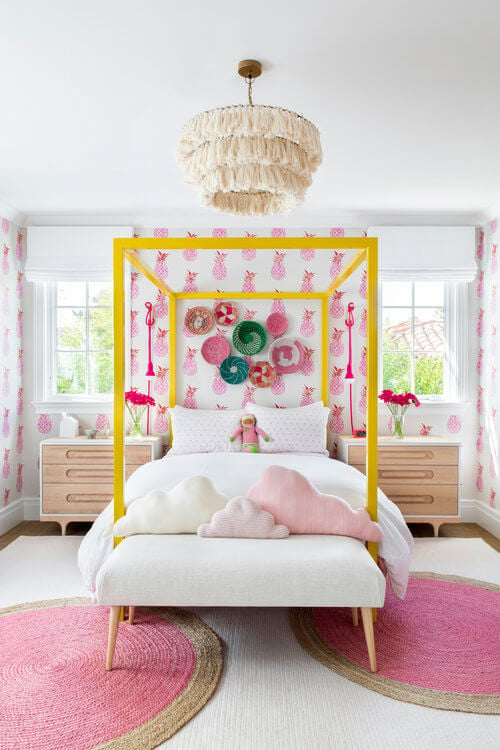 Hang a Bold Gallery Wall
Opt for a wall of bright art to bring in color and fun. When this teen girl got her bedroom makeover, her mom pulled these all together and hung them with just adhesive dots–no frames. Doing this gives it a casual wallpaper vibe but you could just as easily opt for frames. Whatever you choose, make sure it reflects your girl's personal style and she loves it! Check out my gallery wall tips and ideas if you need help!
These bedroom ideas for girls are sure to inspire you no matter what age your daughter is. Create a bedroom that is all your daughter's own by choosing her favorite color scheme and mixing and matching furniture styles. Add in fun accents, chose smart storage, and maximize the space for her needs, and you will have designed the perfect bedroom to grow with her. Enjoy the process of decorating it together and teach her how to curate a room that shows off her own personal style!
Other Posts You May Enjoy:
Wondering how I approach transforming rooms and spaces in our home? Check out Designer in a Binder®.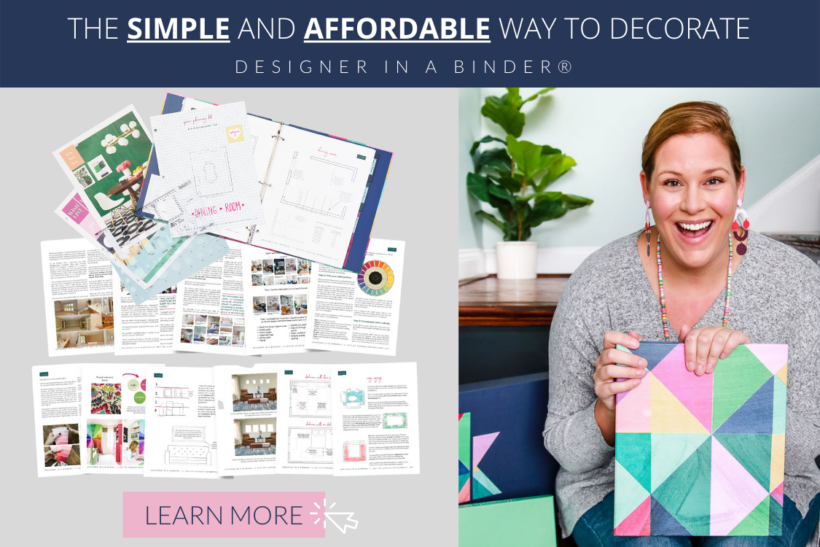 And if you want exclusive content and behind-the-scenes sneak peeks, be sure to subscribe before you head out!