Gorgeous Ceiling Ideas That Make a Huge Impact
Not many people think about the way the ceiling of a room when they are designing a space. Ceilings are usually painted the same color as the interior trim in a flat finish. And they largely go unnoticed. But the fact is that ceilings should be treated as a 5th wall! Ceilings can totally transform a space and elevate an entire design if you let them. These ceiling ideas will have you wanting to make your ceiling the focus of your next design.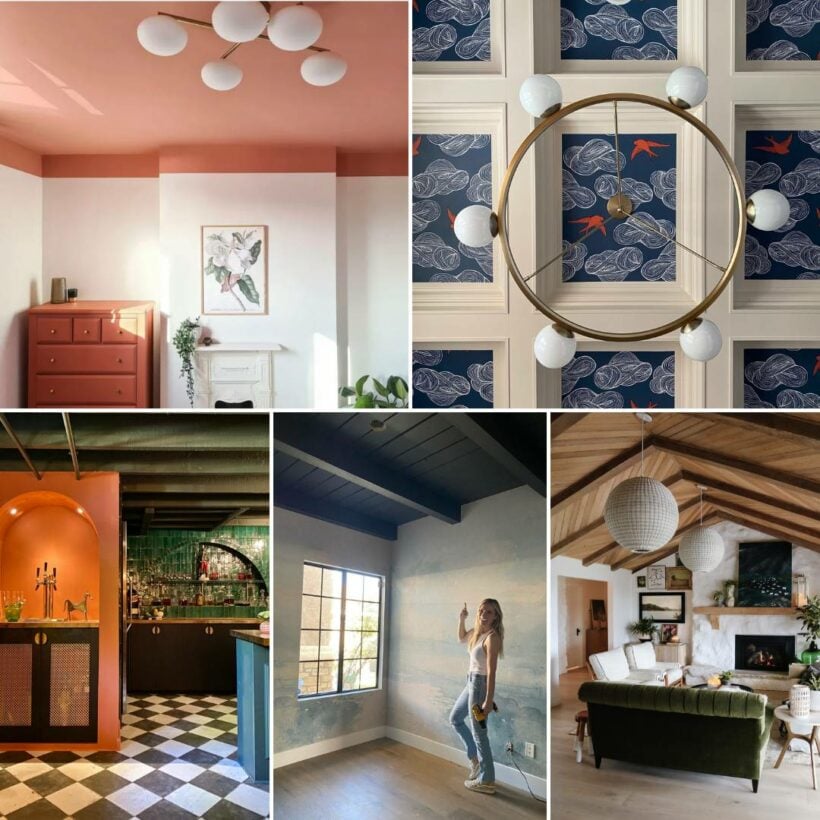 Painted Ceiling Ideas
Let's start with the easiest and most budget-friendly way to add interest to your ceiling…PAINT! Sometimes just painting your ceiling an interesting or contrasting color is enough to turn it into a beautiful work of art. If you struggle to pick paint colors, check out my 6 tips for how to choose paint colors for your home. And you may also want to check out my paint sheen guide and reference chart.
This photo took my breath away. I love that the ceiling color carries down to the first 6 inches or so of the wall. It's sophisticated and whimsical all at once.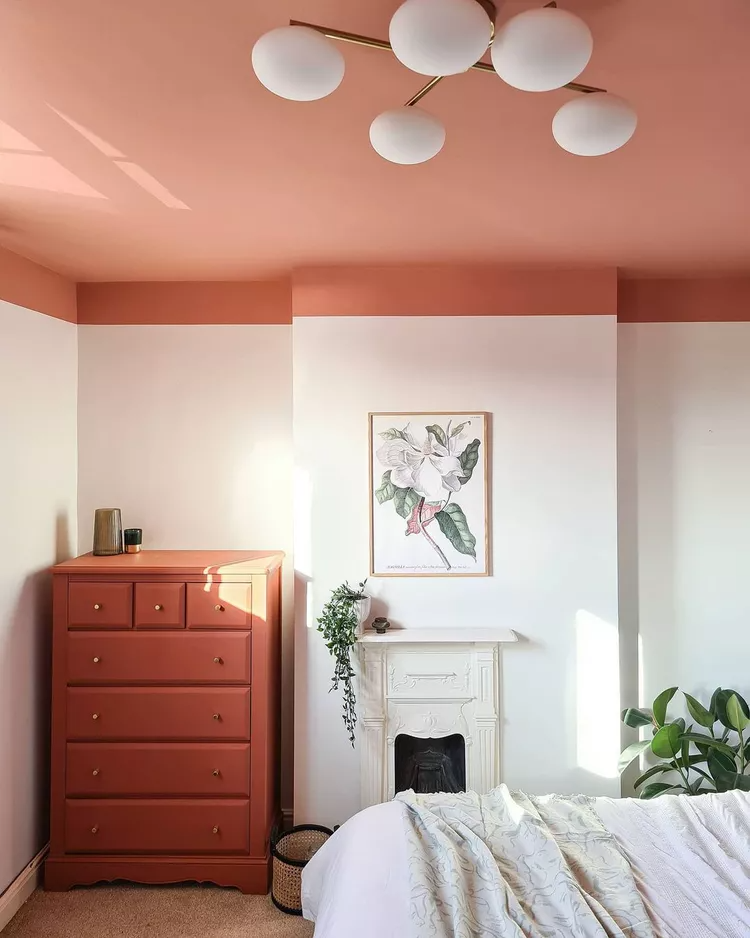 I also love this painted ceiling application where the ceiling color carries even farther down the wall.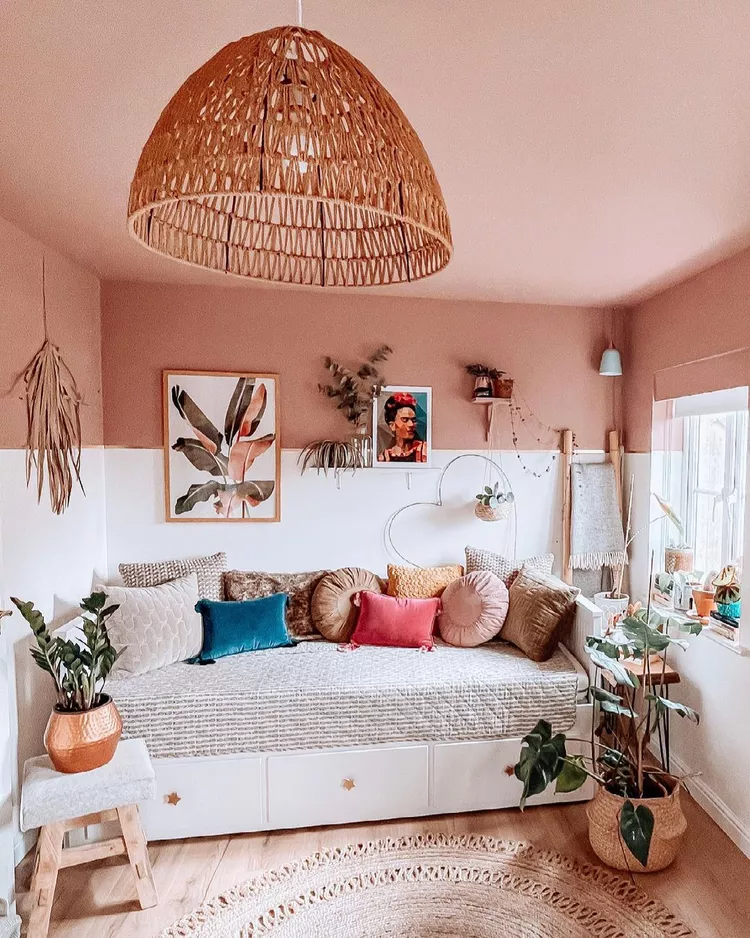 And take a look at this bold, blue ceiling that adds so much personality to this bright and colorful space! It's incredible to think how entirely different this space would look with a plain, white ceiling. If you love this look, check out the best blue paint colors that designers love and use!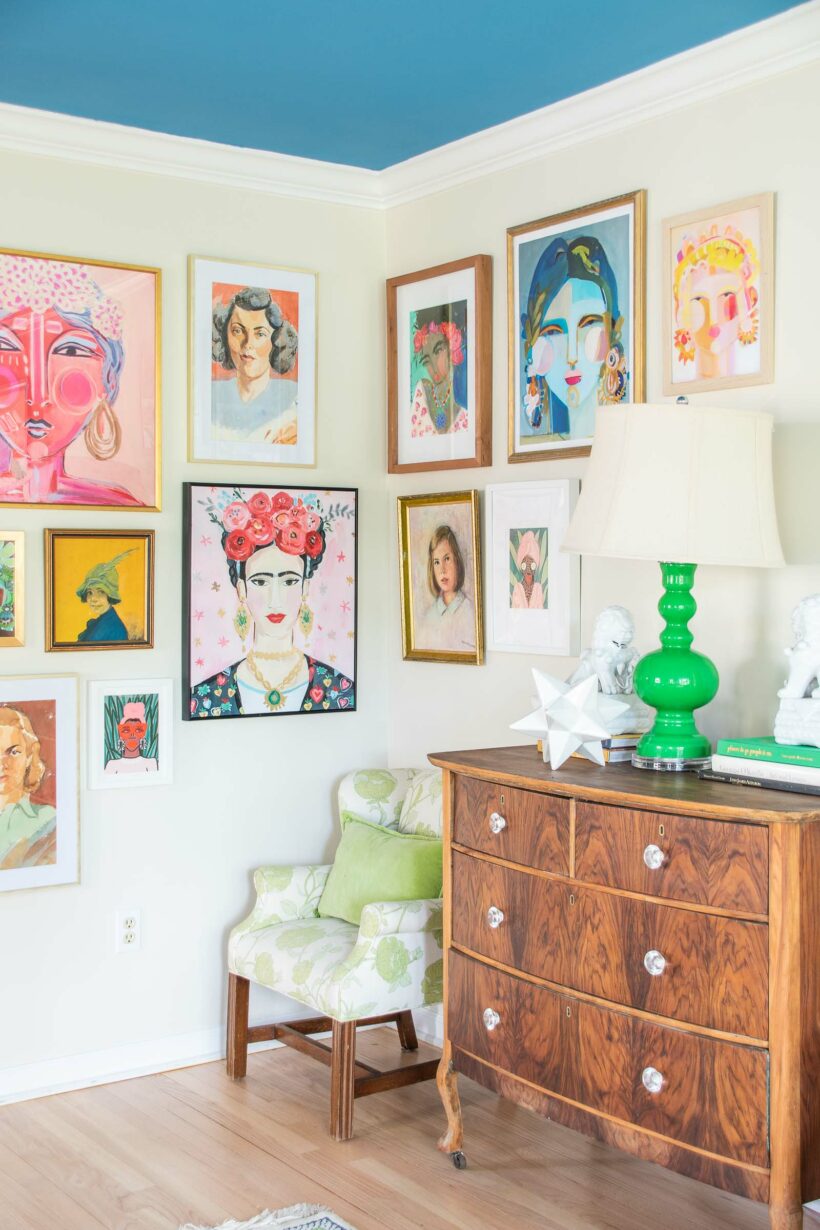 Coffered Ceiling Ideas
Wallpapered Coffered Ceiling
If you have followed me on social media or read my blog since we moved into our new home, you know I didn't love the coffered ceilings in our navy blue dining room. Don't get me wrong–they are beautiful, but our style leans a little less traditional. I wanted a way to make them feel a bit more modern without ruining their beautiful craftsmanship. So I decided to wallpaper the ceiling in between the coffers and I could not possibly love it more. Now the coffered ceiling is one of my favorite features of our home!
If you love the look of wallpaper, but the commitment scares you, check out how to install wallpaper with liquid starch so that it's easily removable and renter-friendly!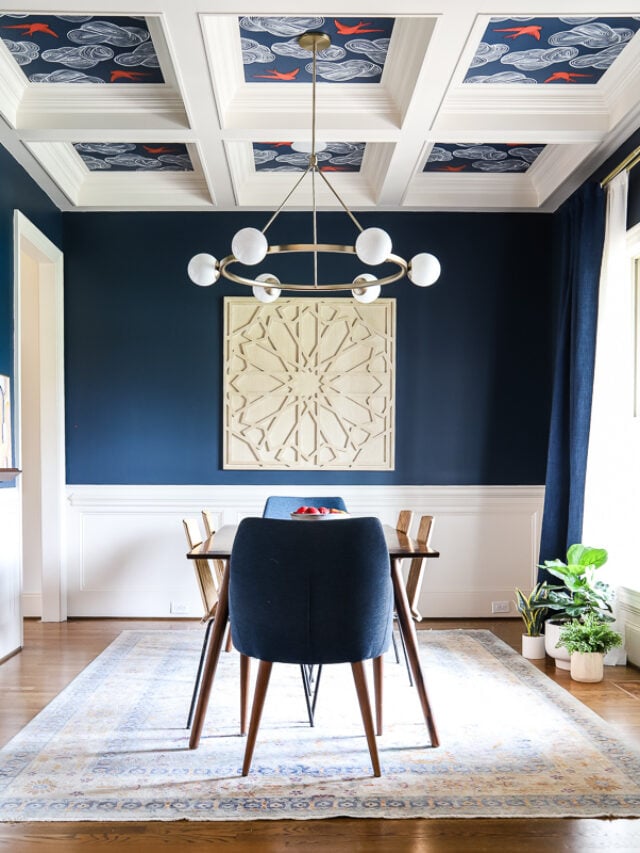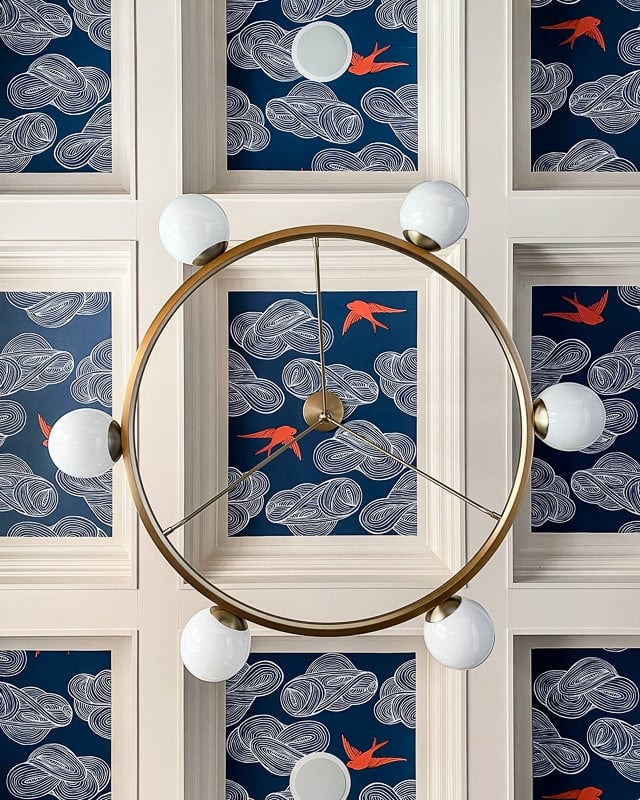 DIY Coffered Ceiling
If you love the look of a coffered ceiling and want to add one in your home, it's actually a doable DIY project. This is the best tutorial I've seen for a DIY coffered ceiling.
Vaulted Ceiling Ideas
Vaulted ceilings are one of my favorite architectural features! But sometimes they can look a little plain or make a room feel cavernous.
DIY Faux Beam Installation
I love the idea of installing faux wood beams to a vaulted ceiling. The warmth of the wood tones adds a cozy vibe and can help draw the idea down toward the living space. Best of all, it's a fairly simple DIY ceiling project!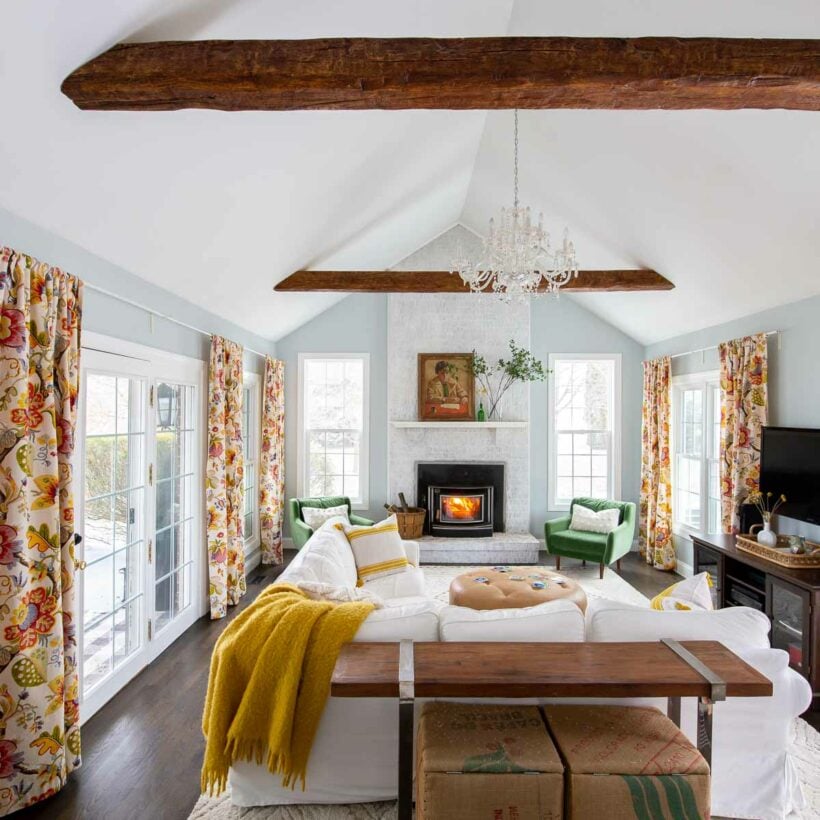 Exposed Joists
In our old home, we added skylights to our bedroom that had vaulted ceilings and a huge sitting area. The space was so weirdly big that it felt cold and cavernous at times. Adding the skylights and exposing the joists (instead of drywalling straight chases like you normally see with skylights) added so, so much interest to the room. And it absolutely made our bedroom feel more inviting and cozy. We also added an electric fireplace, which helped also.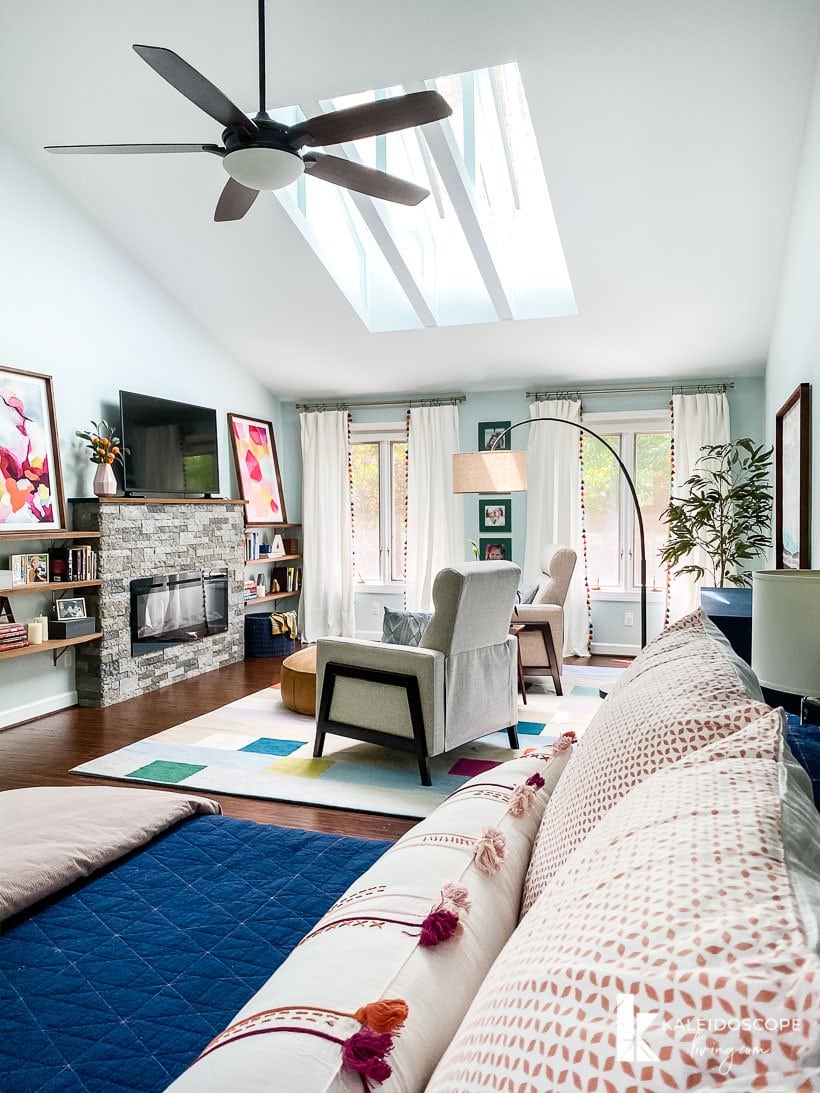 Wood Vaulted Ceiling
If you have a vaulted ceiling that is covered in wood, you might be tempted to paint it. But I love, love, love how natural wood looks on a vaulted ceiling! The ceiling below is original this 1970s home and I love that they remain even after the full-house renovation that Brooke of Nesting With Grace has done.
Wood Ceiling Ideas
If you want to add interest to a plain ceiling without wallpaper or paint, consider adding wood to your ceiling. It adds a wonderful layer of texture and interest. Take a look at these wood ceilings!
DIY Tongue and Groove Ceiling
These horizontal wood planks warm up this modern bathroom space so much.
Beadboard Ceiling
I also love the texture that this white beadboard ceiling adds. It's subtle, but somehow so much more interesting than a typical flat ceiling.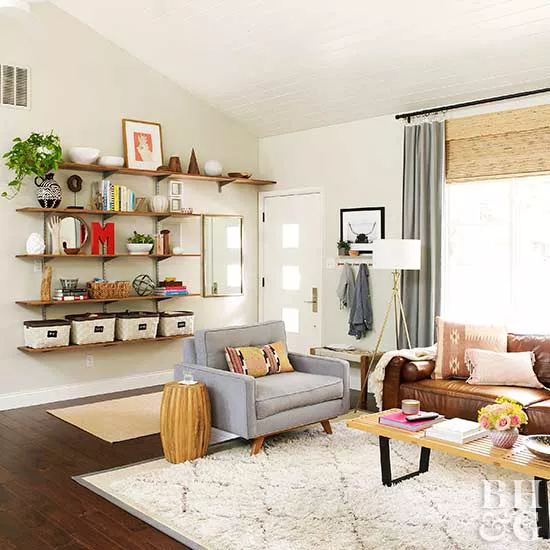 Shiplap Ceiling + Wood Beams
And how about this DIY shiplap ceiling that also features DIY wood beams?! Yes, you can add wood and beams to a ceiling as a do-it-yourself project!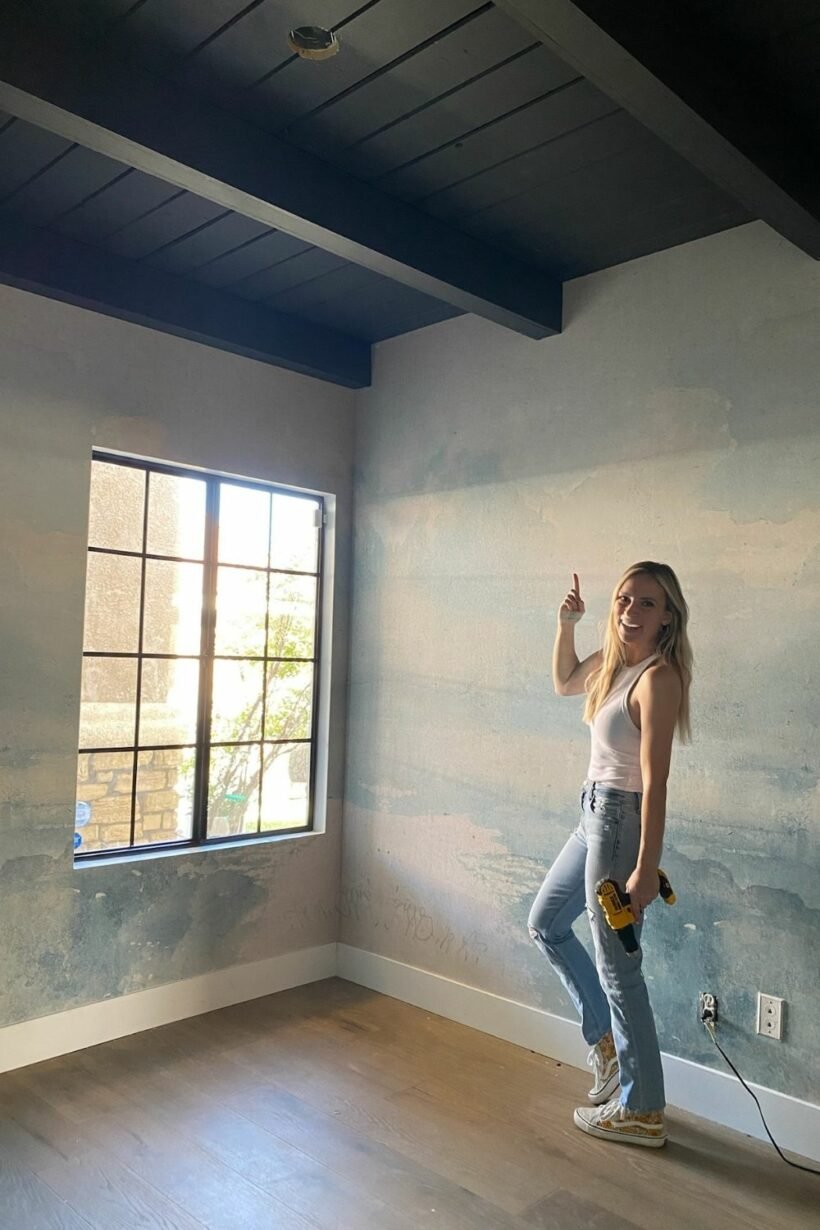 Basement Ceiling Ideas
Let's face it, there are lots of ugly basement ceilings out there. But it doesn't have to be that way! These basement ceiling ideas range from basic camouflage to more refined looks. There are so many stylish alternatives to a basic drop panel ceiling (which I think are best avoided).
DIY Coffered Ceiling With Drop Ceiling Tiles
If you do want to install a drop ceiling in your basement because of the access it allows to electrical, plumbing, etc. (which is handy, I get it), consider this stylish twist on a basic drop ceiling! It's a DIY coffered ceiling with drop ceiling access. Absolutely GENIUS!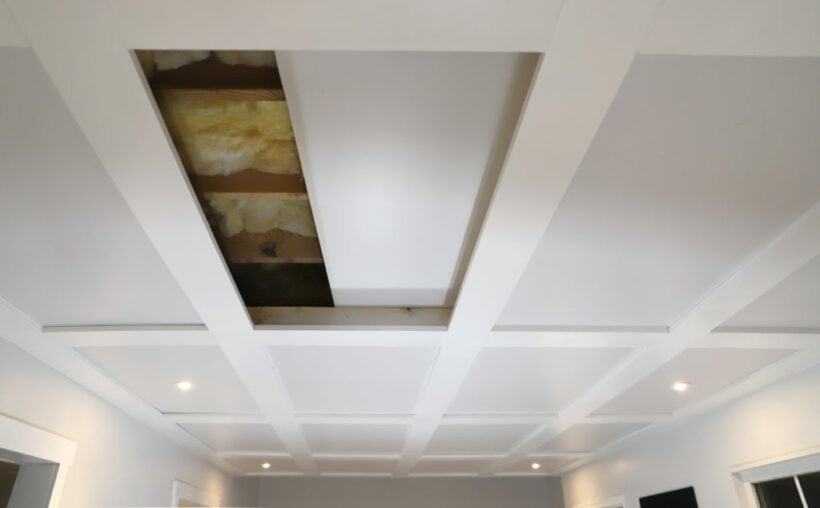 Exposed But Painted Basement Ceiling
First up, consider just painting the rafters, duct work, pipes, etc. all one color so that the basement ceiling kind of disappears. I especially love this idea because it actually makes the basement ceiling feel taller than if the ceiling was covered and finished. Given that so many basement ceilings are low to begin with, that is a big plus!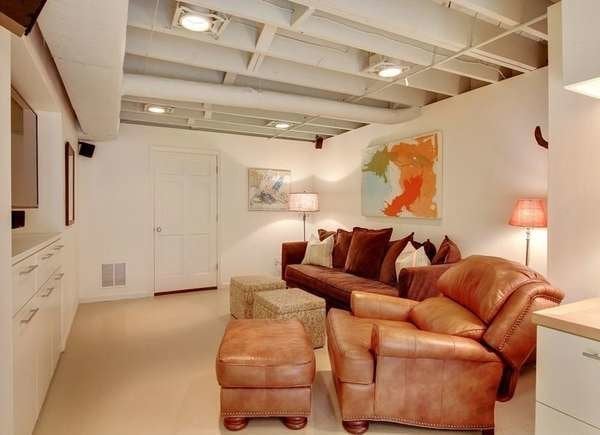 And I love how the painted but exposed basement ceiling looks in this incredible basement bar/lounge by Kate Pearce. Stunning!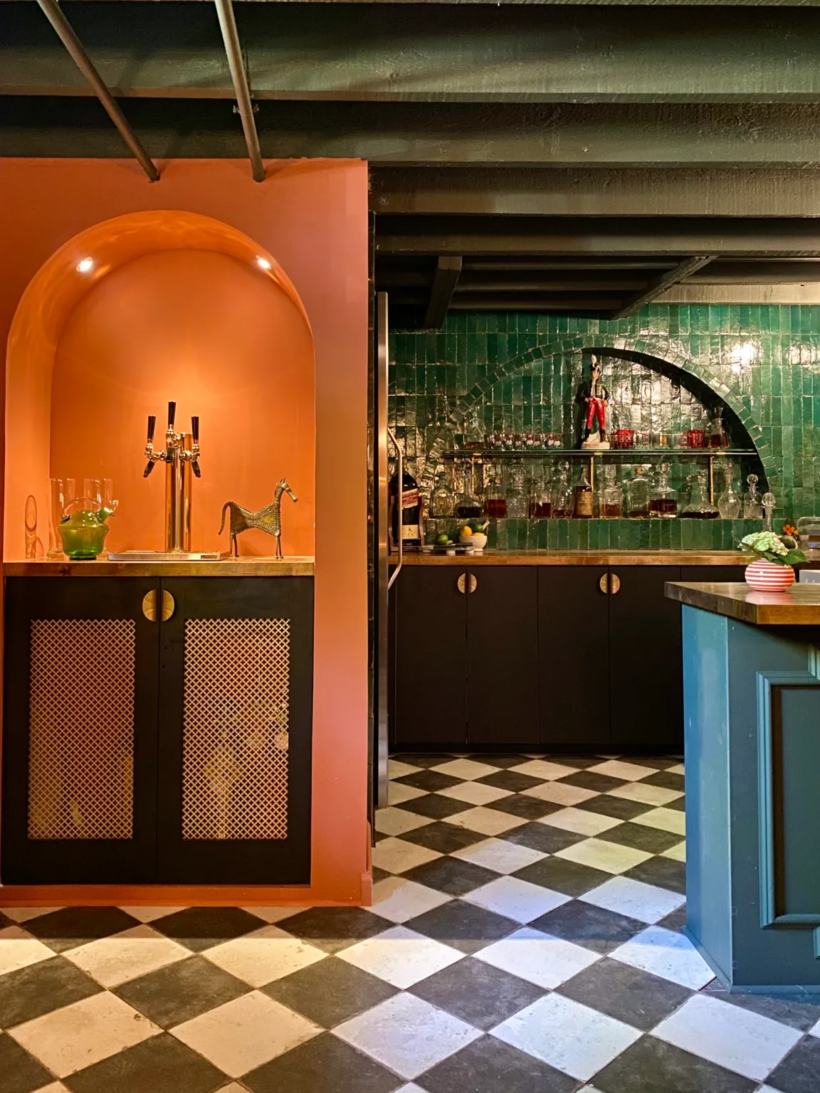 DIY Plywood Basement Ceiling
If you prefer the look of a covered/finished basement ceiling, but want to avoid the look of a drop panel ceiling, take a look at this DIY plywood ceiling. I think it's absolutely beautiful! Plus it is budget-friendly and you can install it yourself!
DIY Herringbone Plywood Basement Ceiling
I also adore this DIY herringbone basement ceiling (I am a sucker for a herringbone pattern every since we installed this DIY herringbone plank wall in our old kitchen).
Tin Ceiling Tiles
Last but not least, I love the tin tiles that form the ceiling in this basement bar. Yes, this is a basement! Hard to believe isn't it? It's absolutely stunning.
Are you feeling inspired? I sure am. Going forward, I absolutely plan to pay more attention to our ceilings whenever I design a space.
Other posts you may enjoy:
Wondering how I approach transforming rooms and spaces in our home? Check out Designer in a Binder®.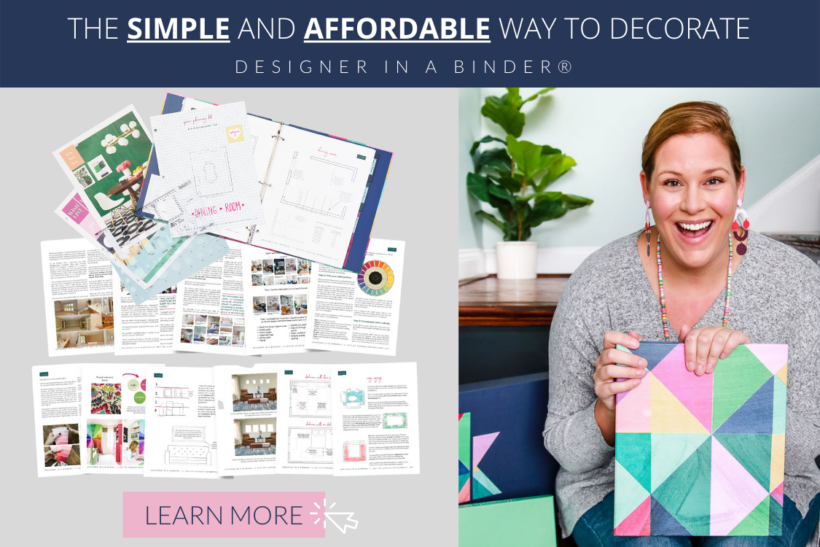 And if you want exclusive content and behind-the-scenes sneak peeks, be sure to subscribe before you head out!