Sherwin Williams Pure White SW7005 Paint Review With Pictures
As homeowners, we all know finding the perfect white paint can feel a bit daunting. There are countless shades of white and undertones to consider, and the last thing we want is to end up with a sterile and uninviting room because we chose the wrong one. Enter Sherwin-Williams Pure White SW7005! Pure White by Sherwin-Williams is a beautiful, neutral white that is a great choice for anyone who wants white walls, trim and/or ceilings. It's bright and crisp but doesn't feel cold or stark. Keep reading to see if Sherwin Williams Pure White SW7005 Paint is the best white paint for your walls!
In this post I'm sharing all the details of Sherwin-Williams Pure White – from its LRV, undertones, and how it compares to other popular white paint colors, to help you determine if it's the right shade for your home.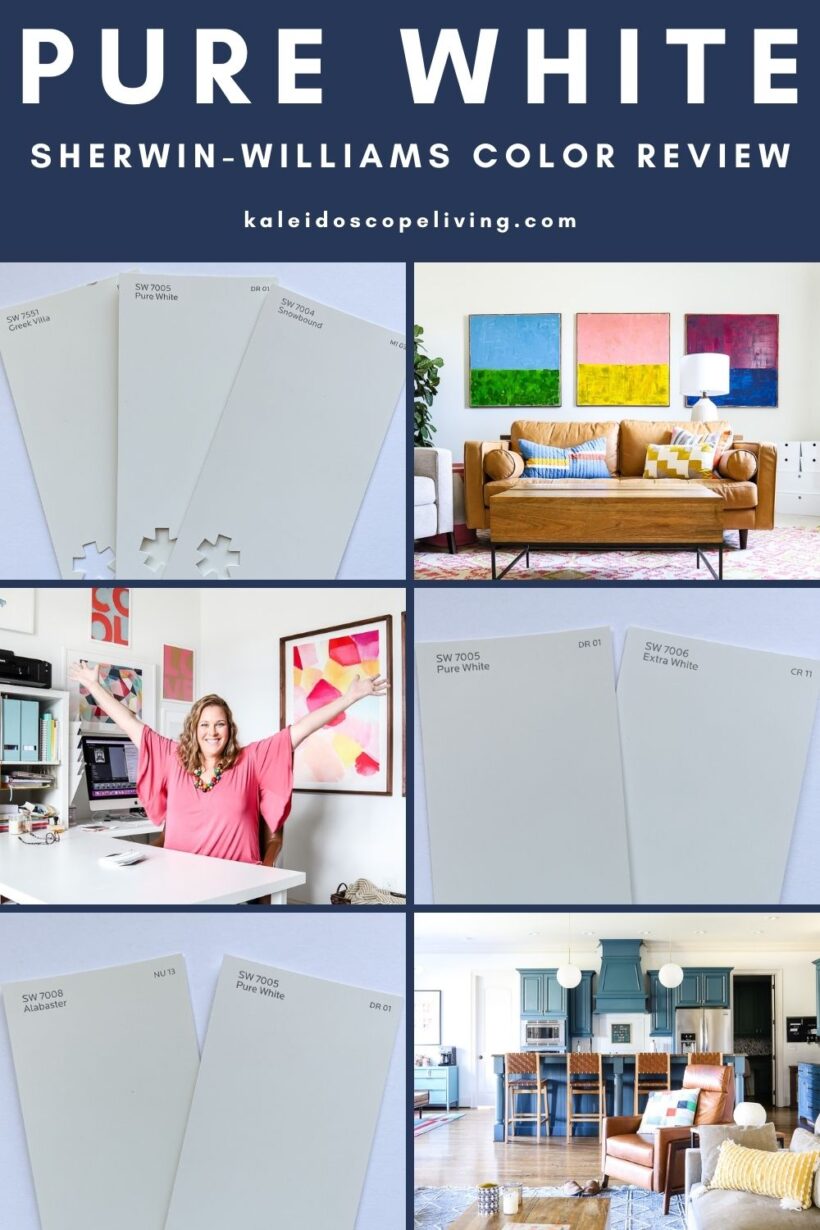 How I Became a Big Fan of Pure White
If you've been around here a while, you know I am a BIG fan of painting interior walls white. We started transitioning to walls when we were still in our old house because I realized somewhere along the way that our colorful artwork and decor stood out more with white walls as the backdrop.
So when we moved into our new house and decided to have all the painting done before moving in, it was pretty easy to decide we wanted all-white walls, at least to start with. Choosing paint colors can be overwhelming before you move into a home, so though I figured we might eventually paint a room or two a different color, white seemed the best way to start in every single room.
But then the big question became, "what white wall color should we use?" Our choice was made a bit challenging by the fact that we wanted to work with the existing trim color (Divine White by Sherwin-Williams). Divine White is really not white at all (it's more beige). So we wanted to choose a white color for our walls that would highlight the trim as a contrasting color.
Interior trim colors that aren't white are all the rage right now and I wanted to try it because 1) I think it's pretty and 2) it would save us a ton of money if we could avoid repainting all of our trim and doors.
So we sampled a few different whites against our trim and narrowed our choices down to Sherwin-Williams Alabaster and Sherwin-Williams Pure White. Pure White came out the winner and we have absolutely loved it. Read on to learn more about this pretty darn near-perfect white wall color!
Is Pure White the Perfect White Paint Color?
Pure White is Sherwin-Williams' most popular white color for a reason. If you've read my review of Sherwin-Williams Alabaster Color you may be surprised that I didn't choose it for our current home. Frankly, I was surprised! I told my husband repeatedly that I felt like Alabaster would be the best choice. But then we sampled Alabaster and Pure White against our trim color and Alabaster looked too yellow. It was then that I realized what is so perfect about Pure White. It is a bit cooler than Alabaster and is a crisp white that still manages to feel inviting and soft.
Pure White by Sherwin-Williams really doesn't have any obvious undertones (more on that later). But it is still creamy and soft enough to feel inviting and not stark or cold. It's still considered to be a warm white, but I don't detect any obvious yellow undertones, which I can see in Alabaster at times.
You can see the samples of Alabaster (top) and Pure White (below) from a couple of different areas we tested them in our home in the photos below. Though they aren't drastically different, you can see how Alabaster is a bit more warm/yellow than SW Pure White, which just reads as neutral. You can also see how both whites look a bit different depending on the facing light.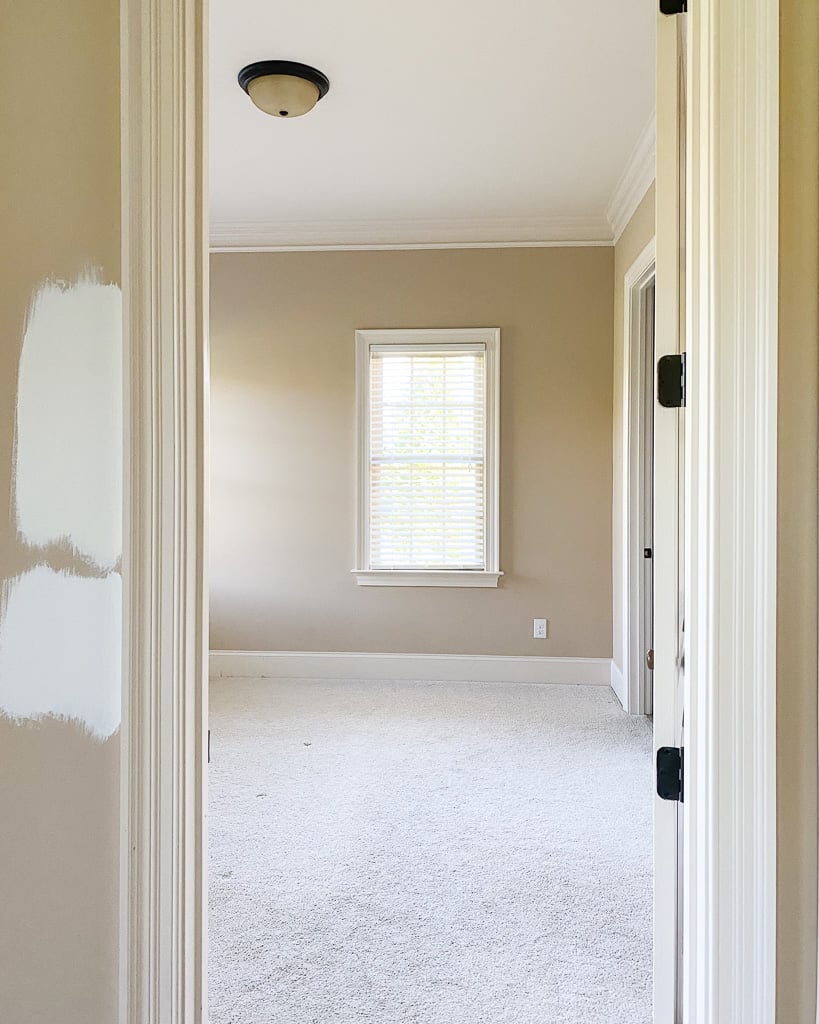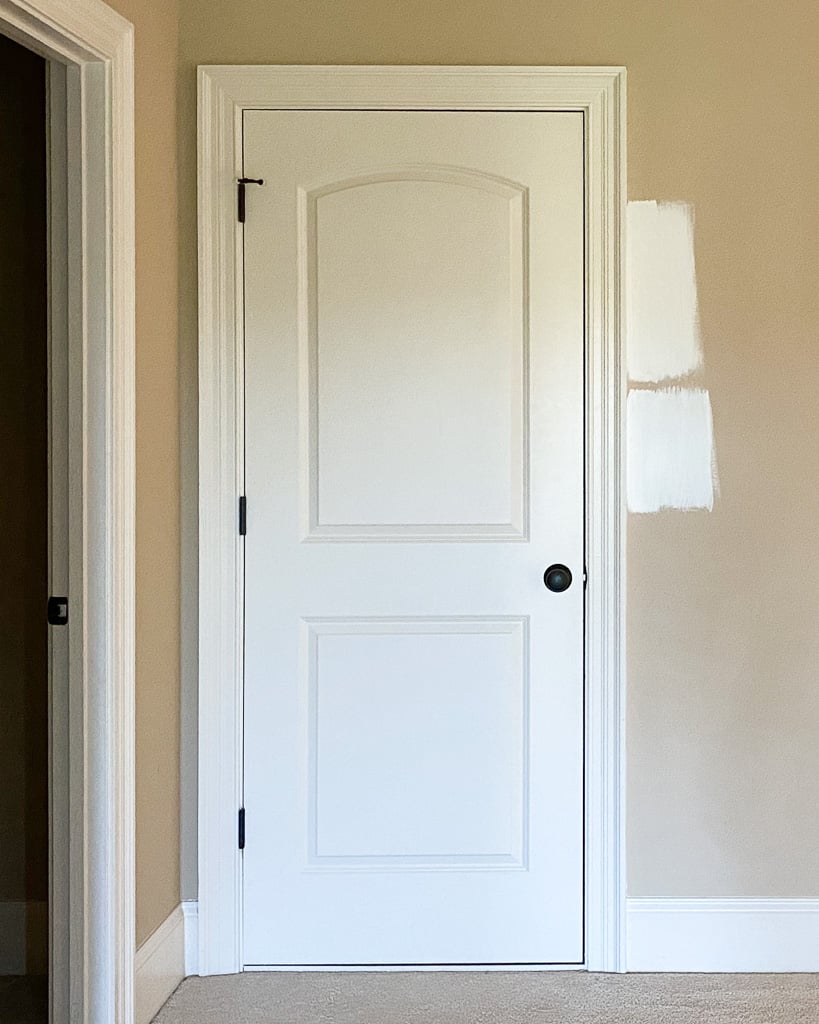 What Are SW Pure White's Undertones?
If you have never heard the term undertones before, I talk about it in this detailed post about how to choose paint colors for your home. The short version is that undertones are the parts of the color you don't really "see."
If you have ever wondered "is Sherwin Williams pure white warm or cool?" you are essentially wondering out its undertones.
The undertones of Pure White are almost non-existent, though the formula does include a bit of yellow as well as a touch of black. The yellow gives Pure White a very slight warmth that keeps it from feeling clinical. Make no mistake, Pure White is a far cry from stark white (stark white walls would be awful, in my opinion). And the gray undertones balance it and keep it from looking too yellowish. I think the touch of black/gray undertones is what really sets Pure White apart from Sherwin Williams Alabaster.
But what does that mean when you look at Pure White on walls for example? What your eye sees is a bright, timeless white that is far richer and more interesting than basic builder's white or even compared to Sherwin Williams Extra White.
Pure White's Light Reflectance Value
One thing that people often fail to think about when it comings to choosing paint colors is a color's light reflectance value (LRV). Pure White's LRV is 84–the brightest, purest white has an LRV of 100. In other words, the LRV of Pure White is fairly high. That means that it will reflect back a lot of light into the room. That makes it a great choice for any room that you want to feel bright and airy.
How Does Pure White Interior Paint Look in Actual Rooms?
Below you can see how Pure White looks in our bonus room, which is a north-facing room. A North-facing room is where you will see Pure White look the closest to a true white because of how the natural light hits it.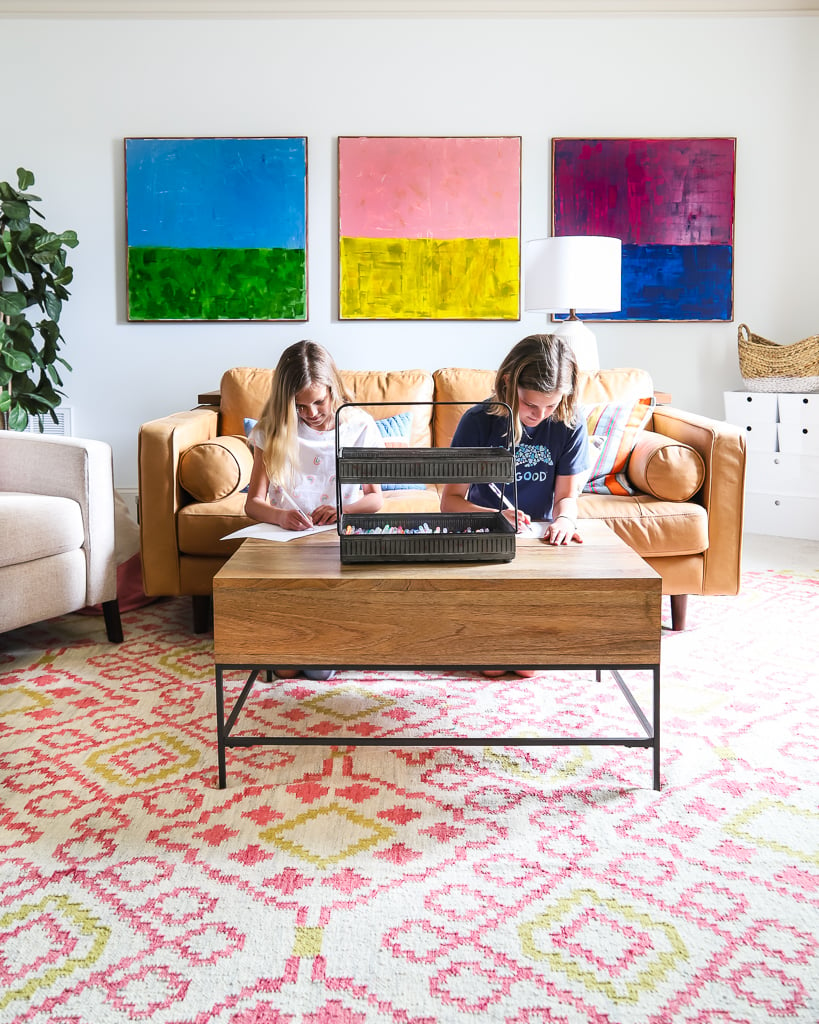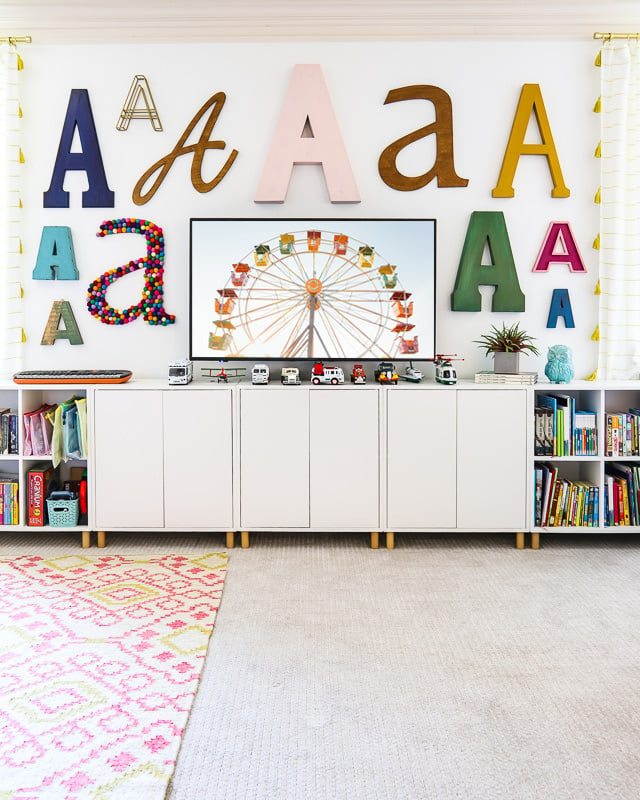 Our guest room is also a north-facing room. But notice how it looks a bit different depending on what time of day the photos are taken and the angle from which they are taken. Kind of crazy, right?! That's why it's so important to follow my tips for choosing paint colors for your home before making any decisions!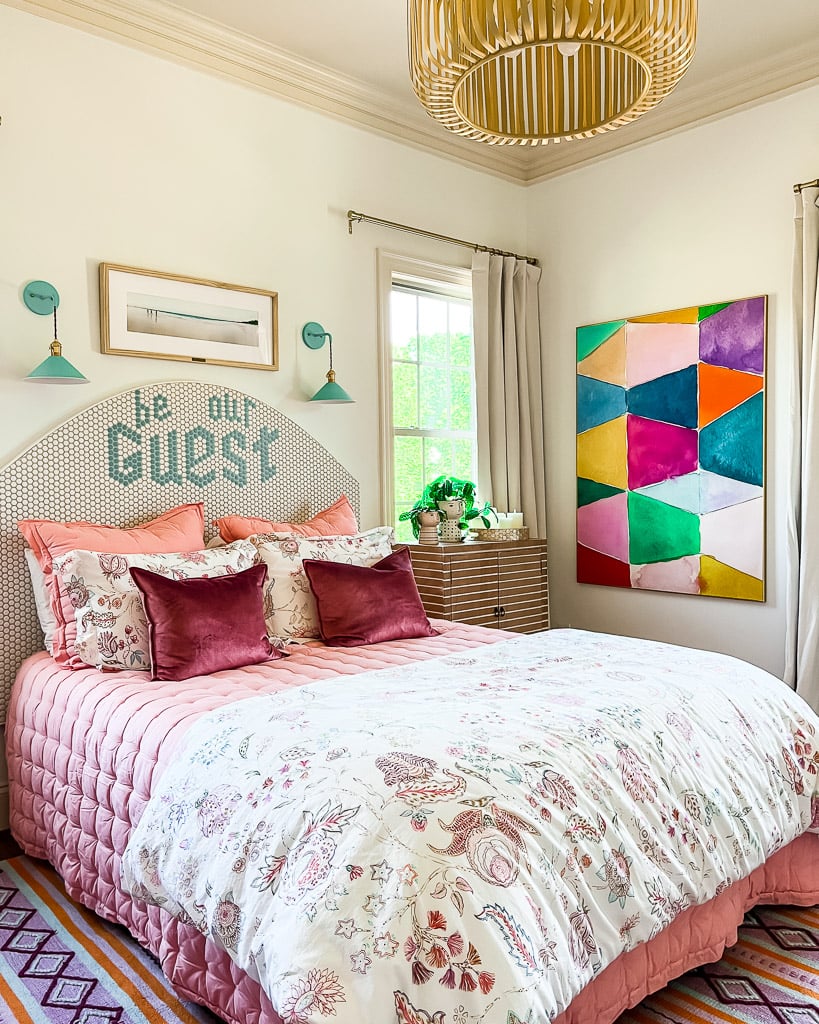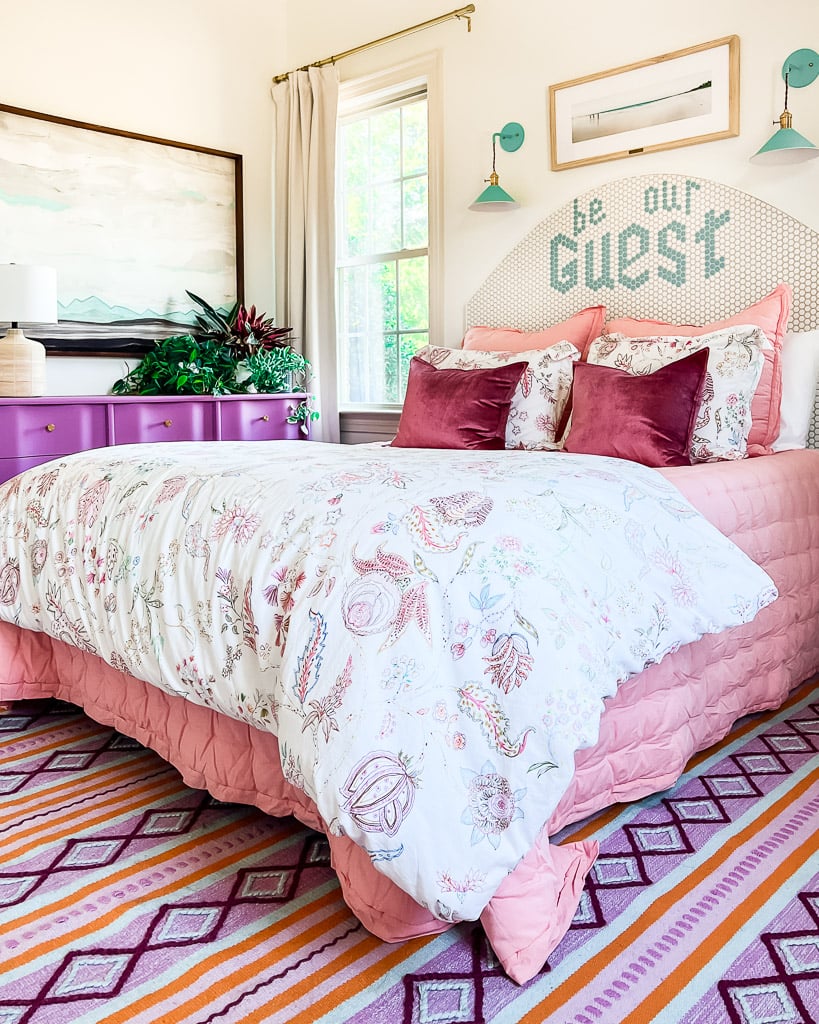 In South-facing rooms, there tends to be a consistently bright light throughout the day. Pure White is most likely going to show its warmth in a south-facing room. That is certainly true of my home office, which is south facing. But I still find that Pure White doesn't read as too warm in my office.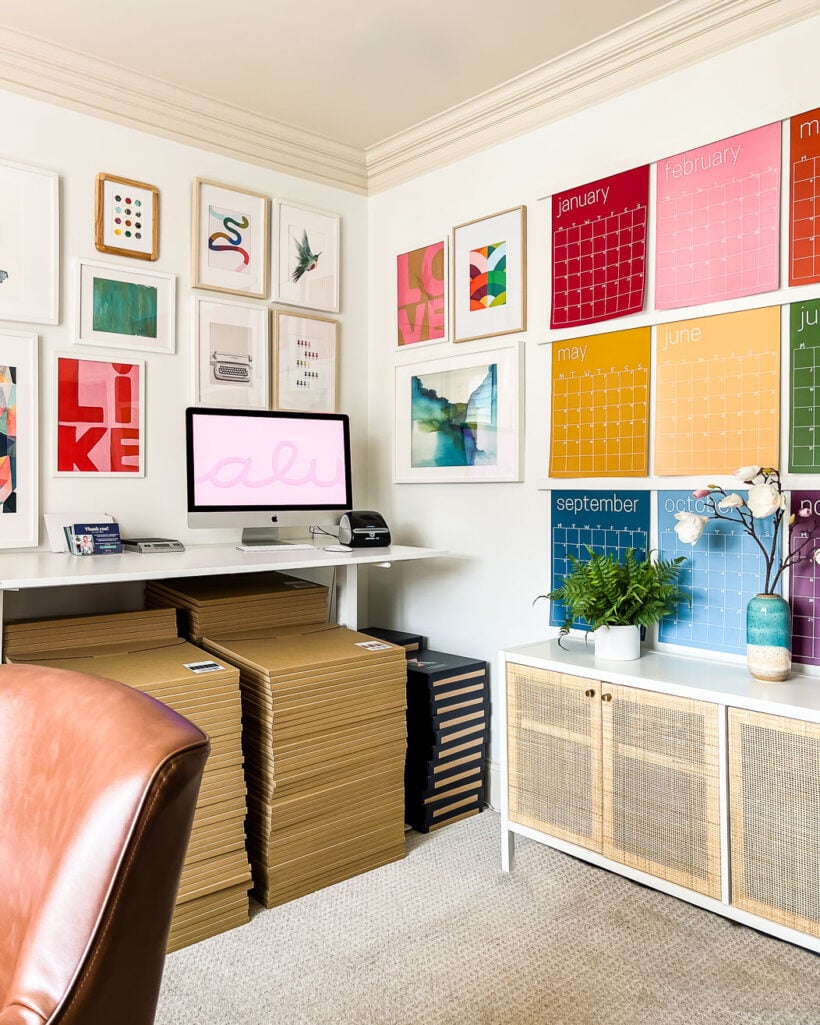 Our kitchen is an interior room that gets indirect light from the south. The fact that it gets little natural light makes the high light-reflective value of Pure White (more on that in a moment) really important in this space, especially against the dark cabinets that I painted myself with this super easy DIY cabinet painting method.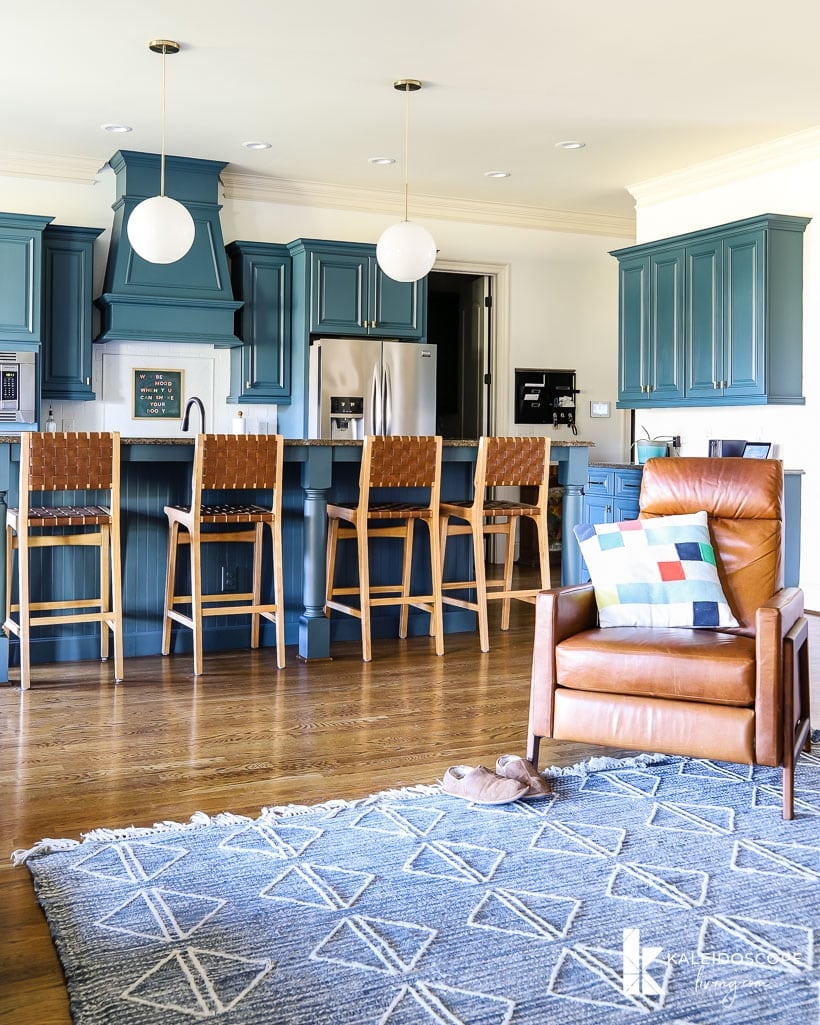 How Does SW Pure White compare to Other Popular White Paint Colors?
Wondering how Sherwin-Williams Pure White compares to some of the other most popular white wall and trim colors out there? I've got you covered!
SW Alabaster vs. Alabaster vs. Extra White
Note: I took the photos below on the brightest white surface I could find to give you the most accurate color representation. But remember, the colors you see will vary depending on the screen settings of the device you are viewing this post on. That's yet another reason that it's so, so important to test paint colors in your own home before choosing one!
You'll see what I mean about Pure White being more neutral than SW Alabaster and less stark than SW Extra White. When you look at Pure White next to the bright white printer paper I photographed these paint chips on, you can see that it's far less stark than "true white."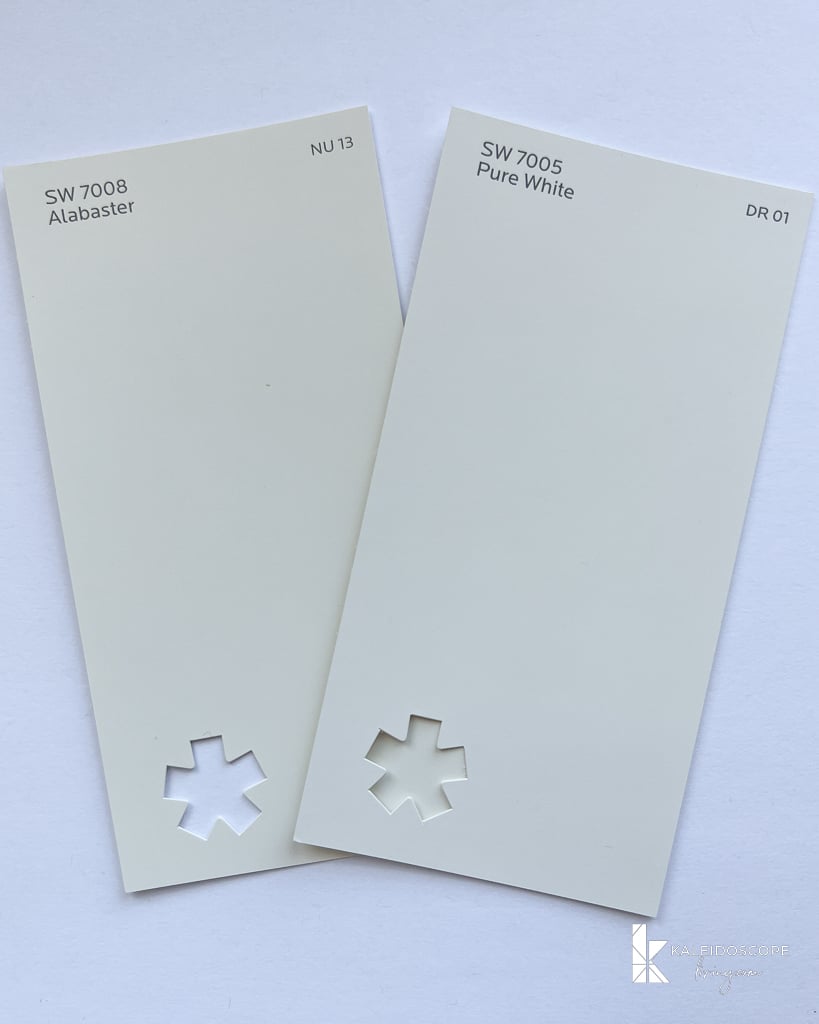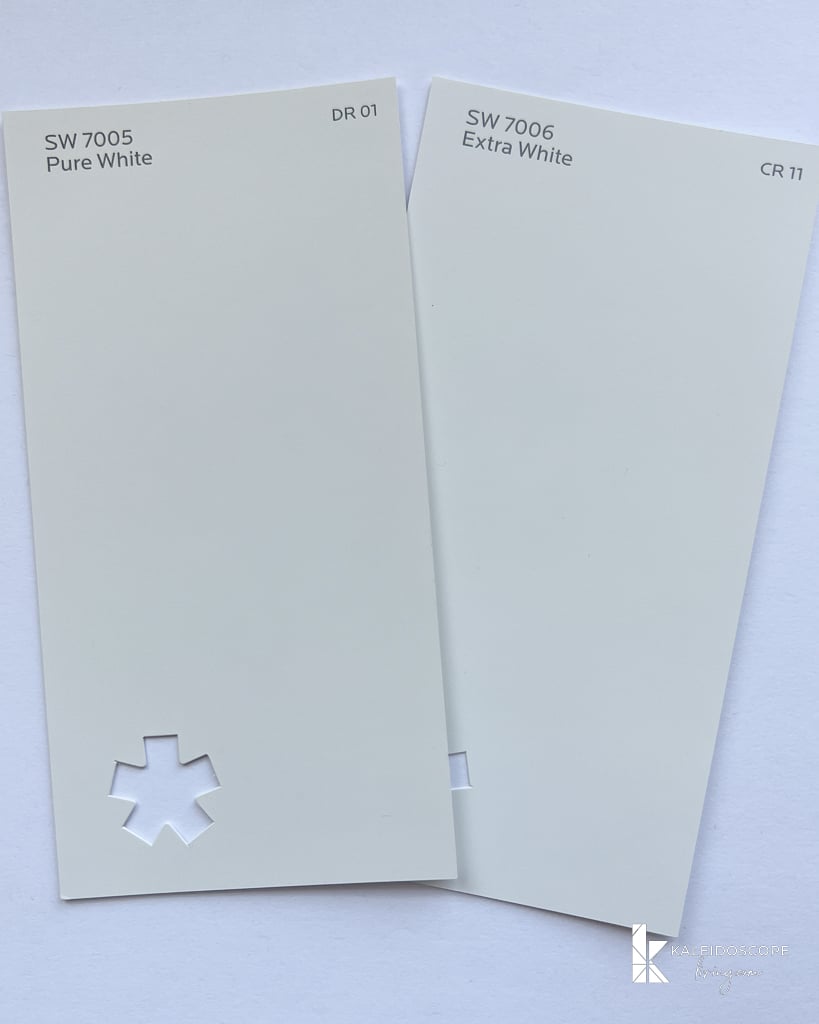 SW Pure White vs. Snowbound vs. Greek Villa
Greek Villa is definitely warmer than Pure White. Snowbound, on the other hand, is a tad more gray and slightly less bright than Pure White.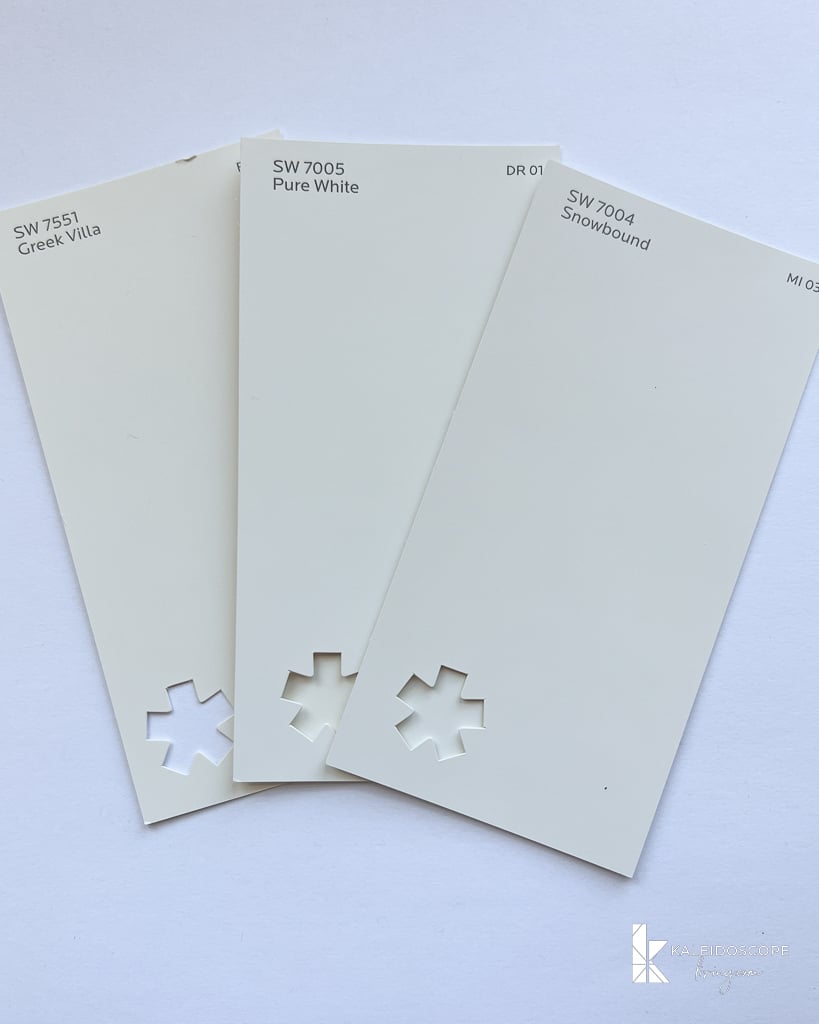 SW Pure White vs. High Reflective White
This is where you can more easily see what I mean about Pure White still being a pleasant, soft-white than a "true" white. When you compare it to High Reflective White, you can see that Pure white is much softer. High Reflective White has more of a blue undertone, which makes it a cooler hue and can make it look a bit too stark for use in homes (in my opinion).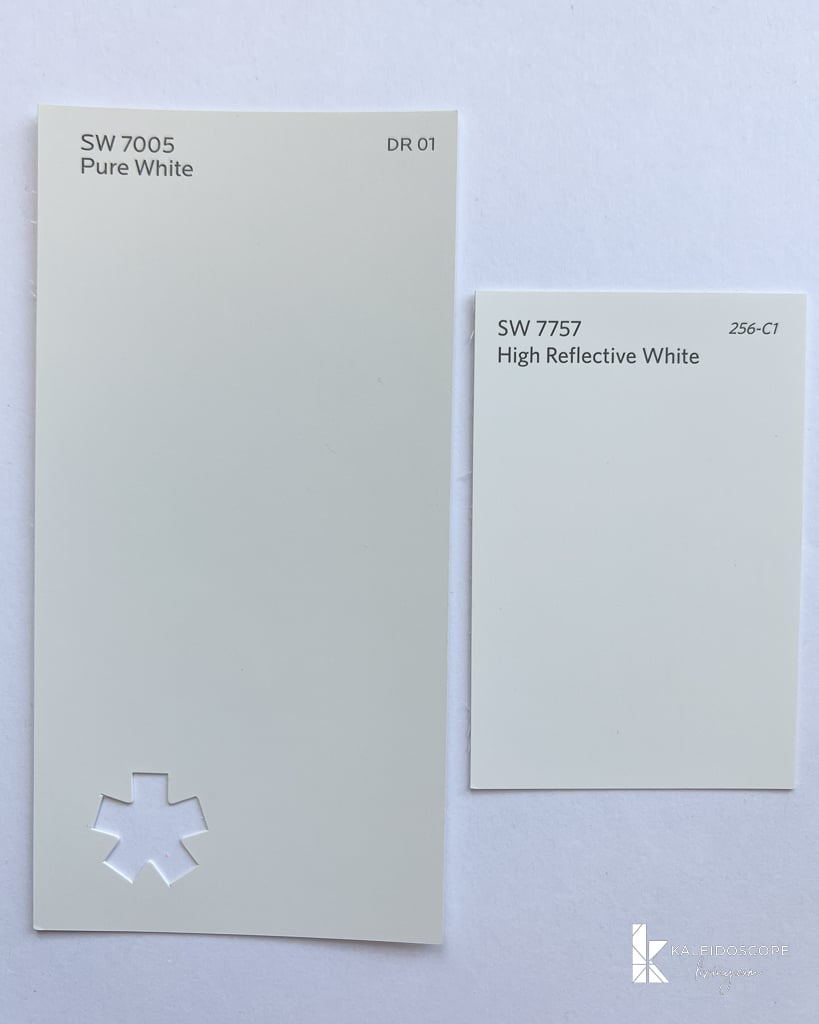 SW Pure White vs. Benjamin Moore White Dove
Benjamin Moore White Dove is very similar to Pure White, but it is ever so slightly warmer. I would say Benjamin Moore White Dove sits right in between Alabaster and Pure White in terms of its warmth.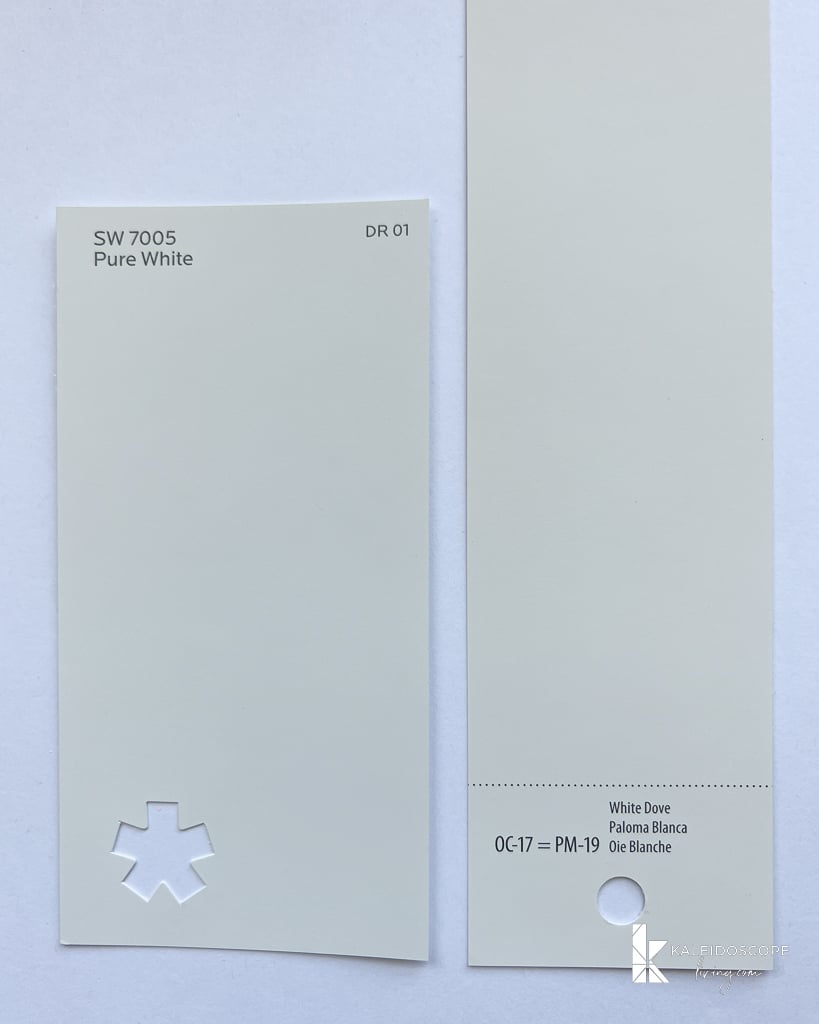 SW Pure White vs. Benjamin Moore Swiss Coffee
Benjamin Moore Swiss Coffee has more of a yellow undertone than Sherwin-Williams Pure White. Swiss Coffee is even a bit warmer than SW Alabaster. Pure White also has a slightly higher LRV of 84 compared to Swiss Coffee's 81.90. You can read my full review of Benjamin Moore Swiss Coffee (spoiler alert, it's my least favorite of the most popular white wall paint colors).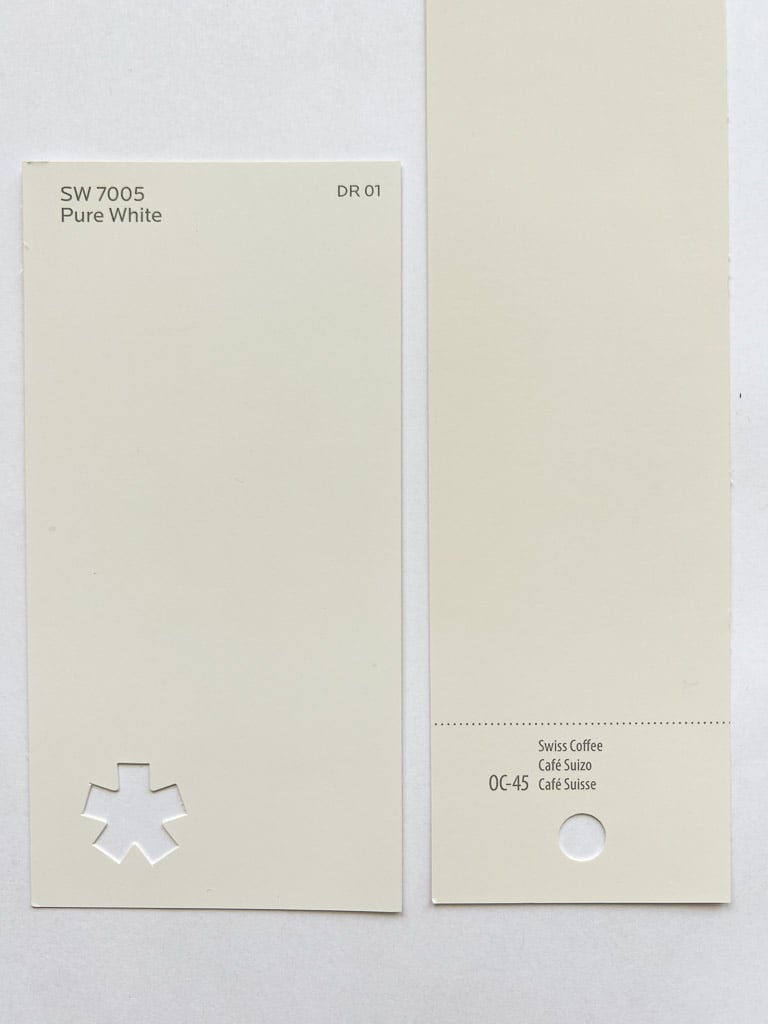 SW Pure White vs. Benjamin Moore's White Dove
As I mentioned farther up in this post, Sherwin-Williams Pure White has very subtle warm undertones that keeps it from feeling clinical. You can pair it with warm wood tones and rich fabrics for a cozy, inviting space, but it also works beautifully with cool colors and materials. In comparison, Benjamin Moore's White Dove has cool gray undertones that can often come across as cold and gray in poorly lit rooms and can make it much more difficult to combine with warm colors and tones.
Should You Use Sherwin Williams Pure White In Your Home?
If you are looking for a neutral white paint color, I would definitely consider Pure White! With its high LRV it will make a room feel bright and airy, which a lot of people (myself included) are looking for. It's a versatile color that is a great choice for everything from a living room to a bathroom. It's truly a neutral white with no obvious undertones and the touch of black in the formula keeps it from feeling cold or stark. I have zero regrets about choosing it for our walls!
Pure White is a great choice for living rooms, family rooms, bedrooms bathrooms, walls, trim, ceilings and even cabinetry. It's truly one of the most versatile white paint colors out there. SW Pure White doesn't have any obvious undertones, so it looks beautiful is nearly all lighting conditions. Pure White is my go-to white wall color and the one I most often recommend to people who ask me for my advice.
If you are considering a white wall color, my best advice is to grab samples of several whites including Pure White! Pure White will look different in every home, so make sure to follow my recommendations in this post about how to choose paint colors for testing samples on at least TWO different walls in the same room because it will look different depending on how the light hits them.
It's always a good idea to use large swatches like Samplize Peel & Stick Paint Samples where you intend to use the color. I've written a full review of Samplize Peel & Stick Paint Samples that you can check out! You can even cut them in half to try on different walls. Just never, ever, ever pick a paint sample based on the paint swatch or photos on the internet alone. It's a recipe for disaster.
Pure White will also look a bit different depending on the paint sheen that you choose (check out my tips for choosing the perfect paint sheen). For example, Pure White in semi-gloss used on trim will look a bit brighter than an eggshell used on walls. If you are curious, all of our Pure White walls are an eggshell finish.
Wondering how I approach transforming rooms and spaces in our home? Check out Designer in a Binder®.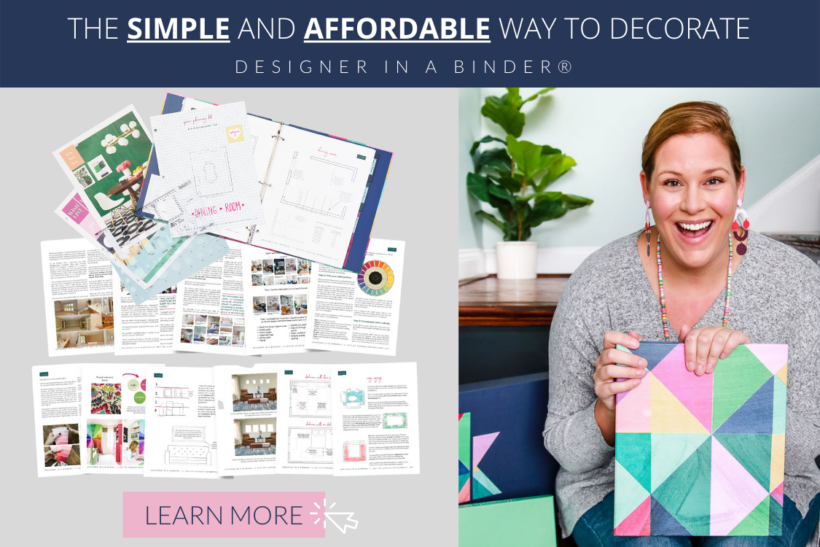 And if you want exclusive content and behind-the-scenes sneak peeks, be sure to subscribe before you head out!