The Best Blue Gray Paint Colors for Your Home
Blue is a classic color and is one of the most popular paint color families. Blue mixed with gray results in beautifully balanced colors. A blue gray paint color can serve as the perfect neutral backdrop in your home. Think about it… blue jeans go with pretty much everything, right?! But a blue grey paint color offers a more interesting neutral choice for color-lovers like myself :)
But picking the perfect blueish gray paint color for your walls can be tricky. These popular hues will help you get started in your search for the perfect shade for your home!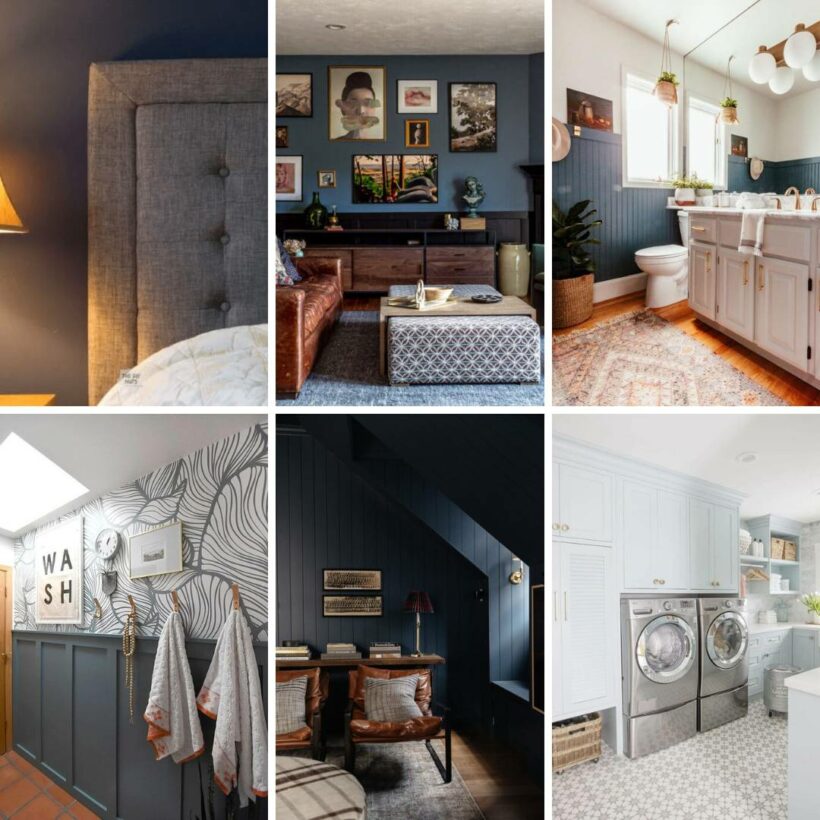 What is a blue gray paint color?
It's pretty much what it sounds like. It is a gray paint with blue added to it (or vice versa). The ratios and combos are endless, so some blue gray colors look more gray to the naked eye, while others look more blue.
Blue is one of my favorite paint colors to use (which you've probably noticed if you have taken my current home tour of the tour of our old home) If you aren't sure whether a blue gray paint color is the best shade of blue for you, check out my post on beautiful blue paint colors which includes a much broader range of blue colors you may love.
Where can blue gray paint colors be used?
Anywhere! As much as I love white walls (almost all of ours are currently Pure White by Sherwin-Williams), blue gray is a great neutral alternative to greige or white. Think about how a stormy sky looks… It's a beautiful, neutral backdrop for any bedroom, family room, kitchen, bathroom, etc.
What is the Best Blue Gray Paint Color?
This is such a subjective question because it depends so much on personal taste. That said, I'm sharing my favorites below!
Before picking one of these blue paint colors, please check out How to Choose Paint Colors for Your Home: 6 Simple Tips to Follow! One of the most important tips I share is to TEST every paint color you are considering in your own home first! Look at it on every wall and in every light. If you want an easy way, try my favorite peel and stick paint samples. You can also buy small sample pots. In the end, you will save yourself tons of heartache, stress and money by trying it out first. Learn from my mistakes–I have rushed and bought paint without trying it. I once repainted my kitchen three times. Just because a designer picture looks amazing, doesn't mean it will look like that in your house with your furniture and your lighting. Try before your buy!
Water's Edge by Benjamin Moore (1635) LRV 31.48
This foyer is a breath of fresh air. The blue-gray front door painted Water's Edge by Benjamin Moore is a fun pop of color while still feeling neutral. The gray in this shade keeps the blue from feeling too overpowering! It would be beautiful on bedroom walls or on cabinetry as well.
Adirondack Blue by Behr (N480-5) LRV 23
Grayish-blue can feel farmhouse, but paired with black wainscoting it feels elevated and sophisticated in this family room. Brianna used Behr's Adirondak Blue, then hung an amazing gallery wall, and used modern decor for the perfect modern traditional design.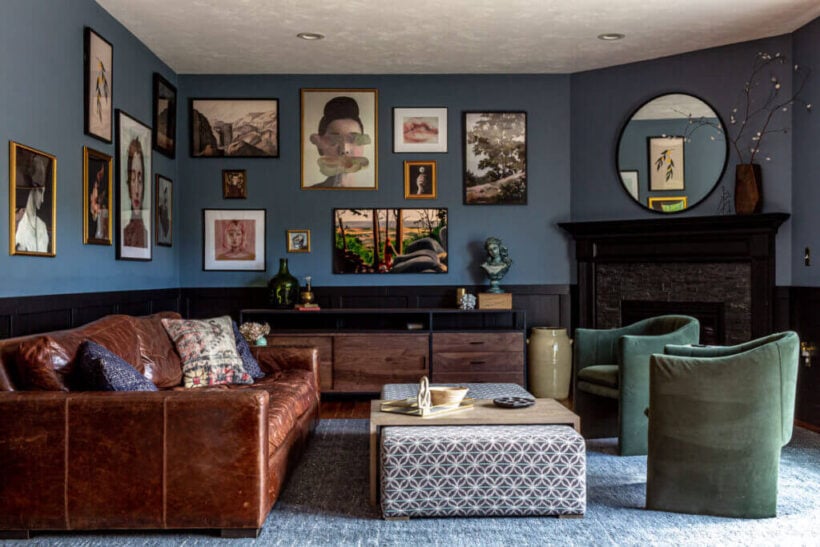 Waterloo by Sherwin-Williams (SW 9141) LRV 13
The gray undertones in Sherwin-William's Waterloo make it feel crisp and it looks beautiful paired with natural woods and whites. It is the perfect blue for a little depth and color but it doesn't feel too rich or heavy.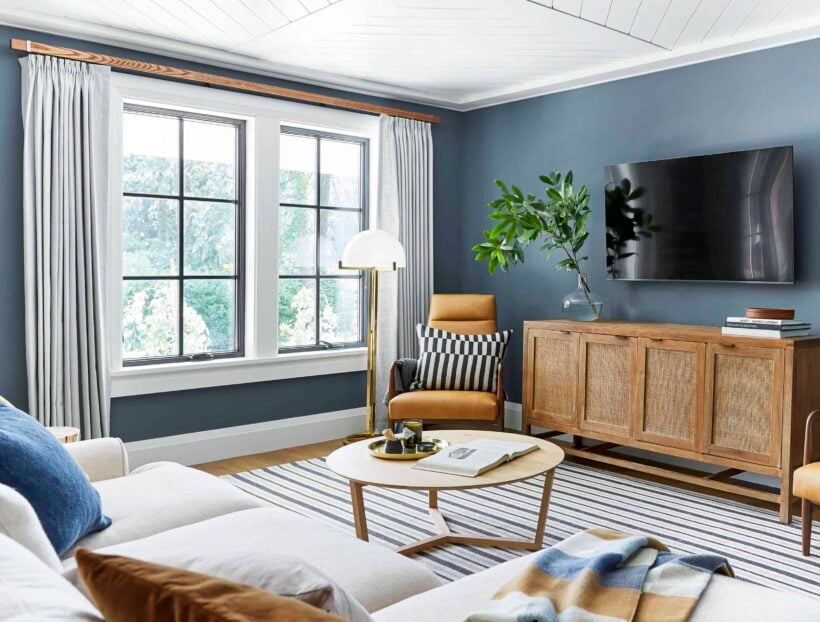 Philipsburg Blue by Benjamin Moore (HC-159) LRV 19
I love this blue gray paint color so much that we used it in two different homes. Benjamin Moore's Philipsburg Blue is absolutely under-rated and under-used. We loved it in our family room in our old home. It's moody and soothing in all the right ways.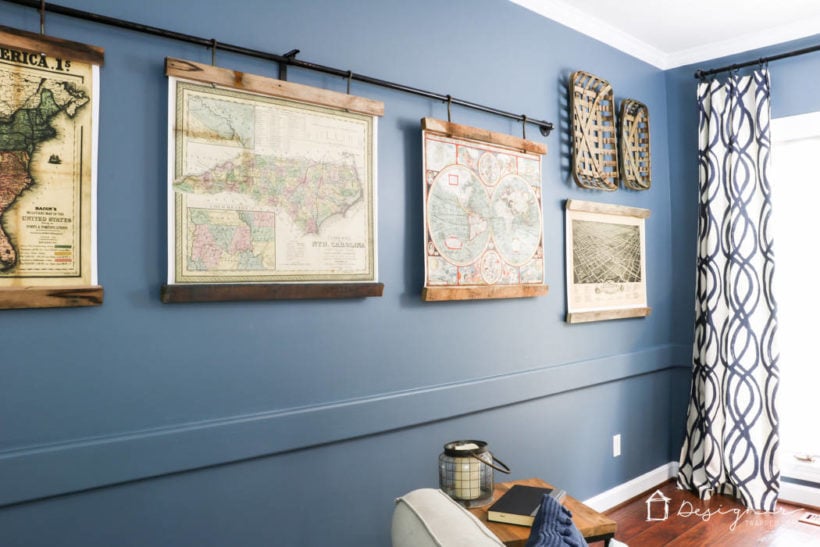 Smoke by Benjamin Moore (2122-40) LRV 56
Jillian is the first to admit she took a gamble painting all the cabinetry in this laundry room with Benjamin Moore's Smoke. This extremely pale blue with a touch of cool gray is gorgeous and a great choice! It feels super neutral without being just traditional white. Seeing how perfectly it pairs with the brass pulls and gorgeous tile it is safe to say she picked a winner!
Ink Black by Behr (N490-7) LRV 7
Looking for a moody dark blue with just a touch of gray to soften it? Behr's Ink Black is the perfect choice (and it really is dark blue, not black as the name suggests). Amanda created a calming vibe in her bedroom, setting the mood for sleep and relaxation.
Indigo Batik by Sherwin-Williams (SW 7602) LRV 8
Sherwin-Williams' Indigo Batik is a lighter navy so it is a great go-to if you want your entire room a dark blue but are nervous to go really dark. It still provides plenty of contrast but doesn't feel quite as dramatic as some of the darker blues. I love it with the gray of the headboard.
Stiffkey Blue by Farrow and Ball (281) LRV 10
Farrow and Ball's Stiffykey is dark and moody in all the right ways! Chris Loves Julia went for it and painted every inch of their bonus room this rich navy, even the trim and ceiling. It highlights the architecture of the paneling, dormers and window nooks, and ceiling. This daring design choice of rich blues and neutrals everywhere else really paid off!
Smoky Blue by Sherwin-Williams (SW 7604) LRV 15
Almost a dark teal, this moodier blue color has a smoky green undertone. Sherwin-Williams' Smoky Blue is a great dramatic color and looks beautiful in this bathroom creating the perfect backdrop for the whites and neutrals!
Dragonfly by Behr (PPU12-03) LRV 26
This gorgeous teal color was a trending color for Behr in 2020, and matched Amy's wallpaper perfectly. The boho and earthy vibe of Behr's Dragonfly worked beautifully with the terracotta color of her tile, which had to stay.
I hope these photos of beautiful blue gray paint colors help you find the perfect color for you and your home. If blue gray paint colors aren't your favorite, check out these navy blue paint colors that can also be a beautiful neutral in your home!
Other posts you may enjoy:
Wondering how I approach transforming rooms and spaces in our home? Check out Designer in a Binder®.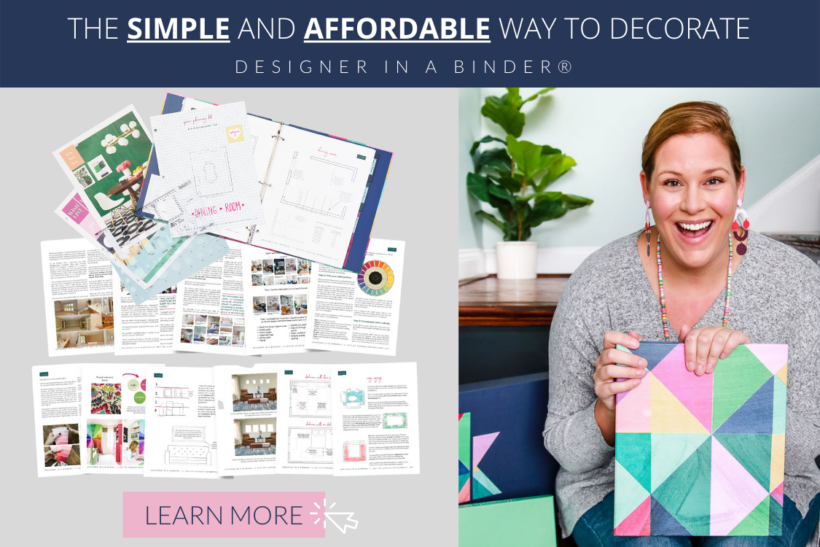 And if you want exclusive content and behind-the-scenes sneak peeks, be sure to subscribe before you head out!