How to Choose the Perfect Paint Sheen For Your Project
Looking to choose a paint sheen that best suits your project? Selecting the perfect paint sheen can be confusing with so many choices, but it doesn't have to be. Knowing the differences between matte, satin, and semi-gloss paints will make it easier to choose the best paint sheen for your specific space and needs.
In this post, you'll learn about the different levels of paint sheen, how they are measured and where you should use which paint sheens. Discover the differences between paint sheens and choose the one that is right for you. Plus, you can grab our easy-to-understand paint sheen chart to make it easy to choose the perfect sheen for your next painting project.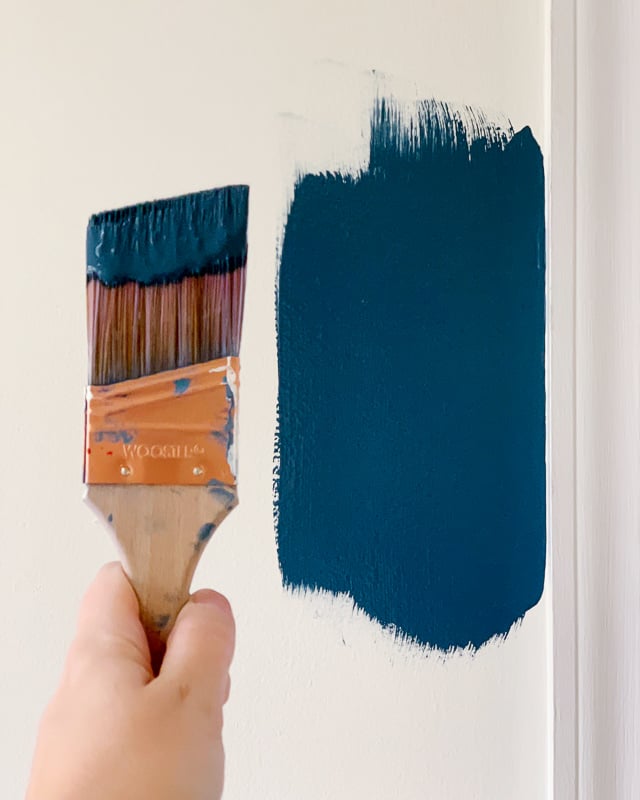 In our 20+ history as homeowners, we have painted LOTS of rooms. I've shared my best tips on how to choose paint colors for your home. But most people give little thought to what paint sheen will be best for their project. With every room makeover/renovation project we have tackled, we have learned new things. One thing I finally understand is how to choose the right paint sheen for which painted surface I am tackling, and that's what I've shared with you in this post. The types of paint finishes and sheens can be confusing but I am here to help!
What is Paint Sheen?
Wondering what I mean when I say "paint sheen?" The simple explanation is that the sheen is the amount of light the paint reflects. If you want to be a little sciencey about it, the amount of the binder, or resin, mixed with the pigment (color) creates the level of sheen. Paint can be purchased on a spectrum from chalky to shiny. The more resin in the paint, the more shiny the paint sheen is! The resin causes the light to bounce off the paint and appear shiny, while the matte paint absorbs much more of the light.
Choosing the correct paint sheen to use in your home is a simple formula: how much traffic does the area see, how imperfect are the walls or areas you are painting, and what do YOU like the look of. Sheen can really come down to personal preference–don't be afraid to ask questions and try different samples!
What Are the 5 Sheens of Paint?
The spectrum for the 5 sheens of paint is: flat or matte, eggshell, satin, semi-gloss, and high-gloss or glossy. You have probably heard of all of these before but may never have understood the difference. Below I will explain exactly what each of these looks like and how to use them.
Sheen can have a HUGE impact on the finished look of your designs. And perhaps more importantly the sheen you choose will absolutely impact how well the surface that is painted holds up over time. Understanding the durability and uses of different sheens really isn't hard, so let's dive in!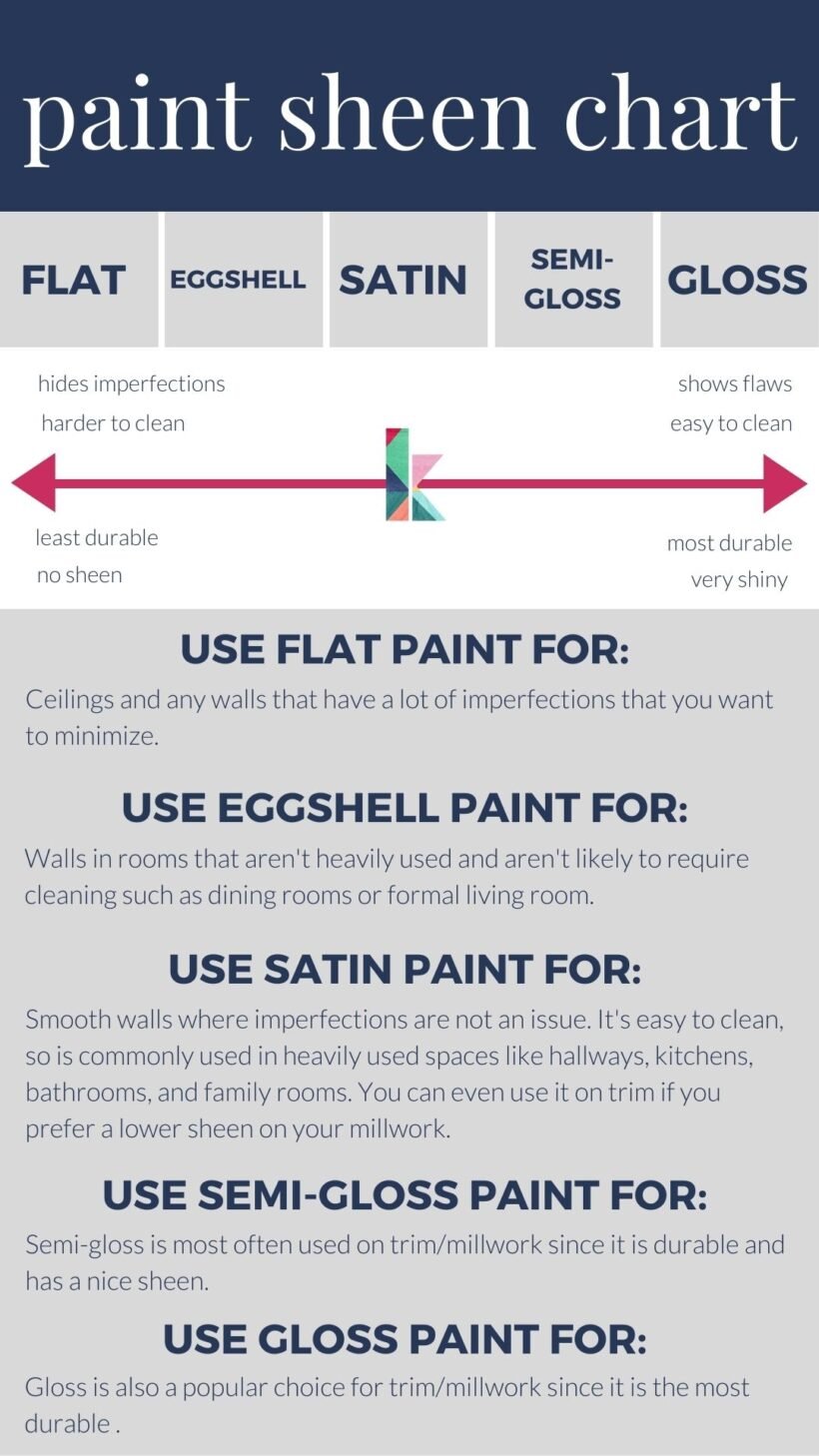 What Sheen Should I Choose?
Flat (0-3% shine)
Flat paint sheens give no reflection. They are very forgiving and lots of people use this type of paint for imperfect walls–think plaster that has bumps and waves. This is also usually the paint of choice for ceilings. An important thing to think about is that while the matte finish is forgiving of imperfections, it is very hard to clean! Don't ever use a magic eraser. If gentle cleaning doesn't get a mark off, you are better off touching up with paint. All our ceilings in this home and our past homes have been flat.
Matte (3-10% shine)
Matte paint has a small touch of sheen, but it still hides surface imperfections well. Some paint manufacturers offer a "washable" or "cleanable" matte paint now. So though matte paint is still more likely to scuff or stain than a higher-sheen paint, you can spend a bit more on a scrubbable formula to eliminate that concern and still have a very low-sheen paint.
Eggshell (12% – 25% shine)
If someone asks me "is eggshell or satin better for walls?" or "what paint sheen should I use on walls?" I ALMOST always say eggshell! Eggshell is what I used on the walls in all of our rooms. Eggshell isn't what anyone would describe as shiny. But I prefer eggshell over matte or flat because it has more durability against scuffs and marks without having to purchase a special formula.
I also love the texture of eggshell–it has body without feeling chalky to the touch. You can wipe down eggshell paint, but if you use something like a magic eraser, it will affect the finish so avoid that! The only time I don't recommend eggshell for walls is if they feel that their walls get dirty and scuffed easily (they have 4 dogs, a tight entryway, young toddlers, etc.). But for the vast majority of families and homes, I think eggshell is the perfect choice for walls.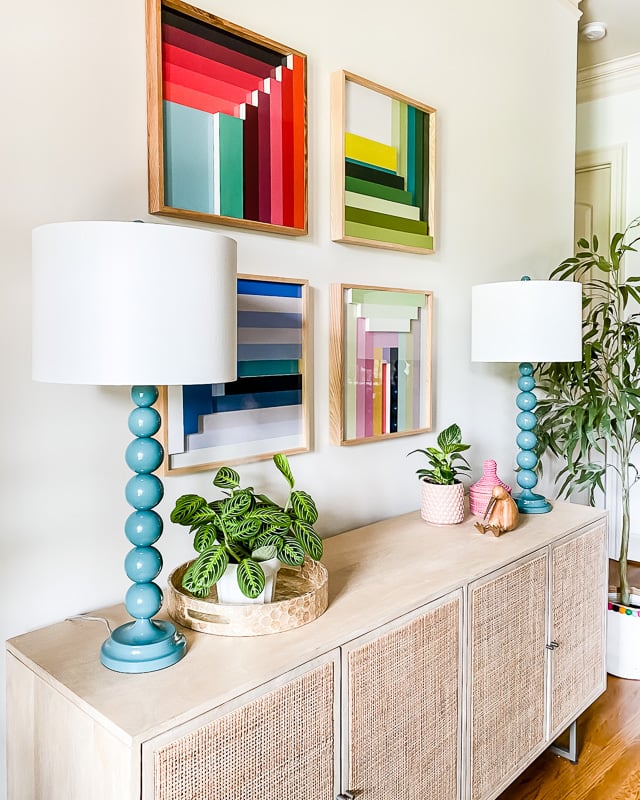 Satin (25-35% shine)
Satin paint is slightly reflective. It is the first paint sheen on the spectrum that my eyes register a bit of shine when it's painted on a surface. The downside is that it draws attention to cracks, holes, and other flaws, so it's best to use on perfect walls. On the plus side, it's much easier to wipe clean than matte or eggshell paint. A lot of people use satin finish on walls in high-traffic areas, like mudrooms or hallways, kitchens, and even bathrooms. We have used it in our garage in our current home because those walls take a fair amount of abuse. So if you feel that your walls get dirty or scuffed easily, satin may be a better choice for you than eggshell.
One surface that I think is perfect for satin paint is TRIM! Yes, you read that correctly. Trim is traditionally painted with semi-gloss or gloss sheen, but I prefer a satin sheen on trim/millwork and interior doors. The trim and doors in our current house is satin and I love it. It is an unconventional choice for trim, but I love the less shiny finish. And it looks beautiful against the eggshell walls. You can see I'm also a fan of interior trim that isn't white.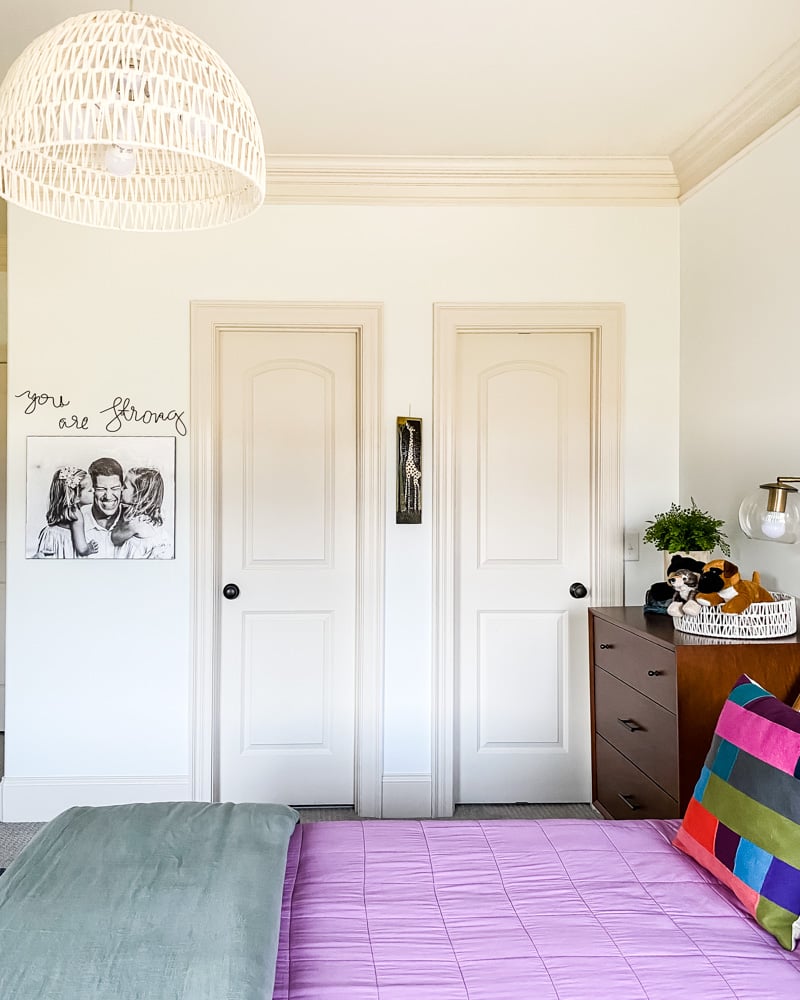 We also chose satin for the board and batten accent wall we recently installed in our hallway because we carried the same color over the trim and doors. I typically do not choose satin for wall surfaces, but it made sense to keep it all the same in this situation.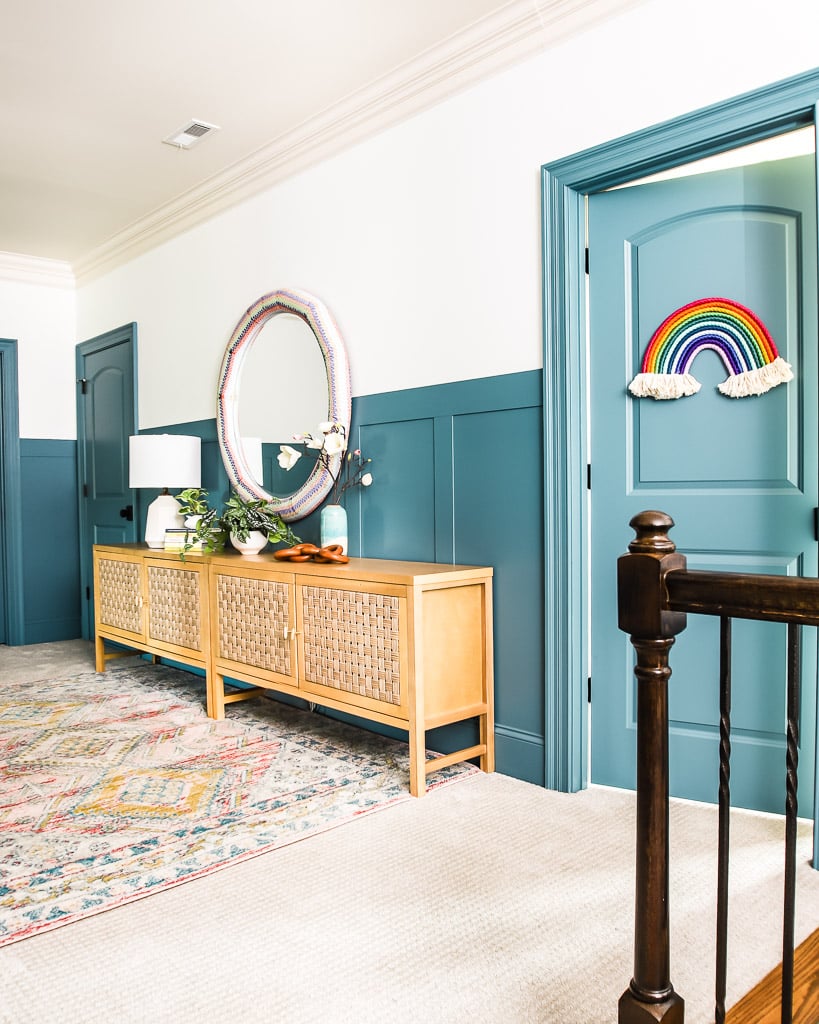 Semi-gloss (35-60% shine)
It is easy to glance at semi-gloss and see that it is reflective/shiny. It is the paint sheen most often used on trim and it is what he had on the trim and doors in our previous home. The upside of semi-gloss is that it is very easy to clean. The downside is that it really shows (and almost highlights) surface flaws. Semi-gloss paint, like satin, is often used in places that see more action and dirt, like kids' rooms, bathrooms, and laundry rooms. I personally am not a fan of semi-gloss on walls. But it can be beautiful on trim and cabinetry.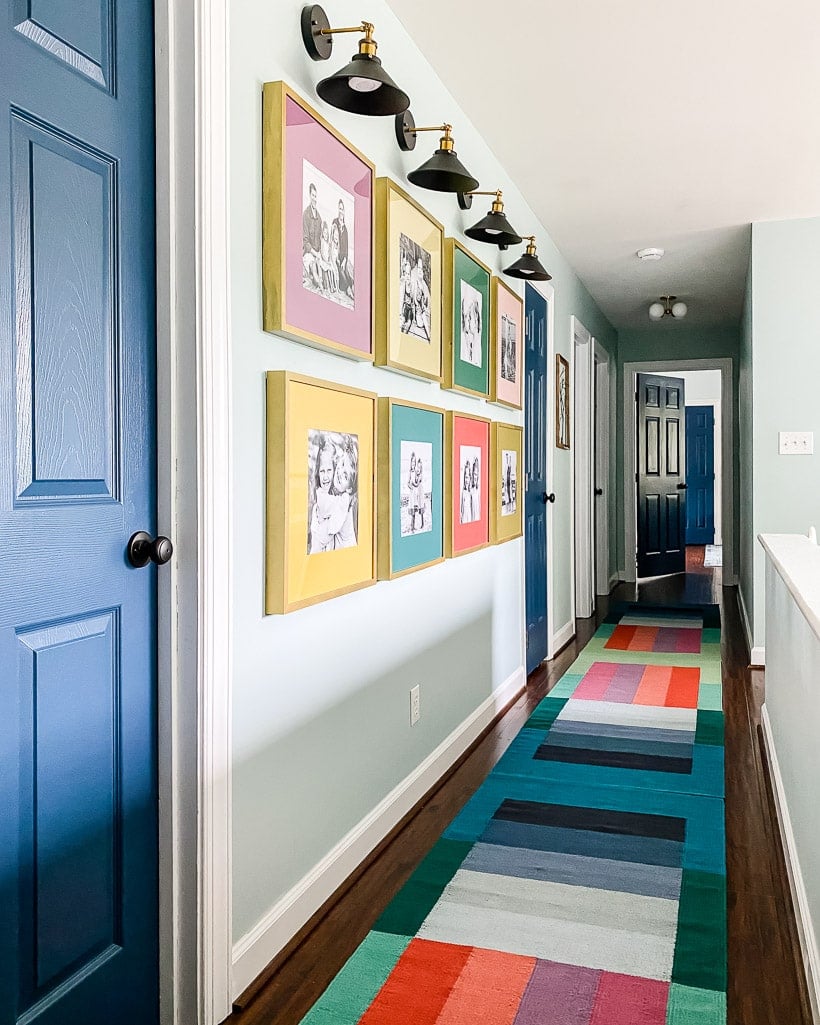 Though all of the trim and doors in our current home are satin, we did use semi-gloss on our new DIY stair handrail and balusters since they get touched a lot and we want them to be as durable as possible.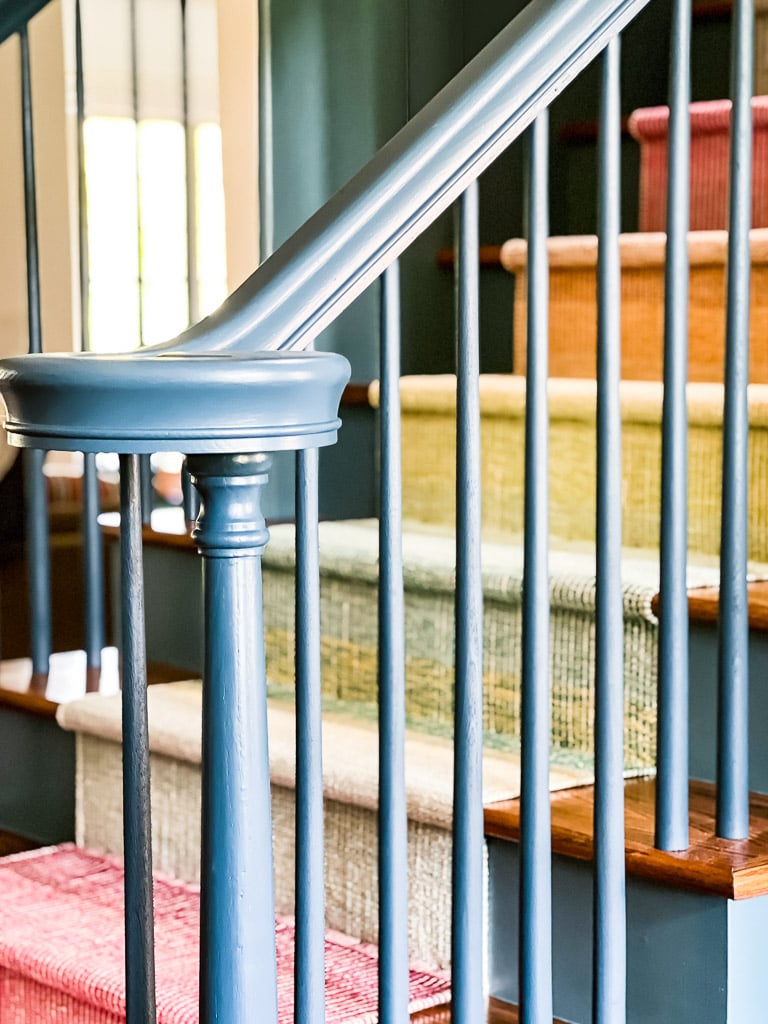 Gloss (>60% shine)
Gloss is the shiniest finish you can get without using lacquer. Many people use it on trim because it stands up really well to fingerprints, scuff marks and traffic. It is the easiest paint sheen to clean. Gloss also has the highest durability, but it will show more flaws than any other paint sheen so use it very wisely! Many people use it on trim, doors, and cabinets, and it can work beautifully on all of those surfaces if they are nice and smooth. But if you live in a historic home with original trim and baseboards that have some flaws (been there, done that), you will likely be happier with satin since it will draw less attention to all that character.
Frequently Asked Questions
What sheen of paint is best?
There is no "best" because it depends on usage, but the most durable is gloss. Flat, eggshell and satin paint are generally best for interior walls, whereas semi-gloss and gloss paint are best for trim and woodwork.
Is eggshell or satin better for walls?
It depends on how much wear and tear the walls will get. If you feel like the walls will get dirty and need to be wiped down often, you are better off with satin because it is more cleanable. If wear and tear isn't a concern, I prefer the way eggshell finish looks on walls since it has less of a sheen. But if you like a bit of sheen, satin may be the best choice for you.
What is the most popular interior paint finish?
According to my research, satin finish is the most common interior paint finish, most likely because it is easy to clean without being overly shiny.
Choosing the right paint sheen doesn't have to be complicated. By considering the space, the amount of traffic it receives, and the type of paint you're using, you can confidently select the best option for you. While shiny finishes are better for high-traffic areas, matte or eggshell finishes can give a room a more subtle, sophisticated look. Ultimately, the decision is up to you. So take the time to consider your options, and begin creating the home of your dreams.
Other posts you may enjoy:
Wondering how I approach transforming rooms and spaces in our home? Check out Designer in a Binder®.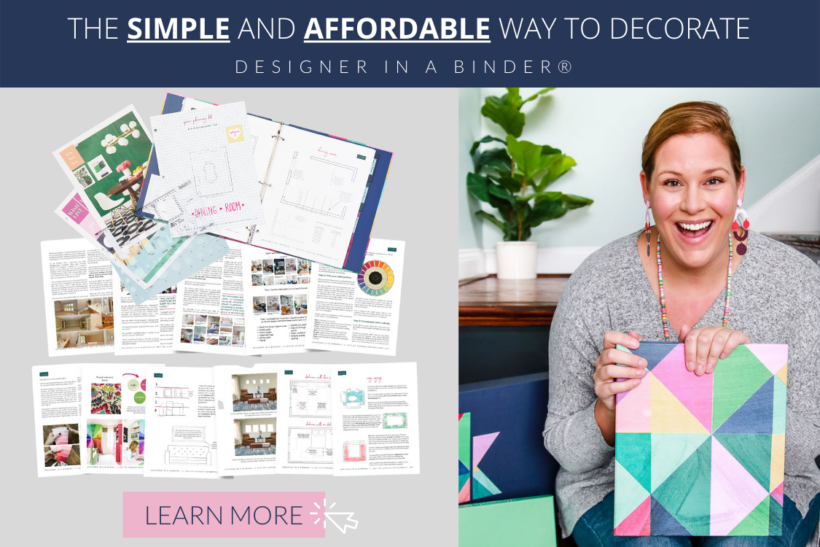 And if you want exclusive content and behind-the-scenes sneak peeks, be sure to subscribe before you head out!