Should I Paint My Kitchen Cabinets? 9 Questions to Ask Before Getting Started
Last Updated on August 10, 2021
"Should I paint my kitchen cabinets?" That burning question SO MANY of you have asked me is answered in this post!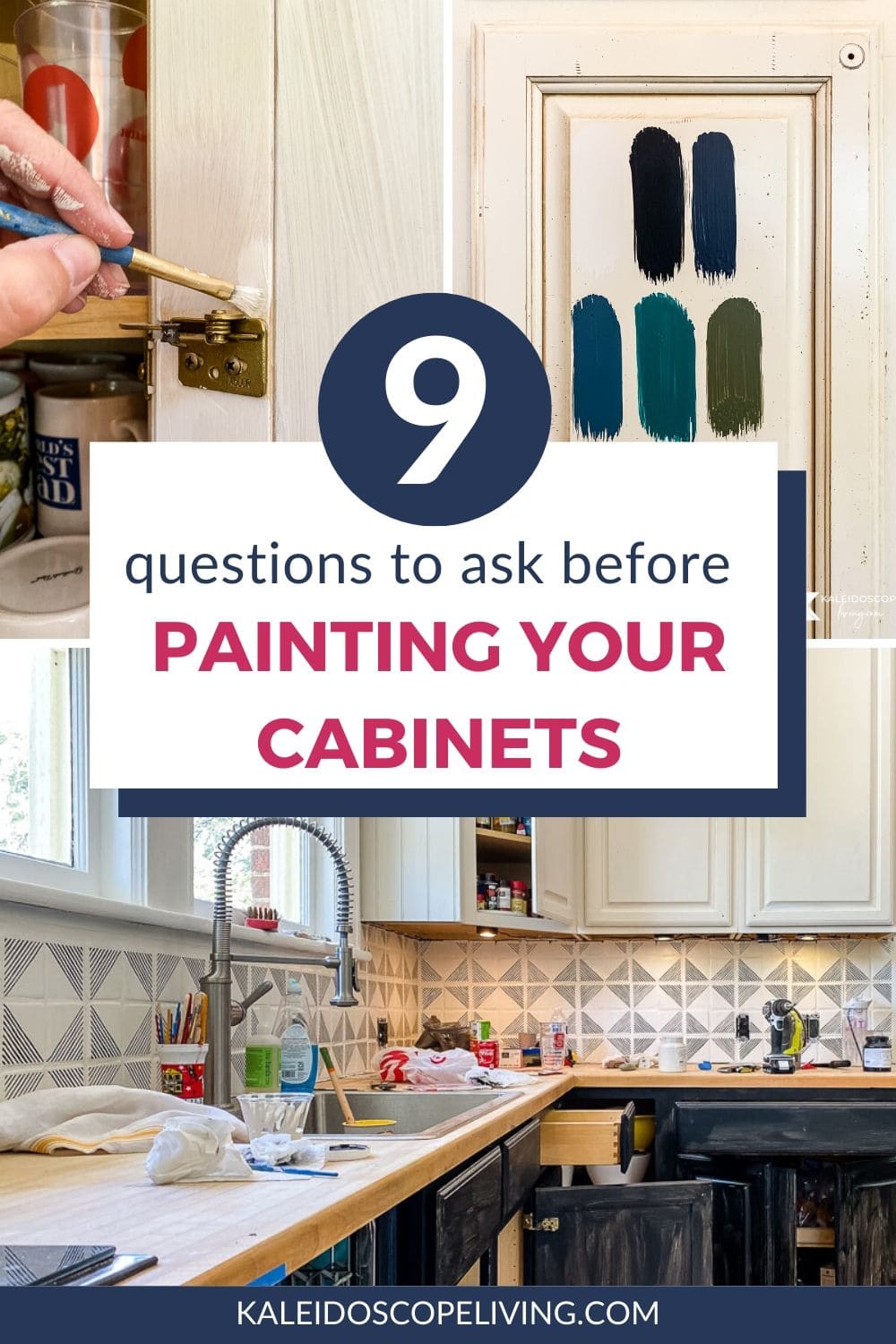 At least once a week I get asked, "Should I paint my kitchen cabinets?" I'm not surprised by this question because I'm the gal who actually painted my kitchen cabinets without priming or sanding and LIVED TO TELL ABOUT IT. In fact, we even did a check-in after two years to prove how well our DIY painted cabinets held up. And those cabinets held up perfectly for over 5-years until we fully renovated our kitchen last year. It was seriously unbelievable, folks.
More recently, I painted my friend Thea's kitchen cabinets with totally different products and a different method and it was even quicker and easier! The project was only completed 6 months ago (you can see her $997 complete kitchen transformation in this post–it's pretty epic) and so far her cabinets are holding up PERFECTLY.
This post contains some affiliate links for your convenience (which means if you make a purchase after clicking a link I will earn a small commission which helps keep my blog up and running but it won't cost you a penny more)! Click here to read my full disclosure policy.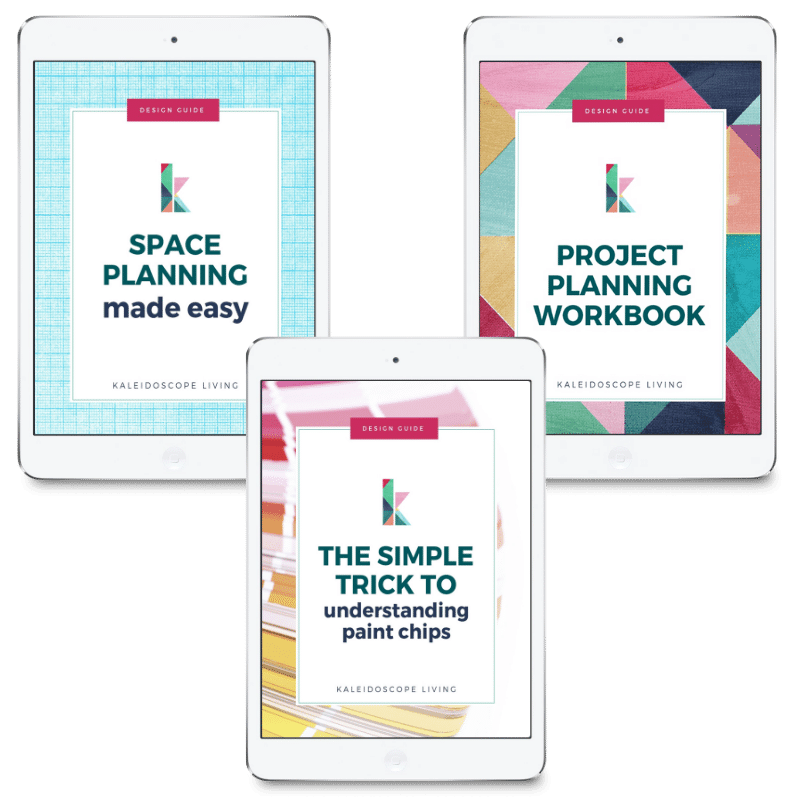 Get my FREE design guides when you subscribe!
Now I'd love to take all the credit for how well our painted cabinets worked out for us, but there were several factors on my side. The biggest factor is that I used a fantastic paint, General Finishes Milk Paint. I swear, this stuff is magic! I'm not a professional painter nor am I on their payroll, I'm just a very enthusiastic supporter. This paint required no sanding or priming and it went on like a dream. It dried faster than any paint I've ever used and turned out a beautiful set of kitchen cabinets.
As part of our $700 kitchen makeover back in 2014, we redid our outdated rust-orange cabinets in a beautiful Dove Grey. We spray painted most of the hardware, save buying drawer and cabinet pulls (purchased from IKEA).

So this is why I get asked the question, "Should I paint my kitchen cabinets?" once a week. My answer? Go for it! BUT do your homework first so you'll be as happy with your results as I am with mine!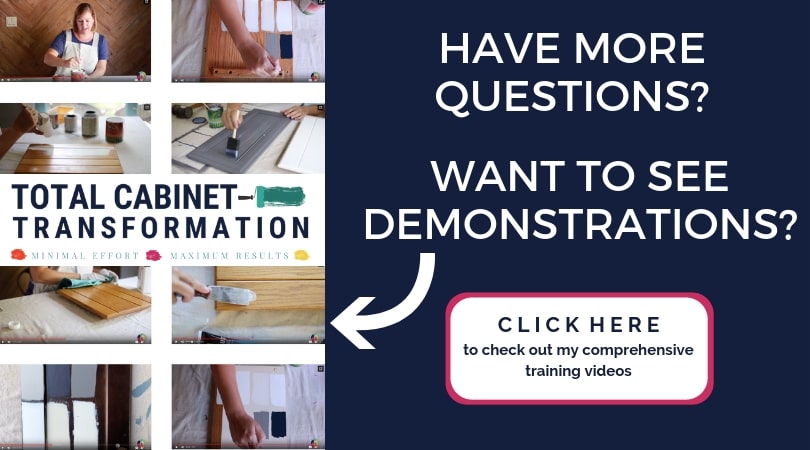 "Should I Paint My Kitchen Cabinets?" 9 Questions to Ask First!
Before you begin painting kitchen cabinets, there are a few questions you should ask yourself.
Question 1: What are your kitchen cabinets made out of?
Most cabinets are made of solid wood. Some cabinets, however, are made of stainless steel (plain or powder-coated) or engineered wood. Engineered wood cabinets might be made from MDF, plywood, particleboard and covered with veneer, thermofoil or laminate.
Solid wood kitchen cabinets are a dream to paint (you can read all about how I painted our solid oak cabinets without priming or sanding in this post). Unfortunately, engineered cupboards that aren't solid wood aren't as easy to paint. Paint doesn't adhere to the finished surface as easily and will often peel off or chip. To prevent chipping of most paints, the engineered wood cabinets will most likely need light sanding and priming before painting. Test in an inconspicuous spot beforehand. Once dry, test the paint to ensure the dried product won't flake or chip with frequent use, especially in the kitchen.
That said, the General Finishes Milk Paint I used to paint my kitchen cabinets without priming or sanding, adheres remarkably well to lots of different surfaces, to even if you have cabinets that aren't solid wood, don't give up all hope of painting them! This is what General Finishes says about its Milk Paint, "General Finishes milk paints will adhere to a variety of surfaces including wood, fiberglass, PVC, vinyl, and most composite materials. Additionally, these paints can be applied over existing finishes, stains and other paints so long as the existing finish is fully dry. However, when painting over other finishes, it's important to always test a small area first to make sure the paint adheres well to the original surface." So if you don't have solid wood cabinets, don't give up hope! Just order a pint-size can of the General Finishes Milk Paint to test it out first!
I tested 3 colors when we tackled our project. It helped me choose the color AND gave me the confidence that the paint had excellent adhesion.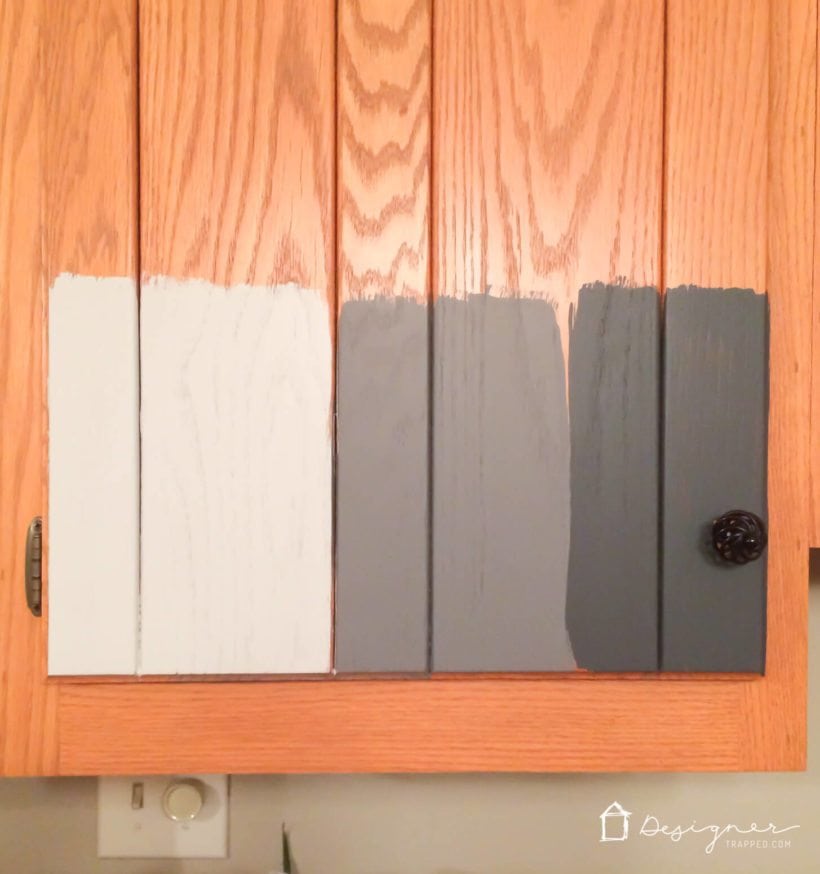 The Fusion Mineral Paint products we used in Thea's kitchen also have excellent adhesion and durability, and they come in a broad range of beautiful colors.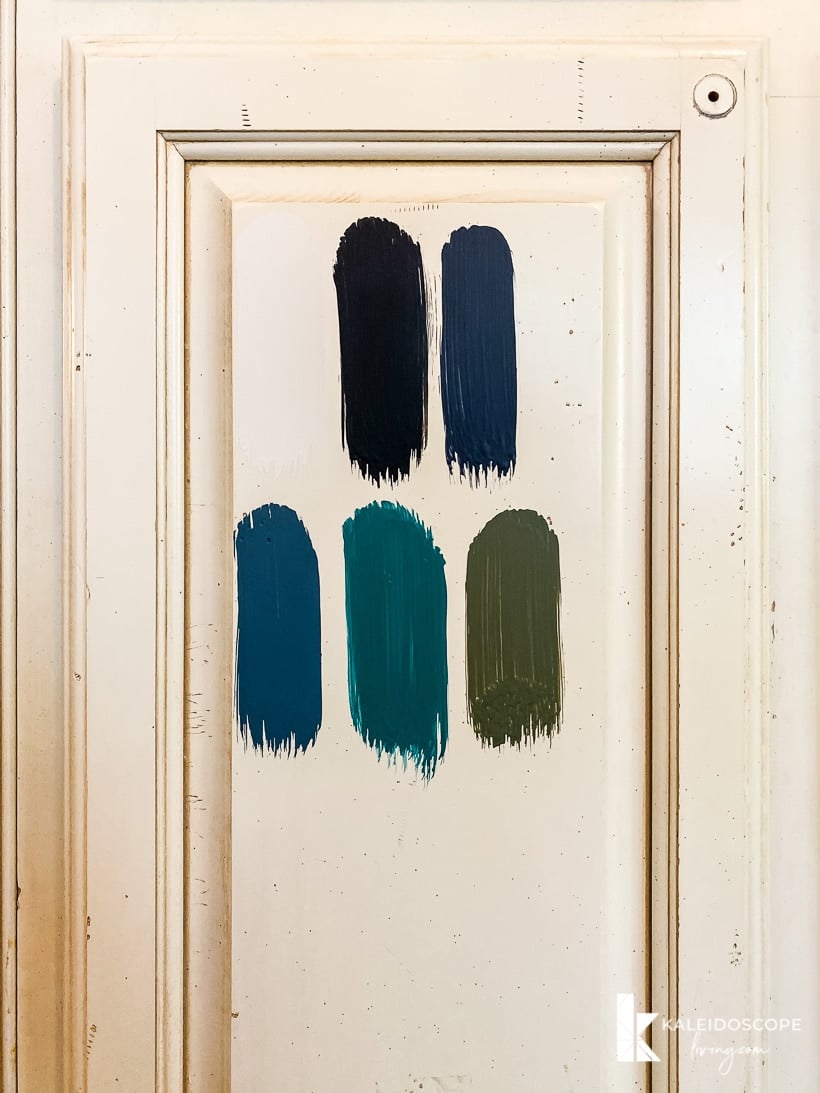 Question 2: What is the finish on your cabinets?
Assuming your cupboards are solid wood, also double-check the finish. Most stains and polyurethane finishes can be covered over but you may run into issues if you're going from a painted finish to a stain, for example. To remove latex paint, you will need to sand the cupboards first. Latex painted cupboards may be a case where refacing the cabinets with new doors is a better option.
As I mentioned above, we used General Finishes Milk Paint on our old cabinets, but their Java Gel Stain is also fantastic (assuming you want to take your cupboards into a darker finish). The Java Stain is a thick gel stain, which covers nearly anything. You can see how we darkened a light pine cabinet with the Java Gel Stain in this post. One thought to keep in mind though: it's far easier to darken a light finish than to lighten up a dark paint or stain without primer.
And we used Fusion Mineral Paint products to totally transform Thea's cabinets. Thea's cabinets were a painted wood already, so all we had to do was given them a light, scuff-sanding which took about 30 minutes. You can read all about how we prepped and painted Thea's cabinets in this post. Or if you prefer video tutorials, you can watch how we did it in the video below.
Question 3: How do you feel about the wood grain (if any) of your cabinets?
I get asked all the time whether we could still see the grain of our oak cabinets after they were painted. The answer is YES, and we were fine with that. I am not aware of any paint that will fill in wood grain, unfortunately. That said, the General Finishes Milk Paint is a very flat finish and the top coat we used is also the flat finish, though it did add a tiny bit of sheen. The flat finish really minimized how noticeable the grain is because of the minimal light reflection. But the grain was still visible.
If you absolutely can't stand seeing the grain, then you will either need to follow a process like this one to eliminate the grain, or you should consider refacing or replacing your cabinets.
Question 4: How much time can you dedicate?
Painting kitchen cabinets is a realistic DIY project BUT the process will definitely derail your normal kitchen routine for at least a few days. When we did our kitchen, we were able to keep the dishes in the cupboards because we opted not to paint the insides. The paint dried very quickly and we were able to finish in a matter of days, but it was a MESS while we were working on it.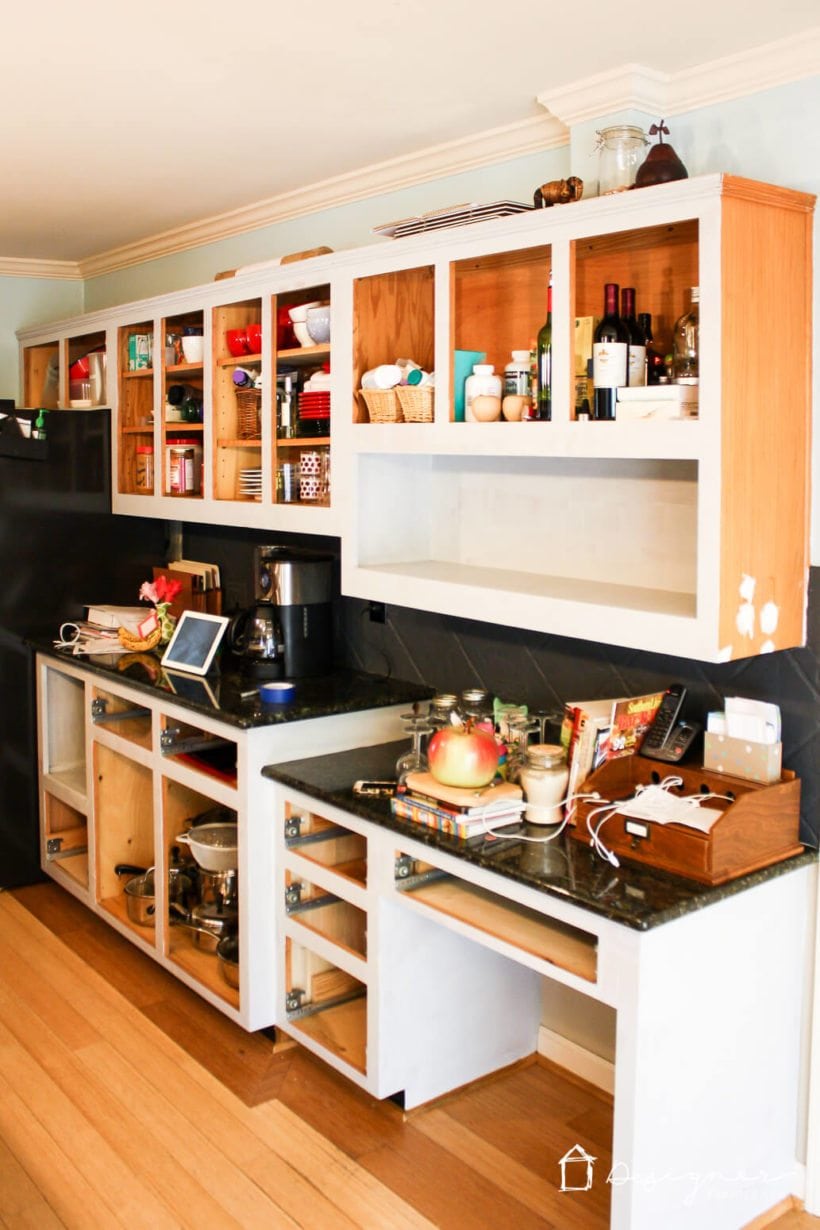 Painting Thea's kitchen cabinets moved even more quickly because we didn't pack a thing and didn't even remove the cabinet doors to paint them. But it still meant her kitchen was out of commission while we worked on her cabinets.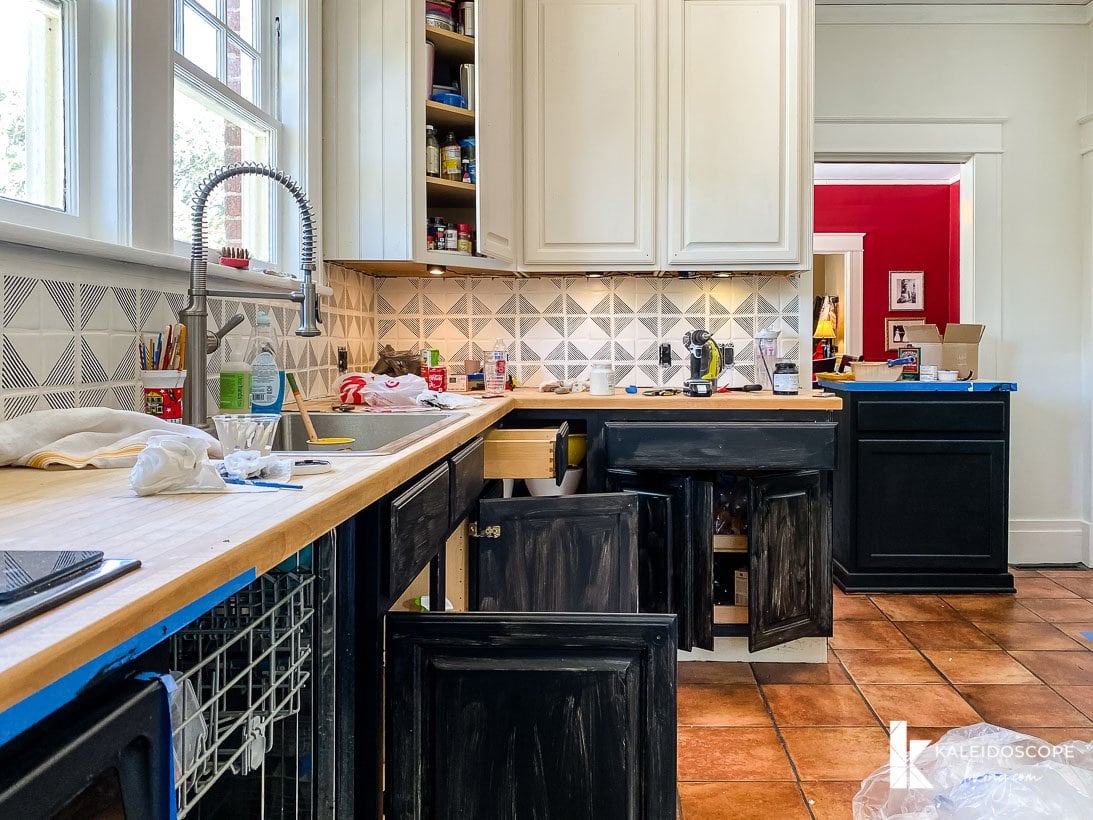 Bottom line… Consider your "Plan B" in case your plan goes awry. If you run out of paint, decide you don't like the look or realize the project is tougher than you hoped to take on, what will you do without your kitchen during that time? Kitchen renovations are tough because the kitchen is such a central part of our homes. Keep in mind that with the right paint and plan, the project CAN go very quickly. Just block out enough time so you finish up before a scheduling conflict. This isn't a project to take on the day before Thanksgiving, for example.
Question 5: How fussy are you about details?
I'm a little particular about certain details, of course, but I can handle slight imperfections. For example, it doesn't bother me in the least the insides of my cupboards aren't painted. We DID paint the inside of the doors, just not the interior of the cabinet boxes themselves. I like quality, but I don't mind a little normal wear and tear (it comes with the Mom-of-Twins territory).
If you are particular about details and want everything absolutely perfect, weigh your time against the cost. If you're going to stay up at night making sure paint is cut perfectly or worrying about tiny details, it might not be a worthwhile DIY project for you to take on. However, if you're hoping to save money or you're sick of your current cupboards but can't afford a total redo right now, then painting your kitchen cabinets is your best option. I promise it can absolutely be easier than you think if you pick the right products and method!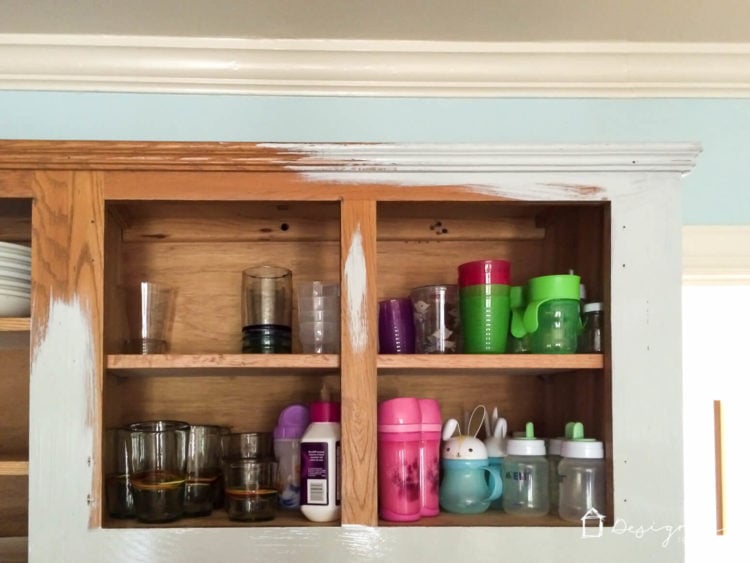 Question 6: What kind of shape are your cabinets in?
Before taking on a kitchen cabinet painting project, really ask yourself if what kind of shape your cabinets are in. Is keeping your current cabinets worth it? Even if the design isn't exactly your taste, with a coat of stain or paint, cabinets take on a whole new look. Our once orange oak cabinets looked fresh and modern in Dove Grey (and would look good in Java as well). Often the finish makes all the difference. The other (less expensive than a full replacement) option is to reface your cabinets by swapping out only the doors. If your cabinet structure is good but you don't like design elements of the doors, this is a great way to go.
Remember: you can always paint or buy new hardware to give the cabinets an updated look as well. I picked up great handles at IKEA that were really inexpensive, fresh and sleek. They fit the style of our kitchen much better. I was able to simply hit the hinges with spraypaint and keep them. Look at the state of your hardware, as well as your cabinets, to see if a refinish is enough to extend the life of your cupboards.
In Thea's kitchen, we were able to keep the hidden hinges (we just painted around them) and we replaced the hardware with these modern, beautiful and seriously inexpensive knobs.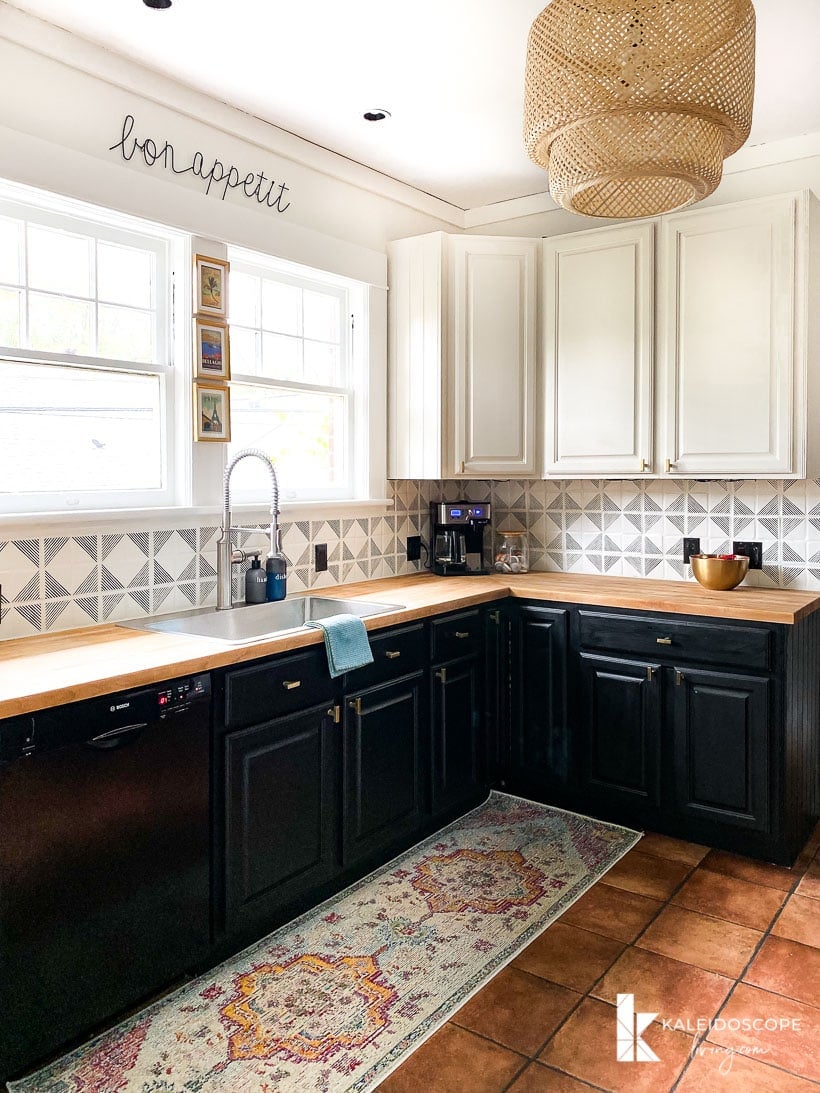 Question 7: What is the cost of a replacement vs. refinish?
This question is usually the clincher for most people. When I painted my kitchen cabinets, we were able to update the entire kitchen for $700, including flooring, fixtures, everything–the whole shebang. And Thea's entire kitchen makeover (including updated lighting, rug, cabinet hardware and all decor and accessories) cost only $997. Y'all, those prices can't be beaten! Trust me, I know how expensive completely gutting and renovating a kitchen is because we finished our full kitchen remodel almost a year ago.
Of course, you should weigh in other costs as well–your time, sanity and stress levels. Painting kitchen cabinets is one of the most cost-effective kitchen transformations you can take on. It's well worth the cost in most cases.
Question 8: How happy are you with the existing layout?
If you're happy with the layout of your kitchen and simply need a modern update and change, painting your cabinets is absolutely the way to go. Painting your kitchen cabinets is an easy solution and can get you much closer to the kitchen of your dreams.
If your kitchen is small, your cupboards are lacking and you need to add cupboards, then painting might not be the best solution. Obviously, painting won't change the cupboard layout or the amount of storage in your kitchen. One option to consider is an open-shelving look on the top cupboards and painting the lowers. Alternatively, you could add an island or resurface the doors which would allow you to skip a total overhaul but increase the storage.
We painted our kitchen cabinets as a temporary update until we could fully renovate the kitchen. Those painted cabinets allowed us to enjoy our kitchen for over 6 years while we saved for our full kitchen renovation. We knew we would do a full renovation eventually because we wanted to change the layout of our kitchen (including taking a wall down between our kitchen and dining room). It took such a long time to save, that it was worth every penny and every minute we spent on our kitchen cabinet painting!
Question 9: How drastic of a change are you hoping for?
Again, if you're happy with the overall layout and storage size of your cabinets, then painting your cupboards for an update is a great solution. If your cabinets are small, in poor condition or aren't working for you, then a cosmetic change might not be the answer.
When we painted our cabinets, our plan was to stave off total kitchen gut and makeover for at least 5 years. We were so thrilled with the professional-level results we were able to get with our inexpensive, amateur remodel, we happily lived with our kitchen while we saved for our full kitchen renovation. If this is your case, then painting your kitchen cabinets is a great solution. You can get the face-lift you want for your kitchen and hold off on drastic changes until your budget expands.
Painting kitchen cabinets is a great solution for anyone who's interested in an update. So if you keep asking yourself, "Should I paint my kitchen cabinets?"…then, answer these questions first to really start your kitchen painting project off the right way! I promise you can do it and still keep your sanity intact!
Now, I know there are LOTS of you out there that are going to read this and think the process I used sounds too good to be true and/or have a zillion other questions that I can't possibly answer in blog posts. So frequently we get questions like…
Can I use this to paint my laminate kitchen cabinets?

How do you think the white paint color would work on my very dark cabinets?

Can I use this paint this over existing painted kitchen cabinets?

Did you REALLY not sand in between coats?

How much pressure do I need to apply when I use the deglosser?
After seeing the need to address all these questions and after countless requests, I finally decided to create a video training series for those of you that have questions and concerns that just can't be answered in a single blog post.
My video series, Total Cabinet Transformation, is now available and it covers the process for how we painted our own kitchens cabinets with General Finishes Milk Paint. If you want to update your kitchen, but can't afford to replace your cabinets or hire a painter to paint them for you, this is the training for you. It's short, but thorough. In about an hour, you will know everything you need to transform your kitchen cabinets the "lazy" way. Minimal effort. Maximum results.


Be sure to save this post to Pinterest or share it on Facebook so you can find it again later (especially if you have to convince your husband that it's a good idea, like I did, lol!)
And before you head out, considering becoming a V.I.P. member of the Kaleidoscope Living community FOR FREE! When you subscribe, you get access to our entire subscriber hub full of free design guides, organization printables AND gorgeous printable art!

[mv_create title="Most Popular Projects" key="1″ thumbnail="https://designertrapped.com/wp-content/uploads/2016/11/diy-home-decor-projects-diy-blog-200-1.jpg" type="list" layout="circles"]