The Best Paint for Kitchen Cabinets: Everything You Need to Know!
Last Updated on September 12, 2022
Ready to transform your kitchen cabinets? It's crucial to choose the best paint for the job. Read on to learn about the best paints for kitchen cabinets and to see 11 successful cabinet transformations.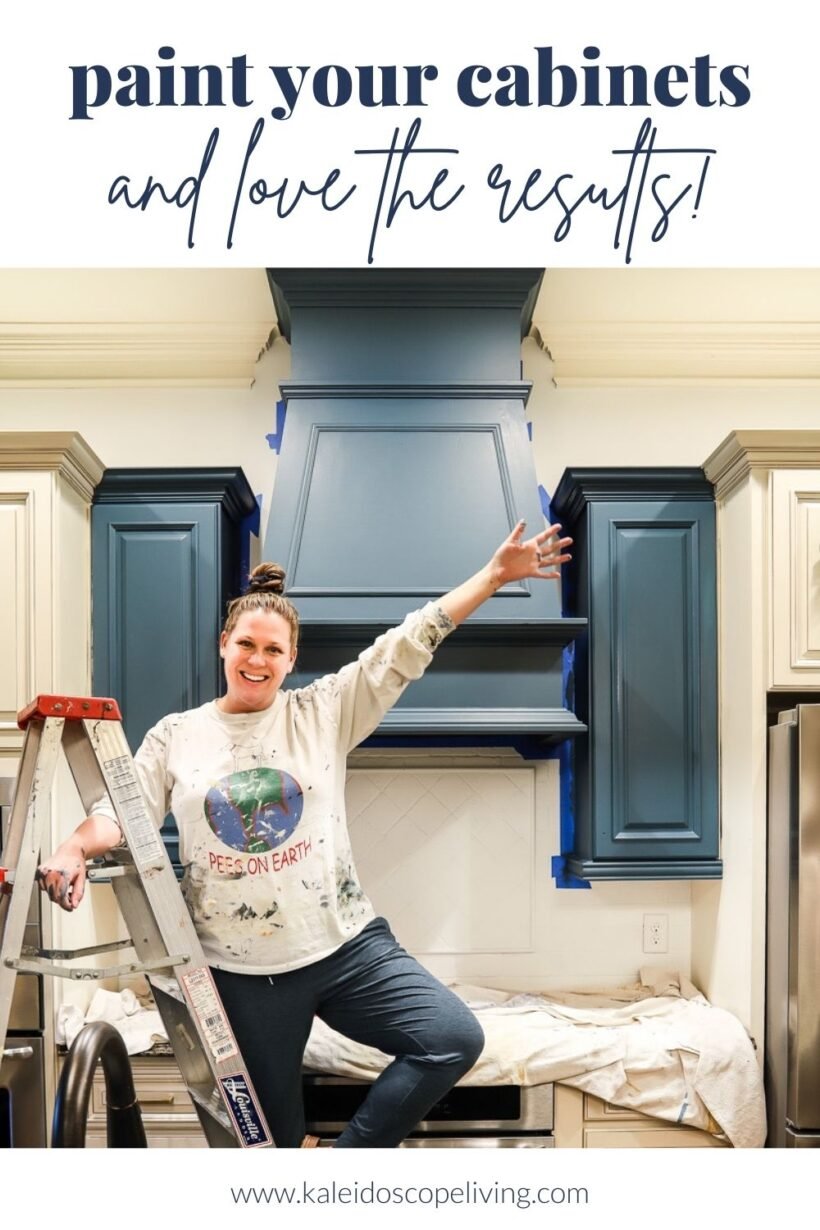 No other project seems to frighten, baffle and confound readers quite as much as painting cabinets. I get asked about it all the time. Here's the deal, y'all—I get it.
Kitchen cabinets make a huge impact on the overall look of your kitchen. I would say, aside from walls and flooring, cabinetry is probably the biggest source of decorating anxiety. When cabinets look bad, they look BAD. There's no way to avoid them. You might face a big orange or tan eyesore front and center in your kitchen.
Hiring professional painters to paint your cabinets is EXPENSIVE (and I've heard so many horror stories of awful results). But painting cabinets yourself seems like a lot of work. We've all heard nightmare stories of sanding, priming, yellowing, peeling and flaking. It feels like so much effort to put into a project when you aren't sure it's going to turn out like you hope. It's a big leap of faith.
Well, I promise you, it can be done! I have now painted kitchen cabinets a total of THREE times. Yes, three. And each time I've gotten gorgeous and durable results.
This post contains affiliate links for your convenience. Click here for my full disclosure policy.
First, let's cover the 2 types of kitchen cabinet paints I have personally used and recommend.
Paints That Minimize Brush Marks & Don't Require Primer
Let me start by noting that I don't personally recommend painting the inside of your cabinets. I only paint the doors (inside and outside) and the cabinet frame. Doing that will save you so, so, so much time. I also get asked a lot about whether you should use a paint sprayer. I believe all of the paints listed below would work with a paint sprayer. But I personally have found that the amount of prep involved for spraying something INSIDE your home is simply not worth the hassle or effort.
I also want to mention that there is no paint on the market that I am aware of that will get rid of wood grain in your cabinets! You can minimize how visible the wood grain is by using a completely flat paint or topcoat (which reflects less light and therefore makes it harder to see the wood grain), but paint alone is not going to magically get rid of it for you.
With that in mind, let's dive into the best paints for kitchen cabinets!
General Finishes Milk Paint (low VOC, self-sealing interior mineral-based paint)
The first time I tackled painting kitchen cabinets was in 2014 when I painted my kitchen cabinets with NO SANDING OR PRIMING. Now, I'd love to brag about it and claim it was all my decorating genius and magic touch, but I've got to be humble and give props to the true hero of the story: the paint and topcoat I used.
My project success was all about having found the best paint for kitchen cabinets. I used General Finishes Milk Paint. Despite it's name, it's just a very high-quality acrylic paint with very low VOCs and it's almost odorless. I want to sing their praises from the rooftops, y'all! They're amazing (and no, I am NOT on their payroll and was not paid by them for my how to paint kitchen cabinets post)! It was easy to use and went on like a dream. And the General Finishes High-Performance Top Coat was crucial as well. It comes in a variety of sheens. I wanted a matte finish, so I used the flat sheen, but it also comes in high-gloss, semi-gloss, and satin options. 
You can see my full tutorial using General Finishes Milk Paint  in my post about I painted my kitchen cabinets with NO SANDING OR PRIMING . The short version is that very little prep was required. I simply cleaned my cabinets well (to remove any grease and grime) and then rubbed them down with liquid deglosser. Then I painted! No priming or sanding is required. I used a roller for the large flat surfaces and a paintbrush for the details.
We had PERFECT results with a durable finish that lasted us over 5 years until we completely gutted and renovated that kitchen. I wrote this entire post about how our kitchen cabinets held up. Skipping the priming and sanding saved us TONS of stress and time. You can see the before and after of our first kitchen cabinet painting project below!

Fusion Mineral Paint (100% acrylic, water-based paint with natural pigments)
Fast forward to 2019 when I helped my friend Thea transform her dark and dated kitchen for less than $1,000. Since this DIY and home decor blog is my full-time job and that depends upon finding new and potentially better ways to do things, I wanted to try a different method and Thea was game! 
After lots of research, I decided to paint her cabinets with Fusion Mineral Paint. It is is 100% acrylic, water-based with NO added latex or vinyl. It also has very low VOCs and is almost odorless.
Fusion Mineral Paint has EXCELLENT adhesion to pretty much any material, which is why you won't need to use a primer before painting (unless you have laminate cabinets). You can even paint laminate cabinets with it if you use Fusion Mineral Paint Ultra Grip or a shellac-based primer first. And it has an industrial-grade resin that gives it a water-resistant finish.
I've never been sponsored or paid by Fusion Mineral paint, but they have generously offered my readers a 10% discount that will be automatically applied when you click and order HERE.
Remember, a little bit of this paint goes a LONG way, so you don't need much (we used only 4 pints to paint our kitchen cabinets as part of our budget-friendly kitchen makeover).
Best of all, Fusion Mineral Paint requires minimal prep of a clean surface and possibly a light sanding by hand. That's all we did in Thea's kitchen and the light-sanding took no more than 30 minutes for all her cabinets, so don't let that put you off. Her kitchen cabinets turned out beautifully and they are still in perfect condition–no peeling or chips to be seen! Look at that transformation.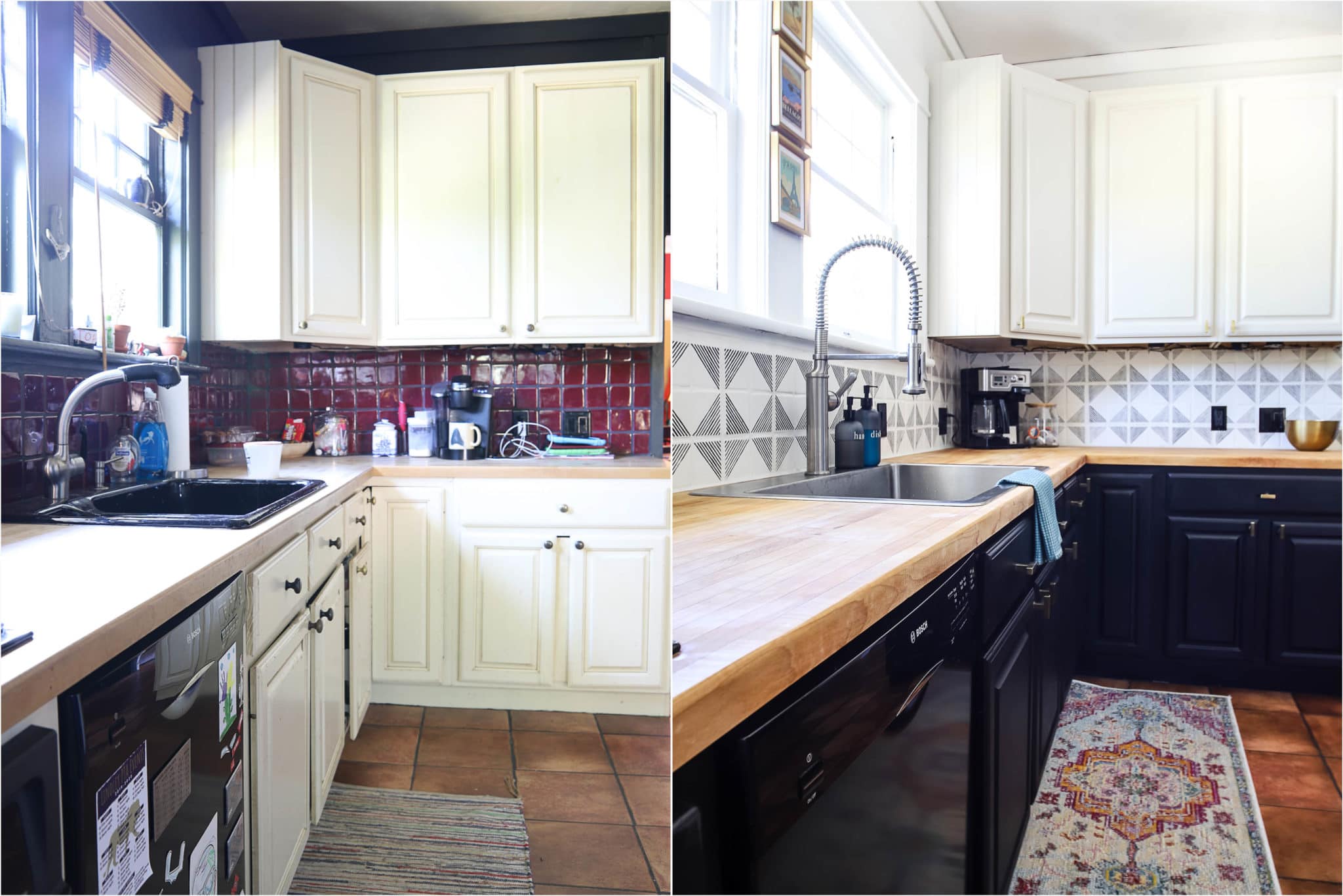 While Fusion Mineral Paint doesn't require a topcoat for things like furniture, I DO recommend using Fusion Mineral Paint Tough Coat on light colors (like Thea's upper cabinets) and Fusion Mineral Paint Natural Stain and Finishing Oil on dark colors. 
You can check out the full post on how to paint cabinets with Fusion Mineral Paint in this post. You can also watch the video below!
I was so impressed with the Fusion Mineral Paint in Thea's kitchen that I decided to use it when I painted the kitchen cabinets in our new house. I used the same method and am just as happy with the results! You can watch a short video recap of my kitchen cabinet painting here. And you can see the before and after of my current kitchen below. A little bit of this paint goes a LONG way. It only took 4 pints to paint my entire kitchen. I used the color Seaside and got full coverage (with very few spot touch-ups) with one coat.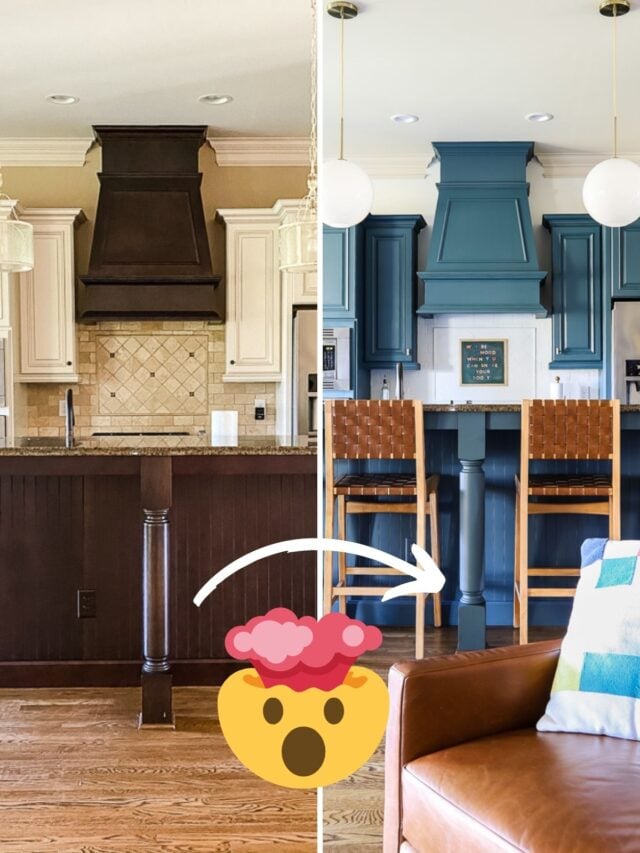 While I love and can recommend highly based on my own personal experience Fusion Mineral Paint and General Finishes Milk Paint, there are lots of other options for painting kitchen cabinets!
So, I decided to do research on a few other kitchen makeovers out there. What IS the best paint for kitchen cabinets? What kind of paints are used and recommended? Who ended up with great results?
If you're ready to take on the dreaded challenge, here are some other successful kitchen cabinet painting projects to take a look at so YOU can find the best paint for your kitchen cabinets and join the success club!
6 More Kitchen Cabinet Paint Options
I'm not the only blogger who has successfully painted my kitchen cabinets, so let's take a look at some more successful cabinet transformations using different types of paint from others around the blogosphere.
Benjamin Moore Advance Paint (premium quality, waterborne alkyd paint)
I quickly found that MANY people have used Benjamin Moore Advance Paint with great success. At this point, if I ever tried another kitchen cabinet paint it would probably be this one since so many people have had success with it. Let's take a look at some of the Benjamin Moore Advance Paint success stories!
Props to Lauren at Lauren McBride Blog for recognizing she had quality cupboards that needed painting to make her dreams of white kitchen cabinetry come true! Lauren used Benjamin Moore Advance Satin Finish and she used a sprayer! After initially not being sure she loved the look, she reports once the paint dried and leveled out the brush strokes on the trim were undetectable and stunning! You can click here for Lauren's full tutorial and more details about the paint and color she used.
Laura at Inspiration for Moms had the familiar "orange is the new yuck" oak cabinets (why did everyone LOVE those in the 80s and 90s?!). She painted her cabinets a gorgeous grey as part of her total kitchen makeover.
Laura also used Benjamin Moore Advance Interior Paint which she chose because it's self-leveling and is water-based, BUT it "acts like an oil-based paint."
Like Lauren, Laura used a sprayer for her cabinets as well. She highly recommends the particular sprayer she used to get a super smooth surface. You can click here to get her full tutorial and all the details on the paint and sprayer she used. Her finished results look great and with the subway tile and extenders on the top of the cabinetry, it's a show-stopping transformation!
Kass at Little Dekonings walks readers through an awesome step-by-step tutorial to upgrade cabinets. She cleaned and primed her cabinets before painting them using Benjamin Moore Advance Paint in Pearl Finish and achieved beautiful results! You can click here to see her full tutorial and get the details on the color she used (which is soooo pretty).
Okay, guys, can I just say how much I love the pearl finish on those cabinets with her kitchen?! Holy cow, they look great! That silvery finish with the stainless-steel appliances—gorgeous!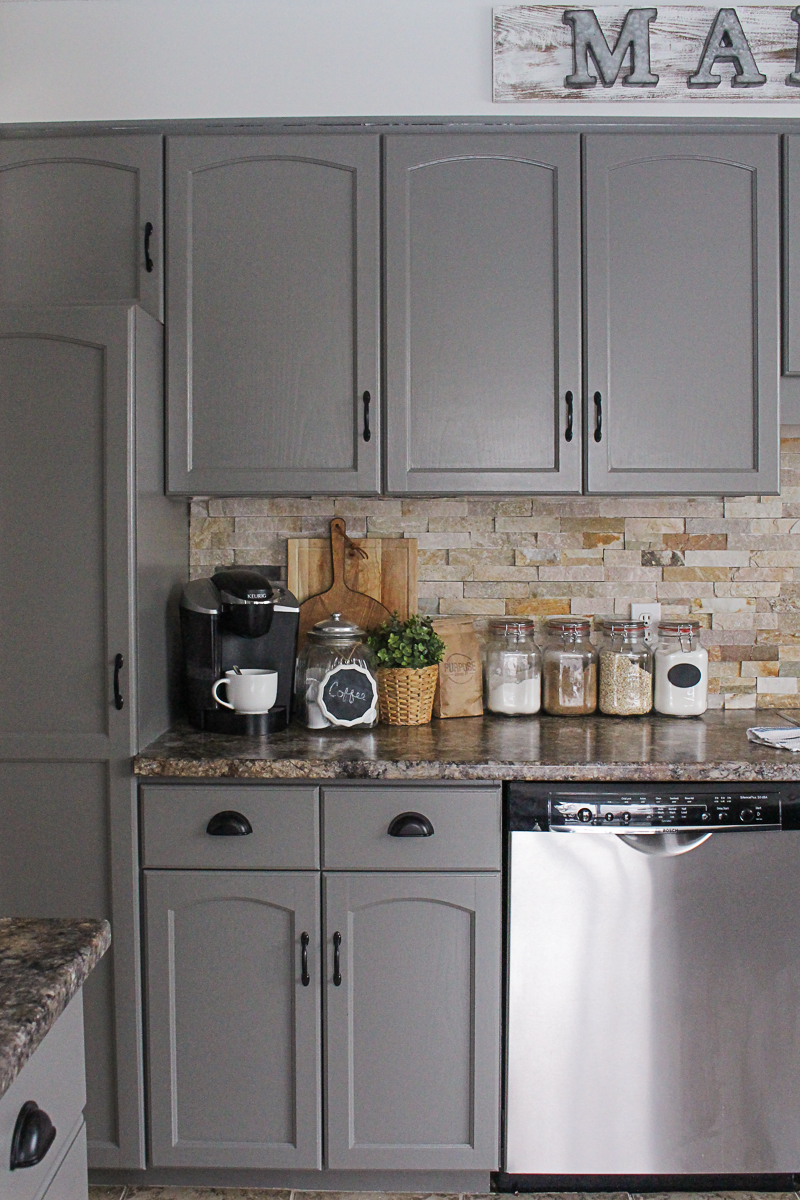 Insl-X Cabinet Coat (a

crylic satin enamel

paint)
Nina Hendrick used an acrylic satin enamel paint (Insl-X Cabinet Coat) that I had never heard of, but I'm impressed with the results she got! But, where Nina's process really stands out from all the other projects (including my own) is how she managed to COVER THE GRAIN! Gorgeous, factory-level professional results! These cabinets are stunners.
She's very upfront about her process—this isn't a project for beginners. It's uh…involved, to say the least. However, if you're really dying to get ultra-smooth cabinets with a "paid-top-dollar-for-this" look, click here to check out her tutorial that will walk you through all the steps.
If you're teetering between splurging on high-end cabinets or going all-out to cover the grain in your existing cabinets, this is the tutorial to show you how!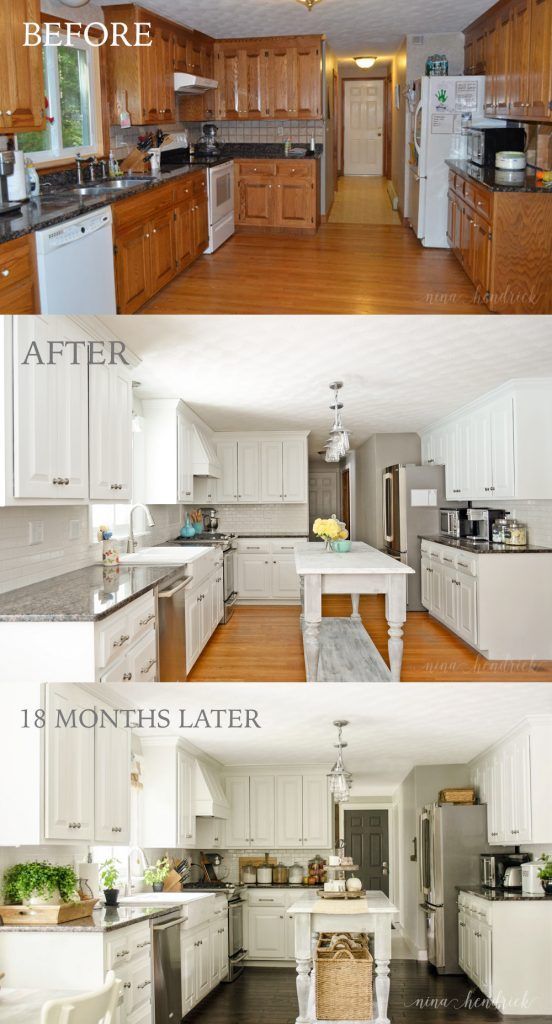 The transformation from pretty awful 80's-style laminate bathroom cabinets to absolutely beautiful dark grey is truly something to behold. This post is serious inspiration, y'all.
Valspar Cabinet Enamel Paint (oil-enriched enamel)
Kari at U-Create Crafts shared her cabinet nightmare! Her first attempt at painting cabinets was traumatizing (like so many have experienced). Her cabinets turned out yellow and terrible.
Fortunately, the second attempt worked out much better. She used Valspar Cabinet Enamel paint that is specifically meant for cabinets. She reports coverage with one coat, but she opted for two to give her cabinets a more polished look. Kari reports she's very happy with her second results! You can click here to head over to Kari's blog to learn more about the paint and process she used.
There are many options for cabinet-specific paint. Many of these paints don't call for sanding or priming. They're created specifically to work with common cabinet finishes, so they are definitely worth considering!
Sherwin Williams ProClassic Waterborne Interior Paint (acrylic enamel)
Kelly at Practically Spoiled took her…ahem…"classic" oak cabinets (I feel your pain!) from embarrassing to Pinterest-worthy with primer and paint. To cover her cabinetry she used Sherwin Williams ProClassic Waterborne Interior paint. She sealed her cabinets with the same top coat we used on our cabinets. While she reports the painting took a lot of work, she is also happy and satisfied with her results.
To really add polish to the look, she removed bead board and added trim and wainscoting to her cabinetry. The transformation is incredible!
Basic Latex Paint
Christy's cabinets turned out beautifully using a basic latex paint. I found this shocking because I have painted furniture and the cabinets in our old laundry room with basic latex paint and had chipping and peeling almost immediately. Christy does recommend deglossing AND sanding in addition to using a paint with a built-in primer + priming separately for better coverage. So while using basic latex paint is an option, it certainly seems quite labor intensive if you want to get results that last. You can see how her cabinets were holding up after 3 years in this post.
Christy over at Confessions of a Serial DIYer offers a great tutorial on her blog and walks you through her cabinet painting process, which is quite different than the process I used, but clearly still as effective! Click here to head over to her blog for her full tutorial and to for information on exactly what paint she used!
The Penny Drawer Blog's laminate cabinet tutorial was a must-include because the transformation is SO SHOCKING! I love it because it's proof of why you should never pass up a house just because of ugly cabinets or cosmetic fixes! There are so many easy DIY projects to transform your home.
This blogger used Behr Marquee Interior Collection paint–you can click here for her full tutorial.
Talk about a budget-friendly solution! One of the other things I love about this tutorial is how my girl used a SAMPLE size paint to complete her whole bathroom vanity! Get this—for $5! Speaking to my heart, right there!
I hope you're feeling as inspired as I am after checking out these great cabinet transformations. You see, there are plenty of people who've had cabinet painting success and there seem to be several options when you are searching for the best paint for kitchen cabinets. You absolutely can paint your kitchen cabinets and be happy with the results! These tutorials are proof that the best paint for kitchen cabinets exists out there and YOU can find it and love your new cabinets!
Be sure to save this post on Pinterest and/or share it on Facebook if you want to be able to find it again later!
You may also enjoy these posts:
Wondering how I approach transforming rooms and spaces in our home? Check out Designer in a Binder®.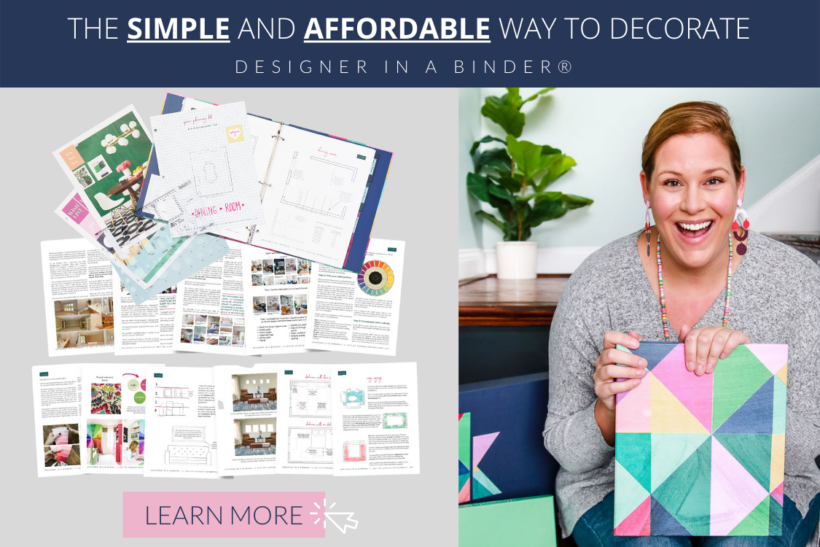 And if you want exclusive content and behind-the-scenes sneak peeks, be sure to subscribe before you head out!