Affordable DIY Countertops That Will Blow Your Mind
Last Updated on December 12, 2022
One of the most expensive parts of a makeover for a kitchen, bathroom or laundry room renovation is the countertops. To save money and stay on budget, we have DIYed kitchen counters and a bathroom vanity using 2 different methods. And they turned out GREAT! So if you don't like your countertops but don't want to spend a fortune, try one of these affordable DIY countertop ideas!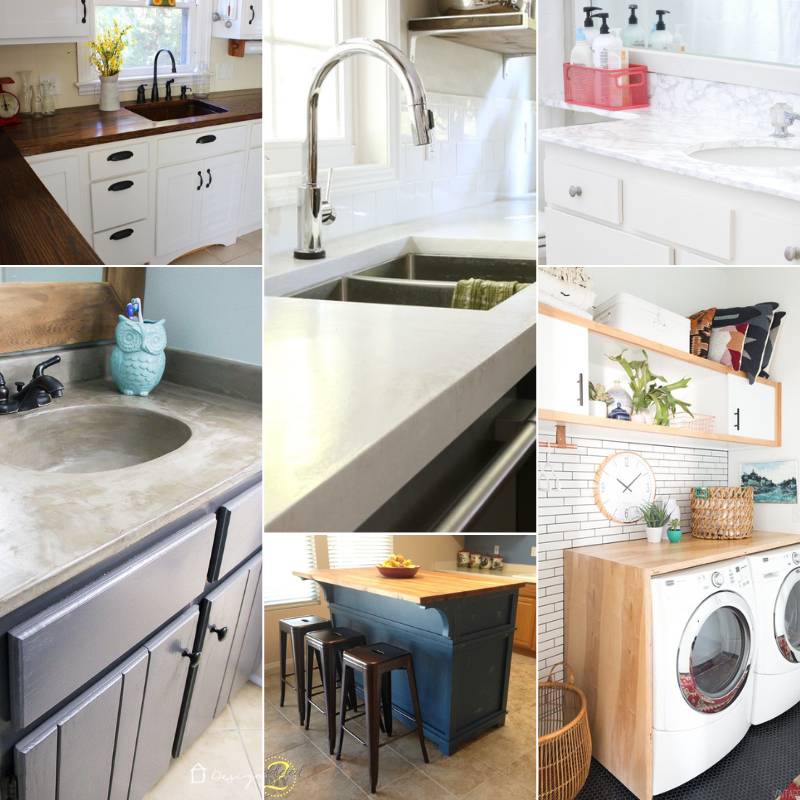 The two methods we have used to update our outdated countertops are just TWO of the options out there! I have been floored by all the amazing DIY countertops out there! SO many talented bloggers have come up with budget-friendly options and tutorials. I've found the best DIY concrete countertops, DIY wood countertops and more from around the web. You are sure to find the perfect one for whatever room you are working on!
DIY Countertops That Will Blow Your Mind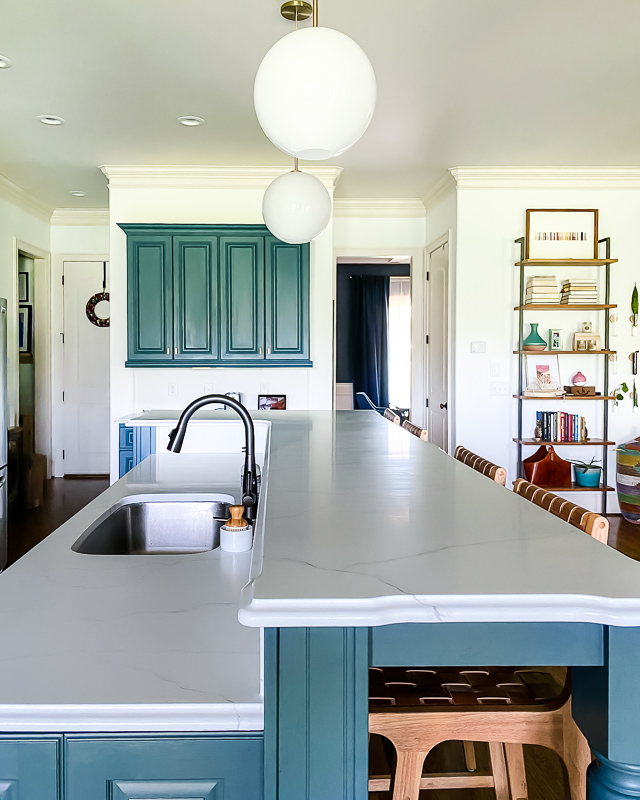 Faux Marble Countertops Using Contact Paper
If you love the idea of faux marble countertops but are nervous about painting yours like I did, check out these faux marble counters by Anika's DIY Life. Hers turned out beautifully!
DIY Butcher Block Countertops
These simple but beautiful butcher block countertops by Tidbits are classically beautiful and very affordable! And can we all swoon over the marble accent under the faucet?!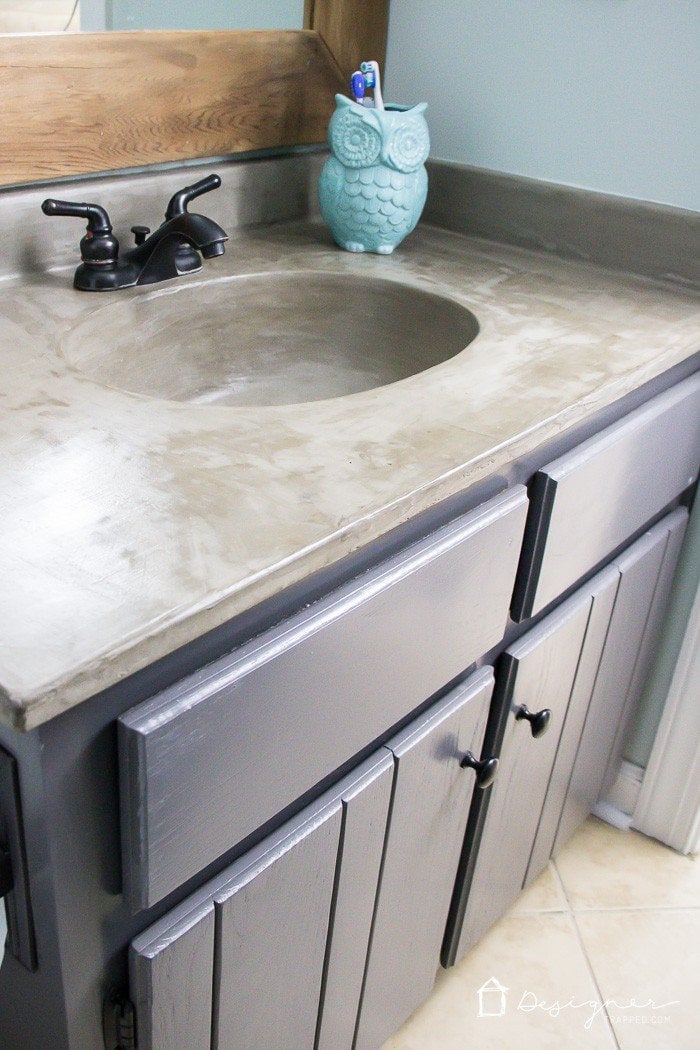 The Easiest DIY Concrete Vanity Top–No Forms or Heavy Lifting Required
When we gave the powder room in our a facelift I used this a concrete overlay using the same technique we used on our DIY concrete fireplace. I had no idea if it would work on a vanity and in a sink, but it totally did! It looked perfect for several years before we tackled our full powder room renovation. This is one of my most popular DIY projects of all time. Thousands of people have done this in their homes. It's gorgeous and only cost me about $20 to do!
DIY Concrete Countertops
Concrete countertops are absolutely beautiful, but they are very expensive to hire out (trust me, I know… We hired our the concrete counter for the island in one of our homes). This DIY Solid White Concrete Countertop by Oak Abode is absolutely beautiful and it's super budget-friendly!
DIY White Concrete Kitchen Countertops
These white concrete kitchen counters by Chris Loves Julia look like solid-surface counters that would cost thousands of dollars. They cost a fraction of the price and look just as beautiful!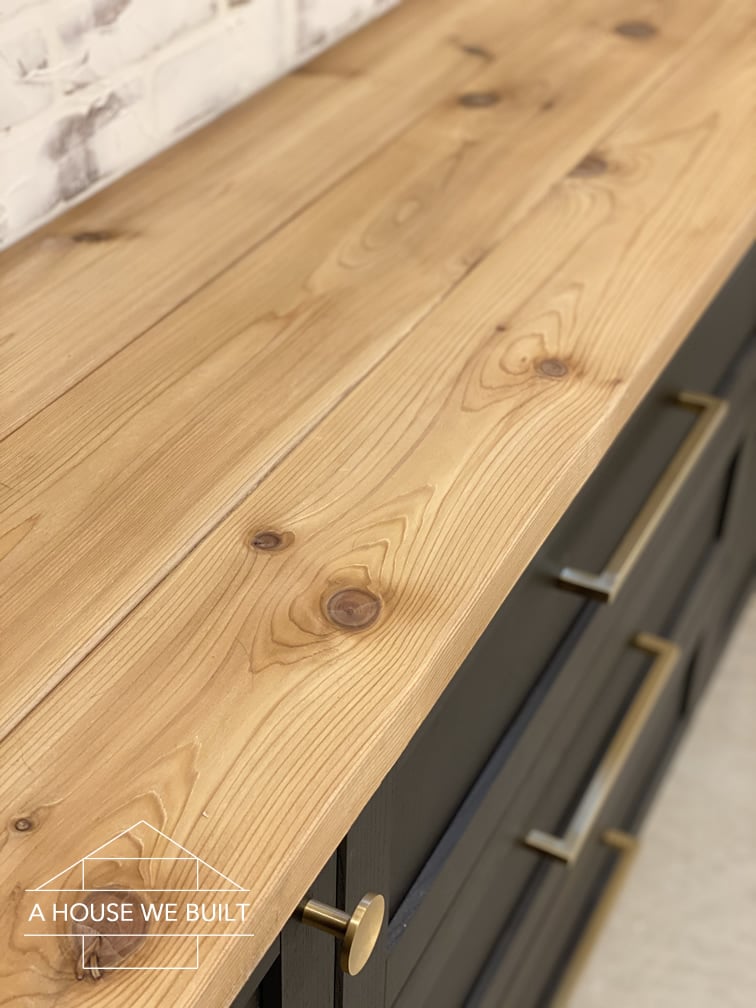 DIY Wood Countertops
How pretty are these DIY wood counters by A House We Built? Such a high-end look on a small budget!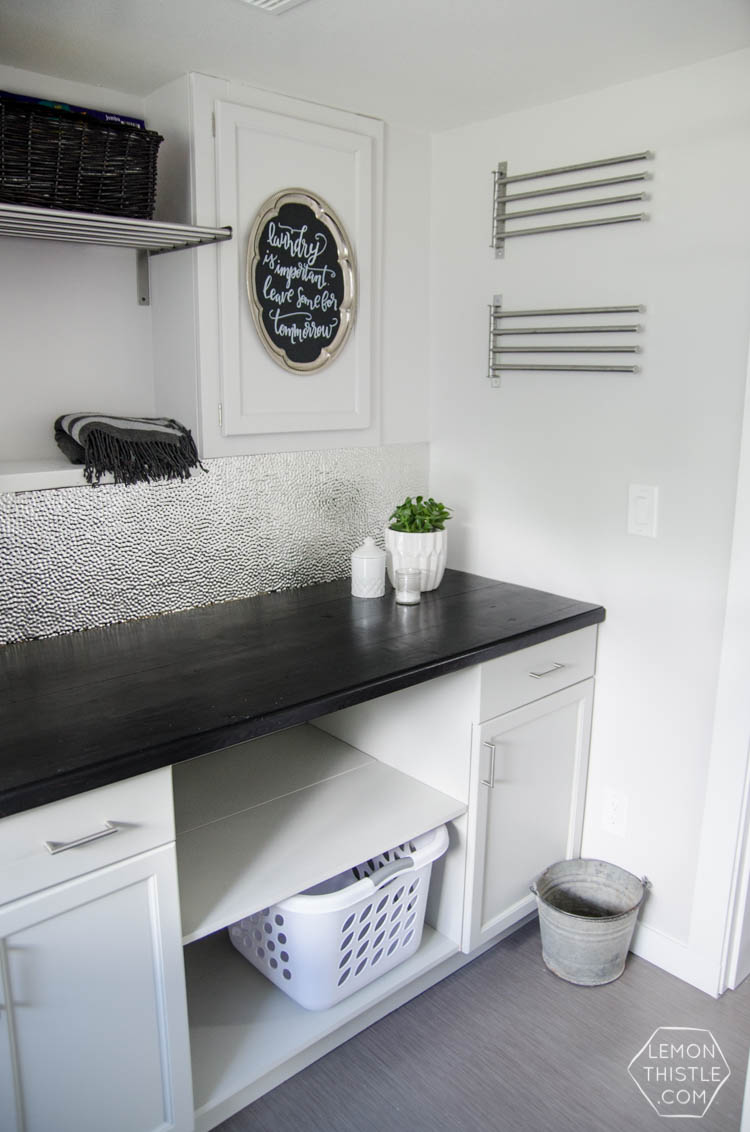 DIY Ebony Wood Countertops
Love the look of rich, dark countertops but don't have the budget for dark stone? Check out these DIY DIY ebony wood countertops by Lemon Thistle.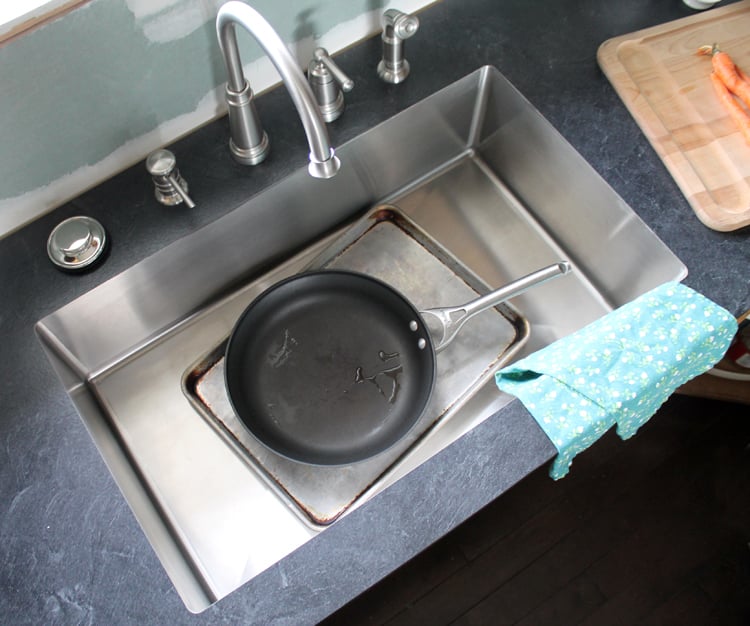 DIY Laminate Countertops
Did you know it's VERY simple to cut and install laminate countertops yourself? That's what The Craft Patch did and they look great! And laminate counters have come a long way, y'all! I can't get over how much their laminate countertops look like soapstone!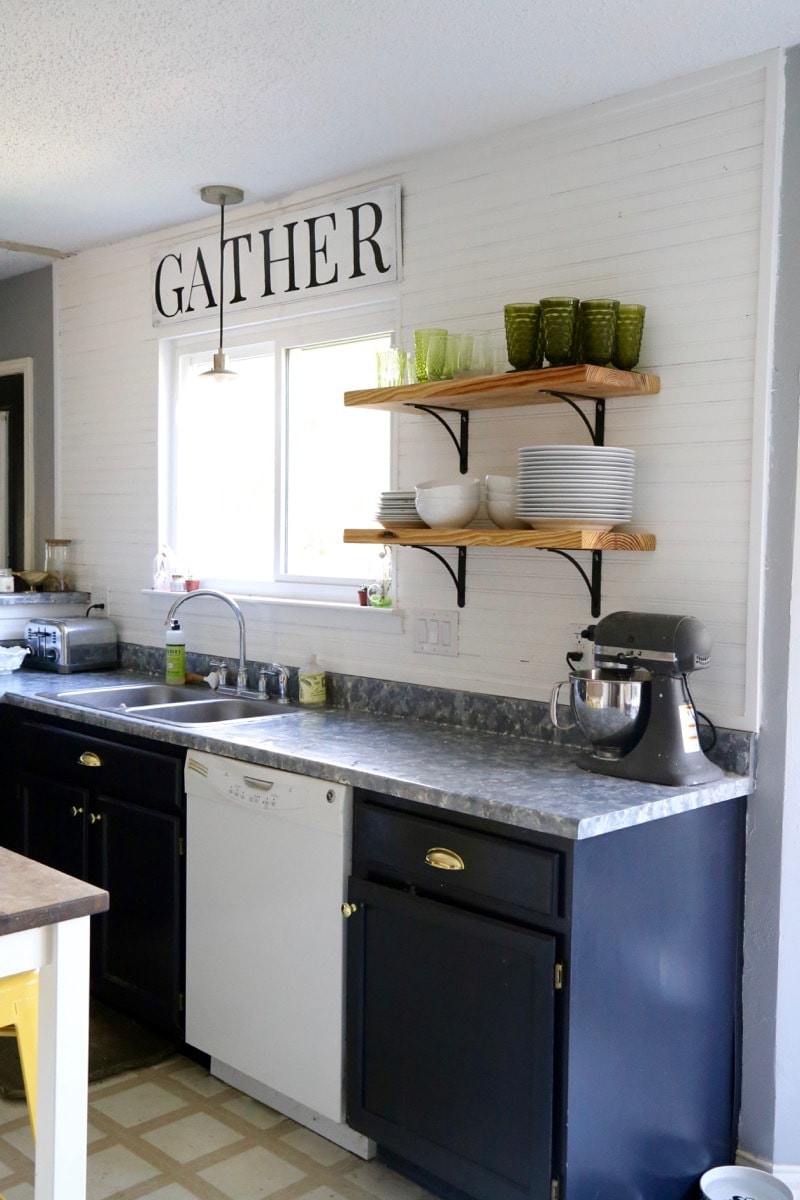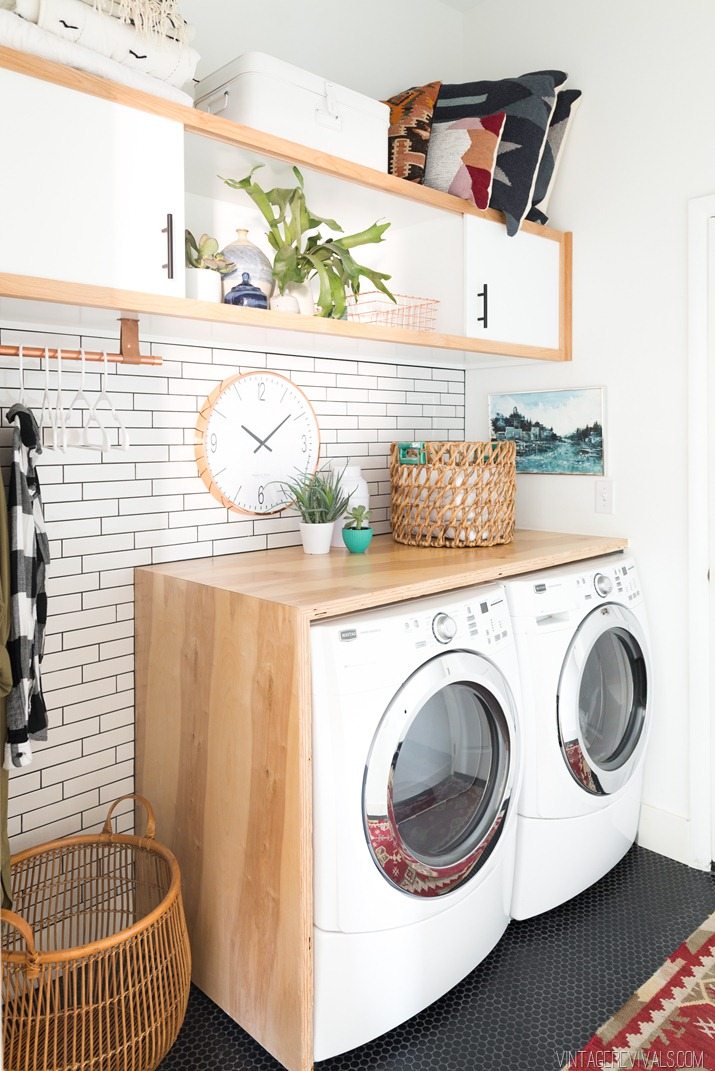 DIY Wood Waterfall Countertop
Can you believe that this modern and beautiful laundry room countertop is made out of plywood?! GENIUS! Solid surface countertops like quartz are so expensive. And waterfall countertops are stunning, but they can double the cost! This affordable DIY wood waterfall countertop by Mandi at Vintage Revivals is such a budget-friendly option!
DIY Wide-Plank Wood Counters
These DIY wide-planked wood counters by Simply Maggie look like solid walnut countertops but come in at a tiny fraction of the price. I am absolutely blown away by this DIY option!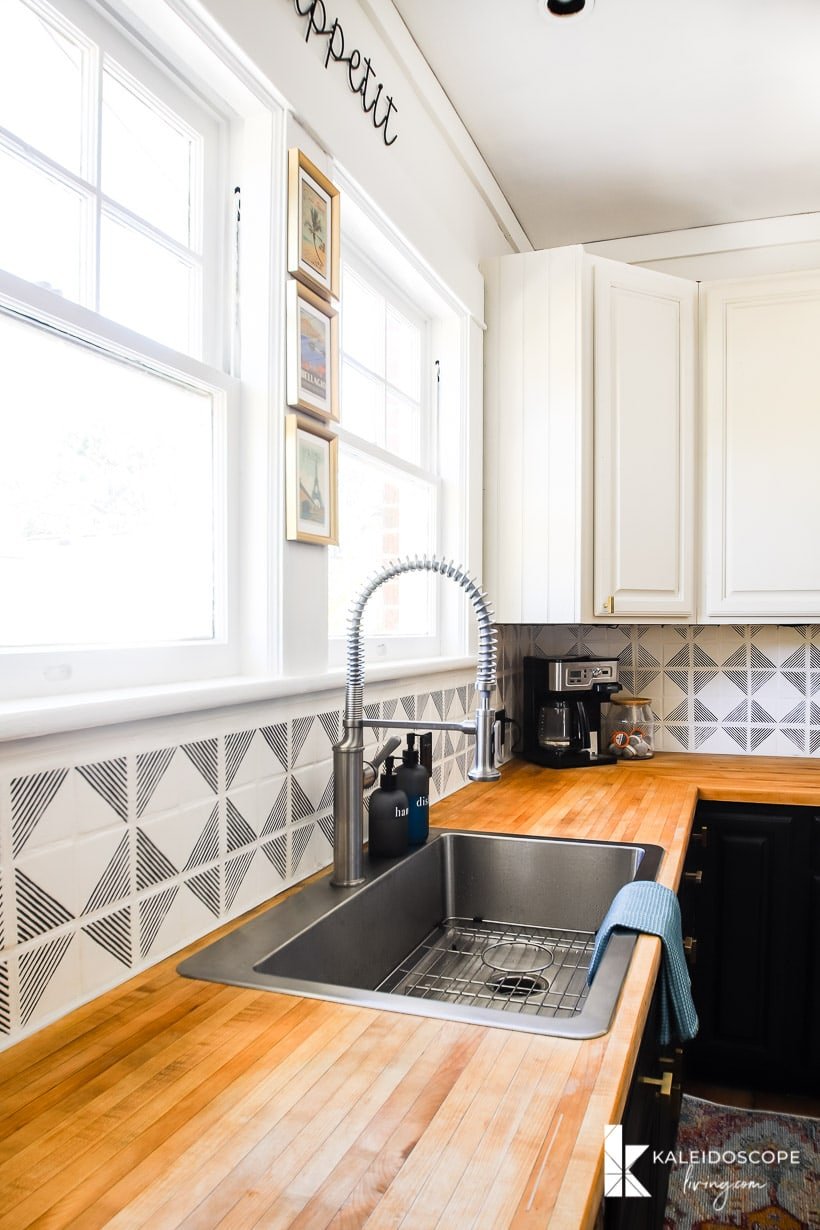 Refinish and Revive Old Butcher Block Countertops
Last but not least… If you have existing butcher block countertops that look bad, don't give up on them! It took me about an hour to refinish the butcher block countertops in my friend Thea's kitchen. They look absolutely beautiful!
I love all these tutorials! SO many great ideas out there. Even though I really love concrete, I also adored the beautiful wood countertops we had in one of our old houses. Which of these countertop options works best for your renovation? Looking at all these is getting my juices flowing on what type of countertop we should use in our upcoming pantry project.
Other posts you may enjoy:
Wondering how I approach transforming rooms and spaces in our home? Check out Designer in a Binder®.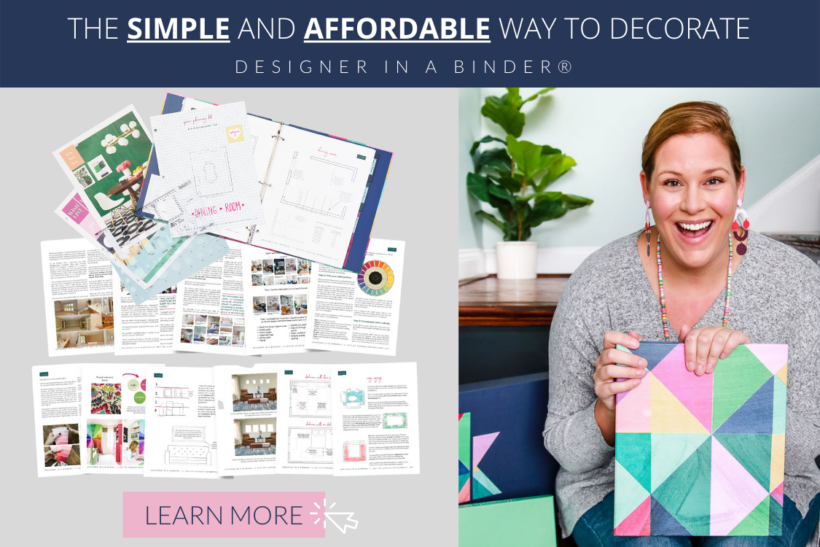 And if you want exclusive content and behind-the-scenes sneak peeks, be sure to subscribe before you head out!