Coffee Bar Ideas That Are Stylish & Functional
Thinking of setting up a coffee bar or coffee station in your home but aren't sure where to start?Create a space for your coffee mugs and supplies with these coffee bar ideas. From DIY coffee carts, to coffee bar ideas for small spaces, to dedicated nooks in the dining room, there is inspiration for every style, space and budget.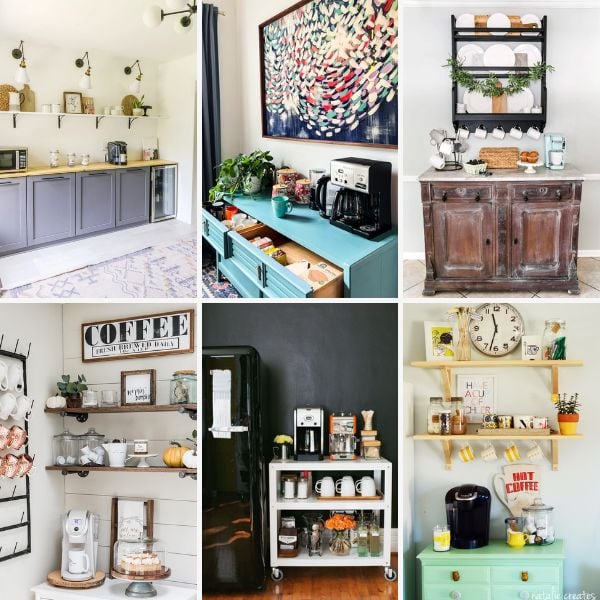 I've rounded up all the best DIY coffee stations in various design styles and sizes, so you can create one that works in your space and with your design aesthetic. Plus, I'm sharing everything I recommend including in your space so that it's the perfect balance of function and style.
This post contains affiliate links for your convenience. Click here for my full disclosure policy.
What Should Be Included in a Coffee Bar?
Exactly what you choose to include will depend on how much space you have. But here are the things most coffee bars include:
Coffee Essentials
Coffee maker (this is the coffee maker we've had for years and love)
Selection of coffee grounds or coffee beans
K-cups or coffee pods (if you use them)
Coffee grinder
Coffee dispenser (I can't believe it took me so long to get one of these–amazing)
6 to 8 coffee mugs or coffee cups
A few travel coffee mugs
Handheld whisk (I use this tiny thing every day to stir my collagen powder in my coffee)
Milk Frother (I only use this when I have lots of time to enjoy my coffee, but it's so nice)
Canisters for storing things like sugar/sweetener of choice, collagen powder, etc.
Optional Coffee Accessories
These items are totally optional and will depend on how much space you have as well as what you like/care about!
Espresso Machine
Selection of tea
Honey
Plants/greenery
Mug rack
Tray
Hooks
Spoons
Coffee art (scroll through some of my favorites below)

Coffee bar decor (scroll through some of my favorites below)

Now that you have an idea of what to include in your home coffee station, let's take a look at some of the incredible do-it-yourself coffee bar ideas out there!
DIY Coffee Bar Ideas and Inspiration
Coffee Bar Cart Ideas (Perfect for Small Spaces)
This is one of my favorite coffee bar cart ideas. The beauty of setting up a coffee cart is that they take up very little room so they are perfect for small spaces. All you need is a rolling cart and your favorite coffee supplies to create this functional and cute coffee station! Just place your coffee cart near an outlet in a dining room, family room, or anywhere it makes sense for you.
If you don't want to buy a rolling cart, you can make your own DIY coffee cart with copper and wood like Hey Wanderer did. So chic and functional.
If you've ever wondered "how do you make an inexpensive coffee bar?" this could be the perfect solution for you. This clean and simple DIY rolling coffee cart cost less than $50 to build. Like the others above, you can really put this anywhere in your home as long as it's near an outlet to plug your coffee machine into!
Use an Old Dresser as a Coffee Station
Looking for a coffee bar idea that will allow you to set it up with furniture you already have? We created this simple coffee bar using an old, thrifted dresser that I painted. The dresser drawers hold our coffee filters, extra coffee, coffee mugs and teas. And the top surface is perfect for our coffee maker, tea kettle and canisters. From far away, you would never really guess this is a dedicated coffee bar. It just looks like a sitting area right off of our kitchen (so the faucet is just steps away when we need water)!
You can tour my coffee station in the short video below.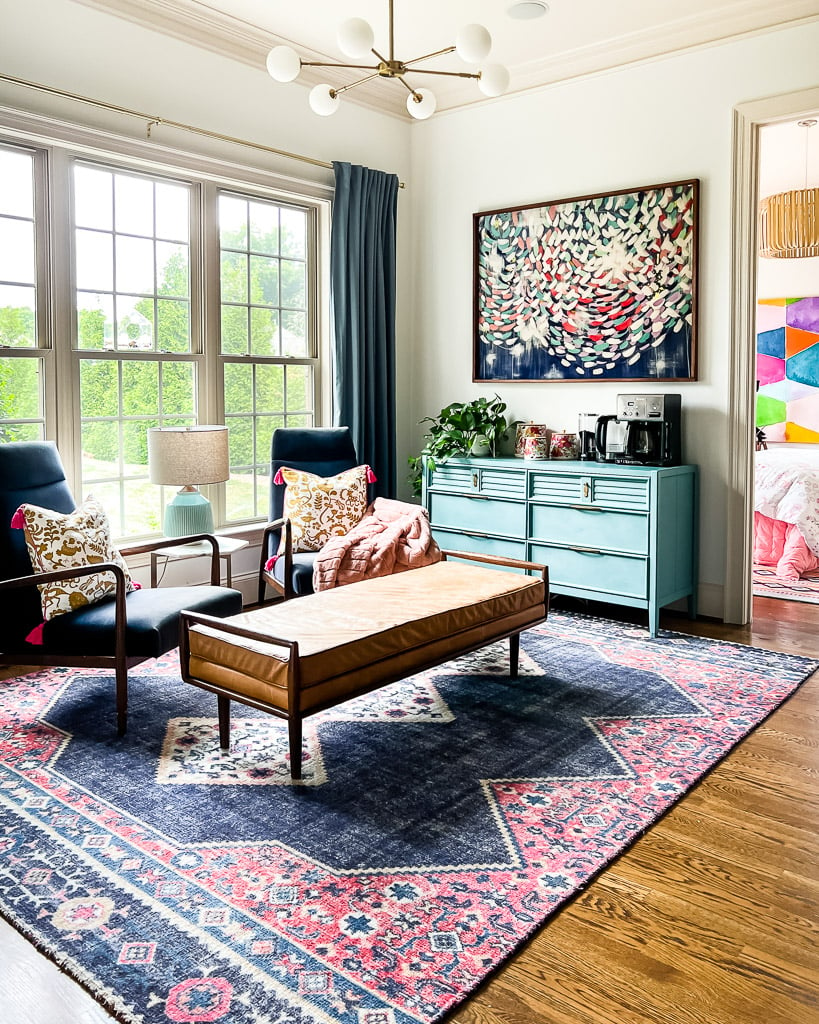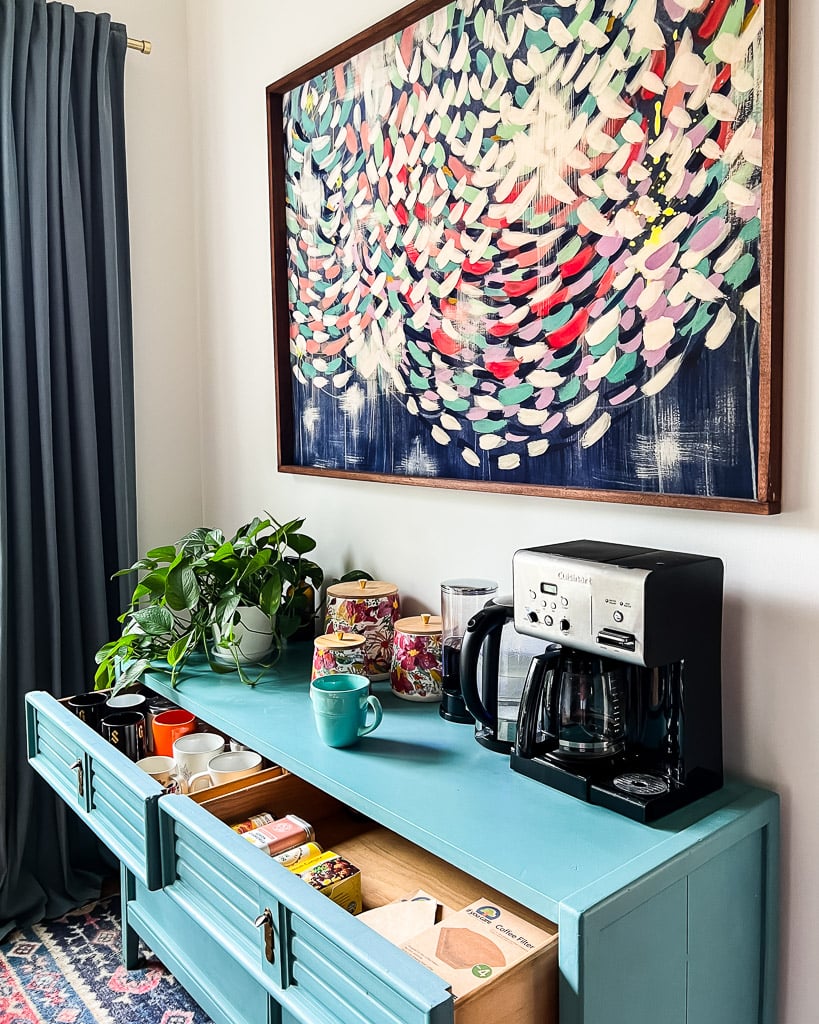 Add Shelves
Lots of coffee bar ideas involve shelves, and for good reason! If you are short on space, going vertical is always a good idea. I love the look of this pegboard open shelving combo!
This colorful coffee bar combines a small dresser with shelves to provide plenty of clever storage without taking up more floor space. (Psssst…the easy DIY wall shelves we installed in our family room would be a great option for a coffee station!)
Convert a Closet into a Beverage Station
Have an unused closet? Use a little creativity and transform it into a DIY beverage station. The Barkers added some stock cabinetry and a shelf to create the perfect spot for a coffee bar. And I love that there is a mini fridge included–it would be a perfect place to keep your creamer or half and half!
Farmhouse Style Coffee Bars
It isn't hard to find tons of farmhouse coffee stations, but this coffee bar by Bless'er House is one of my favorites! She thrifted that gorgeous marble-top piece and gave it a makeover. Then she added an inexpensive IKEA plate rack above it to hold her coffee mugs and plates, which doubles as home decor!
Here's another coffee station idea with a farmhouse look. And it's also a space-saver–it tucks into a small corner of this kitchen! Such a smart use of space and I love the hanging mug rack.
Add a Chalkboard
The duo behind Gray House Studio not only made this DIY coffee bar from scratch, but they also made the DIY framed chalkboard as well. The chalkboard makes this coffee area feel like a chic cafe! Like us, they took advantage of room in their breakfast nook, which is such a great use of space. They nailed a fun coffee shop vibe at home!
Add a Home Coffee Bar to Your Dining Room
I love the idea of creating a coffee station in the corner of a dining room, especially if you have guests over often and love to serve after-dinner coffee. This vintage piece makes a beautiful statement and is a perfectly functional coffee station.
Coffee Bar Ideas for Your Kitchen
If you have the space in your kitchen for a coffee station, by all means, use it! While you are at it, why not add interest to it with a feature like this DIY arched fluted accent wall?! How gorgeous is that?
I also love this modern DIY coffee station that fits seamlessly in this beautiful kitchen. It's part of her kitchen, but that amazing accent wall treatment sets it apart!
Spread Out If You Have Enough Space
If you have an entire wall to spare, why not build an entire wall of DIY kitchen cabinets for under $200 and add your coffee station to the top?! I love that this creates the perfect spot for a coffee area but also adds storage spaces for whatever you may need.
I hope you have found the perfect inspiration for creating your own coffee area at home! We also have lots DIY home bar ideas if that floats your boat more than a coffee station! If you need ideas for decorating your coffee bar once you are done, check out the perfect art and decor options below!
Click on any image below for full product details.

Other posts you may enjoy:
Wondering how I approach transforming rooms and spaces in our home? Check out Designer in a Binder®.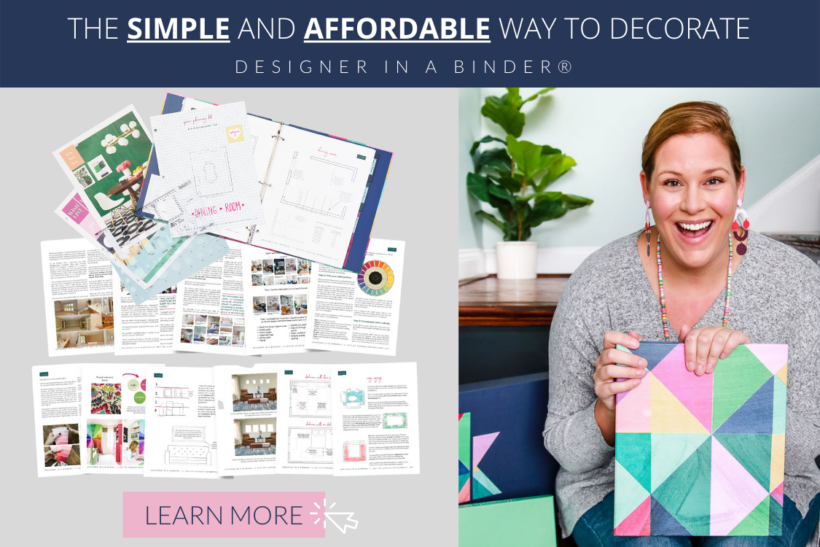 And if you want exclusive content and behind-the-scenes sneak peeks, be sure to subscribe before you head out!