How to Paint Your Tile Backsplash in 5 Simple Steps
If your tile backsplash makes you cringe but you want a budget-friendly alternative to replacing it, you may have found yourself wondering, "can you paint a tile backsplash?" The answer is YES!!! Painting a tile backsplash is a simple, affordable and durable way to update your kitchen! This tutorial shows you exactly how to paint your tile backsplash in 5 easy steps.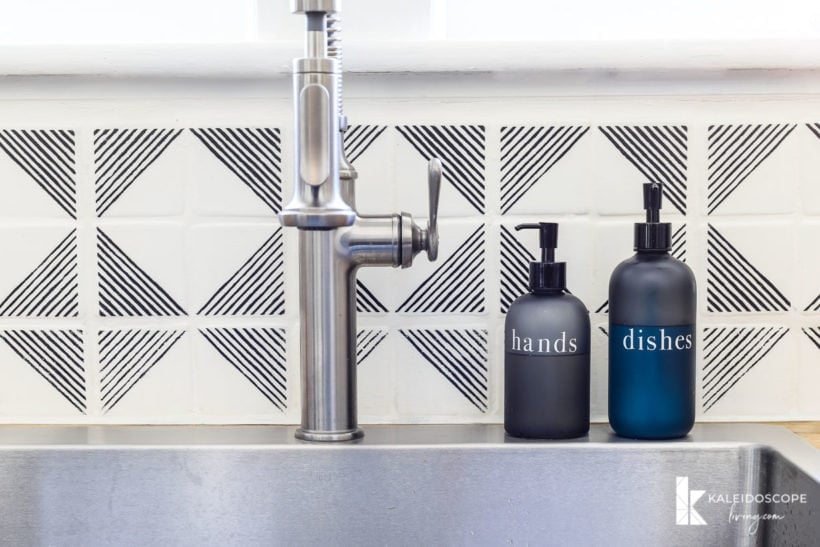 Can you paint a tile backsplash?
YES! In fact, painting a tile backsplash is far easier than painting floor tiles (which is one of my favorite gorgeous but cheap flooring ideas) or painting shower tiles because you don't need any specialty paint products that release a ton of fumes. Painting a backsplash is easy and fun!
What kind of tile backsplashes can you paint?
I have painted ceramic and travertine (natural stone) tiles using this method.
Why I've Painted THREE Different Tile Backsplashes
I have personally painted two different tile backsplashes when installing a new tile backsplash just wasn't in the budget. Both times it was in an effort to transform an old, ugly backsplash in a budget-friendly way. And both times it worked perfectly.
The first time I painted a backsplash in our old home, I really didn't know if it was going to work. Back then, no one else had really done it, so it was hard to find guidance on the subject.
But the tile backsplash in our old kitchen was so bad that I figured if the paint job didn't work well, it couldn't possibly be worse. We didn't know how durable it would be at the time, but it held up without chipping or peeling for years before we replaced it! You can take a peek at the before and after below (we also painted our kitchen cabinets without priming or sanding).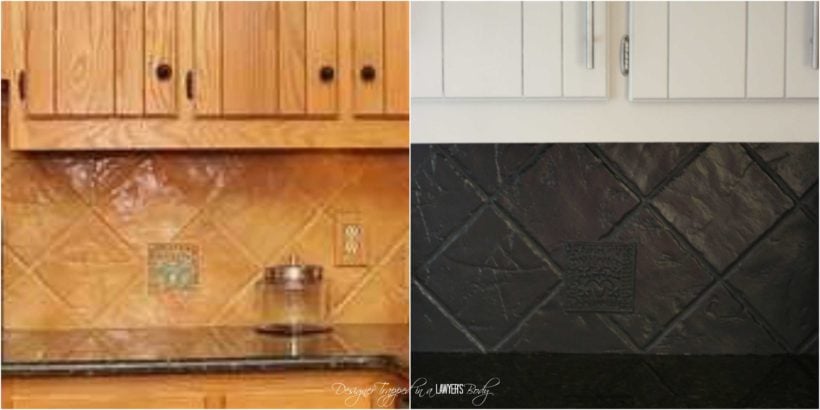 Fast forward many years to when we moved into our current home and were giving our kitchen a makeover. The travertine backsplash was not our style at all, so I painted it using this same method! (I also painted the kitchen cabinets and used painted the counters with countertop paint to make the countertops look like marble).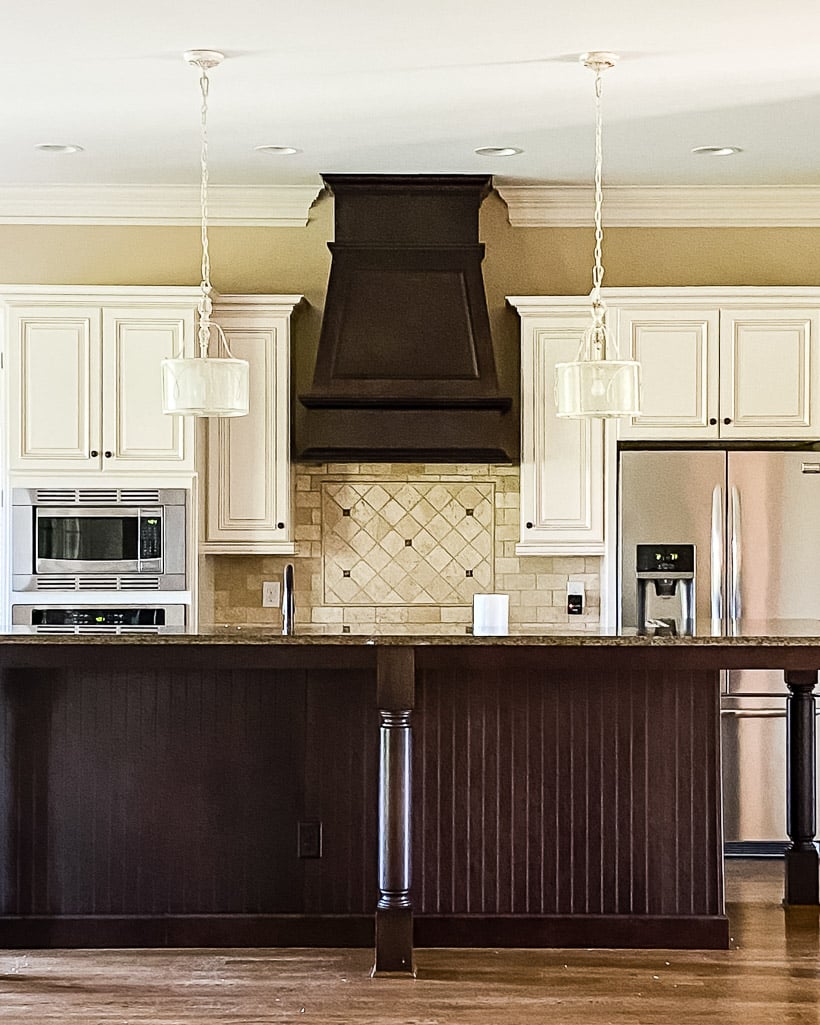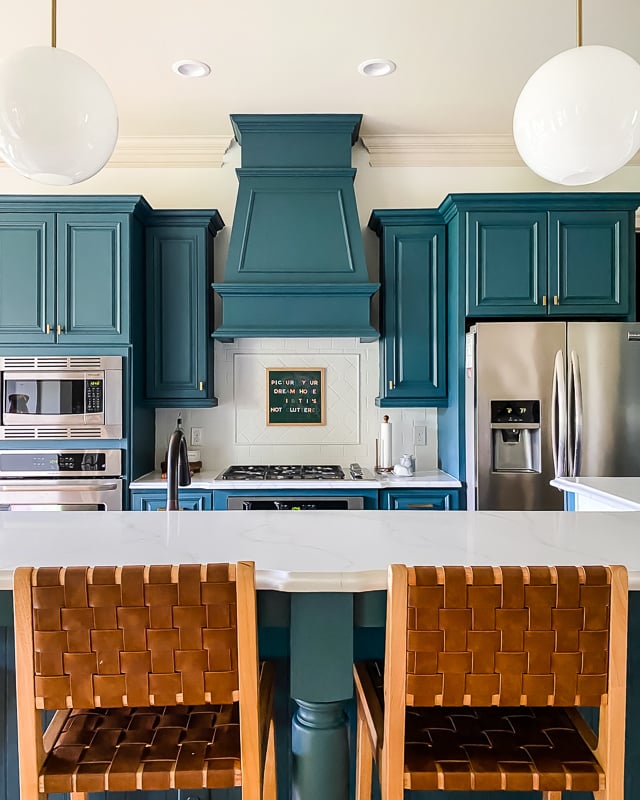 Shortly after that, I started working on my friend Thea's $1,000 kitchen makeover. She hated her red tile backsplash but we were on a tight budget (even tile stickers were out of the question) and needed to transform every surface in the kitchen. So for the third time, I tackled a DIY painted tile backsplash using the exact same process that I used back in 2014. But this time, I added a stencil detail to make it more interesting!
This is what Thea's tile looked like before we started. Whoa.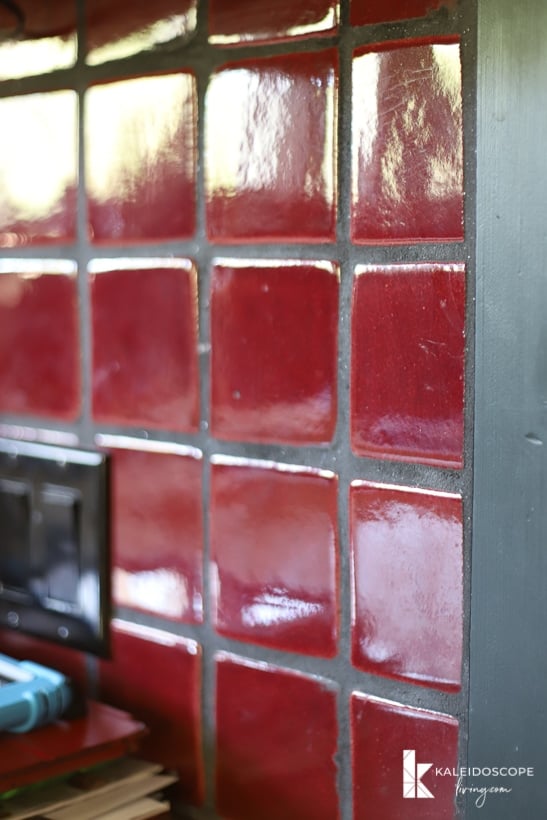 Now, let's dive into the tutorial!
This post contains some affiliate links for your convenience. Click here to read my full disclosure policy.
How to Paint a Tile Backsplash
Painting a tile backsplash is not hard and it only takes some fairly basic supplies to do it!
Supplies Needed
Steps for Painting a Tile Backsplash
You can watch the video tutorial below to see every step of this DIY painted tile backsplash project. But don't worry–you can also find the full tutorial written out below the video :)
Time needed: 8 hours
Learn how to paint and stencil a tile backsplash following the steps below. Note that if you choose to paint it a solid color and don't stencil it, it will take far less time :)
That's it! This is a very simple project, y'all! If you choose to stencil, that portion of the project will be time-consuming, but it's not hard! Check out the before and after!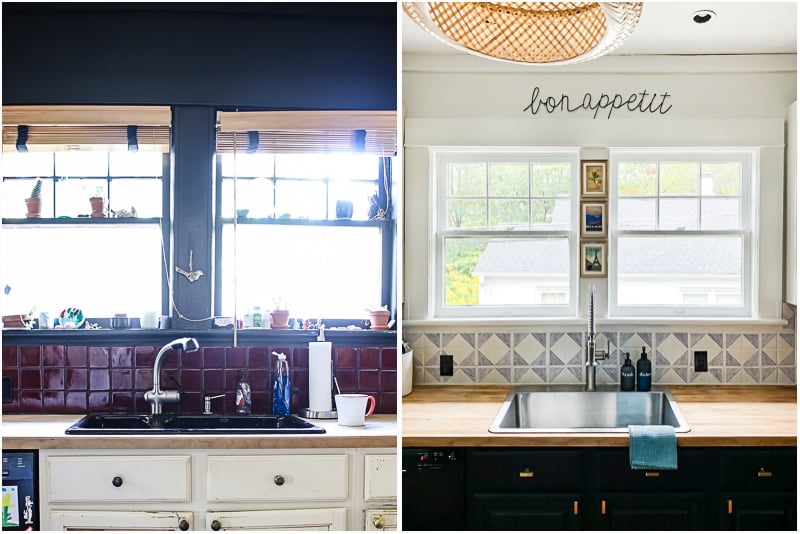 Frequently Asked Questions Painting a Tile Backsplash
How well does a painted tile backsplash hold up?
Our current kitchen backsplash and Thea's kitchen backsplash have been painted for over 2 years and still look like they did on the day we painted them. No chipping or peeling anywhere. The first backsplash I painted (in our old house) looked perfect for roughly 18 months before we removed it and had a laminate backsplash installed.
Do you have to use special tile paint to paint a backsplash?
Nope! I understand why people ask this because painting shower tiles requires a special product. But painting a tile backsplash just requires a good primer and a high-quality paint that has good adhesion. And I absolutely recommend a quality top coat as well.
What paint and top coat do you recommend when painting a tile backsplash?
You should not use regular latex paint. You need a high-quality paint with excellent adhesion. You could use an enamel-based paint, but since they have oil in them I avoid them because they are such a pain to work with and clean from brushes, etc.

I recommend General Finishes Milk Paint, which is a very high-quality acrylic paint that adheres to nearly every surface. I also recommend General Finishes High-Performance Water-Based Topcoat for the top coat. Note that this is not sponsored nor have I ever been paid by General Finishes at any time. I'm just a big fan of their paint and products. 
How do you clean a painted tile backsplash?
A painted backsplash is super easy to clean – just use a Clorox wipe (or whatever else you usually use to wipe down your kitchen) if it gets dirty. I would just avoid using anything super abrasive to clean it (like steel wool).
Before you head off, here are a few more views of her kitchen after we finished the $1,000 kitchen makeover for her. The painted backsplash is definitely the star of the show.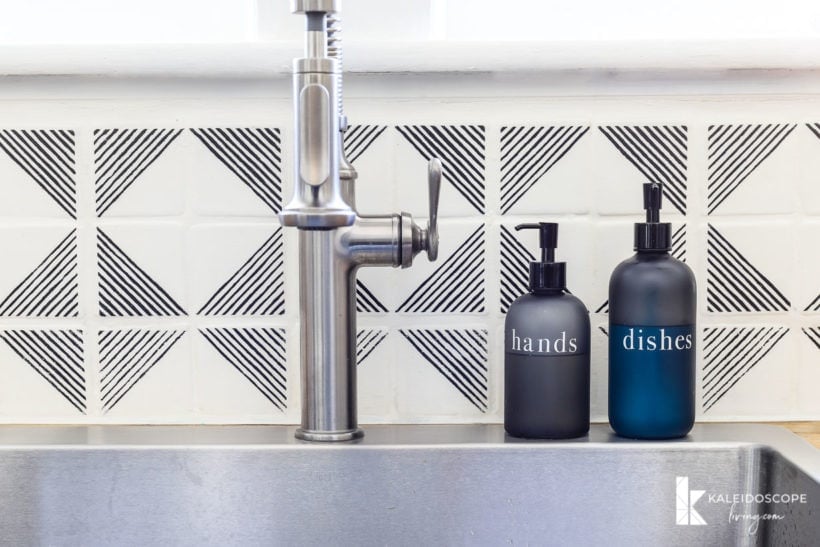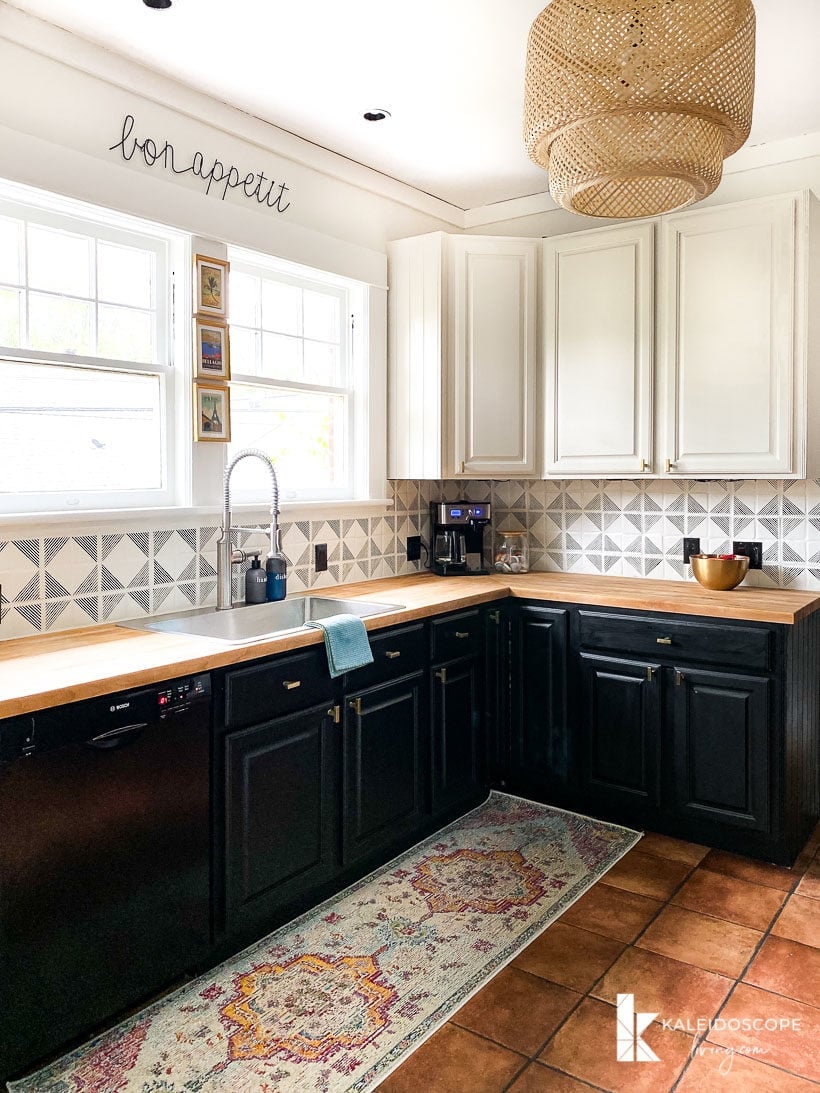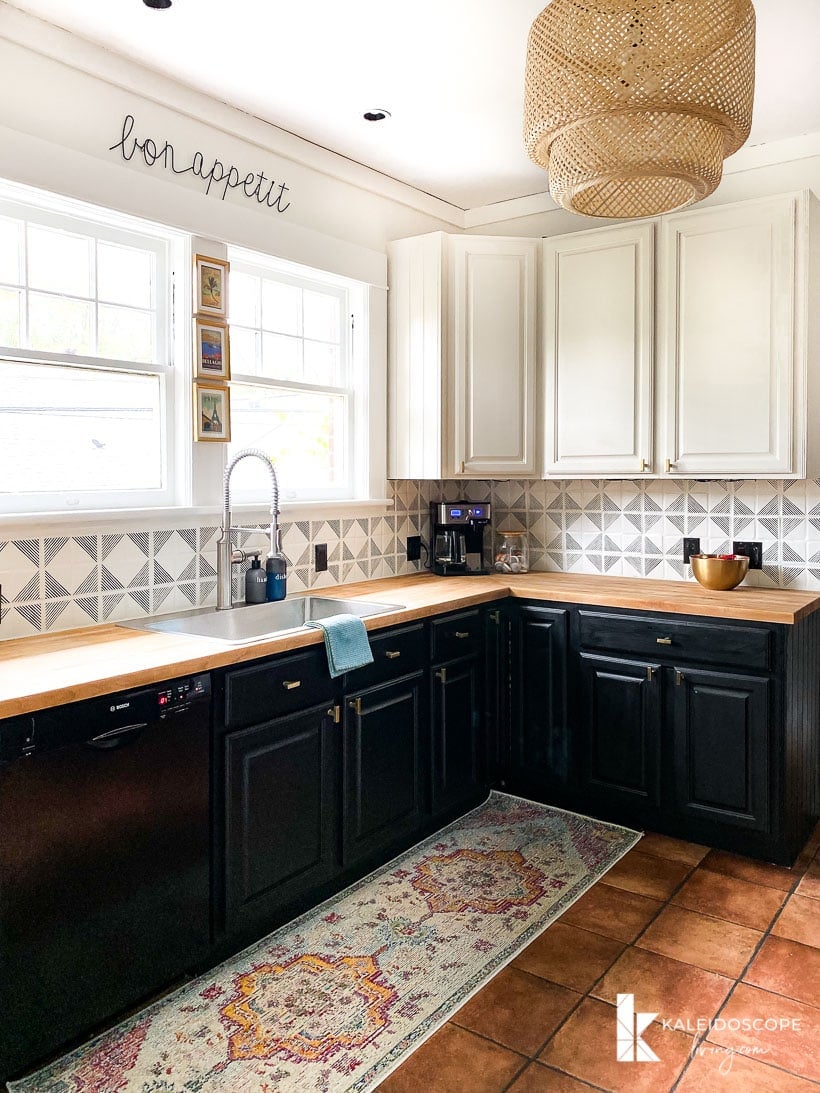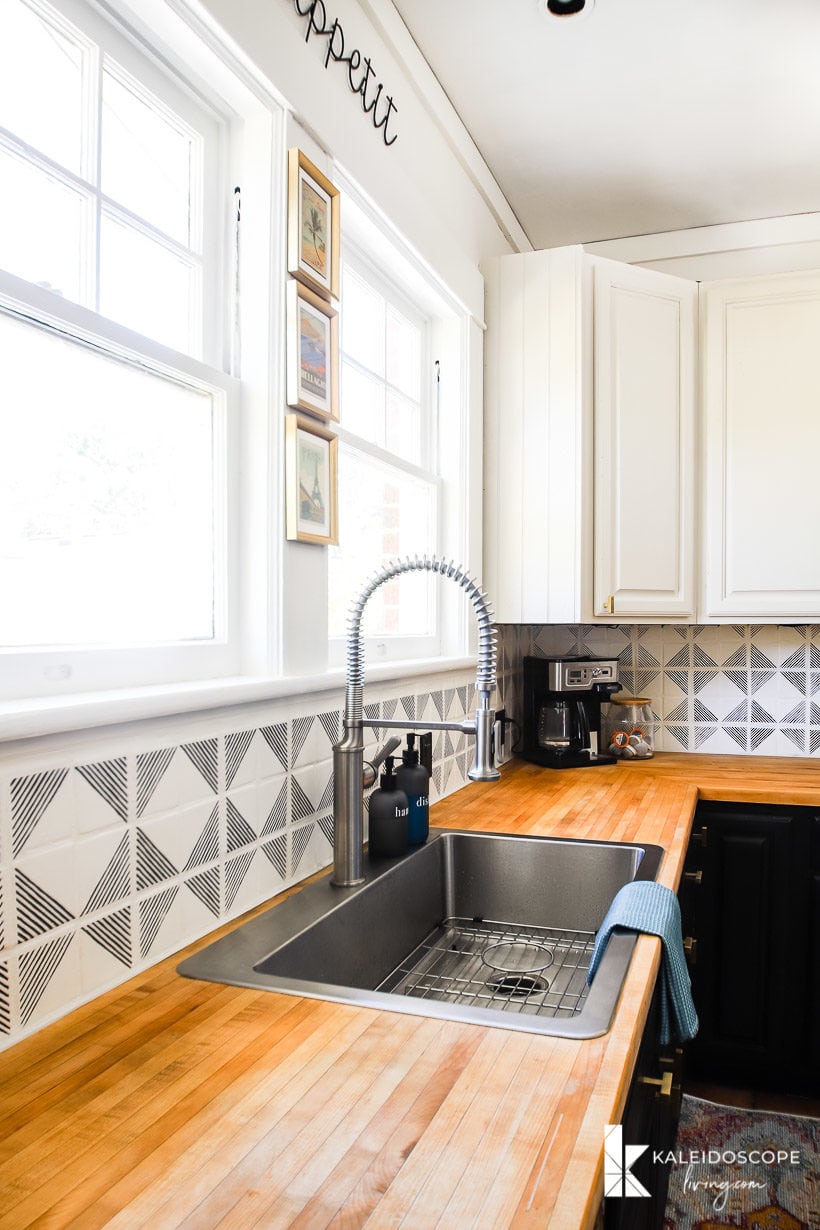 What do you think?! So much better, right?!
Stay tuned for more tutorials from Thea's budget-friendly kitchen makeover soon. And if you haven't already, check out the full reveal of Thea's $1,000 kitchen makeover.
And if you aren't sure you want to stencil your backsplash, rest assured that you can paint it a solid color and it will still look beautiful! Bottom line…no matter what color or pattern you choose, painting a tile backsplash can give your kitchen a dramatic update for very little effort or money!
Other posts you may enjoy:
Wondering how I approach transforming rooms and spaces in our home? Check out Designer in a Binder®.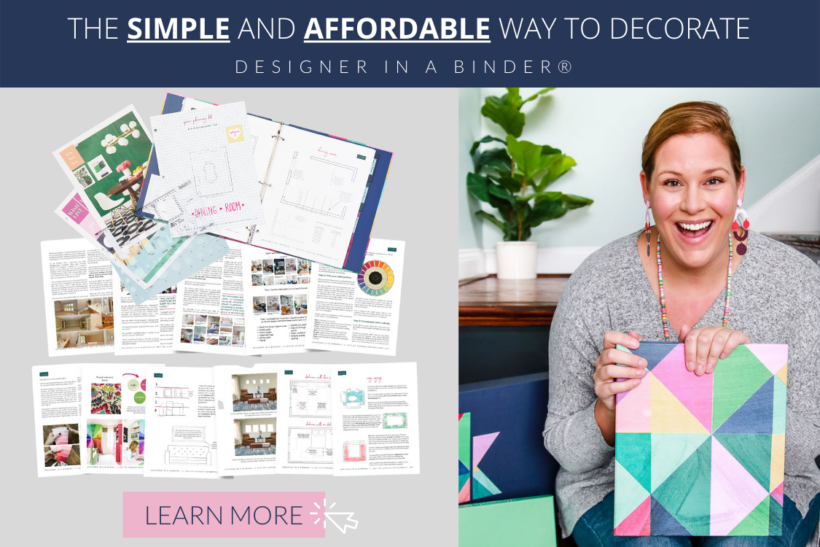 And if you want exclusive content and behind-the-scenes sneak peeks, be sure to subscribe before you head out!