How To Refinish Butcher Block Countertops & Maintain Them
Butcher block countertops are a classic and timeless yet functional addition to any kitchen, but like any surface, they can get scratches, stains, and dents over time. Thankfully, refinishing them is incredibly easy, and can give your kitchen a fresh new look without breaking the bank. In this post, I'm sharing easy-to-follow steps on how to refinish your butcher block countertops, what products to use, and tips for maintenance to keep them looking beautiful for years to come.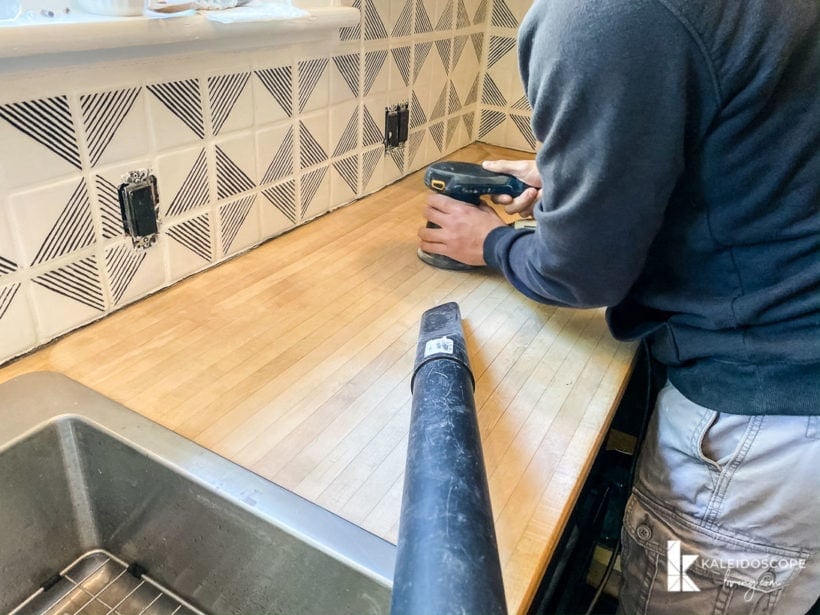 What is butcher block?
Fun fact, not all wood countertops are butcher block. So you might be wondering, "What is butcher block?" Well, let me break it down for you in simple terms. Butcher block countertops are wood, but they are not solid slabs of wood. Instead, butcher block countertops are made by gluing together thick, straight cuts of wood into a sturdy and durable slab that you can cut on, much like you would a wood cutting board. Their name comes from the fact that they were originally used in butcher shops as a spot to cut and prep meet.
Can you refinish butcher block countertops?
Yes, absolutely! For those of you with butcher block countertops that are looking a bit damaged and worn, fear not! You do NOT need to replace your butcher block countertops. You can make them look gorgeous again in only a couple of hours. This is one of the many projects we did in Thea's $997 kitchen makeover and let me tell you, it made a big impact for less than $30. This is what they looked like before–they were stained, scratched and pretty beat up.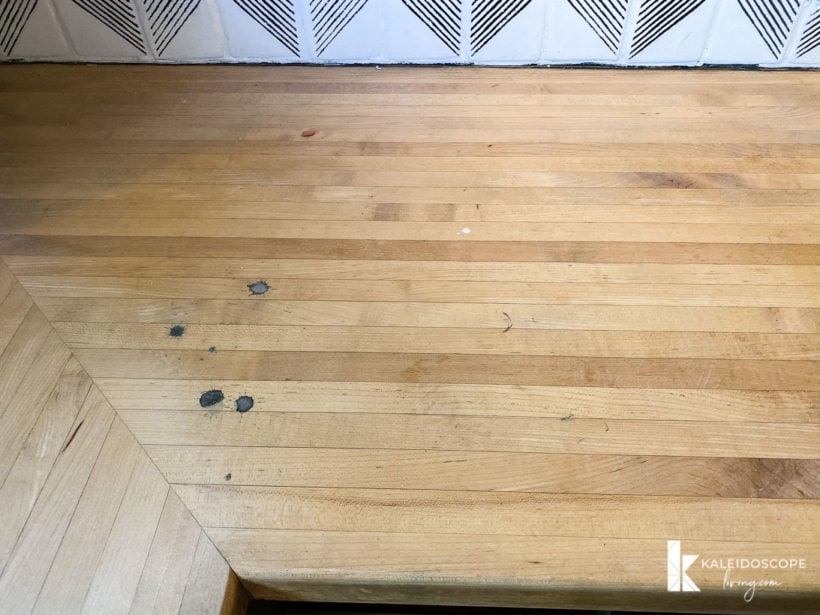 This post contains affiliate links for your convenience. Click here for my full disclosure policy.
How to Refinish Butcher Block Countertops
Materials needed
Electric orbital sander (this is our favorite one that we use most often)
Sandpaper (60 grit, 100 grit and 150 grit)
Shop vac (to keep the mess to a minimum)
Foam paintbrush
Old t-shirt or rags
Time needed: 2 hours
Refinishing your butcher block countertops is quick and easy. It shouldn't take more than a couple of hours and you will be amazed by the results.
Prep the area.

Clear your countertops off and tape off your kitchen backsplash to protect it if you are worried about accidentally hitting it with your sander. We had just completed painting the tile backsplash, so we were very careful!

Sand.

Now you are ready to start sanding your butcher block countertops! An electric orbital sander will help this go quickly and they are really affordable. I'd recommend starting with 60 grit sandpaper to remove any stains, burn marks or knife gouges as best you can. Just be careful not to sand so much that you create a dip in the counter. Then sand the entire countertop with 100 grit sandpaper. Lastly, sand the entire countertop with 150-grit sandpaper to make it nice and smooth. It took us less than 15 minutes to do all of the sanding. We like to have one person hold the shop vac and suck up as much sawdust as possible while the other person sands!


Clean all the dust.

Use an old T-shirt or tack cloth to remove all the dust from the counter surface. You can see in the photo below what a difference the sanding made. The sanded surface is on the left.


Seal your butcher block countertops.

Now you are ready to enhance the color of your butcher block counters AND protect them with Hemp Oil. I simply poured some of the hemp oil into a plastic cup and used a foam brush to apply it to the counters, brushing in the same direction as the wood grain. After letting it soak in for about an hour, I wiped off the excess with some old rags. Then I repeated the exact same process a second time. It's FAST to brush it on and wipe it off. Took less than 15 minutes (excluding drying time, of course).

For less than $30 (we used less than ⅕ of the bottle of Hemp Oil and very little sandpaper) and in less than 2 hours, these formerly damaged butcher block countertops looked beautiful again!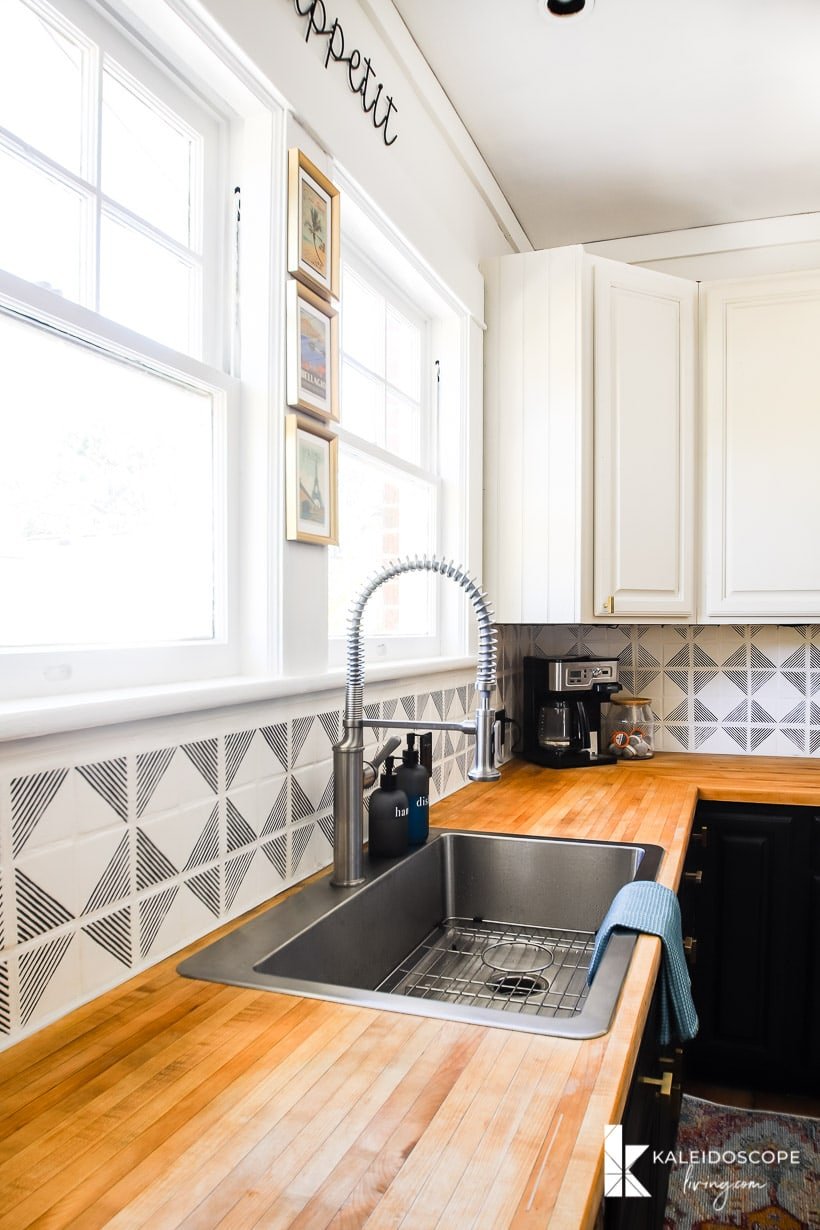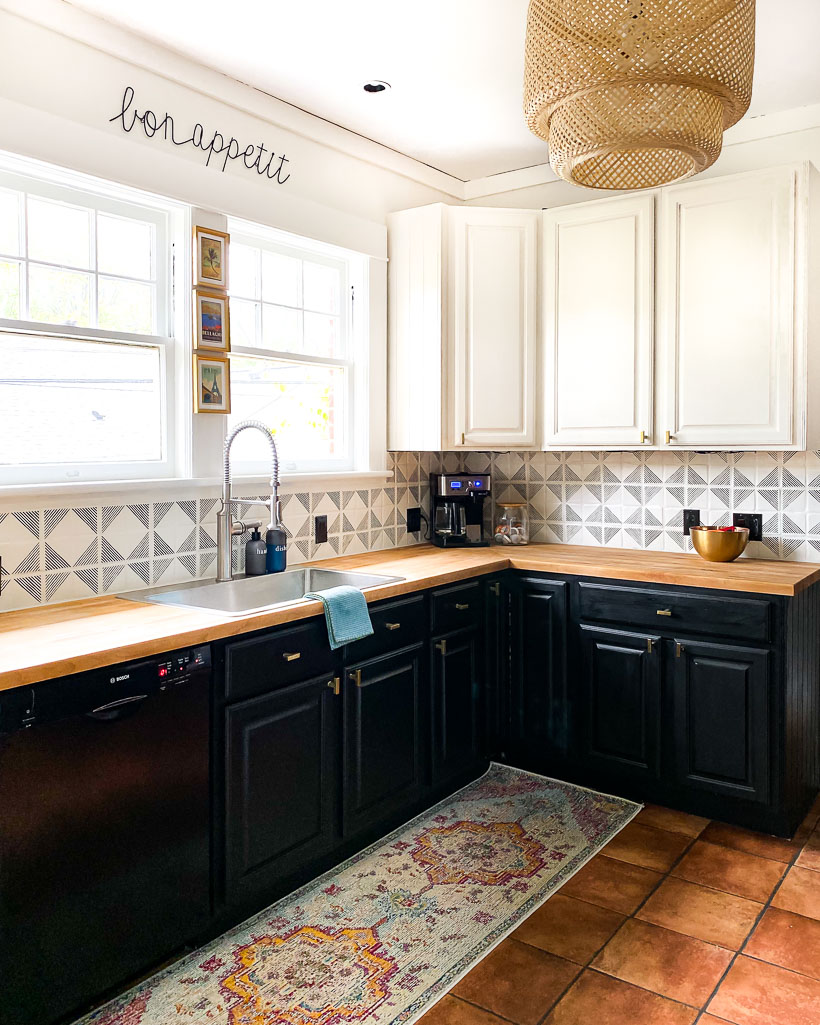 Frequently Asked Questions
How do you clean and care for butcher block countertops?
On a daily basis, be sure to wipe down your countertops with a damp cloth. Avoid using harsh chemicals or abrasive scrubbers as they can damage the wood.

Then every few weeks, clean the surface of your butcher block countertops with a mixture of mild soap and water. Be sure to dry off as much of the water as possible when you are done.

For tougher stains or to remove odors, you can sprinkle the surface of your counters with table salt and scrub with a lemon half. Rinse the surface with water and dry thoroughly.

To keep the wood conditioned and prevent it from drying out, apply a food-safe oil or wax to the surface every few months. Beeswax, hemp oil, mineral oil, and walnut oil are all good options.
How do you condition butcher block countertops?
Applying a food-grade conditioner to your butcher block countertop is an essential step that helps protect the wood from drying out, cracking, and warping, and also brings out its natural beauty. You can use hemp oil, mineral oil, beeswax, or a combination of products. The application instructions are a bit different depending on the product you choose, but they are all very easy to work with.
How often should you oil or condition butcher block countertops?
This will depend somewhat on how often you use and clean your countertops. But generally speaking, I would recommend conditioning them every 2 to 3 months to keep them well-conditioned and to restore their natural sheen.
Why did you choose hemp oil?
We first applied some Tung Oil, which is commonly used on butcher block counters. And it really did NOTHING to enhance the look of Thea's counters. We had some Hemp Oil on hand and since we knew it is completely non-toxic and food-safe, we gave it a shot. It worked beautifully! It brought out the rich warm tones of the wood immediately. And it's a great wood conditioner–it penetrates to protect from the inside out. And hemp oil does not leave a surface film that will chip or scratch.
Can you stain butcher block?
If you want to change the color of your butcher block countertop or hide any imperfections, staining is a great option. It's important to use a wood stain that is food-safe and non-toxic, such as a water-based stain or a natural dye, and apply it evenly with a brush or a cloth in the direction of the grain. Let it soak for about 10-15 minutes, then wipe off the excess with a clean cloth and let it dry for several hours. If you stain your butcher block, you should seal it with a food-safe sealer, such as a food-safe polyurethane.
There you have it, a complete guide on how to refinish your butcher block countertops and make them look beautiful once again! Remember that good sanding and conditioning are key. By following these steps and practicing regular maintenance, your butcher block countertop will be a focal point of your kitchen and last for years to come!
Wondering how I approach transforming rooms and spaces in our home? Check out Designer in a Binder®.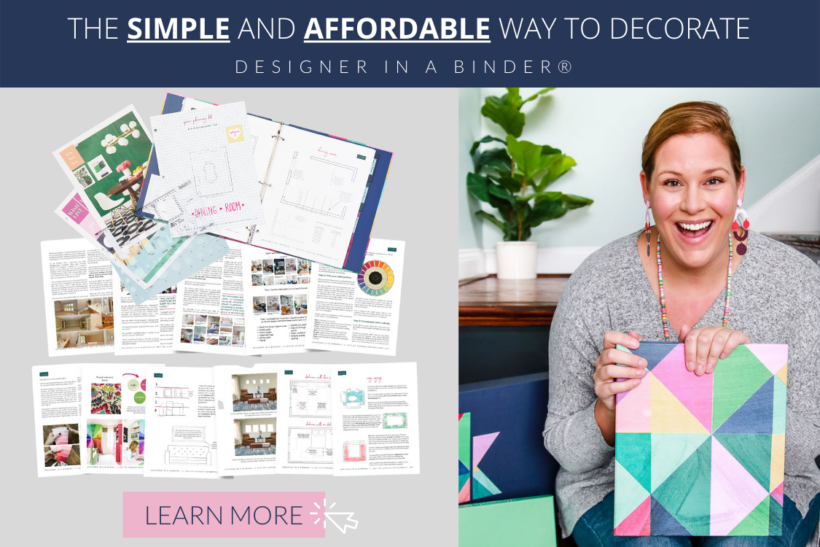 And if you want exclusive content and behind-the-scenes sneak peeks, be sure to subscribe before you head out!


[mv_create key="1″ type="list" title="Most Popular Projects" thumbnail="https://designertrapped.com/wp-content/uploads/2016/11/diy-home-decor-projects-diy-blog-200-1.jpg" layout="circles"]