32 Durable Kitchen Rug Runners + Tips for Choosing
Are you looking to spruce up your kitchen with a stylish rug runner? You've come to the right place! In this post, I'm sharing how to choose the best rug runner for your kitchen. From the most durable and cleanable materials to size considerations, I'll walk you through everything you need to consider when shopping for a kitchen runner. Plus, I'm sharing 32+ of my favorite durable, easy-to-clean and stylish runners that are perfect for any kitchen!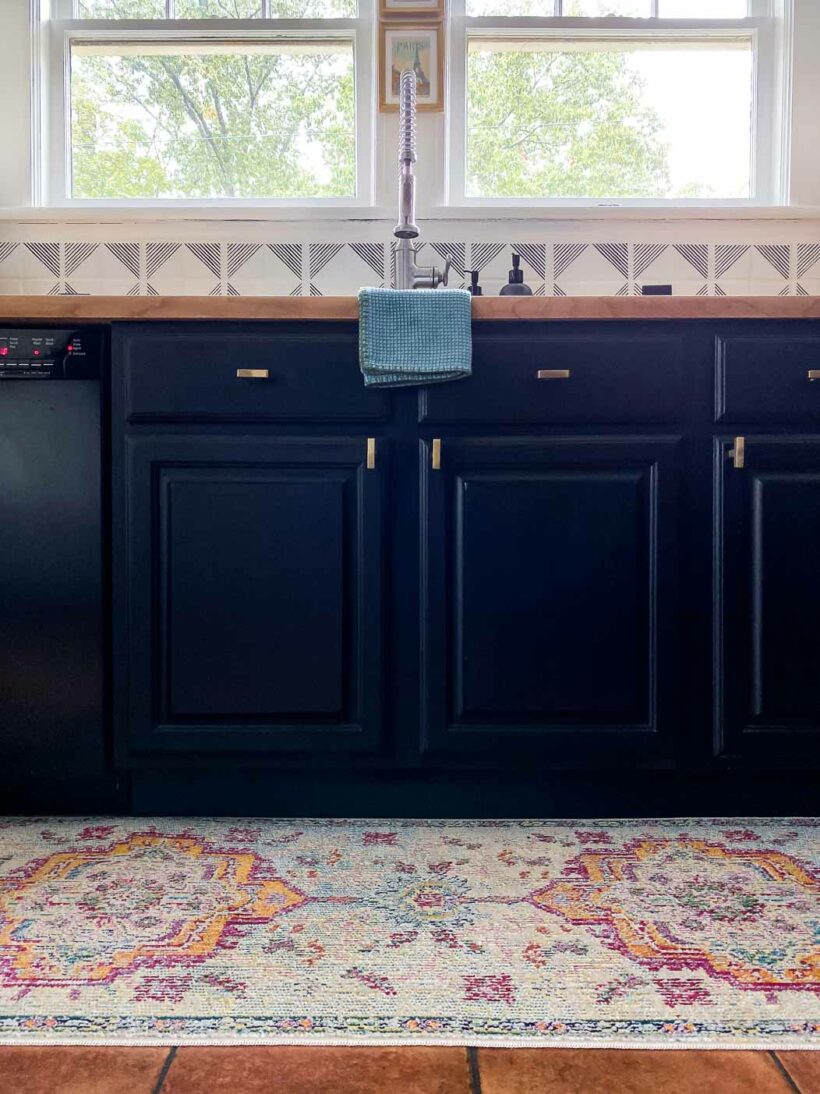 This post contains affiliate links for your convenience. Click here for my full disclosure policy.
How to Choose a Kitchen Runner
Size Matters
When it comes to selecting a kitchen runner rug, size is an important factor to consider. The most important thing is that the runner should fit comfortably within your kitchen space—it should not be too short or too long. If it's too short, it won't cover enough of your floor space and it will look awkward. If it's too long for the space, it will also look awkward. Balance is key.
I recommend measuring out the dimensions of the area that you plan on covering with your new rug before making any purchases. The most popular size runner for a kitchen is 2.5′ wide x 6′ to 8′ long–again, the length will depend on the size of your space. If you are just looking for a kitchen rug in front of the sink, a 2′ x 3′ or 4′ x 6′ could also work well.
We chose this runner for my friend Thea's budget kitchen makeover. The 7-foot length fits nicely in front of the sink cabinet and is large enough to make a statement in the space. It was very inexpensive and is made from polypropylene so it's incredibly durable and easy to clean. That leads nicely to the next thing you need to consider…the material of your runner.
Material Matters
The material of your kitchen runner matters just as much as its size. For example, if you are looking for something more durable and easy-to-clean, then you may want to opt for a synthetic material such as nylon or polyester.
Polypropylene or PET
Polypropylene or PET (recycled polyester) are both good choices for your kitchen runner. Keep in mind that spills and kitchen messes are part of the deal, so having a washable rug is a great choice. While some rugs cannot go in a home washing machine, it is important that they are easy to clean. Make sure to read the description and cleaning instructions before you purchase!
Ruggable Rugs & Other Washable Options
Ruggable rugs are incredibly popular in general and are especially popular choices for kitchen runners. They are the original machine-washable rugs and they come in ton of different designs and pile thicknesses. They are made from polyester with a polyurethane water-resistant barrier. I've had Ruggable runners (for an old hallway) and liked them well enough, but I think they are a bit overpriced. Now there are so many other manufacturers of washable rugs that I would shop around if you are considering one. I've included lots of machine-washable rug options at the bottom of this post for you.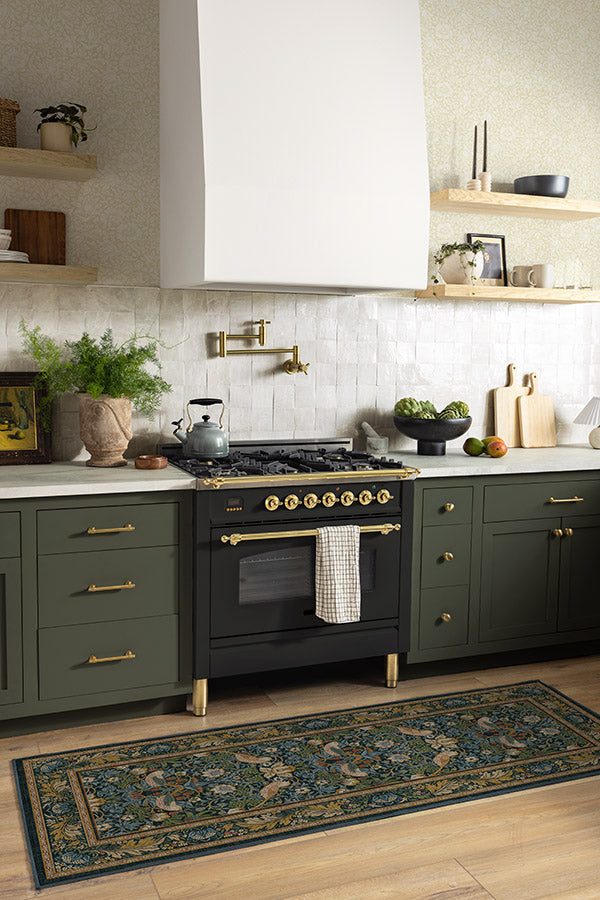 Woven Vinyl Runners
You can also find kitchen runners made from vinyl! We loved the blue Chilewich Runner in our kitchen. Chiliewich rugs are made from tufted vinyl, so they feel cushiony under your feet, much like a tufted wool or cotton rug would feel. It has looked great in our former kitchen and our current kitchen. And it is incredibly easy to clean–we just take it outside to hose it off whenever we needed to.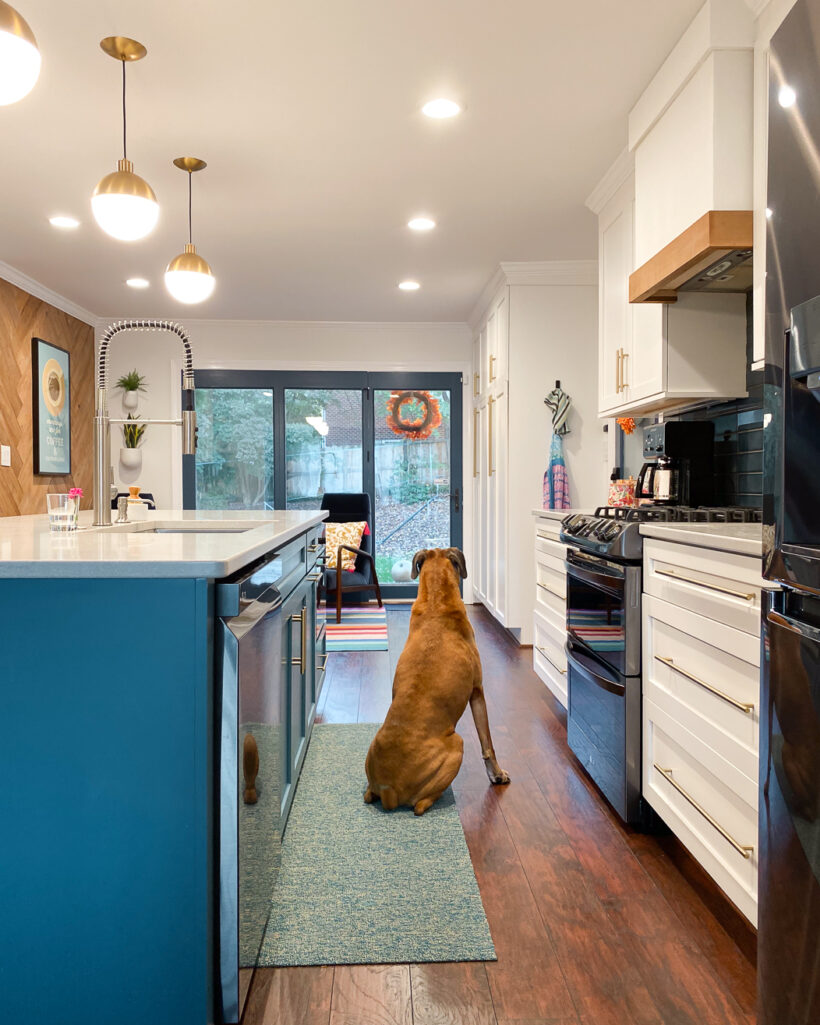 Thin Woven Cotton Runners
After 5 years of use, our Chiliewich runner is starting to show some wear. I plan to swap it out soon with a runner that is made from thin woven cotton, which is another great material for kitchen runners.
Why? Because you can throw thin cotton rugs in the washer (just don't wash them with hot water or toss them in the dryer since they can shrink). Thin cotton rugs also tend to be fairly affordable, especially for a runner size.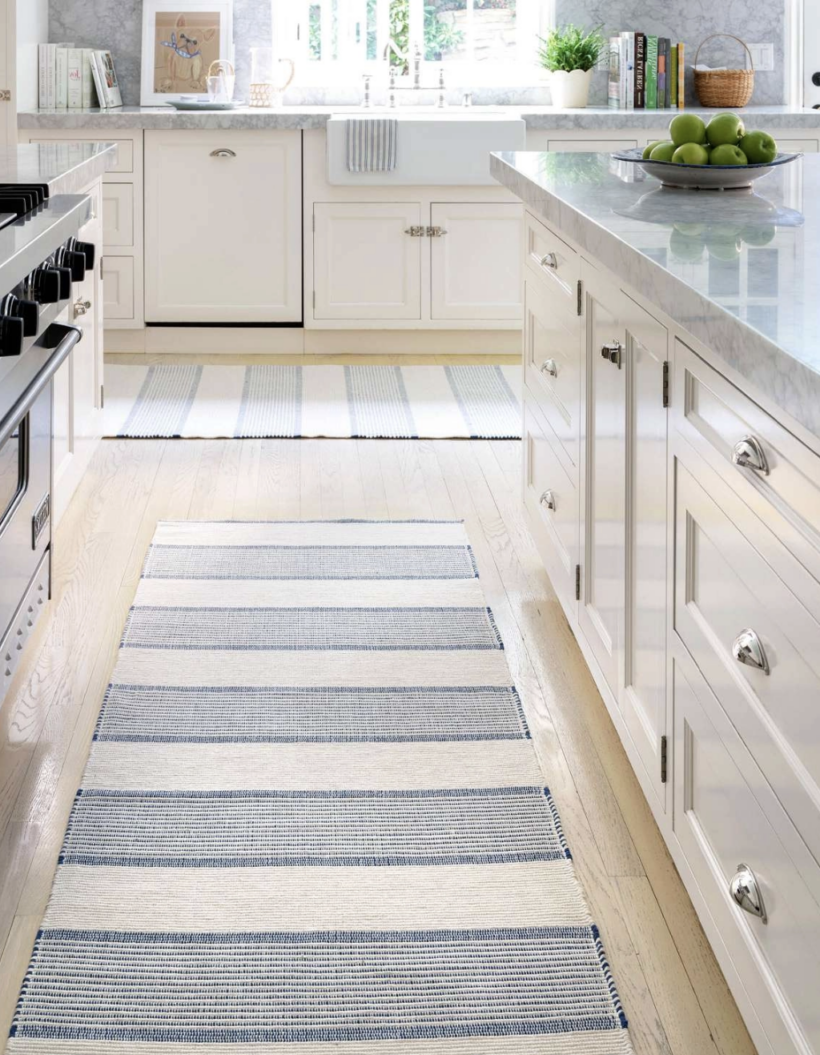 Wool Runner
If you're looking for something softer and more luxurious underfoot, a wool runner may be a better choice. But remember—wool rugs cost more than synthetic materials and are more difficult to clean (be sure to check out my tips to clean an area rug like a pro).
Style Counts
Remember, a kitchen runner isn't just about function—it can also be used as a decorative element and pop of color in your kitchen! So make sure to choose a runner that complements the style of your kitchen and your home's color palette. Whether you prefer bold geometric prints or subtle abstract designs, plenty of choices are available today in all kinds of colors and pretty patterns. Don't be afraid to get creative when choosing the perfect runner for your space.
Speaking of which, you can find all my favorite kitchen runner picks below. I hope they will give you a head start as you shop for your perfect runner :)
My Favorite Kitchen Runners: A Shopping Guide
I've rounded up stylish kitchen rug runners for you! I've broken them into two categories: machine-washable and "other" easy-to-clean options.
20 Machine Washable Kitchen Runners
Having a washable runner is a must-have for most families. The kitchen sees a lot of messes, so having something that can cushion your feet when you are working in the kitchen, look great, and be thrown in the washer hits all the high points! These are the machine-washable options I love.
Scroll and click any image below for full product details.

12 Other Easy-to-Clean Kitchen Runners
I also put together my other favorite durable runners that are perfect for kitchens. These may not be machine washable, but they are all easy to clean and look great. Keeping good care of any rug or carpet is key to keeping it beautiful for as long as possible!
Scroll and click any image below for full product details.

When shopping around for a kitchen rug runner, there are many things to consider. But don't get overwhelmed–there are so many great options! Think through the size and material you need first, then look for a stylish runner that meets those requirements. If you follow those steps, you will find the perfect kitchen rug runner that will look great for years.
Wondering how I approach transforming rooms and spaces in our home? Check out Designer in a Binder®.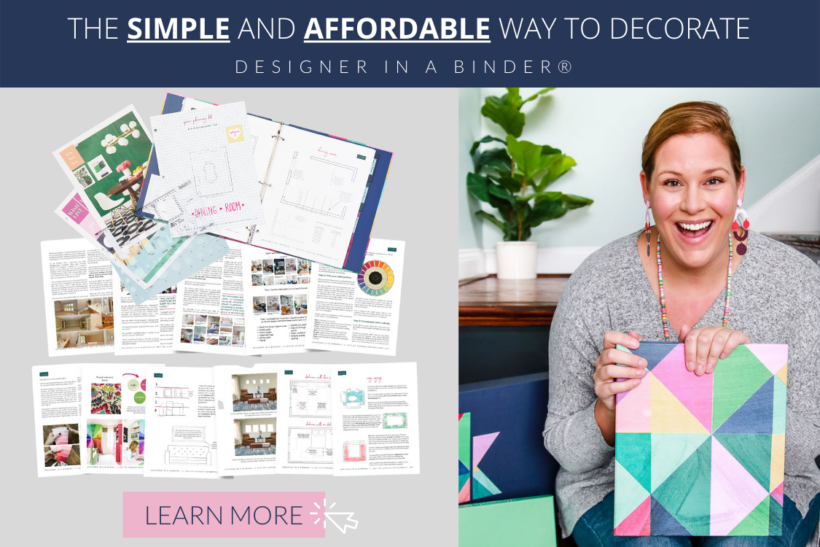 And if you want exclusive content and behind-the-scenes sneak peeks, be sure to subscribe before you head out!