The Best Places to Shop for Affordable Rugs
Using area rugs is so important from a design perspective. Area rugs add color, pattern and texture and can help ground and define spaces in your home. But when it comes to actually choosing and finding affordable area rugs for your home, it can be tricky. That's why I have put together this comprehensive list of best sources for cheap, stylish rugs online. Plus, I'm sharing my favorite 8 x 10 rugs at 3 different price points (from $300 to $600) to help get you started in your rug search. The perfect area rug to complete your room is just a click away!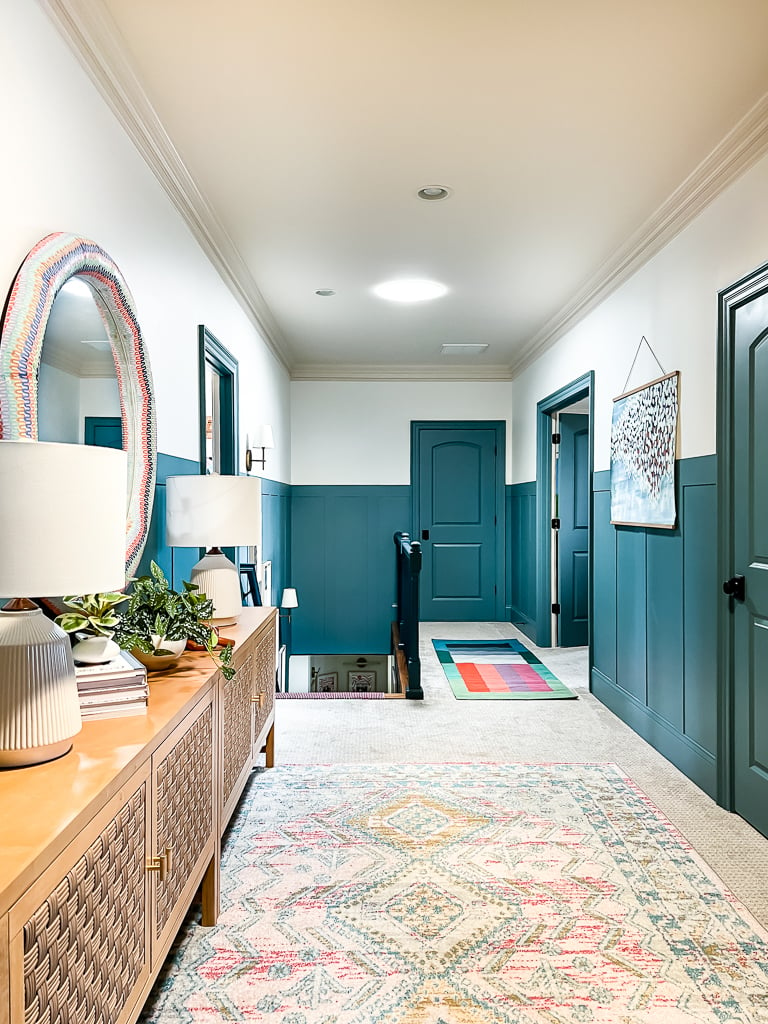 This post contains affiliate links for your convenience. Click here for my full disclosure policy.
Two Pro Tips for Finding Budget-Friendly Area Rugs
One hot tip that I love to share is that the same rug is often carried by multiple retailers. For example, Loloi rugs are carried by countless retailers from Pottery Barn to Amazon to Home Depot! So when you find a rug you like, do a reverse Google image search to see which retailers carry the same rug. Then compare what their price, return policy, and shipping looks like. Often a rug I love will pop up on Wayfair or Overstock or similar sites at a much lower price. I have seen the exact same rug drastically vary in price between from one retailer to the next.
Also keep in mind that a great place to find cheaper area rugs is the "kid section" from popular retailers. For example, Pottery Barn Kids and West Elm Kids often have really great rugs that are at a lower price point than their "adult" counterpart.
Where Can I Buy Affordable Area Rugs?
When I am on the hunt for a budget-friendly area rug, there are a handful of places I always check. These sellers have a wide variety and carry gorgeous rugs! I can almost always find one that fits my style and my budget.
Target
Right now I have a few affordable area rugs from Target in our house! We have THREE of this blue medallion print rug in Avery's room (below). They have moved around and been used in different spots in our homes, but we still love all three of them! When we created a mid-century modern kids' room for Avery, that blue rug was the perfect area rug to layer on the carpet for a pop of color. We used the blue outdoor rug from Target on our screened-in-porch–it was really affordable and has worn well. It is no longer available, but always check their seasonal indoor-outdoor selection! The price point is usually great.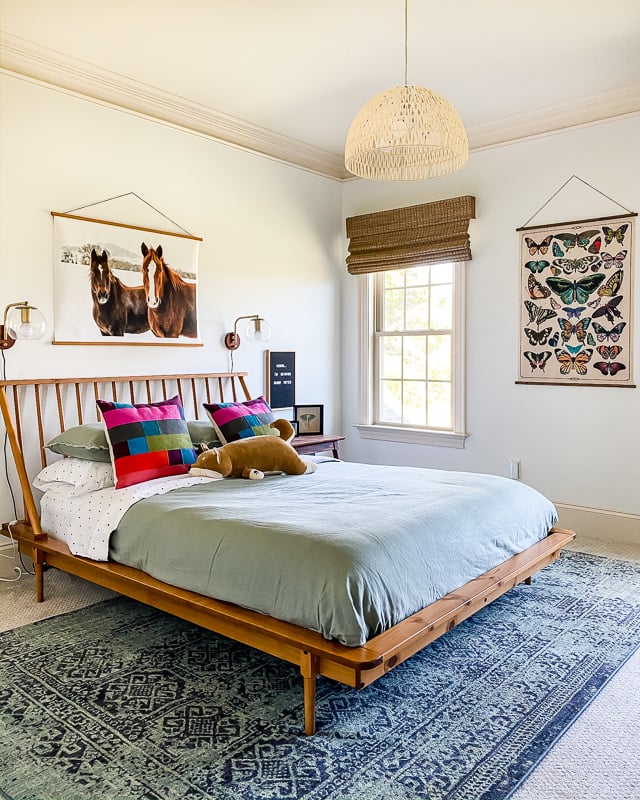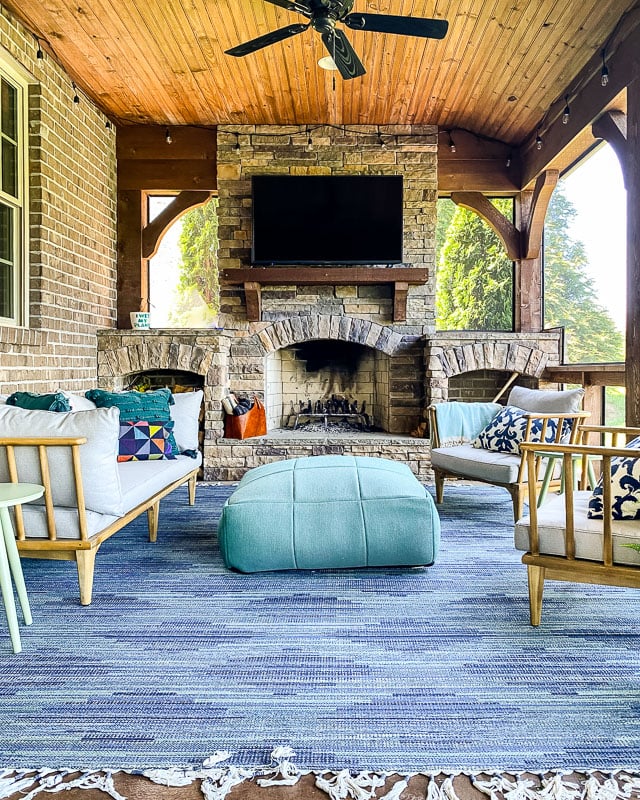 Rugs USA
Rugs USA has the most extensive selection of affordable rugs that I have ever found! There are so many choices, it can be a bit overwhelming, but if you filter your results it can help really cull down the options into a more manageable list. I found this colorful pink medallion rug in our upstairs hallway there and love it! It's pretty thin, but for the price, I'm totally okay with that, especially since we placed the area rug over carpet–it's got plenty of cushion.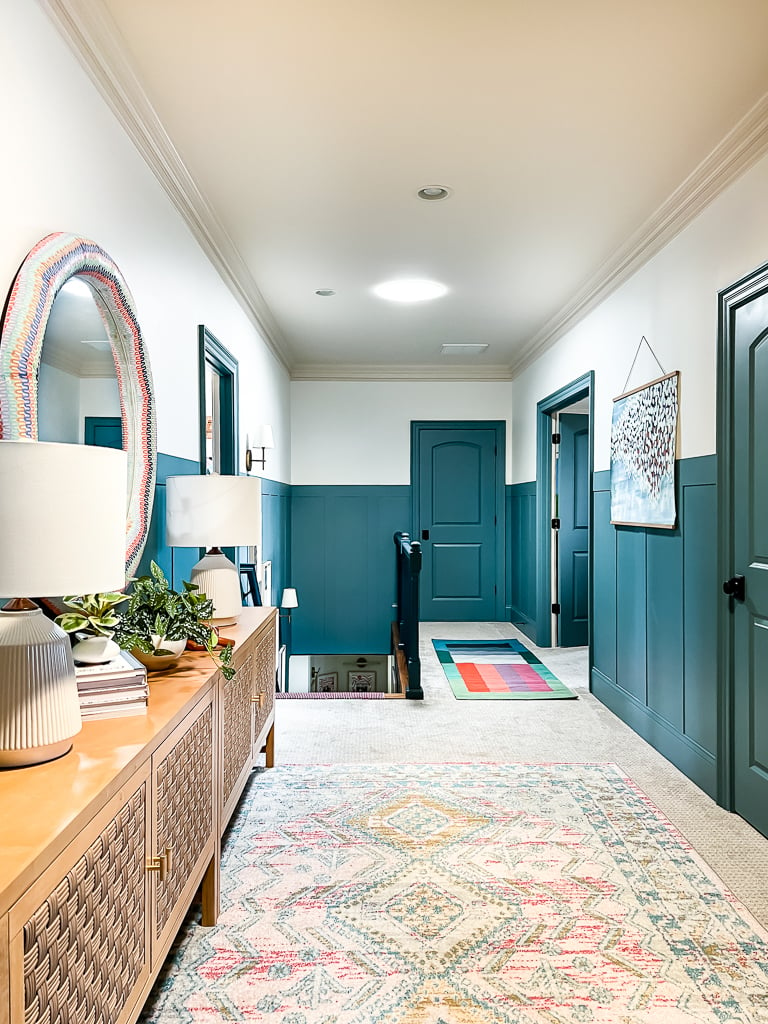 Urban Outfitters
Urban Outfitters has interesting graphic styles that feel timeless. Not everyone wants a classic over-dyed style and that is just fine! Check them out for funky bohemian and cool neutrals with lots of texture. They have some very cool shag rugs and jute rugs right now. Don't underestimate the power of a gorgeous textured or graphic rug in neutral colors to add comfort and warmth and elevate your space!
Walmart
The home department of Walmart has come a long way in recent years, y'all. The affordable rug selection at Walmart comes close to rivaling Target. I would absolutely recommend browsing Walmart to see if they have an area rug that's perfect for you. I have a feeling you will be surprised! And if you are in the market for a machine-washable rug, Walmart has a collection of washable rugs that rivals Ruggable at a much lower price point.
Wayfair
I always check Wayfair when I am rug shopping. They have everything from washable rugs to sisel and natural fibers and literally everything in between. Remember, they carry tons of brands and sizes so ALWAYS check Wayfair when you find one you like somewhere else! We don't have anything from there currently, but they are on my go-to list for affordable area rugs of all sizes and they often have the best price on a rug I am considering.
Overstock
Like Wayfair, I may not start at Overstock on my rug search, but I always do the reverse image search to see if they have what I like! They also have a ton of inventory and normally excellent prices for any budget. I have found several of our rugs at Overstock and have been happy with them. The geometry print wool rug I used in the laundry room makeover and the bright colorful medallion print in our old family room are both gorgeous rugs I found at Overstock!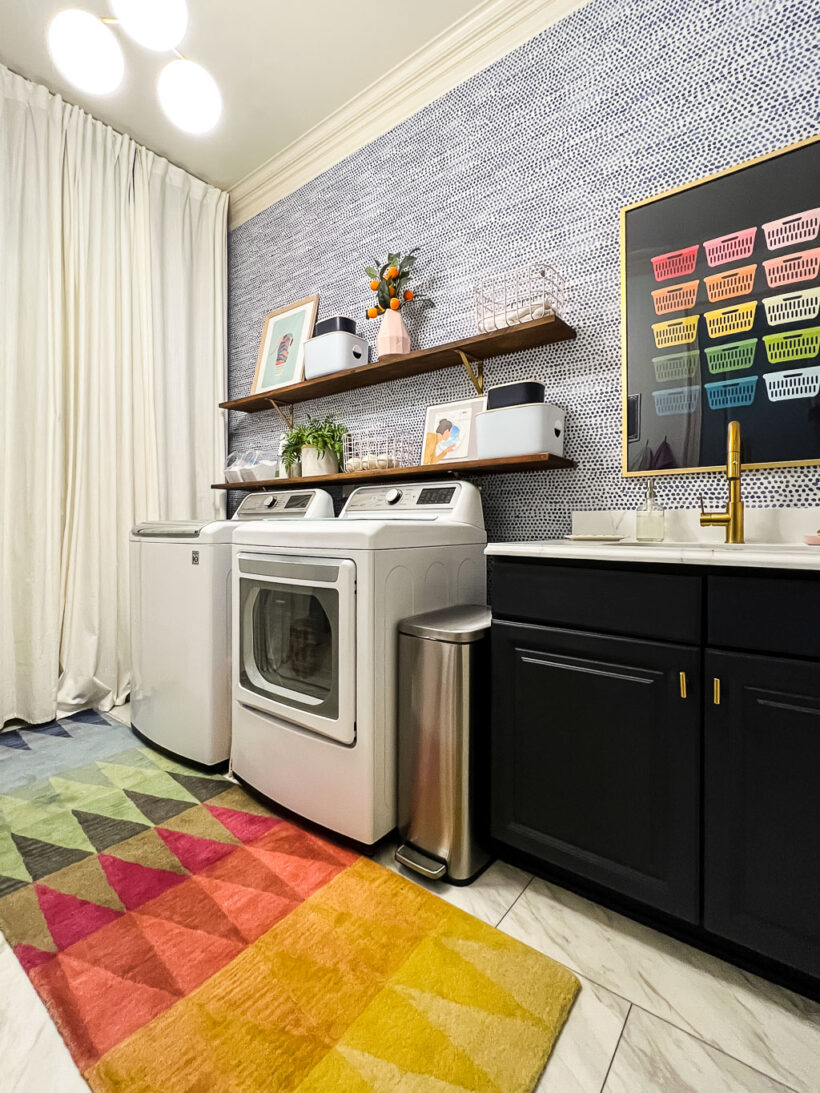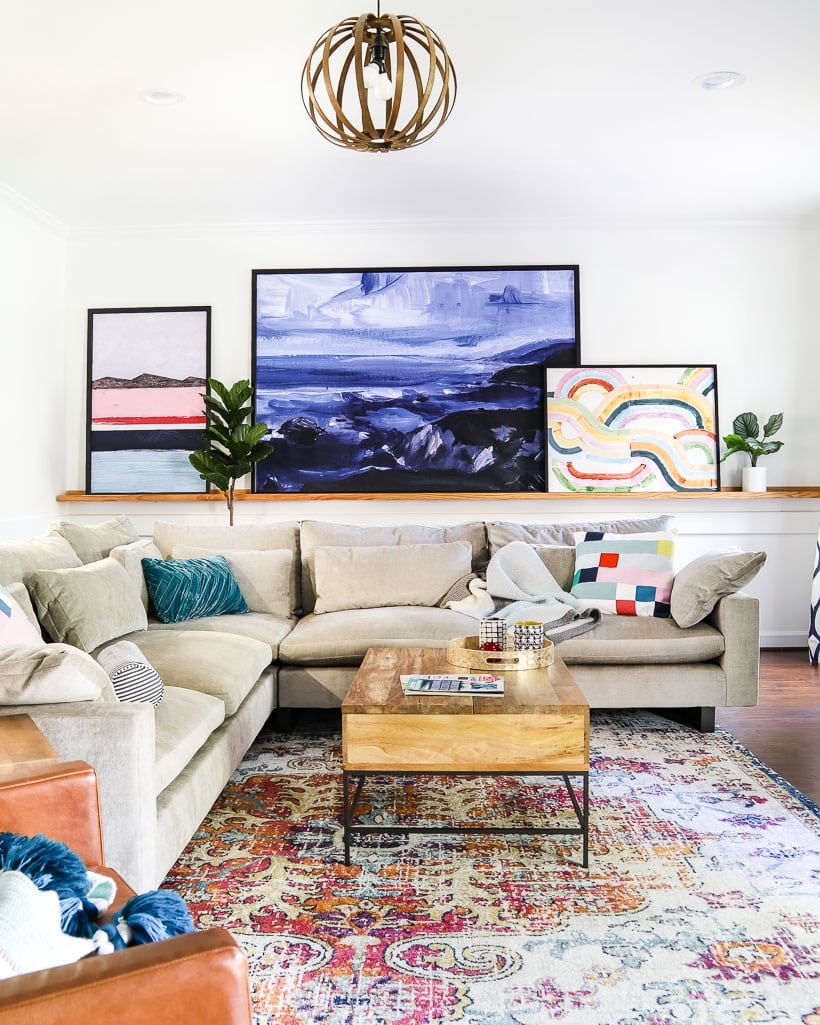 Amazon
Amazon is another retailer that carries a lot of rugs that are stocked by multiple retailers, and it often has the lowest price option. Like Overstock and Wayfair, I'm unlikely to start my rug search on Amazon, but I will check to see if it has the rug I'm considering at a lower price! Plus, Amazon reviews are so extensive, you can almost always find detailed reviews for the rug you are considering even if you are having trouble finding reviews elsewhere.
Now, let's take a look at some affordable area rug options that I have curated for you…
Stylish Affordable Rugs Hand-Picked by Me
These affordable 8×10 rugs are my favorite finds at three different price points. It IS possible to find the perfect rug for your design without breaking your budget!
Area Rugs Under $300
Area Rugs Under $500
Area Rugs Rugs Under $600
Where to Shop for Rugs if You Are Willing to Spend a Bit More
Depending on my plans, sometimes I am looking for something very budget-friendly, and other times, I know the rug will be a bit more of splurge piece. Either way, I normally still try to keep it reasonable. I always opt for rugs that will be durable, easy to clean, and comfortable. Below you'll find my favorite sources when I am willing to spend a bit more on a rug (though both sources also have a few affordable options that I included in my choices above)!
West Elm
West Elm is probably my favorite online retailer for home decor. They almost always have something I absolutely love and their rugs are no exception! Their selection of area rugs ranges from affordable to pricey, but their quality is outstanding. I have several of their rugs and have been really happy with them.
The indoor/outdoor blue diamond rug in our living room held up well to furnishings being placed on it, pets and kids. The navy and pink medallion rug in our coffee nook is probably my favorite rug in the whole house. I am obsessed with it.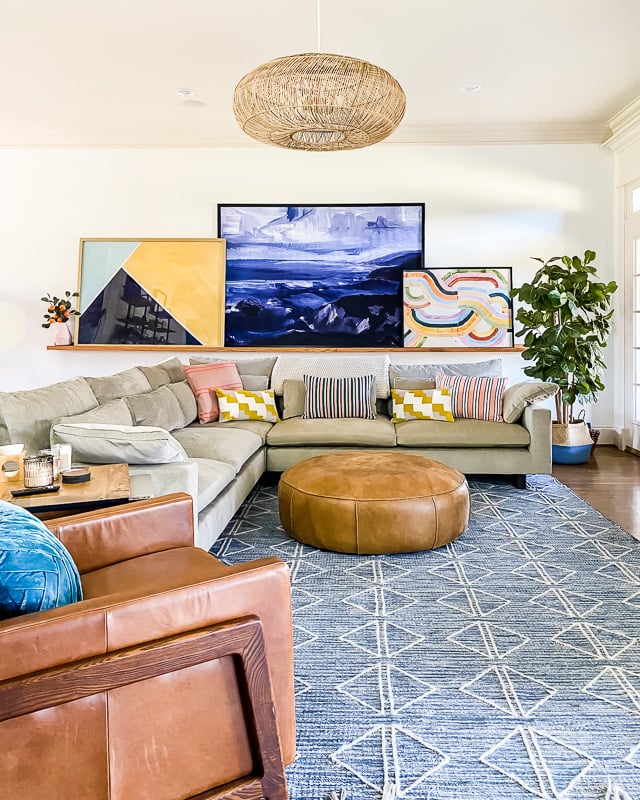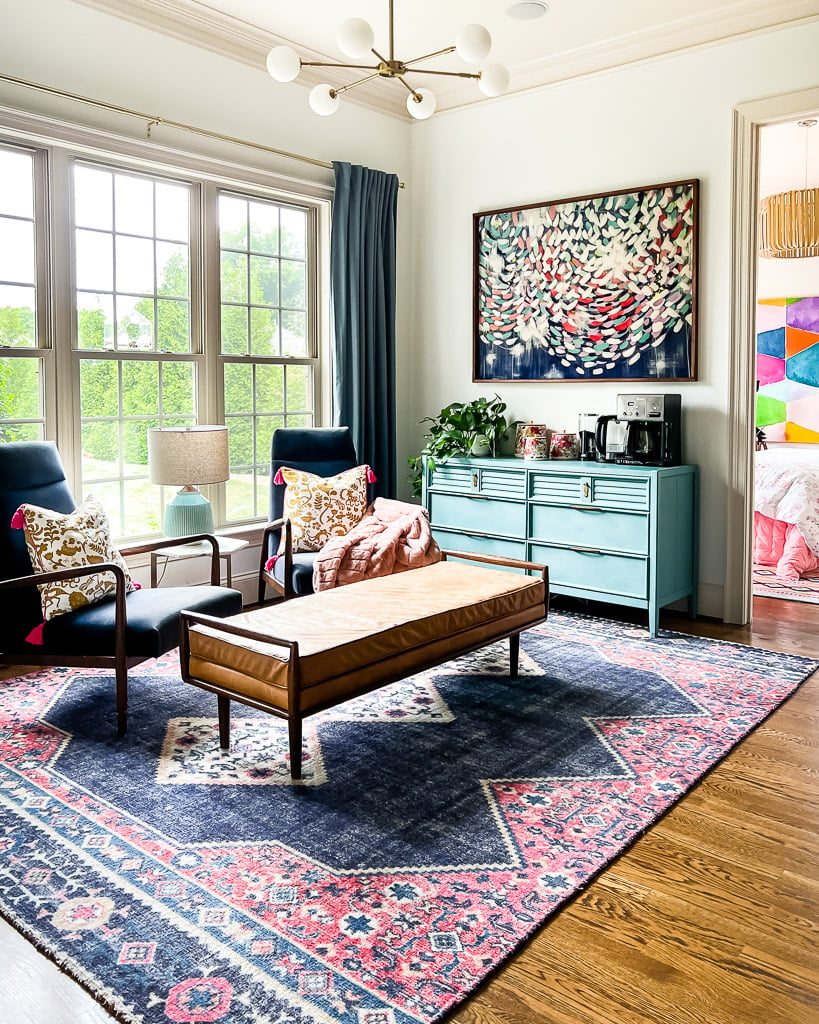 The runners in our old hallway were also West Elm (they are no longer available–sorry!) and I love them so much. I am still trying desperately to find a place to make them work in this house! Our most recent West Elm rug purchase is the beautiful blush rug in our main bedroom.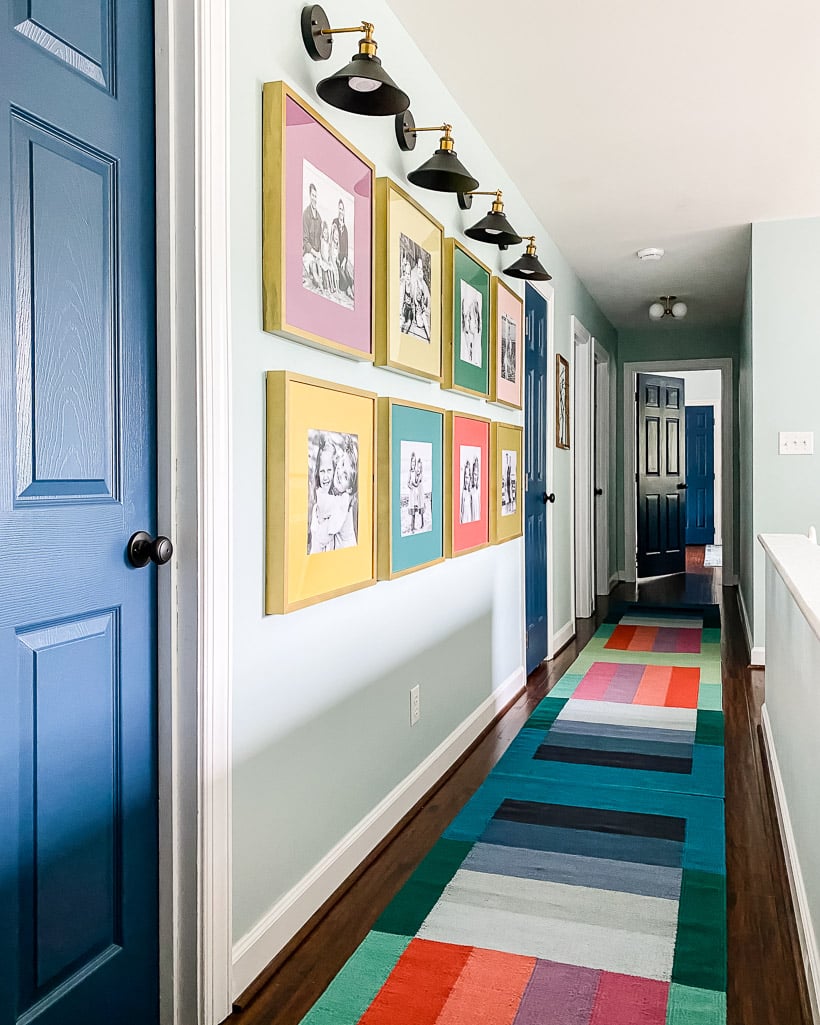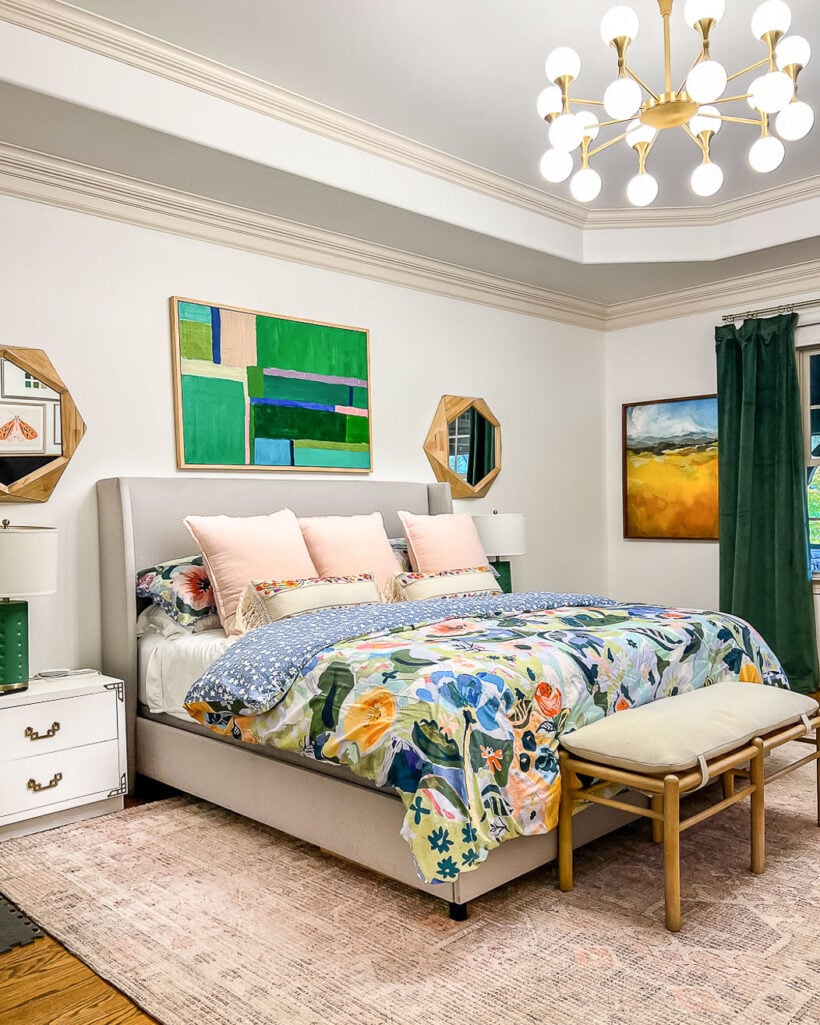 Annie Selke / Dash and Albert
If you have been around at all you know besides West Elm, my other favorite place to purchase rugs is Annie Selke–she is a master of colorful home decor. Her rugs are colorful and beautiful and make my heart sing! Annie Selke's woven cotton Dash and Albert rugs are actually pretty darn affordable, especially for the quality. But the wool rug selection is absolutely pricier.
I love the blue print indoor/outdoor woven rug we have on our front porch. And when we gave our guest room a makeover the pink and orange Isla stripe was the perfect rug for a fun pop of color.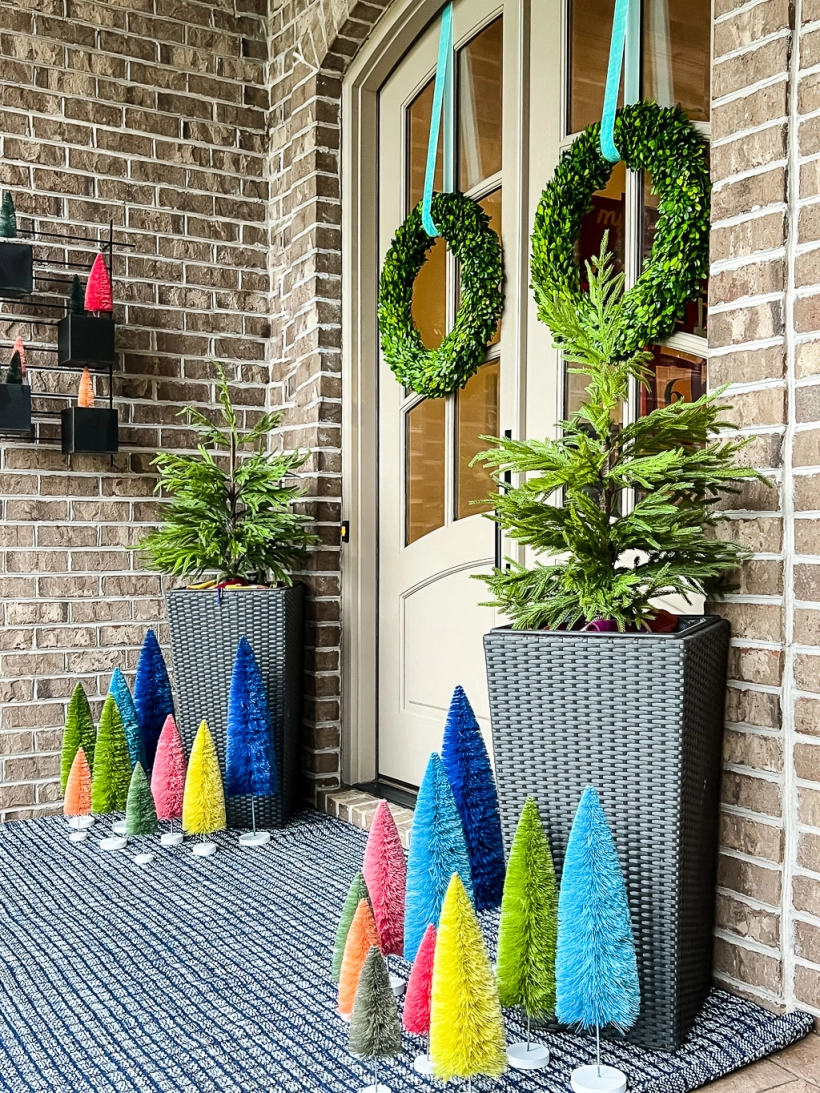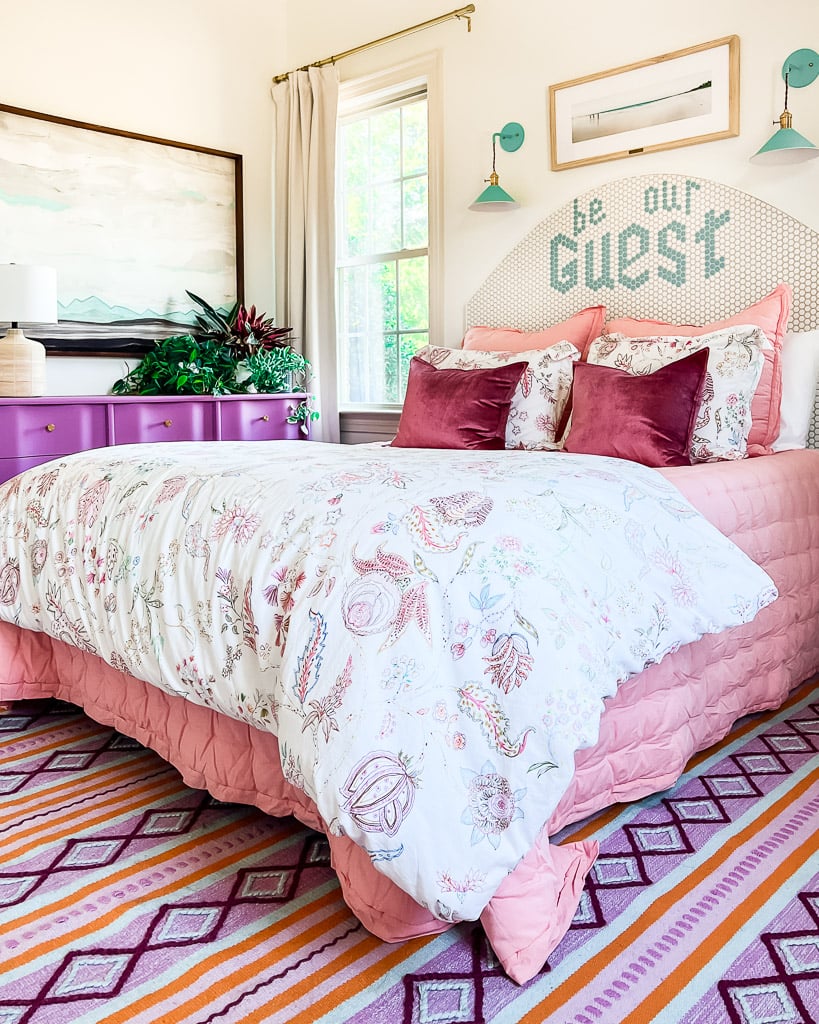 The Anne Selke Jelly Roll rug in our colorful bonus room makeover is one of my personal favorites! I also turned to Annie Selke for this colorful striped runner when we installed our stair runner ourselves!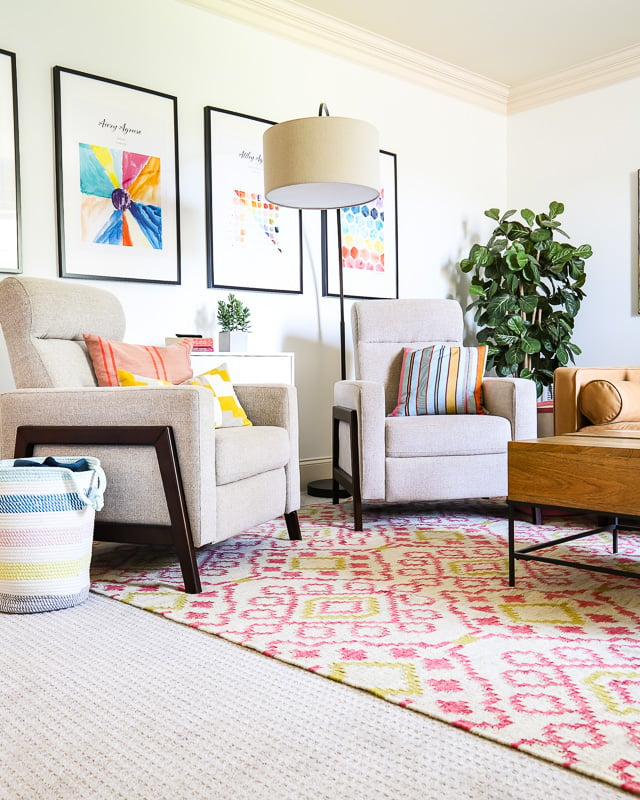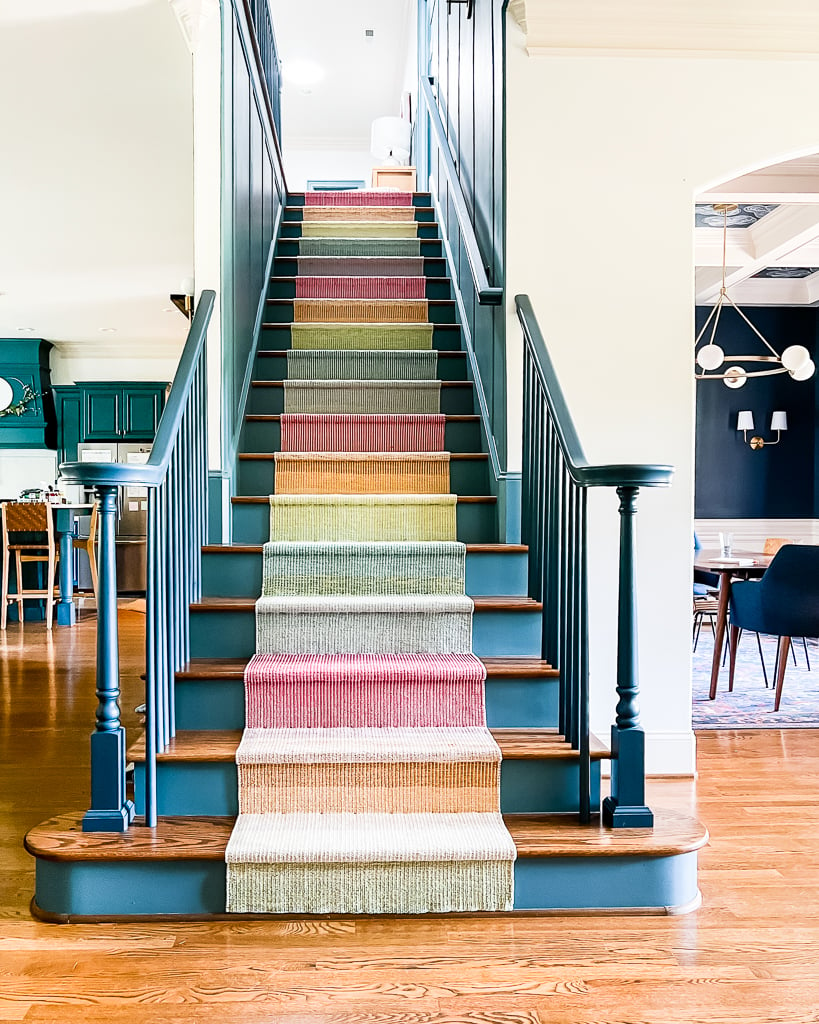 I hope this has helped you a bit in your quest to find an affordable rug that you love! Area rugs can make a huge impact on your home decor and they don't have to break the bank. So what's your favorite place to find budget-friendly rugs? Share in the comments below!
PSA- Most area rugs need a good rug pad… Check out my rug pad guide to find the one that will work best for you!
Wondering how I approach transforming rooms and spaces in our home? Check out Designer in a Binder®.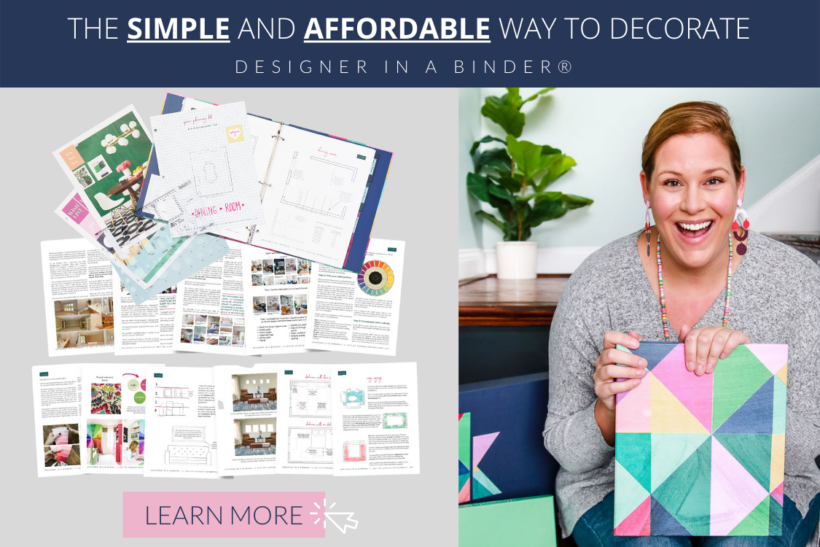 And if you want exclusive content and behind-the-scenes sneak peeks, be sure to subscribe before you head out!